100 Reviews
Recommended by 99% of couples
Quality of service

5 out of 5 rating

Average response time

5 out of 5 rating

Professionalism

5 out of 5 rating

Value

4.9 out of 5 rating

Flexibility

5 out of 5 rating
22 User photos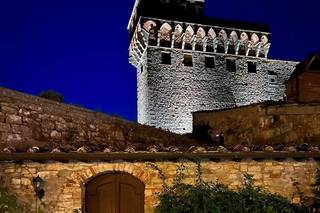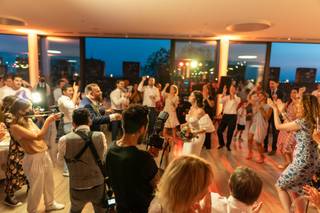 + 18

photos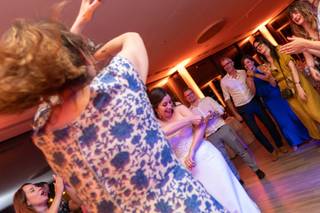 Grecia R.

Married on 10/22/2022

Danced the night away!

Paolo from Audiodress was a great DJ! He was recommended by our venue, Castello del Trebbio, and he did a fantastic job. He was very responsive and clear with his quote and he included a mic for speeches during dinner and an extra speaker outside of the dance room so we can choose whether to be out dancing in the terrace or inside the dance floor. I carefully selected what songs I wanted played during our dinner and the dances and he stuck to the playlists I sent which really tied together my vision for the night. He also played the first dance songs right on cue as well as the surprise song for the surprise fireworks. Thanks for making our night special!

Audiodress.com - Serviziodj.com's reply:

Thanks indeed Grecia, so pleased for have being part of your special journey, wish all the best to all of you!

Eddy A.

Married on 10/08/2022

Top DJ ! Je le reprendrais pour une prochaine soirée

Super pro, adaptable, organisé et qui sait parfaitement créer et maintenir l'ambiance tout au long de la soirée. Une personne qui fait juste ce qu'il faut pour rendre la soirée inoubliable. Je recommande chaudement Daniel et son jeu de lumières ;) Grazie 1000 !

Audiodress.com - Serviziodj.com's reply:

Many thanks indeed for your super review, a big hug from Daniel and all the Audiodress crew,
all the best!

Ellie Q.

Married on 09/04/2022

The BEST wedding party!

We booked Audiodress from the UK for our wedding in Tuscany in Sept 2022, and I'm SO glad we did!
Paolo's correspondence over email was always quick and professional, putting me at ease. The service on the day was phenomenal, Paolo entirely understood the schedule and vibe of our day, and his timing was faultless - he provided music for our sit down dinner, cake cut & party.
As for the party...WOW! My husband and I didn't leave the dancefloor all night, and neither did our guests - it truly was the best night of our lives! Paolo and his team know exactly how to keep a party going!
Don't hesitate in booking Audiodress, this is the best DJ service you can get!
Thank you again Paolo and team, we are so grateful for the best night of our lives.

Audiodress.com - Serviziodj.com's reply:

Dear Ellie, James,

your party was huge! You know, when there is a crowd so responsive and that loves to dance the genre of music you love too, the magic happens, and so it was... great memories for all us too, wish you all the best! Ciao!

Are you interested?

Send a message

Felix S.

Married on 08/26/2022

We couldn't have wished for a better DJ

Paolo was the perfect DJ for our wedding. We had a call with him before our wedding, where we talked about the schedule of the day and he gave us some great advice and helped a lot with his experience. He was super professional in any terms. Played music on different locations at our wedding and he was able to set up the different settings really quick so there was always a great atmosphere. He was really attentive the whole time and did so many little and big extras because he recognized a lot of things. Besides that we had an awesome party night - we really appreciate his charisma and how nice he was all the time to us and our guests. Thank you Paolo for making our wedding so special.

Audiodress.com - Serviziodj.com's reply:

Thanks for these lovely feedbacks Felix, we try to focus on the details to let all run smoothly :-) A big hug to al of you!

Joseph L.

Married on 08/10/2022

Wedding Masters

Paolo was really easy to deal with from the start - very professional. Roberto was our DJ and he listened to everything that he wanted, was really positive and helpful. As a DJ, you want them to read the mood and keep people enjoying themselves. The dance floor was constantly busy so that is a testament to him.

Audiodress.com - Serviziodj.com's reply:

Joe you are so kind, many thanks from me and Roberto we wish you all the best for the future and hope to meet you again in another great party! kind regards

Silvia C.

Married on 08/05/2022

The most memorable experience!

Choosing a DJ for your wedding is not easy because no matter how much you search online, you won't really know how it'll all be.

Luckily for us, this was the best choice we could've ever made! Paolo was absolutely perfect in everything: from communication to responsiveness to following our instructions and requests.

Our wedding day was simply perfect and we couldn't ask for anything more!

100% recommended!

Audiodress.com - Serviziodj.com's reply:

Silvia, thanks indeed for your review, work becomes a great passion when you find nice clients so accomodating and kind, the best wishes from our crew, Grazie!

Fabiana B.

Married on 07/03/2022

Easy going, professional and very helpful

Daniel from Audiodress has played to our wedding. He has been really helpful since the beginning as he has suggested us music, proposed tracklists and supporting us in dealing with "wedding timetable". He has met all our requirements as regards songs and music chosen for every moment and he was very on hand with "live requests" during wedding time. He has also taken pics and video of us which has been such a lovely surprised as it is a precious memory of that day.

Audiodress.com - Serviziodj.com's reply:

Many thanks Fabiana for your kind review, I hope to meet you all joining the dancefloor in other future parties :-))

Paige B.

Married on 06/24/2022

Best decision we made!

Having Paolo DJ at our wedding was one of the absolute highlights of our big day.
Nothing was too much to ask. We've had SO many of our guests comment on how brilliant he was. Having the sax player there to play alongside Paolo was the icing on the cake - he too, was phenomenal.
Building up to the wedding, Paolo was so quick to reply to my (countless!) emails and by the time it was our wedding day, we felt completely relaxed knowing that he had it all under control.
If you want something a little different to the classic wedding band, we could not recommend Paolo and his team enough. Book him before it's too late :)

Audiodress.com - Serviziodj.com's reply:

Dear Paige, wow! the party was absolutely amazing thanks to you and all your guests for the extreme kindness, so happy you had a special night, a great hug!

Louise L.

Married on 10/01/2021

Paolo is a DJ who creates lasting memories with music

We could not be happier or more grateful for how Paolo accentuated, accompanied and knew exactly how to set the mood for our Wedding Day.
From the sounds at the Ceremony, to the music as we ate and then partying til late, we gave Paolo full control over the playlist and he didn't disappoint.
We had no previous agenda of what music to play and he captured the whole feel of the day perfectly.
I still hear the odd song now and it reminds me of certain parts of the day and I smile with joy.
Truly, Paolo knows how to create lasting memories through music and we are so grateful.
Grazie Mille Paolo, it was just perfect.

Louise and Stuart


Tara K.

Married on 09/18/2021

Great DJ!!

Paolo was so great to work. He was organized, flexible and all our guests had a blast on the dance floor. Good lights, sound and also helped with mics during ceremony/dinner/ first dance that were in dif spaces than dance floor. I highly recommend working with Paolo.

Audiodress.com - Serviziodj.com's reply:

Tara, you're so lovely! It was really great to dj for you, many thanks indeed, all the best to all of you!

Raoul S.

Married on 08/20/2021

20 agosto alla Rocca

Abbiamo contattato Audiodress (Daniel) tramite suggerimento dello staff della Rocca di Lonato (location del matrimonio). Già dal primo contatto, Daniel si rileva una persona gradevolissima e gentile. La prima impressione è' già' di un professionista che ama il suo lavoro e che vuole dar il meglio per il tuo matrimonio. Nell'offerta commerciale e' trasparente, corretto e non spinge affinché tu prenda più' servizi possibili. E la bella impressione che abbiamo avuto nei primi incontri si è' rilevata giusta: Daniel unisce alla sua professionalità' indiscussa', motivazione ed entusiasmo ...ci tiene al tuo matrimonio! Noi ci siamo fidati di lui: vi assicuro che dall'impianto luci, al rispetto della scaletta musicale e' stato perfetto. La parte disco ha tenuto la gente in pista fino alla fine...insomma quando ha diminuito la musica eravamo ancora lì.
Merci Daniel, pour ta bonne humeur et ton professionnalisme. Tu as réussi à faire danser français et italiens ensemble et jusqu'à la fin, avec brio ! Tous nos amis ont été époustouflés par la Rocca, et cela tient en partie à l'ambiance musicale et de luminaires mis en place par Daniel, qui a réussi à sublimer ce lieu magique.

Janine

Married on 08/20/2021

Excellent DJ


We booked Paolo for our wedding in Tuscany and we couldn't have chosen a better DJ!
Prior to our wedding Paolo was already very responsive and let us know what he needs from us (e.g., a playlist of our favorite music). Also, he was very flexible (we had to change the date of our wedding several times). At the wedding day, he came already way before he should have started, so he could organize everything and he even helped us organizing the speakers for the time during the dinner (when we only played music from our smartphone and didn't need Paolo).
Then, during the party, Paolo did an excellent job! He was great in "reading" the people and therefore always played what the crowd wanted to hear, which ensured that the atmosphere of the party was top all time. Also, he changed the music style from time to time so every music style we liked was played during the party. Furthermore – and we very much liked that – Paolo didn't switch the song every 1 minute (which we would have found very annoying), but played it for 3 minutes or even full, so people song the track and enjoyed it a lot. Last but not least, he did very good change-overs from one track to the other like a good DJ should (not like at other weddings where there is a break in the music when changing the track).
So, thank you Paolo for the great service. You made our wedding party a real success!


Alexander Q.

Married on 08/13/2021

Amazing DJ

Daniel managed to create a wonderful atmosphere at our wedding. He could sense what the guests wanted, how to create a good vibe and matched the songs perfectly. We would highly recommend him.

Rachel

Married on 07/25/2021

Excellent wedding DJ

Paolo from Audiodress provided an excellent DJ set at our wedding in Tuscany. We provided him with our favourite songs on Spotify. He then mixed our tracks during the disco. All our guests enjoyed his set and were dancing the night away.

Paolo provided lights for our disco room and lights outside which lit up the restaurant next to the terrace where we were sitting for dinner. The lights were an excellent feature and looked lovely throughout the evening. He also provided microphones for our wedding party to use during the speeches.

We also had a saxophonist play during our dinner and the disco. Paolo communicated with him prior to our wedding, so they both knew the songs they would play together.

We had to rearrange our wedding due to the pandemic and Paolo was very accommodating and helpful. He always replied promptly to our emails.

Paolo provided a great service and we would recommend him for events or weddings :)

Audiodress.com - Serviziodj.com's reply:

Deal Rachel, many thanks for your kind review!!!
It's so appreciated :-)) a big hug to all of you Paolo

Sam W.

Married on 07/08/2021

Great DJ, Lovely bloke :)

Could not have asked for a better DJ for our big day, Paolo has been so flexible with all of the covid uncertainty. Great music all day, really friendly with all guests and great value. Really knew our venue and beat places to set up. If you need a DJ in Italy, he's your man!

Isabel

Married on 06/27/2021

Paolo/AudioDress best DJ!

Paolo is a gem and the absolute best! We came from California to have our wedding reception in Italy and he made it so easy for us to get the music permits (SIAE) and send him our song selection. Our guests loved his music selection and song timing. He had us dancing all night!

Audiodress.com - Serviziodj.com's reply:

Dear Isabel your words are so appreciated, so happy to have "audiodressed" your event, wish you all the best for the future with love

Elisa P.

Married on 09/25/2020

25/09/2020 wedding

25/09/2020 Rocca Viscontea Lonato del Garda (Bs)
Audiodress is synonymous with quality, professionalism and fun. We owe our thanks to Daniel... He was a special key of our marriage's puzzle!
Thank you all for being present on the most important day of our life. Audiodress met all our requests, they created a beautiful and romantic atmosphere during the ceremony and a special night with music and dance.
A unique, professional and exciting team: in one word perfect.
Elisa & Vittorio

Tommaso

Married on 09/28/2019

Excellent service and reliable people

They were perfect.
They know their job and the venue where we got married in September 2019 (la Rocca di Lonato).
From day 1 they showed us true responsiveness and understood our needs.
On the d-day the DJ and technician had all the information needed and during our small briefing pre-wedding they could adjust small things showing once again their flexibility.
Thank you for everything.
T&M

Salima W.

Married on 09/21/2019

Amazing service, great music and perfect pricing!

I spent a lot of time researching the music for our wedding and came across Audiodress online. From the start, Paolo was extremely professional, very responsive and nothing was too much to ask. He put my mind at ease ahead of the big day and on the day itself - I could not have been more happy with our DJ Daniel! We gave him a small selection of our favourite party songs and he based the rest of the music in that which was a perfect fit. We had a full dance floor all night long and we couldn't recommend them enough.

Han

Married on 09/09/2019

If you want a fun wedding party, choose Audiodress!

Paolo was incredible! He was responsive, accommodating and knows how to get the party to last all night. He saved the day when I asked him just minutes before our 1st dance to change location. He immediately moved the speakers at a record time to keep us on time! Thank you so much!

Andrea C.

Married on 09/06/2019

The best you can dream of

All our expectations have been reached with Audiodress.

Our Dj, Daniel, made feel us like friends, not only clients.
An accurate preparation to the event has been made, with plenty of calls and messages, in order to organize every single detail.

Audiodress helped us creating our perfect Wedding.

Thank you Audiodress, and thank you Daniel dj

Clara C.

Married on 09/04/2019

Perfect party! Very professional!

Paolo was very professional and made our party SO great. Music is such an important aspect and he made sure to create the best atmosphere possible throughout the evening! He was very generous of his time and always responded quickly so I felt in confidence using his service.

Shivani

Married on 08/03/2019

Paolo is an excellent, wonderful, professional DJ! Highly recommended

Paolo was our wedding DJ and he was absolutely fantastic! He was so professional and arrived hours before we asked him to in order to ensure setup was perfect. It was so easy to work with him - he listened to our requests and provided guidance where we needed his help. We had several types of music at our wedding (Pop, Reggaetón, Bollywood, Italian, etc.) and he was extremely accommodating and transitioned between the different genres beautifully. I would highly recommend him as a DJ, he is excellent!

Cori

Married on 07/18/2019

Amazing wedding party

Paolo was very kind and attentive to our musical tastes. Every guest have danced until the end of the party. It was a perfect night !

Allison F.

Married on 06/18/2019

Paolo is a Great DJ!

We came from Canada to get married in Florence, and Paolo was so nice and easy to communicate with over email. He gave us a good price for his services and he made sure to get and play the music we wanted. The only thing that I wish he would have done was introduce the special songs (such as first dance and father daughter) instead he just started playing them. The quality of his audio system was great and the lights were lots of fun. Thanks Paolo!
Are you interested?
Send a message