Reviews
5.0 out of 5 rating
Quality of service

5 out of 5 rating

Average response time

4.9 out of 5 rating

Professionalism

5 out of 5 rating

Value

5 out of 5 rating

Flexibility

5 out of 5 rating
100%
Recommended by couples
6 User photos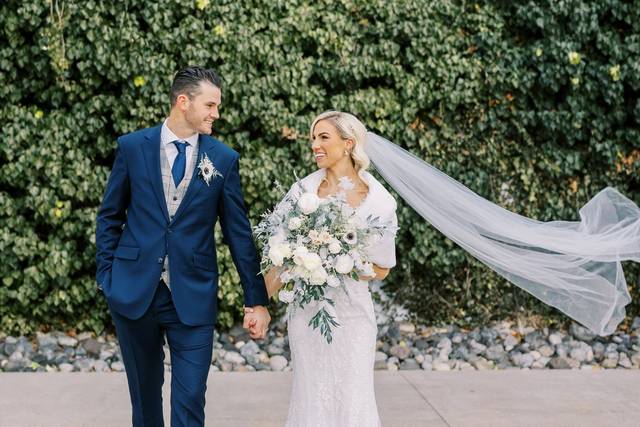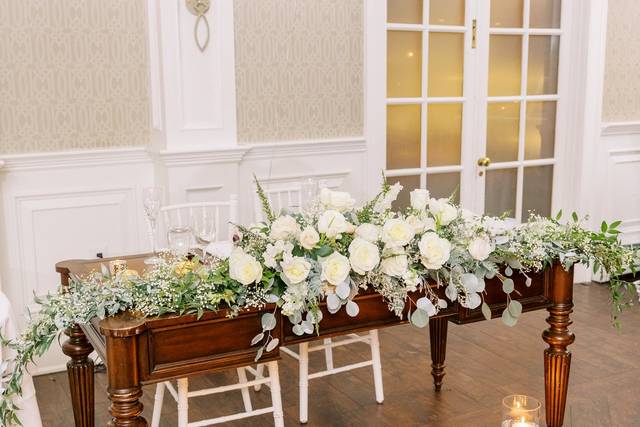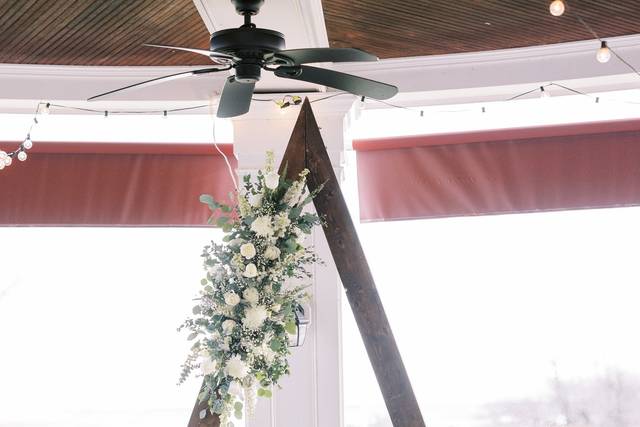 + 2

photos
Sarita I.

Married on 10/23/2022

Perfect!!!!

Brittany and her team were amazing!!! They worked with our budget, their services went above and beyond any and all expectations! Our guests had nothing but wonderful things to say about the service and servers!!! They were all so attentive and truly catered to the perfection of the evening along with my day of wedding planner. Seriously recommend this Venue! They offer so but so much and it just makes your day that much more beautiful, special and PERFECT!!! You will not regret it!!!

Atlantic City Country Club's reply:

Thank you for choosing Atlantic City Country Club for your special day! It was our honor to hep make sure your wedding was absolutely perfect! Thank you so much for the glowing recommendation, and we wish you both a lifetime of happiness.

Milissa H.

Married on 01/15/2022

Perfect Venue!

We had our wedding at ACCC in January of 2022 and we couldn't have been more impressed! From all the details Angela worked with us on, to having our very own margarita tasting for our signature drink... everything was perfect. On our wedding day, the staff was exceptional and our guests made sure to tell us this. Thank you for making this day perfect for us!

+ 3

photos

Atlantic City Country Club's reply:

Thank you for choosing Atlantic City Country Club for your special day! It was our honor to hep make sure your wedding was absolutely perfect! Thank you so much for the glowing recommendation, and we wish you both a lifetime of happiness.

Marisa F.

Married on 02/13/2021

A great wedding experience!

Not only was Atlantic City Country Club a great venue for me and my husband since it was beautiful and perfect for a golf lover, the food was amazing and the staff was excellent throughout the planning process and the day of our wedding. I would highly recommend them to any couple looking for a wonderful wedding venue!

Are you interested?

Send a message

Jessica R.

Married on 11/21/2020

Beyond amazing !!

Choosing to have our wedding at ACCC was a no brainer! The breath taking landscaping, ballroom, amenities were so easy to choose. The sky line garden is kept beautiful no matter the time of year. The staff is beyond friendly and willing to help with any and everything you may need. The bridal suite is impeccable and has plenty of space to relax before the ceremony. My husband and I got so many amazing reviews on our wedding entrees ! All of the food was cooked perfectly and tasted amazing. If I could go back and do it again I would no doubt choose Atlantic City country club !!

Jennifer

Married on 08/21/2020

Amazing staff and venue!

The staff are very welcoming and cater to your every need. Love everyone there! The property is beautiful and well maintained. I love how they constantly change the decor with different flowers and style every couple months. Making your event feel unique and different. The food is amazing! The new sky deck and bridal suite is like no other and so beautiful. The whole venue has a rich charm with glamour and character. Highly recommend using ACCC for your wedding.

Jeannette

Married on 07/31/2020

Amazing Venue & Team, Perfect for a Coastal Wedding

Choosing the Atlantic City Country Club (ACCC) as our wedding venue was perfect. Because of COVID, we chose to do an intimate version of our wedding this year and to hold a bigger reception next year. ACCC was completely accommodating to our plan and so flexible to help us have our wedding day in a year where it almost felt impossible.
The venue itself is gorgeous - surrounded by greenery, marshes, and willow trees, you don't need to be a golfer to find the area beautiful. They have a brand new ceremony space outdoors, the Skyline Garden, that has a stunning city skyline view and is surrounded by colorful plants and flowers. Furthermore, there are so many space options to choose from - a grand reception room, cool lounges, a beautiful deck overlooking the grounds. Every way you turn you encounter another beautiful space. Their bridal salon is especially great - spacious, clean, and with all the needed components for hanging dresses, doing hair and makeup, and taking a breather in between wedding day chaos. This venue is hands-down gorgeous at every corner.
The food was delicious - we got rave reviews from our guests, especially about the steak, appetizers (there was a lot of love for the cheesesteak eggrolls), and mashed potato bar. Everything was great, served hot, and was considerate of allergies & food intolerance.
More than anything, a huge shout out to the ACCC team who made this day a reality. They took our ideas and turned them into concrete plans, setting up decor in a way that was beautiful, and then boxing it all up for us. Ana Then is absolutely incredible and made our day feel so special - she was so accommodating, so welcoming, and just a joy to have. Paul helped us with all of our questions and concerns, and Kelsey ensured our ceremony went smoothly. Somehow it all came together and I know a lot of that is due to the ACCC team, who I am truly appreciative of.
They were also great with following COVID policies, especially masks indoors. At a time when having a wedding (even a small one) is of higher risk, they made the day feel safe. They were able to move everything outdoors and be flexible with the timing (given that the day started with a downpour).
A huge thank you to the ACCC team! I highly recommend this venue.

Kyle D.

Married on 03/11/2020

Perfection!

When it came to my wedding Atlantic City Country Club truly blew my mind. They took every stress we had and took it upon themselves to make our day/this process perfect in every way. From the beauty of the venue/ceremony to the Historic nature of the club (not to mention location) itself we could not have asked for a better experience. This venue is perfect for beautiful scenery, delicious food, and friendly staff.
I would give this 10 stars if I could, HIGHLY recommend this venue to be the place of your wedding/ceremony time and time again.

Ashley

Married on 09/14/2019

We love accc

Where to start! We fell in love with Atlantic City Country Club from the first walk through about 2 year ago. From the historical decor, to the ballroom, to the outdoor area and the sky deck, and the delicious food we knew this was the place for our special day. Caitlyn and Ana are the greatest team. We planned our wedding from out of state and they answered every email in a timely manner and worked with us to have weekend meetings. The day of our wedding (9/14/2019) could not have been more perfect! Ana ran around setting up our decorations and still checked in on both bridal parties while we got ready. They checked in on us several times throughout the reception and made sure both myself and husband had something to eat! For the past few weeks since after the wedding our guest have reached out and RAVED about the experience and the time they had during our reception at the Atlantic City Country Club.

Jamilynn

Married on 09/06/2019

Incredible!

ACCC went above and beyond for me! They made sure everything ran smoothly. My florist brought an arbor that fell and shattered before the wedding. ACCC all jumped into action to rebuild my arbor with the ceremony being just a couple hours away.

Tommy K.

Married on 09/01/2019

An amazing staff!

Looking to have your wedding with views of the AC Skyline? You can honestly stop you search right here at AC Country Club. The location is picturesque, the food is phenomenal, and the staff (Caitlin, Paul, Ana, and everyone else) work together like a well oiled machine to ensure everything is absolutely perfect for their couples. Every wedding I have ever had the pleasure of working at AC Country Club has been flawlessly executed, much to the credit of their amazing staff. As a wedding DJ, I feel extremely welcomed and appreciated each time I get to work here. Being in the wedding business for over 12 years, it is clear to see that they make the couples feel the same way!

Rachel V.

Married on 06/28/2019

Thank you, ACCC!

I absolutely cannot recommend Atlantic City Country Club enough for a wedding venue. Ana and Caitlin made the planning process as simple as possible leading up to our big day and our wedding was absolutely perfect! My husband and I could not thank Ana enough for all that she did on our wedding day. She is an absolute rockstar, she doesn't miss a beat, and is so passionate about her job. Our guests also raved about the food. We chose the chicken francese, the filet mignon and the herb crusted grouper with scallops. Even better than the entrees were the hors d'oeuvres, and we have Chef Ed to thank for that!! Chef Ed also made us a beautiful ice sculpture of our initials and wedding date. Paul was also great helping put together our signature drinks. Most popular was the fresh juiced watermelon margarita. It was amazing that the entire team at ACCC pieced together our vision perfectly. We also had our ceremony at the Country Club and it was just gorgeous. Also, the bridal suite is TO DIE FOR!!! Amazing. Thank you, ACCC!

Kraftin

Married on 07/20/2018

The ACCC was a perfect venue for our ceremony and reception!! We were able to have our ceremony outside, on the beautiful covered patio despite very inclement weather. We very much wanted the ceremony on the patio, and Caitlin and her crew accommodated us without any urging on our part. The reception was absolutely beautiful, and everything went off without a hitch! All of our personal touches were incorporated seamlessly and really made the wedding personal. The chef even made an ice sculpture of our dog and created a special, "mac and cheese bar" just for us (given our "#kraftmattandcheese". We would highly recommend this venue and the staff to anyone and everyone!!

Kevin

Married on 04/27/2018

Caitlin and her staff, especially our server Anna, were the perfect mix of professionalism, fun, accommodating, and engaging. The service was impeccable, the food amazing, and everything was overall spectacular!

Kathleen

Married on 04/15/2018

We just celebrated our 50th wedding anniversary at the Atlantic City Country Club. We had an awesome event!
Everyone was attentive and the ballroom looked beautiful. My instructions for setting up the room were followed to
a tee. We didn't need to ask for a thing. The food was delicious and the chef came out to make sure we were happy. It was a wonderful day! Thank you to Julie and all the staff at ACCC!

Kylie

Married on 08/11/2017

My husband and I got married at AC Country Club this past August 11th and we honestly cannot say enough great things about the venue. Both of us grew up in the area, so AC Country Club was the first venue we looked at. From the moment we walked in, we both looked at each other and knew that it was perfect for us. Not only is the venue itself beautiful, but the staff was more accommodating than I could have ever hoped for. Caitlin was absolutely amazing from day one- whenever we left a meeting with Caitlin, my husband and I would look at each other with a sigh of relief and both say how much more relaxed we felt knowing that she knew exactly what we wanted and had everything under control, because admittedly there were times when we had no idea what we were doing. Two days before our wedding, my family was dealt some bad news regarding one of my close family members, and there was a possibility that 8 of them would not be able to attend- when I told Caitlin, she was extremely empathetic and understanding and told me to just relax and not worry, and even said she would make us a new bill reflecting the decrease in guests if need be, which I was honestly not expecting. Caitlin just has a natural way of making you more relaxed about everything, which is such an important quality to have in this business! The day of (as well as the day of our tasting) Anna, the Maitre d, was absolutely amazing. So full of personality and fun, she definitely played a big part in making the day as amazing as it was. I can honestly say that I had zero worries the day of the wedding and that absolutely nothing went wrong. When my husband and I came back the next day to pick up some things, Anna came running up to give us a big hug and congratulations. Paul Williams was also amazing from the time I meant him at a bridal show at the Country Club all the way up until, and after, our wedding day. Paul made an appearance at our tasting, and whenever we went in for happy hour or anything, he alway

Lindsay

Married on 08/05/2017

WOW!!

We are blown away by everything you all did for us the night of our wedding and before ! The food, space, service, and staff were absolutely unbelievable! We cannot express how impressed and how professional the staff were to us on our wedding day ! Anything we wanted or needed was taken care of . Each detail that we wanted was beautifully executed and displayed better then we could have imagined . Our wedding is a night that we are never going to forget!

Love the newly married , Mr. And Mrs. Ash!

Rebekah

Married on 12/31/2016

Atlantic City Country Club

My husband and I just had the New Years Eve wedding of our dreams at the Atlantic City Country Club. Caitlin McMahon, the wedding coordinator, blew our expectations out of the water. I credit her and the rest of the incredible staff at the ACCC for making our wedding a complete success. From the day we booked until walking down the aisle every question was answered promptly, every crazy idea I came up with was validated and executed.

The venue is breathtakingly gorgeous – we had a full indoor wedding (no outside photos) and all of the unique décor lends itself to the most beautiful photos. It feels intimate but still expansive and has lots of beautiful seating areas for older relatives or guests who just might need a break from all the dancing! The getting-ready rooms for both the ladies and men are so elegant and detail-specific. We couldn't have imagined a better space to get 9 of us through hair and makeup with plenty of champagne and mirrors to go around! My husband and his groomsmen loved the masculine locker room and even took advantage of the showers and pool tables (making for some more great photos!)

The staff – again, I cannot express enough how the men and women at the Atlantic City Country Club are the real reason our wedding was a success. Not once did anyone want for a drink or a snack – there was not one staff member that didn't go above and beyond in making sure our day ran smoothly or that our guests were as comfortable as possible.

The food and drinks were fantastic – both my MIL and I had specific brands of our favorite wines we requested and my husband and his father wanted a tailored beer menu – all of our options were stocked and ready to go. Even now our guests are still raving about the food and how amazing the desserts were.

I could go on all day – the Atlantic City Country Club was the venue of our dreams.

Lynette

Married on 11/11/2011

The staff at the Atlantic City Country Club did an amazing job of ensuring that our wedding day was everything we wanted and more. Pete and Patti helped us to create the wedding of our dreams and made the process effortless. The value offered by the country club made the other venues in the area pale in comparison, and the food was exceptional. Chef Ed did an amazing job, everyone of our guests raved about the food and told us our wedding was the best wedding EVER!! If you are in South Jersey and are considering a venue, please consider the Atlantic City Country Club the old world charm of the facility mixed with the staff and the affordable pricing is sure to give you the wedding of your dreams too!

Carli

Married on 09/22/2017

I am finally getting around to reviews even though our wedding was back in September, but better late than never :) We got married at the Atlantic City Country Club on September 22nd and had the most perfect wedding! Both our ceremony and reception was at the country club and everything was absolutely beautiful! Caitlin, the event coordinator, was so accommodating, helpful, and professional. She and her amazing staff made sure that the entire day went off without a hitch! One of my husband's very few requests was that we had good beer from California, where we live, at the wedding. Paul, another amazing staff member we got to work with, made sure that the specific beer my husband requested was at the wedding and in great supply. I honestly cannot say enough about the staff! Everyone was so nice and accommodating leading up to the wedding and the entire day.

On the day of the wedding we got ready in the bridal suite there, which is beautiful and also set up perfectly to have your make up artist and hair stylist do everything there. There was food and champagne waiting there for us when we got there, along with the maitre de, Anna, who was the best! She made sure we had everything we needed the entire day. She made sure my husband and I were eating and always had a drink in our hand. The ceremony took place outside on the patio with the golf course and atlantic city skyline as our backdrop. Cocktail hour took place on their gorgeous upper terrace/patio, which was breathtaking. All of our guests complimented us on how beautiful the venue was.

Not only was the entire venue beautiful, but the food was amazing!! I unfortunately did not have a chance to get to everything since we were so busy mingling, but all of our guests were so impressed by cocktail hour and their dinner. We decided to go with the salmon, filet, and chicken franchise and my salmon was so yummy! We had the most perfect wedding and we could not have chosen a better venue!
Are you interested?
Send a message