89 Reviews
Recommended by 99% of couples
Quality of service

5 out of 5 rating

Average response time

4.9 out of 5 rating

Professionalism

4.9 out of 5 rating

Value

4.9 out of 5 rating

Flexibility

4.9 out of 5 rating
58 User photos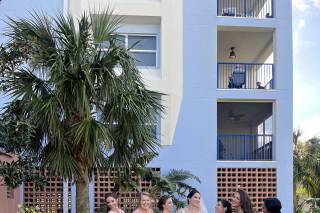 + 54

photos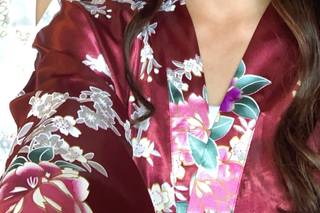 Dayna

Married on 11/12/2022

Awesome!! Hair and makeup came out perfect

I scoured through sooooo many instagram pics and reviews before choosing izzy. Her and her team are so Talented. All my 11 bridesmaids looked Absolutely stunning and all were so happy with the results! Izzy was helpful and responsive throughout the process. Thank you for making us all extra beautiful !!!!🥰

Heidi C.

Married on 10/22/2022

Highly recommend

Izzy and her partner were amazing! My makeup and hair looked so good and so did all of my bridesmaids! Everyone looked beautiful and Izzy and her partner gave them exactly what they asked for. I'm extremely picky with my makeup but I loved how it turned out. I highly recommend Art by Izzy(:

Whitney C.

Married on 10/02/2022

Amazing Experience

Working with Izzy and her team was amazing. She has such a calming presence and really knows what she's doing. We all looked so good for the wedding day and my bridesmaids couldn't talk about her wonderful services enough! There was a lot of chaos for my wedding and she was so understand and so flexible. I would highly HIGHLY recommend Izzy 100x over!

Are you interested?

Send a message

Kristina F.

Married on 09/10/2022

Perfection is an understatement

Izzy quite literally SAVED my wedding. I wish I could afford to pay her double or even triple of what she charged and I still don't even know if that would be enough!! I am not from the area, I'm from 1500 miles away in the Philadelphia suburbs of PA. I found Izzy on wedding wire and was impressed by her work and her prices. My experience with her and her team only increased from there. She was great with communication, helping my pick out clip in extensions via text/email before we even met! She sent me links for amazon and made me feel comfortable explaining what I wanted and my vision for my bohemian beach wedding look. Her and her makeup assistant Danni straight DID THE DAMN THING!! My girls and I have never felt so beautiful. They were prompt, had everything they needed, and were super chill to vibe with us while glamming us up. I couldn't have asked for a better experience. To top it off - my wedding was on Saturday 9/10/22. I landed in fl on Thursday 9/8. As soon as I landed my caterer/bartender cancelled on me due to a supposed medical emergency. I was so desperate that I casually texted Izzy Friday afternoon asking if she happened to know a chef in the area. Not only did she know one, she got me connected with
someone in about an hour who was able
to NAIL my menu and provide top shelf open bar for my guests with less than 24hr notice! My guests are still talking bout how good food was and my girls are still star gazing at their selfies. Izzy was the best to work with and I would refer her every single time!!!! Look no further!

+ 6

photos

Traci C.

Married on 07/16/2022

Hair and makeup wedding

Izzy is amazing, I emailed and texted her so many times with millions of questions and she always answered quickly.
Stylist yinet came to our condo in treasure island to do mine and my two teen daughters hair for my wedding as well as my makeup. She was the sweetest person ever!!! She did an amazing job on all of her hair and my makeup. We all loved it and had so many compliments. Also a reasonable price especially for coming to our condo. I would recommend using hair by Izzy to anyone!

+ 2

photos

Allison

Married on 05/06/2022

Phenomenal

Wow! What can I say, she was fantastic! Extremely professionally, kind, and listened to what we all wanted. Can not recommend more!

Rachel B.

Married on 04/10/2022

Amazing hair and makeup artist

First of all I'm not one to write reviews but after having Izzys services for my wedding I felt the need to write about my experience with her and her team. Im a very picky person when it comes to my makeup, I wanted something neutral for my girls and I and they delivered the vision that I had in mind. When it came down to the hair Izzy did half of the girls and the other half were done by her assistant Daylen and everything came out absolutely beautiful, all my bridesmaids and mom and mother in law were super happy with how their looks came out. Would 100% recommend!

Allison M.

Married on 03/24/2022

She's the best!

I got married in March and Ive been meaning to write this review to say how amazing Izzy and her assistants were, I had 6 bridesmaids and my mom and mother in law so a total of 9 of us, it was a hectic morning and Izzy went out her way to accommodate us in everything possible. I was very nervous since it was so many of us to get all out hair and makeup within a couple hours but everything came out more than perfect. All the girls loved how beautiful they looked and our makeup and hair stayed intact the whole night. Also have to add the Izzy and her assistants were super lovely to work with.

Jessica L.

Married on 03/12/2022

Best in the Tampa Bay Area

If you're looking for the best stylist for your wedding Izzy and her assistants are truly the best in the Tampa Bay Area. I was googling places near me that had the best reviews and I found Izzys business highly recommended. From the first call I could tell she was professional and answered all the questions I had. Wedding day came and she brought two girls with her to help out since we were a group of 8, they made us all look beautiful and were lovely to have around. Our hair and makeup stayed intact throughout the night which was very important to me. Very thankful I chose the best stylist, highly recommend!

Dakota J.

Married on 03/04/2022

Happiest bride

Ill start by saying that I'm usually not happy with my makeup when someone else does it but Izzy did the perfect makeup for me, I told her to do something natural with neutral colors and I was so happy for the first time ever especially on the most important day of my life! Ill also add that my bridesmaids (6 of them) loved their makeup look and all of our hairs stayed flawless for the rest of the night even with all the dancing we did. Can't thank Izzy and her team enough for such wonderful work!

Victoria B.

Married on 02/27/2022

Loved her and her team

After looking for a hair and makeup artist for almost a month I found Izzy's business. Her reviews said a lot about her work ethic and I wanted the absolute best for my wedding day. From our first conversation to the wedding day she was very communicative and flexible with me. I was impressed with her and her assistants they made us all look gorgeous and wouldn't ask for a better artist. Im so happy with the choice I made and I recommend her business to any bride to be.

Jane J.

Married on 02/25/2022

Wonderful Experience

I chose Izzys hair and makeup services because of all the great reviews I saw on wedding wire. I have to say I made the best choice, she got back to me the fastest possible and made sure that everything was perfect for my wedding day. I felt like the most beautiful bride, and my bridesmaids were extremely happy with how their hair and makeup looked, she will work with you and is very versatile. If you're looking for hair and makeup for a wedding she is the best and I absolutely recommend her services.

Alexa E.

Married on 02/23/2022

Felt like a princess!

After looking through all the different salons I couldn't make up my mind, I wanted something different. A look that would accentuate my features I did not want to look like all the other brides. Online all I would see is cookie cutter styles. Then I saw Izzys work, WOW! I was very impressed and decided to hire her services and she more than delivered. I had seven girls other than myself and every one of them looked absolutely stunning. Her assistant and her made sure we all had touch ups after all the hair and makeup were done. The professionalism was on point and I felt like a princess that day. Would recommend 100%!

Patricia M.

Married on 01/31/2022

Wonderful to work with!

I found Izzy online and decided to do a trial with her since Ive had a couple trials before and had the worst experiences. She was lovely and professional and a true artist when it comes down to her work, I hired her then and there. On my wedding day she got there on time with her assistant Lili (also super sweet and talented) and had all 7 of us done in time, they made sure that our hair and makeup looked intact even after we put our dresses on. I was afraid that the hair or makeup wouldn't stay put but that was not the case, I looked flawless the whole night even with all the dancing I did. I absolutely recommend her services to a future bride hands down!

Sherri M.

Married on 01/22/2022

Would hire 1000x over!

I recently just got married on 01/22/22 and hired Izzy to do my hair and makeup along with my bridal party, my mother, and mother in law. From the very beginning, Izzy was so kind and patient with me as I was trying to figure out hair and makeup trials for me and my mother. She worked with me around my schedule for trials and always stayed in touch with me. When I had my hair and makeup trial, I knew I made the perfect decision, my hair and makeup were everything I wanted it to be and more! On the day of the wedding, she was so accommodating and even had an assistant with her to help complete everyone's hair and makeup. My makeup, and everyone else's stayed all night and our skin looked flawless. I felt so beautiful on my wedding day, like an actual princess, thanks to Izzy! I'm still getting so many compliments!

Stacy J.

Married on 01/20/2022

Best hair and makeup

My experience with Izzy and her team was truly great. They were professional and made me feel at ease since I was having a nervous breakdown on my wedding day. I was a bit skeptical about the makeup since she does glam and I wanted more of natural look and that's exactly what I got. I felt so beautiful, more than ever honestly. She was very attentive to detail and she did my hair in a French braid with flower hair piece I was blown away by her work. So thankful I made the best decision to hire her business!

Mariah R.

Married on 01/19/2022

She is the best!!!

My wife and I used Izzy for our hair and make up and were absolutely stunned with how professional and creative she is, she did our cat eyed make up gorgeously, made us feel super comfortable and at ease. Have to mention her prices are very reasonable and for the work she does I highly recommend everyone to use her services

Kendra H.

Married on 12/31/2021

I looked the most beautiful ever!

For my wedding I looked for a long time for the best hair and makeup services and finally found Izzy's Hair and Makeup business. The reviews and all the before and after pictures I saw were gorgeous I knew I needed to hire her right away. Truly the bestest decision I made, she took my call right away and she answered all the questions and concerns I had for my big day. On my wedding day I had some unexpected delays with a couple of my bridesmaids and she accommodated without a problem. When it came down to our looks Izzy and her stylist Yinet both worked really hard to deliver the exact look I wanted, Ill say I don't think my hair and makeup have ever looked more beautiful, I got compliments from everyone and my bridesmaids also looked absolutely stunning!

Karina M.

Married on 12/24/2021

Highly recommend!

Izzy was amazing to work with, she ensured my hair and makeup was exactly what I envisioned. Since I was a little girl I dreamed of my wedding day, I wanted to feel like a fairytale princess and I have to say I felt that and more! My hair and makeup were flawless I received so many compliments from everyone that night saying how beautiful I looked. So thankful for her and her team for making my wedding day extra special. Truly recommend her services!

Lele H.

Married on 11/30/2021

Loving every detail

Izzy was absolutely amazing at ensuring my makeup was perfect for my special day. I received so many compliments – I don't think I have ever looked so flawless, my eyes in particular were stunning! Izzy was extremely professional, calm and best of all so friendly! I really can't thank you enough for all the care and attention you gave, and the amazing service that I received. I will definitely be using her services again!

Amanda C.

Married on 11/20/2021

Perfect wedding hair and makeup

Izzy did the most amazing job on my wedding hair and makeup. I have dreamed for a long time of what my hair will look like for my wedding day and she made that dream a reality and more. Izzy was extremely professional through the entire process. We did a trial run before the wedding which was amazing to see what I liked and didn't like for myself. She was extremely honest and gave me tips on which hair extensions to buy and what make up would look best for my look. She was in constant communication with me and answered any questions I had (and there were a lot as a nervous bride). It only allows 5 stars but I would've given her 1 million stars for making me absolutely beautiful on the most important day of my life.

Izzy and her partner Michelle also did my entire bridal party, officiant and two mothers. Every single person loved their hair and make up and we're so happy that they took care of us!
Thank you again Izzy!

Raquel W.

Married on 11/13/2021

Beautiful hair and makeup!

I was concerned with having curly hair on the beach that my hair wouldn't stay. Izzy assured me she would work her magic. She did a loose updo and it stayed all night. My makeup looked fantastic. She does glam makeup like no one else, but I requested natural and she completely nailed it too! All my family and bridesmaids looked amazing. She did light make up on my flower girl to make her feel special and she loved it. Izzy is so much fun to have around on your day, and she's great at managing all the different personalities in the room on your day. Book her! You won't be disappointed.

Melissa G.

Married on 11/11/2021

Yes!! Amazing

I cannot give them enough praises. They were amazing. On time and the artists knew exactly what they were doing. Izzy was in constant communication during the whole process as well as during the wedding. The stylists took my vision and made it come true. I had an issue with my venue with the timing last minute but the artists were calm and everyone was done in time and looking beautiful! I recommend them 100%.

Amanda B.

Married on 11/06/2021

The best of the best

Izzy did the most amazing job on my wedding hair and makeup …✨ my makeup looked fantastic all my family and bridesmaids looked amazing..they were amazing and on time and she knew exactly what she was doing … Izzy was always in constant communication during the whole process.. She's so much fun to have around on your special day .. Book her you won't be disappointed I promise you 🙏🏻

Isabella W.

Married on 10/31/2021

My Best Choice

I love Izzy! Her and your team were incredible. They did 9 people hair and makeup. She was accommodating about adding a couple of people at the week of the wedding so i really appreciate that. I was so anxious on my wedding day and she knew exactly how to calm me down and make my day go smoothly, she is such a great caring artist even after the wedding, she reached out to see how the wedding went. It made me want to recommend them even more. My makeup and hair lasted till the end, which I was initially worried about. And most of all it endured all the tears because I was a mess. So thank you Izzy! You are the best!
Are you interested?
Send a message