Reviews
4.8 out of 5 rating
Quality of service

4.8 out of 5 rating

Average response time

4.7 out of 5 rating

Professionalism

4.8 out of 5 rating

Value

4.8 out of 5 rating

Flexibility

4.8 out of 5 rating
96%
Recommended by couples
64 User photos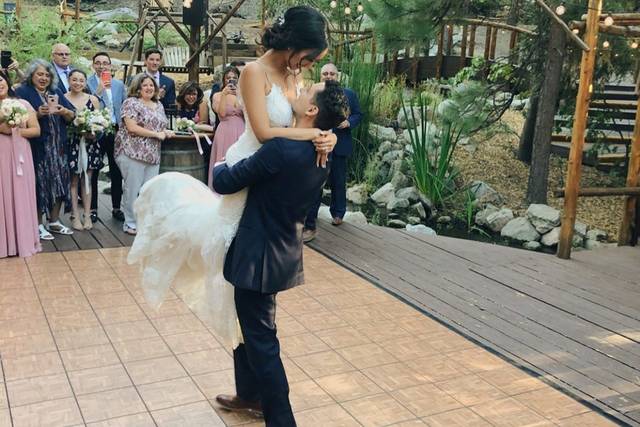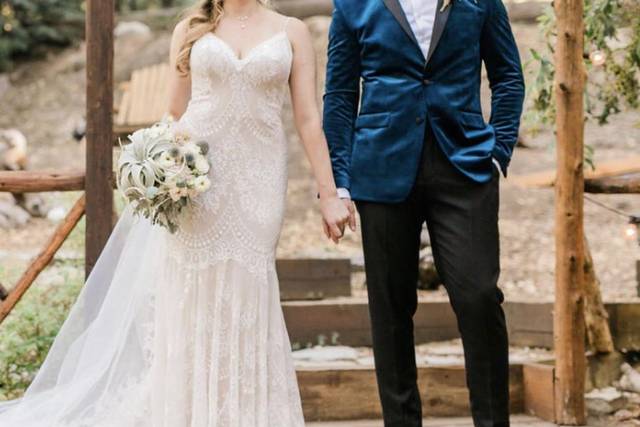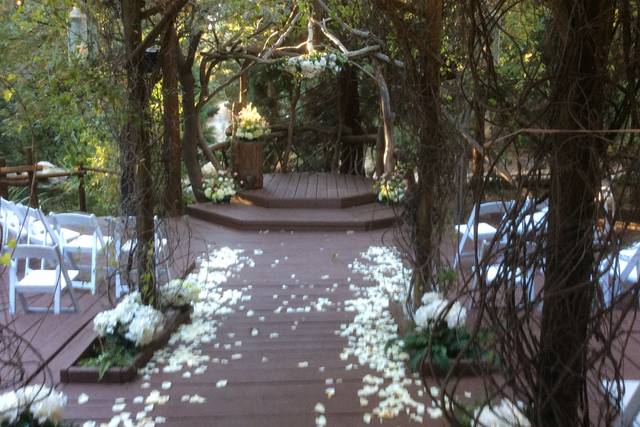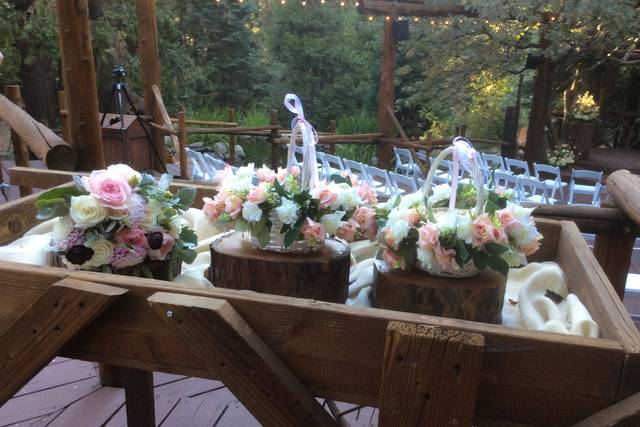 + 60

photos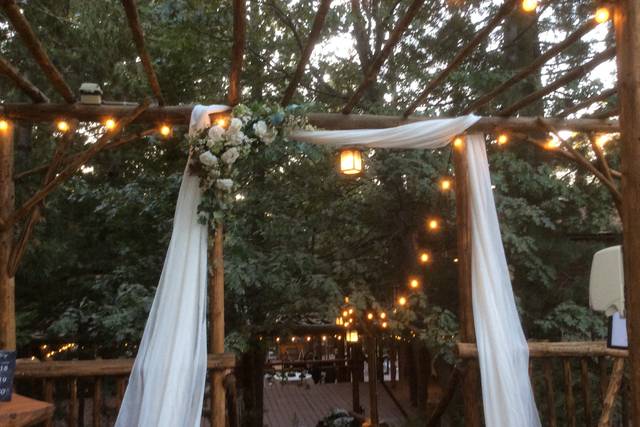 Aubrey C.

Married on 01/08/2021

Love love love

I truly LOVED my experience at Pinerose. The packages are amazing and it makes it so easy! I have to say Lynda was such a pleasure to work with! She always responded quickly and never made me feel like I was bothering her. She also is exceptional the day of the wedding. My friends were shocked to actually see us eating and that was all thanks to her! She made sure everything ran smoothly and that our stomachs were happy. ALL the vendors were terrific! Thank you Pinerose, Lynda, James (photographer), John (Graystone catering), John (bartender), Nikki (baker), and Chad (DJ). We so appreciate you for making our night exceptionally magical!

Courtney N.

Married on 01/05/2021

Perfect Wedding in the Mountains

The venue was amazing from the initial tour through to the wedding day itself. We lucked out with lots of rain throughout the year, so our May wedding was full of flowers and the trees were green. The fog rolled in at night where the whole experience was truly magical within the mountains. I could not have asked for a better wedding in the mountains that is also so conveniently placed near LA. Aside from the venue, all of the staff at Pine Rose were extremely helpful throughout the planning process. Lynda who was our wedding coordinator made everything perfect. She has a dynamite personality and you can feel how much she loves to make the wedding she works on great. She answers emails at crazy hours of the night to make sure that you feel supported and answers all of your questions no matter how trivial they might seem (I asked a ton). All in all, the place was magical and I could not have asked for a better place to get married.

Kate H.

Married on 12/08/2020

Magical Wedding Day

We knew we wanted cabins onsite for our guests and a beautiful outside backdrop. When we found Pine Rose, we knew it was the perfect place. As soon as we stepped on the site, we began to feel excited and joy walking through the ceremonial site, the dance floor and the gorgeous woods surrounding it. Working with the Pine Rose team was easy and a pleasure. They helped us have the most magical day ever for our wedding. We got married in late August and encouraged everyone to book their cabin if they wanted to stay on site. We also had a bus to drive other guests who opted to stay in local resort to the wedding site.

It's been over a year now and we went back to Pine Rose for our 1 year wedding anniversary because we love it so much. We still have people telling us it was one of the best weddings they have ever been to. Hands down would encourage anyone to have their wedding at this one of a kind venue.

Are you interested?

Send a message

D W

Married on 11/08/2020

Pop up winter wonderland wedding

We booked a pop up wedding with Pine Rose and planned for an early fall wedding...but the week before, we learned that a snow storm was coming in. The vendors were all present as needed and everyone was so encouraging and heartwarming. We had the option to move inside the lodge for the ceremony and first dance, but we preferred it outside because the snow was absolutely beautiful. People who streamed in were in awe and later told us that some of their families thought that they were watching a Disney movie. When you book with pine rose, they take the stress off of you even in the craziest situations. Thank you pine rose, Lynda, and vendors for such a magical wedding.

Erin K.

Married on 10/25/2020

Beautiful venue

we picked Arrowhead Pine Rose Cabins because we wanted a forest themed wedding...We got exactly that!! The venue provides everything you need for your dream wedding. The views are incredible, the staff is so helpful, the venue is accommodating and our big day was perfect. We worked with both wedding coordinators and they were both amazing. The baker for the cake was awesome, as was the catering (I had several people text me after saying best food they have ever had at a wedding), and the bar staff. Everything was perfect and I would recommend Arrowhead PineRose Cabins 100%

Chelle L.

Married on 10/02/2020

Magical and Beautiful Rustic Venue

Pine Rose is just magical!! My husband and I selected Pine Rose for the gorgeous outdoor rustic venue and the best part was the people who keep this place running!! Lynda is an INCREDIBLE wedding coordinator! We were so lucky to have her be apart of our big day and over the course of over a year she has been there every step of the way with us even when Covid hit. I got the chance to work with the owner Trisha as well and I can't tell you just what a salt of the earth woman she is! I loved being able to bond with her and was so happy being able to get married at her establishment! Both Lynda and Trisha really worked with me on making our day truly incredible. They've just got this great energy and after the wedding I heard from all my guests how much at ease Lynda put everyone. Our Pastor was raving about what an amazing wedding coordinator she is! He said she was the absolutely BEST coordinator he's ever worked with. All our guests said our popup wedding was perfect! We can't wait to celebrate our big ceremony next year again with them!!

+ 2

photos

Cassidy

Married on 11/19/2019

The best place

I couldn't have imagined my wedding anywhere else. It is such a beautiful place and perfect for my small wedding. We had ours at the small venue and most of our family rented all neighboring cabins. This made it perfect. Our wedding was beautiful and Kim was helpful in the planning. It snowed the day after and it is just stunning.

Jessica

Married on 10/20/2019

Pure Bliss

I don't even know where to begin with this review. It will be a long one because I have so many good things to say about this venue. My husband and I got married here on October 20, 2019. Here I am four months later, still in bliss from the experience that Pine Rose provided us with. We booked Pine Rose based upon the beautiful atmosphere and the gorgeous property. Everything else was a bonus. It's a package deal which means all vendors are included (or you can use your own) and it made all the difference. Everyone talks about how stressful weddings can be and I can't relate because Pine Rose made it such a wonderful experience. Aside from the fact that the vendors and staff are some of the most amazing people I've ever met, they all know each other and work together all the time so for a bride, this means everything! I didn't have to worry about them meshing well or working well together because they have a routine and do it all the time! Lynda was our coordinator and she was incredible! She is the sweetest woman and she actually became more like family to me. This woman is loved so much by not just me but my entire family too. She is wonderful at her job and it was an absolute pleasure having her be with me on such an important day. I couldn't have picked anyone better for the job, plus I gained a lifelong friend. I cannot say enough about Pine Rose. From start to finish, they made the most important time of our life (thus far - kids to come) a blissful dream. My husband and I will continue to visit Pine Rose every year on our anniversary so that we can reminisce on the magic over and over again. If Pine Rose is what you are looking for scenery wise, everything else they offer will be a million cherries on top.
Next, is my review of the vendors we chose through Pine Rose. Jasmine Rose was the florist that we chose and they were great! Aside from my flowers turning out amazing and being so gorgeous, they were so kind to me throughout the process. Dee was very communicative throughout the process & totally cool with all my changes. When I arrived at the venue on the day of they greeted me in the parking lot and made me feel so special. Niki is who we chose to make our cake and cupcakes. The cake and cupcakes were TO DIE FOR. She was so creative with her flavors and gave us such a wide variety. She called me a week before the wedding just to make sure we were on the same page. It was a great experience working with Niki. She listened to what we wanted and offered great suggestions in regards to the flavors and amount needed to serve our guests. John was our bartender that Pine Rose provided and although I did not get to share many words with him since people kept bringing me drinks, versus me going to get them, all our guests could not rave enough about him. They said he was so perfect for the job and made their experience so great. I could tell through my guests' reviews of him that he loves his job. I did briefly talk with him at the end of the night and he sent me the sweetest email the following day. He is a true gem. Chad was our Dj and to this day, we still get comments about how fun he made it! Through the whole process Chad was so communicative and so accommodating to any requests we had. He MADE our reception as wonderful as it was! Our wedding is talked about as "the wedding of the century" by our family and friends and that wouldn't be so if it weren't for Chad! For catering, we went with Fox in the Woods and OH MY GOSH. Besides Tina being the sweetest ever, the food is to die for!! I wish she had a store front because we would drive up the mountain just for her Mac-n-Cheese and bruschetta!! For our tasting we met at Tina's house and with the help of Nicki, she gave us the most warm welcome where we tried different food options which were all amazing. The food we chose tasted just as delicious on the day of!! Lastly, for photography, we chose Whimsie Photography which was the best choice! It makes my heart happy just thinking of her and how beautiful our pictures came out. Sadi became one of my friends through the process and was there every step of the way for any questions I had. She is funny, sweet, hard working and her passion for her clients is unmatched and that doesn't even have anything to do with how beautiful her work is. We love every one of our pictures and she makes us feel like models! I never like pictures of myself and I am STILL blown away by how much I love our photos. They are elegant, "whimsical" and I will treasure them forever. I wish I could bottle up the feeling that Pine Rose and it's vendors give me and share it with the world. This place is seriously too good to be true, but it is!! Thank you Pine Rose!


+ 3

photos

Courtney E.

Married on 09/19/2019

Sooo amazing

I'm sad I'm reviewing because that means its all over! PINE ROSE deserves a million stars. Everything was sooo easy, but you would never know from the looks of it! Our wedding was gorgeous and everyone was so on top of everything while being professional, diligent, and caring. We truly feel that every one was so excited for us. We cant wait to come back here for our anniversary every year.

Kristy P.

Married on 09/09/2019

Rustic Romance Wedding Of Jeremy And Kristy 9-9-2019

My husband and I recently got married at pine rose cabins and we will forever cherish all of the memories that were created that day/evening! My husband Jeremy is the one who picked the venue which is basically located in the forest! It's surrounded by beautiful trees, little ponds filled with koi, and little trails all over the place! The hidden creek lodge where you get ready was beautiful as well. The bride suite is just gorgeous and the groom suite is relaxing and chill with games for the kids to play. a true rustic romance getaway that's honestly perfect for the whole family! Lynda Moudy was our coordinator and she was literally amazing with everything! From the first time we met her back in 2018 she was truly so happy and excited for us ( like we have known her all our life ), so quick to respond with answers to our questions emails or phone calls , she made sure we got the vendors we wanted and always made sure that it was what my husband and I wanted! Lynda Moudy truly was the glue to this whole thing and Jeremy and myself are so thankful for her and everything she did for us because she made our wedding that much more special and the process with her was no hassle! As a bride you want the best and Lynda with Pine Rose is the best in my opinion! On top of the venue being so beautiful and Lynda being totally awesome we had some great vendors as well! James Tang our Photographer was my favorite by far! Me and my husband can be shy when it comes to pictures and James just made us feel comfortable and beautiful! His personality is top notch and his work truly speaks for itself! He was so funny and had everyone laughing and you can truly tell that this is his passion! Nikki our Cake Decorator from Nikki's Custom Cakes was so sweet and made us a yummy beautiful cake. Chad Hobart our DJ was laid back and awesome and had everyone up on the floor dancing and having a good time! Frankie Hobart our Officiant literally married my husband and I so we would not be official if it wasn't for her , she was shy and sweet as well but totally awesome! John Craig our bartender was sweet and listened to all of my feed back when we had our conversations about the bar! He did a great job in making sure no one over did it but made sure they still had fun lol. Karen our Florist from Wild Flowers At The Lake did a beautiful job on everything from my bouquet to the center pieces to all of the little floral details! My sister worked with Karen for me on the flowers aspect! But Karen did all the beautiful work just really listened to my sister and gave us exactly what we wanted and more! Tina from Fox In The Woods Catering was very nice and the appetizers were the talk of everyone! All of the team at Pine Rose were just a joy to work with and they truly understand that your planning a wedding and take care of almost every aspect for you so the process is easy so all you have to do is worry about not worrying!

Thank you Lynda for everything you have done for Jeremy and myself! You and your team were amazing and I'm so happy you were the one to be by our side to help plan this next chapter in our lives! We are forever grateful for you!

Jennifer T.

Married on 09/08/2019

Wonderful experience!

From start to finish working with Pine Rose cabins was beyond amazing. I found pine rose while searching Instagram. I made an appointment to look at the venue, met with Kim and the moment I entered the property I could envision my wedding. Lynda was assigned as our wedding coordinator and the wedding would have never been the same without her. Every detail from vendor day to finalizing the wedding events was amazing. I truly recommend the amazing service from the staff and especially the beauty of the wedding venue. The place is gorgeous and the best outdoors, rustic wedding venue.

Julia H.

Married on 08/18/2019

This is a godsend of a venue to work with! All my wedding dreams came true!

Everything about my wedding was perfect. Lynda was my wedding coordinator and she was a godsend day of. Every little thing I wanted, she executed perfectly. She also coordinated pretty much everything with all of our vendors too. It was so easy! Lynda made sure to be thorough with me and my husband before the wedding so that it would be everything of our dreams. And it really was the wedding of my dreams! The venue was immaculate. All of my guests have continuously told me how it was the best wedding venue they've ever been to. I would recommend having your wedding here 10x over. It's a Pinterest girl's dream venue!!

Hayley J.

Married on 08/17/2019

Our dream wedding

My husband and I got married at Pine Rose on 08/7/19. It was more than we ever could have imagined. The property is breathtaking and all the guest loved it! The wedding coordinators were there and made sure everything ran smoothly. The DJ Darrel was amazing and even created a special surprise for us at the end of the night. The family had no stress at all on the day of the wedding. It was perfect! Thank you pine rose for a lovely experience, it truly is the dream place to get married. Zook photography was so fun and made us average folk into models. We loved them!

Arrowhead Pine Rose's reply:

Awww... Thank you so much!! Everyone was wonderful!! You guys are so cute together. We wish you both many more years of Love, Laughter & Happiness!
Thank you for celebrating with us here at Pine Rose Cabins. Your Coordinators, Kimberly & Mindy💕


Emily

Married on 07/27/2019

Stunning location, amazing coordinator

When we first saw this location, we fell in love with it. You really can't beat the view overlooking a lily-covered pond as a babbling brook winds its way through the trees, all under a clear sky. Picturesque. And Jolene... I have no words to do her justice. She was absolutely fantastic and helped us every step of the way and every step of the day! She made everything clear and easy, and the whole day ran smoothly because of her. In fact, I didn't feel an ounce of stress on my wedding day, and I truly enjoyed every moment because I knew everything was taken care of. Thank you so much!

Note: make sure your guests book their cabins quickly!

Malika M.

Married on 07/26/2019

Pine Rose/Coordinator Lynda were INCREDIBLE.

Lynda was our coordinator for our wedding on 7/26/19. She was truly incredible. She was warm, friendly and also was able to get the job done.

I felt safe in her hands and she made my wedding feel like the most important thing happening in the world that day.

Lynda was always in touch with all of our vendors so we didn't have to be, she need Pine Rose like the back of her hand which was very helpful, she was a great leader.

I specifically asked for Lynda to be our coordinator after reading what felt like a thousand positive reviews about her and she did not disappoint.

I event plan for a living, I am extremely type A and Lynda was truly a dream.

Pine Rose in general was MAGICAL. It was the best day of our lives, truly.

Chad for a DJ was the BEST DJ I've ever heard at a wedding.
Graystone Catering - incredible good also the professionalism was out of this world.
Jasmine Flowers - Affordable and STUNNING
April - handled all my phone calls and was a gem
John - Bartender was great!

It was an outdoor beautiful event. I was highly involved and everyone was wonderful with me. Our guests all said it was one of the best events they'd ever been to.

Lauren

Married on 07/20/2019

My Wedding at Pine Rose

The venue, vendors and staff at Pine Rose are one of a kind. Everyone was very professional and made my husband and I feel so special throughout our wedding planning and on our wedding day. Lynda, our wedding coordinator was absolutely amazing. You can tell she really cares about her couples and goes the extra mile to make everything perfect. We received many compliments about our venue and the wonderful, kind staff that made our dream wedding a reality. I highly recommend Pine Rose to anyone looking for a rustic, fairy tale wedding!

Jayson

Married on 07/15/2019

Coordinator

Lynda was amazing. From the very beginning she was very welcoming and helpful. She started off by helping us choose vendors and plan our event. Every step of the way she was there to answer any and all questions. The day of the event she made the whole ceremony seem effortless to the family and went off without a hitch. She made sure the wedding party actually had fun at the wedding and weren't stressed out. Overall lynda and Pine rose were amazing.

Ashley P.

Married on 07/05/2019

Best venue ever!

Pine Rose is a truly special venue and we had the most amazing wedding day there! The venue itself is GORGEOUS! It feels so romantic surrounded by the trees, hearing the birds chirping and the water running in the streams-it was so dreamy! Our guests couldn't get over how beautiful the setting was. And while there are lots of options and opportunities for decor, the natural beauty of the place really speaks for itself! Besides being so beautiful, the layout of the venue itself made you feel like you are in a perfect romantic wedding bubble. We loved working with our coordinator, Lynda, and the rest of the vendor team!! The all-inclusive nature of this venue made it surprisingly easy to plan and with everything so well-coordinated, the wedding day itself was so stress-free. Throughout the process, it was easy to tell that the whole team at Pine Rose truly cares about making sure couples have the best wedding experience. What's more, even the Pine Rose Cabin department went out of their way to help us make the entire wedding weekend a great experience for all of our family staying at the cabins, allowing us to gather for smaller get-togethers throughout the weekend to keep the celebrations going! After the weekend was over, we didn't even have the post-wedding blues--just a deep feeling of happiness, satisfaction, and love from having the most amazing wedding celebration ever!

Vanessa T.

Married on 06/27/2019

Amazing Wedding

We had our wedding this June and in only 6 months had the perfect event. Their preferred ventors where amazing and easy to work with and our coordinator was extremely helpful. We are still hearing complements about the food, music and site.

Joana E.

Married on 06/21/2019

A Wedding above the Clouds

We chose Arrowhead Pine Rose (APR) for our wedding venue for Summer 2019. Overall, the experience with APR was phenomenal. The location is high up in the mountains so be prepared for that! We went with the designer package as it suited our needs for a smaller wedding.

Wedding coordinating
Lynda from APR was our coordinator and her support throughout the planning process was instrumental to its success. We were planning remotely, as we lived in Michigan and were coming just for the wedding. Lynda helped us coordinate our tastings, the decor, vendors, and day-of program. We loved working with Lynda and are so grateful for helping us make our day as special as it was.

Venue
We were initially drawn to APR by the venue itself. We wanted to have an "enchanted forest" with water nearby. This venue fit that very nicely, with much of the natural scenery being sufficient to fill in space without spending too much on decor. That said, we would recommend getting the package as it is very nice and saved us a lot of stress day of wedding.


Kaitlyn D.

Married on 06/16/2019

Beautiful Forest Venue

There are a million happy things that we could say about pine rose, but here are a few highlights: Jolene was our wedding planner, and she was wonderful, and incredibly responsive during the wedding planning process. For any bride looking for a place that requires minimal time and effort to plan everything themselves (minimal DIY!!), I would highly recommend Pine Rose Weddings as a venue option. I didn't want to have to drop my entire life to plan a wedding, and Pine Rose (Jolene specifically) did a wonderful job guiding us through the process. We got married on a Sunday, and we requested late check out (and got it--THANKS), so that we could host an informal brunch to say goodbye to our guests, which we were so thankful for. Pine Rose has excellent accommodations, and it made for an easy pick because we wanted our guests to have a place to stay near by! The staff was incredible, and the location was magical and beautiful, and truly neither my husband nor I could find one thing we would have changed that could have made our day better. Thank you for making our day so special, we will remember our wedding day forever and Pine Rose made it the best day for us and for our guests!

Holly M.

Married on 04/27/2019

Exceeded all expectations! The perfect Wedding in the Woods!

I never could have imagined just how amazing the wedding planning experience could be. Lynda with Pine Rose Weddings literally made everything we wanted possible. Every single person that attending my wedding commented on the amazing experience that the staff and venue provided. My day was literally perfect! I don't know how many brides can look back at their wedding day and say that not one thing went wrong or unattended to. This venue and all the vendors involved make you feel like they are part of your family and that they are a part of celebrating your love. This is the best venue in the world! Book them! You won't regret it!

+ 16

photos

Deborah

Married on 04/29/2018

My entire experience with Arrowhead Pine Rose was pleasant and stress free. Linda helped us book the venue and was also our amazing day of coordinator. I chose the "Intimate Wedding Package", which was a very great value for what was included. The venue itself was very beautiful and perfect for couples that want an outdoor wedding!

Char

Married on 04/28/2018

EVERYTHING about this venue is wonderful.
If you are looking for a magical wedding, this is the place. Staff and suggested vendors are the best.

Brandi

Married on 10/22/2017

Arrowhead Pine Rose is absolutely a beautiful venue. We had our wedding here on 10-22-2017 at Hidden Creek. The venue is enchanting like the fairy tale wedding I envisioned. The outdoor setting for the ceremony and reception is magical. Everyone is so professional, courteous, and helpful. Planning a wedding is stressful, but the Wedding Planning staff of May, Esmeralda, and Lynda (wedding coordinator) made the process simple. They were there to guide me from beginning to the end. The overall staff is also very delightful to work with and assisted us through the entire process. We encourage everyone to visit this venue to fall in love instantly as we did. Fabulous memories and we appreciate everyone's diligence!!
Are you interested?
Send a message