72 Reviews
Recommended by 100% of couples
Quality of service

5 out of 5 rating

Average response time

5 out of 5 rating

Professionalism

5 out of 5 rating

Value

5 out of 5 rating

Flexibility

5 out of 5 rating
50 User photos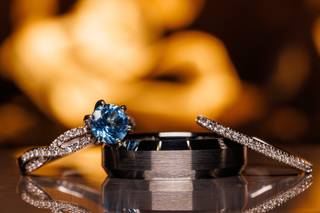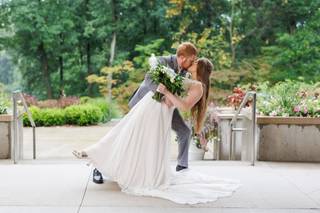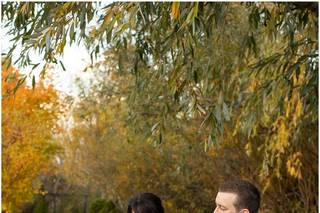 + 46

photos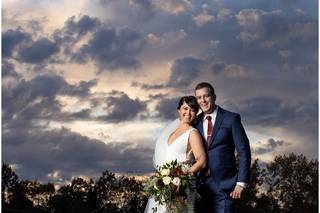 Molly F.

Married on 08/13/2022

Amazing photographer!

Amanda was an amazing photographer to work with! She did both our engagement and wedding photos. I definitely recommend doing this as we spent time during the engagement shoot learning how to pose together. Then by the wedding day, we were already comfortable with getting our pictures taken and knew how Amanda's process worked. She made us feel so comfortable and relaxed. It rained all day on our wedding day, but Amanda worked her MAGIC and took some truly magical shots. She used some special tricks with lighting up the rain so it looked like the rain drops are glowing behind us. Even though I was disappointed that we couldn't take pictures out on the golf course, she was able to get some very pretty greenery as a background for us by using the porch as a cover. We also did venture out into the rain, and Amanda had cute bubble umbrellas for us to use! We got our wedding pictures back EXACTLY 4 weeks after the wedding as promised and they were as beautiful as expected. It was also really nice that there was an online album so we could easily share with family and friends. Book Amanda (Arrae Photography) for your wedding day and you will get the best wedding photos you could ever dream of!

Amy M.

Married on 01/18/2020

Very Skilled Photographer

Amanda is an AMAZING photographer! She captured our wedding day exactly how we hoped it would be captured! We will cherish our photos for many many years.

Kelsey

Married on 10/19/2019

Best photographer EVER!!!!!

Amanda is one of the best photographers I know, and we hired her to capture our big day. There are not many people who are truly passionate about what they do, but when you meet and work with Amanda you know shes one of the few!

Amanda has this ease about her, which is contagious - she knows how to make you feel special and relaxed about being photographed. She is also great at capturing moments, she is like a ninja waiting to capture that laugh between you and your husband or the hug between you and a grand parent. In addition to being an amazing photographer, she is also super organized. She has a great system set up to make sure you and her are on the same page.

I would HIGHLY recommend Arrae Photography to anyone who is looking for someone to capture their special moments in life!

Are you interested?

Send a message

Bridget

Married on 09/14/2019

Arrae photography captured our dream day perfectly!!

My husband and I used Arrae photography's services for our engagement photos and wedding day pictures. Amanda was the first out of multiple photographers that we met with when trying to find our photographer. Her kindness and professional mannerisms were what made us initially like her. On top of how nice she is, her photography is one-of-a-kind. She truly has a gift. The way that she captured candid, once in a lifetime moments at our engagement and wedding days is stunning. The lighting and backgrounds she uses/finds are so beautiful! I tear up looking at our photos because she has captured my husband and I's love so beautifully. Amanda was also wonderful at working with large, loud groups. We did family portraits in the church after the ceremony, and she was able to coordinate all of this chaos of our large families with grace and professionalism. I couldn't believe someone would be able to do that, to be honest! Bottom line is is that Arrae photography will do an absolutely amazing job, and we will go back to Amanda for future photo opportunities. Her photography is a true gift and you should choose her for your photo shoots, whatever they might be for! Thank you, Amanda! Sincerely, Bridget & Alexander

+ 16

photos

Lindsy

Married on 05/26/2019

Best Investment Ever!

Amanda from Arrae Photography was AMAZING as were the images that captured our special day! Arrae Photography had a good selection of packages to choose from to meet your needs, and offers customization to meet them even further. Amanda was available whenever needed and made the process painless. We received nearly 1,000 images that looked great, were organized, and captured all of the special moments. Amanda is worth every penny and more!

Danielle D.

Married on 01/19/2019

Amazing!!!!

Amanda was amazing and easily fit in with the groom and groomsmen and then with the bride and bridesmaids. She was fun to work with. The best part, our pictures turned out AMAZING!! Will definitely be using her in the future.

Courtney C.

Married on 12/15/2018

Best photographer ever, you will not be sorry

Amanda worked tirelessly to ensure we got all the photos we wanted, needed, and more! We received so many comments from our guests that our photographer worked her butt off and did not sit down once, and our photos reflect that. She had so many wonderful ideas and we love showing off our wedding pictures to our friends and family!

What's more, she made it fun. We also did our engagement photos with her and we spent the entire time laughing. She is an amazing photographer who will make sure your day is everything you need it to be!

Keydria T.

Married on 10/28/2018

Best choice for pictures

Amanda was great she traveled to a different state for my wedding she was on time took AMAZING pictures and really was able to feed off of our personalities to make our engagement and wedding pictures look like "US". I would use her again any time for any occasion!

Emily R.

Married on 10/27/2018

Arrae Photography - Call and book now!

I would highly recommend Arrae Photography for your wedding day. Amanda will capture all of the precious moments that your day will bring. She's professional, a bit of a perfectionist and also a lot of fun! I am so grateful to have so many beautiful pictures from our fall wedding! Thank you Amanda!

Adriana

Married on 09/21/2018

I can't express how amazing Amanda is. Choosing her as my wedding photographer was one of the best decisions I have ever made! She is so professional, sweet, and fun to work with. My husband is not someone who likes taking pictures and wasn't necessarily looking forward to taking so many on the wedding day, but even he said she was great to work with. She gives great direction, and really goes above and beyond to get the best, most beautiful shots. I just got my photos back and am not only amazed, but I could not be happier. Amanda is worth every penny. BOOK AMANDA!!!!

Kristin

Married on 07/28/2018

Amanda is an absolutely fantastic photographer and such a pleasure to work with. From the planning stage to the final product, she captured every wish and desire with our wedding photography and delivered exceptional results. There were several moments during the ceremony and reception that Robin and I weren't even aware of that she caught on camera that we will treasure forever. Her lens is able to perfectly capture the various emotions, color, lighting, texture, detail, and so many special moments to be cherished forever. Thank you so much Amanda, we highly recommend your services and talent to any and everyone!

Jocelyn

Married on 07/21/2018

Hiring Amanda as our wedding photographer was easily one of the best decisions we made in wedding planning. From our first time meeting her, we were sure that she was the right choice for our event and we were not disappointed! Amanda made us feel so comfortable during our engagement photos, and came back with beautiful shots. On our wedding day, her and her second shooter were complete rockstars. Amanda was extremely organized, kept me optimistic even with the threat of a full day of thunderstorms, and brought a collection of awesome clear umbrellas just in case. She was great about suggesting locations for our photos, and did some scouting in the days prior to find the perfect spot for our first look.
Every guest loved interacting with Amanda, and we have received nothing but complements on our photos. She fit right in with our group, and made everyone feel relaxed all day.
Amanda will now be our family photographer forever, and we would very highly recommend Amanda and Arrae Photography for your wedding day, or any other photos needs!

+ 2

photos

Tyler

Married on 07/14/2018

Amanda was amazing and a true professional through the whole experience. Our wedding photos were absolutely wonderful!

Kelsey

Married on 06/23/2018

I could sum up Amanda's review in two words: hire her!

But that wouldn't be as useful to you, the person looking for a wedding photographer. So let me tell you a little more. I didn't get a chance to meet Amanda before the wedding because I mostly planned from out of state. I chose her because I liked her portfolio and she had flexibility in packages (I didn't want or need a photographer for the entire day). Not having met her didn't matter one bit! Amanda is kind, professional, creative and GREAT at directing people. I can't even tell you how necessary of a skill that is when you're looking for a wedding photographer. She's super professional to get the shots you need, and lots of fun!

Amanda also notices the details: posing, hair, flowers held too high, too much space between people. Plus, she researches your areas before the day so she's ready to go with suggestions/ideas. She also made up one on the spot at my location that gave me some pretty stunning portraits.

I love the photos I got. Amanda is worth every penny and her gallery options for purchase/download are great too. So yeah, hire her!


Natalie

Married on 03/03/2018

Must have!

Amanda is everything and more that I expected out of my wedding photographer! She is very personalable, efficient, and has a great eye for capturing all moments we never want to forget. We talked several times leading up to the wedding as she wanted to ensure everything would go smoothly which was very reassuring. I received many compliments on my engagement and wedding pictures and plan on using her for baby pictures, family pics, etc in the future. I reccomend Arrae photography to every bride- Amanda will make it a stress free experience!

Jennifer

Married on 10/07/2017

I cannot say enough great things about Amanda! Our pictures turned out absolutely incredible! Amanda knew, after meeting with my husband and I, exactly what we wanted. She's fun to work with and has that "eye" you're looking for in a photographer. She's professional with out being stuffy and fit right in with our family and friends. We went to several locations and each one captures something different and amazing. I highly recommend Arrae Photography!!! Feel free to check out a few of our amazing photos on my Instagram, @jenstanish

Chiedza

Married on 08/05/2017

Amanda did an amazing job capturing our special day! She was easy to work with, professional, and made us feel extremely comfortable and at ease throughout the entire day. The beautiful wedding photos we received from Amanda are more than we could have hoped for and we're so happy with how they turned out. She is extremely talented, detail oriented, helpful and responsive, and might I add she has the patience of a saint (one of my bridesmaids decided to start directing the photoshoot and Amanda handled it with grace and poise!) She had great ideas for changing up the poses, scenery and configurations for our photos and was open to us giving input. Amanda - thank you for the wonderful photos from our special day! We now have so many memories to look back on! My husband and I highly recommend Amanda for your photography needs, you will not be disappointed!

+ 2

photos

Sarah

Married on 07/28/2017

Amanda was fantastic! She is so easy to work with and has an amazing gift. The pictures turned out beautifully, we could not have asked for anything more.

+ 3

photos

Rachel

Married on 06/24/2017

Quality pictures/photographer/person

Amanda is so personable and her pictures are such high quality. I never dreamed of being able to afford such high quality photos for our wedding. Her packages allow for affordable but exceptionally professional photos

Greg A.

Married on 05/06/2017

Amanda was amazing to work with from start to finish! Neither my wife nor I are particularly great at, or comfortable with, taking photos, but Amanda was so fun and easy to work with, she exceeded our expectations and made the photo portion of our wedding much more fun. After the ceremony, she had the unenviable task of herding all our family members (we had close to 100) for a family photo. We thought this would take hours, but Amanda was on-task and in charge, getting the groups together very quickly. On top off the great wedding-day experience, she was able to turn around some "preview" photos in a day or two, then mailed the USB drive of all our photos in a few weeks.

We'd highly recommend Amanda and Arrae photography to anyone!

Becky

Married on 04/29/2017

Amanda is a wonderful person and an amazing Photographer. I felt so comfortable on my wedding day knowing that I wouldn't have to worry about any of the photos looking wrong or not composed right. I had such a tough time getting all the beautiful photos down to just a few to print for my wedding book!
Thank you!

Adam

Married on 01/07/2017

Simply put, Amanda has your back. She'll make sure you get the shots you want and if you're not sure what/how you want a location photographed, she's quick with the ideas and they're amazing! Amanda is creative, professional, and a lot of fun to work with. She was recommended from a friend's wedding and we definitely suggest booking her ASAP!!

Emily

Married on 11/19/2016

Amanda was absolutely amazing. Not only was she responsive, great to collaborate with, energetic and fun, but she also takes gorgeous photos! Her lighting was always on-point and she was able to corral my unruly large extended family for our group shots. Amanda is so talented and she will capture your day beautifully, and with a smile!

Melissa

Married on 09/10/2016

You will not find a better photographer. From beginning to end, Amanda's work is amazing. She is responsive, creative and perfectly captured our day. Even our guests commented on how friendly and knowledgeable she was. Instantly she put our worries and fears to rest and made us comfortable in front of the camera. The results are breathtaking images that we will have to cherish for a lifetime. Arrae Photography is absolutely worth every. single. penny.

Charlotte

Married on 08/27/2016

Words cannot begin to describe how wonderful and professional Amanda is. My then-fiance and I had no idea what we were doing when it came to planning the time frame of the wedding day and when taking pictures. We relied heavily on Amanda's clear instructions to get us through - and she did! Amanda is a visionary, a superb photographer, and frankly one of the most enjoyable parts of the planning and wedding day for me. She can make anyone smile - including our exhausted two year old niece! The icing on the cake with Amanda is that the pictures she takes are absolutely STUNNING! If you get a chance to work with Amanda, do it. She's creative, inspiring, adaptable, patient, artistic, funny, and an absolute delight. I could go on!
Are you interested?
Send a message