25 Reviews
Recommended by 96% of couples
Quality of service

4.9 out of 5 rating

Average response time

4.8 out of 5 rating

Professionalism

4.8 out of 5 rating

Value

4.7 out of 5 rating

Flexibility

4.8 out of 5 rating
6 User photos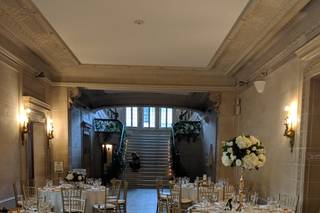 + 2

photos
Emily K.

Married on 10/03/2021

Elegant and charming.

Lake Forest Academy is my alma mater, so I knew the space well before booking it. Christine, the event manager, was organized and walked us through all of our options (mostly remotely) while we were living abroad. She was very flexible about doing a tasting when I was in town for a few days. The food was wonderful (we had a fully vegetarian wedding with a few vegan/GF guests), the service was highly professional, and the space is (as you can tell from pictures) gorgeous. Armour House itself is magnificent with its staircase, fireplace, high ceilings, and romantic details (e.g. the fountain). The gardens are kept neat and are easy to walk through. (We had our ceremony outside.)

There were plenty of spaces for guests to socialize in, as the library was open for coffee and dessert, the patio had outdoor seating, and the dancing was slightly separated from the main hall. This was great for people to find some quiet to have conversations, but it also meant that with a small party (54 guests), it felt like everyone disappeared after dinner. I'd suggest a printed wedding timeline on the tables or regular announcements from the MC so that everyone gathers in one spot for special moments (e.g. first dance).

My only complaint would be that the catering service was almost too efficient, and would clear drinks from the table when someone stepped away for a moment.

I highly recommend Armour House and I hope to attend another wedding here!

Sharon B.

Married on 02/15/2020

Availability

Our wedding venue flooded due to excessive raining 24 hours prior to the wedding. Christine was able to provide a solution for our guests at a reasonable price.

We ended up not booking the venue due to timing, but they provided a much needed ray of sunshine in a crazy day.

Armour House's reply:

I hope all turned out well for you on Saturday; I was sending good vibes to you all day. Wish you all the best in health and happiness!

Laura W.

Married on 08/30/2019

Highly recommend this venue! Amazing service and a beautiful setting.

Christine G. went above and beyond for our special day. She made the planning process seamless and kept us on track, never forgetting even the smallest details.

Our wedding was perfect and this setting is absolutely beautiful. Amazing experience!

Armour House's reply:

Thank you for the beautiful review!
It was such a pleasure to work with you both and wish you all the happiness in the world.

Take care!

Are you interested?

Send a message

Yasamin

Married on 08/24/2019

A Perfect Day at the Most Amazing Venue

We got married at the Armour House in August, and it was a great experience from start to finish. The food was great, the venue is obviously stunning, and Christine and Alisa were very flexible. We had signature drinks with our last name written in them, and the bartenders actually practiced making the signature drinks a few weeks before our wedding to ensure that they got them right. We had a tasting the December before our wedding and a decor meeting in the March/April before to go over all of the details. Alisa and Christine were always quick to answer our questions. The head chef, Mark, was very sensitive to our guests' dietary restrictions and even set up a few phone conversations with guests to ensure that he could make something to accommodate their restrictions. Overall, everything ran smoothly, and we were able to have the wedding of our dreams. We would ABSOLUTELY recommend this venue.

Armour House's reply:

Thank you for the wonderful review! We had so much fun practicing those drinks and it was a great time.

We wish you both great happiness!

Paula

Married on 09/01/2018

I just spent the last year+ planning my second daughter's wedding at the Armour House, and if I could give them 10 stars, I would. The beauty of the venue speaks for itself in pictures. I can't imagine a better setting for a wedding. But what you're never sure of when you book a venue is how much you can rely on the staff to care as much about your daughter's "big day" as much as she does. Well, the entire staff of the Armour worked tirelessly to make sure the evening went perfectly. A special thank you must to go to Christine Sward. Christine was my contact throughout and my praise for her just doesn't do her justice: she answered all my questions promptly and completely, she made suggestions, she worked with all our crazy ideas, she was INCREDIBLY organized, and she worked with us to keep our expenses within budget. Christine may have just put more work into this wedding than we did. She was there at 9am the morning of, after not going home until 1am after the wedding from the night before. The rest of the staff was also incredible: always pleasant, highly skilled, gracious, etc. Several of our guests commented on the stellar service during cocktail hour and dinner. The only negative to the Armour House is that, because it is such an incredible venue, it books up 1-and-a-half to two years in advance. If you're newly engaged and looking for a place to create some amazing memories and photos, make an appointment now! Thank you so much Christine and staff! And credit for the beautiful photos goes to Ruthie Hauge Photography...she's amazing! (separate review)

Ann

Married on 08/18/2018

Breathtaking Venue and Gardens

The Historic Armour House provided a unique and timeless setting for my son's and daughter-in-laws wedding. Their dream wedding came true at this prestigious mansion with grandeur gardens. Our guests were so impressed with its beauty they are still talking about it. The food was delicious with beautiful presentation. The service was outstanding! I highly recommend this venue to everyone!

Olivia

Married on 09/15/2017

The Armour House was AMAZING! Dean & Christine were beyond professional, flexible, and accommodating. My wedding day was perfect, it was honestly a dream come true!

Maggie

Married on 09/03/2017

Our wedding was the most beautiful timeless and classic wedding I've ever witnessed. It is all thanks to the Armour House and their staff. Especially Dean. They make sure everything runs so smoothly. Very expensive but not at all overpriced. Worth every penny. We are still being complemented on our wedding.

Phyllis

Married on 06/10/2017


Armour House was absolutely fantastic to work with! Can't say enough about the beauty of the venue but more importantly about the commitment and caring of the staff. Dean knows his stuff and stays on top of EVERYTHING!!! Every staff member was polite and went out of their way to accommodate every request that was made-including day before dog pictures and use of the ice rink for photographs to fulfill a dream of skating in a wedding dress hours before the ceremony. The food was fantastic and not stereotypical- looked and tasted great! Thank you Dean, Christine, Alisa, Chef Mark and staff. Highly recommend with no hesitations!


Katie

Married on 10/22/2016

I could not have more positive things to say about my wedding reception at the Armour House. This venue provided me with my dream wedding, and I give so much credit to Dean and his team. Throughout our 18 months of planning, Dean ensured we were timely with our decisions, and answered any questions we had. The food was incredible, and our guests cannot stop raving about their meals!

The backyard of the Armour House provided the most beautiful pictures I could ever imagine.

I would definitely recommend the Armour House to anyone in my network.

Amanda

Married on 09/04/2016

I don't even know where to begin- I have so many good things to say about this venue and staff. Our wedding at the Armour House was more beautiful than we could have ever imagined. Working with Dean and his team was incredible- if you have them as resources, you certainly don't need to hire an additional planner or coordinator. The team is extremely professional and takes pride in their venue and work. Dean took us through every single detail of the planning process and had our day-of timeline laid out by the minute. He and his team were responsive and answered all our questions and were accommodating of all our requests. They let us personalize our wedding as much as we wanted and we never felt like we were limited in options.

There were a few things on the day of our wedding that didn't go quite as planned, and Dean and his team addressed them immediately. For example, we had a glass box for cards that got cracked at some point (could have happened during transport to the venue- not the fault of the venue). When I pointed this out, the team said they'd take care of it and, next time I saw it, there was a bow made of ribbon and some flowers taped to the side of the case blocking the crack from sight. There will ALWAYS be things that don't go quite as planned and it's important that the venue/staff is able to step up and handle any issues, which Dean and his team did flawlessly.

The staff was SO friendly and helpful the night of our wedding. The venue itself is stunning- we barely had to do anything in terms of decor. Our guests are still raving about how beautiful the venue was and how wonderful the staff was. This was the wedding of our dreams and looked just like a fairytale. The food was also DELICIOUS.

Kelly

Married on 08/05/2016

We could not be happier with how our ceremony and reception looked, felt, and ran. We had the time of our lives and felt so secure in knowing that everything was being taken care of thoughtfully and discreetly. The Armour House is beyond beautiful and the grounds are the perfect backdrop for the ceremony of your dreams.
Kelly and Kevin Arrogante

Laura

Married on 07/08/2016

Needless to say, the Armour House at Lake Forest Academy is an incredibly beautiful location for wedding celebrations. From the moment I saw this elegant venue, I knew I just had to make whatever dates they had available work! It wasn't the gorgeous scenery the makes me inclined to write a review, however, it was the amazing staff. Right from our very first meeting together, I could tell Dean and his team were very experienced. And perhaps more importantly, even though Dean's knowledge made it clear he had hosted countless weddings in the past, not once did I feel that my wedding was "just another event." Dean and his team consistently answered my million-and-one questions thoroughly and with patience. Though I had a strong sense of what I wanted my reception to be, Dean was quickly able to fill in the gaps, and point out things I would never have thought about. From the number of highboys needed for the cocktail hour, to the timing of the first dance, to anticipating the needs of our guests. Another thing worth noting is that Dean and his team were so involved from start to finish (and especially the day of), that I didn't need a "day of" wedding planner – which is a huge bonus when you're budgeting for a wedding!

April

Married on 06/12/2016

Dean and his staff communicated very well and were so professional. It was obvious that they hosted many successful weddings because they just had everything planned out and thought of everything. The day of, everything went so smoothly and I didn't have to worry about a thing. The food was delicious too. The venue was beautiful and at the end, all of our stuff was packed up and placed together for us. I am so glad we chose the Armour House for our very special day.

Kim

Married on 06/11/2016

We got married on June 11th, and it really was a dream day! Our wedding was a real life fairytale at this beautiful location. This venue is more than stunning between the gardens and historic indoor spaces, and everything was set up perfectly. All of our guests commented at how amazing the venue looked, how good the food was and how much fun they had. Dean and Christine, thank you for helping to make our day so special, everything honestly seemed to go perfectly. I know you have so many brides and grooms but we always felt like you were there for our questions and replied so promptly. Thank you again!!

Pat

Married on 05/14/2016

Dean and his team did an amazing job, and my daughter's wedding could not have gone better. The experience, professionalism, and value offered was outstanding!

Lauren

Married on 03/26/2016

Dean was amazing throughout the day. He was stern with keeping things organized and on time without being mean about it. Great work, beautiful location and staff and food were perfect. Couldn't have asked for a better venue.

I appreciate all the care they took to make my day absolutely wonderful. It truly was a fairy tale and the rain stopped just in time for my ceremony. Loved it all.

Wow. We cannot fully express how insanely beautiful, elegant, and intimate our wedding was at the Armour House. It surpassed our wildest dreams.

Dean, first of all, is one of the most organized, wonderful, and professional humans I've ever met--it doesn't get highlighted enough that he truly acts like a wedding planner. He is just so enjoyable to work with and is so on top of every single detail and intently focused on executing your vision. We wanted to do long tables side by side and he made it happen; we wanted to add blackberries and rosemary to our signature drinks and sit on a cream loveseat from upstairs and put up a DIY photobooth, and he did it no questions asked.

The venue speaks for itself. We wanted something timeless and elegant but intimate and unique. The Armour House was exactly that for us. We can't tell you how many compliments we got saying that it was the most beautiful venue people have ever seen. It is so ornate. The rooms flow so well into one another -- spacious but intimate at the same time. Elegant but not stuffy. The gardens and the veranda and the fountain and the stairs and the library and the leather couches -- all just too good to be true.

This was THE best experience we could have had and we are so grateful.

Gorgeous! gorgeous! My wedding on July 21st of this year....was amazing! The Armour House is beautiful. It was something out of a dream. The gardens were breathtaking, the dining hall was breathtaking, the library was perfect! Every room was better than the next. The grand staircase made some of the most beautiful pictures I have ever seen. I am so pleased with how our wedding turned out here. Even the bridal suites were perfect, and they allowed us to have it from 8 in the morning until whenever we left. Perfect. Would definitely recommend!

Niki

Married on 08/06/2016

We recently had our wedding at the Armour House and it was the best choice we could have made. Everything was as perfect as it possibly could have been. Dean and his staff are unbelievable. Dean was a joy to work with throughout the whole process and he made us feel confident that our wedding would go smoothly. He is very organized and you can tell that he loves his job. We will never forget how amazing our wedding was and how much everyone raved about the venue. You will not regret having your wedding here!

Alice H.

Married on 04/23/2022

The Stuff of Fairy Tales

Absolutely perfect. Our wedding on 4/23 went off without a hitch at the Armour House, and we had a fabulous time, thanks to Christine (GM) and Alisa (Catering Manager) and Mark (Chef). We had the venue for the whole day, and the setup was perfect. The getting ready rooms and balconies are plenty spacious. The staircase is always to-die for, and everyone did a phenomenal job setting up the various rooms. We used the "Little Theatre" for the ceremony, the library and garden room for the cocktail hour, and the grand hallway for the dinner. The food was fantastic, and we received so many compliments on both the venue and the food. It really was the essential backdrop and really helped to make our wedding day perfect.

The venue is absolutely BEAUTIFUL!!!! I could not imagine a more stunning backdrop for our wedding day! For the most part, the planning process was smooth. Ashley was super, super helpful with a lot of decisions.

The day of, though, there were a few issues. Several people, including me (the bride), received the wrong food. Additionally, they threw away several things from our ceremony/reception after clean-up that we would have liked to keep (the glass we broke under the chuppah - kind of a big deal). At the rehearsal, Dean kept confusing our wedding with another one. It was a little frustrating! I was so grateful for our DJ, who took on the day-of housekeeping/timeline.

Overall, though, I would not have changed the venue for our wedding! It is a unique place to share the most wonderful day!

Stefanie

Married on 08/06/2017

The venue is absolutely stunning with the most beautiful manicured gardens as well as the gorgeous rooms inside the mansion. The entire evening went off with out an issues, photos were beautiful, just a dream wedding. Food was outstanding as far as quality and absolutely delicious, first class, however if you have guests that love to eat larger portions, this was not accomplished. The extremely expensive price to portion does not match.

We are delighted with the overall feel of the venue however there have been some communication issues with our point of contact. This venue comes with a hefty price tag so you expect top notch customer service which you don't get all the time. The bridal suite is basically a classroom they don't bother to change for the day of the event so you will need to rent a room if you plan on getting ready with your girls unless you don't mind sitting on the floor or on a school desk. The location is absolutely stunning and they offer a variety of options for catering.
Are you interested?
Send a message