127 Reviews
Recommended by 96% of couples
Quality of service

4.8 out of 5 rating

Average response time

4.8 out of 5 rating

Professionalism

4.8 out of 5 rating

Value

4.8 out of 5 rating

Flexibility

4.8 out of 5 rating
30 User photos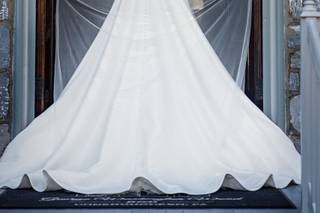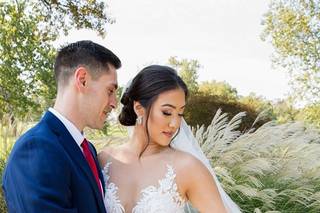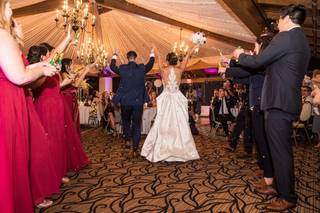 + 26

photos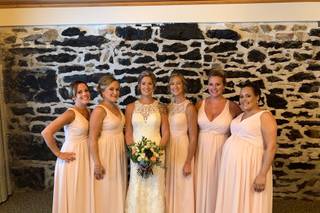 Larissa N.

Married on 06/07/2021

Amazing Service, Gorgeous Dresses, No Pressure

It's hard to put in words how much I appreciate Arielle Bridal. I recommend the bridal shop to everyone I know who's getting married or knows someone who is. There are so many hand-picked gorgeous gowns it's hard to decide! But even if you try on a bunch, like I did, the staff never rushes you or pressures you to purchase the most expensive gown. Julie was the best-easy to talk to, attentive, listened to what I wanted but also had great suggestions, and never pushy! The icing on the cake is that I heard about the inspiration for the shop from one of the store owners. Two sisters who own a shop together-one who left a lucrative job because she loved planning her own wedding-she followed her bliss. Such a beautiful story-one that made me feel even better in supporting this small business ❤️.
I went to 3 other bridal shops and came back to Arielle because the service, selection and Black Friday discount blew the other places away. Make your appointment today and find out for yourself-you wont regret it!

Jennifer

Married on 05/29/2021

Wedding Dress Purchase

I couldn't believe how comfortable I felt with my consultant and all the lovely ladies working the day I was trying on dresses. I put the "one" on and it seemed like the whole store, guests included, knew it was the one and celebrated with us. It was such a special experience. Thank you!

Alex

Married on 04/10/2021

Amazing and wonderful experience!

Everyone at Arielle was SO helpful. They were so kind and genuinely seemed like that cared about me and wanted me to feel comfortable and happy. They made suggestions and helped me figure out what I wanted without being pushy. Loved my experience here!

Are you interested?

Send a message

Megan R.

Married on 02/03/2021

Megan Rubendall

Arielle's Bridal was great. I picked my wedding dress there. Everything came in on time and the staff was easy to contact. They are so welcoming and have a lot of dress options as well as options for bridesmaids and mothers of the bride. Definitely worth going here!

Dorsia

Married on 12/07/2020

Amazing Experience!!!

My whole experience at Arielle Bridal was absolutely amazing. My party and I met with Julie once we walked through the doors. Let me tell you...the boutique and Julie gave me great vibes. I honestly felt like Julie was hand picked for me because she was absolutely amazing. Arielle Bridal was everything I could imagine for a boutique. It didn't give that rushed and commercial vibe like other bridal stores. You could tell the staff put so much love and thought into the dresses and accessories at the boutique. Julie listened to my wants and needs, and pulled dresses that fit my vision. She made me feel like a bride. Even though I was overwhelmed and anxious about finding my dress, Julie and my party were with me every step of the way. I love the fact the boutique had dresses for curvy women. I'm not plus size, I'm a petite woman with curves. I would highly recommend Arielle Bridal to any future brides. You will not regret your decision.

Jessica L.

Married on 11/13/2020

Awesome experience at Arielle Bridal

Arielle Bridal was the second shop I visited on my first day ever wedding dress shopping. Needless to say, I was a bit overwhelmed, and my head was spinning with all the possibilities and dress styles.

My bridal consultant Julie was incredible in helping me narrow down the styles that complimented my body shape. She was patient as I tried on dress after dress (probably tried on around 20 or so!) and was honest about what worked well for me. Leaving the shop, I had a much clearer idea of what I wanted.

I came back a second time by myself, and once again, Julie patiently allowed me to try on some of my favorites from my first visit. I felt like she understood my vision and what I was looking for.

Although I ended up purchasing a dress elsewhere, I would highly recommend visiting Arielle Bridal (and be sure to ask for Julie!)

Inessa

Married on 10/17/2020

This bridal shop is amazing!

These girls are amazing and so kind! They are really there to help you find your dress and make sure they you're having a good time.
Thanks to their help, I found my dress on the first try!
They have a beautiful selection and the prices there are unmatched. Can't say enough great things about them!

Morgan K.

Married on 10/10/2020

Perfectly Relaxing and Fun!

I absolutely loved my experience at Arielle Bridal! As soon as I walked in the studio, I was greeted by my consultant, Julie. Julie took the time to chat with me about my preferences and allowed me time to look at and choose dresses (with these super convenient clips) that I wanted to try on in addition to the ones she chose. I loved that I was able to clip the dresses that I wanted to try on (instead of pulling them myself) and I also loved how each of the dresses had an attached picture of what the dress looks like on a person. Julie confirmed my budget and chose only dresses within that range. Julie really took her time with me and did not make me feel rushed at all! I tried on about 5-6 dresses before we tried on my top 2 again. I found my dream dress at Arielle with the help of Julie and I couldn't have imagined a better experience! I highly recommend this studio as Julie and the owners are incredibly knowledgeable, friendly, and supportive, and it is clear that they love what they do!

Heather

Married on 11/09/2019

Great service

Julie was so awesome to work with and very helpful!

Sarah P.

Married on 09/28/2019

Found My Dream Dress!

My experience with Arielle Bridal was unique and amazing! I found an Allure wedding gown online that I immediately fell in love with. I called several boutiques in 4 different states to see if they had the gown for me to try on. No one had it! When I called Arielle, they recommended that I come in and try a few similar gowns, and if those were not the one, they would order the one I found online for me.
I came in for a visit and encountered such an awesome, friendly team. I immediately felt welcomed and comfortable. After trying on a few gowns, I knew that I just had to bite the bullet and order the dream dress from online without even trying it on. I am so glad that I did! When the dress arrived a few months after I ordered it, I was able to try it on and finally had my "bride" moment. They recommended a great seamstress to make the minimal alterations the gown needed. The whole experience with the team was such an easy and comfortable process. Thank you to the wonderful team at Arielle for helping me get my very hard to find dream dress!


Jennifer E.

Married on 09/06/2019

Incredible place to get bride and bridal party gowns!

The ladies here were phenomenal and helped me so much not only with my gown but my bridesmaids gowns too! They were very honest!!

Abby

Married on 07/06/2019

Amazing experience! Especially for those who aren't a size 2!

From beginning to end, Arielle Bridal was an amazing experience. I'm not your typical size 2 bride and to be honest, dress shopping was less than fun for me when I started out. I found that many of the places I went didn't have dresses that I liked in my size and tried to squish me in to items that honestly made me feel horrible. I was about to give-up and try a more non-tradition route or pay over 5k at another salon to make a dress work when I booked an appointment with Arielle Bridal. From the moment I called they were amazing. They assured me that they had plenty of options for me in the store and when there wasn't a time slot open, they actually opened the salon early to make an appointment work for me. When we got in the shop, they had tons of options- more than I could even try on! Their prices are awesome... affordable for any budget! I felt amazing in everything they had and completely unpressured. They definitely just want to make sure every bride gets the dress of their dreams- even it if isn't there! I loved my experience and even recommended Arielle to my friend and she just got her dress their too!

Kristine

Married on 06/21/2019

Great selections and consultants

I had a great time finding my dress at Arielle Bridal. Every woman who works there is both friendly and kind. I went in knowing what kind of top I wanted and after picking out a few that didn't work for me, my consultant chose a dress that she thought I would look best in and enjoy and that ended up being the dress I went with! Trust the professionals - they know what they are talking about! I also ordered a hairclip as well and the ladies there made it so easy for me to pick out what I wanted and get it ordered in a timely fashion. I felt more beautiful than ever in my Maggie Sottero.

Hannah

Married on 05/11/2019

Wonderful Dress Shop

I picked Arielle Bridal because the photos on their profile seemed to match my vibe, and there were so many dress stores where that wasn't the case. It was the first bridal boutique I went to, and I knew immediately I wouldn't need another. Julie was wonderful to work with throughout the whole wedding dress process. I thought for sure I knew what I wanted and went through the store tagging a ton of dresses. Julie was so patient while I tried lots on, made phone calls to my stepmom (who couldn't be there), and checked in with my mom and others that I could bring with me. After about 45 minutes, Julie came to me with a dress that wasn't like any others I tried on or described and said "I know this is different, but I've spent 45 minutes with you, and I think you need to try this on." Once I put it on, I couldn't stop smiling and giggling, and wouldn't you know it, it's the dress I got married in, and it was perfect. Not only did Julie help me find a dress I love, she did it without upselling me (the dress was well-within my budget) and by really getting a sense of my vibe and style after spending time with me!
Arielle Bridal works with a great seamstress, Priscilla Costa, who comes into their store for alterations, and also has a studio you can go to in North Philly. The whole process was fun, calm, personalized, and exactly what I wanted.


Arielle Bridal Inc.'s reply:

Thanks Hannah for taking the time out to write this! You looked beautiful! It was a pleasure to meet you:)
Julie

Ashley

Married on 12/15/2018

Made finding my wedding dress a breeze

Arielle Bridal made shopping for my wedding dress fun and stress-free. The process was so easy, and I didn't feel like they were pressuring me to make a sale. They picked out some wedding dresses for me to try on that I wouldn't typically choose, and while I didn't end up going with any of them, I appreciated the help to find other possible options. They also offered 10% off if you posted about saying "yes to the dress" on Facebook which was a bonus. I also appreciated that they have an in-house seamstress and I get everything done at one place. I highly recommend getting your wedding dress here!

Kelly

Married on 11/16/2018

Love my Dress!!!

Let me tell you...Arielle Bridal is the place to go. I found my dress after they allowed me to try on at least 30 dresses. It was the second one I tried, but they were patient and so helpful! I felt beautiful on my wedding day, and not only that, I was comfortable. Everyone has been asking where I got my dress, so now you know! I also lucked out and got a trunk sale price. Thanks again, Arielle Bridal!

Rebecca

Married on 09/08/2018

I absolutely had a wonderful time shopping for my dress and purchasing it here. The dresses are stunning and affordable! The ladies who assisted through the entire process have been so kind and helpful. They even gave some great tips for styling my accessories.

Jennifer

Married on 09/07/2018

Loved My Arielle Bridal Salon Experience!

I absolutely love that I found my wedding dress and veil at Arielle Bridal! I walked into the salon with a picture of a dress that I loved, and Julie knew exactly where to find it. She was very accommodating and made me feel so comfortable with trying on the one dress that was definitely meant to be. From beginning to end, Julie and the rest of the staff went above and beyond to make my experience as perfect as I had envisioned. Their pricing is affordable and their dresses are gorgeous! Can't recommend enough!

Rosie G.

Married on 08/31/2018

My dress was so unique & perfect!!

I had an amazing experience at Arielle Bridal! I wanted a dress with minimal glitter, rhinestones or sparkles and all lace. I thought it was simple but in a world full of glitz & glamor it was so difficult to find a simple lace dress.

Arielle Bridal had the largest selection of dresses that were lace & simple (and a bunch of other glittery ones too!) out of the 10+ bridal salons I went to!

I found a dress I loved and called around to some other places to compare pricing, to my surprise no other salons in the area had the same dress! I really wanted my own unique dress, I didn't want to see MY dress on 10 other brides, so I loved the fact that Arielle Bridal had such a hand-picked unique selection of dresses! My dress came with 3 pieces, a long white slip, a short white slip and the lace dress. Of course I had to get all 3 pieces and have the most subtle outfit change at the reception!

The staff was great and their seamstress did a fantastic job!

+ 3

photos

Elizabeth

Married on 07/28/2018

The girls at Arielle Bridal were an absolute pleasure to work with! As a heavier set girl, I went into the appointment nervous that I wouldn't find anything that would fit me. The stylist I worked with, really focused on me and what I envisioned myself in. They are extremely professional and even helped us find the perfect bridesmaid dresses!

Kirsten

Married on 07/14/2018

I went to Arielle Bridal on the recommendation of a friend who had gotten her wedding dress there. I was not really looking to buy a dress at the time but there happened to be a trunk show that same day for one of their designers and I fell in love with one of the dresses. All the staff there have been very kind and helpful, all knew their merchandise well which helped since I had an idea of a style I wanted but not the designer. The dress I had chosen was a bit elaborate for alterations (I am on the shorter side and had a lost weight prior to the wedding) but the seamstress that works with Arielle Bridal was AMAZING! The dress fit perfectly and looked great on my wedding day! I also purchased my bridesmaid dresses through here and those were also beautiful!

Nicole

Married on 06/02/2018

I absolutely adore Arielle Bridal. I got my bridal gown and my bridesmaid dresses here, and I couldn't recommend them enough. Their selection was great, the girls who work there are wonderful, and they made the whole process easy and stress-free. Love love love them.

Kelsey

Married on 05/25/2018

This is the first and only place I went in my wedding dress search. We booked an appointment here because my mom lives close by and we heard a lot of good things about the shop. It's a smaller salon, but they have a great selection and I liked the more private and personal atmosphere as opposed to the larger/chain salons. The folks at Arielle were always helpful from the reception to the fitting and it was a great experience. It's a nerve racking thing to go and try on wedding gowns, but I felt comfortable here and I found a beautiful dress! I would recommend making an appointment so you have more time and help in your search. The intimate environment was lovely, the dresses were beautiful, and the I found my dress pretty quickly with the help of my consultant and her suggestions based on the photos I showed her. I really couldn't have expected anything better. And everyone remarked that the dress was perfect and ME, what more could you ask?!

Jessi

Married on 03/31/2018

Arielle Bridal was beyond helpful when picking out my wedding gown. Julie was amazing, and listened to my thoughts, and used pictures I brought with me to help me find some options. I brought a picture of my dream dress (that was way out of my price range), and she picked out the closest dress to it! They were patient with me when I was having trouble deciding between two dresses. Their prices were extremely reasonable. They really went above and beyond, and I'm so thankful I was able to work with such wonderful people! I highly recommend searching for your wedding dress here!

Anne

Married on 12/31/2017

I can't say enough amazing about Arielle Bridal! I started my dress shopping with an open mind and organization, with 3 appts made the same day. Well it ended up I only needed one appointment and it was my first at Arielle. I worked with Randi who was so knowledgeable about each dress and designer and more importantly she was laid back and super encouraging. The ladies at the store made me feel super comfortable with no pressure to buy anything. It was very obvious their main goal was to make me have a good experience and I greatly appreciated that. They made me feel like a bride for the first time in the wedding process!! I would highly recommend Arielle! Amazing personal customer service and a beautiful selection of gowns and accessories! I am forever grateful to have them take this journey with me!
Are you interested?
Send a message