47 Reviews
Recommended by 94% of couples
Quality of service

4.7 out of 5 rating

Average response time

4.7 out of 5 rating

Professionalism

4.8 out of 5 rating

Value

4.6 out of 5 rating

Flexibility

4.6 out of 5 rating
18 User photos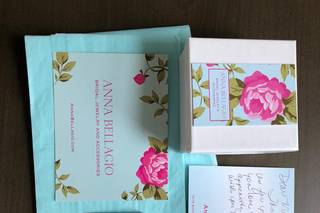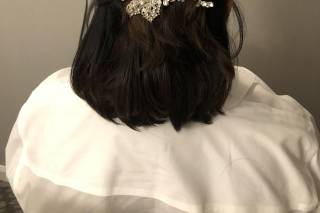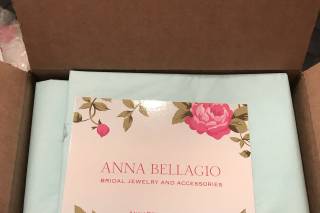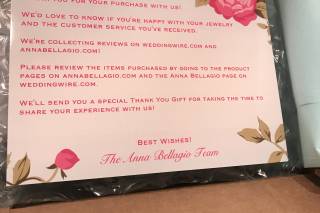 + 14

photos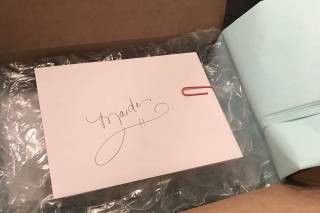 Melissa L.

Getting married on 01/01/2025

Such classy and well made jewelry!

I purchased the rosa earrings with silver finish from Etsy. I am in love with the earrings especially because they can be worn for a nice dinner! They came beautifully wrapped in a box with tissue paper, ribbon, and a hand written thank you note! I was thoroughly impressed.

Anna Bellagio's reply:

Hi Melissa,
I'm so thrilled that you Love the Rosa earrings!! We'd Love to see a picture of you wearing them!! Please share a picture with us too! We appreciate your business and also writing us a review! We love hearing from our customers!! Thank you so much!!
Sincerely,
Terrie
Anna Bellagio

Kathy S.

Married on 09/05/2020

Perfect - the Bellagio Team & Jewelry

Perfect - the Anna Bellagio Team and jewelry.
I was in need of a hair piece for my sons wedding. After speaking with Terrie on the phone and sending her pictures of my dress, she suggested several pieces to try.
They arrived in a very timely manner, all wrapped up so pretty.
Each piece was beautifully crafted. But the one Terrie thought would be best, was! I returned the others and was refunded promptly.
Highly recommend Anna Bellagio!!!

Sadaf

Married on 06/01/2019

Wow - amazing end to end

Wow! It was so much fun to receive my package from you. I had a wonderful experience picking my wedding dress, but receiving my jewelry from you was what actually made me cry! The packaging, the personal note and all the extra attention to detail made me feel so special. What a wonderful way you send your products. I've ordered a lot of wedding items and have never felt so special. Thank you for such a lovely experience. Everything I ordered was beautiful, great quality and even better than the photos.

Anna Bellagio's reply:

Dear Kristy,
Thank you again for choosing us for your bridal jewelry! We're so thrilled that you found the perfect pair to wear on your Wedding day!
Thank you also for taking the time to write such a beautiful review and sharing your experience! We wish you the very best for all the exciting moments in 2019! Please share a picture with us of you wearing the Lora earrings on your Wedding day!!
Sincerely,
Terrie
Anna Bellagio

Are you interested?

Send a message

Brittani

Married on 11/24/2018

Absolutely Stunning Pieces

The pieces that I selected and wore on my wedding day were phenomenal. Absolutely beautiful and of the best quality. Terrie was amazing with taking time to ensure that I had everything I needed and that it would match up with my dress. She was extremely creative when it came to finding me a headpiece that I loved.

Maida

Married on 05/27/2018

I stumbled upon Anna Bellagio after searching for bridal earrings on weddingwire.com. My Petra Cubic Zirconia Earrings are stunning, and I know they will be beautiful on my wedding day! The amount of sparkle does not do the photo justice. Everything was packaged extremely well and arrived in perfect condition, with a personalized note. I really loved the personalized touch and thoughtfulness. I will definitely purchase from Anna Bellagio again! Thank you so very much!

+ 2

photos

Anna Bellagio's reply:

Dear Maida,
Thank you so much for your nice compliments and review!! We Love Love Love the pictures of when you opened your package!! We can't wait to see pictures of you all wearing them!! :) We wish you the Very Best for your Wedding Day!!
Sincerely,
~Terrie
Anna Bellagio

Victoria

Married on 05/19/2018

Anna Bellagio was absolutely amazing to work with. From their customer service to the presentation of their products, I was (and still am) very impressed. I would absolutely recommend this company if you are looking for beautiful (and affordable) wedding jewelry. I am very pleased with my purchase and encourage anyway who is interested to try them out!

Anna Bellagio's reply:

Dear Victoria,
We're so Happy you chose us for your Bridal Jewelry!! We're thrilled that you Love your jewelry and impressed with our customer service!! We truly appreciate your business and taking the time to write us a review! Thank you for sharing your experience and telling your family and friends about us!!
We wish you the very best for your Wedding Day and Marriage!!
Sincerely,
Terrie
Anna Bellagio
~ Please send us Pics!! :)

Vanessa

Married on 04/18/2018

Anna Bellagio is all about customer service. While I did not end up keeping the wedding jewelry I ordered (only because I found something else that matched the dress slightly better) I still wanted to write a nice review. The jewelry is excellent quality. The packaging was amazing and so nicely done. A hand written note was included wishing me the best on my big day! Very classy! I actually felt guilty returning the jewelry :) I would highly recommend this company. Professionalism at it's best!

Anna Bellagio's reply:

Dear Vanessa,
Thank you so much for taking the time to write us such a wonderful review!! I wish that the Miranda set would have been the perfect match with your gown! We truly appreciate your business with us and hope you'll think of us again when you or your friends and family need jewelry for their social occasion or wedding! We wish you all the best for your wedding and marriage!!
Sincerely,
~Terrie Anna Bellagio

Mary

Married on 04/10/2018

Anna made the most beautiful bracelet for my granddaughter's 1st birthday. The engraving was intricate and delicate and perfect. I HIGHLY recommend Anna and her work.

Anna Bellagio's reply:

Dear Mary,
Thank you so much for your nice compliments and praises!! I'm thrilled you Love the bracelet! We truly appreciate you business and hope you'll shop online with us again soon!!
Sincerely,
~ Anna

Lauren

Married on 04/07/2018

Exceptional! I live in Orlando and found Anna Bellagio on the internet. What started as an email, turned into a phone call with Terrie, and ended with the perfect jewelry for my wedding day! My earrings and necklace were stunning. They were quickly mailed to me with a personalized note inside. I have been waiting to write this review until I got my wedding photos back. Anna Bellagio is the best!

Andrew

Married on 02/01/2018

Terrie is a dream! I use her for all of my photo shoots and she is extremely reliable and her pieces are absolutely gorgeous. You will never regret going down this route for your bridal/special occasion jewelry.

Carrie

Married on 11/18/2017

I searched everywhere for the right earrings for my wedding and just couldn't find a pair that struck me, until I found this website! There were a variety of options and I ordered 3 so that I could try them on with my dress. I loved each of them. They were prettier in person than on the website and a good quality for the price. The earrings shipped very quickly and came in lovely packaging with a hand-written note congratulating me on my wedding . . . this was a really special touch in the impersonal world of the big wedding industry! I am returning the 2 pairs that I did not choose and its an easy process within the 30 days of my purchase. I'm very thankful that I stumbled onto this website and would definitively purchase with them again should an occasion arise!

Anna Bellagio's reply:

Carrie,
We truly appreciate you taking the time to write such a lovely review for us! I'm thrilled that you Love the earrings and found us online! I can't wait to see which one you selected to wear with your gown. Pretty please email us picture of you wearing them on your wedding day!! We love seeing how it all comes together and getting to play a small role in your big day! We wish you all the very best for your wedding day and marriage!
Sincerely,
Anna Bellagio

Nicole

Married on 11/03/2017

When I opened up my package from Anna Bellagio I was so impressed with their beautiful effort to deliver their earnings. Each box was individually wrapped and included a hand written note wishing me happiness on my upcoming wedding. The earnings themselves were gorgeous and complimented my dress perfectly. I am so happy I used Anna Bellagio for my wedding day and will continue to use them in the future. Such a thoughtful and remarkable company with beautiful jewelry for any occasion.
Nicole Clifton 11/3/17


Anna Bellagio's reply:

Dear Nicole,
Thank you for such an awesome review!! We're so happy you love your jewelry and the entire experience! That makes us very Happy!! We appreciate you sharing your wedding day with us!! We love the gorgeous pictures on Instagram!! Thank you again for choosing us for your bridal jewelry! Wishing you both the very best!
Sincerely,
Anna Bellagio

Samantha

Married on 09/30/2017

I absolutely loved my wedding earrings that I bought from AnnaBellagio! They were exactly what I was looking for! I had looked on another few sites including at sea and couldn't find what I was looking for but AnnaBellagio had so many great options it was almost hard to choose from!! All of their stuff is Gorgeous and the quality is really good too! They sent it in the cutest box and made me feel really special to be a bride!!

+ 3

photos

Anna Bellagio's reply:

Hi Samantha,
Thank you for choosing us for your bridal jewelry!! We absolutely Love the pictures! You are a Beautiful Bride!! Thank you so much for taking the time to write us a review and share your wedding day with us!! We Love seeing how it all comes together!! We wish you and your husband a wonderful life together!
Sincerely,
Terrie
Anna Bellagio

Linn

Married on 09/09/2017

I recently discovered the Anna Bellagio website and have loved shopping with them. The product offerings are high quality, the prices quite reasonable and their customer service has been great!

Anna Bellagio's reply:

Linn,
Thank you for the lovely compliments!! We hope you Love the Beatriz earrings and the Selene bracelet!! We'd love to see the pics!! We appreciate your business and hope you'll shop with us again soon!! Best Wishes, ~ Terrie

Katherine

Married on 03/25/2017

All of the jewelry from Anna Bellagio is beautiful so I had a hard time picking which earrings to wear for my upcoming march 2017 wedding. The pearl and diamond button "Anneau" earrings are the perfect compliment to my Lazaro gown. I am thrilled with them. Customer service was spot on and I can't thank Terrie enough for expediting the shipping on my purchase to make sure they were here in time for my bridal portraits.



Anna Bellagio's reply:

Thank you Katherine, for taking the time to write us a review!! I'm so happy that you Love the "Anneau" earrings!! It was totally my pleasure to help you with your bridal jewelry! Pretty please email us a picture of you wearing them on your big day!! Best Wishes!! Terrie

Stephanie

Married on 10/14/2016

I had never heard of or purchased anything from Anna Bellagio before. I searched high & low for bridal jewelry before biting the bullet and actually purchased something and boy, was I happy I did! The jewelry was beautiful & the costumer service was top notch! The packaging and personalized thank you note was extremely nice! Sometimes, shopping online (especially jewelry) can be difficult, but Anna Bellagio made it simple & easy with a hassle free exchange. I found the PERFECT earring and bracelet! Thanks & I can't wait to send you pictures in my jewelry on the big day :)

Jordan

Married on 10/08/2016

BEAUTIFUL wedding jewelry. I looked at a few different places before choosing Anna Bellagio, and I'm glad I did. The jewelry looks even more stunning in person- the pictures don't do it justice! The packaging is beautiful, they even include a personalized hand written postcard/letter, really makes you feel like a special bride! Unfortunately, one of my earrings was missing a rhinestone, but their customer service was amazing. I emailed them about the problem, received an email back the same day, and a new set of earrings were shipped out the very next day. Very happy! Thank you!

Danielle

Married on 08/27/2016

Wow! I ordered my wedding earrings from AnnaBellagio.com. Beautiful selection and super fast service. The earrings arrived and blew my expectations out of the water. Beautifully wrapped, and a hand written note from Anna Bellagio was inside. The earrings went perfectly with my dress, and no issues while wearing them. Would definitely recommend them and use again!

Kara

Married on 08/26/2016

I bought the Cambria Floral earrings for my wedding day. They are absolutely stunning(!) but sadly did not work out with my dress. I am truly bummed since they are beautiful and I had a great experience with Anna Bellagio. Terrie was wonderful to work with when there was a mix up with my address and return. I highly recommend Anna Bellagio and the Cambria Floral earrings.

Laurel

Married on 07/04/2016

I just received my delivery from Anna Bellagio, and what a beautiful package it was! Pretty Pink with beautiful ribbons and bows, made me feel ultra special!

Terry called me to let me know that an item was no longer available and quickly made an adjustment for me, and the item sent will be even more beautiful than what I originally selected!

I highly recommend Anna Bellagio for your wedding accessories, not only are they professional and quick, but the items are absolutely beautiful! Thank you all so much, this was an amazing transaction and will be a wonderful addition to our special day!

I would recommend Anna Bellagio to everyone! The jewelry is beautiful- well worth the price. And I really love good customer service and they have the best. They hand wrote me a lovely note and when I wanted a longer necklace they sent me one that was adjustable at no extra charge. They are your go to for wedding jewelry! Can't wait to wear it in a week on my big day!

Jackie

Married on 05/21/2016

I cannot say enough great things about Anna Bellagio. I recently purchased a necklace and earring set for my mother for my wedding in June. I was originally directed to this vendor by my Hair/MU artist and they did not disappoint. They had a sale going on for 30% off all wedding jewelry, however the site was not applying the discount, so I called customer service. Terrie not only was very patient and helpful, she even stayed on the line with me while I checked out to see if the discount was taking at the end (like at the grocery store). Unfortunately it was not, and as they just moved to a new website host, Terrie was unable to credit the purchase through the order. Instead, she sent a check for the discount amount with my package, which was all shipped out the same day I placed my order. The packaging is ADORABLE and the jewelry gorgeous, and it all arrived in under 3 days, with free shipping. I literally cannot say enough, but definitely recommend them to any bride in the future!

Kim

Married on 11/21/2015

Terrie was amazing!!!

First off, if you ever order anything from Anna Bellagio, you soon find out how beautifully packaged everything is! The jewelry comes in a white box with a sheer pink ribbon/bow around it and inside is pink tissue paper with a beautiful little jewelry bag. I ordered 8 pairs of earrings for my bridesmaids and they loved them! So much so that I now want a pair myself! I also ordered a bracelet that was beautiful and earrings for myself. My bracelet had a minor issue and Terrie immediately shipped me out a new one. She was so great in working with me to help make my day perfect! I could not recommend a better person/company to work with for your jewelry needs or any gifts! Plus, with the amazing presentation of the items you order, you don't even have to gift wrap! :-)

Rebecca

Married on 03/28/2015

I was absolutely amazed by the product I ordered. I did not want to wear cheap looking jewelry on my wedding day. The turnaround from ordering the pieces and receiving them was very quick. I was amazed when I opened the box a hand written card wishing me "well wishes for a beautiful wedding" and thanking me for selecting Anna Bellagio for my bridal jewelry. The pieces were beautifully wrapped with beautiful bows. The beauty did not stop with just the packaging. The jewelry I purchased are beautiful and high quality. I am very pleased and will refer this company to anyone wanting beautiful pieces for their wedding day! Great company, great customer service, and great quality! I highly recommend!

Rebecca

Love that you can customize pearl jewelry here. My jewelry was absolutely gorgeous. I ended up using my necklace as a bracelet deciding that a necklace was too much for my dress and it still looked amazing as a bracelet. Many options and the box comes beautifully wrapped and packaged, which made it feel like a present to myself, which I loved! Thank you Anna Bellagio!
Are you interested?
Send a message