Reviews
5.0 out of 5 rating
Quality of service

5 out of 5 rating

Average response time

5 out of 5 rating

Professionalism

5 out of 5 rating

Value

5 out of 5 rating

Flexibility

5 out of 5 rating
100%
Recommended by couples
16 User photos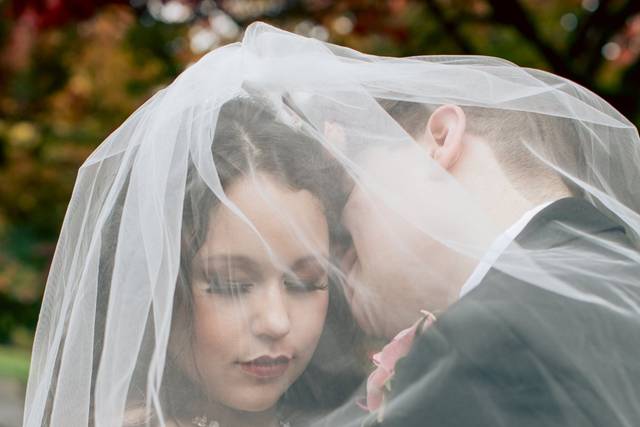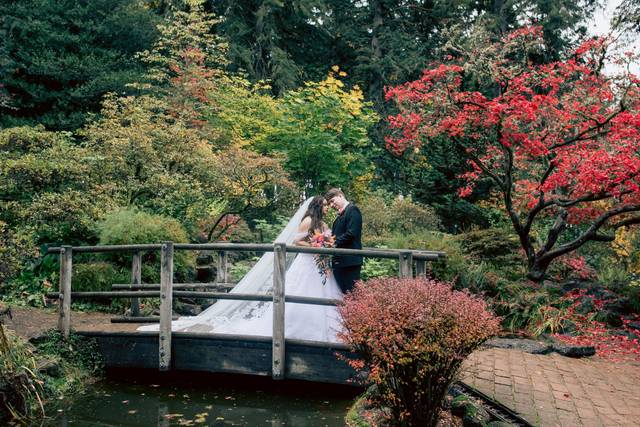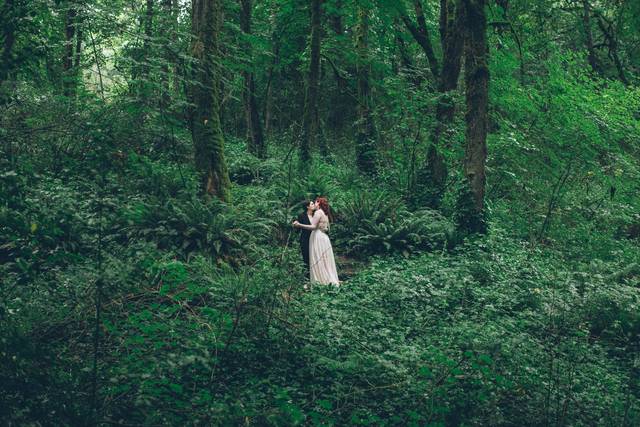 + 12

photos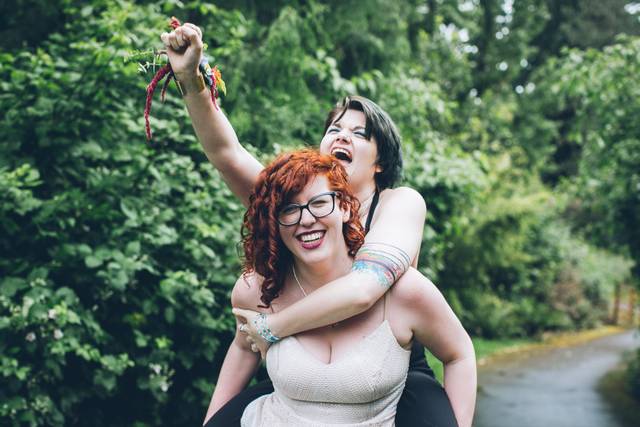 Angel

Married on 10/28/2021

Captured Beautiful Photos

Their photos even by themselves were beautiful but they also went above and beyond in helping us locate critical information to help our wedding happen and were both great support leading up to and including the day. Wonderful communication. I loved the albums we bought from them. They made it so my grandmother could have a beautiful record of the day even though she wasn't able to be present. Thank you.

Brenda N.

Married on 06/06/2020

Beautiful photos, sweetest team

Rebecca & Jerome are the sweetest! We worked with them for our last-minute elopement after our original wedding plans/vendors all had to be cancelled, and we had an amazing time. The photos turned out beautiful and both of them were the sweetest, friendliest people. We didn't get to meet them until we showed up for the ceremony, but it instantly felt like we'd known them forever and we felt so comfortable and happy spending the day with them. I'd recommend them to everyone!

Hanh

Married on 09/22/2018

Amazing photographers

We met Rebecca and Jerome at the Portland Bridal Show and absolutely fell in love with their work and energy. They were so sweet and knew how to engage with us. You can tell by their excitement that they love what they do and wedding photography is definitely their specialty. Rebecca and Jerome know what angles work best for you so that every shot looks great. You will not be disappointed in them if you chose them as your photographer. Great people, great personalities, great photos.

ANIKO Productions's reply:

Thank you, Jason!!! You two were so much fun! We enjoyed every second with you and your family and friends! Congratulations again, Rebecca & Jerome

Are you interested?

Send a message

Diana

Married on 09/09/2017

Once we got engaged, we already knew that we wanted Aniko. In fact, we met with Aniko the week after we got engaged. We knew we wanted to use Aniko because two of our other friends also hired Aniko for their weddings two years ago and I was part of the bridal party for one of them. I experienced Aniko through the eyes of a bridesmaid and loved every moment of it. Their attention to details during the experience and the quality of photos was exceptional and kept Aniko in mind for our wedding. Aniko was very professional (and extremely down to earth and friendly) throughout the entire experience including the engagement shoot, planning for our wedding, and during the big day! There was a detailed photography plan for the day to ensure we captured the photos we wanted which was executed smoothly. Aniko made the day of easy for us on the day of the wedding! They directed each photography location and even partnered with our day of coordinator for specific reception event shots. We also booked their photo booth services which our guests loved so much that we extended for an additional hour. Their props were popular, the backdrop was gorgeous, and they were able to design the photo booth layout based on our vision which included our invitation logo. We got our sneak peeks the week after our wedding to allow us to make our thank you cards, and received our remaining photos a few weeks after. Aniko was worth every penny, and we highly recommend Aniko for all your photography needs!

Kathleen

Married on 08/27/2017

We LOVE Aniko! We hired them as our photographers for our wedding and they were the best to work with! Rebecca and Jerome were so accommodating, professional, creative and fun to work with! Our wedding day was LONG with two different ceremonies and a reception - they bared it with us in the hot sun. When our original timeline we had planned got pushed back, they were calm and flexible - going with the flow but also making sure to capture every detail of our special day. To this day, our friends and family rave about our wedding photos, and what a fun couple Rebecca and Jerome were to work with! Thank you guys!

Ashley

Married on 08/20/2017

Aniko was amazing! All of our guest were so impressed with how professional they were. They made everyone feel so comfortable and did everything they could to include everyone! I couldn't have asked for a better team to capture of magical day! Aniko also did our engagement photos. They were so creative and truly passionate about what they do.

Steven

Married on 08/12/2017

Rebecca and Jerome, the super-couple behind Aniko, are such an awesome and fun duo to work with. From our engagement photos to the wedding day, we couldn't have been happier. They were such fun to work with, and quickly put us at ease as we first met for engagement photos - they are so laid back, yet clearly professional. They had fun, but took the time to get the shots you'll love forever. With some tunes and fun banter, they set us at ease and made the process really fun. Once we got our photos, there were too many great ones to choose from, ranging from seriously beautiful to playfully fun.

On the wedding day, they were just as great, almost a 10 months later. They worked with us and the group to get some really great looking shots, as well as fun, light-hearted ones with our wedding party and family. They also got tons of awesome candids, and photos of our guests - we had so much fun seeing all the other people at our wedding in photos, since for us, it is about our whole family and friend group. They were a blast to work with, and again we got top many good photos to go through. So many people loved the photos, and a couple who are our friends recently got engaged and wanted to book Aniko they loved the photos so much - but they unfortunately were already booked! Hot commodities for sure.

With an easy website and options (including a photobooth, which we opted not to do), they can accommodate to the vision you have. Cheers to Rebecca and Jerome!

+ 7

photos

Julie

Married on 07/30/2017

ANIKO Productions is hands down the best husband and wife duo when it comes to wedding photographers. Rebecca and Jerome are awesome to work with, fun to be around and they really capture every awesome moments on your special day. My husband and I couldn't have asked for a great team to work with. All of our friends and family LOVED how our engagement and wedding pictures turned out, that every time we talk about it they are just in awe with how our pictures turned out. If you are looking for a great photographer to capture your special day, I definitely recommend Rebecca and Jerome - ANIKO Productions!

Cambry

Married on 05/28/2017

Hiring ANIKO was one of the best decisions we made when planning our wedding. Rebecca and Jerome are a dream team! I come from a photography background, and knew choosing our wedding photographer was going to be a tough task for me. I knew almost immediately after seeing Rebecca & Jerome's work that I wanted them to photograph our wedding. Then, after meeting and talking with them, we knew without a doubt they were the right choice! They are incredible at what they do, and have such an ease at capturing the most candid, beautiful moments. To top it all off, they are SO much fun to be around. They took our engagement and wedding photos and we will absolutely use them again for all of our future portraits. The best part; they sent all of our wedding photos just 2 weeks after our wedding! It was such a treat to be able to see all of our photos as we were returning from our honeymoon and continue re-living the celebration. I can't say enough great things about these two- hiring them will be one of the best decisions you make!

Amanda

Married on 05/13/2017

I came upon Aniko during my first wedding expo. I was so taken with their genuine and caring personas AND delicate editorial-style, I was practically smitten but I forced myself to wait, thinking I may be just caught up in the excitement of the expo. No.... Aniko is the REAL DEAL! We met with the only other company I thought could compare because they represent multiple photographers... nope, nothing like the artistry of Aniko. It was dollar-for-dollar the most important and well spent money we budgeted for our wedding. It's awesome to have two photographers that are in sync like Rebecca and Jerome, who clearly know what the other one is thinking and doing-- every photo is spot-on-perfection... and I'm not just saying that; EVERY family member and co-worker has commented on the photography specifically... no joke. We've already discussed using them in the future just as our friends and family have!

Jeni

Married on 10/29/2016

Rebecca and Jerome are some of the best photographers I have worked with! From the second my mom and I met them, we knew they were going to be fun and their pictures are stunning! They have an eye for the perfect shot and make the whole experience fun!

They captured both our engagement pictures and our wedding pictures and they exceeded all expectations. They are not only professional, punctual, organized, but they are super artistic and fluid. Weddings are always chaotic, but they did a great job capturing family/friends/guests. They provided all of our pictures insanely fast and made all my other married friends jealous with how fast we got our pictures. We have so many favorites and we are so grateful for their amazingwork!

They also provided an amazing Photo Booth at our Wedding Reception at the Sentinel Hotel. My friends and fam had so much fun with all the props and the beautiful glitter backdrop.

Thank you Rebecca and Jerome, Graham and I would like to book you for forever and for any photography needs for our growing family in the future:)

Much appreciation,
Graham and Jeni McDonald

Branwen

Married on 10/02/2016

Rebecca, Jerome, and Bunn were all an absolute pleasure to work with! We had a great engagement photo session, my husband and I were nervous going in, but they made us feel so comfortable/natural in front of the camera. I especially loved Jerome's mood music that he brought! I also think it was important to spend time with them before the big day, so I highly recommend doing something similar. They were timely and responsive with all emails and any logistical/financial questions were handled with ease. On the wedding day, Rebecca and Bunn were seamlessly everywhere and nowhere at the same time. They caught so many incredible photos without intruding on anyone and treated my entire wedding party with great respect. The editing process was quick and we are so happy with all of our photos and the beautiful wedding book Rebecca put together for us. I cannot recommend this team enough!!

Sara

Married on 10/01/2016

We LOVED working with Rebecca and Jerome for our engagement photos, and with Rebecca and Bunn on our wedding day! They made us feel so comfortable and our pictures are absolutely incredible. It rained during our engagement photos AND on our wedding day and we still ended up with incredible photos. Worth every penny, we highly recommend them!

Rachel

Married on 01/30/2016

After looking a numerous photographers websites, we were immediately drawn to the style of Aniko Production's photos. After meeting Rebecca and Jerome, we felt even better about our decision to have them shoot our wedding. We met with them twice in advance of the wedding to discuss what types of photos we want. They were very accommodating and listened to our wishes, as well as made suggestions and asked questions we hadn't even thought of.

On the wedding day they were both very calm, flexible, and professional, which made the day less stressful. Even when we were behind schedule, they went with the flow. They were patient with our family and friends and made us feel as comfortable as possible throughout the day by getting us to laugh and playing music. Before the wedding, Jerome photographed the groom and groomsmen getting ready, while Rebecca photographed the bride and bridesmaids. Having both of them taking photos allowed us to capture all the moments leading to the wedding, as well as get different angles of the same shot.

We had a wonderful experience working with Aniko Productions and would recommend them to anyone getting married!


Jeanne

Married on 09/18/2015

AMAZING! FANTASTIC! PERFECT! I could go on! Rebecca was a dream to work with. She was calm and collected when I was a crazy bride. She knew exactly what shots to get and when. I couldnt have asked for a better photographer! AND! We made it on the Oregon Bride Magazine!

I knew I loved the soft, romantic style I saw in all of the photos by Aniko Productions and was so happy with the photos and entire experience working with their associate shooter, Bunn Salarzon. Rebecca helped me by giving me a suggested timeline when we first started planning, which helped me tons in determining lots of other details in the time between booking vendors and actually nailing down a timeline. She also gave me awesome vendor suggestions to help me get started as soon as we had booked photography. Bunn is so good at what she does. I felt super awkward when we started taking our engagement pictures, and by the end she had us smooching in the middle of Pioneer Square without a shred of self consciousness. That is a serious feat! All the bridesmaids loved that Bunn helped us out to make sure we had our most flattering smiles and poses. I love all of our photos and the best part is that they really look like "us". Rebecca is super responsive and I love the ability to download my images and do whatever I want with them, rather than being forced to buy prints or a package from one place or another. Thank you so much, Rebecca and Bunn!

Chandell

Married on 07/24/2015

I would highly recommend Aniko to capture your special day! Rebecca and Jerome are highly professional and personable. My wedding timeline changed a week before the wedding and they were flexible on fitting with the new game plan. They responded quickly to e-mails and by the time we had returned from our honeymoon, our pictures were done! A few guests at the wedding are professional photographers and were impressed with all the shots Aniko took. Rebecca and Jerome are a dynamic duo and I was highly satisified on having them as our photographer. Our pictures turned out beautifully and I plan to use them again in the future!


Robert

Married on 06/06/2015

Jerome and Rebecca were such a joy to work with. They have got to be the most talented photographers we have ever met- we were stunned and in awe at every one of the photos that were taken- both for our engagement and wedding day photos. As my husband and I were not used to taking professional photos, we were unsure at how we would look in the photos, but Jerome and Rebecca made sure to teach us how to relax and pose for the camera. Rebecca was also very good at communicating with us, and would take the time to thoroughly explain answers to any questions we had. We always felt that they were willing to go out of their way to make sure things worked in our favor, and we still talk about what a great decision it was to hire Aniko.
We would recommend Aniko to everyone out there who is looking for the PERFECT photography vendors, and can't wait to work with them again in the future!

Just impressive! From beginning to end our experience was 5 stars all the way! I will recommend to everyone I know and definitely will be using their services for all my family photos! Keeping it short and sweet but they are the best!

Maddie

Married on 11/29/2014

Jerome and Rebecca were so down to earth and made it so easy to relax on our big day! All of our guests were treated so well by both photographers as they interacted during our event (they provided a photo booth as well!) and they were so flexible and accommodating with our requests. Would highly recommend both their photography services (super fast turnaround) as well as their photobooth!

Ashley

Married on 10/26/2014

Rebecca and Jerome are AMAZING- its that simple! They photographed our engagement photos in the pouring down rain and wind (because we were determined) and they looked amazing and only we knew that it was a terrible day. The comments that I got from people were that we looked 'madly in love and so happy'. They did such a great job of capturing 'us' and our relationship. They captured our love to laugh and goof around. Our pictures didn't look posed but realistic to our relationship but just captured in a picture. Isn't that always the goal? ;) We didn't think at first that we would be able to afford to take them with us to our destination wedding but Rebecca worked with us and we were extremely happy to know that they were going to be traveling with us to Hawaii to capture our wedding. Our pictures are by far everything that we ever dreamed of. They captured every single moment through out the day and perfectly. They have an eye for detail and don't ever miss a shot or action! We couldn't recommend them more. People have been speechless with our pictures and we are absolutely IN LOVE with them. Our entire house is going to be plastered with them soon. There were so many pictures that I dont even recall seeing them taking the picture and those are the best ones. They captured the moment. They will be our family photographer forever!! As long as they are taking pictures we will be using them! Thank you again for traveling to beautiful Hawaii to capture our 'happily ever after'. We can't thank you enough!!!!

Rebecca and Jerome are such a joy to work with. They are basically our family photographer! They have photographed my brother and his wife's wedding and recently their maternity shoot, and also worked with our good friend' s wedding this last August. Rebecca and Jerome make you feel so comfortable in front of the camera. They photograph beautiful photos and really have a touch for capturing candid moments. Rebecca is prompt with her responses to any of your questions and also helps if you are looking for any other wedding vendors! We got all of our wedding pictures back 3 weeks after our wedding! Super quick and gave us an opportunity to use our amazing pictures for our thank you cards. Rebecca and Jerome are not only very talented but extremely friendly and professional! I highly recommend any couple to go with Aniko!

Corinne

Married on 08/02/2014

Rebecca and Jerome of ANIKO Productions were absolutley wonderful to work with. After a last minute cancellation from my previous photographer, ANIKO productions saved the day and stepped in. They showed up in plenty of time, completely ready to shoot some beautiful pictures, and they quickly made us feel relaxed for the camera. During the ceremony and reception, I hardly noticed them, but they were able to capture some amazing moments. I could not be happier with the lovely photos we received from our wedding day; they perfectly captured the emotions of the day. I also received all my edited photos about two weeks after the wedding-very fast! I will be recommending ANIKO Productions to every bride I know in the area!

Rebecca and Jerome are an amazing photography team! I am so in love with our wedding photos!
I live in California and thus planned our Portland wedding almost entirely by phone and email. I was initially impressed by Aniko Production's online portfolio. After contacting them for information on their pricing and availability, I continued to be impressed by their politeness, professionalism, and helpfulness--they are great about quickly responding to emails and always made sure to thoroughly answer all of my questions. My husband and I met with them the day before our wedding and they helped us scout locations within the hotel and nearby for all of our photos. (They also have an online form we filled out prior, which helped them get an idea of all the photos we wanted and also helped them plan the timeline for the day. I thought it was very helpful!) There were a few photos I wanted which Rebecca and Jerome were not sure if they could achieve. I really appreciated that they gave me reasonable and complete expectations as to why those photos may not work how I was imagining. But, they also did their absolute best to accommodate all of the photos I was hoping for and I could not be happier with our wedding album. They are really fun to work with, and both of them go the extra mile to make everyone was feeling comfortable and enjoying getting wedding photos taken. I highly recommend Aniko Productions!!!

We had wedding photography with Aniko Productions. Rebecca and Jerome are so friendly and funny that they make photo shooting fun! Their photos are excellent! We're so glad that we had photography with them!
Are you interested?
Send a message