200 Reviews
Recommended by 98% of couples
Quality of service

4.9 out of 5 rating

Average response time

4.9 out of 5 rating

Professionalism

4.9 out of 5 rating

Value

4.9 out of 5 rating

Flexibility

4.9 out of 5 rating
66 User photos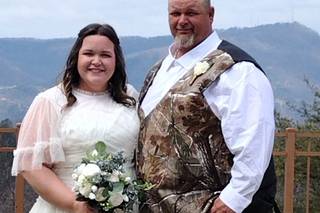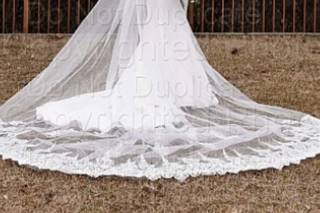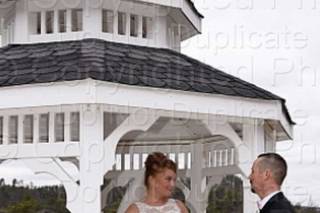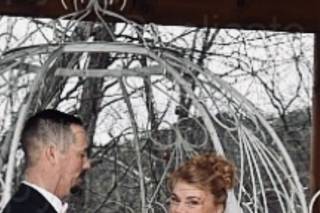 + 62

photos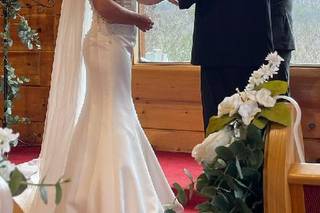 Danielle S.

Married on 05/25/2023

Breath taking... The entire place/people

WE DECIDED TO MARRY ON THAT FRIDAY, I CALLED HERE AND SPOKE TO JEANNIE WHO WAS EXCELLENT IN ACCOMMONDATING EVERYTHING I COULD ASK FOR. THE WEDDING WAS OF SHORT NOTICE SINCE WE DECIDED TO DO IT ON THAT MONDAY MAY 15 2023 WHICH ONLY GAVE THEM 2-3 DAYS TO HELP ME. THEY RETURNED CALLS AND MADE MY PACKAGE OF THINGS WE WANTED AND IN OUR PRICE RANGE. EVEN SENT US THE LAY OUT OF WHERE AND WHAT ALL WE WOULD NEED TO DO TO GET OUR MARRIAGE LICENSE.. ..JEANNIE WAS JUST THE BEST WITH HELPING ME WITH EVERYTHING SINCE WE WERE FROM OUT OF STATE AND I DIDNT HAVE A CLUE HOW TO GO ABOUT GETTING THINGS TOGETHER SO QUICKLY ..THE ENTIRE STAFF WAS AMAZING. JEANNIE, AMANDA, PASTOR DALE...ALL WERE SO AMAZING AND WE CAN NOT THANK YOU ENOUGH FOR MAKING OUR DAY SO VERY SPECIAL

Bobbie H.

Married on 05/20/2023

Excellent place for weddings

Our wedding was everything we hoped for and more thanks to angels view! Would not change a thing. 10/10 would recommend
Thanks so much angels view.


Leslie A.

Married on 04/29/2023

Happiest Day EVER

This was the best decision I have made, The staff and minister were very professional and very helpful. I had no question left unknown, Highly recommend this experience

Are you interested?

Send a message

Vicki G.

Married on 04/24/2023

Perfect Day

Luke and Erin Glick wedding April 24, 2023 / A big thank you to Felicia for all that you did for their wedding. The day was even more than they ever hoped for. Venue stunning. The food outstanding. The atmosphere in the room was love all around. You do a fabulous job and kept everything running smoothly. You are very good at what you do. Many thanks.
Vicki Glick, Groom's mother

Jessica S.

Married on 03/23/2023

March Wedding

The perfect spot! We made our decision on the location in January and couldn't be happier with our decision. The Pastor was so kind, they used our music of choice for entrance and exit, the photographer was thorough, and we were able to enjoy ourselves and still have a memorable day.

Tonya U.

Married on 01/01/2023

Tonya Utter

Had a wonderful experience with Angels View Wedding Chapel. Jeannie and Felicia were both great to work with. They created the perfect atmosphere for our special day. Highly recommended.

Kevin F.

Married on 12/09/2022

Beautiful Memories

We loved our wedding day. We had struggled trying to decide what to do about getting married and if we had known how well this would have turned out, we could have made our decision months sooner. It could not have gone more smoothly. We arrived at this beautiful chapel with its surrounding views, and we knew at that moment we had made the right decision. Everyone was so professional and kind and made our special day even more special. The ceremony was beautiful. We loved the people - from the minister to the attendants to our photographer. Everyone was more than gracious and helpful to us. Thanks to everyone at Angels View Wedding Chapel for making our day the best that it could be. Make the commitment and allow them to handle your special day. This experience will more than meet your expectations. Your good memory will last a lifetime.

Donna P.

Married on 11/04/2022

The Special touches

Angel View Wedding Chapel helped me and my fiance during the whole process from getting a well defined proposal to the actual ceremony. We highly recommend them! Chapel and outside is simply gorgeous, you will not be disappointed. The staff are so professional and made our special day flawless... The Battles

Saul M.

Married on 11/01/2022

Angel View Wedding was breath taking

Angel's View Wedding Chapel is absolutely breath takingly beautiful! We are from Louisiana. The staff go above and beyond to accommodate to ensure everything is too perfection! They helped make the whole process from beginning with phone calls and emails to the end stress-free. They are extremely nice and easy to work with. Packages can be custom built and affordable for any budget. Everything flowed beautifully and was very professional. Pastor Dale Brooks officiated our wedding. He helped create such a memorable experience for us. It was heart touching and fun, and we felt God's presence throughout our ceremony. Thank you all for making what we envisioned better than expected. A dream come true.
Mr. and Mrs. Saúl Muñoz

Beth B.

Married on 10/22/2022

Absolutely Amazing!

We just had the most beautiful wedding there and the staff went above and beyond all my expectations! The ceremony was beautiful and the reception fantastic. Our DJ had a great variety of songs. The food was delicious. The service from staff from start to finish made the entire experience flow without a hitch.

Leanne J.

Married on 10/22/2022

It was the best experience possible! Perfect day!

Angel view wedding chapel was AMAZING!! They were on top of things from the get go, and question I had they quickly answered and the day of the ceremony went off without a hitch so professional and very personable! We felt like the only ones getting married that day even though they had other weddings before and after ! I am so thankful we chose them for our special day it was perfect!!!

Jodie

Married on 10/13/2022

Picture Perfect Fairy Tale Wedding

PERFECT!!! I couldn't of asked for a more picture perfect wedding. The two women who I worked with here are absolutely amazing! They truly cared about everything and everyone and took care of everything. I was sick on my wedding day and struggled a little bit, but they made everything wonderful!! The photographer was even patient with me when I had to sit down during the middle of the photo shoot. The Pastor Dale was great too!!! They all made me feel special and the place is just beautiful!!! Don't look any further than this chapel!!! You will love it!!! I could keep going on how much I loved this place and the people!!!!

Brandi V.

Married on 10/01/2022

Going to the chapel

Fabulous. The staff was great, venue was amazing, and wedding was terrific. I would HIGHLY recommend this venue to anyone wanting to get married in Pigeon Forge!!!! The chapel was beautiful inside and out and the staff was so helpful to make this such a pleasurable experience. Nothing but great things to say.

Angela H.

Married on 09/10/2022

Best day ever!!

The staff was wonderful!! They were professional yet down to earth and put us all at ease!! The chapel was beautiful and I couldn't be happier with how everything turned out!! Highly recommend this venue if looking for a venue in Pigeon Forge

Amber P.

Married on 08/26/2022

my perfect wedding!!

Angels view wedding chapel was absolutely amazing!! They were there every single step of the way any time I needed them. They made my wedding absolutely perfect!! I would recommend them to anyone
11

Melissa W.

Married on 07/13/2022

Beautiful Place for a Smoky Mountains Wedding

We just got married here and I can't recommend it enough. Great location, beautiful inside area, outside garden area and beautiful architecture, plenty of parking, beautiful view. It was my dream venue and I'm in love with it. The staff is amazing and was so helpful the entire way through. They also work with a lot of great vendors that they recommend to you.

Christy F.

Married on 07/08/2022

Absolutely amazing Wedding venue

We would highly recommend Angel's View Wedding Chapel. Our experience was amazing. The staff is extremely helpful and courteous. I had lots of questions and they never once acted like I was bothering them. They went above and beyond what I expected. The view is absolutely gorgeous and the chapel is quaint and spectacular. The Pastor was so friendly we hated to leave.

Arnaud

Married on 06/27/2022

Beautiful!!

We got married here on 6-27-22. So glad we picked this place the chapel and views are beautiful. The staff where great and answered all my questions.

Erica R.

Married on 06/18/2022

Our Perfect Wedding

My husband and I had an absolutely perfect wedding day thanks to the team at Angel's View Wedding Chapel.

I can not express enough how beautiful this venue truly is. As you come around the curve on the side of the mountain and see it for the first time, it takes your breath away. The mountain view is absolutely stunning, and it was the perfect backdrop for our special day.

The chapel with the huge picture window is gorgeous, and I was so happy with our flowers. Our bouquets were beautiful.

The reception hall was decorated beautifully, but most important - the food was amazing. I highly recommend the spinach salad and warm bacon dressing. Almost every person at the wedding said it was the best salad they've ever had. The cake was gorgeous too.

Fleshia and the other team members were so helpful, and created a stress-free day for my husband and I and our guests to enjoy. We had to worry about nothing.

I HIGHLY recommend Angel's View!

Lona F.

Married on 05/23/2022

Excellent!

This is a beautiful venue. I could not imagine a more breathtaking view for our special day. The chapel was beautifully decorated, and the staff was excellent. Thank you!

Cecilia

Married on 05/14/2022

Perfect Place to Say I Do

Angels View was an amazing place to get married. They greeted us at our vehicle and escorted us into the chapel to get ready for our big moment. One of the ladies even carried my dress into the Chapel. Everything was beautiful and the everyone was nice. I would definitely recommend Angels View Wedding Chapel to any couple getting married in the mountains. The views are amazing for pictures. The only negative thing I could say is I wished when I was in the dressing room, someone would have told us the time and that we were running into our wedding time because after our ceremony we was told we only had 25 minutes for pictures. We took several pictures, but I wish we could have had more time for pictures but overall, everything was amazing and really beautiful. I am so happy we chose to get married at Angels View. All the staff is friendly and extremely helpful.

Tricia S.

Married on 05/14/2022

Bride & Groom

I couldn't have been happier to marry the man I love in the cutest little chapel set in a breathtaking piece of heaven on earth! Planning our special day was completely stress free! We honestly didn't have to do anything except show up and get in our wedding attire.

If you're looking for a gorgeous place to elope in the smoky mountains, look no further than Angel's view wedding chapel! I am delighted that we chose them!

David W.

Married on 05/13/2022

An experience you will never forget!

We were married in a little chapel in the woods in Pigeon Forge in 2002. In 2012 we selected Angel's View for our 10 year vow renewal, and liked it so well that we returned this year for our 20 year renewal. We shared this event with our two long time best friends who took part in the ceremony as best man and bridesmaid.
The staff at Angel's View was awesome. Both Fleshia and Jeannie (coordinators) were very professional and extremely helpful in making sure everything went as it should. Pastor Dale Brooks was also a great help to us, not only presenting a scripturally based renewal of wedding vows, but also taking as much time as was needed to go over things ahead of time so that everything would go smoothly, which it did. Photographs were taken by Amanda, who was very professional, courteous and accommodating, taking plenty of fantastic photos before, during and after the ceremony. The entire staff helped to make our special event both worry free and effortless, allowing us to just relax and take in the moment. A big thanks to all of you!
At the front of the chapel there is a huge picture window overlooking the mountains, so whether your ceremony is inside or outside, the breath taking view with the mountains in the background will just complete the whole beautiful experience. We highly recommend Angel's View... beautiful scenic surroundings, professional staff and very affordable.

Tina P.

Married on 05/07/2022

25 vow renewal

The people was great. They are very great to work with. They was about to accommodate my last minute change. The salon did awesome job. Made me feel very comfortable and relaxed.

Brenda M.

Married on 04/15/2022

Absolutely amazing!

My husband and I have been married 46 years, since 1976. We recently took a wonderful vacation to TN with our son and his family. Right below our cabin was this beautiful little Chapel, so serene and peaceful, set right in the middle of the beautiful TN mountains !! My husband decided to surprise me, by booking this Chapel and renewing our vows !! The Chapel was decorated so beautifully !! There is a huge picture window behind where the Pastor stands to perform the ceremony. So as we were renewing our vows, we were able to see those Beautiful Blue Ridge Mountains, in the background !! My wonderful daughter in law and 8 year old granddaugher did my hair and makeup. Our son walked me down the aisle and since our grandkids were with us, they stood up with us during the ceremony. Our grandson is 11 years old and when the Pastor asked for the ring, he was able to hand it to Grandpa to put on my finger, so adorable. Everyone associated with the Chapel, were so very helpful and courteous and kind, it was so very very exciting !! The day before the ceremony, we happened to be in The Pandora Shop downtown, where I found a beautiful set of rings, just right for renewing our vows. This trip to TN is an Awesome Memory that we will Cherish the rest of our lives !!
Are you interested?
Send a message