53 Reviews
Recommended by 100% of couples
Quality of service

5 out of 5 rating

Average response time

5 out of 5 rating

Professionalism

5 out of 5 rating

Value

5 out of 5 rating

Flexibility

5 out of 5 rating
18 User photos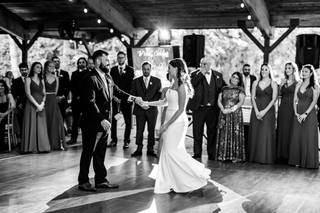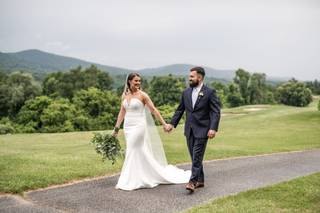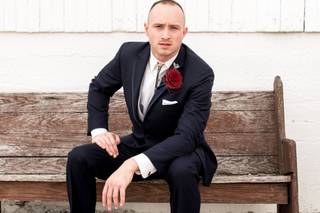 + 14

photos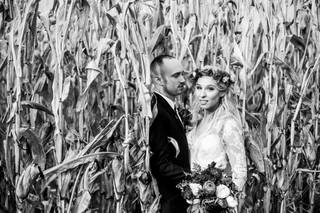 User2634053

Recently married

Chrissy did our family photos for two years in a row. One was in the winter when she was first starting out and one was in the summer as a watermelon mini session. Each time her skills got better & I loved all my photos with her. My youngest son had a fight with the pavement and he lost about a week before we were supposed to do the mini session and Chrissy was soo understand and said lets reschedule.

Linda

Married on 08/01/2021

Andrew and Chrissy are absolutely the best!!!

Andrew and Chrissy went above and beyond my greatest expectations when they photographed my son and daughter-in-law's wedding on 8/1/21!!! Each and every photo is beautiful and will allow us to go back to that very special day every time we look at their work!! They were able to capture every important moment seamlessly! Both photographers creatively used the venue's indoor/outdoor space for absolutely gorgeous photos!! With their caring nature and calming demeanor, they were able to keep the entire wedding party relaxed!! I would highly recommend Andrew and Chrissy to anyone looking for beautiful and creative wedding photos!!!!

Erin C.

Married on 08/01/2021

Absolutely phenomenal experience

From the moment my husband and I met Andrew and Chrissy for our engagement shoot we knew they were going to be something special. My husband is more on the reserved side and going into our first photo shoot experience we were definitely awkward and nervous but Andrew and Chrissy had a magical touch for getting us to open up and caught photos that so authentically displayed our love.
We knew we needed to hire them then and there for the wedding and so we dragged them to NJ where we were getting married! Now of course things definitely do not go perfect on wedding day and for us that included rain when we fully planned on outside photos and an outside ceremony! Andrew and Chrissy were unbelievable adaptable fighting the rain with us to capture the most perfect pictures. They showed they are truly amazing at what they do, but we already knew that (:
Beyond the photos, Andrew and Chrissy were there to laugh with us as our bridal parties had fun getting ready, they were there to talk us through our first look, to speak up on our behave to other vendors when we needed it, and they fully heartedly supported the decisions we made as we tried to wait out the rain.
Without much time after the ceremony for all the pictures we needed Andrew & Chrissy got it done. They caught all family, bridal party, and even some more of my husband and I in the ceremony space. This day would not have succeeded in the way it did without these two & were so grateful we made the decision to have them there.
10000/10 recommend Andrew and Chrissy for ALL your photography needs.


Are you interested?

Send a message

Cole R.

Married on 04/09/2021

True Pros. With the best customer experience

Andrew and Chrissy made life easier for us, from start to finish. They have fully invested in their business and have perfected each step in the process. In every interaction with them, you'll see them go the extra mile. They also worked alongside our videographers, and communicated with everyone to make for an overall, exceptional outcome. Our photos came in quick, and the quality of them are excellent... Somehow, they made us look like models; which we aren't, by any means.

Mckenna K.

Married on 11/07/2020

We will cherish our beautiful photos forever!!

What a great choice for BEAUTIFUL wedding photos! From the moment we met Andrew & Chrissy a year before our wedding, we knew they were the photographers for us. They're so passionate about what they do, and they build trust with their clients quickly because they're so fun to be around! During both our engagement session and wedding day, we felt 100% comfortable around them and so did our wedding party (we heard so many compliments from our friends & family!). When we had to move our wedding due to COVID, Chrissy and I spoke on the phone and she was right there with me with anything we needed so it was less stressful. Both Andrew & Chrissy are fantastic photographers, and I'm SO LUCKY we had them by our side during our wedding and reception. We gasped with joy when we first so our photos in our online gallery—they're GORGEOUS!! They were extremely kind and patient with everyone on the big day, and did a great job working with us to understand our vision and what we wanted captured. They even walked around the venue beforehand with us when we asked to scope out photo locations, which was much appreciated! We will cherish our photos and custom-made photo album forever, thank you so much for capturing our wedding day story so perfectly A&C!!

Madison

Married on 08/01/2020

Amazing!!!

They were the most personable and professional people to have as part of our day! They were amazing and jumped in to help us a month before our wedding when our last photographer couldn't do it. On top of being completely wonderful as people the quality of their work is superb!

Regina H.

Married on 12/28/2019

Wedding Photos

Andrew and Chrissy were amazing! They were so kind and let us have fun but gave great direction for perfect poses and got a wide array of professional images as well as great candids.

Rachel H.

Married on 12/28/2019

So easy to work with!!

Andrew and Chrissy did such a wonderful job shooting our wedding. They came to my grandparents house while we got ready for the wedding (my husband in the basement and me upstairs). The pictures from the house brought tears to my eyes. I've spent my entire life visiting that house and having the privilege to get ready there was truly a blessing. The house was crowded with all of my siblings (9) and various nieces and nephews and people popping in and they just came in and did their thing. From the candids to the formal pictues they did everything with patience and a true passion for their craft. We decided to switch up where we got our bridal party pictures and they just went with the flow. At the reception they captured such wonderful moments. We received our pictues promptly and we were both floored by their beauty. I'm so grateful we were lucky enough to have them as our photographers and would readily recommend them to anyone.

Brianna

Married on 09/28/2019

Beyond amazing!

Andrew & Chrissy are probably one of my favorite parts of our wedding day. We are so blessed to have found them! For one, their photographs are phenomenal. I can't stop looking at them. They captured every single moment. On top of that, they are just amazing to work with and people we'd count as friends. Chrissy feels like having another bridesmaid added to the party, she kept me calm but focused, and made sure I got all of the dream shots. Andrew is hilarious and the perfect addition to lighten the mood but also keep the ball rolling. They work together beautifully, which lets be honest- is some pretty great wedding day inspiration. Our family and friends just loved them and kept asking where we found them! You won't regret choosing these two for your big day!

Sidney

Married on 09/21/2019

Beyond exceeded expectations... even with obstacles!

We had the biggest obstacle on our wedding day - A POWER OUTAGE. Andrew and Chrissy came in calm, cool and collected and put our minds at ease - Their professionalism and attitude through it all, is truly what kept our spirits high for the remainder of the day. We were all so worried and worked up over the power outage, and their "I got this attitude" was exactly what we needed. We put full trust in them both and they beyond exceeded our expectations. You wouldn't believe the photos we got were taken in the dark!

Leading up to the big day, they were extremely easy to work with and always available if I had any questions or concerns. One of my concerns was the lack of scenery at our venue for first looks and bridal party photos (we got married at a country club). I was so conflicted about dragging everyone off-site just for photos and trying to see the potential in our current location. Chrissy talked me through it and eased my mind - suggesting to stay on-site and let them work their magic. We kept it simple - stayed on-site, and all of the photos turned out AMAZING by just utilizing a patch of trees. You wouldn't even know that we got married at a country club on the golf course!

Lastly, so many guests had complimented both on how well they worked together and how fun, positive, and active they were through the whole evening. And we can definitely attest to that.

Thank you Andrew and Chrissy!

Lauren W.

Married on 08/17/2019

Incredible!

Andrew and Chrissy were amazing photographers who did such a great job at our wedding! They were so talented, professional, courteous, and a joy to work with. They made our photography sessions at our wedding so much fun and easy! Andrew and Chrissy are definitely among the best photographers in the business!

+ 3

photos

Jennifer

Married on 06/29/2019

Beautiful photos and an awesome team!

Andrew and Chrissy were the perfect choice for photography services! We HIGHLY recommend them for anyone's wedding!!! They were so kind and thoughtful in the process leading up to our wedding day. Then, they were ABSOLUTELY AWESOME throughout our entire hot, long, but wonderful wedding day!
They made sure to meet with us, get to know us, and communicate all important details prior to our day. We had previously taken engagement pictures with a local photographer before we were on board with Andrew and Chrissy so we were unsure about taking more engagement photos. Since engagement photos were part of the package we chose, Chrissy proposed we used the shoot to practice becoming comfortable with them and their more natural style of shooting. We were SO happy we did because we were able to learn their cues and feel more comfortable with them on our wedding day.
We got married on a very, very hot day in June! They were extremely organized and created a timeline for us and our wedding party to use on the day. Both were very attentive to us (bride and groom); so attentive in fact, that they had a supply of napkins for my husband's sweaty forehead! 😊 Andrew and Chrissy did an amazing job coordinating and guiding everyone through pictures. They were poised, patient, and direct when taking group wedding party/family shots while being efficient (prior to the ceremony and between the ceremony/reception) so we could stay on schedule for the day. They were very responsive to us and our group. We were amazed with how quickly we received our pictures! They did an amazing job capturing us, our family/friends, and important details of the day!!! We are so thankful for our beautifully photographed memories!

Katie

Married on 05/03/2019

Wonderful Experience!

Andrew and Chrissy were amazing on our wedding day! They were personable to all of our bridal party and got our pictures done efficiently and they turned out amazing. They really do put their whole hearts into their work. I felt I didn't have to stress or worry about my pictures that day. Thank you Andrew and Chrissy for being apart of out day!

Jodie

Married on 09/01/2018

Andrew and Chrissy did an amazing job at a wedding that our company DJ'ed at. It was a country themed wedding and the pictures and memories that they captured was perfect for the theme. They were even nice enough to take a few pictures of my boyfriend as he was DJing and sent them for him to use to advertise for hisself. We highly recommend A+C photography for any event you may have. Thank you Andrew and Chrissy for everything!

Alex S.

Married on 08/11/2018

Groom's Review

Andrew and Chrissy far exceed our expectations for photographers. They are now our friends. They are the perfect combination of friendly so everyone feels comfortable and will relax and take good photos but also firm enough to get through all the photos that are needed to be taken! As a guy, I was a little nervous but Andrew made the whole process of taking my photos so easy and fun, and they turned out GREAT! My wife's brother is getting married in the summer and they asked us for input on photographers, we said "USE ANDREW AND CHRISSY!", which they did! We are so excited they are doing another family wedding!

Catherine

Married on 08/11/2018

Honestly- THEY ARE AMAZING!!!! We loved loved loved everything about our experience with Andrew and Chrissy. The photos are obviously highly important when hiring a wedding photographer, which they're photos are so awesome. They each have a camera and get different angles of the same shot, which gives you more options in less time- so more efficient! But they re so much more than just great photos, they became our friends. They actually care about you and your spouse and we felt so loved by them throughout the whole process. So loved in fact, my brother is getting married in a few months and he hired them too!

Natalie

Married on 07/14/2018

We are very happy that we chose to have Andrew and Chrissy as our wedding photographer. They are very friendly and enjoyable to be around and we were glad to have them at our wedding. They were responsive throughout the planning process and after the wedding. We got our pictures back very promptly and all of them looked great! We would recommend them to anyone and plan to have them do professional pictures for us again in the future.

Ashley

Married on 05/19/2018

I found Andrew and Chrissy from our wedding venue's page and after looking at their portfolio online, I knew I wanted them to be our photographers for our big day!
From the start, just emailing, you felt like you were talking to a friend. They answered all our questions and addressed concerns. We live in Cleveland and our wedding was in Pittsburgh and Andrew and Chrissy did not hesitate to travel to each city for us.

For our first time meeting with the engagement photos, they made us feel very comfortable despite us feeling very awkward in front of the camera! They were easy going and gave us really good directions/guidelines. I had a spot picked out for our engagement pictures but it ended up being under construction but they really made the best out of it and found some great spots nearby. The pictures turned out great!

For the wedding, Andrew and Chrissy were really patient with us figuring out the timeline with everything. Since they shot the venue before, they knew exactly what to expect and where to go for good shots. They caught such details of our wedding and at one point, Chrissy was standing in the rain trying to get a family shot! And, that picture turned out as one of the best! They are perfectionists which I loved because I knew they would get amazing pictures. Our pictures didn't looked forced or staged and they were able to catch natural genuine laughs from everyone.

For a wedding gift, I got my husband cuff links and thank God for Andrew, he helped my husband attach them as he never wore them before! Chrissy stayed with the girls and got some really good getting ready pics of us just genuinely laughing at each other.

We got the pictures back within 2 weeks and had nothing but compliments on them! We felt like they weren't just our photographers but friends. They are an amazing team with an even more amazing talent. I cannot recommend Andrew and Chrissy Photography enough!
Thank you so much for everything!!


Rachel

Married on 12/17/2016

I could not be more pleased with my photos! Andrew and Chrissy were wonderful! They truly were able to capture every angle of our day. I got 2 shoots from them, boudoir and wedding day. Both came out perfect. They were easy to contact, worked with me on ordering the boudoir album, quick responses, and overall a good experience. I will be hiring in the future for any and all my events!

Rachel

Married on 12/17/2016

I absolutely cannot describe how impressed I was after I received our photographs. They made me feel like we were in a magazine or off Pinterest. They invited me over to the house/ business front when I first signed them, which made me feel like a friend instead of a customer or client. I highly recommend them. They truly know what they're doing. The price, I wasn't prepared when I first started looking so it threw me off a little, however, the prices they have are extremely reasonable and truly you get what you pay for. I would hire them all over again and I know who I will hire to have do my future photography needs :) thank you!

Gen

Married on 12/03/2016

Andrew and Chrissy are simply the best! My husband and I knew they would be perfect for our day from the first time we met them. They go above and beyond just being your photographer. They get to know you and your spouse and it shows in their pictures. They captured every emotion and our relationship so perfectly and they were truly a pleasure to work with. Andrew and Chrissy are fantastic photographers and even better people!

Anna

Married on 09/10/2016

We are so grateful to have had the opportunity to work with Andrew and Chrissy. They were extremely professional and provided quality customer service. They went above and beyond for us and made us feel so comfortable. Most importantly, Andrew and Chrissy made us feel apart of their family, and made sure we were taken care of. We can't thank you enough for being there to capture our wedding day. The photos are absolutely amazing. Each and every image is filled with emotion and love- which really shows your incredible talent! Thank you both so much for everything!


Chris

Married on 04/30/2016

We were lucky enough to find Andrew & Chrissy while we were trying to plan a wedding that was 3 1/2 hours from where we lived! It was fantastic to have a couple that was patient and worked with us. They developed a timeline to help keep us on track; however, provided us the flexibility to enjoy the day and make changes as necessary! It was great having both photographers to capture both our groomsman & bridesmaids prior to the wedding! They were always available for help and suggestions, had researched the area and knew where to get the best photos. Definitely something we will treasure forever! Highly recommend them!!!

Ashley

Married on 04/30/2016

I loved working with Andrew and Chrissy! They kept me on track and super organized so that all I had to do was enjoy my wedding day! We were trying to plan a wedding in another state and they were great at recommending vendors and helping with little details to make sure there was less stress on me. The photographs were beautiful! Our guests were even able to enjoy photos during the reception. Andrew & Chrissy were by far our easiest choice and best choice of all the vendors for the wedding! We enjoyed them so much that they've been able to continue working with us for our gender reveal and maternity photos. Can't wait to continue working with them!

William

Married on 04/30/2016

As a father of the bride, finding the wedding photographers wasn't up to me -- however, paying the bills was! Andrew & Chrissy were fantastic to have at the wedding! They seamlessly fit in with the family, they engaged and socialized with everyone and were able to catch photos that we will treasure for a lifetime. They were by FAR the highlight of vendors at the event. It was great to see them take stress off of my daughter and allow her to enjoy your special day, knowing that the memories and captured moments would be there for her to reflect on after the whirlwind of the day was over. It was great working with Andrew & Chrissy and we thank them for all their hard work!
Are you interested?
Send a message