Reviews
4.8 out of 5 rating
Quality of service

4.9 out of 5 rating

Average response time

4.7 out of 5 rating

Professionalism

4.9 out of 5 rating

Value

4.7 out of 5 rating

Flexibility

4.8 out of 5 rating
96%
Recommended by couples
17 User photos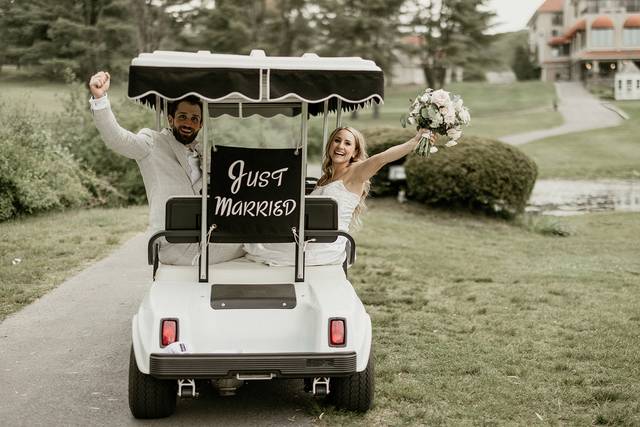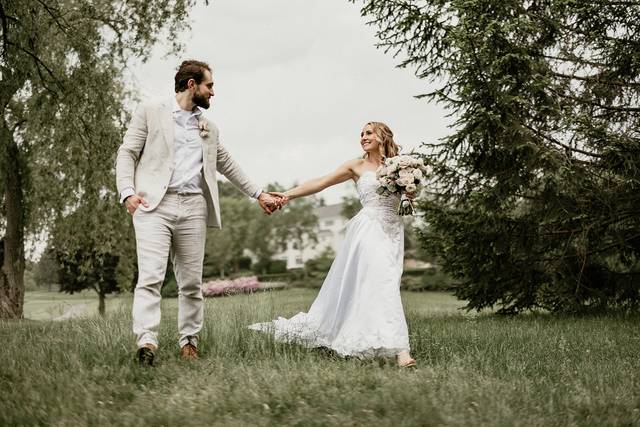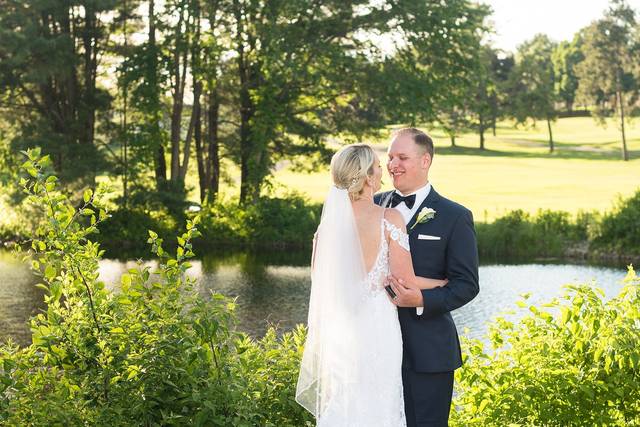 + 13

photos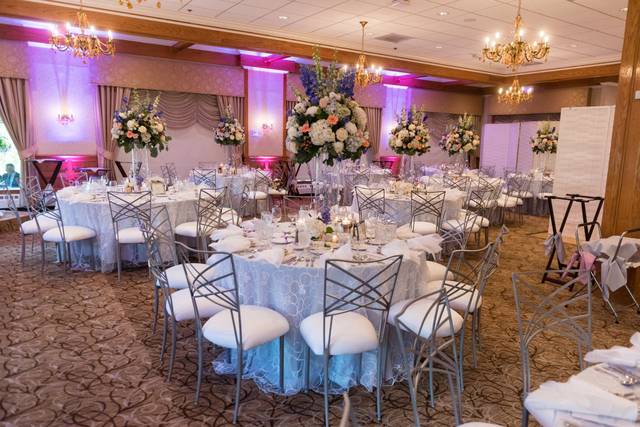 Featured

Amanda

Married on 06/02/2023

Great reception venue

My husband and I had our reception here and it was incredible! Julia was the best wedding coordinator I could've asked for. She did everything she could to make our day perfect, and it was! The food was also delicious. We highly recommend Andover Country Club if you're looking for a wedding venue! Thank you for making our day so special.

Andover Country Club's reply:

Hello Amanda! Thank you for your kind words about our staff and venue. We are so glad we were able made your wedding day so special. You were an amazing couple to work with and we can not wait to see what the future holds for you both on your new chapter in your lives. Keep in touch!

Erin

Getting married on 06/15/2024

I Loved andover Country Club from the beginning. Dan was incrdible through the whole planning process. I would be happy to have any other function I can at the club for the sheer fact that the service was impecable, the food delightful, and over all value was fantastic! We even had the clubs first wedding crashers and the way in which it was handled was fantastic!
I can not say enough for the club and wish them the best in the future!

Jason

Married on 10/09/2021

We've just has a consultation

We have just had a consultation and they are amazing to work with so far. They took the time to answer all our questions and even let us come back to show the parents the location as well as the rooms at the inn.

Andover Country Club's reply:

Thank you so much for the wonderful review, Jason! We can't wait to host your wedding here next year!

Are you interested?

Send a message

David K.

Married on 09/28/2019

Kanode wedding

Dina and her team did an amazing job on my wedding day. Everything was smooth, the set up was amazing. Place looked gorgeous. They were very generous and helpful. The food was absolutely amazing and just the overall experiece was just amazing. Highly recommend Andover Country Club, Dina, and her whole team over there. They made the day that much more enjoyable.

Jen

Married on 08/17/2019

Outstanding Venue

We had our wedding at Andover Country Club on August 17th and we couldn't have asked for a better experience or a more beautiful venue! The ACC wedding management team were terrific to work with throughout the process and made the wedding planning so manageable for us. Our wedding event manager Julia Dumais was a life saver and was so dependable and helpful every step of the way. She is an expert and clearly knows what she's doing, and she pays close attention to all the details. Our wedding was absolutely perfect and ACC did a fantastic job of making the day so memorable. The location and attractiveness of the venue was really important to my husband and me as well as my parents. ACC is nestled in the beautiful town of Andover surrounded by gorgeous homes. The landscaping is stunning and the building itself is well-maintained and elegant. It offers a grand entrance at the front of the building that is ideal for a formal event such as a wedding. The views of the garden areas and the golf course are exquisite for the first look and bridal party photos. The Bard suite was really spacious and clean and my bridal party appreciated having a comfortable and private place to get ready. We had our hair and makeup done in the suite and it was so nice and convenient! The kitchen area and round table were super useful for being able to bring food into the suite. We received so many compliments from our guests about the landscaping and the aesthetics of the building. The garden area for our first look photos and for our wedding ceremony was exquisite! I really wanted a beautiful summer outdoor garden ceremony and ACC certainly delivered. The Trumpeter's ballroom accommodated the size of our wedding nicely so we didn't feel over crowded and it offered plenty of room to have a packed dance floor all night.

As for the food, it was superb! The choice of entrees was broad and we received endless compliments on the quality, preparation and presentation of the meals. The waitstaff was always professional and provided excellent service. They were personable to our guests and went out of their way to make sure everyone was having a great time. They treated my husband and I like we were King and Queen for the evening.

In closing, we couldn't be more pleased with choosing ACC as our venue for both our wedding ceremony and our reception. I would highly recommend this place to any couple who is looking for a classy venue for a wedding that will make you feel special and will make your day memorable for many years to come. We couldn't be happier!

Jillian

Married on 07/12/2019

Jenna at the Andover country club is AMAZING

We had a rough start with one of the management members, however Jenna stepped in and took over our wedding and my gosh she was absolutely amazing! Everything on our day was beautiful and perfect!

Liz S.

Married on 06/08/2019

Amazing Experience at ACC

My husband and I were so pleased with our wedding celebration at Andover Country Club. From the grounds to the room itself, it was absolutely beautiful. My photos just came back and turned out absolutely gorgeous, partially thanks to my photographer and partially thanks to the natural beauty of the property. The food choices were AMAZING and equally delicious the night of. The staff was so pleasant and helpful. I'd highly recommend the venue and the team.

Lora C.

Married on 02/14/2019

Valentine's Wedding

When I asked them last minute if they had availability on Valentine's Day 2019 I was expecting anything but a yes, but that was exactly what I got! Not only that but with the purchase of the food/beverages they actually gifted my husband and I the venue as it was an elopement. The whole experience was amazing! Gorgeous venue, over the top hospitality, and the best day of our lives!

+ 3

photos

Tony

Married on 10/05/2018

Highly Recommended Venue!

Andover Country Club was an absolutely perfect choice for our wedding ceremony and reception! Our coordinator Julia has to be one of the best in the business, she was amazing to work with and everything went so smooth the day of, which is a testament to her hard work. She answered all of our many questions leading up to the big day and was always very responsive over email (our preference). The ceremony space in the garden was beautiful for our October wedding, the indoor reception room was stunning and the staff did an amazing job setting everything up, working with our vendors and our own decorations, to really make the room look ten times better than we ever dreamed. The staff at the club were all absolute professionals and very friendly. The rooms at the Inn were all very clean and a great perk of this wedding venue (special shout-out to Elizabeth and her team!). The food was great as well and we received many complements from our guests. Really we can't think of one thing we didn't like about this venue. The staff really make it stand out and we were very well taken care of the entire time. I highly recommend Andover Country Club to anyone looking for any sort of wedding or event venue.

May

Married on 08/18/2018

We had our wedding back in August and we only have great things to say about working with Andover Country Club for our wedding. The staff at ACC was very professional and knowledgeable which helped guide us through our planning process and our wedding day. Our wedding coordinator was Dina, and she took great care and pride in helping us every step along the way. Dina was especially helpful the day of the wedding as she ensured everything went off without a hitch. It is with great pleasure that we unconditionally recommend Andover Country Club.

Marianna D.

Married on 07/07/2018

Andover Country Club was the first venue my fiancé(at the time) and I went to look at and we fell in love with it! The grounds are beautiful, the staff is fantastic and we knew we didn't even want to look further. Dina was our wedding coordinator and she was AMAZING! Both my fiancé and I felt so calm after talking to her, she is just so patient and sweet and definitely made wedding planning easier for us! Throughout the wedding day she made sure everything was going smooth and the coordination of everything and everyone was top notch! The food was delicious, both the presentation and the quality were absolutely amazing! Thank you, Andover County Club for hosting our wedding and making our day so special!

Jillian

Married on 03/17/2018

I can not say anything bad about this venue! We got married on St.Patricks day and all the staff members were dressed in St.Patricks day gear. The food was amazing everyone raved about it. We were able to get corn beef sliders at it's own separate station with condiments. All of our other appetizers were delicious! The waitstaff were very attentive as well as the bartenders. Julia is the star of the show I must say though because she helped me out tremendously! Any question I had she was very quick to get back to me. Being a perfectionist and having to leave all of my ideas in the hands of someone else I thought was going to be hard, but not with Julia! She told me she was a perfectionist herself so I knew she would make my visions come true and she did! I would definitely hold another function at the Andover Country Club!

Kristina

Married on 08/19/2017

What a beautiful place the venue is wonderful! The staff working are great and so helpful! They are personable as well! The food was incredible my guest at the wedding can't stop talking about how good the food was!!

Andover Country Club's reply:

Thank you, Kristina! We're so happy you had a positive experience planning and hosting your big day at the club! We hope to see you back again soon!

Courtney

Married on 08/12/2017

Andover Country Club was the perfect venue for our wedding reception! Our event coordinator was Julia Dumais, she was very professional, responsive and helpful. We were lucky to have her! We started by getting ready that day with my bridal party in the bridal suite, there was plenty of space and the people working that day helped us get anything we needed to get ready (extension cords, chairs, etc.)

The grounds were beautiful for pictures, the space was extremely accommodating and colorful. We used the Canterbury room for our cocktail hour, it was extremely spacious for our 200 guests. Our reception was in the Andover room, again spacious and beautiful. Everyone said the food was delicious! From the appetizers to the main course, the food was great! We definitely felt like we were taken care of at the Andover Country Club and would definitely recommend the space to someone looking for a beautiful venue!

Andover Country Club's reply:

Thank you for the amazing review, Courtney! We had an amazing time hosting your and Fred's special day at The Club! We wish you both a lifetime of love and happiness!

Valerie

Married on 07/08/2017

Julia our coordinator was absolutely amazing!! She did everything we asked and more! (Believe me we were not easy) The set up crew deserves a raise!!!! They did an incredible job with my unique demands! Due to rain and uncertainty of the wheather they had to set up for an indoor and outdoor ceremony and did a fabulous job moving everything multiple times! The waiters, waitresses and bar tenders did an amazing job! They were such great sports about wearing specialty shirts that were meaningful to us! Girls at the desk were awesome!!! They were always there for us and it was so nice to be greeted by such friendly smiling faces every time we visited! Hats off to the culinary team! We customized our entree selection and the did it without an issue. All my guest still rave about their meal!

Andover Country Club's reply:

Thank you for the amazing review, Valerie! We're so happy you choose to celebrate your big day at Andover Country Club and are thrilled we lived up to your expectations. We hope to see you back at the club for more of your special occasions soon!

Tatiana

Married on 06/10/2017

Andover Country Club is the best Venue, great service and the best food ever. I recomend this venue to all of my friends. Great view, great rooms! Just Amazing!

Andover Country Club's reply:

Tatiana,

We're so happy you had a wonderful experience planning your special day at Andover Country Club! We hope to see you back at the club again soon!

Julia was a great help with setting up our wedding. I would highly recommend Andover Country Club

Andover Country Club's reply:

Kim,

We're so happy you had a wonderful experience planning your special day at Andover Country Club! We agree, Julia is excellent to work with. We hope to see you back at the club again soon!

Susan

Married on 05/27/2017

i could not have chosen a better place to have my wedding. the stuff were so helpful and worked so hard to meet all the requests we had. Kate was exceptional omg i cant find words to explain her, she is the perfect description of good customer service. her smile and willingness to make our wedding great were priceless . The ladies at the reception were a breath of fresh air. i 100% enjoyed every single moment we had at the club.

Andover Country Club's reply:

Susan, Thank you for the awesome review! We're so happy your wedding day was everything you hoped for. We hope to see you back at the club again soon!

Madhu

Married on 03/11/2017

Food, service, responsiveness - all 5 stars! By the time our wedding rolled around, Julia knew all the details of the wedding like the back of her hand, and never skipped a beat when answering any question for us! She was so responsive to emails, and was extremely detail-oriented. All of the food was delicious- way better than what we had at the tasting!

Our experience while prepping gave us high expectations, and they totally exceeded all of them!

Andover Country Club's reply:

Madhu,

We're so happy you had a wonderful experience planning your special day at Andover Country Club! We hope to see you back at the club again soon!

Nancy

Married on 02/18/2017

My daughter got married on February 18, 2017 at Andover Country Club. Everything was perfect, from the planning stages to the actual event. All employees were accommodating and so helpful, professional and welcoming. The food was delicious, the wait staff friendly and efficient, and the venue was superb. Couldn't be more happy with the outcome! We have received so many compliments on the wedding with many telling us its going to be hard to top this one! Thanks for making this a truly memorable day!

Andover Country Club's reply:

Nancy,

We're so happy you had a wonderful experience planning your daughter's special day at Andover Country Club! We hope to see you back at the club again soon!

Alyssa

Married on 02/18/2017

We loved Andover Country Club! They were awesome to work with and very attentive.

Andover Country Club's reply:

Alyssa,

Thank you for the kind words! We had a fantastic time planning your special day!

Sarah

Married on 12/17/2016

Andover County Club was the best choice I made, I've been to many weddings there. My wedding was perfect. I highly recommend for anyone. Food was delicious.

Andover Country Club's reply:

We hope to see you at many more receptions too! Thanks for the great review Sarah. Best wishes.

We highly recommend this venue for any special occasion. We had our rehearsal dinner and wedding at the ACC and could not have been more pleased with the professionalism and quality of the staff and services they have to offer. The food was excellent and the accommodations suited our needs perfectly!

Micaela

Married on 07/30/2016

My wedding at Andover Country Club was absolutely beautiful and everything went perfect! I would highly reccomend Andover CC to anyone, absolutely no complaints what so ever. They go up and beyond what I had imagined. Especially Julia she is incredible!

Andover Country Club's reply:

Thanks Micaela, we try to exceed expectations for every event and we think the world of Julia too! Best wishes.

Ashley

Married on 07/15/2016

Mike and I loved working with Traci Pacy!! She was great start to finish and answered any questions we had without delay- even from my dad :)!
We would recommend the Country Club to anyone looking to hold an event and I know the night left lasting impressions on many of our guests- from the food (yum), to the genuine service provided from every employee working that night!

Thank you again to Traci and the Andover Country Club team!!!

Andover Country Club's reply:

Thanks Ashley! Best wishes to you and Mike, we were happy to be a part of your dream day!
Are you interested?
Send a message