Reviews
4.9 out of 5 rating
Quality of service

5 out of 5 rating

Average response time

4.9 out of 5 rating

Professionalism

5 out of 5 rating

Value

4.9 out of 5 rating

Flexibility

4.9 out of 5 rating
99%
Recommended by couples
3 User photos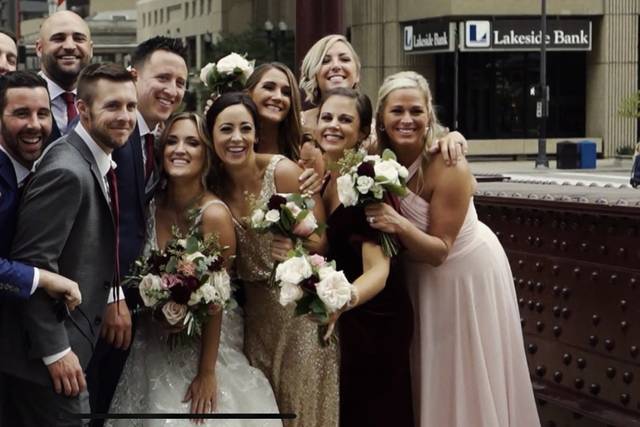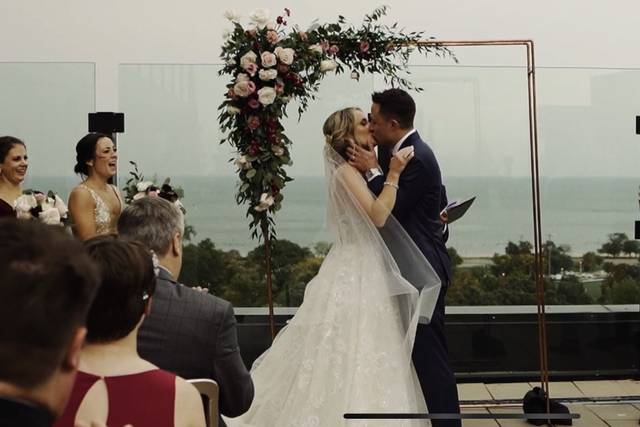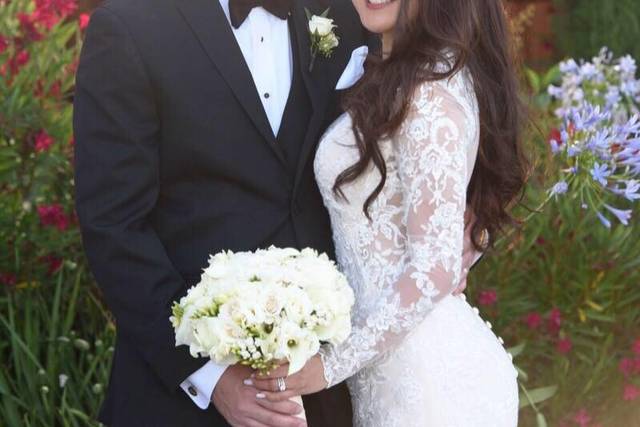 Featured

Jurema G.

Married on 09/19/2021

Amazing experience for our Sonoma wedding

The Amor in Motion team was amazing through the process. Karis and Adriana were extremely helpful in understanding our vision, preferences, and adjustments along the way. On the day of our wedding, the videographers seamlessly blended into the environment and worked in concert with our lead photographer. The highlight video perfectly encompassed our vision, and we were also pleasantly surprised at the angles and level of detail captured in the raw video. Would recommend them to anyone planning a wedding in the Bay Area or Chicago!

Emily K.

Married on 08/15/2021

Amazing work!

I first learned of Amor in Motion after my sister hired them back in October 2018 for her wedding and once I saw that video I knew I had to have them once I got married! The video was different than others I had seen because it told an actual story with visual effects I had never seen in a wedding video! The film crew paid close attention to the details I had wanted in the video and picked an amazing song for my day!! The 60 second highlight preview kept us wanting more and I couldn't wait to see the final product :) Two months after our wedding we received the final film and it felt like we were the star of a movie!! We got so many compliments it was overwhelming from friends and family! I highly recommend them to anyone getting married soon, you wont be disappointed! Thank you Karis and Amor in Motion for all your help and make our dream wedding video that I will cherish forever!

Poonam T.

Married on 08/13/2021

Amazing final product

All of these positive reviews are not lying, look no further for the most kind, caring, and professional videographers around. The videographers gave us just the right amount of direction and captured 2 days worth of moments perfectly. They asked a lot of questions, gave feedback, and really tried to get to know us and it shows in the end result. Our highlight film is something that we will cherish forever and from the bottom of our hearts thank you so much to all of you at Amor in Motion.

Are you interested?

Send a message

Chelsea

Married on 07/03/2021

Feel like a movie star

Yomi and Kyle were with us in our day, but man the whole Amor team is great! They kill it from the beginning they help you choose exactly the style you want and their questionnaires are so detailed! They are more pricy than others but you get what you pay for forsure! The whole day they worked well with our photographer and gave amazing direction and just made me feel fabulous! They also worked well with our postponement because of COVID and made the process stress free!

Michelle G.

Married on 10/30/2020

Beautiful!

I came across Amor in Motion and I fell in love with the films on their website. Each film is unique and full of so much emotion. I knew I wanted them to capture our wedding day! Karis and the team were lovely to work with through the entire process and responded quickly to any questions I had. The team that shot our wedding were so wonderful and made us feel very comfortable in front of the camera! Our highlight video is PERFECT! Every shot is gorgeous, and they captured so many details of our special day. We will cherish this film forever and I am so thankful to Amor in Motion.

Brittney M.

Married on 09/26/2020

Perfect & Intimate

Amor is so worth the investment!! They captured our day perfectly! Jose, our videographer, was amazing to work with, Karis super responsive and sweet, and the edited feature film was GORGEOUS. They were truly invested in delivering a film that was us and made everyone comfortable. Amor's work is as diverse and beautiful as the couples they film, with each being as unique as the next. You will not regret this investment. If you're debating it, DO IT. We are thrilled we did!!

Paige G.

Married on 08/08/2020

Fun, Silly, Easy

Jose & Peter were so fun, light, silly, and made the entire process so fun for us. Jose went above and beyond to provide the VERY BEST live stream for our guests who were unable to view the wedding in person. We have been complimented for days on how amazing the live stream was!

Diana V.

Married on 07/15/2020

Perfect in every way

We had a hard time finding a videographer until we came across Amor in Motion. After looking at what felt like 50 vendors I narrowed it down to three to show my then fiance. With each video he basically said "sure, i don't really care, sounds good." Until I showed him Amor. When he saw their vids his jaw literally dropped and let out the longest "daaannnngg" I've ever heard, that's how we knew we found the one. We really loved how Karis really got to know us over the phone and how their questionnaire was so in depth in order to make the video unique to us and our personality. That's what really makes Amor stick out from the rest. They don't use a cookie cutter format. Every video is unique to each couple. We absolutely love how our video came out and couldn't be happier. We eloped and didn't tell our family until we got the video. It was the best reveal and we're currently getting lots of phone calls filled with happy tears. Everyone is floored by the video and even our friends in production were really impressed. All in all we highly recommend Amor. Thank you so much Karis and Elliot you truly captured our special day in the most magical way!!!

Quino F.

Married on 06/08/2020

Amazing!

AMAZING!!! We are so glad we did all the research to find the best wedding videographer! They were super helpful and communicative from the very start of the process. We were a little picky with what we wanted and weren't sure what would work best, but they totally understood everything and exceeded our expectations! They captured all the emotions that we were hoping to see in both the teaser and highlight films! Karis, Mari, David, Andrew, and the whole team were so professional and accommodating, even amidst all the stress and changes from Covid. We were so blown away with how the video turned out and couldn't be any happier. We knew having a video would be important but didn't realize how important until after the wedding when we realized the day just flew by! Having such a well-done video is allowing us to relive our special day over and over again. Amor proved that it was all worth it!!! :)

Madison L.

Married on 04/11/2020

Best Wedding Videographers in the Business

Couldn't have had a better experience with Amor In Motion. From their Production Coordinator (Mari) to their Videographers and Editors. Everyone was a professional at what they did and exceeded all expectations. We love the way they captured the day and allow us to relive it!

Stephanie G.

Married on 04/08/2020

Stellar cinematography brings amazingly unique wedding films!

We knew we wanted to work with Amor In Motion the minute we watched their films. We had searched high and low for our wedding videographers and they really fit our style and personality. We love how their questionnaire really tailored the editing to our preferences and how they were very responsive to our feedback. We ended up with the most amazing film and would recommend them over and over again. We are in love!!

Bernadette

Married on 10/26/2019

Amazing work

Amor in motion was over the top amazing. From the beginning to the end, they made sure everything was arranged and captured beautifully. Our highlight video is perfect! Everyone who we worked with prior and leading up to our wedding, was outstanding! They made sure they really focused on what we wanted and delivered just that. Their videography skills is one of a kind. I'm so happy we chose Amor and now get to look back on one of our most special days. Highly recommended them to anyone looking for a videographer. Overall, impeccable work and pleasure working with all.

Lia

Married on 09/14/2019

Best wedding Investment!

I can't speak highly enough of the Amor in Motion team. They were incredibly nice people to work with. On the day of the wedding, they came prepared to do their jobs and took it very seriously. For the most part, as the bride, I didn't even realize they were present. I look back on the film and wonder how they captured all of the moments! They truly have the best of the best on their team, all around. It's an incredible job to create such beautiful videos capturing the memories of a bride & groom, but also an honorable one knowing that these videos will become an important part of family history for generations to come. I can't wait to show my children, and grandchildren our wedding video - and while doing so, I will always be grateful for Amor in Motion.

Richard S.

Married on 09/01/2019

Heart!!!!!!!!!!

Woot woot! Amor in motion was amazing!!! I wish I could send them all the flying kisses possible. They were super fun to work with and amazing people!!! We loved their videos on their website and were sure they will capture all the fun and feels that our wedding had. We loved them so much!!

Koo

Married on 08/31/2019

Do NOT look anywhere else.

This is it. If you are considering Amor to be part of one of the most important moments of your life then PLEASE DO YOURSELF A FAVOR and book it. Every aspect of Amor in Motion from production to delivery of the final product was nothing short of a Hollywood ending. In reality the countless hours of time and dedication each team had for our wedding was way beyond anything we could have expected. As a newly wed couple it's hard to pick out which company you should pick for such a very important milestone in your life. We picked ours based on the videos that Amor first showed us and we literally knew and felt that this was the real deal. For Amor to make every wedding video so unique means they really have to know their clients! But that's not enough. The key is experience. They bring to the table YEARS OF HARD WORK to identify every single detail the couple wants and to execute it flawlessly with the right EMOTION and the right MOOD. At the end of the day I could see the team (Jon & Peter) sweating hard and still finding unique shots and making us feel like we had been friends for years. Then when the editing came in they swept us away! I had no idea how hard this work is to capture 10 hours of footage and bring into into a story that came to life! Thank you Andrew & Peter for your post production work and making it so personal and unique. Nothing amazes me more with the connection this crew makes with their clients including Mari and Karis who were the front line of communication with us. Chemistry and communication! That is key to get the right shot and the right story to tell. Thank you Amor for everything you have done for us.

Mary B.

Married on 08/23/2019

Flawless and beautiful

Perfect from the beginning. Friendly, knowledgable, and communicative staff and the videographers were warm respectful and fun the wedding day. The video was perfect; Exactly what we were hoping for!

Nadia

Married on 08/23/2019

Best wedding videographer in the Chicagoland area

Amor in Motion did a beautiful job capturing our special day! The videographers who worked with us were phenomenal; they were friendly, organized, and very talented.
The products that this company creates have such a unique, cinematographic feel—I have never seen wedding films like the films that Amor in Motion create. They are truly one of a kind!

Kate M.

Married on 08/17/2019

The Best of the Best!

Amor in Motion was a dream to work with! Our creative team that was filming with us on the day of our wedding was absolutely wonderful. Both videographers were incredibly talented and detailed. They each worked diligently to capture every moment of our special day. The editing team compiled an outstanding highlight video for us. We couldn't have been happier with the final outcome and we would 100% recommend using Amor in Motion.

Maggie

Married on 08/09/2019

Amazing Highlight Video! Great Team to Work with

We LOVE our highlight video! Every step of the way was easy and professional. We were unsure about the background music, and the team was patient in helping us find the music we wanted. Though the price is slightly high, I think it's worth it to have the best record of the happiest day of our lives. Thank you Amor in Motion!

Hillary G.

Married on 06/29/2019

Great company!

Amor in Motion were amazing for my June wedding!! They were very easy and available for communication and responded quickly to questions. They arrived on time to our venue, and our videographers were so nice and professional. Most importantly the video they produced for us was great!

Beth W.

Married on 06/15/2019

June 15 wedding Puerto Rico

I HIGHLY recommend Amor In Motion! My planner was MIA for most of my wedding day and the videographers were on it! They were very organized and knew exactly what they needed to get. I wanted something different for our video. I didn't want our video to be "too lovey" but more action/fast movements. I wanted to show the event itself. I told them all of this in the questionnaire and they NAILED IT!!! My Instagram teaser was so amazing that guests are asking to see the whole wedding video!

Johnny S.

Married on 06/10/2019

Great experience

Amor In Motion is me and my wife's final choice after comparing different vendors. We like the color and styles. The videographer is very professional, he even know Chinese which gives our communication more fun!

Dee

Married on 06/01/2019

Stunning films

I hired this vendor. There is not enough words to express why I hired them, but a better way to explain is to just have you watch the videos they have created so far on their website : https://amorinmotion.com

I cannot wait to see how they capture my love in motion

Rachael R.

Married on 05/25/2019

Motion Picture Quality Wedding Films

My husband and I couldn't be happier with our choice of Amor in Motion. The films they create are motion picture quality and edited beautifully to tell the special and intimate story of your wedding day. After looking at a few videographers, Amor in Motion really stood out to us and we knew we wanted them to capture our special day so we could relive it through out our marriage. They sent us a questionnaire and asked us about our life as a couple, films we liked of theirs & gave information for us to choose the music selection that would accompany our film. You can tell that they really care about the couples they work with and that comes across in their work. We had a longer wedding day timeline from 11am-11pm and their talented team executed everything flawlessly and were very professional and fun in the process. Our package originally included a highlight film and raw footage, but we upgraded to add a documentary film after the wedding. We look forward to seeing that in the upcoming months. We just received the highlight film this week and have already watched it numerous times, able to relive our day each time the film starts over. We have received many compliments from friends and family and have already recommended the company to others preparing for their wedding. Overall, we are incredibly happy that we chose Amor in Motion to capture our day, the film is beautiful and better than anything we ever imaged.

Jordan M.

Married on 05/25/2019

Beyond happy with my wedding video!

I cannot say enough how happy I was I chose Amor to document our wedding day. Mari who we worked initially was amazing and answered every question we had. She was also very quick to respond to my emails. I also really loved the questionnaire and the ability to chose our song. They sent us our link to our video a little earlier than expected. Their work was even better than I could have ever expected. I did want to remove a couple of clips in the film and they were extremely accommodating and sent back the re-edited coverage in less than a week. The only thing I wished is that I purchased the longer video. Our friends and family continue to say how beautiful our wedding film is and I know we will watch it forever. Without knowing my husband and I they captured us perfectly. They are costly but their work exceeds the price tag. I didn't know if I wanted a videographer for my wedding and it was the best decision I have ever made. You will not be disappointed!
Are you interested?
Send a message