80 Reviews
Recommended by 97% of couples
Quality of service

4.8 out of 5 rating

Average response time

4.8 out of 5 rating

Professionalism

4.8 out of 5 rating

Value

4.8 out of 5 rating

Flexibility

4.9 out of 5 rating
45 User photos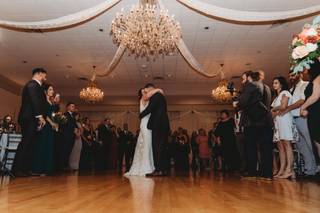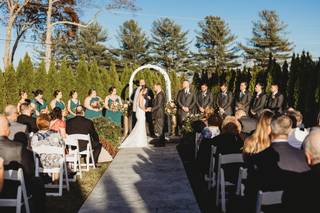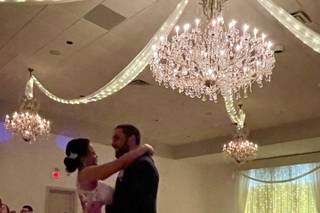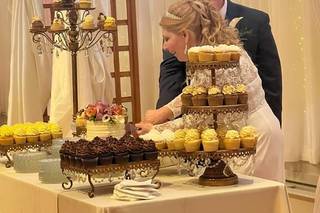 + 41

photos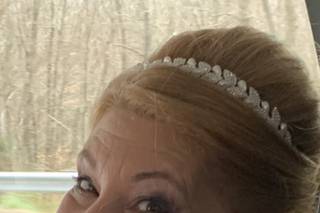 Featured

Danielle W.

Married on 09/18/2021

Our 5 STAR Wedding Experience

I was just recently married on 9/18/21 and Lauren is by far the best of the best when it comes to managing your wedding. From the beginning to end she was on top of every detail and made sure my vision came to life! I had many moving pieces throughout my wedding including 3 outfit changes, special dances, confetti, sparklers, etc and Lauren and her staff didn't miss a beat! The management team is on point and the food was absolutely amazing. Our guests have not stopped talking about our wedding! It was truly an event we will never forget that I would only trust the Alpine to hold.

Kasie B.

Getting married on 09/16/2023

Alpine was perfect

Our wedding was PERFECT thanks to Lauren and all of the staff at Alpine. I sent Lauren many, many emails with questions during planning and she answered every single one timely and she never let me feel like a bother. She was there for me completely the day of as well, coordinating every vendor and all the different schedules, and I didn't have to lift a finger. She's extremely organized and honest which made for a great fit. The location itself is beautiful, we were able to have our ceremony outside in the garden and then the reception in the gorgeous ballroom with string lights, the chandeliers, the drapes - it's very elegant. The set up of the location is really nice as well, with the bar right outside the ballroom (it's also where cocktail hour was), and the fire pit in the garden was going all night which the guests loved. The food the night of was as good as it was at the tasting . Our guests are still telling us how much they loved the filet, even two months after the wedding. I cant recommend Alpine enough. Elegant but cozy, functional, and much more reasonably priced than a lot of other venues that offer so much less.

Kayla

Married on 10/08/2022

The BEST venue!

I can't say enough about our incredible experience with the Alpine and Event Manager, Lauren! From the moment I reached out to inquire about a wedding at this venue, to the days following my wedding, Lauren and her team were responsive, helpful, friendly, and SO dedicated to our wedding. Lauren addressed any question I had along the way and made everything so easy. We felt so lucky every step of the way to be working with Lauren! And aside from the amazing experience we had with Lauren and her team, the Alpine is such a fantastic venue for so many factors. It has a stunning ballroom and is located on a beautiful golf course (allowing for great photos!), is spacious both indoors and outdoors (great for guest parking), has fantastic food and their pricing is affordable. I can't recommend the Alpine enough, it is the perfect venue!

Are you interested?

Send a message

Danielle

Married on 08/28/2022

10/10 Perfect Place

The Alpine Country Club was the perfect place to have our wedding. The food was delicious, the staff was amazing. I delt with Lauren Beaupre, who is the wedding planner and she made me feel so comfortable, and relaxed during the whole process. She took care of everything and made sure my husband and I were taken care of all night. I wish i could relive the night because of how smooth it went. I recommend The Alpine to anyone who is looking to have a wedding.

Thomas B.

Married on 07/09/2022

Thomas Boyajian



We had our wedding at Alpine on 7/9/22 and it was perfect. The club's wedding coordinator, Lauren, helped my wife and I through the entire process; especially on our big day. She guided us through the entire event and made everything so easy. With so much going on, Lauren made sure we were in the right place at the right time, made sure we ate (harder than you'd think) and most importantly, made sure we were enjoying the day. The food was delicious; the staff and bartenders were extremely accommodating (we had a guest list of 200 and they were all promptly served). Our wedding day was exactly what we hoped for and much of that is attributed to Lauren and her staff. Needless to say, we would highly recommend Alpine Country Club as a venue.

Joni J.

Married on 05/28/2022

Our perfect day!

When my fiance at the time and I walked into Alpine Country Club to check out the venue, we were greeted by Lauren, the wedding and event sales manager. Lauren was very helpful and friendly. The venue was absolutely gorgeous, very spacious ballroom, bar area for cocktail hour, and a gorgeous garden with a fire pit where we were able to have our ceremony.

Lauren was extremely active within our wedding planning. She was organized, and kept in contact with us throughout the entire process. She made sure we knew what to expect/do leading up to our wedding day. The day before our wedding, we literally just brought our décor to the venue, told Lauren what is what and where we would like certain things placed; from there, Lauren and her crew took care of the rest. We had a rehearsal a couple days before the wedding ,which really helped us get prepared for the big day.

On the day of the wedding everything went perfectly! Lauren really made sure everything was set up the way we wanted it. She kept the event moving smoothly and was constantly making sure my now husband and I were not in need of anything; she went above and beyond. During photographs, Lauren was also even more helpful as she came up with photo ideas our photographers thought to be useful.

Overall, I would highly recommend Alpine Country Club, if you are in need of a venue to have your wedding. They were all accommodating and friendly. The price was extremely reasonable and the food, yummy! You can't go wrong, the place is so beautiful and I give them a 5 star review for helping to make our special night something we will cherish for years to come. Our guest could not stop commenting to us how they loved the venue we chose to have our wedding.

Nicole C.

Married on 05/21/2022

Beautiful Venue but TEAM LAUREN

I got married on 5/21/2022 after postponing since 5.30.2020 due to COVID. It was well worth the wait. Everything about the day was perfect. The room was beautiful, the grounds were perfect for pictures, all of the food was delicious, and I wouldn't have changed a single thing. The venue was perfect but the best thing about my wedding experience at Alpine was hands down Lauren Beaupre (Wedding & Event Sales Manager). Lauren went above and beyond and made sure my day was everything I had hoped it would be. I really felt like she cared about my feelings and vision for the day. She is so organized and efficient. She kept notes on everything and was there the entire day to make sure everything went as planned. She is thorough, thoughtful, kind, and it is clear to see that she is really invested in helping brides have their fairytale day. All of the staff was extremely attentive during the cocktail hour and the reception as well. The whole team worked so well together and and everything flowed so nicely. I cannot say enough good things about Lauren, her team, and Alpine. I would 1000% recommend Alpine to any bride (or to anyone for any event) and feel so confident knowing that Lauren will make their dreams come true. Thank you Lauren and Alpine for everything

Jessica P.

Married on 05/14/2022

Best Service/Beautiful Venue

Alpine is a beautiful venue for a wedding reception. Their even planner, Lauren Beaupre, helped make my day go smoothly and beautifully. She is very professional, responsive, and kind. So thankful for all her guidance !

Doreen C.

Married on 04/16/2022

Perfection

Lauren & the staff at Alpine were absolutely amazing. If you are looking for a venue for your wedding you will not be disappointed with Alpine Country Club. Everything was amazing.
Eric & Doreen Wishart

Sascha M.

Married on 03/25/2022

Great time at Alpine

I had an amazing experience hosting an event at Alpine. The newly renovated space was gorgeous! The party went off perfectly in large part to Alpine's Event Coordinator Lauren. She made planning easy from start to finish, helped me when I was feeling overwhelmed, and guided the whole process with ease. She helped with cocktail choices, best food options and laying out the space. Everything was perfect and the guests enjoyed everything from the tasty food to the fun cocktails! Would highly recommend!

Donald A.

Married on 02/10/2022

Great job Lauren

We had an amazing experience at the Alpine Country Club for a private function. Lauren the sales coordinator for was absolutely outstanding!!! Big thanks to Sophia and Jess working the event too!

Kaitlin S.

Married on 02/05/2022

5 Star Venue!!

We can't say enough about how PERFECT everything was for our daughter's first birthday party. The venue is absolutely beautiful and modern and all of our guests raved about how delicious the food was. From Lauren the event coordinator, to Jessica and Stephanie the bartenders, and Deanna, Alex and the rest of the waitstaff we were blown away by their professionalism and attention. We can't wait to have our next event at Alpine Country Club!

Donna G.

Married on 01/22/2022

My Mama Bear Baby Shower

The ballroom was perfect for a 65 person baby shower. Our brunch was delicious and the service was very good. Lauren Beaupre their event coordinator was very responsive and a pleasure to work with. Love their bartender Stephanie too!!!

+ 3

photos

Francesca B.

Married on 12/31/2021

Alpine Country Club - AMAZING!

I had an absolute blast at my wedding at the Alpine Country Club! The food is excellent and they had an abundance of options to choose from to best customize you wedding menu. Also, Lauren the event coordinator was amazing to work with. She has such strong attention to detail to help make your day go smoothly. The ballroom is newly renovated with beautiful chandeliers and the cocktail hour/bar is very large so there is never a wait for drinks making it a great experience for guest. The wait staff was also quick to serve the courses and was on top of cleaning and fulfilled any needs we had. Overall, Alpine Country Club was an amazing venue to host a wedding. I would definitely use this venue again for future events!

Sheena B.

Married on 11/28/2021

Perfect wedding!

Working with Lauren at Alpine Country club made everything not only easy and efficient but also enjoyable. She was extremely professional, but also personable and genuine. I would 10000% recommend this venue and planner to anyone looking for a place to have their wedding. I had both my ceremony and reception at Alpine and I can honestly say my wedding was PERFECT. I wouldn't have changed a single thing. Lauren thought of every little detail and made is such and awesome and memorable experience. The venue and grounds are GORGEOUS and the food was delicious. 10/10 recommend!

Meg

Married on 11/20/2021

Exceptional Experience

I found Alpine Country Club on Wedding Wire. I am ecstatic I found them since I had never heard of them before. As soon as I walked in I knew this is where I wanted my wedding reception. It was an absolute dream for a venue. I planned my wedding in a year; through that year Alpine had a management change for event planners - which obviously would make any bride nervous. Lauren came in and was truly exceptional. She put my mind at ease and confirmed everything with me along with adding more details to our planning.
The day of the wedding, Lauren was extremely attentive, kept everything going smoothly, and just made the experience so great. All of our guests enjoyed the day and said the food was absolutely phenomenal - all choices and passed appetizers.
I was a wedding planner as a career a few years ago and have seen many ball rooms and venues. This is hands down THE BEST grand ball room I have ever seen. Their chandeliers, windows, lights, curtains, and cocktail hour area are all so elegant and beautiful.
Book your tour to see for yourself! You will not be sorry!

Noelia J.

Married on 11/06/2021

Very professional

This place is amazing, beautiful, and equipped with professional staff. It was a dream come true to have my daughter sweet 16 at the Alpine.

+ 2

photos

Dawn

Married on 09/04/2021

Highly recommend choosing alpine for wedding venue

Alpine was the perfect wedding venue for my husband and I. Lauren was exceptional hostess. She was friendly courteous accommodating professional and helpful.

Their outside space was perfect for our ceremony and the ballroom was set up to accomodate our small wedding venue.

It was perfect day from start to finish. Everything I had dreamt it would be.

Gianna P.

Married on 08/21/2021

Best wedding ever!

We had the best wedding at Alpine Country Club! We can't say enough great things about our day! Lauren was so amazing, professional, friendly, & an absolute pleasure to work with. She knows exactly what she's doing to make sure that the bride and groom are taken care of! This venue is so beautiful. The inside is completely renovated with such a classy, stunning design & the golf course was gorgeous as well for our photos. All of our guests are still talking about how beautiful and fun our wedding was months later. I highly recommend Alpine Country Club; I can't say enough great things!

Tiana S.

Married on 10/03/2020

Beautiful and timeless

Alpine Country Club is a beautiful wedding venue! We worked with Elizabeth and she was professional and worked with us every step of the way to make our wedding dreams come true. The venue is absolutely stunning- we have so many beautiful night shots that we took as the sun was setting. Inside is so elegant especially with the new updates. Brand new bar area where we had our cocktail hour and re-modeled outdoor patio with gorgeous pavers and lit fire places. Modern and elegant. Alpine is classy and elegant. So happy we chose Alpine CC

Lucia

Married on 10/03/2020

Dream Come true

Both Elizabeth and Laura were amazing! They went above and behind to make sure our vision came to light. I appreciate the patience and detail they provided, not to mention doing all the extra things to accommodate us. The food was delicious and our family and friends are still talking about it.

Arianna C.

Married on 05/01/2020

Wedding shower/Rehearsal Dinner/Surprise Birthday Party

We were fortunate enough to have the opportunity to host 3 different events at the Alpine Country Club within the last year and a half. Pre-COVID, we hosted an evening wedding shower at the Alpine. Throughout the planning of our wedding shower, I had a very specific vision. I had the idea of a cocktail party theme with food stations and a mix of high and low table tops. All I can say is wow! From the antipasti station to the passed signature drinks and evening buffet, every aspect of the night was a hit. Despite our April 2020 wedding being postponed, we were thrilled to have an amazing wedding shower that actually felt like a wedding! Again, Lauren and her team did not disappoint in 2021 when needing to host a rehearsal dinner and surprise 60th birthday party. Lauren is a wonderful coordinator and makes planning an event(s) stress-free and simple. As for the food and service, you will not be disappointed. We highly recommend the Alpine Country Club for ANY social event.

Victoria R.

Married on 02/09/2019

Amazing!

The alpine country club was amazing!!! Shawna made every step of the way as smooth as possible, she was quick to answer emails, addressed our every concern, to make sure our day was THE BEST EVER! The service the day of our wedding was also phenomenal, the food was amazing, all the waiters/waitresses were on top of everything!! I highly recommend the alpine to anyone planning a wedding, there ballroom is stunning! I had such an amazing night, I wish i could do it all over again! Thank you for making my day everything Iv ever dreamt of!!!

Alpine Country Club's reply:

Thank you Victoria ~ working with you & Giovanni was a dream ~ your wedding was as amazing & beautiful as you!!! Wishing you, Giovanni & little Sienna a magical life of love & happiness! Always ~ Shawna

Courtney

Married on 12/01/2018

We felt taken care of all night long.

The FOOD! I am slightly picky and have some allergies but totally appreciate a good cut of meat.. they did the best job honestly my wedding went off without a hitch it felt like nothing could go wrong, they know how to put on an event and wow with the FOOD!

Vanessa V.

Married on 11/10/2018

Phenomenal!

From the service to the food, to the beautiful grounds and the amazing staff, we could have not picked a better venue! Shawna was readily available for us with any questions we had, and made sure the day was seamless! It was an absolute perfect day, and our guests raved about the venue and food. I couldn't imagine how beautiful it would have looked the day of and when we saw it for the first time set up, we were blown away! The food was excellent, our server made sure my groom and I always had a drink in hand and that we had everything we needed! Request Bonnie for your day of! If we could give the venue 10 stars we would!
Are you interested?
Send a message