46 Reviews
Recommended by 95% of couples
Quality of service

4.8 out of 5 rating

Average response time

4.8 out of 5 rating

Professionalism

4.8 out of 5 rating

Value

4.8 out of 5 rating

Flexibility

4.7 out of 5 rating
10 User photos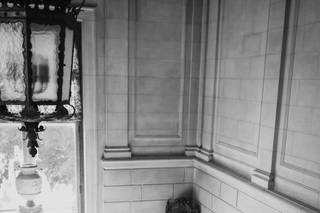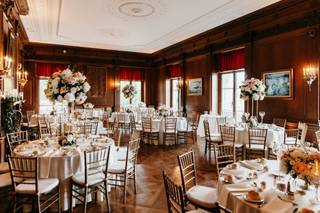 + 6

photos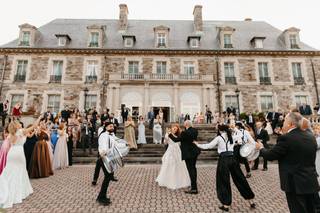 Robin B.

Married on 07/01/2022

Incredible Venue and Amazing Service

Our experience at Aldrich Mansion was so wonderful. It was the only venue I visited and we booked it on the spot. I knew it was the one! Tony is truly a professional and made our day run smoothly. The service and attention to detail at Aldrich goes above and beyond. I can't recommend them highly enough.

+ 3

photos

Ellen B.

Married on 11/20/2021

5-Star Wedding Venue Rec!

My husband and I were married at Aldrich Mansion in November of 2021. Aldrich Mansion was the only venue we looked at and we immediately knew it was the place for us. As Catholics, we loved having our ceremony at the on-site OLP Chapel, and our reception immediately after at the Mansion. The property is gorgeous, centrally located, and on the water. The food and service were exceptional, and we loved having the whole property to ourselves for our special day. Tony, the Mansion's Coordinator, is like no other. He was so professional and organized which gave me a lot of peace of mind! I knew if we asked him for anything, it would be done to our specifications, and we trusted him to lead us along the way when we needed guidance. In addition, Chef Al was a pleasure! We enjoyed our meetings with him and loved how everything was executed on our special day. I cannot say enough good about Aldrich Mansion, and would recommend this venue to anyone for their wedding day!

We were married on June 20, 2015 and could not have asked for a better more perfect venue. While all brides attempt to prepare for that "one thing that will go wrong"...with our wedding, that one thing never came. The staff, the food, the magic of the mansion, everything was PERFECT. Our guests from all corners of the country raved that it was the best wedding they had ever been to and the best wedding food they had ever eaten! Not to mention the ability to bring in your own alcohol for the bar is a huge cost savings.

Upon our arrival to the mansion to get dressed, all the responsibility and stress I felt was removed. We were in their hands and I was so glad!! We took our wedding photos throughout the grounds before the ceremony and were able to view the true beauty of this place. Next was our wedding ceremony in the chapel which went off without a hitch.

James and I had the best night of our lives thanks to those wonderful mansion staff - from the church to the cocktail hour to those late evening hours on the dance floor! They were there for our every need and even for the things we did not know we needed!!

As an example, it began raining towards the end of the night. We had one bartender at the outdoor bar who my father at that point saw standing outside in the rain. My father told him to come in and not to worry about the bar outside. The bartender insisted that he stay, in case someone wanted to stand outside and have a cocktail. This is just one example of the efforts of the amazing staff.

I am SO happy that we chose this place...a perfect venue with amazing views of the water for our guests from Florida, California, New York, Massachusetts and beyond.

I urge you to consider this venue in your search, you will NOT regret visiting and falling in love with this place, just as we did! Thank you Aldrich Mansion for making our wedding day absolutely perfect.

Are you interested?

Send a message

Jackie S.

Married on 06/26/2021

Can't wait for 2020

We just booked the Aldrich Mansion for 2020. It's the one and only venue we went to because I knew it was the one. I think the experience starts from the website where you can get a virtual tour and they're transparent about their pricing. Then meeting Tony and Chef Al in person sealed the deal. The location is absolutely beautiful and the team there is dedicated to taking care of you making everything work within your budget. I CAN NOT wait to get married there!

Ana V.

Married on 11/06/2020

Dream come true

Having a COVID-19 wedding is the hardest and most stressful thing I have ever experience. However, if it wasn't for Tony and Jackie our wedding day could not have been more perfect.

Johanna

Married on 12/07/2019

Amazing venue with wonderful staff!

We are over the moon happy with our recent Christmas wedding at the Aldrich Mansion. Tony was extremely responsive to all of our inquiries over the last 14 months of planning. Once the date was secured we truly had no more worries. The food was delicious, even better than what we sampled during our tasting. Chef Al is a wonderful chef and we enjoyed getting to know him during the tasting and final meetings leading up to our wedding date.

We have family members still calling/texting a month later to say it was the best wedding they had ever been to. The Christmas decorations were gorgeous, the dessert room was the best decorated room. One of our family members called our wedding "the most visually stunning wedding" he had seen.

If I could do my day over again I would change absolutely nothing. The Aldrich Mansion was the only venue we even toured. We were sold by the on site chapel, since getting married in a church was important to us, but we did not want guests to have to then travel to a venue. It was everything we needed. At first we were nervous about the two dinning rooms splitting up our 230 guests and we could not imagine the flow of the wedding. The amazing thing about two dinning rooms was it actually made people get up and out on the dance floor. I have never seen so many people on a dance floor at a wedding. We even had a few low rounds and chairs in the foyer for our older relatives to still be part of the party without dancing. The Aldrich Mansion does not make for a "cookie cutter wedding" and that is the beauty of this venue!

You could take all iphone photos of this place and still have gorgeous wedding photos because it is so easy to photograph. Between the library bar room, the huge staircase, and the view of the Narragansett Bay your guests heads will be spinning. I could not imagine a more amazing venue or a better experience. Tony and his staff made our wedding perfect. I wish I could throw a party at the Aldrich Mansion every year.

Nicole

Married on 11/02/2019

Perfect Wedding Venue!

Our wedding at Aldrich Mansion was perfect! The location is so beautiful. Tony was wonderful to work with. He would always respond to our emails or phone calls very quickly and was organized, attentive, and accommodating. Amy was our day-of coordinator and did a fantastic job making sure everything went as planned. Chef Al was amazing and his food was absolutely delicious. We are so glad we chose Aldrich Mansion for our special day and would definitely recommend Aldrich Mansion for your event!

Jenny

Married on 06/30/2019

The perfect venue!

Aldrich Mansion truly is the perfect wedding venue. It's gorgeous, and it has beautiful views right on the water. Their wedding package is such a great value and includes so much. And, for what wasn't included in the package, Aldrich had a list of recommended vendors, making planning that much easier. And, the members of their team are absolutely incredible. Tony, Aldrich's wedding coordinator, was so great to work with and very responsive. He has so much experience with weddings, and he was really helpful when we needed advice. Everyone there really does go above and beyond to give you the wedding of your dreams, and my husband and I could not be more grateful.

Rosemary

Married on 11/17/2018

The perfect wedding venue!

Aldrich Mansion was the perfect venue for our wedding. Tony was wonderful to work with throughout the planning process, answering all of our questions, planning every detail from the timeline of the whole day to where every piece of decoration would be placed, and even making last minute changes to the layout to accommodate our requests. On the day of the event, the entire staff was extremely professional, the two attendants assisted us and got us whatever we needed. The chef, Al, was very helpful in planning the meal and the food was exceptional, not to mention the dessert room, which was a show stopper! All of our guests, including our parents, raved about the venue, the staff, and the food. We highly recommend Aldrich Mansion and couldn't be happier that we had our wedding there!


Michael

Married on 09/22/2018

Aldrich Mansion is an exceptional place to get married. We could not have asked for more. Our friends cannot stop talking about "the best wedding" they've ever been to. It's not because of us it's because of the mansion. The staff, starting with Tony, were phenomenal. They go above and beyond in every aspect when compared to other venues. There is a reason why they have so many glowing reviews. If I could do it again I would have our reception here again without any reservations. Lastly, food is out of this world when compared to other weddings; the desert room and beef tenderloin cannot be beat.

Gabriella

Married on 08/17/2018

We recently booked at Aldrich and already I have had such a pleasant experience with Aldrich Mansion. Tony is very kind and I cannot wait to celebrate my marriage at this beautiful place!

Anh-Thu

Married on 06/23/2018

A Hidden Gem

My husband and I married at the Aldrich OLP Catholic Chapel and had our reception over in the mansion one year ago on October 20, 2018! We had looked at quite a few other venues but as soon as we visited the Aldrich Mansion, we knew this place was the one! Amazing location, breathtaking venue, high class service - an absolutely exquisite place to have a wedding!

Our event coordinator Tony was so professional and attentive and we were grateful to have had him help us with every little detail. From our initial walk through and over the course of a year and a half, Tony made the entire experience a breeze. He and the entire staff went above and beyond to make sure that our wedding vision come to life!

The food was brilliant and Chef Al was a delight to work with. He even let us bring some of our cultural dishes to be served. And one of our favorite aspect of the reception was the incredible dessert room. When the doors to the beautiful library opened up and the guests were greeted with close to 20 cakes and pies, they were all in complete awe!

We are so grateful to the incredible Aldrich team for making our day a dream come true!

Kristen

Married on 10/07/2017

Aldrich Mansion is a dream of a wedding venue and has a wonderful team to support you throughout the planning process. The venue itself is beautiful and unique, and you actually host your event in the mansion as opposed to in a tent on the lawn like many other RI historical estates/mansions. The planning coordinator (Tony) and day-of wedding coordinator team are professional, responsive, and in short - pros. They've done this before and are excellent at taking care of you throughout the process. The food is excellent and the dessert room is a crowd pleaser. We had guests stay in Providence, which created a bit of a drive to the venue via provided buses, but offered a nicer selection of hotels and more things to do for out-of-town guests than Warwick (in our opinion). Highly recommend Aldrich Mansion and the chapel to any couple looking for a stand-out venue with excellent service!

This venue is amazing! the views are beautiful and the Mansion and Chapel are incredible. Tony, John and Gloria did a great job, and took care of everything. Everyone kept saying it was the best wedding they'd ever been to! You'd be making a huge mistake going elsewhere!

Meredith

Married on 10/09/2016

Book for a Magical Experience You Won't Forget

Cannot speak highly enough about our experience with Aldrich Mansion. From the initial consultation to every last detail the day of our wedding, the Aldrich team were consulate professionals who ended up feeling like family. Truly experts in the field, the team (led by Tony) had every scenario planned for and took all our questions and adjustments in stride. The venue itself is magnificent and the care with which the staff attends to each detail elevated our vision to the next level. Catering is provided on site by Chef Al, and guests are still raving about the hors d'œuvres and main course selections. The fact that the chapel is available for use for Catholic ceremonies on site made our day incredibly convenient for guests who, once they arrived on site, didn't have to think about another thing for the rest of the evening. If you can, book here for an unforgettable experience!

Alison

Married on 08/12/2016

I really can't put into words how perfect this venue is! The minute we saw Aldrich's website, we knew this was our venue. The mansion and grounds are gorgeous, the onsite chapel is so convenient, and the staff are such a pleasure to work with. We got so many compliments from our guests and our only wish is that we could do it again! Highly recommend!

Nazan

Married on 08/05/2016

Aldrich Mansion is such an amazing location to get married at. Everything about this place is so magical and special that it makes it getting married here like a fairytale. The food is also amazing and i had guests tell me it was the best food they have ever had at a wedding. I would definitely recommend this location. I mean your getting married where Movie stars like Brad Pitt filmed a movie! How amazing is that!

Shannon

Married on 06/11/2016

Working with Aldrich to bring our wedding vision to life was an absolute dream. The venue itself is amazing, and the team we worked with was incredible. The mansion and grounds are stunning, and the chapel couldn't be more convenient. The library, dessert room, grand foyer, and grounds are truly one of a kind and unforgettable. The dressing areas and private bathroom upstairs are pretty and convenient. The lower floor has AC which is extremely rare for mansion venues, and it is one of the few options for an indoor, seated dinner for 230+ in this setting on the east coast.

We booked more than a year and a half out, and from day one until our wedding day (and even months after) our venue coordinator Tony and the entire team at Aldrich went above and beyond to make sure every little detail was accommodated and every expectation was surpassed. Tony was available, a great communicator, warm, friendly, and always willing to go the extra mile to bring our vision to life. He accommodated multiple visits and special requests and worked seamlessly with all of our vendors and month of planner to coordinate a very detailed event. Chef Al was equally great to work with, taking the time to review all of our menu and cake details, again accommodating multiple special requests and always greeting us with a smile and great sense of humor. His food is delicious and our guests are still complimenting the lobster bisque and tenderloin. Along with the lovely and helpful hostesses, Tony, Chef Al, and team were extremely helpful and attentive on our wedding day, and the entire staff and operation was extremely professional and efficient.

Aldrich was truly made for fairytale weddings and I could not recommend it more. Everything from the venue to the food, the team, setting, and the planning process was delightful, special, and unique. Our family and friends are still saying it is the best wedding they have ever attended, and I know we owe so much of that to the magic of Aldrich.

Katherine

Married on 06/04/2016

My husband and I are in love with Aldrich Mansion. We are so happy we chose to have our wedding ceremony and reception here. On our first visit they actually took notes on what some of our ideas were for the wedding day (keep in mind we had not even booked anything at this point!) and sat down to talk with us for an extended period of time. On the wedding day itself we were treated like royalty the entire time. The staff at the mansion are also very easy to work with and are very detail orientated. Tony made sure everything went smoothly at the church and the hostesses were very attentive throughout the reception. They always made sure my husband and I had something to eat and a drink in our hands. It was warm outside as we were taking pictures and the hostesses Jackie and Renee were right there with glasses of ice water for everyone. They also packed up all of our belongings at the end of the night so we could enjoy the entire reception. In addition, planning a wedding with Aldrich is easier than a lot of other venues since all the food is made on location (and is delicious by the way!) and they organize the bakery for you. If you want an unforgettable day, value for money and a wedding that feels like a fairytale, choose Aldrich Mansion. You will be so happy you did!

Amanda R.

Married on 05/07/2016

I cannot recommend this venue enough!! We absolutely LOVED our reception at the Aldrich Mansion. First- the mansion is absolutely breathtaking. It is elegant, gorgeous and also so unique! They only host one wedding per day, so we had the entire mansion to ourselves. We had a long reception- 6 hours! of awesomeness- and rather than being stuck in one banquet hall like other weddings, our guests could wander through the lounge, dining rooms, patio, library, waterfront, etc. We were a little nervous about it having two dining rooms, but it wasn't an issue at all. You just do things a little out of order (toasts and first dance immediately after the entrance, rather than once guests are seated), but the hostess ensures all the scheduling and transitions go smoothly, so we never worried about it. The library was straight out of Beauty & the Beast, I was in love. Second- Tony and the Aldrich staff were amazing. We felt like we were the only wedding they were hosting! Tony responded to all of our emails within a few hours and was incredibly accommodating when we were running late for appointments. Over the entire year+ of our wedding planning, he was so helpful and patient when we stressed about little details- there was no dumb question. And on the day of, they treated us like royalty and everything went perfectly (or if it didn't, we never knew!). Third- the food was to die for. The dessert room blew our guests away! We are going back to Aldrich for their Christmas dinner just so we can have their food again. And lastly- price. For the size of our wedding (200 people), this was the most inexpensive venue we could find! Which was amazing, because it was also our favorite. I would highly recommend the Elizabethan package. We also saved so much money with it being BYOB, something most venues do not offer. All in all, our wedding day was incredible and like a fairytlae, largely due to the Aldrich Mansion!!

The Aldrich Mansion is the most amazing venue wedding & reception! Everything was exquisite!
From the first tour, last November to the end of the wedding Tony and his staff did a phenomenal job!
I enjoyed the whole planning process. Tony made it a breeze & always promptly replied to my many E-mails.
I toured countless venues in Rhode Island before I chose Aldrich Mansion.
I am so glad I chose the Aldrich Mansion, I haven't been to a more beautiful wedding venue. Never have I experienced such a quick, knowledgeable & attentive staff! David & felt like royalty the whole time at the reception. I felt like I had traveled back in time, that's how elegant the mansion felt!!!
There was not one complaint from any the guests. Only overflowing compliments!!! My parents are still getting phone calls & compliments about the wedding... most everyone said it was the best wedding they have ever been to.
Everyone throughly enjoyed themselves!!! I saw many photos of the guest having their photos taken using the gorgeous Christmas trees & decorations in the background!!!
People are still talking about how stunning the mansion was & how amazing the food was. Chef Al really outdid himself!!!
Thank you for your endless patience & attention to detail!

The Aldrich Mansion is an absolutely gorgeous venue and we are so happy we selected the mansion to be married at. There is a chapel onsite which made it very convenient for our guests to walk out of the chapel doors and right over to cocktail hour. The appetizers were amazing and the staff was great making sure we never ran out! It seemed like every time someone had an empty plate or drink the staff was there with a refill! Tony, our wedding coordinator was on top of his game and really made it easy to plan! The bridal attendants were phenomenal and ensured my husband and I had everything we needed. They followed up outside when we were taking pictures to make sure we had drinks and water. Prior to walking down the aisle they were there to make sure my dress was falling properly and had drinks in hand for our wedding party as we exited the chapel. We had such a wonderful wedding at the mansion I wish we could do it all over again! We got married in October 2015 and would recommend this venue to everyone!

Sandra L.

Married on 10/04/2015

More than what we could have hoped and dreamed ! Tony was so helpful and supportive, especially since the bride and groom were out of state!!!! Chef was fantastic ! Food was delicious received many complements from guests ! Desert room incredible !!!

Having the ceremony also at the venue was soo important with so many out of town guests. Father Peter was very kind and made us all so comfortable ! Everything ran so smooth .... Hostess were very attentive to everyone's needs thank you Aldrich Mansion !


Grace

Married on 04/11/2015

Having our wedding at Aldrich Mansion was truly a once-in-a-lifetime kind of experience. Aldrich Mansion was an absolutely stunning backdrop for our spring black tie event that required minimal decor given its natural beauty. Our guests loved exploring the beautiful mansion and grounds, and many raved that it was the most spectacular wedding venue they had ever been to. We had our ceremony in the adjoining chapel which we loved for its rich wood paneling and unique pews facing each other. Our reception was held in the mansion and expansive grounds, with the cocktail hour and dancing in the gorgeous marble foyer and terrace overlooking Narragansett Bay, and the dinner in the two elegant dining rooms. The dessert room, which we decided to keep as a surprise, put the whole reception over the top. Moreover, planning our wedding was remarkably easy and enjoyable thanks to the amazing staff at Aldrich Mansion, particularly Gloria Pacheco, Tony Maggiacomo, and Chef Al. Everyone we worked with was responsive, flexible, dependable, patient, and kind. I can't say enough great things about Aldrich Mansion, and would recommend it without hesitation to anyone looking for a one-of-a-kind wedding venue.

Regan

Married on 11/01/2014

The Aldrich Mansion went above and beyond to make our wedding day a fairytale! I have been in 10+ weddings and attended 40 plus weddings in my lifetime. I have to say I waited for the right man to walk into my life, but we could not have asked for a more exquisite venue and the professionalism that was displayed was top notch! I just wish I was a guest at my own wedding!!

The food is still being raved about almost two months later! Chef Al's beef tenderloin can be cut with a butter knife and melts in your mouth! The dessert room was just an added bonus, but I have to say, what a conversational piece that will be discussed for a long time coming!

Bar none, I have to say our day was absolutely perfect! There was rain, but the Aldrich thought of everything! As a bride you worry if you need a planner, and whether you (or if your family is involved) can plan the entire ceremony and reception from start to finish. I did most of my planning and just firmed plans with the Aldrich. However, the Aldrich staff is very responsive with the questions via phone calls or emails you have leading up to the wedding and the day of their timing, professionalism, open doors, and "family" staff make YOUR day seamless!

We highly recommend this venue! We are over the moon with how our day went and the beauty that surrounded us!


Are you interested?
Send a message