48 Reviews
Recommended by 98% of couples
Quality of service

4.9 out of 5 rating

Average response time

4.9 out of 5 rating

Professionalism

4.9 out of 5 rating

Value

4.9 out of 5 rating

Flexibility

4.9 out of 5 rating
1 User photo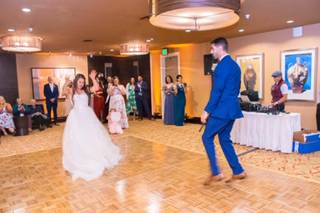 Christine

Married on 10/07/2022

Organized and Thorough

We hired Alan for our 2022 wedding. He did a really fantastic job. I've seen some wedding DJs who make too many announcements or play too loud or don't know how to read a crowd. Alan really makes the day about you. We gave him a list of example songs we liked for different parts of the night and the music was absolutely perfect in volume and style. Excellent song changes (our guests did not leave the dance floor until our exit). He's a great emcee and he's got all the lights and equipment needed for a fun party. I hear he also has photo booths also, but we didn't use it. He is very responsive and clearly cares about making sure your wedding turns out the way you want.  He is polite, professional, and I highly recommend him!

Iocebeth G.

Married on 05/14/2022

"Making dreams come true!"

Mr. Waltz's tagline should be, "Making dreams come true". I had called Alan almost a year ago and just told him what I was looking for. When he told me that he had worked for Disney Fairytale Weddings, I knew it was fate. Alan has impeccable artistic timing. Once I have my video I will post it, my chest is ready to explode every time I think of that moment when I saw my father walking out to wait for me at the top of the staircase. I still have guests sending me messages about the music for the ceremony. Alan made all my dreams come true and I promise I feel like I have known him in another life. He is as detailed as any Bride would hope for and is easy to talk to. You will not be disappointed!!

Kayla

Married on 09/28/2019

Great DJ, Fair Price

Alan was a fantastic DJ! He played all of the songs in my "must play" list and also was able to cater to the crowd as far as playing what they felt like dancing to. He is very professional and welcoming. I recommend him to anyone for their future wedding!

Are you interested?

Send a message

Danya

Married on 09/14/2019

My Daughters Dream Wedding

Thank you so much for helping to make my daughter dream wedding a reality. The lighting was absolutely gorgeous and you were a great DJ! You were always so easy to work with and I really appreciate that. The wedding was perfect from start to finish, and now I can relax!

Nicole K.

Married on 06/01/2019

Amazing Wedding Experience!

We loved having Alan Waltz and his great team cover our wedding! From our amazing DJ - RJ, photo booth and lighting set-up the day went so smooth and was the best wedding we could have asked for. If you want to hire a team who you can trust and will deliver an amazing experience to you and your guests for a great value we definitely recommend Alan Waltz Entertainment!!

Desiree

Married on 05/24/2019

Thank you!

I just wanted to send a quick review to thank you for everything you did for our wedding on May 24!! The music was fantastic and everyone really enjoyed themselves. Thanks for being so easy to work with too, we really appreciate it!!

Kelcie

Married on 02/23/2019

So Much Fun!

We used Alan as our DJ for our wedding celebration and were very pleased with our choice. We was friendly, responsive to our emails, and delivered exactly what we had hoped for during our event. Good music, a great atmosphere, and a packed dance floor. He played all my requests, and even songs I loved I had not thought of. Highly Recommend!

Rachel

Married on 09/22/2018

Exceeded Our Expectations

We had an outdoor wedding reception and Alan Waltz made sure to set us up with a DJ that really understood and shared our taste in music.

Our DJ was Huy. My husband and I love video game and movie sound tracks as well as a variety of other types music spanning across many genres. We had some pretty specific requests for songs and Huy went above and beyond our expectations!

Our guests had an amazing time and we still get compliments on how awesome our DJ was! Huy played along with our guests and read the party perfetly. (We had a huge mix of older and younger adult guests).

We also included mood lighting and the photo booth in our package and it was 100% worth it. So many beautiful memories and they set the mood exactly to our liking. I absolutely recommend using their services. I couldn't imagine having a better DJ for our wedding!

Jacqueline

Married on 09/15/2018

Above-and-beyond DJ

Alan is an amazing DJ!! He's really dedicated to what he does. For our wedding reception, our main request was that he play dance music to keep the floor alive, and he delivered big time. We sort of had 2 different crowds: a lot of friends who like the early 2000s (plus some more recent stuff and classics like Michael Jackson) as well as a bunch of friends from India who love dancing to Bollywood music. Alan knew just what songs to play (from all of these genres) — and, he was really skilled at watching the dance floor and jumping back and forth between the genres to make sure everyone was having a good time. Not only that, he really went above and beyond: I had asked for group dances, but then forgot how to do the electric slide (!!!)…so he came out onto the dance floor and taught everyone! He wanted to make sure we were happy, and it showed. Thanks, Alan, we're so glad you were our DJ!

Morgan

Married on 09/08/2018

Alan was our wedding DJ and he definitely made the night a party! A few weeks before the big day, we had a call to touch base and go over details and he let us know that he had a photo booth that wasn't being used on the date of our wedding, so we gave us an awesome rate to add the photo booth and uplighting to our reception. It definitely helped create a party atmosphere and the photo booth was used all night long. Alan knew just what music to play - our guests were on the dance floor non-stop! Thanks so much Alan for making our wedding reception one of the best parties our guests have ever been to!

John

Married on 08/03/2018

My wife and I hired Alan Waltz Entertainment for our wedding at Wente Winery in Livermore, CA, and we were extremely thrilled by the DJ. If you're looking for a DJ to play 90s hip/hop and R&B, I would definitely recommend Huy. He nailed it with the music and EVERYONE was dancing all night. I coordinated with Alan prior to the wedding and the planning forms made it really easy to ensure that all of the music, from the processional to the ceremony to the cocktail hour to the reception, was executed without a glitch. Alan was easily accessible and answered questions in a timely and attentive manner. I have already recommended Alan Waltz Entertainment to other people who need DJ services in the Bay Area. To top it all off, the DJ Services were affordable and reasonable. You won't have to break the bank if you go with Alan Waltz Entertainment.

Lauren

Married on 06/16/2018

Alan was truly an asset to making our wedding the great day that it was! He is very professional and helpful through the entire process. He played music that was enjoyed by all ages and adjusted based on the crowds responses. He provided music, lighting, speakers, and photo booth at a reasonable price. Overall great experience.

Corey

Married on 05/19/2018

We used Alan Waltz Entertainment for our wedding on May 19, 2018. We originally had arranged to have Alan himself as our DJ, but he learned he had a family engagement he couldn't miss. He instead sent his right-hand man, JJ, to be our DJ, and JJ did NOT disappoint. Both JJ and Alan we're helpful and happy to do whatever we wanted. They have a very user-friendly client portal, wherein you can advise them how hands on (or hands off) you want them to be throughout the wedding (i.e. should they take requests? should they encourage dancing if everyone's sitting? are they also acting as MC? etc.). Beyond that, they called us 2 weeks prior to the wedding to iron out final details (we had some interesting song choices for our ceremony, and it went off perfectly). Alan and JJ are true professionals. Their setup is "modest" in nature, but they pick up on the type of music you like (based on your "must play" and "no play" lists) and do a great job nailing all the fun songs you want to hear that get people on the dance floor. Their service is not "club-like", but they have up-lighting and honestly, their work is pure class.

I think for the service they provided, the cost of services was incredibly reasonable.

For reference, we are a "younger" couple (at least we like to think so!) in our early 30s, who generally like to party and tear up the dance floor at weddings. Alan Waltz Entertainment fit the bill for us perfectly.

Sarah

Married on 04/28/2018

DJ JJ did an amazing job! Everything went so smoothly! Even though it was cold outside, DJ JJ made sure everyone was having a good time dancing and took requests from everyone. He was a great MC and made sure all the guests knew when and where the next event was happening. Neither my husband nor I were stressed at all on our wedding day! Would definitely recommend Alan Waltz Entertainment! Very accommodating, easy to work with, and affordable!

Erin

Married on 10/21/2017

We were very happy with our choice to use Alan Waltz DJ services for our wedding. I read a lot of reviews before selecting a DJ for our wedding and the common thread I saw for Alan's reviews were: they were flexible and really listened to the bride & groom, they do a good job reading the crowd, they're great emcees, and were overall very enjoyable to work with. I agree with all of those things!

We worked with Alan specifically and he was wonderful. He provided his professional opinion when we asked for it, but was also very flexible and open to us doing our own things. He was a great emcee: pronounced everyone's name right, played all of the right songs, made good transitions between events. And was a really great DJ; the dance floor was packed throughout the entire event (which is exactly what we wanted) and he did a good job mixing up oldies and more contemporary dance music. The price was very reasonable, and the service was great. HIGHLY RECOMMEND.


Marissa

Married on 10/18/2017

We had Alan Waltz as the Dj for our wedding and he was absolutely wonderful! Alan Waltz Entertainment was on our preferred vendor list and from the moment we spoke over the phone I knew he would be a perfect asset to wedding day. Throughout the wedding planning process he was always so responsive and accommodating and was very flexible when I asked to add the Photo Booth and uplighting close to the wedding date. My husband and I spoke with him several weeks before the wedding to go over final timeline and music and he gave such great guidance and advice, making us feel very at ease. a couple days before the wedding he even sent a text to check in and on the day of the wedding he did an incredible job as the mc and playing such great music. Many of our guests commented on how great the music was and I didn't leave the dance floor the entire night because of all the fun music! He really has a feel for which songs will get people dancing. The Photo Booth was so much fun and our guests really loved it - great addition to our wedding! I would definitely recommend Alan Waltz for any event!!

Michael

Married on 10/13/2017

Alan was perfect for my wedding at Saratoga Springs. The planning form for before the event and list of popular songs were very specific/detailed/helpful and easy to edit, and he was open to getting songs that were not on his play list.

Alan was friendly and quick with phone/email communication/responses, played song requests and genre while reading crowd energy. Last minute day of changes were made without issues. Helpful with extra mics, announcements, and perfect transitions from dining music to dancing.

A+ excellent DJ, professional and experienced with fun events, would love to work with Alan again in future :)

Tope

Married on 09/30/2017

Alan was an awesome DJ and really helped make our wedding special. After talking with a few other DJs we chose Alan due to, not only such a reasonable price, but his fun personality and his experience not only as a DJ but as an MC.

Alan really has the planning process down. His website had a bunch of tools to help us plan not only the music but also the overall schedule and flow of the event. In addition Alan is thoughtful in giving feedback and pointing out blindspots we may have missed in our timeline.

When discussing our music for the reception we decided to just provide a few guidelines and must play songs then trusted Alan to feel the crowd out for the right timing and type of music to play. Leading up to the wedding Alan remained responsive and handled last minute changes with ease.

When the big day came Alan did not disappoint. Alan was able to keep the crowd moving and was extremely flexible even when a last minute request came for music not in his catalog. As an MC he had the right amount of engagement, guiding people with important announcements while keeping things light and fun, the vibe we wanted for our wedding.

Alan worked hard to deliver an amazing wedding and I would highly recommend him.

Emma

Married on 10/09/2016

The evening was perfect, the music was perfect, Alan was so sweet and helpful, the sound during the ceremony was perfect. It honestly couldn't have been better.

Kyle

Married on 09/10/2016

The DJ Alan chose for us had a great personality and was very positive during our meetings as well as at the wedding. He was well organized and did a good job keeping the flow going during the dancing. Thanks for helping us have a successful wedding.

Sherry

Married on 08/27/2016

Alan Waltz DJ'ed my wedding reception in Gilroy. He was pretty reasonably priced compared to other DJ's I was scouting, and the clincher was how super responsive he was via email and phone.
The process for getting started with Alan Waltz Entertainment was a bit intense -- there was a form we put off filling out for a really, really, REALLY long time. The form basically asked for our schedule, song requests, genres, etc, some of which we didn't know until pretty close to the wedding. I was worried we wouldn't get assigned a good DJ since we put off the form for so long, but after talking to Alan Waltz, he assured me they would do a good job matching our event to a DJ. I told him we wanted nostalgic 90's/2000's music and he hit it right on the nose. We didn't really have any specific song requests (except the last 2 songs of the night) and Alan Waltz did a great job picking songs that kept people dancing.
He pretty much saved the reception -- I was getting worried that people weren't dancing due to poor transitioning on our part. However, Alan played some ice-breaker songs that got everyone on the dance floor and it didn't empty out again for the rest of the night. He knew just when to interact with the other wedding guests to get them dancing, and I had so many compliments from guests on what a fun party/DJ we had.
I think some of the compliments we got was specific to the photobooth and the guy that manned it. Unfortunately, I didn't get the name of the man who was helping out at the photobooth, but he was absolutely wonderful! He was one of the first people dancing and his enthusiastic personality helped make the photobooth fun. There were some hats towards the end, but this photobooth didn't come with as many props as I've seen with others. However, I think the lack of props actually led to some funnier and more sincere photos -- we got pictures of our friends rather than props.


Michelle

Married on 08/26/2016

DJ Alan was friendly and quick with phone/email communication, played song requests and genre while reading crowd energy. Last minute day of changes were made without issues. Helpful with extra mics, announcements, and timeline reminders.
The planning form and list of popular songs were very specific/detailed/helpful and easy to edit. DJ assistants were fun and taught dances to guests. Photo booth was awesome/easy to use with many props. A+ excellent DJ group, would love to work with again in future :)

Joyce

Married on 07/09/2016

DJ RJ was phenomenal! He made our entire wedding! All of our guests loved his music selection. He really listened to us and was able to feel the crowd and choose the right songs. He fit right into our wedding and everyone also thought he was a friend of ours.

Andrea

Married on 06/17/2016

I just booked them for our June wedding, so far so good!

Ryan

Married on 10/17/2015

Hi Alan, Thank you so much for all your help Saturday, everyone had a great time. I think because the Alcohol never got cut off smile emoticon I will be giving you a wonderful Review and recommend you to others as well. Thanks Again.
Are you interested?
Send a message