Airbrush Makeup & Hair by Naomi's Studio & Salon, West Hartford Reviews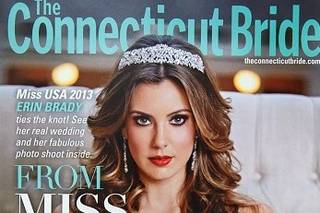 Airbrush Makeup & Hair by Naomi's Studio & Salon, West Hartford
West Hartford, CT
View more information
92 Reviews
Recommended by 95% of couples
Quality of service

Rating 4.8 out of 5

Average response time

Rating 4.7 out of 5

Professionalism

Rating 4.8 out of 5

Value

Rating 4.7 out of 5

Flexibility

Rating 4.8 out of 5
11 User photos
+ 7

photos
Jennifer C.

Married on 03/09/2021

couldn't be happier!

Naomi was the best! She did the makeup for my sisters wedding a few years ago and as soon as I got engaged I knew who I wanted to have do my makeup! She came directly to us to get ready and the whole bridal party was raving for the rest of the day! Everyone loved her. My makeup lasted and I didn't want to take it off at the end of the night! Naomi is definitely worth it!

Danielle

Married on 10/05/2019

10/11 wedding

Naomi and Angela were beyond amazing on our wedding day! We had a total of 11 ladies for hair and make up and they both finished early! Less than 5 hours and we all felt incredibly beautiful. Angela even went out of her way to touch up one of our grandmother's hair when she came into our room. Every bride wants to feel like a princess on their wedding day and I'm so thankful I chose this duo to make it happen! Every single one of my bridesmaids felt incredible. My best friend loved them so much, she is using them for her wedding in June 2020. Naomi and Angela thank you both so much! You are truly artists in your profession and I would absolutely recommend you two for any wedding! No wedding is too big or too small for them.

+ 2

photos

Corey A.

Married on 06/21/2019

The best ever!

I had the greatest team for my wedding, Naomi (makeup) and Angela (hair). Words can never express how great they are. They are so professional and amazing at what they do. I had Naomi doing 13 people's makeup, and Angela 11 for hair. They were flying through people, each person looking stunning and flawless. I have been in a lot of weddings and never have seen a better hair/makeup team. Everyone in my wedding party agreed. They showed up on time and got everyone ready with time to spare. If you want to have a relaxing wedding day, make sure to book these ladies!

Casey

Married on 10/21/2018

You don't need to look anywhere else!

Save the stress and book Salon Naomi for hair and makeup right now! I had Naomi for makeup and Angela for hair and I couldn't imagine having anyone else. My hair is fine, straight, and does not hold a curl well. Because of this, I was very nervous in choosing a half up, half down style. But, Angela made my dreams come true! Not only did my hair come out perfectly, it stayed perfect through a very windy day and ALL NIGHT! Same goes for my bridesmaids and moms! I also don't wear much makeup ever so I was nervous about having a professional makeup look. During my trial, I asked Naomi for something pretty natural. On my wedding day, I went for it and asked her to glam me up, and it was so worth it! During the sweating and jamming out at our reception, my makeup and hair stayed perfect all night long! We all looked so beautiful because of Angela and Naomi's wonderful talent! I recommend them wholeheartedly for any bride!

Tracy

Married on 06/22/2018

Janice was absolutely amazing from the first day I met her until my Wedding day! I never wear make up and when I say never I mean it so I was a bit nervous as I wanted to look as natural as possible on my wedding day. Janice listened to everything I said and made me so comfortable and even offered her suggestions about making my eyes pop a little more. Not only did she do my make up the day of the wedding but she also did 4 of my bridesmaids, my mother, my mother-in-law and my grandma-in-law which was added on at last minute. Everyone was done on time and looked amazing. We all received several comments about how amazing we all looked. Janice, thank you for being so fantastic and patient with me through this whole process. I can't wait to have you do my make up again whenever I need it.

Jess

Married on 12/31/2017

Naomi did my wedding makeup along with my bridal party- and it all came out AMAZING! I'm not a big makeup girl normally, but she did a tremendous job making sure we achieved a beautiful, natural look. We all received so many compliments on our makeup throughout the day- I would recommend her to anyone I know and will absolutely be going back to her whenever I need makeup done again.

My best friend for married two summers ago and Salon Naomi did our hair and make-up. I knew instantly that when my big day came they were the ones I wanted for the job! Naomi did our make-up and Angela did our hair; they really transformed all of us and made us feel like a million-bucks!! For special occasions like this you really want to see the transformation, feel grogeous, without looking tacky or cheap and really have them bring out your natural beauty and they do just that!! You won't go wrong hiring them!

Kathryn

Married on 07/22/2017

I used Candice for my make up and Tonya for my hair. WOW. Everyone looked absolutely stunning! I had a very large bridal party (15 people) and when Tonya and Candice told me they could do everyone in the time frame I needed I was a little bit skeptical and didn't really believe them. BUT you should! We were finished way earlier than our allotted time, and honestly everyone was thrilled with their look. I should also note they are so much fun and really added to general vibe while getting ready! Please hire them! They are FABULOUS!!!

Natasha

Married on 10/15/2016

Naomi and Angela were a pleasure to work with for my wedding – they both did a phenomenal job with our make-up and hair and I would recommend them to anyone in a heartbeat! Thank you ladies for all your hard work – it was very much appreciated!!

Megan

Married on 09/19/2015

You cannot go wrong with Salon Naomi. From the minute I filled out the online request form Naomi immediately called me. She is very attentive and also has a passion for make up. Naomi listened to everything that I wanted with make up and she was amazing. All of my bridesmaids, looked perfect! Angela did hair and she was so fast and efficient, every bridesmaid's hair lasted all night! I would recommend Salon Naomi to any bride!

Kristen

Married on 09/14/2015

Book them now! This is the best team for wedding hair and makeup.

Let's start with Naomi ....
Naomi was our makeup artist for the day. She is truly talented. My skin looked flawless and my eyes popped. She is an artist. She knows how to bring out your best features while still looking like yourself. She uses high quality product and my makeup lasted all day. My bridesmaids also looked stunning! She is kind and easy to work with. She is also organized. I have never felt so beautiful.

Next was Angela. Angela was our hairstylist. She is amazing! I have never seen someone complete hairstyles so fast. Her quickness does not impede the quality. My entire wedding party was chic and elegant. I absolutely loved my hair. At my trial she listened to my vision and executed it perfectly. My hair was replicated the day of the wedding. I felt glamorous and beautiful. I think it is important to note that there was 12 women that needed to get their hair done. 9 bridesmaids, myself, my mother and mother in law. Angela started at 7am and was done by 1145am! Our goal was 12pm.

If you are nervous about only having one makeup artist and one hairstylist for a large party do not be! These ladies are talented and know what they are doing. We were ready on time and everyone looked stunning. You can't go wrong with Naomi's!

Stacey

Married on 05/29/2015

I cannot say enough about how amazing Naomi and Angela were! Naomi did mine and my bridal partys make up while Angela did our hair. They were absolutely the best! All of my girls looked fabulous and I have never felt more beautiful in my entire life then I did on my wedding day thanks to these two. I have already had some guests asking for their information and would continue to refer anyone and everyone to them for their big day. My husband cried at our first look and told me I looked like a princess,,,I owe it all to these ladies!

Kaitlin

Married on 03/21/2015

Naomi did the makeup for my wedding , there isn't much else to say but just WOW!!! All of the girls looked drop dead gorgeous. I originally did a trial with her and I knew immediately I wanted her to be apart of my day. She is so sweet and you can tell she is passionate about what she does. Angela and Tanya came to do our hair--2 amazing ladies! I did my trial with Angela initially and the final product came out exactly how I wanted it!! They did 9 girls in about 3 ½ hours and everyones hair stayed in all night long (I still had wedding hair for breakfast!!) Cant say enough thank you's to this salon for making me feel so beautiful on the most important day of my life.

Naomi's Salon was recommended to me by two of my friends who had used their services for their own weddings! I am so glad I selected them! Janice was our makeup artist and she did all the girls in the wedding party, myself, and both of our moms. Each person's natural beauty was brought out through her application of the makeup. Everyone looked phenomenal! Janice was easy to talk to, friendly, and so fun to work with! She put everyone at ease (even those of us not used to wearing makeup) - and made us all feel wonderful! HIGHLY Recommended!

Sarah

Married on 10/11/2014

I have been in a few weddings that used Naomi, I decided her use her for my wedding too! Makeup is beautiful, she did travel to my location ( this did include a fee), she was very professional and effcient given the large amount that needed to be done. She was open to moving time around to accomodate my photos. I had Naomi, there are also tons of other artists that do a great job as well! She did push her salon products some at my trial, but not on my wedding day. They offer mini-facials to the girls, but this costs extra then what is negotiated in your contract. I would use them over and over again, my makeup looked awesome and I felt gorgeous

Gina

Married on 10/11/2014

All I can say is WOW! From the beginning I knew I was in the right hands for my wedding. I had the chance to work with an amazing salon.

Tonya did my hair, my seven bridesmaids hair and my mom's hair for my wedding. She did an insanely great job on everyone's hair. She is absolutely talented and great at what she does. She listens to what you want and delivered above and beyond. From the very first trial to the day of my wedding she hit the nail on the head! I was in love with my hair and my entire bridal parties hair.

We also had Janice for our make up, she did mine, my seven bridesmaids and my mom. She did a stunning job on all of us. From the beginning she listened to what I was asking for and made sure I was happy. My mom, myself, sister and a few of the other bridesmaids decided to get mini facials before Janice did our make up and boy were we in heaven. It was the best decision we could of asked for it made our skin feeling silky smooth and our make up looking perfect. Janice has a way with her hands, she is very talented and leaves you feeling stunning. I was so beyond happy with my make up and the girls and everyone had nothing but great things to say.

We had a ball with both Tonya & Janice we didn't want it to end!

Overall, Naomi's Studio & Salon can give you everything and more for your big day. They make you feel beautiful and that is just what you want on your big day.

Alexandra

Married on 10/03/2014

I had Jenna for Hair and Candice for makeup and both were AMAZING and made me feel like a celebrity! This part of wedding planning was tougher than others for me because I was ok spending some money on my hair and makeup because I was the bride, but I also wanted to make sure the girls in the wedding were ok spending the money as well. I am happy to say that all of the bridal party plus my cousin and mother in law used their services and EVERYONE loved their hair and makeup. I have never been in a wedding where everyone likes how their hair and makeup turned out and I honestly can say that not one person had a concern with Jenna and Candice's work! My sister (my MOH) even had her hair one way, then felt it was a little too old for her style (Jenna did a beautiful french twist) so Jenna had no problem taking it down and starting over and my sister was thrilled with her new look. For me, I really felt like a celebrity and flawless which made one less thing for me to worry about that day. If I could afford it, I would have Jenna and Candice do my hair and makeup every day, that is how awesome it looked! It wasn't too much to the point where it was like "wow, she is wearing too much makeup and too much hairspray". It was just enough where I looked like a more glamorous version of myself which I loved and my husband did too :) I absolutely recommend Jenna and Candice and really anyone from Salon Naomi as the quality of their work shows.

My sister got married 3 years before I did, and she had hired Janice Raccio and Jenna Poitras to do her hair and makeup. I knew that when my day finally came, they were going to be doing my hair and makeup too. These women are SO talented and lovely, they both really listen and do exactly what you want. Jenna is so fast and did my 8 bridesmaids in no time, and all the girls were so impressed with their hair styles. Janice's airbrushing techniques are incredible, and all the girls were blown away by their marks and spots that instantly disappeared. I would hire them again in a heart beat!

Sarah

Married on 09/06/2014

I first had my makeup done by Salon Naomi at my sister-in-law's wedding. It was so amazing I had to book them for my own wedding a few years later. My makeup artist was Janice and she was so incredibly sweet. She made my bridesmaids, mother, grandmother, mother-in-law and myself look so incredibly beautiful. As each lady had their makeup done I was in awe of how gorgeous they all looked. Janice was able to finish all of our makeup in such a timely manor. She truly made me feel stunning on my wedding day and she was such a pleasure to work with. Also, it was HOT at my wedding. Everyone was sweating and my makeup looked perfect the entire night!

Miriam

Married on 08/29/2014

Tonya and Candice came to my home the day of my daughter's wedding. Their work and professionalism was magnificent. They arrived at 9:00am and in less than 4 hours the hair and makeup of the bridesmaids, mother of the bride and groom was done to perfection.
I highly recommend hiring Naomi and her staff for any special occasion.

Holly

Married on 06/21/2014

I had Janice from Naomi's Studio & Salon to do my makeup as well as my bridesmaids and mother the day of my wedding. I can't even gush enough about both Janice as a person and her work. I opted for having her stick around until the ceremony and was so pleased that I did. She came with us when we took pictures before the ceremony, touching up me and my 'maids between shots. We felt absolutely pampered! And she was such a help, jumping in to carry my veil or bouquet when my 'maids weren't around. What a doll!! And the makeup!!! Everyone looked absolutely stunning!!! Perfection. Next time I need my makeup done professionally I am going back to her.

Elena

Married on 04/26/2014

Oh my gosh - I loved my makeup on my wedding day. So much research was done on who to use for makeup and hair. She came highly recommended to me!
Let me begin by saying that out of all of the vendors I was most worried about, it was my makeup. I wanted to feel like a stunning bride that day and I wanted the makeup to last (especially because i have super oily skin and it gets that much worse when I am nervous!, hahaha!); I wanted it to be noticeable and really show up in pictures and my very dark venue without looking like 'war-paint' as I like to call it. Can I just say that I honestly felt gorgeous that day! The makeup really looks beyond stunning in the pictures. My eyes - oh my goodness....to die for! I choose the most expensive package and I'm so glad I did because I had the makeup to take with me for touch ups. My wedding was 1 1/2 months ago and I loved the makeup Naomi used on me so much that it has now become my everyday blush and everyday lip gloss. I also went for a trial and had Naomi clean up and shape my brows - WOW, what a difference it made in my entire look and how much more my eyes popped!
She is so pleasant to deal with too. Super super sweet, friendly, and funny. I was so nervous the morning of my wedding and she just gets so excited about the magic she can do to you that you're immediately put at ease. She made me beautiful and I am so grateful to her for that! Love her!
Now for hair...Angela - you rock!!!! I CANNOT believe how quickly she turns your hair into a masterpiece. I have had my hair done multiple times and always asked for 'softer beachy curls' that will look natural, yet, last the entire night. The first and ONLY person who has understood me and was able to achieve this - Angela. My hair looks awesome in my pictures!!! And, I couldn't believe that the next morning, my hair still rocked! I hated to wash it!! hahaha! Even while keeping it's curl and shape, it had that soft look, and NOOOO 'wet crunchy' 80's look. Love her!!!!

Naomi and Angela were a true pleasure to work with. From the very beginning, Noami was responsive and helpful. She was even responding to my emails late at night in order to get back to me quickly. Angela and Naomi came to my mother's house to make myself, my mother, and my 5 bridesmaids the best we've ever looked. Angela made my hair look exactly like the photo I showed her and all of my maids looked gorgeous. Naomi knew exactly what makeup look would be best for my face and it withstood hugging, kissing, and dancing all night. The next morning it still looked flawless. The best part about the whole experience was how calm and nice Naomi and Angela were when we were all anxious and excited for the wedding day. I would and will recommend Naomi's Salon in a heartbeat, she is by far the best vendor I used for my wedding.

Brittany

Married on 03/28/2014

I used Naomi for my make-up artist and Angela for hair for my wedding. LOVED LOVED LOVED them!!! When I first got engaged, my cousin highly recommended Naomi and I am so thankful she did. They made me feel so beautiful and I looked like a princess and I owe it all to them. They were both very sweet, and listened to what I wanted. Angela was very accommodating with all of my bridesmaid's hair. One of them did not like the way her hair puffed out in the back, and Angela fixed it with no hesitation whatsoever which was awesome! Naomi also did our make-up for my best friend's wedding a few months later which was no surprise of how amazing we all looked and felt. Thank you Naomi and Angela for making me happy beautiful bride on my wedding day. :0)

Heather

Married on 11/30/2013

I was recommended Naomi's Studio to use for my wedding hair and make-up through my wedding venue (Cascade). I contacted them regarding my November 30th wedding and immediately received prompt responses from one hair stylist (Tonya) and one make-up artist (Janice) who both had my date open. The nice part about the website is that they have bios and pictures of the stylists/artists. I set up my trial runs with each and loved them both! The responses from each leading up to the wedding were prompt and professional! They are flexible even the day of the wedding too! At the last minute I had changed how I wanted my make-up and my hair! Janice easily accommodated and my make-up was truly flawless! It stayed looking that great the whole night! I am very picky when it comes to my hair. I was nervous changing what I wanted at the last minute. My trial I had my hair half up half down, for my actual wedding I decided to do it up! Tonya was great at helping me make the decision! Any when I wanted to make some changes to it even after she had finished, she did everything to make me happy! Both Tonya and Janice were the perfect team to make my wedding party and I look the very best we could! I would definitely recommend Naomi's Studio, and especially Tonya and Janice!!