233 Reviews
Recommended by 100% of couples
Quality of service

5 out of 5 rating

Average response time

5 out of 5 rating

Professionalism

5 out of 5 rating

Value

5 out of 5 rating

Flexibility

5 out of 5 rating
65 User photos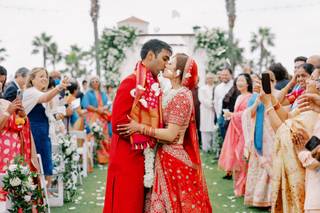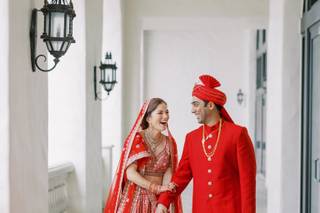 + 61

photos
Adrienne R.

Married on 10/22/2022

The best wedding planning team in Southern California!

Agape Planning was truly a phenomenal wedding planning and design team. We worked directly with Ashley as our lead planner and designer, and she exceeded expectations. She and her team were incredibly professional, organized, enthusiastic and very supportive of our vision. My husband is South Indian, and tasked Ashley and team to organize our Sangeet, Baarat, Hindu Ceremony and traditional western ceremony. We had a very jam packed schedule, but the weekend was seamless! She connected us with amazing wedding vendors that helped bring the weekend to life. We had complete trust in Ashley and her team, and they helped make what is typically a stressful process, very enjoyable. We're forever grateful that we connected with Agape planning, and entrusted them with bringing our dream fusion wedding to life! It was a weekend for the books, and we can't recommend working with them enough!

+ 21

photos

Kristen W.

Married on 09/04/2022

Ashley, Julie, Amee, and the whole Agape team are unparalleled!

My fiance and I got married last weekend at the Laguna Cliffs Marriott. We chatted with a number of wedding planners and felt like we really connected with the Agape team (first contact there was with Ashley Powell and her assistant, Amee). Ashley is a ball of energy and her love and passion for weddings really comes through, and Amee is super organized and very responsive. We went with the day of coordination and absolutely felt like we received red carpet treatment from their whole team. To begin our planning, Ashley recommended a number of wonderful vendors in the area and we selected a number of them (and couldn't be happier!). Her network of vendors is top notch, professional, and they truly made our wedding weekend memorable.

A number of weeks before the wedding, we were introduced to our day-of-coordinator, Julie. She's a very stylish, detail-oriented, organized, young woman who has a lovely positive energy. We can't thank her enough for making our event run smoothly and on time. Our ceremony and reception were at different places so the logistics were slightly more complicated, especially being over a busy Labor Day Weekend. Nevertheless, Julie ran it like a pro. She even sprinted across the venue as I forgot my bouquet when we were leaving in a shuttle bus to our ceremony. Her personality is very sweet and easily got along so well with all our vendors, and most importantly, or venue coordinator.

Wedding planning has so many logistics factors, but with Agape, we could barely tell if there were any hiccups over the weekend. They run such a tight ship that, to any attendees, the event ran without a flaw. We love this team so much and wouldn't hesitate to recommend Ashley, Julie, and Amee.


Agape Planning and Design's reply:

Kristen,

THANK YOU for the very kind, encouraging and blushing words of affirmation. We LOVED working with you two and being a part of your dream team. xoxox and best wishes,
Ashley, Julie & Amee

Tristen F.

Married on 07/23/2022

Incredible

Such excellent service! Not only during the year and planning throughout, the day of the wedding I didn't expect to have an assistant helping me with everything I needed to do! Hands down, amazing!

+ 12

photos

Agape Planning and Design's reply:

Tristen, you are wonderful! It was such a dream to plan and design this wedding with you and Chris. It was an incredible weekend; one I won't ever forget!
xoxo, Ashley

Are you interested?

Send a message

Nabila R.

Married on 05/28/2022

Ashley is the BEST!

I hired Ashley as my partial wedding planner from word of mouth from every venue we checked out in Orange County. With no surprise she was an absolute delight to work with. She is extremely professional, thorough, knowledgable and the sweetest person ever! She went above and beyond to keep me on track, well informed and shared design ideas that everyone complimented on. She was a total ninja on the day of and made my wedding dreams come true. I am so grateful she was there right by our side making sure every little detail was perfect. Thanks Ashley!!

Agape Planning and Design's reply:

Nabila, you are such a delight!!! It was such a blessing to be a part of your wedding planning journey and wedding day. What a magical, beautiful wedding it was. xoxo!

Sylvia A.

Married on 07/24/2021

Best wedding planning team we could ever ask for!

My husband David and I worked with Ashley Powell and her team for almost two years during the craziness of planning (and re-planning) a wedding during the pandemic. What started as one event in November 2020 turned into a 2-year journey to pull off a multi-day wedding weekend extravaganza in July 2021.

Ashley helped us overcome all the cancellations, vendor and venue changes, and unexpected challenges while handling it all with grace, positivity, and professionalism. We are so grateful for her help and could not have done it without her. Our wedding ended up being more beautiful and unforgettable than our original Plan A could have ever been. Our guests raved about the decor, flowers, live band, and entire wedding ambiance for months, and we have Ashley and the Agape team to thank for that. We could not recommend Agape Planning highly enough. Thank you!!

+ 2

photos

Agape Planning and Design's reply:

Sylvia~

You are such a delight! Thanks for the very kind words. It was truly a pleasure, and honor, to work with you and David to plan and design your dream wedding! Loved every minute of it!!!

xoxo, Ashley

Emily N.

Married on 05/15/2021

Mrs. Ashley Powell

Ashley is the most caring, understanding, supportive, creative, amazing woman I never knew I needed while planning my wedding! She was the most amazing event and wedding planner I could have ever asked for! The dah ran smoothly, it was absolutely perfect!!!

Allison L.

Married on 09/05/2020

Ashley made the wedding planning process easy and fun!

Working with Ashley and the rest of the team at Agape was the best decision. Everyone was friendly and easy to work with. Covid hit right in the middle of our planning and Ashley somehow managed to keep the process fun and made me feel less stressed. She brought my vision life better than I could have hoped from her team designing our invitations to the reception decor, all while making the wedding covid friendly. She also had a bridal concierge for the day of which was a life saver while I was running around. Overall, i'd highly recommend Agape for anyone planning a wedding or event. Ashley was so sweet and easy going and i'm sure we'll stay in touch!

+ 2

photos

Agape Planning and Design's reply:

Alli, you are such a delight!!! Thanks for letting us be a part of your day. It was soooo fun to be creative and bring your vision to life. xoxxoxo

Tiffany T.

Married on 07/25/2020

Ashley & her team were amazing !

Ashley and her team were outstanding in leading us through the planning process for our wedding. We had a lot of stops and starts due to the pandemic but Ashley was always available to answer our questions when they came up. Her team's attention to detail and communication was first rate and we really appreciate everything they did to make our wedding day stress-free and so memorable. We highly recommend Ashley and her team.

Thanks so much!

Tiffany and Chris.

Agape Planning and Design's reply:

You are so welcome Tiffany & Chris! It was such a blessing to be a part of your special day and wedding planning journey. Best wishes to you both!

Felicia T.

Married on 02/22/2020

Agape Planning Made All the Difference

I wish I could even begin to explain how much Ashley and her team at Agape Planning made an impact on me. Everyone says if you can afford it, get a wedding coordinator but when my husband and I first went with Ashley I wanted her on my side for at least partial planning services. We had all of 2019 to plan and the experience was so stressless and smooth. From help with vendors, to our table mock-up, to any small questions I had - Ashley always gave great advice.

Now if you're still reading this you might think this is a COVID-related cancelled/postponed wedding, which it is not. In early 2020, my fiance (at the time) was diagnosed with cancer and passed away suddenly shortly after diagnosis, and 2 weeks before our Big Day.

Ashley took care of everything for me in regards to the wedding when I was at my lowest point. She contacted all our vendors, explained the situation, and coordinated cancellations, refunds or credit. My husband's funeral was on the same day our wedding was supposed to be so some vendors transferred such as the flowers, food, and violinst.

Fast forward to months later, and I decide I want to do a bridal photoshoot since I still kept my dress, accessories, and everything for the wedding that was supposed to be. Ashley to the rescue, who helped me coordinate an amazingly fulfilling bridal photoshoot at our original venue, photographer, hair and make-up artist, and florist.

This whole experience was and is bittersweet, but I'm glad I had Agape Planning on my side through it all.

Agape Planning and Design's reply:

Felicia, you are an incredible woman and it was honestly my sincerest pleasure to be a part of this journey with you! Thank you for all your kind, loving words. You are a blessing!

Ashley

Sandra

Married on 11/03/2019

Fantastic!

Ashley and her team were amazing from start to finish! The wedding was a true Fairy Tale. Ashley made it so that we could actually be in the moment and enjoy the wedding and not worry about anything. I would highly recommend her to anyone.

Agape Planning and Design's reply:

Sandra's wedding was amazing! A dream come to life and it was a blast planning and designing with such an incredible bride. Love ya Sandra!!!

Lauren H.

Married on 10/05/2019

Ashely made my destination wedding dreams come true!!

Ashley and her team at Agape Planning are here to save the day, because let me tell you: before the flowers, before the DJ, heck, even before your venue, you NEED to hire a wedding coordinator! Not only do most legitimate venues these days require a professional wedding coordinator (and no, not your great aunt Karen who throws parties at her house and has helped setup for ONE wedding), but when you're in the thralls of dealing with crazy family drama, have to answer confusing questions about your reception layout, and don't know whether to do your first dance before or after speeches, you're going to want to rely on your coordinator for their expertise.

When it comes to pulling off a flawless event, nobody does it better (and with such a positive, beautiful spirit) than Ashley. As a former wedding industry professional, I had worked side by side with her on elaborate weddings and was always so impressed by her ability to handle absolutely any difficult task, all with a smile on her face, and within the same breath, direct to a team of vendors like the captain of a ship. Just watching her work, I knew she would be the perfect wedding planner for me: as sweet as can be, but direct and decisive. Needless to say, I was thrilled when she agreed to take on my destination wedding! (Need a boat to get there? Check. No cars? Check. THREE locations for one wedding day? Check.)

From our very first meeting, she made my fiancé and I feel so at ease with the planning process, while giving us a clear breakdown of our to-dos and responsibilities. (Her checklist was SUCH a godsend to keep me on task over the following months!) Leading up to the wedding, she dedicated time to go over all the minute details, making sure we were completely organized with our contracts, and pulled together a dream timeline that accounted for every minute of the day. (Her assistant Amee was such a blessing with all the emails we shared back and forth!!) Absolutely nothing slipped through the cracks, which was such a huge relief.

On the day of the wedding, Ashley and her assistants were ON IT! These ladies were such a positive force throughout the entire day, keeping things light and fun while also making sure we adhered to the schedule! (In my past wedding planning life, I always likened bridal parties to a basket of puppies - trying to keep everyone together and focused is nearly impossible and my bridal party was no different. Luckily, this didn't phase Ashley or her team one bit!) The entire day went off without a hitch, and I even had guests coming up to me after the ceremony and during the reception commenting on how professional and organized the Agape team was!

Without a doubt, investing in a professional planner is the best decision you can make when starting your wedding planning journey. You might feel like DIY is your thing at the outset of planning, but trust me (a wedding professional) there's nothing you'll want more than to leave the nitty gritty details to someone else so you can ENJOY your big day. Ashley and her team at Agape make sure there is no stone left unturned when it comes to planning, leaving you to be fully present for one of the most important days of your life with zero stress!

+ 5

photos

Agape Planning and Design's reply:

Lauren!!!!!!! It was seriously a dream to help you plan and execute this incredible wedding on Catalina Island. Thanks for letting us share in the journey with you two. xoxoxxo

Valerie

Married on 09/28/2019

Amazing wedding planning team!

Ashley and her team at Agape wonderful to work with and absolutely exceeded our wedding day expectations!

Planning a wedding can be very stressful, especially if you're not used to planning large events. The Agape team made the process so much easier for us, helping us to prioritize what big tasks needed completion first, followed by all of the other details to follow. Ashley is incredibly organized and has an immense amount of experience in this industry. She has relationships with alike vendors who meet/exceed expectations, which is more valuable than anything else in my opinion.

She and her team kicked in into high gear the day of our wedding, we weren't worried about a thing and everything moved along seamlessly!

Thank you Ashley & Agape for everything and for making our wedding day so special!

Agape Planning and Design's reply:

You are so welcome Valerie! Your wedding was truly incredible and it was a dream to work with you and John. xoxox

Judy B.

Married on 08/22/2019

Ashley is amazingly patient and knowledgeable.

Would recommend a wedding planner to ANYONE planning a wedding. You do not know, what you don't know until you are into a million details and questions that need answers.

Agape Planning and Design's reply:

Thanks Judy! It was wonderful planning and designing your incredible wedding. So blessed to have been a part of the journey with you two.

Erica T.

Married on 07/27/2019

Look no further!

One of the BEST decisions we made in planning our Wedding, was hiring Agape Planning & Design!
I've heard from many people over the years that when they hire "coordinators" that the couple ended up doing most of the work. I expressed this concern to Ashley when we first met. She explained the differences between a Coordinator and a Planner. Ashley and her team lived up to every detail of a Planning & Design company.
All questions/suggestions/planning were done in advance of our day so that we had nothing to think about but each other. I have a very organized sister in law who also commented that she was impressed by the amount of questions/details which were asked in advance. This truly made for a seamless day.
Ashley's Design skills are off the chart! She is very professional with her presentation of ideas and always confirms her understanding of your requests. Our dance floor, linens, flowers...everything, tied together so beautifully. We felt like our Wedding & Reception were from a magazine. Once we have photos, I will be happy to post!
I also highly recommend their Personal Concierge service on the day of. I had Carolina. Carolina was friendly, calm under all the craziness of bridesmaids, hair, make up, photography, family coming in and out, groomsmen's whereabouts :), getting here, getting there. She supported me in each step of the process. I did not have to worry about moving my belongings or being on time for photos. Carolina kept me hydrated and fed. She was always around, but I never felt her hovering. When we came back to our room after all of the festivities, Agape made sure we came back to a clean and welcoming room and not a room that looked like a tornado ran through it!
We will certainly recommend Agape Planning & Design to all of our friends and family.

Agape Planning and Design's reply:

Erica you are an incredible woman! Thanks for the very kind words and we loved being a part of your wedding planning journey!!!

Shannon M.

Married on 07/13/2019

Easy, stress free and made my day perfect

Agape planners was incredible to work with. I got the 8 week out package since I already had a good vision in mind. All of her staff is so friendly, reliable and made my day go by so smoothly. There was not a single thing that went wrong. They made my vision come to life and set a great time line for a perfect night

Agape Planning and Design's reply:

Thank you so much dear Shannon for all your kind words! We loved being a part of your special day and sincerely wish you two the absolute best! Congratulations!!!

Masha C.

Married on 04/13/2019

Perfection

Ashley and the girls at Agape Planning are exceptional. I met with several planners prior to making a final decision, and I can say with the utmost confidence that Ashley is one of the best in the business. She is super easy to get in touch with and responds to emails quickly, gives amazing advice/insight, and her fee is more than reasonable, considering how much time she and her team put in to give you the perfect wedding. I purchased the "We're Getting Married" package and could not be happier with the services I received. I would highly recommend Agape Planning to all brides.

Agape Planning and Design's reply:

Masha, you are such an incredible woman! It was truly a pleasure to be a part of your amazing wedding from start to finish!!! We adore you!

Sonya C.

Married on 03/24/2019

Amazing Team

Ashley and her team were amazing to work with during the entire wedding process. Living on the east coast and planning a wedding in California is a challenge. However, I had the utmost trust in Ashley and her team.T hey worked with us to create the wedding of our dreams. Ashley has such a positive and bubbly personality and is extremely detailed driven and organized. My family and wedding guests were soo impressed with Ashley and her team during the rehearsal and on the day of the wedding. Her day of concierge was a Godsend. I highly recommend Agape to anyone looking to plan a beautiful wedding experience!

Agape Planning and Design's reply:

Thank you sooo much dearest Sonya! It was such a dream to be a part of planning your spectacular wedding. So happy for you two!!! xoxox

Elizabeth P.

Married on 01/26/2019

Outstanding Professional Exceptional Coordinating

Ashley Powell is the best wedding planner in the industry, hands down. While there are a lot of choices out there, I guarantee you won't be disappointed with her professional top notch work. I interviewed three other local wedding coordinators, and decided on Agape planning. It was clear that this decision was an important one, and would shape not only the biggest day of our lives would go, but also the long road of planning ahead of us! Ashley and her team were the perfect fit for us. Ashley fights for her clients, is a teammate in the truest sense, and is professional and an absolute gem to work with every step of the way. I contracted with Agape planning for the "Here Comes the Bride" package. Agape planning made sure the process was always very low stress, well-organized, and fun! My husband and I always felt that our meetings and exchanges with Ashley were efficient and productive. Ashley and her team set up our venue as per our vision and it was beautiful! Ashley is passionate, knowledgeable, and incredibly capable. We would highly recommend Agape planning time and time again! Look no further than Ashley to bring your dream wedding to life.

Tammie

Married on 08/11/2018

Spectacular

Ashley is unreal. She is knowledgeable and made my wedding process sooooo easy. She has so many different ideas, tips, tricks, and just knowledge that you wouldn't even know to think of. She is so experienced. She has templates to use, phone calls, emails and meetings with you to help you made your dream possible. Ashley and her team truly made my dream wedding come true. Everything was perfect and her team/her set up and got everything ready for me on the day. I didn't even have to think on my wedding day, thanks to her team. They were by my side every single minute of my wedding night. I was even sick on my wedding day and Ashley/team went and found me medience to help me feel better. They truly go above and beyond. I would hire Agape Planning over and over and over again. They were worth every single penny to me and I would spend it any day, any year, any time! I will refer them for the rest of my life to anyone who will listen. :) I am even trying to find another event just so I can use them again. I had withdrawals from working with Ashley and still email her to say hi! She is truly a gem and so is her team!!!! Pick Apage it will change your life!!!!!!!!!

Agape Planning and Design's reply:

Tammie, you are such a delight! It was an incredible honor to be a part of your special day and journey planning this amazing wedding. So blessed by you two!!! Congrats!!!

Raquel

Married on 06/28/2018

I worked with Allison from Agape planning 2 months prior to my wedding day. She was hands down the most helpful, organized, proficient planner. I couldn't have asked for a better person to help me with my special day. Don't know why I would have done without her. She made sure everything ran smoothly. In my eyes it was perfect but she I wouldn't have known the difference because she was on top of it all! Thank you so much Allison. If I could give her 10 stars I would!

Brittany

Married on 05/12/2018

Agape Planning was absolutely wonderful, they worked with us as much as we needed and they handled every detail to perfection.

Agape Planning and Design's reply:

Thanks Brittany! So glad we could take care of all those little details for you!

Naseam

Married on 04/19/2018

Agape was amazing and I literally began calling our coordinator Allison Sparkman my angel. She began coordinating 6 weeks out and it was pretty life changing suddenly having her help. She's incredibly detail oriented and she just gets it. If she saw an email from me to one vendor with a change it felt like within no time at all I'd see her coordinate that change with all the other relevant vendors without me having to ask her specifically. That may seem like a given but I work in the events industry and it's truly not. She's intuitive and effective and incredibly good at her job. You don't have to talk to her a million times a day, you just see all these things getting done and if you don't have the time for full time wedding planning it's a life saver. On the wedding day she was there thinking of every last thing that a stressed out bride wouldn't and guided, helped, and calmed me. Agape's prices are really reasonable and I just can't recommend my guardian angel Allison enough. Thank you Allison and team agape for making our special day so great!

Soheila

Married on 04/19/2018

We Could not be any happier with Agape planning and Alison. Alison was so organized and professional. She was so helpful every step of the way, taking care of every little detail and making my daughter's wedding so special . I highly recommend Them to all my family and friends . They make your life so much easier.

Karen

Married on 02/04/2018

Five stars doesn't even come close to doing her service justice when describing our experience. Well where do we begin with Ashley. I love how well she takes care of her clients! We were so impressed with Ashley because no matter a difficult question we would ask, she would give us a response without hesitation. I think that is attributed to her years of experience as a wedding coordinator. Ashley is meticulous and extremely organized. This is crucial in wedding planning because you need someone who can help you to tackle the 203,405 tasks effortlessly. We still don't know how she can be on top of several weddings all at once, it just amazes us. We must give Ashley so much recognition because she made time in her busy schedule to meet with us in the evenings! (And we're so grateful too because we're the type of people that needs to meet in person to discuss wedding details). She will discuss details over Skype as well. (I think this is a positive factor especially for those who live far away and/or have hectic schedules). Another aspect, where I knew I overlooked, is that Ashely and her team also can assist you with making customized designs which goes with the theme for your wedding day! (See attached images, she customized our seating chart and wedding favor signage!! She makes the wedding planning process run a lot smoother! Additionally, on our wedding day, we were blessed with Amee and Kiersten whom were wonderful as well! When Ashley was called elsewhere, Amee and Kiersten stepped in and ensured everything else ran smoothly. They worked with Ashley for so long, so you know they've been working with the best, we believe you cannot go wrong with Agape Planning.

We're quite sad that we do not get to work with Ashley anymore! However, if we are planning another event (e.g. birth of our first born child, Fourth of July celebration, job promotions) we would work with Agape Planning in a heart beat. You know you will have an amazing event whatsoever!


Meg

Married on 01/27/2018

I can't say enough how Ashley and her team saved my life while planning the wedding. Not only did they keep me sane throughout the whole process, they put together THE MOST BEAUTIFUL wedding of my dreams. I wouldn't have been able to do it without them and she has become a great friend in the process. Everyone should hire Agape Planning, they are worth every penny. Thank you Ashley and Team!
Are you interested?
Send a message