42 Reviews
Recommended by 96% of couples
Quality of service

4.8 out of 5 rating

Average response time

4.8 out of 5 rating

Professionalism

4.7 out of 5 rating

Value

4.8 out of 5 rating

Flexibility

4.8 out of 5 rating
3 User photos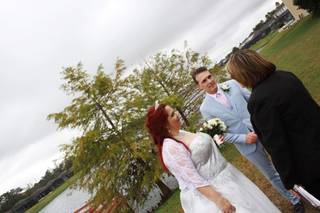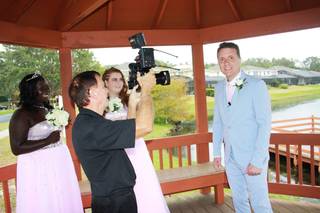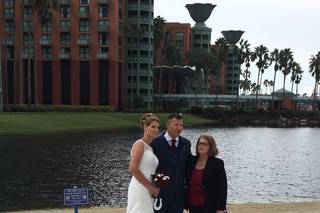 Gustavo

Married on 02/17/2017

DonnaKay was really amazing. We met up with her a couple of times before our wedding. She was great with helping us figure out all the intricacies of coordinating a wedding ourselves. We were able to customize the ceremony and vows exactly how we wanted. She gave us good guidance but wasn't overbearing. She arrived early for the ceremony and even helped the groomsmen with their boutonnieres. After the wedding she has been in contact to help us with the paperwork needed to do the name change. She's been really helpful and wonderful. We highly recommend her.

She is a blessing she very honest and respectable. And amazing woman sheade our day so fulling and we are very happy

Alexis

Married on 11/04/2016

Donnakay, was so sweet and accommodating on our special day. She made so many great suggestions on what we should do and how we should do it.

Are you interested?

Send a message

Thank you for making our special day even more amazing than it already was. Rev. Donnakay was brilliant and made our day so special

Kelly

Married on 10/08/2016

We were very impressed with Donna Kay and how she went out of her way to take the time to get to know us before she performed our ceremony. She was very professional and also very warm and kind. Thanks Donna Kay!

Richard

Married on 09/19/2016

Highly reccomend Donnakay Johnson.Such a superb and proffesional ceromony that could not be faulted in any way.She even took on the task of sorting out the bouquet,button hole,cake(delicious !!) plates,cuttelry,napkins,champagne flutes and bubbles and music.We had the privalage of being married in september 1996 by the wonderful late Rev Jimmy Johnson (Donnakays husband) at the then Sheraton lakeside, Kissimme,Orlando, which was also done beautifuly with a little bit of added humour(priceless) Then to have Donnakay renew our vows for our 20th anniversary at the Sheraton Vistana Resort this September was just as magical and moving.We shall treasure these moments endlessly.Words cannot express how greatful my husband and i are to have shared our special day with Donnakay.To all future bride and bride grooms,you will not be disspointed.Once again "Thankyou" Donnakay from the bottom of our hearts.Richard & Josiane Henry,Jersey,Channel Islands. xxxx


Claire

Married on 08/04/2016

Donnakay was so efficient and arranged everything and all we did on the day was turn up. Especially when we are from the U.K. Would highly recommend :) :) :)

Stephen

Married on 03/29/2016

Being from the UK and getting married in Florida, a state or country I had never visited before I was quite nervous but Donnakay made us feel at ease straight away. The service she conducted was perfect for us incorporating our two children. I would like to say a big thank you to her for making our wedding day memorable.

Dionne

Married on 03/17/2016

A Wonderful, beautiful and personal baptism of my daughter conducted by DonnaKay. Thank you so much for making this day even more special X

Christa

Married on 02/26/2016

Donnakay was our day-of wedding planner. She is so sweet, and I am so happy we hired her! It was so comforting to know she was there helping everything run smoothly!
Thank you Donnakay!

Natalie

Married on 12/29/2015

My husband and I live in Arkansas. Donnakay helped us plan our Florida wedding by obtaining our Florida marriage license and working with Winter Park Wedding Chapel to make sure our day was perfect. I have a seven year old daughter, and Donnakay found a sweet way to include her and make her feel special. She formatted the vows to our style and and was so comforting and supportive in the moments before we walked down the aisle.

Mike A.

Married on 05/09/2015

Mike and Marcia had a wonderful officiant. She made our marriage a lifetime experience on 9 May 2015. She was funny, humorous, and gave us advice on how to overcome life's challenges as a couple. We had a delightful time working with her. Mike and Marcia highly recommend her.

Katie

Married on 04/22/2015

My husband and I were recently married in Kissimmee FL and Donnakay was our officiant, as well as the coordinator of our flowers and limo. She was unbelievably fabulous. We are a blended family, and she conducted the most beautiful, heartfelt ceremony. She was there with us every step of the way

Kathryn

Married on 02/20/2015

Donnakay was wonderful! Once I spoke with her all my fears about getting everything done were calmed. She was even able to get a photographer for us on short notice when mine cancelled. Our ceremony was perfect and she customized it to fit my husband and I. I would definitely recommend her!

Tempestt

Married on 02/13/2015

The wonderful Ms DonnaKay made it her personal mission to help in any way possible, through the stresses of wedding planning. Her words were always optimistic and encouraging, and she kept me motivated. The ceremony was nothing but wonderful, and my family really enjoyed her presence.

Donnakay was such a joy to work with. She responded to my emails very quickly, and was very flexible on times and dates to meet up in person. She was professional, loving, and caring. She was passionate about the well being of my relationship with my husband and also the details of the wedding itself. She takes pride in what she does, and it showed on our wedding day. When she was up there with us at the ceremony, it felt like a family member was marrying us. I highly suggest her to anyone wanting to get married by someone funny, relatable, kind, and empathetic.

Amy

Married on 08/06/2014

Donnakay made our wedding day so special for the both of us, the ceremony she put on for us was above and beyond our expectations, we felt honored to have her marry us. Donnakay made us both feel at ease and brought light humour to our ceremony which we and our family loved! Myself and my husband feel lucky to have her marry us and making our ceremony easy and stress free! We would highly recommend Donnakay. We had a Disney wedding and was put in touch with Donnakay via Disney and she was easy to get in touch with and plan the wedding, this really helped as were are from the UK!

We couldn't of asked for a better registrar, she did a phenomenal job and we want her to know just how much it meant to us.

We cant thank Donnakay enough for all the little personal touches and helping to plan the ceremony, it was perfect! We wouldn't change a thing! Thank you Donnakay!

Damo

Married on 06/16/2014

Donnakay was an absolute pleasure to deal with, very professional and prompt with any queries. We came from Ireland for our wedding but Donnakay was so nice to deal with we were completely at ease before we arrived in Orlando.
The ceremony was at Cocoa beach and was a beautiful and relaxed occasion.
We cant recommend this service any higher we can only give the 5 stars

I was so happy to have Donna Kay marry us. She really took the time to make our day so special. I would recommend her to all my friends and family. Thanks Donna Kay for making our day so special.

Vanessa

Married on 11/23/2013

DonnaKay officiated our wedding and we just loved her. We met with her before the wedding and sat and talked about 2 hours just getting to know each other and discussing our style of the wedding we wanted. Donna was funny and so personable with us and all our family. She even helped us create the perfect sand ceremony by providing the sand for us. During the ceremony she made us feel relaxed and had our guests laughing and grinning the entire time. She is a genuinely sweet and caring women and we could not have had a more perfect person to marry us.

Donna Kay was amazing. She was very patient and kind. At my wedding location, Muranos, there was another event taking place causing my guest to be delay. She was very accommodating, as my guest arrived a little late. Donna Kay gave me the opportunity to sit down with her, and let me know a little about herself. I told her exactly what I wanted and she delivered 100%. Thank you Donna Kay for making my Wedding night memorable.

Sarah

Married on 09/07/2012

Donnakay and Jimmy were great!!! Very nice and very helpful!!! Beautiful ceremony!!!

Callan

Married on 04/29/2011

Let me just say that Jimmy and Donnakay were absolutely a pleasure to meet with and work with them as well! They were very sweet, and we just hit it off with them from our first meeting. We met them in their home and they were so easy to talk with and plan our wedding ceremony. It was a hard decision to choose who we would use as our officiant. But my husband was the deciding factor on that one, he is from West Virginia and so is Jimmy! So that was that. He did a great job and did just what we asked, we said short, simple, and sweet. He delivered! I recommend Affordable Orlando Weddings 100%!

Sabrina

Married on 07/16/2010

Personable and professional, we couldn't have asked for a better officiant. Thank you Rev. Jimmy and Donnakay!

Gaila

Married on 05/15/2010

Donna Kay and Jimmy were wonderful to work with. Donna Kay helped me pull together my wedding in just a few days including getting the license for me. She was always in contact with me by email and made getting married so stress free. Jimmy did a beautiful service with readings and vows we had picked out. He was very good about including my son in the ceremony. I would highly recommend using Affordable Orlando Weddings if you are planning to tie the knot in the Orlando area.
Are you interested?
Send a message