78 Reviews
Recommended by 97% of couples
Quality of service

4.8 out of 5 rating

Average response time

4.9 out of 5 rating

Professionalism

4.9 out of 5 rating

Value

4.8 out of 5 rating

Flexibility

4.8 out of 5 rating
39 User photos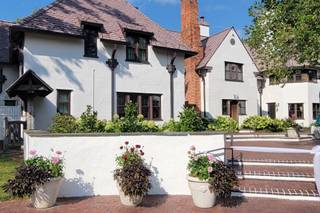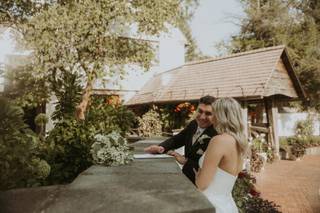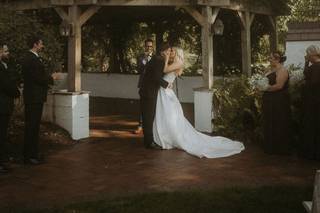 + 35

photos
Featured

Jackie

Married on 06/05/2022

The best food!

Everyone who works at Addison oaks are truly amazing people. We had so many set backs with time and they just did such an amazing time job! Dan is beyond the best and Lois just gets the job done and everything was perfect! Food was out of this world! Couldn't have dreamed of a better place to have our wedding!

Pat S.

Married on 05/13/2023

Perfect wedding

Wedding May 13 2023, extremely happy with food choices we had and all was excellent tasting. The service was very sweet and got the job done. Throughout the night, our guests complimented us on food and ambience. The outdoor deck was a great addition. The bar staff was fast and friendly. All their recommendations were spot on. Thank you both Dan and Lois!!

Leah W.

Married on 05/06/2023

Wedding Day

I had my wedding yesterday and it couldn't have gone any better!!!
To start, LOIS!!!! She has the coordinator for my rehearsal and my wedding and amazing is an understatement! She is very professional, super helpful, very organize and my day wouldn't have been the same without her!! She ran the whole weekend beautifully, Thankyou!!

The ceremony and reception were great!! We did the buffet for dinner and holy moly the amount of food was INSANE and all SOO good!! There was nothing bad. I got so many compliments on the buffet and the food! A+

The staff is so sweet and best service I've had at a wedding!! I have guests that said the same thing. Anything that anyone wanted, they got it for us! Bar tenders were amazing as well with great drinks and service

When planning, we were in contact with Daniel, and he was soo great too!

Have your wedding here, you won't regret it(:

Are you interested?

Send a message

Phyllis B.

Married on 02/03/2023

Exceeded any expectations!

This is the second wedding we have planned in our family and it was by far the BEST experience ever! Dan made everything so easy and low stress. The staff, everyone, was beyond helpful in every aspect needed! The food is the most AMAZING food we have had at a wedding. Our guests were talking about the food the venue and the quality for days after. The acoustics in the room were also to be noted as excellent. We have been to many wedding where it is so loud that you cannot even have a conversation. Having several rooms for guests to enjoy as well as the beauty of the fireplaces made the night absolutely memorable and magical. Thank you for everything!

Leeann S.

Married on 09/17/2022

Our dream wedding!

I booked off the entire venue so we had it to ourselves from 9 am until the reception was done. It was a dream, fall wedding and everything was beautiful. Dan was amazing and a huge reason why we chose this venue! On top of the venues beauty, the food was amazing and we continue getting compliments on it.

+ 5

photos

Kristen

Married on 08/22/2020

Amazing staff!

Addison Oaks went above and beyond to make our wedding dreams come true - even during these crazy Covid times! They worked with us for a year and a half to make sure we could still have our dream wedding. I love that they don't have any silly rules like other venues do about bringing in desserts or spending a certain amount of money on alcohol. Everything we asked for, they were totally cool with. Our families were so impressed; they really catered to our every need. Addison Oaks is like a hidden gem and I am SO happy we found them on WeddingWire! P.s. the food was excellent too!

Jessie

Married on 09/28/2019

Fall wedding

From the start when we chose Addison Oaks for our wedding I knew we made the right decision! They were so helpful, answered all our questions and allowed us to visit as much as needed to make sure everything would be perfect. On the big day there was not a single thing that went wrong. The food starting with the appetizers were amazing. The service of the plated dinner was very timely and the food was so delicious. We are still getting compliments of the food, guests commented best wedding food ever. My mom and mother in law along with many guests said the service was top notch. We can't forget about the dessert buffet! So many options and all so good. Honestly if you are even considering this venue don't look elsewhere there is no comparison!

Heather M.

Married on 09/20/2019

The best day ever!

I have gotten so many compliments on my wedding. The food was amazing, the venue was beautiful, and the service was excellent! I am so happy I married my best friend at Addison oaks. It was the perfect day!

Kaitlin B.

Married on 08/23/2019

Loved Addison Oaks!

Everything went perfectly according to plan. Our guests said the bar staff, food, and setting was amazing & we agreed! Our photo, Dj, cake, & flower vendors all were familiar with this venue and had no difficulty setting up. Dan and Lauri answered all my questions promptly and were very kind and helpful throughout the planning process. We got lucky and had beautiful weather, but regardless this venue was gorgeous!

+ 3

photos

Whitney

Married on 08/17/2019

Fantastic wedding at Addison Oaks

I had my wedding at Addison Oaks about 3 weeks ago, and it was amazing! Lauri was very responsive to my emails leading up to it and was willing to work with me to make sure that everything was perfect, both before and day of. Our guests loved the venue and I heard tons of compliments about the food! They also have a smaller room available for rent for additional events, we rented it out ourselves just to ensure we were the only group at the venue for the wedding, which I would recommend for everyone. Overall, great experience!

Marie S.

Married on 07/05/2019

Perfect Wedding Venue

Our daughter got married this past weekend at Addison Oaks and it is the perfect venue for a wedding. First of all, the venue itself is beautiful. The grounds are spectacular with gorgeous flowers, a bridge, fountain and woods - everything for perfect pictures. Secondly, the building itself is is beautiful! High ceiling and big windows all around that let in lots of natural light, all with beautiful views. There's a huge deck where guests can mingle. Then there's the food. Oh my! Never have we (or any of our guests based on comments) seen such a selection. It was fabulous! Initially, my husband and I were not in favor of a buffet, but we were proven wrong. Most importantly, is the staff. Dan, Lauri and Lois from the onset were professional, helpful and a pleasure to deal with. Dan especially on the day of the wedding with his guidance, help and humor made everything go seamlessly. We could not have asked for more. It is a wonderful place and we highly recommend it.

Renee

Married on 04/20/2019

100% would Recommend

Amazing! Employees helped with whatever we needed and are all around wonderful. In the weeks leading up to our wedding Lauri was incredible, anytime we emailed or called we had an answer within 30 minutes or less. Everyone is still talking about the venue and the food. Food was wonderful, they even made a custom plates for my aunts and I because we have a lot of allergies. I would definitely go with the dessert bar; it was a hit! The bar staff as was great, they are funny and friendly. Unfortunately, we had planned to get married outside but it was pouring rain, however, inside was just as wonderful. The bride and grooms' suits are so perfect and had lots of room to get ready. My girls loved the rooms so much and the photos we have in them turned out beautiful! There is great natural light in the whole venue, which made are photos look incredible. It was truly a night we will never forget! And I would recommend them to anyone.

Kayla S.

Married on 01/26/2019

The Perfect Day

I cannot recommend Addison Oaks enough to anyone interested in having their wedding there. Lauri was phenomenal and attentive the entire planning process. Any questions I had leading up to the day were answered quickly through email, and Dan was wonderful to work with the day-of. The two make a perfect team to help ensure your wedding day will go off without a problem. We are coming up on three months married and we still get rave reviews and comments from our guests on the food and dessert table. Just the entire ambiance was exactly what we were looking for for our January wedding in Michigan. Addison Oaks is the perfect package when it comes to food, venue, and service. You get what you pay for, which is an amazing experience that you will never forget. Why would you want anything less for such a special day in your life?

Kim J.

Married on 10/20/2018

Exceeded our Expectations

The entire staff is amazing. They can handle anything. My daughter's wedding was supposed to be outdoors but the weather was horrible. It was indoors in the reception and it was beyond beautiful. The food was so delicious. The entire experience was great. Would highly recommend this venue.

Emily

Married on 09/22/2018

I kid you not, everyone is still RAVING about our wedding, due to the amazing food, and the beautiful venue. Lauri and Dan will forever hold a special place in my heart for putting up with my bridezilla requests. They go above and beyond for every bride and have the BEST customer service. Everything was so perfect and went smoothly. They are there every second of the night if you need anything at all. If you want it, they will make it happen. We took our photos on the ground which was so convenient and so gorgeous. Also, the bridal suite is to die for. It was a pleasure working with everyone at Addison Oaks. Thank you times a million

Kelly

Married on 05/12/2018

Addison oaks is a beautiful place to have a wedding. The ceremony out In the courtyard was gorgeous and the reception hall was exceptional! The staff was very friendly and accommodating. They took care of everything. I highly recommend having a wedding there. It was such a wonderful experience

Kelsey

Married on 04/08/2018

Addison Oaks Buhl Estate was the perfect venue for our wedding ceremony and reception in April 2018! Having decided on an afternoon wedding and brunch reception we knew we wanted a venue with lots of natural light - Addison Oaks has the most beautiful room with walls of windows and surrounding deck. The groom and bridal rooms are beautiful and spacious. The staff was fantastic! Lauri was quick to respond to all emails and was very accommodating. Lois was a huge help at our rehearsal and on the big day. Aside from being a beautiful venue the food is outstanding. The brunch buffet was amazing! Not only did everything taste great, but the presentation was beautiful as well. We are so glad we chose the Buhl Estate for our ceremony and brunch reception - we can't say enough good things!!

Michaela

Married on 11/03/2017

Wow! So many great things we'd like to share about this venue. We fell in love with it immediately. It was the most beautiful setting for our fall wedding. The staff was so friendly, patient, and accommodating. They even let us change the location of the ceremony the day of. Our guests could not stop raving about the food! They all said it was the best wedding food they have ever had!! Their bride and groom suites were beautiful, spacious, and comfortable. The staff treated our wedding as if it were the only one they were hosting. Our day would not have been so perfect had we chosen a different venue. Thank you!!

Brenda

Married on 10/13/2017

absolutely amazing! I just had my daughters wedding and everything was perfect thanks to the staff at Addison Oaks. So may compliments from our guests on how amazing the food was. The management and staff where very nice and helpful from the beginning planning to the big day. I would highly recommend this venue we all had the most positive and perfect experience.

Kristen

Married on 10/13/2017

Addison Oaks is truly a dream come true wedding venue! Their prices are oh so worth it! So much amazing food for your guests to enjoy and such an amazing bar selection. Whenever someone asked where we were getting/got married you hear "Oh Addison Oaks is pretty, AMAZING FOOD, I LOVE THEIR FOOD!" Dan and Laurie made our wedding absolutely perfect. They were so accommodating and helped us every step of the way. Any question we had, they had an answer, any appointment we needed, they scheduled. The day of the wedding went off without a hitch and Dan was there every step of the way helping us decorate and even bringing us Champagne a few times when we were getting ready. Don't pass Addison Oaks up to host your wedding, I promise you will not regret it!

+ 7

photos

Joan

Married on 08/25/2017

Our daughter was married in the garden and the reception was held at the Buhl Estate in August, 2017. From the initial planning stage to assisting the last guest at the reception, the staff was visible, prepared, helpful and everything flowed perfectly. Everyone went the extra mile to be sure that guests were accommodated and the bridal party had a fabulous time. The food was outstanding and the garden and banquet room looked gorgeous. The large balcony area for guests was an added plus. Thank you for making the day a most memorable one.

Danielle

Married on 07/29/2017

Not only is Addison Oaks absolutely beautiful, but their staff is amazing as well. Dan and Laurie made the wedding planning process so easy, and were always so quick to respond to any questions I had throughout the entire process. The week leading up to the wedding, I found myself at Addison Oaks almost every day to look at something, drop something off, ask more questions, etc. and they always greeted me with a smile on their faces and were so accommodating. The morning of the wedding Dan was their the entire time and got us whatever we needed and set up all of my decorations. The bartenders were quick and always had drinks waiting for our guests before they even reached the bar. I could not have imagined a better venue for our wedding. Addison Oaks is absolutely amazing, and I highly recommend this location!

Tracy

Married on 06/11/2017

This venue is beyond beautiful. The staff was extremely helpful with before, during and after details. A special thanks to Dan and Lauri in the office and Lois and Sam during rehearsal, ceremony and reception. There was always someone available to handle any concerns that came up. We were able to totally enjoy the day with our friends and family!

Our wedding was on 8/7/16 and could not think of one thing Addison Oaks could have done differently to make our day anymore perfect than it was. We thought that planning a wedding from out of state would be challenging but Addison Oaks was 100% accommodating by answering questions and keeping communication with via phone and email. They even squeezed us in the day before our wedding to run over our wedding day schedule in person since we were not able to meet with them earlier in the week. Dan and Laurie did a wonderful job planning everything leading up to the big day while Lois and Sam made everything on the day of the wedding run 100% smoothly from keeping everyone on schedule while assisting the bridal party and guests with all of their wants and needs.

Lindsey

Married on 07/16/2016

I am so happy with my choice to have my reception at Addison Oaks Buhl Estate. Everything was absolutely perfect! The space has been recently updated and is just beautiful! The outdoorsy-vintage feel was exactly what I was looking for, and it was mixed with beautiful chandeliers and elegance. Dan and Lauri were super responsive and helpful throughout the whole planning process. Dan was there on the day of my wedding and greeted me upon arrival. Everything was set up just as we had planned! They were there the whole evening, and helped out whenever needed. I didn't even need to hire a day-of coordinator. One thing I must insist on is the buffet. Now, I have always been a fan of plated because of it's elegance, but I had heard the buffet was one of a kind. People RAVED about it! Between the 20 salads and several meat options, people's plates were overflowing, and it was ALL delicious! So many people told me it was the best wedding food they've ever had! The outdoor decks were also a fan favorite, people really enjoyed having a peaceful place to go to take a break from the party. The bar service was also excellent. We had 225 people and were nervous about only 3 bartenders, but they were fast and friendly...never a line!
If I had to do it all over again I would 100% choose Addison Oaks.
Are you interested?
Send a message