29 Reviews
Recommended by 100% of couples
Quality of service

5 out of 5 rating

Average response time

5 out of 5 rating

Professionalism

5 out of 5 rating

Value

5 out of 5 rating

Flexibility

5 out of 5 rating
Awards
17 User photos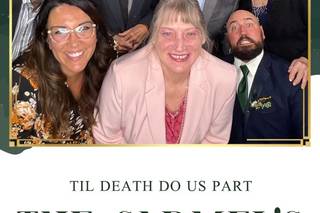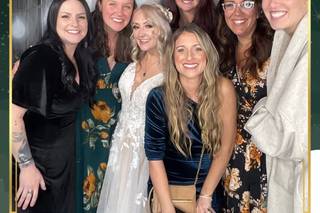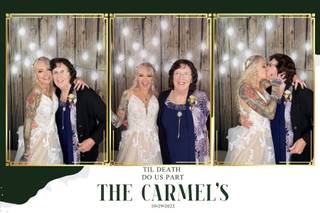 + 13

photos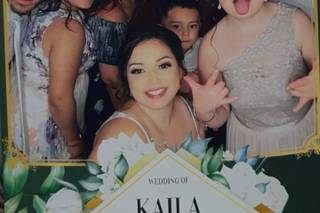 Allison S.

Married on 10/29/2022

10/10 Recommend

READ THIS ENTIRE REVIEW - I would give Absolute Photo Booth 10 stars if I could. I was the Maid of Honor in my best friend's wedding on 10/29/22. In January of this year, I booked the date with a different photo booth company. I put a deposit down, had all the details worked out, and made the final payment at the end of September. On 10/27/22, just two days before the wedding I woke up to an email from the other company stating that the owners were sick and would not be able to make the wedding. In an absolute panic, I started googling other companies all while thinking there was no way anyone would be able to help on such short notice. I called Absolute Photo Booth and spoke with Rosemarie. I explained my predicament and was thrilled when she said they had one photo booth still available for the weekend and that so long as her attendant was available, we would be good to go. She immediately directed me to her website to choose a backdrop (of amazing selections) and asked about wedding colors and what the bride and groom wanted printed on the template. Within an hour she had confirmed her attendant was available and sent me two template proofs to choose from.

The day of the wedding was amazing - I did not have a chance to get over to the booth right away, and actually first met Rosemarie when she came down to the grassy area where the ceremony took place offering to take pictures of guests under the lighted pergola. This is how she was spending her time while the photo booth was closed in preparation for dinner to be served - and I was really impressed by that.

When I finally made it over to the photo booth I met Greg, Rosemarie's husband. As it turns out their attendant was NOT available, but she never stressed me with that detail and her and Greg ran the booth together and did a fantastic job! Everything from the phenomenal lighting, the gorgeous backdrop, the wide variety of props, the 4x6 prints, and the beautiful scrapbook containing every photo from the evening with handwritten notes from the guests - was absolutely perfect.

Rosemarie also made it a point more than once to find the bride and groom and ask them to come take pictures in the photo booth before they got wrapped up in the night and didn't have time. The groom told me the next day how thankful he was for that.

As if all of that wasn't enough, I was so impressed to see a heartfelt email and links to all of the photos (raw images without the template included) in my inbox before noon the following day. She also let me know that Greg had taken some photos on his own and put them on his Facebook page. He was able to capture photos of the tables, centerpieces, cupcake display, etc. that the bride and I missed while getting ready for the ceremony.

To say that I was impressed is truly an understatement. I cannot thank Absolute Photo Booth enough for going above and beyond and truly saving the day on such short notice. If you are in need of a photo booth for any event, look no further and call Rosemarie.

Jim B.

Married on 10/15/2022

Absolute Photo Booth was exactly what our reception needed

We hired Absolute Photo Booth for our wedding on 10/15/22 in Lenox, MA and we are extremely happy we did. I dealt with Rosemarie through the whole process and she is extremely easy to work with. She provided us with many options for what we could do, from backdrops, to different cameras, even down to the pen color for the guest book! No stone was left unturned. The day of, Rosemarie was on site early to set up and consult with. Our guests absolutely loved the pictures and props and it added such a fun addition to the reception. Rosemarie was quick to move lights around for every picture to make sure each snap looked perfect. I urge you, if you want a fun reception that guests will remember, call Rosemarie and see what she can do for you as well.
Thank you again,
Jim & Katie
10/15/22
Seven Hills Inn, Lenox, MA

Patricia H.

Married on 09/06/2022

Wonderful Photo Booth

Absolute Photo provided the photo booth for my son's wedding. They were highly professional and delightful to work with. The quality of the photos were wonderful. I highly recommend them. Everyone enjoyed the experience.


Are you interested?

Send a message

Maddie S.

Married on 09/04/2022

Loved the Audio Guest Book

Booked the Phone Guest Book for my wedding. It was absolutely the highlight! Guests from all generations left messges, some sentimental, some heartfelt. Rosemarie was a delight to work with, set up everything on time and without problem. Received the messages back within a few days!

Hanna

Married on 09/02/2022

Absolutely recommend!

The photo booth of my dreams!!! The Absolute team was so kind, professional, and attentive. The pictures turned out amazing and our guests loved it. Highly recommend for any event you are looking to bring some fun to!

Kayla B.

Married on 08/06/2022

The best photobooth

Absolute photobooth went above and beyond for us. We wanted the black and white style photobooth with a filter and they made it happen for us. It was such a huge hit at our wedding!! Thank you so much!

Katelyn S.

Married on 07/02/2022

Absolutely the Best!

I hired Absolute Photo Booth for my daughter's wedding and they were awesome! Rosemarie was so easy to work with and very responsive. Lily was fun and the guests loved her. The photos quality was great and everyone liked the 4x6 prints. Pricing is the best in the area. Highly recommended.

Matthew C.

Married on 06/18/2022

Highly recommend

We had an absolute blast using the photo booth. The photos came out fantastic and it was a huge hit with our guests. They had a lot of funny props provided to use for the photos. It gave us great memories to look back on.

Laura W.

Married on 06/04/2022

Photo Booth Captures Subjects Twice

We went to my friend's wedding and saw this photo booth. There were so many fun and silly props, the guests were crazy about it and there was a line the whole time. We decided to steal our friends idea and hired Absolute Photo Booth for our wedding too! They were fantastic and it was a huge hit with our guests as well! Rosemarie was very friendly and the service she provides is so flexible. Our photo booth was open during cocktail hour without the props so we got some wonderful portraits of our guests. Then, during the reception, the props were available for our guests to use and we got hilarious and goofy photos of our guests. It was nice to see both types. We decided to purchase the photo album option and we are very glad we did!

Victoria L.

Married on 05/07/2022

So much fun!

Our guests loved the photo booth and Rosemarie was a pleasure to work with! Everything from setting up the photo print template to the day of went easy and flawlessly! Great addition to any type of party. We highly recommend Absolute Photo Booth!

Vinny

Married on 04/16/2022

Star of the night

We chose the Aura photo booth and couldn't be happier with the choice we made. Rosemarie was so quick to reply to any questions and concerns that we had. She helped choose the backdrop that matched our templates. On our wedding night, they were set up ahead of time in the perfect location. Rosemarie and her partner were extremely friendly and helpful with the rowdy crowd! Traffic to the booth was so busy! Our guests kept raving about how much fun they had with the photo booth especially with the wide selection of props. Even my mom raved about how this was the best photo booth she's used and she's been to quite a few weddings. Getting a copy of all the pictures was nice addition since we couldn't be in every photo. Do yourself a favor and select Absolute Photo Booth as your choice. It will help make the rest of wedding planning much easier!!!

Kaila M.

Married on 04/02/2022

Amazing!! Hope to see them again at other events!!

This photo booth was the best one I've seen/used! The photos are nice and big too rather than those small ones you usually see lol! Rosemarie was very helpful/accommodating when choosing my template for my special day! Thank you for such a great experience!

C.casey

Married on 11/29/2021

Highly Recomend

Awesome customer service! Great quality of photos. Reasonably priced, friendly and professional.

Jess

Married on 11/13/2021

So much fun!!!

I would highly recommend working with Absolute Photobooth of Absolute Entertainment. Rosemarie is so kind and provides SO MANY options to choose from for your template and background. They were all ready and set up the morning of our wedding event, so there was no set up commotion while guests were in the room for cocktail hour. Our booth attendant was Lily and she was such a joy to work with. She was genuinely happy to be there and seemed like she was having as much fun as we were. She was very knowledgeable on how to work the machine and it never jammed or froze or any other mishap I've experience with other photo booths. Having someone else responsible for hitting the start button and number of prints helped everything run smoothly. Lily felt like a friend and even jumped into a few photos at guests requests. The Aurora Photobooth was well lit and took a great photo. Guests loved having physical copies and we were able to get digital versions of "framed" photos, just the images without the title frame, and gif versions. Unlimited prints was amazing, we had so many guests take a photo with one group and then go back in with another group many times, and it was never a problem. The line moved right along. They let us use our own props and made sure everything made it back into the storage box safely. Great quality, great guest experience, I would absolutely recommend this company.

Danielle C.

Married on 11/07/2021

Amazing job

They worked with what was needed and went with the flow of things. Very professional and everyone lived it.

Mikayla

Married on 10/16/2021

Great service

Great and friendly service! Amazing props. Guests of all ages enjoyed the photo booth and it was the star of the night

Mckenzie

Married on 10/01/2021

Nothing short of amazing

Our guests absolutely loved our photobooth and couldn't wait to start taking pictures. Everyone was so happy that they could print the picture right then & there AND get a copy sent to their phone. I 10/10 recommend absolute photobooth!

Jasmine M.

Married on 09/04/2021

Absolute Photo Booth Amazing

They were so professional from beginning to end even helped me with adding an additional back drop at the last minute! I am just beyond grateful for the time and energy that they put into bringing my dream to life! I highly recommend them and will be using them for our Annual event!

+ 4

photos

Chelsey

Married on 08/21/2021

Excellent Experience

RoseMarie was excellent to work with. She was professional, communicative, and helpful. The photobooth was such a hit at our wedding. I'd definitely recommend Absolute Photobooth!

Sara S.

Married on 10/10/2020

Absolute-ly Great

We had been to a couple weddings where Absolute Photo Booth was and just loved them. Soo much fun! We had a very small wedding this fall and were so very pleased with our video, music and pictures. They are so easy and fun to deal with and I ill highly recommend them!

Greg B.

Married on 09/25/2020

It was a blast!

It was a bit overwhelming at first with so many choices and different booths but after speaking with Rosemarie, the owner, she guided us through and helped us make the best decision for our wedding. The night of the event was perfect, they were set up in time and were very professional. Our guests had a blast and still get compliments on how much fun they had with the photo booth. We are loving the copy of all the pictures taken they put in a book for us. It's great for a good laugh! I would highly recommend Absolute Photo Booth for your wedding. You won't be disappointed.

Shea

Married on 09/01/2019

Fantastic!

We used the hand-held mirror from Absolute Photo Booth and it was a HUGE hit at our wedding. A rep from Absolute Photobooth (we had Rosemarie) literally walks around with a mirror and takes pictures of your guests then prints the pictures on site. We were able to customize our border for the pictures as well. Rosemarie was so personable & we get a book at the end of the night of everyone's pictures!

Angelina

Married on 06/22/2019

High quality photo booth

This is not your normal photo booth, they have so many options even a handheld photo mirror. My wedding guests absolutely loved it.

Judith H.

Married on 06/22/2019

I loved the experience

My first time going to a wedding with a photo booth. What a treat for guests. Entertaining, fun, and memorable, It added a wonderful element to the reception. I loved it.

Lois W.

Married on 06/22/2019

Wedding guest

A great DJ. All of the staff was very professional. The music sound was great. Had so much fun with the photo booth. I would highly recommend.
Are you interested?
Send a message