169 Reviews
Recommended by 99% of couples
Quality of service

4.9 out of 5 rating

Average response time

5 out of 5 rating

Professionalism

5 out of 5 rating

Value

5 out of 5 rating

Flexibility

5 out of 5 rating
2 User photos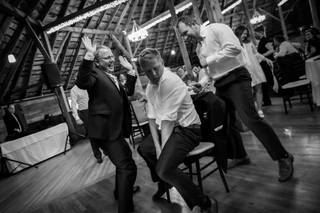 Kelly

Married on 10/29/2022

Amazing Live Music & DJ

DJ Aaron was fantastic from start to finish. His piano, cello, and violin trio was just amazing at our ceremony, even playing a Taylor Swift song for the bridesmaids and another one for me. Aaron got the party rocking at our reception, playing everything we had wanted, from 80s throwbacks thru the 2000s and 2010s. Our guests raved!

Maribeth L.

Married on 09/29/2022

Great Find!

Aaron was a great find for us! He played piano at our ceremony and also hired a violinist we requested at the last minute. Aaron helped us put together a perfect playlist of eclectic music at our reception. My only regret is that we couldn't be at the cocktail hour when Aaron played jazz piano (we were taking pictures). Our guests said everything was memorable, especially our venue and the music!

Erin

Married on 08/28/2022

Ceremony plus Reception Musician/DJ

We hired Aaron and a cellist he provided for us to perform ceremony music and for the cocktail hour. Their music was AMAZING. Aaron was also our DJ and the party couldn't have been any more fun. The dance floor was packed for hours and our guests kept complimenting us on all of the music.

Are you interested?

Send a message

Paula

Married on 08/07/2022

Perfect DJ without the Cheese!

Aaron was the perfect DJ/musician for our event. He helped us decide on the right combination of live music for our ceremony and cocktail hour, plus he offered phenomenal DJ services that kept the "cheese" out of the picture. Everything flowed very smoothly and we couldn't have been happier with how our wedding day went. Thanks Aaron!!

Carol

Married on 07/17/2022

Unmatched!

Incredible to work with! Aaron is a great communicator and helped us plan out all of our music from start to finish. His ability to provide live music at our ceremony, live ceremony at our cocktail hour, plus DJ service at our reception was unmatched and on our wedding day, he delivered BIG Time. Our wedding venue even asked for Aaron's contact info for their future couples.

Carolyn M.

Married on 06/17/2022

Rare Gem! The BEST of both worlds.

People say you can't always get what you want, but with are Aaron we certainly did!! Aaron's ability to beautifully perform live music (piano and violin) during both the ceremony and cocktail hour provided a magical and romantic energy for every guest to enjoy - this was perfectly offset by "DJ Aaron" who brought the party to our reception. (We got married at the Hildene in Manchester, VT)

When I first booked Aaron I told him that all we wanted was to keep the dancing going all night…and boy did he come through! When I tell you there was not a SINGLE minute where people stopped dancing… I've never seen so many calories burned! Aaron did such a good job reading what our guests liked and each song seemed like "the best" of the night.

Aaron is a true professional and helped us feel confident in our music plan the moment we booked him. He is so well prepared, offering fantastic music suggestions, and he was available to talk through any major questions we had.

I PROMISE that if you book Aaron you will not regret your decision!

Liz G.

Married on 05/21/2022

Thank you Aaron!

We are so happy we hired Aaron for our wedding. I originally selected him because of his strong reviews as well as his combination of live music and non-cheesy DJ/emcee offerings (I specifically was not looking for a gimmicky bar mitzvah style DJ). When I spoke with him over the phone I was wowed by his knowledge and professionalism, Aaron truly covers every detail so you know the day is properly planned and there aren't any last minute surprises. I live out of state and was planning a wedding in New Hampshire, Aaron was the most responsive vendor by far and helped the wedding planning process feel much less stressful.
We had him play "Chapel of Love" and "Can't Help Falling in Love" for the processional and "Burning Down the House" for the recessional and he is so talented, his piano performance at both the ceremony and the cocktail hour was excellent.
His low-key, non-cheesy, DJ style was exactly as I was hoping for - he kept everyone up and dancing the whole night. We've received many compliments from our guests on the quality of our music on the wedding day - thank you Aaron!

Lisa B.

Married on 05/02/2022

Keyboardist and DJ!

Honestly, we couldn't have been happier with Aaron's services. He had everyone in tears during the ceremony, especially during his piano instrumental of "Close To You" as my processional. He was also a great master of ceremonies, announcing us in, and the dance floor was the place to be at our reception. Aaron played an eclectic playlist that was appealing to our whole crowd. From young to old, everyone danced throughout the night, and we had the wedding party we had always imagined. Would highly recommend if you want one person that does it all!

Sara

Married on 03/26/2022

Great choice!

Aaron is the best! We wanted a DJ who didn't do any of the typical games or routines. Aaron is not only a great 'non-cheesy' DJ, but he is also a fantastic musician. Everything was more than we could have asked for and our families and friends were so complimentary about the music.

Mari M.

Married on 12/04/2021

Outstanding Responsive Vendor!

Two Cellos at our ceremony, a Jazz Trio at our cocktail hour, and an amazing, organized, professional DJ at our reception...what more could we have asked for? Outstanding in all accounts and really helpful during our planning process. We live in NYC and were planning from there from a Vermont wedding. Aaron was the most responsive vendor and many guests were praising the music over & over at our wedding...saying it was the best music they've ever heard at a wedding! A+

Mara W.

Married on 08/22/2021

Our Favorite Vendor!

Aaron was our absolute favorite vendor! He was professional, helpful, and thorough during our planning...always very responsive to all of our emails. (Some other vendors we did not hear from for several weeks at a time.) And on our wedding day, he could not have been more of a hit with our guests - he played all of our requests and was the "100% non-cheesy" entertainer we were hoping for!

Andrew J.

Married on 07/25/2021

A+++ Professional!

Aaron was our DJ/Musician at our July wedding in Burlington. He played amazing piano music for our ceremony and cocktail hour. His style as a DJ is low-key….which is exactly what we wanted. He let the music speak for itself and only made a couple announcements as we had requested. He did a great job mixing all of our tune requests which ranged from The Rolling Stones to a
Rihanna. He also well handling some oddball requests from my family and got everyone up & dancing. A+++

Tonya

Married on 07/16/2021

Dance Party DJ!

Aaron created the dance party atmosphere we were looking for! In our opinion, he offered the perfect blend of live music and recorded music for our needs, ceremony through "Happy Hour" through reception. Also, he was very easy to work with and accommodating. Highly recommended!

Cassandra B.

Married on 07/03/2021

Highly Recommend!

Aaron was truly fantastic! After attending our friend's wedding that he was the DJ for and having the best time, we immediately knew that we needed to hire him for our wedding. He's professional, kind, flexible, and extremely talented. My husband and I had to postpone our wedding celebration due to COVID and we were very much looking forward to just having an amazing time dancing the night away with our friends and family. Boy did he deliver! We had an incredible night and can't thank him enough!

Erin W.

Married on 07/02/2021

Perfect Fit!

Aaron was just the right fit for our vision and for our budget, He played amazing piano for my walk down the aisle and worked with us to create the ceremony that suited our personalities. His jazz quartet for our cocktail hour was just what we had wanted and the other musicians were just as talented as Aaron is. Aaron's "low-key" DJ Style was fun, but unobtrusive and he played all of our requested songs. We received more than 10 compliments at our brunch the next day about the music choices.

Maura

Married on 06/17/2021

Best Live/DJ Option

We hired Aaron for our June wedding. Originally we had wanted a band because several in our families are musicians and we both love attending concerts too. We soon found most bands in Vermont were too limited in what they could play. They also would have stretched our budget too thin. But, we were so happy to eventually find Aaron, someone who could play live music at the appropriate points during the day, but could also offer us the flexibility and more reasonable rates of a DJ service . For our families and friends, he was just perfect. Not overly talkative and 'non-cheesy'. Our guests raved about the music and we got to dance to everything we requested from the ceremony through the reception. Thank you, Aaron!

John F.

Married on 06/12/2021

Kept the dance floor full!

Aaron was great! He played live music on the piano for the ceremony and cocktail hour, then took over the DJ booth for the reception. Everything went perfectly and our dance floor was non-stop the entire evening. The songs we requested were non-traditional and he accommodated our requests.

Aaron was very responsive and helped us along the way to get exactly the day we wanted. He was early so he was all set up and the equipment tested well in advance of guests arriving. Highly reccomend.

Amanda S.

Married on 05/22/2021

Perfect non-cheesy DJ!

Aaron is a true expert and professional, and was exactly the kind of "non-cheesy" DJ we were looking for! Aaron was the right fit for our 5/22 wedding and really listened to and delivered the older kind of music we wanted. It was such a fun evening smiling with guests hearing all of the songs we had shared with him. Aaron was also flexible and easy to work with and when we had to change our venue to a backyard wedding due to COVID. The best part of hiring Aaron is that he handled all music - from the live piano during the ceremony and cocktail hour, to DJ during the reception. Guests complimented the music and were dancing and enjoying the evening! Highly recommend Aaron for your wedding!

Alyssa

Married on 05/15/2021

The Best Choice for Us!

Aaron was the best choice for us! He offered amazing live music options for our ceremony and happy hour. And he offered us the perfect blend of "no cheese" and fun as a DJ at our reception. His professional demeanor and experience helped us to navigate the pandemic and one wedding date postponement. We appreciated how easy he was to work with through it all. Our wedding day, while a bit different than our original vision, was perfect nevertheless and Aaron's music made it all worth the wait!

Bethany

Married on 02/27/2021

Super Professional

Aaron was the DJ/MC/Pianist for our recent wedding and we couldn't have been happier with his services! He was super-flexible in accommodating our COVID-19 rescheduling from our original wedding date. Once we had our wedding, our guests couldn't stop complimenting our choice of music. But, it was actually Aaron who picked most of the music based on a questionnaire we filled out for him prior to the day. His piano & violin duo which performed at our ceremony was so beautiful. And the dance floor was filled-up for most of the evening after dinner thanks to his DJ abilities. He also kept his announcements to a minimum which is exactly what we had wanted.

Steve D.

Married on 02/05/2021

Extremely professional, responsive and a great value

Aaron performed at and DJ'ed at our wedding on 5/26/19 and we couldn't be happier with the results. I provided him with custom arrangements (a first for him!) that he was more than happy to learn and perform at the ceremony with a violinist. He also did a phenomenal job DJ'ing at the reception, working with us and the venue on timing an announcements throughout. Having done so many weddings, Aaron was also a great resource to bounce ideas off of when we were planning the order of things at the reception, as he has seen what works and what doesn't. He was extremely thorough when it comes to planning and tailored everything exactly how we wanted. The fact that he can perform live music at the cermony and cocktail hour as well as DJing the reception is an incredible value (and makes one less thing you have to plan!). We would highly recommend him to anyone looking for a wedding DJ.

R Mccaul

Married on 12/11/2020

Excellent Choice!

Aaron was one of the best parts of our wedding. He was on his game the whole day, playing all of our requests and taking guest requests while keeping the dance floor completely filled all night.

Barb M.

Married on 10/25/2020

Great Ceremony/Reception Music

We hired Aaron to do all the music at our wedding. With the pandemic, we had to shift our plans around. Aaron was accommodating and rolled with the punches which we really appreciated. Once our wedding finally took place, his music added the special touch we were hoping for. He kept the dance floor busy, played all of our requests, and his piano/violin duo at our ceremony was just amazing, All for a price that we could manage.

Jess

Married on 10/24/2020

Very talented and professional!

Very talented and professional!

Lara

Married on 09/05/2020

Amazing Night of Music

Aaron was our pianist and disc jockey and was the best part of our reception! He performed live music at our ceremony (along with two violinists he hired for us). The result was some of the most beautiful music you could imagine at a wedding ceremony! Aaron was a completely professional emcee and dj, playing all of the music we requested, and avoiding all of the overplayed, "typical" wedding music we have heard far too often. We received lots of compliments and a couple friends of ours even asked for Aaron's info for their own wedding.
Are you interested?
Send a message