170 Reviews
Recommended by 98% of couples
Quality of service

4.9 out of 5 rating

Average response time

4.9 out of 5 rating

Professionalism

4.9 out of 5 rating

Value

4.9 out of 5 rating

Flexibility

4.9 out of 5 rating
42 User photos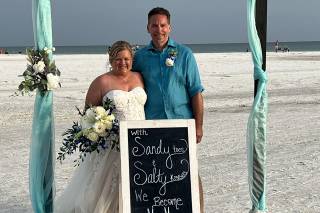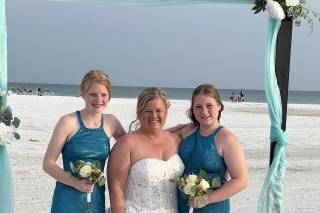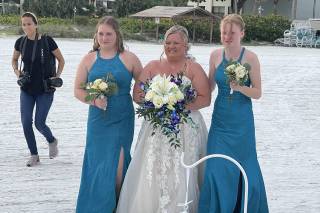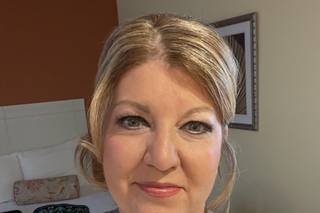 + 38

photos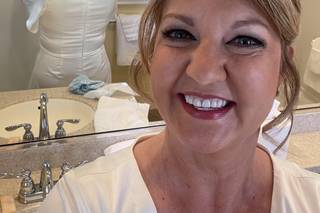 Zina M.

Married on 11/13/2022

Wonderful Wedding Day with A Victorian Bride

What a wonderful experience! She was supportive, kind, fun, patient, warm, and best of all did an amazing job with my hair and makeup. A major major contribution to the magic that was my wedding day. It was windy on the beach but my hair stayed put! She built it around my borrowed hair comb which was very special. makeup was just right, not too much or too little, and she listened to my needs and requests. I am 67 and I looked 20 years younger in the photos.

Tabby F.

Married on 06/17/2022

Wonderful experience!!!!

We hired Linda after being referred by our wedding planner Debbie at Florida Weddings. Linda was absolutely amazing!!! She was very accommodating. I would highly recommend her for your bridal party.

A Victorian Bride Hair & Makeup Design Team's reply:

Thank you so much Tabby!
It was a pleasure to meet and work with your family and you. Congratulations 🥂🍾

Ginger B.

Married on 10/20/2021

Amazing Experience!!

I contacted Linda upon the recommendation of our wedding planner, Tina at Sun Weddings, and I am so glad I did! Linda is a total professional and so talented and sweet. She will make you feel like a princess on your big day! Stop looking and book Linda now. You will absolutely not regret it!

Are you interested?

Send a message

Patty

Married on 07/04/2021

Very professional and extremely pleasant to work with

I had a wonderful experience with Linda Shepard. Linda had done beautiful work for my hair and makeup. I would highly recommend and would use Linda.

Bethann F.

Married on 04/24/2021

Came Out Perfect

Everything turned out perfect! I wanted to thank Linda and her team that helped make my wedding day a special day. Everyone's makeup and hair was gorgeous and fit the exact style I wanted. I highly recommend A Victorian Bride for anyone looking for a hair or makeup artist.
Beth Ann

Danielle

Married on 04/03/2021

I felt like a princess!

I hired A Victorian Bride Hair and Makeup on the referral from Florida Sun Weddings for my wedding hair and makeup. I did not get to do a test run as things were crazy. I do not regret my decision at all! Linda was amazing! She came to us in North Port. She arrived on time and prepared. She did 3 adults, 1 teenage, and 2 girls with flawless results. The 3 adults also had makeup done by her partner and we all looked amazing. While we were getting ready my aunt asked who had the can of hairspray to take with us as the wedding was on the beach. Linda stated we wouldn't need it. She was right! Our hair and makeup lasted the entire wedding and reception! There were no touch ups needed! I would highly recommend Linda and her team to anyone!

+ 5

photos

Janice A.

Married on 03/13/2021

Highly Recommend

Linda did my hair along with my three bridesmaids for my wedding and she did an amazing job! Marilyn did my makeup along with my three bridesmaids and did a superb job! They exceeded our expectations! Highly recommend!

Hannah K.

Married on 11/21/2020

A more professional wedding expert you will not find

Linda was my number one choice and I did not expert my number one choice to be possible because we planned our wedding at the 11th hour. But Linda told me it would be an honor to participate in my special day and that sealed it for me. I brought a hefty load of drama for her to trudge through and she performed like a surgeon, accuracy, precision but also kindness and warmth. Linda navigated a language barrier with my mother-in-law, booming personalities in a tiny room, an ever-regressing timeline and probably the most anxious bride imaginable. In the end, everyone looked beautiful, was made to feel special and the compliments lobbed at the bride included words like stunning, gorgeous and Linda is the one to thank. She was patient, she was encouraging, she offered endless advice and reassurance and I could not have made it through the day without her. She has more than 20 years of experience in all facets of the wedding industry and my advice is work with people that know what they're doing. Karli provided makeup services alongside Linda and was an absolute sweetheart and did beautiful, amazing work! She was a last-minute, welcome surprise, again in the 11th hour and I will be forever grateful that she could be a part of our special day. I wish only good things for these ladies in the future!

Julie F.

Married on 11/06/2020

Linda and Team are Amazing!

Thank you so much to Linda and her team for making our day so special! Everyone's hair and makeup came out amazing - and we were receiving compliments left and right. Linda spent extra time taking care of me and I couldn't have been happier with how it turned out. From the trial run, to the coordination, to working with our schedule and execution on the day of - you could tell that this is a team of seasoned professionals. From the bottom of my heart - thank you so much Linda!

Brandy B.

Married on 10/10/2020

Blushing Ecstatic Bride

Linda was so sweet. She came to my hotel to do my hair and makeup the day of my wedding. She even did hair for aunt and cousin at hotel. My makeup and hair was gorgeous. Completely flawless. I felt like a princess. My groom about passed out when he turned to see me for the first time. Linda is the best. I would hire her❤️

Tracy M.

Married on 10/09/2020

Amazing Hair and Make-Up

Linda is absolutely amazing! I highly recommend Victorian Bride Hair and Makeup for your wedding or special occasion. My makeup and hair looked natural and flawless. Perfect! 💯
I could not asked for a more wonderful experience. Linda is so professional and amazing at what she does. When you see yourself for the first time, you will not believe how incredibly natural your make-up and hair will look. She makes it seem effortless.
So very happy!
Thank you x a million! 👰🏼💞

Amy P.

Married on 10/04/2020

Wow! What a fantastic experience!

Linda and Marilyn were a DREAM to work with! They were fun, very professional and made me and my wedding party look amazing! Highly, highly recommend these ladies! They came to us, so it was one less thing we had to worry about. From start to finish, these ladies were amazing!

Zizi K.

Married on 06/03/2020

Highly Recommend

Highly recommend A Victorian Bride Hair and Make-up! Linda is so kind and amazing! Taylor and Iliana did an amazing job with the hair and makeup of all bridesmaids and both mother of bride and mother of groom. They all were incredible and so kind. They successfully captured every woman's beauty in a natural way. The weather that day was very rainy! A Victorian Bride Hair and Makeup accommodated our last minute wedding time change and had us all ready in time. I was very happy with the hair and makeup result. Thank you so much Linda! I have never felt more beautiful than I did on my wedding day! I really appreciate everything!

Sharon E.

Married on 05/20/2020

Super talented and super professional

Linda CAME TO ME! She is an artist with amazing talent! I wish she could do my hair and makeup every day! I felt like a million bucks! I am still smiling! Thank you Linda!

Tina B.

Married on 05/09/2020

So happy!

The makeup and hairstylist were amazing! As the bride, I couldn't Be happier. My hairstyle and makeup lasted for 12 hours (before I took it off) in the Florida 90 degree weather, humidity, and on a windy beach! Wow! I was so thankful! In addition, all 4 bridesmaids looked beautiful. The hairstyles they were looking for, were replicated perfectly. The makeup artist confirmed along the way that we were happy with what she was doing. She gladly made any change we wanted. I HIGHLY recommend this company!

Sinziana (.

Married on 03/08/2020

Perfect experience

Linda and her team were absolutely amazing! They not only gave all of us the PERFECT look, exactly what we envisioned, but they were all so easy to be around, patient, and encouraging! I had pre-wedding jitters all morning as we were getting ready, and they were so understanding and took time to help me calm down. They honestly exceeded my expectations in every way possible. I felt more beautiful on my wedding day than I ever have in my life and that is every girl's dream! I cannot thank them enough for their expertise, their kindness, their positive attitude, and finally the result of their work! Our hair and makeup stayed on all night with no touch-ups needed. Beyond impressed. Highly recommend to anyone who doesn't want to settle for anything less than perfect!!

Sydney

Married on 03/07/2020

Perfect hair and makeup

A Victorian Bride was a great group of girls that did an amazing job on myself as the bride and my bridesmaids hair and makeup. They were fun and easy to talk to which made getting ready for my big day even better. They're work is amazing, you can tell its their passion! Thank you to the team of ladies for making my hair and makeup perfect on my wedding day!

Alexis G.

Married on 02/07/2020

Wonderful!

Truly loved my hair and makeup! She perfectly captured how I imagined my hair would look and my makeup was beautifully done but still natural and light. Four family members had their hair done as well and all looked amazing! Extra convenient that she works on site. We were from out of state so not having to find a salon in a town we don't know was great. Also very accommodating as we were juggling four kiddos! Definitely recommend!

Donna T.

Married on 01/02/2020

A True Professional

Linda and her team were amazing. When I met with her the first time, she gave me the confidence I was looking for in a hair and makeup combo. She was prompt, listened to what we wanted, paid attention to all details and made each and every one of the ladies feel pampered and special. I can't say enough about how pleased we all were with her services.

Katie P.

Married on 10/11/2019

It was amazing!

Linda Shepard did an amazing job! I would definitely recommend her to anyone!

Millie

Married on 08/17/2019

Amazing work with WOW effect!

Since I have been making my own face every day for many years, I did not think I needed a makeup artist. In addition, I have very short hair and did not think that anybody can conjure something out of it. My family and friends were also scared that I would look like a doll after a professional make-up. BUT, everybody - including me - was very positively surprised, as Linda did an awesome job! There was the "WOW effect" in the mirror and in every face! My look with Linda's makeup was very natural, my eyes were bright & shining, my short hair looked very feminine and I had real little flowers in my hair.

Linda got the best out of me visually! And as I'm 53 years old, this was a real challenge for any makeup artist ;-).

And Linda has a great personality, making you calm down, relax and just enjoy the treatment. It was the right decision to let her do my hair and makeup for this precious wedding day!

Linda did a great job and I'm pleased to give her the highest ratings & i can recommend her services highly.

Tamera G.

Married on 08/09/2019

Linda is a magician!

Linda Shepard came to our condo and spent all afternoon with me and my two step daughters doing our hair and makeup. She was so friendly and the results were amazing! We laughed alot and we teased that she wasn't a magician but my wedding pictures show otherwise! I felt so beautiful and still have my individual lashes she applied 4 days later! Linda even helped me into my dress and drove me to Siesta Key Public Beach where the wedding took place! Thank you Linda for making my dream wedding even better!!

Leticia O.

Married on 05/11/2019

Excellent! I definitely recommend, to EVERYONE in need of hair and makeup

There are no words for the time amd care that they put into our wedding. My best friend and I got the most gorgeous hair and makeup ever! Theo attention to detail personal touches and the way they interacted with me and my girls was simply fantastic. LOVE LOVE LOVE

Ashley

Married on 05/04/2019

Destination Bride

Linda came to the condo to do hair and makeup for three ladies, including myself. Planning a wedding in a different state than you live can be stressful, but Linda put me at ease. She was very easy to work with, and very quick in responding to any and all questions. Her work goes above and beyond and brought my vision to life. I can't say enough positive things about working with Linda from start to finish!

Emily

Married on 04/15/2019

Absolutely amazing!

I was recently married on Anna Maria Island, and had Linda do my hair and makeup. She made me look absolutely amazing! It was exactly how I wanted, very natural, yet gorgeous! She was very easy to get ahold of, which made the whole experience even better! Highly recommended!
Are you interested?
Send a message