29 Reviews
Recommended by 97% of couples
Quality of service

4.9 out of 5 rating

Average response time

4.9 out of 5 rating

Professionalism

4.9 out of 5 rating

Value

4.9 out of 5 rating

Flexibility

4.9 out of 5 rating
Awards
10 User photos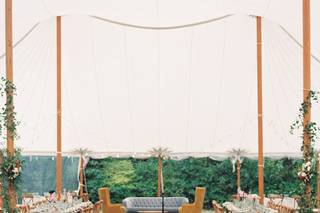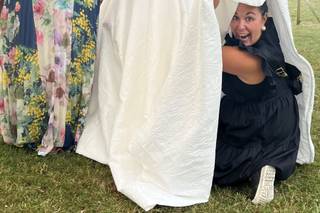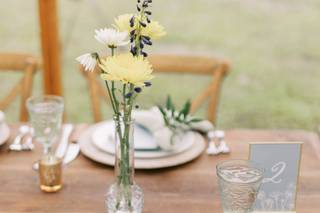 + 6

photos
Hannah W.

Married on 10/01/2022

Katina is absolutely amazing!

Katina Dawson is one of the best people I have ever met. I work in the wedding industry in Southern Delaware. I have had the pleasure of working with Katina in a professional setting for years. So, when Colin asked me to marry him, it was a no-brainer who we were going to use as our wedding planner. We met with Katina one morning for coffee and that only solidified that we made the best decision ever. Katina was with us through the whole wedding planning process. She kept me on track, helped me make decisions when I couldn't figure it out and made miracles happen the day of the wedding. We got married the day Hurricane Ian was SUPPOSED to run through Delaware. It was a bit rocky the week before and we didn't know what was going to happen. Katina kept calm, had a plan for everything and the day turned out better than I could have ever imaged. The storm held off 24 hours for us to have the most perfect day with the help of Katina and countless other amazing vendors. We had the most gorgeous rain plan and got married under Coastal Tented Events' stunning sailcloth tent. The whole reception was designed with Katina. Katina was always at the perfect place at the right moment. When I didn't know where to go, she told me where I needed to be. When the confetti cannons needed to be shot off, she was right there to do it! My personal favorite – when my dress needed to be fluffed right before I walked down the aisle, she was there! (Picture Included.) Katina is one of the best wedding planners I know. You would be lucky to have her on your side through the wedding planning process! She has one of the most infectious, fun and genuine personalities. I can say that Katina made wedding planning easy. She made it fun. She helped give Colin and me the most amazing day. I could not have even imagined in my wildest dreams that our wedding was going to be that stunning, that much fun and that perfect. We love you, Katina!

+ 4

photos

Lauren S.

Married on 08/06/2022

The best decision we made

I don't know what we would have done without Katina. The woman is a superhero - she flawlessly juggled all of our vendors, some local and some out of state, coordinated our timeline down to the minute, pivoted without missing a beat when we needed her to, and kept us both calm even in the midst of a torrential downpour two hours before our beach wedding. She is the friendliest, most organized and professional event planner we could have asked for; I would trust her with absolutely anything. If you're looking for a coordinator to make sure your wedding day is the best day of your life, you won't find anyone better.

Shannon O.

Married on 07/16/2022

Katina is amazing!

Hiring a wedding planner was probably the best decision we made when it came to planning our wedding in Bethany Beach, DE. Katina was so professional, sweet, communicative, and it was another added bonus that she had close professional relationships with most of the other vendors we chose for our special day. Our day would not have been as smooth and perfect without her! Thank you for everything, Katina!

Are you interested?

Send a message

Katie C.

Married on 04/30/2021

Best Wedding Planner!

Katina is the absolute BEST! She is organized, kind, and patient. We had to reschedule our wedding multiple times because of the pandemic and she coordinated with every vendor for availability each time. She is creative and makes the wedding planning process and day of wedding a breeze. She is always two steps ahead and takes care of things before you even think about it! She is extremely dependable and answers right away. She made sure I had the wedding of my dreams.

Carol R.

Married on 04/30/2021

Best Wedding Planner in Ocean City and Eatern Shore of Maryland

A Sweet Affair is the BEST! Katina is above a 5 star review. She has all the qualities of a superb Wedding Planner! Katina is easy to talk to, prompt, dependable, responsive, and detail oriented. Her creative ideas are amazing. She kept us on task and organized from the first planning session and then coordinating with the vendors for over a year throughout the pandemic! My daughter's wedding at the Yacht Club in Ocean Pines, Maryland, was a huge success in every way because Katina attended to every detail! She creates a fresh and hip vibe and so much fun!! Definitely the Best Wedding Planner! If you are interested in getting married in Ocean City or Eastern Shore of Maryland, she is a must!

Ashley

Married on 09/09/2018

Katina is absolutely wonderful! I reached out to her less than 2 months before my wedding because I couldn't handle it on my own anymore. She took all of the stress from me and put it on herself. All 7 of my (already married) bridesmaids commented on how amazing she was & how she rocked it. Just say YES. It is worth every penny. She was incredible. My husband and I were supposed to get married on the beach at the Big Chill Beach Club, but due to hurricane conditions (45mph winds & rain), we not only couldn't get married on the beach, but were evacuated from the events tent for safety concerns and moved to the main bar area. Katina was amazing the whole time and weathered it all with us. She made sure all of my detailed decorations were brought back safely and really went above and beyond for us. I HIGHLY RECOMMEND HER SERVICES! You will not be disappointed.

Claire

Married on 05/13/2017

Katina made our wedding day run so smoothly that my husband and I did not need to stress about anything on the actual day! I would definitely recommend do anyone planning a wedding. She also brought up many tips for planning that I would not have thought of otherwise. Definitely worth the money, and she offers very reasonable prices.

Anne

Married on 01/07/2017

Last weekend our son was married at the Maryland Zoo and "A Sweet Affair Wedding and Events" handled all those tedious items a wedding entails. (Our daughter also used the same service 5 years ago.) Katina's expertise and experience were again evident! She was on top of EVERYTHING and EVERY DETAIL. We so appreciated all that she did before, during and after the big day - her presence made the day stress free for the bride and groom. Would highly recommend her excellent services to any couple planning their "special day." Well worth it!

At our first meeting with Katina, she assured us that everything would be perfect. By the end of our wedding, we knew she was right! Katina helped us relax throughout the planning process and coordinated with all of our vendors. She helped us schedule our day – we didn't realize how complicated that would be – and worked with our venue to make sure everyone was on the same page. On the big day, she keep everything running smoothly and made sure we got where we needed to be, when we needed to be there. Katina was an essential part of our day and a joy to work with. We can't thank her enough!

Lisa

Married on 09/24/2016

Think about all the things you need to do on that day, then think how much it would be worth it to not have to worry about it!

Sarah

Married on 06/18/2016

Just say YES to A Sweet Affair! Their services are top notch and worth every penny!

Devon

Married on 09/26/2015

Katina was a life saver for our wedding day! Coming in later in my planning process, she saw my vision and helped execute it perfectly. The wedding day (and the days leading up to) went so smoothly. Katina was able to make sure that I had nothing to worry about. I am so happy we had her help and would highly recommend her services to any bride-to-be!

Katina was a life-saver!!! We had to hire her last minute due to problems at our venue and it was the best decision that we made. Prior to Katina, I was very stressed with all of the wedding planning, but once she got involved, that stress disappeared. I only wish I had hired her sooner! Even though we hired her only 1.5 weeks out from our wedding, she was able to review everything about our wedding and knew more about the details than I did! She contacted all of our vendors and coordinated everything. Our wedding went so smoothly, and Katina worked so well with everyone. I highly, highly recommend using Katina as your wedding planner. We love her!

The best decision we made during the entire wedding planning process was hiring Katina from A Sweet Affair to provide our day of wedding coordination!!! Without her, the day would have been extremely stressful for both me and my mom. Katina went above and beyond every step of the way, not only to ensure that everything ran smoothly and the way we wanted it, but that my husband and I were feeling calm and happy. One of our shuttle buses got lost on the way from the hotel to the ceremony site (completely the driver's fault), and some of our guests ended up missing the ceremony. Katina was on the phone with the owner of the company that same night negotiating a new price with them because of it. Not only is Katina amazing at her job, but she has a great personality and was so fun to be around on our big day!!! Her advice and support made all of the difference!

Ryan

Married on 05/16/2015

Katina did a great job. Everything about our wedding was done professionally and our special day was perfect thanks to her. No wedding goes without a few hurdles and the very few we had she handled immediately. That is exactly what you want from your wedding planner!

Katie

Married on 04/25/2015

I was so excited to get married but not so thrilled about having to plan a wedding! Katina was a lifesaver! Super organized and able to handle anything that popped up unexpectedly. Her vendor recommendations were outstanding (DJ, photographer). She found a great deal on a shuttle after I conveniently forgot it was prom season! We had an amazing time with friends and family that we'll never forget. I should mention that I was bit stressed out because of the protests in Baltimore at the time had shut down one of the main routes into the city. Katina handled it all and made sure our buses had an alternative route back to the city for the after party. She handed me a glass of wine after the ceremony and I knew we were in good hands. Party on, Wayne. Party on, Garth.

Lauren

Married on 09/06/2014

Katina Dawson of A Sweet Affair Wedding and Events was my wedding lifesaver! I like to think I was on top of things as a bride, but Katina was still always two steps ahead of me! She helped me out the weekend of my wedding and I am SO glad she was there. With so much going on that weekend — welcoming out of town guests, delivering wedding decorations, finishing all last on-site preparations that I could, as well as try to relax and enjoy my big day — Katina got me through it all. She took charge at my rehearsal...told everyone exactly what to do, where to be, when to walk/stand/sit etc., got all 13 of our rowdy groomsmen to pay attention, and got us in and out so we could go enjoy the rehearsal dinner. The morning of the wedding, she arrived bright and early, planning binder in hand, ready to go to work. No matter what it was, whatever we needed, whatever last minute detail I forgot, she was a text, a phone call, or 5 ft. away. The entire day ran smoothly, she styled my entire wedding reception, she kept in touch with the entire wedding party all morning long, made sure everyone was on time and knew what they were doing. She checked in with all of my vendors prior to the weekend and the day of to make sure all deliveries were made, everyone knew where they were going, etc. She even packed up everything after the party was over while shoving us out the door and telling us to go enjoy our after party! When I woke up the next morning, everything was organized and had been taken care of for me. Katina is professional, personable, outgoing, attentive and dependable. Her years of wedding planning experience were made evident the weekend of my big day, and I am so lucky and grateful that I was able to commission her services. No matter how little or how much help you need, Katina Dawson is a wise investment!

Jessica

Married on 07/11/2014

Katina Dawson made the wedding planning process very enjoyable and stress free because of her organization and knowledge. She was able to help me develop my ideas as well as add thoughts of her own to better the experience for everyone.

Kristi

Married on 05/17/2014

Katina was an integral part of our wedding, and we could not have done it without her! From our first phone call to the day of the wedding, Katina was there to help us fulfill our vision of having two ceremonies, a lunch, and a reception all in one day. Her vendor recommendations were great (hair, makeup, DJ), and she helped us bring our wedding to life. Katina is a fireball of energy, and is an amazing person to know, and we couldn't have had our wedding without her.

Lisa

Married on 05/02/2014

Katina and her sweet affair team are amazing. I explained to her what I wanted and she made it happen. She helped me through the whole planning and execution process. The day of is when Katina and her team really shined. She was there to greet and handle everything with all the vendors. She and her team set up all the tables and decorations. When no one showed up to finish our deserts she personally frosted them all herself. She handled everything so that I had quality time to sit back and hang out with my important people while we had our hair done and sipped champagne. If she had not been there I would have missed out on some really special moments. During the reception she not only communicated with the DJ about what was going on but made sure we stopped to eat food and then would go to the bar to fill our cocktails for us! Katina went above and beyond to make sure that our wedding was perfect and exactly how we wanted. I would highly recommend having Katina help plan your wedding. She is professional and understanding and is there to support you 100%!

Auria

Married on 10/26/2013

My planner was super.she was on time, very patient she understood what I wanted. I think she went above and beyond. She saw my vision.

Liz

Married on 09/21/2013

Katina was a joy to work with!!! Without her I would have been a stressed out mess. Katina allows you to "download" your brain into hers and you can have full confidence that she will execute your vision for your perfect day. The day of my wedding it rained all day - we were supposed to get married outside but had a backup plan. I did not even have to think twice that Katina would make the inside space just as beautiful as the outside. I was able to just relax and hang out all day - I was seriously not worried about a single thing! Not only does she get the job done, she does it with a huge smile on her face and an infectious personality. At the end of your journey with her you will have a new friend. I recommend Katina to anyone and everyone I know that is planning an event, big or small. You will not regret it, I promise!

Katherine

Married on 06/22/2013

A Sweet Affair was like a part of the family during the wedding planning process. Our wedding was a bit unconventional - with friends and family doing everything from the electricity to the catering - and Katina didn't bat an eye. Katina participated in numerous conference calls and email chains with our group as we tried to put on a 275-person wedding with minimal professional help, and it came together beautifully. Katina was an invaluable part of the planning process and the wedding day. Best of all, she was responsive, driven, and kept us on track, while still being fun and easy-going. For brides/grooms looking for a wedding planner that is not afraid to immerse herself in whatever crazy ideas you can come up with, I would highly recommend A Sweet Affair!

For anyone out there looking to hire a wedding planner, Katina will not disappoint! From the moment i woke up on my wedding day until it was time to pack up and leave the reception - Katina was right there handling EVERYTHING!!! My husband and I, our bridal party, and our families had nothing to worry about (besides having fun!!!) Not only did Katina take all the stress out of planning a wedding, she had so many creative ideas that truly turned our wedding into a spectacular event. Katina was always coming up with ideas, big and small, to turn my vision into a reality.
One of the best things about Katina though, is how much fun she is to be around! I looked forward to all the emails /calls /meetings with her. Her enthusiasm and fun personality makes hiring her that much more worthwhile!!!
XOXO, the Salamone's

Katina Dawson is the best. I consider myself a very organized person and would not have thought i needed an event planner. I was so wrong! I would never attempt a wedding without her careful guidance and overall expertise. She made the evening worry free and terrific for everyone.
Are you interested?
Send a message