11 Reviews
Recommended by 87% of couples
Quality of service

4.3 out of 5 rating

Average response time

4.5 out of 5 rating

Professionalism

4.3 out of 5 rating

Value

4.4 out of 5 rating

Flexibility

4.3 out of 5 rating
12 User photos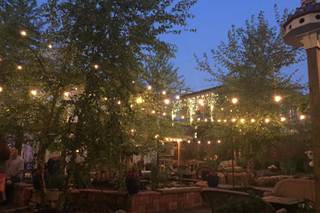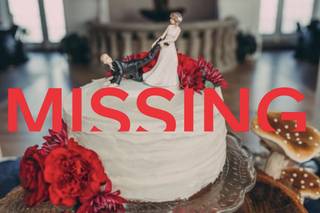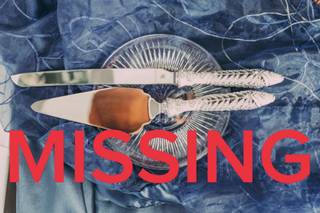 + 8

photos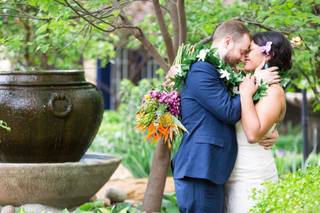 Mallory P.

Married on 01/08/2022

Blew our expectations away

Russ and the staff at a secret garden simply outdid themselves. My wife and I were married here January 8th and the compliments from our guests continue to pour in. Russ was a pleasure to work with from the get go and really took the time to add personal touches that shone through the reception from start to end. The ambience was incredible (we went with a Christmas theme) and the attention to detail truly made this place and our evening as a whole, unforgettable. Could not thank the staff more and would recommend this place to everyone in the process of getting married.

Carla M.

Married on 05/09/2021

Completely stress free planning

I have worked in the wedding industry for 20 years as a wedding and event planner. However, now I'm the bride and I realized I can't do my own. THANK GOD FOR A SECRET GARDEN! My fiancé and I absolutely love the venue! We are in the planning stages and couldn't be more excited about our upcoming wedding. The attention to detail and the sheer artistry and passion of the owner and his staff has made planning our wedding a completely STRESS FREE experience. The owner and his vendors are all extremely responsive and helpful. We couldn't be happier! Can't wait for our special day!

Sydney Q.

Married on 05/01/2021

Planning stages

We're only in the wedding planning stages, but Russ listens to everything we want and need. He's been fantastic and has worked with us so well! And the garden is BEAUTIFUL.

Are you interested?

Send a message

Casie S.

Married on 10/12/2019

Amazing people

Russ is fantastic! He listens to what I want as the bride and had ideas I would never have thought of.

Jan

Married on 11/16/2018

Wonderful Venue, Dedicated Staff

As someone who has first hand knowledge of what is involved in creating a memorable wedding at A Secret Garden, I felt the need to respond to recent negative reviews of Russ, his staff and A Secret Garden. Russ is one of the few people I know who truly loves what he does. He works hard to make sure each bride has the wedding of her dreams with careful and thoughtful attention to detail both before and during the wedding and reception. So many wonderful reviews tell the true story of the hard work and love that go into each and every wedding.

Rae

Married on 05/11/2018

A well-kept secret indeed! Before this review becomes Too Long; Didn't Read: highlights! Russ is spectacular from start to finish and beyond. The garden is a hidden gem. You will be so well taken care of, it's ridiculous!
Here's the scoop!
So, to be completely honest, I had no clue this place existed. My mom and I met Russ at a bridal show.
There was a little line to speak to Russ, but, within 3 minutes of talking to Russ, he had my mom in happy tears and we booked a site visit .
If you like, fun, whimsy, stress-free, and, fairy tales, this is your place. The entrance to the garden starts with a little puzzle, where you are then rewarded with a hallway decked in beautiful paintings done by Russ that then leads to the piece de resistance: The Garden. The work he has put into making this place full of magic cannot be understated. The winding pathway leads you past sculptures, ponds and fountains, beautiful trees and flowers, a curiosity shop, a treehouse, a waterfall, trees bedecked in chandeliers, and, if you're lucky, you will be visited by SG's resident white rabbit, Hatter! On the property, Russ has also built a stunning reception hall which is host to 3 bathrooms (1 men's, 2 uni sex), an English pub, a koi pond and fountain, as well as live flowering banana trees!
When it came to planning, it quickly became apparent that we had nothing to worry about. My husband (then fiance) and I are both incredibly busy, but Russ put our minds at ease by taking care of the decorations, tablescapes, flowers, photography(!), DJ, AND giving us a list of his preferred vendors. Day of, he provides Annie to be your bride minder/savior. He makes sure the couple eats and is constantly cared for. Same with Moms! RUSS WILL MAKE YOUR DREAMS FOR YOUR SPECIAL DAY COME TRUE. For all he offers, SG IS A STEAL, and, I can't say enough about it! 5000/10 would totally recommend to anyone who will listen !!

+ 3

photos

May112018

Married on 05/11/2018

From the venue, to the ceremony, to the celebration...all TOP NOTCH and magical! Russ and Racheal of A Secret Garden took beautiful photo shots of everything from the engagement to the wedding event! Everyone loved the entire evening! Russ and his entire team "think of EVERY detail", was a common compliment from our family and friends. Anything that came up during our preparations during the months prior to the event, I'd call Russ and it was taken care of...I said often, "Let go and let Russ!" Some of the things he thought of, I could hardly believe! I knew we were in the best of hands thru the entire process! His vendors knew what he expected of them and delivered. Oh, what a night! We had a wonderful experience! #RussDelivers

Vicki

Married on 04/27/2018

I work at the Kansas State School for the Blind, Russ has hosted our prom for the kids for 2 years and it is amazing, the kids and staff enjoy themselves. This is really a beautiful place. Russ and the staff are amazing interacting with the students. Russ makes this evening a dream come true for the students. We look forward to many more Proms at the Secret Garden.

Hanna

Married on 06/25/2017

The Secret Garden was truly the most perfect place I could have ever imagined to have my wedding and reception at. Russ was my guardian angel that day, and completely took care of my every need to the fullest extent. The flowers, decorations, and everything else was done beautifully and was exactly what I wanted! Actually, even better than I envisioned. I honestly don't know how people get married without Russ! He is God's gift to brides! To really appreciate how beautiful the Garden, Palm House, and all the rest of the treasures at the Secret Garden are, you have to go see it in person. It will blow you away. It is a "Pinterest dream" cottage garden from Heaven, complete with beautiful fountains, brick pathways, a stunning waterfall, a whimsical treehouse…just go see for yourself! Russ knows exactly how to run a wedding, from his years of experience, and it is such a comfort to have an expert like Russ to run the show. I loved not having to direct anything or anyone, and yet everything happened exactly the way I wanted! I didn't have to worry about any logistics on my wedding day. I don't know how Russ does it, honestly. He has everything set up exactly right, and has thought of everything. I couldn't be happier with my experience here. Also, the photography by Russ and his assistant Rachel was just lovely. Russ and his whole staff are truly great. I am so grateful for my wedding experience at the Secret Garden!

Meg S.

Married on 09/04/2020

It's not the location - it's the people

My wedding on 9/4/20 was held at this venue and I would like to share details about my experience in regard to experienced issues with the service provided. Upon arriving at the venue, I noticed that my bouquets and corsages were all incorrect despite the 1-year planning for how they would appear; bouquets presented were not what was agreed upon in terms of flower use and themes for each bouquet as well as customized corsages for our grandparents were never provided/made. Family photos were completely rushed, despite having plenty of allotted time, as well as several family members were locked out of family photos. Members of our family and wedding party were not permitted to interact with my husband and I during dinner due to the venue valuing a private dinner for the newlyweds despite this never being a request from my husband or I. This created obstacles for my bridal party needing to obtain makeup for touch ups as well as trying to grab items for me (such as makeup for my own touch ups, a handheld fan as well as items I had hoped to take photos with). In addition, family members were stopped from attempting to try to come say hello to my husband and I, which included the mother of the bride and a 4-year-old cousin. I witnessed the venue gaining phone numbers from two guests, and later discussed via text opinions of the wedding, despite these individuals being absent from the signed contact/had no financial engagements with the event. Once returning home with the items that the venue packed up and sent me home with, I discovered that a sentimental cake cutting knife as well as our cake topper were missing. We are not able to replace these items due to the rarity of them. In summation, added stressors occurred as a result of these obstacles experienced on the day of my wedding at this particular venue.



A Secret Garden's reply:

Meg, I want to take the moment to apologize for not responding sooner. I would like to address two items.
I was not made aware of your missing cake topper and knife until your post. I wish you would have reached out directly to me once you noticed them missing as I would have: 1. Looked for the items. 2. Let you know that they are not in our possession.
The other item I would like to address is your overall feedback. It is always my intention that brides have the wedding of their dreams. I am sorry if you feel I fell short of this goal. I wish you would have called, right after the wedding, to discuss. Feedback (positive and negative) is extremely important to me. Again, thank you for your (and other's) feedback. I am taking it to heart and using this opportunity to reflect and learn to do better. I wish you all the best.

Regan L.

Married on 10/01/2016

Move on, don't set yourself up

This business owner disputes his bad reviews - please dig and find the legitimate reviews and skip this venue during your wedding search! I'm sure he'll have some unprofessional response or lie in response to my review.

2016 he double booked our wedding date, tried to push us to have a Sunday wedding instead, we declined and requested a refund, he tried to refuse even though the error was on him, we got an attorney to draw up a letter stating essentially that we would sue if we didn't get our $3K back, he finally mailed us a check weeks later, then THREATENED me that he would sue me for slander if I left any bad reviews. It's not slander if it's all true. Not to mention he just has a terrible unprofessional attitude. It's his way or the highway. He pushed his vendors on you, who by the way never refunded us any of our deposits when we canceled arrangements with the venue (again due to venue error). So they have about as much decency as Russ.

I never reviewed in the past because I didn't want the additional stress and needed to focus on replanning my wedding from the ground up.

People are speaking out, he can't suppress and bullying everyone anymore. Please if you've had a bad experience here speak up and save future couples the headache!