466 Reviews
Recommended by 99% of couples
Quality of service

4.9 out of 5 rating

Average response time

4.9 out of 5 rating

Professionalism

4.9 out of 5 rating

Value

4.9 out of 5 rating

Flexibility

5 out of 5 rating
49 User photos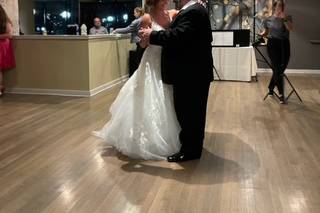 + 45

photos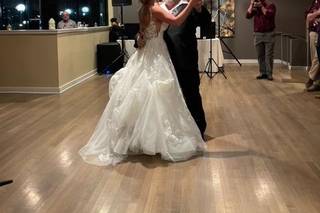 Grace

Married on 05/13/2023

5 star dj!

My husband and I have nothing but great things to say about A Personal Touch DJ and Joe B! He was such a great asset for our wedding day making sure everything ran smoothly and that everyone was having a blast. We got so many compliments on him from our bridal party and our guests! Everyone had such a great time, including myself and my husband! About halfway through the dance party my husband COMPLETELY changed the music choices/genre we had originally sent in to Joe. Joe handled it like a pro, made the changes, and kept the party alive! We definitely recommend APT and Joe for all of your DJ needs. Book them now!!!

Savannah S.

Married on 05/12/2023

Highly recommend A Personal Touch for your DJ needs!

I could not say enough good things about A Personal Touch. They made sure to call multiple times leading up to the wedding to make sure they had everything correct for our wedding day so that there was no stress which was amazing. We had Jeff as the DJ at our wedding and he killed it!! Everything was done perfectly and timely and he kept the dance floor packed all night. Definitely recommend this DJ company, you will not be disappointed!

Ginger S.

Married on 05/12/2023

The best DJ Services

Highly highly recommend! They were so easy to work and even made last minute adjustments for us. We loved the music and everyone else did too!! Can't thank them enough! We had Lil Joe as our DJ and he was so nice and professional!!

Are you interested?

Send a message

William

Married on 04/29/2023

Great DJ! Cannot recommend enouch

A Personal Touch was a truly great DJ company to work with! Our wedding reception was perfect and Lil Joe was a huge part in making that happen. The entire night the dance floor was packed thanks to Lil Joe, who played a perfect mix of fun, party songs and romantic songs to keep all the guests happy. He played the majority of the songs on our playlist but kept the guests happy with requests without letting anyone take over the music. Truly a great service. 10/10, cannot recommend enough.

Paige M.

Married on 04/28/2023

Amazing job

Did not disappoint in at all. People danced all night and we had the best time with Jared. We also had uplighting and photobooth which were great touches as well.

Kayleigh G.

Married on 04/01/2023

Amazing!! Totally worth it!

Personal Touch DJ was absolutely amazing! Lil Joe was our DJ and he totally set the vibe for our wedding and we couldn't have asked for anything better! So many of our guests came up to us during the wedding saying how awesome he was and we totally agree with them!

Dallas V.

Married on 03/24/2023

The Best Decision Ever

It was such a pleasure to have A Personal Touch at our wedding! Matty, Joe, and Jeff stayed in constant communication with each other, and ourselves, throughout the whole planning process. They are super personable and made planning our music easy. Jeff was our DJ and was amazing! He asked questions to make sure he pronounced names correctly, confirm the order of events, etc. Jeff played all of our "must-have" songs and found the perfect mix of music based on our selection to keep the dance floor entertained all night. We couldn't be happier to have worked with this awesome group of people!

Nikole L.

Married on 03/24/2023

Wedding DJ

It was an absolutely pleasure working along side A Personal Touch for our Wedding! The various emails between Matty and Lil Joe (he was our DJ), they both made everything go so smoothly! As far as Lil Joe, he kept our dance floor popping the whole night and that is exactly what we wanted. He was definitely good at watching the crowd because as soon as he saw the older group leaving, he switched the atmosphere to fit the younger crowd! He did forget a couple very minor things. He forgot to do my husbands grandfathers blessing before dinner, but he realized it almost right away and we did it right after dinner. He also forgot the bouquet toss, but that also was not a big part of the reception anyways. These little things that did go wrong, no one knew except my husband and I. I cant recommend A Personal Touch and Lil Joe enough! 10/10

Jessica L.

Married on 02/24/2023

Passionate about performance

Jeff was an absolute blast. He listened, he understood, and he really wanted to make sure our day was perfect with the announcements, music and speeches. Sound equipment was perfect and never once cut out.
We couldn't have asked for better! We appreciated all his hard work!

Dave Z.

Married on 12/31/2022

What a Special Crew!

We hired A Personal Touch! for our NYE wedding a few weeks ago, and they were incredible. Their communication was top-notch. They go through all the questions you can think of to ensure you feel ready to go on your big day. Joe made us feel comfortable and talked us through the details of the day. Then the day came… and Jeff lit it up! He dealt with some changes we had to make on the fly (sorry, Jeff!) without any trouble. The ceremony was fantastic, and his transition to cocktail hour and then to the reception was effortless. Jeff even pulled us aside to show us what countdown songs he had for the new year, which helped us embrace that moment even more.
On top of that, he had people on the dance floor the entire night! His energy and love for his job were evident. We were thrilled with everything they did for us. Thank you again- A Personal Touch!

B Maszk

Married on 12/12/2022

Holiday Party

A Personal Touch and DJ Little Joe did an amazing job at our Holiday Party. In fact this was a repeat booking. Arrived early and was all set up and ready to go by the time the first guest showed up. Great at reading the room.

Gabrielle M.

Married on 12/03/2022

A night to remember thanks to them!!

WOW! A Personal Touch was amazing to work with. GARY! He is your guy!! We have nothing but good things to say about him. He made everything run so smoothly and made sure we were okay with everything before getting the night going. He was the life of the party and brought everyone to the dance floor! He was interactive with our guest and wanted everyone to have the best night. He made the entrance for my ceremony very special for me and my husband! Not only did we hire them for music, but for the photo booth and that was a huge hit! We would recommend this company and especially Gary to anyone!!

Adam L.

Married on 11/12/2022

A Perfect DJ experience!

We couldn't have had a better experience with A Personal Touch for our wedding day! DJ Jon was absolutely amazing. The tools to mark songs as must play, play if possible, and do not play for your event are so helpful. We chose a lot of songs but Jon read the room so well and knew what to play when. A truly awesome experience. While our venue had some issues letting Jon hook into their speaker system, he came prepared with an extra speaker for cocktail hour and made it work great. Our guests raved about the music and our dance floor was full all night. We couldn't have asked for more!

Miranda S.

Married on 11/04/2022

Jeff was amazing!!

Wow! Our dance floor was PACKED the entire night! Everyone had a blast and even heard we had the best wedding our friends have ever been to. I picked a ton of songs for Jeff to play, and he played them in the perfect order! Always read the room to see what style music needed to play! Highly recommend A Personal Touch! I wish we could replay the night over and over again!

Amanda S.

Married on 10/22/2022

Fantastic service absolutely recommend!

DJ Tony Mull was amazing!! We had a wonderful experience. We had a phone conference with him prior to the big day to make sure we had everything all set. He also allowed us to text him with any special requests or changes! He did an awesome job playing music that kept people on our dance floor all night long! He provided a photo booth with props and all! He even took pictures/ videos of the ceremony and shared it with us which is super awesome, especially if you don't plan to have a videographer! He was fun, personable, and helped hype up our event!! We highly recommend this fun DJ!!! LOVED IT!!

+ 12

photos

Ashley T.

Married on 10/22/2022

The most fun we've had at a wedding!

We hired A Personal Touch DJ for our wedding in Delavan in October and we couldn't have been happier with our choice! We got so lucky to have Joel as our DJ! Leading up to our wedding, Matty and Lil Joe were incredibly helpful, we had a site to write out all of our requests and timeline, which made it so easy and they were really communicative about deadlines. We had a special mash up of songs for the Groom and Mother dance and it turned out awesome! We also had cafe lighting from Matty, which turned out so cool! We were so grateful we got Joel as our DJ! He called us the week of the wedding to confirm final details and he really seemed to enjoy being our DJ! Our guests were on the dance floor the whole night and we heard so many compliments about Joel after our wedding. The music he played was perfect and you could tell he had so much fun, he was very observant of what guests were dancing to and made sure every song was a hit! Such a genuine and fun DJ, he even got on the dance floor and sang along with our guests. People said it was the most fun they've had at a wedding, which speaks so highly of Joel helping us keep the party going. We could not have dreamed for a better DJ, our whole experience with the team was phenomenal! When people ask my favorite part of the wedding, it was absolutely the dancing! Thank you Joel, Matty, and Lil Joe!

Dustin F.

Married on 10/22/2022

Ask for DJ Tony

DJ Tony was nothing short of amazing. He was very communicative and gathered as much details before our wedding day. On the wedding day he was early to ensure he had more than enough time to be set up. During the ceremony his transitions between the songs (we had three) were great. He even took some videos and pictures for us too. During the rest of the night, he killed it. He knew what type of atmosphere we wanted and gave it to us. At any given point we had 30-40 people on the dance floor. He made all the announcements and got everyone hyped up. No one wanted it to end including him. I believe he was the key component for making our night magical. No wonder why A Personal Touch DJ is Milwaukee's best DJ service. I recommend this company over and over. They are worth it. ASK FOR DJ TONY, you will not be disappointed!!!!!

Larry L.

Married on 10/22/2022

Personal Touch DJ's

Matty, lil Joe, & Jeff were amazing! The process was seamless, there was an awesome online tool to pick music and organize your day. Jeff made our night unforgettable & got everyone out on the dance floor. Thank you for an incredible evening, highly recommend, they'll go over & beyond for you!

Larry L.

Married on 10/22/2022

Magical evening

Matty, lil Joe, & Jeff were amazing! The process was seamless, there was an awesome online tool to pick music and organize your day. Jeff made our night unforgettable & for everyone out on the dance floor. Thank you for an incredible evening, highly recommend, they'll go over & beyond for you!

Erin U.

Married on 10/21/2022

Great experience

We had such a wonderful time working with this company. We loved the ease of the online portal, it made the DJ portion of wedding planning a little less hectic. We also picked a few songs that weren't in their library and they had no problem getting them for us! We had Jared as our DJ and he was amazing! He checked in with us throughout the night which was great. Would recommend this company to anyone!

Maxy G.

Married on 10/21/2022

Whatta Man!

Jeff was amazing! My sisters speech referenced several salt n peppa songs and without even prompting when she finished speaking he smoothly played "whatta man." Everyone figured it was scripted it was so perfect. Honestly they were our favorite vendor to work with. Always easy to communicate and helped put us at ease throughout the entire process. Highly recommend!

Jason A.

Married on 10/15/2022

Amazing DJ with Awesome Online Portal

A Personal Touch DJ's and specifically the DJ we were assigned for our wedding, Tyler, were phenomenal. They were very easy to work with.

The company called us several times to arrange exactly what we wanted. It was very easy to choose songs from their online portal, which was a great feature and made making playlists easy.

Our DJ Tyler called us a few days prior to the wedding to go over all the final details.

On the big day they arrived on time and had all the equipment required. They also supplied the microphone and speakers for our officiant for the outdoor ceremony.

They made our special day fantastic.

Thank you to Tyler and the whole company.

Dawson S.

Married on 10/01/2022

Simply the Best for our Wedding!

We were beyond thrilled with DJ Jon from A Personal Touch. He simply was the best DJ we could have ever asked for on our big day. From being able to interact with our guests to get them out on the dance floor to making sure everyone was having an excellent time. DJ Jon was able to read the dance floor if a song was not doing so hot and was able to transition all songs smoothly to make sure we all were dancing. Outside of being a DJ, Jon even came over to the both of us and asked us if there was anything that he could get for us from drinks to food. That in my eyes is someone who EXCELS at doing their job and simply going above and beyond. DJ Jon - You are the best and I wish everyone could have you as a DJ at their wedding!

Kate O.

Married on 09/24/2022

Gary Daggett = 6 Stars, Excellent Experience

We recommend Gary Daggett to anyone! Not only did Gary do an excellent job MCing our wedding, but he brought such great energy. He is charismatic and so nice to work with. He could read the room so well and managed a large party expertly. If we have another large event in the Milwaukee area, we will definitely be contacting DJ Gary from Personal Touch DJ Services.
The communication from all personnel from Personal Touch DJ services was excellent, we were contacted many times up to the event and they provided great resources to help us plan our event.


Jennifer C.

Married on 09/24/2022

Incredible experience!

Everyone we dealt with at Personal Touch was so helpful and made the planning process extremely simple. Randal was our DJ and he was absolutely amazing! He was very interactive and kept our guests engaged for speeches, special dances and for the entire night on the dance floor. We opted for a closed photo booth, the attendant was very engaging and our guests loved that addition to the wedding. They definitely exceeded all of our expectations!!
Are you interested?
Send a message