A Party's Favorite Entertainment Reviews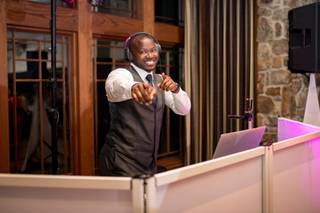 A Party's Favorite Entertainment
Roanoke, VA
View more information
40 Reviews
Recommended by 97% of couples
Quality of service

Rating 4.9 out of 5

Average response time

Rating 4.7 out of 5

Professionalism

Rating 4.9 out of 5

Value

Rating 4.9 out of 5

Flexibility

Rating 4.9 out of 5
20 User photos
+ 16

photos
Jessica C.

Getting married on 12/10/2021

Amazing wedding dj!

Tyrone was incredible to work with and he played all of our requested songs, the lighting and setup was personalized to us! He has worked with so many other vendors so he was able to have a great relationship with everyone else we booked for our wedding! Everyone said it was the wedding of the year!!

A Party's Favorite Entertainment's reply:

Thank you so much! It was such a beautiful and fun wedding. Truly felt like I was the DJ for a celebrity wedding.

Stephanie R.

Married on 05/29/2021

The most perfect wedding DJ ever

I struggled finding a DJ that seemed fun, easy to work with, responsive, professional, and would help our reception flow well. I really hit the jackpot when I found A Partys Favorite Entertainment! Tyrone helped me out with music selections and really helped keep our dance floor popping at the reception! If I were to plan my wedding again, I would pick A Partys Favorite Entertainment every time.

Kristen K.

Married on 04/17/2021

Fantastic DJ

Tyrone was nothing short of exceptional! When we booked him, at the height of COVID, he assured us of his flexibility should anything need to be adjusted for our wedding day. We were unsure of the specifics of our ceremony, cocktail hour, and reception until a few days prior to our wedding and he rolled with everything like the professional that he is. At the wedding, he was the life of the party! He got all of our guests up and moving and he listened to our music requests for our dances and special moments. We couldn't be happier with everything that he did for us to help us enjoy our wedding day!

Gladys G.

Married on 11/14/2020

i couldnt be this happy

Met tyrone 3 times and all the times he was kind to me so i choose to book him do DJ my wedding. i cant not wait for my wedding day and dance all night.

Rebecca M.

Married on 11/07/2020

Fantastic!

Tyrone was our DJ and he just could not have been better. Such a nice guy. He responded almost immediately to emails, he sent us a wedding "worksheet" to fill out with our preferences (and this also really helped us think through what we want the timeline to be like). We discussed the kind of music we wanted and he delivered. Excellent price and amazing service. I just didn't have to worry about anything on my wedding day with this DJ. I highly, highly recommend!! Thank you, Tyrone!

Jenny T.

Married on 11/07/2020

Wonderful exactly as I asked!!! Couldn't be happier!!!!! A++++

We booked Tyrone for our wedding before all this covid mess. Our contract had expired in May 2020 but without hesitation he agreed to re-book our wedding for November under the same terms even though his business had changed their packages & pricing. I provided precise instructions such as, start this song one minute in etc. I gave Tyrone the specifics and he executed perfectly!!! I mean spot on!!! He was very persuasive when it was time for the guests to catch my bouquet or the garter highly encouraging guests to participate which makes a big difference!!!! The song transitions flowed absolutely on point to slide into the next song. He mixed the music up I gave him to the point we didnt leave the dance floor for 3 hours. My hair was nearly matted and we were all covered in sweat!!! Now that's what I call a good time!!! Oh and we had a very small wedding and only expected a handful of people to stay for dancing, Tyrone's expertise with music mixing made the energy feel like we had 50 people on the dance floor!!! HIGHLY RECOMMEND A PARTY's FAVORITE!!!!' Thank you so much for adapting to all the changes and being a wonderful source of entertainment for our wedding reception!! I danced so hard im still recovering from a knee injury 🤭.

A Party's Favorite Entertainment's reply:

No matter the size, we come to party! Thank you for allowing me to be part of your special day. It was a beautiful day and a beautiful night.

Kayla K.

Married on 10/10/2020

P h e n o m e n a l

Tyrone was the absolute BEST. I could not even imagine our wedding being more perfect than it was. He was so patient with me, even after having to ask me the same question 50 times because I get so easily distracted and forgot to respond. He helped me pick the perfect songs for the ceremony and he was phenomenal with the reception! I gave him full control over the reception and said I wanted fun music for everyone to dance to. He did not disappoint for a second. Everyone in attendance is still raving about him and how fun he was! I cannot say enough good things about Tyrone and APFE!

+ 4

photos

A Party's Favorite Entertainment's reply:

You and your guests were amazing! I appreciate you having me be a part of your wedding. There was a lot of great energy passed around the dance floor.

Aja

Married on 08/20/2020

Best DJ Ever

Tyrone was AWESOME! From
The moment we met, Tyrone was very attentive to our needs & requests. He took time to understand the completed worksheet and reviewed prior to the wedding. He was very accommodating with last minute changes. Tyrone also jumped right in to lead when we were all too drunk to remember how to do the electric slide, to get our guests back on track & dance floor going again. All in All, we had a perfect experience & couldn't ask for a better DJ. Look no further and call to book Tyrone today!

Christina H.

Married on 07/18/2020

Very well pleased.

Tyrone was awesome! Very flexible with our unexpected chaotic timeline due to covid and very easy to work with.

A Party's Favorite Entertainment's reply:

Thank you! It was so much fun with everything going on. Much needed. I'm glad we could make it happen.

Alton W.

Married on 11/09/2019

Great DJ to work with!

Tyrone was so amazing to work with! We had a very detailed and specific vision for our reception, and Tyrone executed it perfectly. He was so easy to work with and a lot of fun. I would definitely recommend Tyrone for anyone getting married in the Roanoke, VA area!

Kristin N.

Married on 10/13/2019

Wedding DJ

We hired Tyrone for our wedding in October. We had no real vision in mind and gave Tyrone an open stage to work the crowd as he saw fit. We couldn't have been happier with the selection he chose and his ability to get people to the dance floor. He was very easy to work with and answered all of our questions very quickly.

A Party's Favorite Entertainment's reply:

Thank you, it was a pleasure to be part of your wedding! Your feedback is appreciated to help improve services for the future.

Michael

Married on 10/12/2019

Very Professional and Easy To Work With

Tyrone was fantastic! He was great at reading the crowd and keeping the party going. He was flexible and able to work around any last minute changes we had to make. I highly recommend Tyrone to anyone and would definetly use him again.

A Party's Favorite Entertainment's reply:

Thank you, it was a pleasure to be part of your wedding! Your feedback is appreciated to help improve services for the future.

Nic G.

Married on 10/11/2019

Mountain wedding

Tyrone did a great job with our mountain wedding from having to run back and forth to get everything perfect for our ceremony to an amazing reception. If there were troubles we didn't know about them, we have been to a few wedding with dj complications but with Tyrone we didn't even notice. He did a great job and we really appreciated his company!

A Party's Favorite Entertainment's reply:

Thank you, it was a pleasure to be part of your wedding! Your feedback is appreciated to help improve services for the future.

Marci P.

Married on 10/05/2019

Amazing experience

Had the best experience. Would recommend to anyone who needs a DJ for any event.

Mike

Married on 09/21/2019

Awesome DJ

Tyrone was incredible, so accommodating and patient with all of our requests and figuring out how to expertly DJ for all parts of our wedding. He even danced with my wife's niece and the rest of us at the reception! Took the time to come to the rehearsal in advance to make sure everything went perfect for our big day. He even figured out an exit for us when we didn't have one planned. Would highly recommend for any couple's wedding.

D'lesha L.

Married on 07/27/2019

He was exactly what we needed.

The music was always great. He did exactly what was asked and more. Thank you for a great experience!

Kelly K.

Married on 07/06/2019

A Daytime Reception with a Nighttime Vibe

Tyrone was an amazing DJ and vendor for our wedding. He took into account all that we wanted while still adding his own flair. From the ceremony sound and music to getting the crowd to dance, A Party's Favorite Entertainment is able to take an early afternoon wedding and turn it into what an evening dance party would be. Thanks for making it such fun time. Our party people loved it!

Roger S.

Married on 06/29/2019

Great DJ and MC Service!

Tyrone did an excellent job DJing and MCing our wedding reception, selecting a great mix of songs based upon our requests and what our guests were enjoying. We really appreciated Tyrone helping make our event a very fun one, and would definitely recommend A Party's Favorite Entertainment to anyone hiring a DJ for their wedding reception.

Jennifer

Married on 06/15/2019

Wonderful Experience

Tyrone did an awesome job. He incorporated all the songs I wanted and read the crowd well. Highly recommend

Kala

Married on 05/25/2019

Such a good tim

Tyrone did an awesome job at my wedding. The music i wanted to be played was played. Any song request that guest had, he was able to play. Everyone had a great time. Would hire again!

Emily

Married on 05/19/2019

Wedding reception? More like dance party.

A party's favorite entertainment was friendly to our budget - which was tight, and we were a little nervous, but we got the bang for our buck and more! We never expected so many of our guests to be drenched in sweat on the dance floor, but Tyrone had us all partying all night long! After a long and stressful wedding day, having a calm, genuine, kind, and TALENTED DJ is exactly what we needed. Smooth transitions, fun lighting, volume just right, and music that fit my very varied crowd. STOP SEARCHING. YOU FOUND YOUR DJ. RIGHT HERE. Don't waste your time, trust me, you will be so glad you went with A Party's Favorite Entertainment!

Richard H.

Married on 05/11/2019

Excellent DJ!

Tyrone was an excellent DJ. He was professional, accommodating, and courteous leading up to the wedding reception and had very reasonable prices. He was a great emcee and had the dance floor packed throughout the reception. He was very easy to work with and followed the play/do-not-play lists plus took requests. Multiple guests were complimentary of him at the end of the night. I would happily recommend him!

Dujuan J.

Married on 04/13/2019

Wedding Use

Our experience with this vendor was 100% top notch!! Everything went smoothly and we have 0 compliants!! Very professional vendor and had great communication back and forth leading up to our wedding!! I'd def recommend them anyone that looking for the best service and a bang for your buck!!

Ashley

Married on 04/13/2019

Wedding DJ

You can't go wrong with this vendor & DJ for your event needs. We used A Party's Favorite Entertainment for our wedding ceremony/reception DJ needs and Tyrone did an awesome job! He was well prepared for our day by providing us a checklist to ensure he was able to meet all of our expectations.
Our interactions specific to our day and during our event were nothing short of professional, friendly, and courteous. He arrived promptly by coming early to ensure all areas were set up and equipped, including providing a small speaker and lapel mic for our pastor to use during the ceremony. His equipment and set up display for our reception had a very nice & clean appearance, displaying a nice multi-colored light ambiance for our guests.
Totally exceeded our expectations for our day. We couldn't have asked for a better outcome. We are forever thankful!

Shea R.

Married on 03/09/2019

Amazing Wedding Experience

Tyrone was amazing at working with us to pick songs, making announcements, and playing fun music! Everyone loved every song he played and was dancing the night away! I would highly recommend A Party's Favorite Entertainment to anyone planning an event. We chose to allow guest song requests and he made sure everyone got a song they loved listening to played.

A Party's Favorite Entertainment's reply:

Thank you so much! I had a great time with your friends and family. I saw some really great dance moves on the dance floor. A great way to celebrate International DJ Day. I wish you two the very best!