133 Reviews
Recommended by 100% of couples
Quality of service

5 out of 5 rating

Average response time

5 out of 5 rating

Professionalism

5 out of 5 rating

Value

5 out of 5 rating

Flexibility

5 out of 5 rating
39 User photos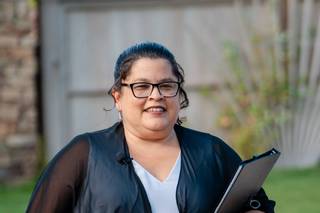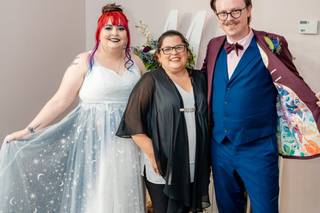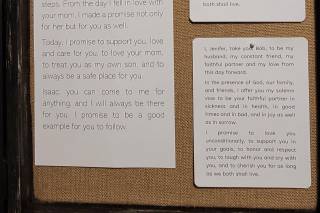 + 35

photos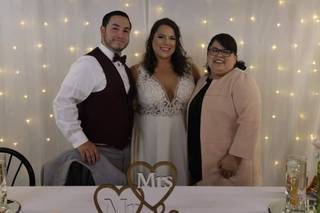 Featured

Taylor C.

Married on 07/18/2020

Love love love! Hire trina!

We hired Trina Tyler for our wedding in Oct, 2022. My husband and I loved working with Trina!!! From the get go we knew she was a great choice, she is so fun, energetic, and can handle anything thrown at her. Which was perfect for our crew (mostly 20 something year olds) !! Trina let us help write and select every aspect of our ceremony, and make sure that it felt like us. Trina also checked in with me many many times throughout the year before our wedding. Offering to help get me some vendor names and make sure I was on track with things like the marriage license. We really wanted someone who had the ability to speak with such impact, someone who was just a great natural speaker with emotion and emphasis in all the right places. And Trina was it! When Trina did our ceremony, it felt like she had known us for years, like she was family! I even had people compliment our officiant days later on how well she spoke and how lovely the ceremony was. Overall, I would recommend Trina to everyone for any wedding. She's amazing at what she does!❤️

Teresa C.

Married on 10/01/2022

Five stars all over the place…

Trina was absolutely incredible. From the initial phone call to hugging her goodbye at the wedding we could not have asked for better service. She made the whole ceremony and license process easy and stress free. She made sure my wife and I were comfortable with every second of the ceremony. Her humor was refreshing (seriously, she is hilarious) and her heart is huge. She felt like family by the time the wedding day rolled around. Five stars all over the place.

A Heartfelt Ceremony's reply:

Absolutely honored and loved being part of your beautiful wedding!!! Thank you both so much for the love and friendship!

Courtney

Married on 09/17/2022

What an MVP

What can I say about Trina? She has the most positive attitude and is incredibly well prepared.

Trina makes crafting a ceremony easy, she has a book with religious and non-religious readings and takes you through step by step in building each section of a ceremony.

My husband and I were able to pick pieces from multiple readings and Trina helped put them together to have a great flow.

Trina truly made our ceremony everything we could have wanted, and I can not give her high enough praise. You will not go wrong booking with Trina or anyone on her team.

A Heartfelt Ceremony's reply:

Courtney - - I loved your wedding so much! The two of you are such wonderful people and I am so honored that I was able to be part of your beautiful and exciting day!!!

Are you interested?

Send a message

Haley A.

Married on 09/03/2022

The Efficient Officiant

She was incredibly organized. She made an efficient use of our time. We loved the binders she had with options on how the ceremony could go, this allowed me and my Wife to discuss options on the ceremony while also not stressing out to come up with every detail. Options ranged from secular to religious. I want to leave a good review so I am even refraining from making the joke I look forward to using her in the next wedding. After 1 meeting we had discussed the ceremony and there was no further hassle of meetings or decisions to be made. Absolutely wonderful.

A Heartfelt Ceremony's reply:

If ever there were two people who were meant for each other, it's the two of you! I truly loved being part of your amazing wedding!

Elizabeth O.

Married on 08/03/2022

The ceremony of my dreams

The way we were able to completely customize our ceremony to our liking was so special. Denise did an amazing job having to fill in last minute and couldn't have asked for more. Trina set up everything. Everything was very professionally done and felt personally. We felt so comfortable and relaxed with their whole process and highly recommend.

A Heartfelt Ceremony's reply:

Elizabeth, we loved being included in your special day!

Throughout the entire process, both Denise and I felt like family! Thank you from the bottom of our hearts!

Ministers Trina and Denise

Christy

Married on 06/05/2022

Trina Tyler is AMAZING!

I hired Trina Tyler to be our officiant for my daughter's wedding (she was referred by someone I know). We had our initial meeting over the weekend in Wichita, KS (we live there), and she customized the ceremony with my daughter (Arynn) and her fiancé. We were so impressed on how organized and easy, she made it, to customize their wedding! It was tailored just for them. We were planning the wedding ourselves, and Trina shared some great tips on how to ensure Arynn's special day went smoothly.

On the day of the wedding, Trina showed up early and was helping us out with whatever we needed, in order to get ready for the ceremony. She did a phenomenal job at the ceremony, and she even shared a special message with the couple that meant so much to them (and us)! I highly recommend Trina to anyone! She's very professional (but fun at the same time), and it's very affordable for her service! You won't be disappointed!

Dani R.

Married on 06/04/2022

Trina Tyler was our officiant for our wedding

Trina Tyler was AMAZING to work with! She was highly recommended by a friend of ours and I can see why! The process she provides for making sure your wedding day is just how you imagined it was so smooth and easy, and really took that pressure off of both my husband and myself. During the rehearsal and wedding day, Trina is so attentive and so well organized that I never once felt stressed the whole weekend! I highly recommend her!!

Jenifer H.

Married on 04/24/2022

Very personalized, thorough and caring

We had no idea how much went in to officiating a wedding!!! From the very first meeting Trina showed passion, organization and professionalism! Our wedding would not have been the same without her.
Being able to personalize every detail of our ceremony and talk through the process with Trina beforehand not only made me feel more organized in ways I didn't know I needed, but also allowed us to include things that were important to each of us and our values.
I felt a little lost in wedding planning before Trina came in to the picture. She made our day so special and recommend A Heartfelt Ceremony to everyone!!


A Heartfelt Ceremony's reply:

Jenifer, you were absolutely amazing!! I loved all of the special details you put into you ceremony and reception! It was truly an awesome day!

Peyton T.

Married on 04/09/2022

Can not say enough amazing things about Trina!

Trina is an absolutely amazing person and we were so lucky to have her officiate our ceremony! For starters, we reached out to her pretty last minute, and she was so kind to take us on on short notice. From the first email to our wedding day, she was an absolute joy to work with! We were completely blown away by all the hard work she put into making her ceremony guide, and we were just so impressed by how easy she made everything for us! She truly wants your ceremony to be perfect for YOU and has so many great ideas for how to customize each aspect of the ceremony to be exactly how you want it to be. Talking to her always felt like talking to an old friend, and we truly could not say enough great things about Trina. Wedding planning can be hectic but Trina has this natural ability of bringing joy into everything she does and we appreciated that and her so much! She is so knowledgeable and was happy to answer any question we had even if it wasn't about the ceremony. In addition to her amazing ceremony guide, she has a name change guide that was a complete lifesaver, and she made us thoughtful keepsakes that we'll cherish for the years to come. Our special day wouldn't have been complete without her, and we're so grateful she was a part of it! Our family and friends all had such great things to say about her, too! We would absolutely recommend her to anyone and everyone!

A Heartfelt Ceremony's reply:

Peyton!
Your wedding day was so amazing! Thank you and your family for making me feel like a family member! I truly appreciate the honor of being there for the two of you!

Ruthie G.

Married on 11/20/2021

Trina made our day go PERFECTLY!!

There truly are not enough words to express how awesome Trina was. She made our day go perfectly. I can't thank her enough for making us feel so loved on our special day and taking the time to get to know us so closely! She has the best personality and brought such warmth to our special day. I highly recommend using Trina for your wedding day! You will not be disappointed!

A Heartfelt Ceremony's reply:

Ruthie - I absolutely loved your wedding day. So much love between you and Kolton. Sometimes, I meet couples that just make a mark in my world, and you two did just that. I'm a much better person for knowing the two of you, your families, and your friends. Much love to you both!

Melody

Married on 10/23/2021

Nothing short of amazing, more than I could have ever asked for, and the utmost helpful and amazing officiant EVER. A MUST HAVE

A Heartfelt Ceremony was the most AMAZING officiant ever! I have two friends who were in the party that are getting married and were going to have family do their ceremonies but are now going to try and book with Trina! She helped smooth out the hiccups that came up, made TWO rehearsals the day of run smoothly as can be. She made the ceremony exactly what we wanted including surprise vows to my bonus kiddos! She was an amazing person to work with and even has the MOST helpful guide to change my name after the fact and is taking care of filling out and mailing in the marriage license for us, and even cards with the vows for us as keep sakes! I will ALWAYS recommend A Heartfelt Ceremony for any officiants for ANY kind of wedding, they are so forward moving and inclusive. I obviously cannot say enough but 100000% would recommend and we will be asking her back for our vow renewals!!

A Heartfelt Ceremony's reply:

Melody!!
Your wedding was so special. I think I am the lucky one here as your family and friends welcomed me with open arms. I loved the surprise vows! I had to hide those tears from falling! Congratulations to you both!

Sammie V.

Married on 10/22/2021

delightful

Trina was fantastic and knew just what to say!

Julie D.

Married on 10/16/2021

More than just an officiant!

Trina is incredibly thorough from start to finish. We completely customized our ceremony with her. We felt at ease knowing that she had several back up officiants that could step in at the last minute if needed. She's genuine, thoughtful, easy to contact, and so personable! You can tell she's been doing this for a while! She also assisted us with our wedding programs. Did I mention that she's funny too? And brides, she provides a packet to assist you with the name changing process and it is incredibly helpful!

A Heartfelt Ceremony's reply:

Julie! You and Dom are such an amazing couple! I loved your wedding day - you were absolutely stunning! So honored to have been part of your special day! Thank you!

Melissa R.

Married on 10/10/2021

100% Recommend

We had Trina as our officiant and she was absolutely amazing. Stop right now and hire her to be your officiant. She went above and beyond our expectations!!

A Heartfelt Ceremony's reply:

Melissa!
Your day was so amazing! I am truly honored that I was able to be part of your wedding!
Thank you!

Maria L.

Married on 10/02/2021

Trina is the best! You can tell she really truly cares about her couples!

I loved that we picked our ceremony piece by piece! It made for such a special day! Trina also has that big boss lady energy and she takes the stress work out of EVERYTHING. She had suggestions on how to walk, who walks who, she even makes sure she's not in the photo for your first kiss. I mean honestly, she rocks. I feel like she's part of the reason my day went so smooth. Plus… she's got the BEST officiant voice ever. We love you Trina thank you so much for making our day easy and wonderful.

A Heartfelt Ceremony's reply:

Maria!!
The two of you made my day! I love the way you and Alex, as well as your family and friends, made me feel like family! What an amazing wedding day!

Heather W.

Married on 09/11/2021

The reviews don't lie!

Holy crap Trina I'm not sure where to start! This woman is phenomenal you give her a short description and she knows exactly what you need and how you need it! She's brilliant! The way we were able to customize our ceremony was perfection! Do not think twice just do it I promise you won't regret it!

Thank you Trina for making our day so much more special!

Chelsey M.

Married on 09/07/2021

Fantastic day

Trina and Denise were amazing. They both made us feel so comfortable on our day. They made everything personalized to fit exactly what we wanted for us. Couldn't recommend them more! Go with A Heartfelt Ceremony ♥ you can't go wrong with these 2!

A Heartfelt Ceremony's reply:

Chelsey:
Denise and I loved working with you! Thank you for making us feel special. Your wedding was perfect!

Kourtney B.

Married on 09/04/2021

Could not recommend enough!

Denise with A Heartfelt Ceremony was absolutely wonderful to work with and did amazing during our ceremony! We received compliments all night from guests and other vendors about Denise and how well she did. We couldn't have asked for a better officiant.

Sierra V.

Married on 09/01/2021

Fantastic!

Coming into our wedding my husband and I had not clue what kind of ceremony we wanted. Trina did an excellent job helping us customize our ceremony to fit us!

A Heartfelt Ceremony's reply:

Sierra!
Your wedding day was one I will never forget! Both families made me feel right at home. I loved being part of something so special!
.....Trina.....

Rebekah S.

Married on 06/26/2021

Way beyond what I hoped for. Trina you're amazing!!!!!!!!

Trina was so amazing, professional and so quick to get back with me when I first called her. She made this process so fun for us as a first time bride I had so many worries but Trina was with me every step of the way. She helped us customize our ceremony and vows that fit my husband and I to a tee. I would recommend Trina to any couples out there who truly want a heartfelt ceremony with someone who will be at your side throughout your wonderful journey . Thank you .

A Heartfelt Ceremony's reply:

You and Matt are such an amazing couple! It's wonderful to see two people with that kind of love in their head, heart, and soul!
Thank you for allowing me to be part of your day and for making me feel like family!

Alisha H.

Married on 06/19/2021

Our entire ceremony was personalized!

Trina was able to help us put together the perfect day that focused on every thing that was important to us. It was beautiful!

A Heartfelt Ceremony's reply:

Alisha!
Your wedding was so beautiful. The venue, the decorations, the family and friends......everything was amazing! Thank you so much for allowing me to be part of your special day!

Carrie C.

Married on 06/04/2021

Trina is the best!

Trina made the whole process super easy and fun! She's super organized and gives you
a book with tons of helpful information. She made our ceremony perfect! Lots of options for you to pick and you can customize as much as you want. Pick her! You won't regret it!

A Heartfelt Ceremony's reply:

Such a beautiful wedding for an amazing couple! Thanks for letting me be part of your special day Carrie!

Amanda C.

Married on 04/24/2021

Beautifully individualized wedding experience

Trina did an incredible job of taking the time to get to know us, offer us many customizable options for our dream wedding, and listen to what we wanted. She provided a beautiful ceremony that had nearly all guests in (happy) tears. All of our wedding party was truly smitten with Trina! Her unique and hilarious personality almost stole the show, but I was perfectly fine with that. All jokes aside, I could not have asked for a more prepared, professional, and kind wedding officiant to guide me through my big day. I had many questions leading up to the wedding, and she always got back to me politely and promptly. We're so thankful to have gotten the opportunity to meet her and I could not imagine my wedding experience without her!

A Heartfelt Ceremony's reply:

Amanda!!!

Thank you both so much for making my time with you so wonderful! Your wedding day was one I will always cherish!!!

Trina

Krystal B.

Married on 04/17/2021

Stood in the Rain

Heather stepped in last minute when our chaplain had a family emergency and couldn't make it to our wedding. I am so grateful she was able to meet with us, get our ceremony details in order, and send us the finalized version within a week. We had 6 kids serving as flower girls/ring bearers and Heather let us rehearse as many times as we needed to make sure they all knew what they were doing. The day of we ended up getting drenched in rain. She was a trooper and kept going though it! It was hectic and crazy but I couldn't of picked a better person to help us get through it all. Thank you so much for everything!
1,000% would recommend to anyone!

Sharla M.

Married on 04/03/2021

Beautiful ceremony!

Trina delivered a "heartfelt ceremony". It was so nice to just be in the moment with my hubby to be. Trina was extremely helpful throughout the process from start to finish. Even days after the ceremony, she was there to answer my questions.

Thanks Trina for making our day special! One we will never forget!
Are you interested?
Send a message