317 Reviews
Recommended by 100% of couples
Quality of service

5 out of 5 rating

Average response time

5 out of 5 rating

Professionalism

5 out of 5 rating

Value

5 out of 5 rating

Flexibility

5 out of 5 rating
24 User photos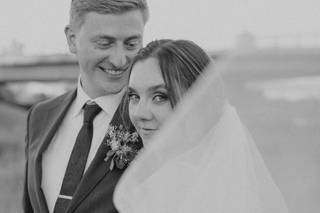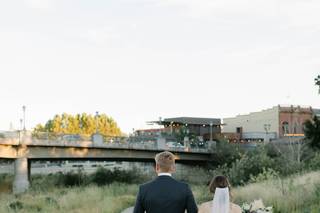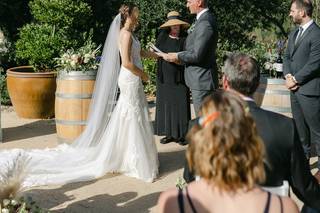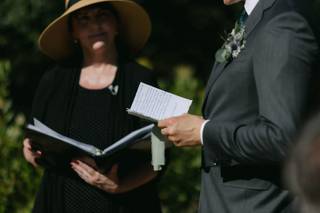 + 20

photos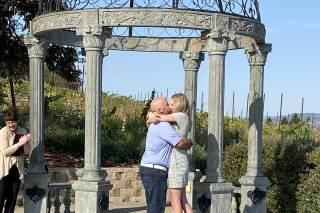 Clair T.

Married on 10/06/2022

Kimberly was the best decision we made for our wedding!

If you are looking for an officiant, look no further! Kimberly was absolutely amazing to work with for our wedding. From the very first call we had with her we felt right at home. She was there to help us with every step along the way and had so much insight and advice that made the wedding planning process so much easier. She is a breath of fresh air to have in your corner as a bride! She really got to know my husband and me and she feels like family now! She delivered the most beautiful ceremony that many of our friends and family are still talking about. I know that even though our wedding is over Kimberly isn't going anywhere. If I had to do it all over again would absolutely hire Kimerbly in a heartbeat!

Holly J.

Married on 08/13/2022

Perfect Experience

Kimberly was fantastic to work with. From the beginning, she was extremely helpful, informative, and well organized. She made what I thought would be a daunting task so easy. Kimberly was extremely responsive and kept me in the loop through the whole process, she even helped us with the photographer and hair / makeup choices being that we weren't from the area. The big day finally arrived, and she was so comfortable and inviting to share our special moment with. I cannot recommend her enough and hope I get to meet her again in the future if we are ever so lucky to attend a wedding in her area in the future.

Bill A.

Married on 06/23/2022

Seamless, stress free

Very well organized and extremely easy to work with. She provided examples of other ceremonies that assisted us on making our ceremony special and memorable. We highly recommend Kimberly.

Are you interested?

Send a message

Bridget C.

Married on 10/17/2021

Kimberly is absolutely amazing! She made the entire process so easy and enjoyable.

Kimberly now feels like family to us! Due to Covid we had more time to get to know her. She made sure to keep in touch during the extra year, making sure we remembered everything we needed to know and that she knew us as a couple.
She provided a wonderful portal of different wedding vows that we could choose from making it super easy. We didn't write our own vows, but with the ones that she provided we were able to piece together vows that were perfect for us and felt super personal.
The day of she was just perfect! A calming, beautiful presence that every bride needs. She spoke so beautifully that many guests commented on how wonderful she was. I would absolutely do it all over again with Kimberly in a heartbeat.

Shelley D.

Married on 10/15/2021

Very knowledgeable and lovely officiant, highly recommended!

Kimberly was definitely a pleasure to work with and she was very helpful in guiding us through the wedding process end-to-end. This included everything from obtaining the license to the writing to the logistics of the entire ceremony. Thank goodness for Kimberly! We also had such a great time chatting on the phone and going through the preparation. She is a great "go to" if you plan on having your special day in the Napa area.

Hannah (.

Married on 10/10/2021

WE LOVE KIMBERLY, The Best Experience in Our Wedding

This is almost 1yr after our wedding (I know, so late for our vendor reviews 😬) but WE LOVE KIMBERLY! Honestly, she's probably 1 of the best decisions of the entire wedding - our entire process with her was amazing & we couldn't recommend her more, everyone needs her on their big day as their officiant! Truly, 1 of the best experiences.

Karl V.

Married on 10/04/2021

15yr Vow Renewal

I surprised my wife with a 15yr vow renewal at the beautiful Meritage Resort and Spa. Kimberly made this surprise simple yet fancy. She helped orchestrate a wonderful surprise and went above and beyond on her duties to make it an unforgettable day. Her personality and passion for her job made it feel like we knew her forever. She made our quaint ceremony personal, loving and special. I would highly recommend Kimberly for any wedding or vow renewal.

Julia A.

Married on 09/01/2021

Amazing memorable beautiful!

Kimberly was so kind and professional. We even had to change the time of our ceremony and she was able to accommodate. I would recommend her to all friends and family!

Sherry M.

Married on 08/25/2021

Perfect Wedding

When my husband and I decided to get married in Napa, while on our vacation, we called Kimberly on a Friday and she performed the ceremony 5 days later. We got married at a winery and she performed the ceremony there. The ceremony was perfect. We were so happy. We recommend Kimberly not only because she was prompt she is professional and you will be happy to have her perform your wedding.

Christina P.

Married on 07/09/2021

I loved having Kimberly as our officiant

Kimberly was such a pleasure to work with during our planning process. I had no idea what I wanted our wedding ceremony to be like and she graciously and patiently walked us through the entire process. She is so sweet and I enjoyed my conversations with her. I wish we could go back in time and do it again!

Hana V.

Married on 06/04/2021

Kim is the best!

I had such an amazing experience with Kimberly. She really takes the time to get to know her brides and has been so helpful in the whole process, we still talk even after the wedding :) she is amazing and i highly recommend her!!

Lauren O.

Married on 05/09/2021

Best Officiant Ever!!!

We appreciated the fact that Kimberly took a lot of time to get to know us before marrying us. It made our day so much more special having this connection. The ENTIRE process from start to finish was seamless! She coached us every step of the way from the paperwork process down to how to light your unity candle in high winds and not look awkward because it won't light (true story). You can tell she has a real passion for what she does, but most of all you can authentically feel her happiness for our love story which spoke deeply to my heart!

Lana S.

Married on 11/21/2020

Kimberly is the officiant you dream about and see in movies.

Kimberly was with us every step of the way. We had an intake call and instantly connected. Kimberly checked all our boxes. The experienced, nurturing, professional, hilarious woman officiant I envisioned when we began our search. Kimberly's approach felt like a safety blanket and she comes with so much knowledge and instruction. There was so much we didn't know going into the logistical process and Kimberly filled all the gaps with us. If hiring Kimberly, be prepared for her full investment in both of you, your journey and outcome of one of the most important days of your life. Kimberly has left an imprint on our hearts, and our families feel the same.

Shannon S.

Married on 11/03/2020

Best Wedding Officiant!

As a Napa and Sonoma Wedding Photographer, I have worked with Kimberly Thompson countless times over the years. Her professionalism and dedication to her clients are unmatched. She goes above and beyond to deliver a meaningful ceremony customized to reflect the unique relationship of the couple.

Aside from her intuitive ability to fine-tune a ceremony, her delivery is articulate and professional. She's an amazing public speaker and knows how to direct the crowd all with a beautiful smile on her face.

Lastly, I personally love working with her since she is kind and flexible. She not only appreciates the art of the wedding ceremony, but the art of photography as well. She is a joy to work with, and I'm always thrilled to see her when I arrive at the ceremony site.

If you're looking for a true professional who is also warm and friendly, look no further!

Nichole D.

Married on 10/10/2020

An Amazing Day and Experience

Kimberly is literally an angel on earth. My husband and I live in NY and we contacted Kimberly right after we booked a trip to Napa. She was so accommodating and helpful in the planning of our elopement. From the first time we spoke I knew Kimberly genuinely wanted us to have the most magical day with as little stress as possible. Kimberly is a one stop shop - she was able to get our marriage license for us through the County, help us secure a venue long with our other vendors. She took care of our marriage license - all we had to do was go pick it up. She gave specific and detailed instructions so we had nothing to worry about when we landed in California. She was in touch with us along the way to make sure everything was absolutely perfect- and it was. She wrote and performed the most beautiful ceremony for us. She helped me stay calm before and during our vows because I was so excited, nervous and emotional. Kimberly has stayed in touch since and truly wishes the best for all of her clients. She goes above and beyond to make your dream a reality.

Joshua P.

Married on 09/12/2020

Thank you with all our heart!

Dear Kimberly,
Thank you so much for helping us have a beautiful wedding ceremony in Half Moon Bay! The way you helped us exchange our vows and say to each other "I do" will always stay in our memory. You provided us with all the right words to express our love for each other and all our friends and family in the best way. We both could really feel you were connecting our hearts. Thank you for your excellent preparation and your very gentle guidance during the ceremony! We are very thankful to have found you and would recommend you to anyone.
With love, warmest thoughts and best wishes
Joshua and Natasha


Hannah R.

Married on 05/15/2020

We Love Kimberly!

My fiancé and I hired Kimberly based on our wedding planners recommendation and immediately new we chose the right person to act as our officiant. She is so personable and kind and worked with us to create the ceremony we felt reflected our relationship style and personalities. Our wedding was originally planned for early April 2020 but due to COVID 19, had to change our plans. Instead of our 75 person wedding at our original venue, we decided to do a civil ceremony with just our immediate family at a local park and Kimberly was, once again, a dream to work with. Her support and expertise were so valuable and made all the difference. In the end, whether you have a big party with tons of people or a small civil ceremony, the one and only vendor every wedding absolutely HAS to have is an officiant and we are SO grateful Kimberly was ours!

Marley M.

Married on 01/04/2020

The BEST officiant!

The most AMAZING wedding officiant EVER! She has performed All of my siblings wedding ceremonies. I am the last one. Her ceremonies are like NO other. Get a true professional that is just like your best friend. We love love you and thank you. Marley & Jared

Jodi V.

Married on 09/05/2019

Fabulous Officiant

Kimberly helped make an out-of-state elopement proceed flawlessly. Even though there was a 3 hour time difference, her communication was always prompt and thorough. She provided detailed instructions to apply for the marriage license since the website was inaccurate, and she included maps and directions to pick up the marriage license. She had many options for wedding ceremonies and we were able to put together a beautiful elopement ceremony. Kimberly also put us in contact with a photographer. Since we are from Michigan, we did not have a rehearsal. The day of the wedding, Kimberly and the photographer gave us suggestions and guided us through every step of the ceremony. The ceremony was beautiful and perfect. We are EXTREMELY happy with our wedding ceremony and the services Kimberly provided.

Steve E.

Married on 08/03/2019

Perfectly planned and executed!!

I was put into contact with Kimberly when I decided to surprise my wife with a 20th Anniversary Vow Renewal at my 50th birthday party in St. Helena. She did a great job of supporting me in all the preparation work and then did a beautiful of conducting the ceremony. There wasn't a dry eye in the house!! I would definitely recommend Kimberly.

Sarah L.

Married on 07/23/2019

Highly Recommend Kimberly!

Kimberly did a fabulous job-start to finish! She shows extreme attention to detail from your first call, until after your wedding day. As a result our wedding turned out beautiful, stress free and a day we will never forget! Additionally she referred us to other wedding vendors that helped make our day special.

Santo C.

Married on 07/12/2019

Costa Wedding

We were so thankful that we chose Kimberly and A Beautiful Ceremony to lead our wedding ceremony. Kimberly was so personable and really took the time to get to know us and learn our story. We are still in contact with Kimberly today months after our wedding and cannot recommend her highly enough to all perspective couples looking for a professional, experienced, caring and warm celebrant.

Nico

Married on 07/06/2019

Truly a beautiful ceremony

Kimberly is awesome. She's very patient, warm and detail oriented. She makes sure every single detail is perfect for us. And she delivered an absolutely beautiful and perfect ceremony. The dogs were part of the ceremony and Kimberly did such a great job incorporated them in the ceremony.

Kylie

Married on 06/29/2019

Flawless Execution!

Kimberly was invaluable throughout the entire process. She made every step easy and painless, from creating the ceremony to getting our marriage license. On top of being a true professional, she is so fun to work with!

J & B.

Married on 06/28/2019

An absolute blessing!

You could not ask for a better day and it was made all the better and easier with the assistance of our wedding officiant. Even though we are situated in Australia, Kimberly organised all relevant documentation, gave essential advice, guided us with processes such as our vows and even though their is a 15+ hour time difference, made herself available for any questions or wedding related topics. We would recommend Kimberly for anyone looking to get married not only in Nappa, (as I think she also does events in various location on request), she is bright, professional, experienced, knows an array or the vendors and other professionals in the area and adapts to short changes as necessary. Kimberly may have started out as our officiant but we now consider her our dear friend and look forward to when our paths meet again.
Are you interested?
Send a message