115 Reviews
Recommended by 97% of couples
Quality of service

4.9 out of 5 rating

Average response time

4.8 out of 5 rating

Professionalism

4.9 out of 5 rating

Value

4.8 out of 5 rating

Flexibility

4.9 out of 5 rating
15 User photos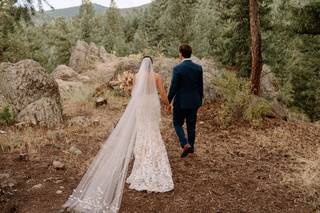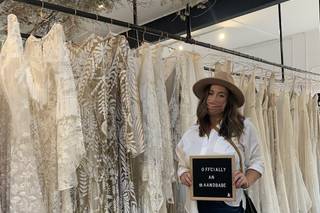 + 11

photos
Katherine W.

Married on 07/06/2022

a&be wedding dress shopping with Savannah

a&be is an amazing store full of women who support future brides! I worked with Savannah to find my perfect dress, and I found it! She was very supportive and positive the entire time. I would recommend this shop to ANY other bride!

Emily W.

Married on 05/07/2022

Thanks, Ava!

I purchased my dress from a&be last week! Ava was amazing to work with. She made me feel super comfortable and truly helped me find my dress. She was personable, knowledgable and has great taste! I was a bit worried of the overall dress shopping experience during COVID, but Ava made it feel like a "normal" appointment, which made me feel super relaxed and I was able to fully enjoy the experience! The most difficult part of the appointment was having choose between all of the beautiful dresses they have available. Thanks again, Ava!

Sarah G.

Married on 08/28/2021

Falling for a dress here is best!

I loved a&bé and said yes to my dress here! Every single person I came in contact with was very kind and excited to see me. They had bouquets to hold with my dress and worked to give me a good experience, even with the restrictions we faced. Ava took my call and was also my consultant. She really gave me a range of dresses I could be interested in. Right off the bat she put me in a gorgeous dress that was unique and fit all of my wants and needs. I ended up doing one other appointment else where to be sure, but I fell in love at a&bé

Are you interested?

Send a message

Breanna G.

Married on 08/27/2021

Wedding Dress Haven!!

If you're looking for a combination of glam, sexiness, and boho in your wedding dress, your search ends here. A&Be has rows and rows of beautiful dress options within the modern/unique style and their staff is absolutely amazing. I had the pleasure of working with Ava who could not have been more incredible. She was knowledgeable, she offered options to help hone in/solidify the style I was looking for and if it weren't for her, I would have overlooked and passed up the dress of my dreams. Not being a size 2 its sometimes hard to envision what the sample dress will look like when it is fit to your body. Ava helped me see past the sample size and I could not be more grateful. I'm soo unbelievably happy with my dress and would recommend a&Be a thousand times over. An added plus is that they are inclusive, support women and give back to so many women-focused organizations. Oh and the store itself is freaking CUTE making for some very instagramable photo-ops of your dress shopping experience.

Diana S.

Married on 08/27/2021

Amazing experience

Beyond thrilled with every step of the bridal experiecne at A&Be. Amazing customer service and follow up. This store has a big range of dresses at great prices.Unlike other stores they are respectful and accommodating with your budget. Found my dress the same day as my appointment while in Colorado vendor scouting. Jackie was helpful without being pushy. Can't wait to go back and shop for accessories since I ran out of time.

Anne

Married on 06/13/2021

Beyond Thrilled!

I had the absolute pleasure of having Beth (Elisabeth) as my dress consultant. I went dress shopping before when we had to cancel (covid) at other places. Walking in and having such an inviting/smiling/energetic person greet me, I knew I was going to be in amazing hands! She really listened to what I wanted and she pulled not only the perfect dress but it was the FIRST one she put me in, I said yes to that one! She is honest about how everything looks and just doesn't "sell you" on something. She took her time and even threw in some curveballs to just show what other options would be that I would never have imagined! Words can even describe what an incredible experience I had, especially with Beth. It was like having your best friend you never knew you needed there to help you find your dress! Thanks again, and I can't wait for other future brides fine their dream dress here!

Lauren W.

Married on 05/22/2021

Stunning dresses & amazing experience

My entire experience at a&bé was incredible.   The dresses and selection are beautiful and Ava made me feel so comfortable like we were already friends.   My first appointment I came in thinking I knew which dress was the ONE.  Ava was so helpful in putting together other dresses for me to try to get a feel for different styles as well, including the dress I ended up purchasing.   Ava never made me feel pressured to purchase anything and provided genuine feedback, suggestions and made me feel so confident.   I am so thrilled to be an #aandbabe now and know I will feel like an absolute goddess in this dress on my wedding day.  Thank you Ava and a&bé!   

Samantha

Married on 09/26/2020

Ava @ A&Be is a Dream!

Both A&Be and their sister store down the street, Anne Be, are both incredible wedding dress shops with a wonderful range of dresses in a variety of styles and silhouettes. I had originally fallen in love with a dress at AnnaBe that was at the top of my budget. And I was not 100% ready to pull the trigger, so my consultant advised me to go down the street to A&Be (their sister store, with a bit of a lower price point) and try a few dresses on to see if any pulled my attention away from the dress I was loving at AnnaBe. A&Be was the 4th store that I shopped at and likely the 50th something dress I tried on, and the difference in quality, genuine service and knowledge at A&Be was obvious and unmatched. My consultant, Ava, was fantastic and was able to quickly hone in on the kind of dress I was looking for. Her knowledge base and ability to communicate and efficiently answer all of my questions with ease was great! Not to mention that her cool, calm and collected personality was just what I needed when shopping alone for my dress. Where I really needed help, and Ava definitely came through, was in the veil department. I wasn't even sure that I wanted a veil, but with Ava's guiding hand, she made it easy for me to make a confident decision on a beautiful veil that matched my Rue De Siene Hayden dress and wedding occasion perfectly. After 2 appointments with Ava, she helped me to feel confident in my decision, and I was ready to purchase my dress and veil. Bonus points - the first dress I liked over at AnnaBe was $5,000 (before tax), and at A&Be, my Hayden Dress + Veil + Tax = less than $5,000 total. The purchasing process was quick, easy and painless. Ava was clear with Rue De Siene's timelines and explaining how they work/partner with the store. The packet of information Ava gave to me when I left included wonderful information like top Wedding Dress Alteration Specialists in the Denver area, next steps/what to expect next in the process, my invoices, and other helpful details. Then recently, I received an email from Ava updating me with the estimated ship date of my dress. When I realized that the estimated ship date was only a few weeks before my wedding, I reached back out to Ava to see if there was anything she could do to bump up the timeline and ease my nerves. Within just a few days, Ava promptly replied to me with the news I was hoping to hear, that she was able to talk to Rue and bump the estimated ship date up a month and change. What awesome service! Throughout this entire process, Ava was able to calm any stress/anxiety I was feeling and made it simple, easy, efficient and most of all fun!

Huge thank to Ava and the A&Be team for their awesome service and fantastic shopping experience!

Hayley H.

Married on 09/26/2020

Cooler than cool

Charming eclectic shop! If you're looking for that gram worthy dress like Rue de Seine- hit this place up.

Alexis K.

Married on 07/18/2020

Dress and Experience of My Dreams

My experience at a&be Bridal Shop was exceptional. Jackie was fantastic at listing to my likes and dislikes and pulling dresses that met my needs. I loved how she pushed me to try on multiple dresses before and after I found "the one". This helped solidify that it was "THE ONE". Overall, the service and experience was fantastic. The shop is beautiful and intimate. I would highly recommend them to any brides-to-be who are looking for their dress. CHEERS!

Jamie L.

Married on 09/28/2019

Supercalifragilisticexpialidocious

This wedding boutique is pure magic! Allie helped me find a dress I'm not only comfortable in, but feel absolutely beautiful in! So grateful for this experience.

Kaitlin

Married on 09/13/2019

Exactly what I needed and more

Ali was great! The dress I bought was a sample they were no longer selling with a great price. After I got my dress back from the tailor I realized the bag had ripped and they gave me a new one no problem!

Alicia O.

Married on 08/17/2019

Wedding dress

Had a great experience here. Found my wedding dress here and my consultant knew what I was looking for. I Would recommend.

Rachel

Married on 07/13/2019

Don't bother going anywhere else! I had an incredible experience at a&bé and I found a gorgeous, perfect-for-me, dress. It should be noted that I wear a 12(ish), and I was worried about fitting into samples, but that was not a problem at all! The dresses were all very unique and look so much more expensive than other wedding dresses I've seen. The accessories are to die for and although my budget was not huge, I left my appointment having bought the most incredible dress and an equally awesome belt. My stylist, Shayley, was the best. When I walked in, I was not excited, as I had just come from a terrible dress shopping adventure. I shared this with Shayley and I could tell immediately that she was going to turn the day around. She knew right away the type of dress I was looking for, even after giving her only a little information about my style. The FIRST dress she suggested ended up being my dream wedding dress. I tried on several others and they were all stunning, as well. I felt like a friend of Shayley's. She genuinely cared about my experience and about the way I felt in the dresses, and it showed. To reiterate - don't bother going anywhere else!

Cora A.

Married on 06/23/2019

Amazing Shop!

Amazing staff! Gave me champagne for my friends and I once we found my dress and didn't pressure me before then. Incredibly sweet about helping me in and out of dresses and about sizing.

+ 3

photos

Alese M.

Married on 06/01/2019

Great value and beautiful dresses!!!

A & Be was at the top of my list when I made appointments to try on wedding dresses, and it was everything that I had hoped (and that Yelp had told me) it would be!!! First and foremost, the prices are reasonable IMO ($1,200+) and all of my fears about not fitting into the samples gowns (I am 6'1" 190, not exactly sample size) went away once I started trying on gowns. I think most places promise this, but they really do "make it work".

What most surprised me was that, although A & Be's aesthetic leans very bohemian and whimsical, they were so accommodating when I said I wanted a modern wedding gown. Allie was (is) an absolute dream to work with and I really felt like she just "got" me. For instance - I was not comfortable making the big decision at my first appointment. Instead, I came back two additional times by myself to make sure the dress in question was really "the one". Allie was totally cool with all of this, and was very understanding that I wasn't able to pull the trigger at my first two visits.

THEN - she emailed me when my designer happened to be having a trunk show in the coming weeks, so I could come in and buy my dress at 10% off! We even popped some champagne once I finally said yes!

The whole shop is absolutely gorgeous inside and out, and has a fantastic selection of accessories. I ended up purchasing my veil and earrings here as well. There was a plenty of space for my whole group (mom and 4 friends) at my first visit and they really do make it a very special occasion.

I have already recommended A & Be to several people, and will continue to do so!

Jamie

Married on 05/25/2019

I had an amazing experience shopping for my wedding dress at a&be. Katie is so authentic and was absolutely fabulous to work with. She did a great job of putting me at ease and helped me decide on a unique, but timeless dress. Even after the appointment was over, she went out of her way to contact the designer about customizing the bodice length for my short frame! She truly is the best! I would totally recommend a&be (and Katie, in particular) to anyone shopping in the Denver area!

Shelby P.

Married on 05/04/2019

Never Felt so Beautiful!!

I am SSOOOO happy that I decided to make my appointment with a&be Bridal. When you first walk into the shop, you instantly feel like this will be a pleasant experience. The shop is clean and welcoming, and lined with beautiful dresses. They welcome you with a smile, and seem so excited to have you there. I am also a bigger girl, and it was nice to be able to try on dresses that weren't Runway model sizes, but actual woman size. My consultant was Emilie, she was so friendly and very personable. She took time to understand everything I wanted and hoped for. With my wedding being only 6 months away, she only showed me dresses in my price range that would be in on time for my wedding. My daughter and mother were not able to make it in for my first appointment. It was important for my daughter to feel like she helped me pick a dress. Emilie set a second appointment for me the next day to bring my daughter and mother in to see the dress. She played along and helped my daughter look through the dress and pick out a dress for me to try (My dress I already bought.) Then we tried it on and made the whole moment special for my daughter. Even did Champagne and Sprinkling cider out again for us to celebrate. I am very grateful and happy I bought my dress from A&BE Bridal.

Kristi

Married on 12/22/2018

A big thank you to Ashley for offering such a personal and relaxed experience! She allowed me to take my time picking through dresses and trying on as many as I desired. The dresses were original and fun. It was a fresh of breath air compared to typical cookie cutter dresses at the larger boutiques. Their dresses are high quality and I loved every single dress I tried on. I was so happy to say, "Yes, to the dress!" at this one of a kind bridal shop!

Kayla

Married on 10/05/2018

I had the most incredible experience with the ladies of a&bé! I was absolutely dreading trying on wedding dresses (I loathe shopping), but my mom pushed me to book an appointment and I am so glad that a&bé was my first stop. I was paired with Katie Ellis as my stylist and I am so grateful for her! She was patient, she was kind and she was encouraging. I had never tried on a wedding dress before and she really took the time to listen to what I was looking for in my dream dress, as well as what I wanted my wedding to look like. She didn't overwhelm me with lots of choices and she pulled dresses that were reasonable and within my budget. Katie is as sweet as the day is long and really made my experience incredible. So incredible that I found a dress that day, at the very first dress shop I have ever been to! If you are in the market for a dress or know someone who is, I wouldn't waste any time with other shops. Go to a&bé, and you will find the dress of your dreams. Their team is absolutely amazing!

Cameron

Married on 09/01/2018

I had an incredible time at A&Be. Katie made it so easy and comfortable! I wish I could shop for a bridal gown every year!

Hope

Married on 08/18/2018

A&Be was the third bridal store I had visited and it was such an AMAZING experience. I worked with Allie who made me laugh and feel comfortable every step of the way....she made the biggest purchase of my life so special and kept me focused on how I felt, rather than how I looked in each dress. I found my dream rue de seine dress, toasted with a glass of champagne and I can't wait to wear it this summer!! Thank you A&Be and Allie for being a dream team xoxo

Maren

Married on 08/18/2018

A wonderful shop located in the Highlands. I was nervous to go pick out my dress as I'd never been through an experience like this before but the gals on the floor made me feel right at home and put the time and effort into helping me find my perfect dress.

Jaimie

Married on 05/26/2018

I had an amazing experience at this bridal shop. As indecisive as I am, Cayla helped me make a decision without pressuring me. She gave me all the time in the world even tho she had other appts after me. She never made me feel important and I felt like I had all day to shop and decide on a dress. With her help, I was able to find the dress of my dreams that was also within my budget which is always a plus! I would highly recommend this shop if you live in denver!

Kristin

Married on 05/20/2018

i thought dress shopping was going to be a nightmare for me. but keely at a & be' made it the best experience ever! i am still just amazed at how easy and fun it was! she really listened to what i was wanting out of a dress and took all that in to find me the most amazing dress and within my price range! she made me feel so comfortable, it was like they knew me and picked out the best stylist for my personality! can't say enough great things about a & be' and keely! if you go, you have to ask for her! thanks guys, i am so happy!
Are you interested?
Send a message