31 Reviews
Recommended by 100% of couples
Quality of service

5 out of 5 rating

Average response time

5 out of 5 rating

Professionalism

5 out of 5 rating

Value

5 out of 5 rating

Flexibility

5 out of 5 rating
Awards
2 User photos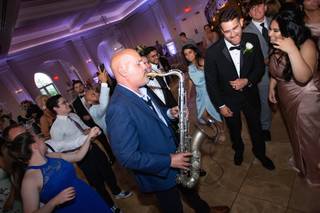 Patryk C.

Married on 05/06/2023

Great experience!

Gabe was incredibly professional! We had an amazing time and couldn't have done it without you guys! We would absolutely recommend Gabe and his team for everyone who is looking for a great DJ and an unforgettable experience!

Shannon G.

Married on 06/24/2022

Our Wedding Day 6.24.22

We truly can't thank Dj Roc for everything he did for us the past two years wedding planning and on our big day! He helped us with the music part of our planning process with ease - he is super efficient and organized. He knew exactly what we were looking for and executed it perfectly for our wedding day! My husband and I absolutely LOVED the setlist he put together for us and the energy both him and Jimmy brought to make our day that much more special. DJ Roc kept the party going all day and night and having a Jimmy as the saxophone player in the middle of the dance floor with us was the cherry on top! Everyone kept talking about how amazing our music was at our wedding and still is thanks to Dj Roc & Jimmy! It was so so great working with them and we can't recommend them enough! They brought all of our wedding visions and dreams to life! Thank you guys again 🤍

Mark

Married on 01/13/2018

The experience we received was second to none! All we had to do was supply the smallest bit of information and Gabe said "I got you." We trusted him and he knocked it out of the park. Also, when everyone was livening up the surprise saxophone started and blew it out of the water. People were yelling, a saxophone player!!! I would never book any other DJ.

Are you interested?

Send a message

Danielle

Married on 10/22/2017

Gabe did an awesome job DJing my wedding, everyone danced all night and that was my main goal!

Colleen

Married on 07/22/2017

Gabe and his crew were awesome! Kept the crowd going ... Jimmy on the saxophone gave the wedding a unique touch and kept everyone entertained.They were very professional and time effective, always reassuring me the day would be amazing and it was.Would recommend 5 star mobile to anyone having a wedding or any function.

Jackie

Married on 07/03/2017

I never expect to have as many guests come up to me at the wedding, the day after, and now weeks after RAVING about Gabe and Jimmy! We had an absolute blast! Jimmy and Gabe do a terrific job feeding off each other and the energy in the room! Jimmy even brought the party to my 85 year old grandfather who even DANCED a little that night, it was great! They know how to get everyone up on the floor and I think everyone danced their butts off!! Gabe makes the whole planning process soo easy. We live in FL now, but got married in CT and Gabe was always accessible to meet when we were home, and answer questions via email/text. They also had not played this particular venue before, but they allowed for extra time to be sure the adequately set up. They provided sound for the ceremony too and it all came together nicely.
They were a real show stopper, and we had the time of our life! You won't be disappointed with them!

Jackie and Heath 7.3.17

Andre

Married on 04/03/2017

The guys at 5 star mobile DJ not only had everyone up and dancing at our wedding but they were extremely flexible, fun, and easy to work with. We had an amazing time. I would recommend them for any event or occasion. They're professional, on time, and know how to get people up, dancing, and having a good time!!

Jay A.

Married on 02/18/2017

Completely AMAZING! My wife and I are soo happy we hired 5 Star Mobile DJs to be the DJ/entertainment for our wedding. Gabe made planning and organizing the music and format for the event an extremely easy process. He and the rest of the team were always professional, extremely organized, energetic and very thorough during the entire process. The music for the ceremony and reception was perfect. The best part was NO ONE STOPPED DANCING! The music was amazing and the dance floor was packed all night. My wife and I HIGHLY RECOMMEND 5 STAR MOBILE DJS, with GABE especially for any of your events!

Gabe is a true professional. He met with us a few times prior to our big day to discuss what we wanted and what we did not want. He understood what we were looking for and made it all happen the day of our wedding. Jimmy did an amazing job on the sax. The two of them combined put on a great show and had everyone on the dance floor. I would recommend Gabe and Jimmy to anyone!

Jaime

Married on 05/20/2016

Gabe was very attentive from the very beginning. He met with us multiple times before the wedding. He was very organized with the items he needed from us and very accomodating in helping us select the appropriate music for our wedding. He provided music for the ceremony and reception. Gabe was very easy to contact and was quick to respond to our questions throughout the planning process. He even provided suggestions such as a scavenger hunt/musical chairs game that the bridal party played durine the reception. It was a lot of fun! Jimmy also provided live sax music along with the dj which came as a great surprise to guests. They loved it! Gabe kept everyone on the dance floor all night! I would highly recommend 5 Star Mobile DJ for any event!

Marc

Married on 09/12/2015

What is the one thing that people remember most about a wedding reception? The DJ. Why? Because the DJ has so much influence on whether or not the party is lively or lacking. A great DJ will ensure that people are having fun the entire time. This is why the DJ is one of the most important vendor selections you will make for your big day - so take my advice and go with someone reputable. When we began our search for a DJ, we immediately consulted a good friend of ours who is a part-time DJ and knows many of the DJ's who work the Connecticut scene. Without hesitation, he recommended DJ Roc (Gabe) from 5 Star Mobile DJ's. And let's just say, we were not dissapointed. The planning process was simple and organized - making it easy for DJ Roc to know what we liked / disliked as far as music preferences. Then on the day of the wedding, he was simply amazing. We received compliments throughout the night on how great the DJ was. I would recommend 5 Star Mobile DJ's to anyone in search of a DJ for their wedding reception.

The DJ and saxophone player were absolutely amazing! Kept things fun and read the guests well to keep everyone dancing and entertained. They were funny, personable and really got everyone going! Things were perfect and they made our day wonderful.

Meghan

Married on 09/20/2014

We could not have been happier with the party 5 Star Mobile DJ created at our wedding! We had the time of our lives and so did our guests thanks to Gabe, Jim, and Kevin! My parents got several calls and emails in the days following the wedding saying how great the entertainment was, especially how great Jim was on the saxophone. The dance floor was packed the entire night. Everyone was laughing and dancing away. Gabe certainly knows how to read a crowd and we love him! So glad we went with this vendor! Thank-you!

I cant say enough great things about our experience with 5 star mobile dj. From the very first time we met with Gabe all the way up until our wedding day it was a pleasure. He was very professional with every part of the process. All our guest raved about the dj. He played all of the music we requested and had everyone up on the dance floor the whole night. We also were able to have the saxophone player there and that was such an added bonus. I would recommend using 5 star mobile dj to everyone that needed dj services.

Gabe and Jimmy were amazing!!! They totally exceeded our expectations. We had a Christian wedding and asked Gabe to please be aware of the audience and not play anything too crazy. Gabe and Jimmy took care of everything in such a professional manner and it was the perfect of amount of clean fun. They really got the crowd involved and it was a blast. Jimmy playing the saxophone was amazing and everyone loved it. I would reccomend them to anyone.

Christina

Married on 11/10/2013

The DJ was awesome. They played all the music I asked for and more. People were dancing the entire wedding.

Michael A.

Married on 10/26/2013

His professionalism alone made me go with him and his company. Very precise in detail to everything he does. His Dj set up, with the columns is something that everyone should choose to go with. It was amazing. Myself and Abby are so happy with the job he did. I will always go with him for all my special events.

Kristy

Married on 09/28/2013

I was very happy with the service provided by this company for my reception. The DJ was friendly, pro-
fessional and very responsive to my family and friends who were dancing playing music that they liked
to dance to. I was able to make my requests for special songs and they were honored. It was a very special party and the dancing and music were key!!

Monike

Married on 09/13/2013

DJ Roc and his pose are the best around! He played exactly what I asked for, exactly how I wanted it and everything in between. He even went out of his way to get weird songs for my playlist that he didn't have and that meant a lot to me! I have a very diverse family and so does my husband. With this in mind, he fed off the vibe of out guests and kept the dancing going from beginning to end. Everyone raved on about how the music and the MC got the crowd so pumped up. It wasn't just a reception, it was a full blown dance party! And he kept it classy and professional! Both the DJ and the MC mingled with my family and friends making everyone laugh and smile. The best part is, the price was very reasonable and I felt like I got so much more than what I paid for. They take their job seriously, the sets were awesome, especially the way the DJ transitioned from the different types of music, the lighting they brought with them made it feel like a club dance floor and I really couldn't ask for more! If you're
Looking for a guaranteed great time, this is the way to go!

Marissa

Married on 08/17/2013

Gabe and his team were so great to work with! They were professional and always flexible when it came to meetings before the wedding. He helped make our song lists and knew exactly the type of music we were looking for. I couldn't have asked for a better turn out. Our family and friends had such a great time. Gabe is truly talented and his sound system is amazing! I highly recommend using 5starmobile dj and I know friends of mine already are going to use him for their weddings.

Danielle

Married on 07/21/2013

We had been to a wedding where 5 Star Mobile DJ was the entertainment and it was one of the best I'd ever attended, so as soon as we got engaged I knew I wanted to hire them. I didn't have a whole lot of time (or patience!) for planning all of the little details, and with just a little bit of direction and a few requests, I was confident that I could let Gabriel take charge and turn our event into exactly what I wanted. He was fantastic with communication, and was much more prompt than I was with returning email messages and phone calls. Being a bit overwhelmed, I even asked him to choose the music for the ceremony! He did, and it was perfect. I must also mention that they were troopers for having to set up outside in sweltering heat! The reception (thankfully that was inside) was fantastic, from Gabriel's selection of dinner music to the "party" that followed. I'm pretty sure the only person sitting down was my 94 year old grandmother...the dance floor was full...and that's exactly what we were hoping for! My husband and I had a great time and received countless compliments from our guests. We couldn't have asked for a better experience!

Gladys

Married on 06/29/2013

Gabe was great at getting back to us when we had a questions or concerns. He made sure that everything went smoothly. Gabe was a an awesome DJ! He made sure that we had a great variety of music which kept the party going along with the fabulous MC Kevin Egan who had the party going on the dance floor!!! I couldn't have had a better DJ or MC for my wedding. They truly made our special day awesome!

Amanda

Married on 06/15/2013

We had the pleasure of having Gabe and Jim from 5 star mobile DJ's for our wedding on June 15, 2013. Absolutely the best DJ team imaginable. They had everyone up and dancing all night long! We can't say enough about them both. I don't think a better experience could even be possible. I'm still getting phone calls from our guests raving about how great the DJ and sax player was. Gabe was very extremely flexible, he worked around our schedules. He made the entire process so easy. It was really nice to have a team of professionals who had everything under control. We would definitely recommend 5 star mobile DJ'S and will use them again in the future. We couldn't be happier with them! They really made the entire wedding come together for one big party!

Samantha

Married on 10/13/2012

Words can not begin to express what a phenomenal job Gabe and Jim did the night of our wedding, not only as the entertainment, but as people. We were so lucky they were able to contribute to our special day. Everyone knows the entertainment can make or break a wedding/event and we could not have received more compliments on what an amazing job they did. Many people even told us this was the best wedding they had ever been too. I received many requests from future brides for their information so they can book Gabe and Jim for their weddings as well. Gabe is very talented in his music selection and had the dance floor packed with every age group all night long. Jim is simply an amazing musician and placed such a unique spin on the night and was also exceptional at keeping the crowd going. I can't thank the two of them enough, we would with out a doubt recommend them to anyone for any event.

Mary

Married on 09/29/2012

5 Star Mobile DJ rocked the house at my wedding! Gabe got the music going as soon as my guests started to arrive, and Jim was awesome on the sax. I don't think I sat down once at my reception, because I was dancing the whole time!! I would recommend 5 Star Mobile to anyone looking to have a great time!
Are you interested?
Send a message