119 Reviews
Recommended by 95% of couples
Quality of service

4.8 out of 5 rating

Average response time

4.7 out of 5 rating

Professionalism

4.8 out of 5 rating

Value

4.6 out of 5 rating

Flexibility

4.8 out of 5 rating
13 User photos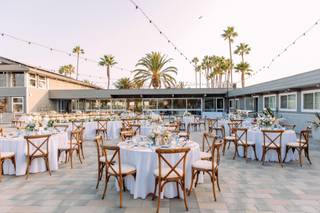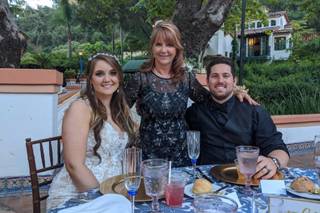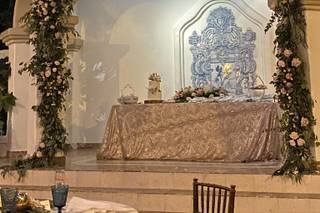 + 9

photos
Jessica

Married on 10/09/2020

Best wedding + event caterers!

My husband and I had our wedding at Huntington Bay Club on October 9, 2020. It was the most MAGICAL day - thanks to 24 Carrots and the Huntington Bay Team.

Leading up to our wedding day, the planning was quite simple! We toured the venue and locked in a contract. Shelby kept constant communication with us and accommodated all of our requests.

Shelby met the girls first thing the morning of our event to make sure we were all settled and ready for the day. She checked in periodically and made sure her team had everything handled per the diagrams and orders we locked in prior.

Not only was the set-up and decor 5 Star, but the food was 5 Star too!

At cocktail hour, we offered tray passed Vegetable Crudites, Roquefort Cheese Puff Pastry's (YUM!), Teriyaki Chicken Skewers, and Ahi Tuna Tartare Tacos. We decided to offer a buffet dinner for ease of service and to create a casual experience for our guests! We selected the Luau Buffet which included: baby spinach salad with mandarin oranges, macaroni salad (upgrade), Hawaiian rolls, tender slow-braised short ribs, ginger soy glazed salmon, jasmine rice, and Asian stir-fried vegetables! Dinner was SOOOO AMAZING and our guests are still talking about it. (Absolutely delicious!)

After dinner, we opened up dancing & offered late night snacks and dessert. We had a Nitrogen Ice Cream station which was a total hit! Not only was there ice cream (the bride's favorite), but it offered a little show too! On a beautiful station, we offered mini cheesecake bites, strawberry eclairs, dark chocolate mousse cups and mango-lime parfaits. In addition to dessert, we offered tray passed mini corndogs, onion rings and grilled cheese with tomato soup shooters.

WE WERE IN AW WITH HOW GOOD THE FOOD WAS! I have worked in the event industry providing food and beverage at multiple resorts and so expectations were high. The food provided at our menu tasting was EXACTLY what was provided at our wedding and so there were no surprises.

We appreciate the team at 24 Carrots so much and hope to work with them again in the future!

Thank you all so much for your dedication to the Five Star Experience!

**Photos by Ashley Paige Photography.

Kathy S.

Married on 07/18/2020

Five stars 🌟

We couldn't be happier with the quality and professionalism of 24 Carrots for our daughter's July 2020 wedding. They really came through and gave her the wedding of her dreams in the middle of COVID pandemic! Excellent food, caring staff, just beautiful all around.

Jamie N.

Married on 07/04/2020

With 24 Carrots, there's always a way!

Planning a wedding in 2020 is not for the faint of heart. But my husband and I were determined to keep our date, and 24 Carrots made that happened. I truly don't think we would have been able to have our special day, had it not been for Sarah and the rest of the 24 Carrots team.

Every phone call we got in the months leading up to our wedding was pretty much filled with bad news, unless they were from Sarah. She was as determined to make our wedding happen as we were, which was both calming and encouraging. She made any necessary changes and adaptions on her end, and was extremely accommodating as we made many changes on our end. Through many tears of spring 2020, I always got off the phone with Sarah smiling.

Whether you are planning an adjusted Covid ceremony, or a full blown wedding down the road, the 24 Carrots team will be there to support you and make your dreams come true!

Are you interested?

Send a message

Samantha

Married on 04/18/2020

Two postponements later, 24 carrots made our wedding perfect

After booking our wedding at Ole Hanson Beach Club for April 2020, we postponed our wedding twice. 24 Carrots was super helpful along the way and totally willing to postpone without giving us a hard time. A year and a half later 24 Carrots made our wedding day absolutely perfect. Elizabeth and Nasime were there to answer my questions, and rolled with the punches during my multiple changes. The food that they catered the day of was absolutely great. They made sure that the bride and good got plenty of delicious snacks from cocktail hour that we missed due to photos. Thank you to the staff of 24 carrots and Elizabeth and Nasime for making sure we had an incredible wedding!

Amy C.

Married on 04/01/2020

Delicious wedding food

We had our wedding at The Colony House, a 24 Carrots venue. The food was amazing and the service was excellent! The menu options are virtually limitless with 24 Carrots. They truly do amazing work. Many of our guests told us how much they liked the food we served and we agree! The staff was very friendly and we had our own waiter assigned to us to make sure we got to eat and had drinks. Before we sat down at our sweetheart table, they had delivered our drinks and hors oeuvres. They brought our food out at the very beginning of dinner service to ensure we got to enjoy it. Very tasty! Highly recommended!

Jamie K.

Married on 11/16/2019

The best wedding food imaginable!

I wish 24 Carrots had a physical restaurant we could go to because I'm going to be dreaming about how delicious the food was at our wedding for years to come! When it came time to choose our menu with them we had our local friends come over and do a March Madness style bracket to decide on appetizers because they had SO many delicious options it was difficult to choose! There would have been no losers, but winding up with the Roscoe Chicken and Waffle Sliders and Grilled Cheese and Tomato Soup dippers were amongst some of our best victories. And as far as the main course went—many of our guests told us it was the best entrees they'd ever had at a wedding. Nothing was "basic" or "boring", each part of the meal had unique spins on old classics that were delicious, well presented, cooked to perfection, and tailored when needed to be for various guests' dietary restrictions. 24 Carrots was so flexible and accommodating and we would definitely recommend them for all your catering needs! But seriously, please let us come eat your food again, we miss it.

+ 3

photos

Nathaly R.

Married on 07/28/2019

The best wedding food ever!

My husband and I never wanted a fancy formal dinner. We had a vision of a fun, laid back, brunch-style summer wedding. Thankfully 24K has an AMAZING brunch menu. We honestly couldn't decide what to choose. It may have been the hardest decision because everything looked so great! We had our wedding at their Ole Hanson location so we went for their breakfast taco bar and it was a HIT! We also had a mimosa bar as well as a cold brew station. People were raving about the food well after the wedding. Their staff is INCREDIBLE. 5 star service and they go above and beyond to make your day truly special. I was 4 months pregnant during my hot summer wedding and multiple staff members were making sure I was okay during the whole wedding, providing water and snacks throughout the day. You have to go for 24K!

Molly L.

Married on 07/18/2019

Scrumptious!!!

24 Carrots provided an exception buffet for our guests and everyone was beyond satisfied. The tasting day was super fun and all the options were exceptional making a decision difficult but we were confident we couldn't go wrong. My husband is a big craft beer man so he was a bit disappointed with the beer options but we were otherwise very pleased. The staff were excellent with their service.

Annalisa

Married on 04/27/2019

The Best Around!

24 Carrots is the best around, no question. The food was delicious and service was incredible. Our bar service was also through 24 Carrots and guests said that they were fantastic as well. Very accommodating of special menu requirements and the tasting was so fun! Definitely would recommend them!

Brianna

Married on 04/05/2019

Great food

Our food was OUTSTANDING. We have received so many commments about the food and that it was "the best food at a wedding" that people have had.

The communication was seamless, too, which is so helpful while planning a wedding!

Maggie

Married on 02/15/2019

Incredible Food and Service!

Everything!! Exceptional!! Service incredibly professional and attentive!! Delicious!! Beautifully presented!!

Heidi

Married on 02/01/2019

The most delicious meal of my life

24 Carrots Catering was the perfect choice for our event. I would recommend their business to anyone who loves super delicious food.
Everyone at our wedding was impressed with their meal and overall dining experience. Thanks 24 Carrots! You're the best!

Samantha F.

Married on 01/03/2019

Absolutely amazing

My husband and I, with the help of our Wedding Planner Aimee Takumi of Confetti Skies, blindly picked our wedding menu from Illinois. We could not have possibly been happier. The food was absolutely fantastic and I've found myself wishing they had a restaurant we could go to almost two months later. I'm so incredibly thankful for the entire 24 Carrots team for taking on our very small private reception. We only had 6 people for dinner and were surprised that they were willing to take on such a small group. All of our servers and our bartender were absolutely fantastic and fit in well, making our private reception feel like an intimate family dinner at home. Of the weddings I've been to, I cant remember ever having had better food than at my own. Thank you to the 24 Carrots team again for all of your hard work and for making our day so special.

Anna

Married on 08/24/2018

Best Steak at a Wedding EVER

The moment we walked into Franciscan Gardens, I knew this was the place we would be getting married! My now husband was very kind in letting me take the reins in most of the planning, and I wanted to have a garden feeling outdoor wedding. The tall greenery of this venue is breathtaking and once the lantern lights go up, the centerpieces glowing, it was honestly the most perfect setting. Melissa and Haley were both very helpful and instrumental on helping us get everything finalized and making revision after revision to the contract. The final meeting to pick all of the little details went really smoothly, they were there for the taste testing, and made sure to answer all of our questions and concerns along the way. As far as the catering… We still have people telling us this was the best steak they had ever had at a wedding! During the tasting we were suspicious how they could make all of the food taste as delicious as it did for just the two of us for over 100 people but I must say that it was (all bias aside) probably the most delicious menu ever! The catering and bartending staff was perfect and even dedicated one waiter to the bride and groom for the whole evening to keep us boozed up and partying all night without having to stand in line for a drink or a bite. Thank you everyone!!

Raquel

Married on 06/28/2018

everything from the venue, to the drinks, food and service was incredibly done by 24 carrots catering. I was pleasantly surprised by everything they did for us. Sarah was awesome, and made the night so smooth. Everyone was raving about how amazing the food was! I'm so happy we decided to pick a venue with 24 carrots! I highly recommend their venues and service. It was top notch and deserves 100 stars!

Jennifer

Married on 03/09/2018

24 Carrots was our caterer for our wedding on March 9, 2018 at Rancho Las Lomas and they were so exceptional! Amanda was our Event Designer and she was so professional and helpful. Amanda quickly answered all of our emails and she was so incredibly nice! Amanda was our go to person at 24 Carrots from the beginning and I would recommend her as your Event Designer if you are considering 24 Carrots.

For our cocktail hour, we had 4 different hors d'oeuvres: 1. Fig, Herbed Cheese, and Glazed Pecan on Belgian Endive Petals, 2. Foreset Mushroom and Goat Cheese Tartlets, 3. The 24 Carrot Slider which had Brie, Truffle Honey, Bacon-Fig Jam, Roasted Garlic Aioli And Caramelized Apples, and 4. Chicken Yakitori. We received SO many compliments from our guests about the hors d'oeuvres (especially the 24 Carrot Slider). Everything tasted so delicious and my husband and I were pleasantly surprised to see that there were plenty of hors d'oeuvres to go around. All of our guests were able to get a couple of hors d'oeuvres each which was great.

For our dinner, we opted for a buffet. We had 2 salads: Simple Mixed Greens, and a Warm Goat Cheese Salad. Our 2 meats were Seared North Atlantic Salmon and a Pan-Seared Hangar Steak. Our 2 sides were Mashed Potatoes and Broccolini Almandine. Just like the hors d'oeuvres, dinner was a huge hit with all of our guests. We really appreciated that 24 Carrots also had an option for vegan, vegetarian, and gluten free options for some of our guests that had diet restrictions. We just had to let Amanda know ahead of time so that they could plan accordingly.

24 Carrots is a great company to work with and they took care of everything for us on our wedding day. They set up the ceremony space, cocktail hour, and reception space. Everything looked perfect on our special day.

Nastassia

Married on 10/07/2017

24 Carrots is the best all around; extremely attentive, kind, professional staff, and the food is so good! Not only did they work with our limited budget, they agreed to let me offer my guests an entree choice between chicken and beef, and had no problem with eliminating food allergens from the menu.
At the tasting I went in prepared to not eat that much, but that flew out the window when the hor d'eourves were presented. The food presentation is beautiful. The chefs remembered to leave out dairy and nut products in the recipes which made me like 24 Carrots even more-can't even count the times I have had to send food back! If you want the best at your wedding go with 24 Carrots!

Marrisa

Married on 05/28/2017

Food was excellent. Rentals and decor was perfect! It was nothing less than perfection! Thank you

Jill

Married on 04/06/2017

excellent service....and keep up the great work!!!

David

Married on 01/03/2017

Awesome...you guys have great catering!!!

Jessica

Married on 12/11/2016

24 Carrots catering was great. Everyone said they loved the food and they were very friendly overall.

Heather

Married on 10/29/2016

Yum, yum, OMG YUM. 24 Carrots - thank you. You were so flexible and creative when it came to our limited budget and our vision for the evening. Working with the team at 24 Carrots was not only easy, but actually a pleasure. Kimberlyn and her staff were able to pull off an evening of delicious food and fulfilled all my insane requests. We used them for our cocktail hour for passed appetizers, and hired the staff to pass out In N Out Burgers that came paired with french fries from 24 during the reception dinner. They made sure that we (the bride and groom) were never without a bite to eat (the first food to come out of all types), a full drink and that we were always happy with the flow of the evening. They have so many food choices on their menu that you cannot go wrong with them whether you want a plated dinner, buffet, passed appetizers, bartenders, dessert bars, gluten-free menu, vegan - the works! If I had a larger budget I would have incorporated more of their delicious offerings into my reception. Bonus - my wedding was in Camarillo (Ventura County) and they drove all the way out from Orange County to provide their service! I loved everything about this catering company and will use them for many future events!

Ernie

Married on 10/19/2016

excellent service!!!! Keep up the creativity!

Lia

Married on 08/08/2015

We are so very pleased and thankful of the beautiful, creativeness and extreme professionalism. My parents were super particular about the Catering for the event, but got very comfortable and settle once we had the meeting and came on board with 24 Carrots. Form the start to the day of the event, it was great communication and follow thru. Everything was executed exactly as we have discussed and confirmed. Everyone working at our event was very professional. All our guest had great compliments about our events. Thank you.

Jenni

Married on 05/16/2015

24 carrots was our catering through our venue Franciscan Gardens. The food was perfect and delicious! Appetizers, entrees and desserts were out of this world. I'm still getting compliments from guests about how great the food was!
Are you interested?
Send a message