19 Reviews
Recommended by 98% of couples
Quality of service

4.9 out of 5 rating

Average response time

4.9 out of 5 rating

Professionalism

4.9 out of 5 rating

Value

4.9 out of 5 rating

Flexibility

4.9 out of 5 rating
11 User photos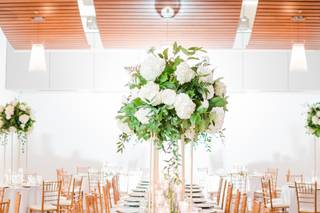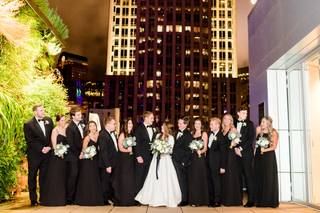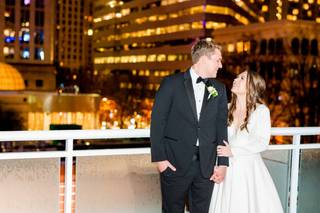 + 7

photos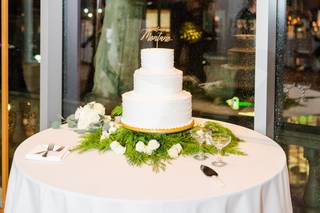 Ashley

Married on 10/30/2022

Natural Light and City Viewa

This venue is perfect for those wanting natural light without being outside and beautiful city views. This venue was perfect for the wedding style we envisioned because we got to have the beautiful natural light for our ceremony and partial reception. Then, some of our reception was able to be at night and we had the beautiful city lit up at night. The staff is very professional. Only complaint is the contract for the venue is a little vague on the dos and do nots. So, please inquire. Other than that I would recommend anyone have their wedding here.

Natalie B.

Married on 05/07/2022

Wedding at Foundation for the Carolinas 5.7.2022

You cannot go wrong with picking Foundation for the Carolinas for your wedding! First, the venue is absolutely stunning with multiple balconies over looking the city, a beautiful plant wall and floor to ceiling windows in the Solarium space. Second, the convenience cannot be beat - this is 10-15 minutes from the airport or a 5-10 minute walk from a light rail stop. Additionally, there are so many hotels within a quick walk which make this an ideal location for all guests. Finally, the staff at Foundations is absolutely fantastic. Brittany made our day run so smoothly and provided levity in stressful and emotional moments. She was also extremely responsive and provided great pieces of advice for our layout. Zerena was also helpful in the early planning stages as well. Once again, picking Foundations is a no brainer for a beautiful, convenient and well-run wedding in Uptown Charlotte.

Allie

Married on 12/18/2021

Stunning and perfect in every way!

Absolutely beautiful wedding reception venue – the city lights shining in every direction looked so stunning. Kayla was absolutely AMAZING to work with – she was so responsive and helpful every step of the way during the entire wedding planning process. She had so many great ideas and made our wedding night the best one of our lives! I can't recommend Foundation for the Carolinas enough!!!

+ 3

photos

Are you interested?

Send a message

Alyssa

Married on 12/04/2021

As a wedding planner, and bride, I can say this venue is the best.

This is the most exquisite wedding venue tucked into the heart of Uptown, Charlotte! Different from other venues in the area, it offers multiple unique spaces within the building - each more beautiful than the next. During our cocktail hour, guests walked into the first-floor gallery, with its stunning art features, before heading to the fourth floor to the main ballroom which has a fantastic view of the city! The best part of the event was partnering with FFTC's Special Event Manager, Brittany Brathwaite, who was extremely consulted throughout the entire planning process.

Jennifer S.

Married on 02/29/2020

Perfect in every way

The Foundation is everything we dreamed of for our wedding. The spaces are beautiful, the view is amazing, the staff is wonderful. It could not have been more perfect!!

Savanna

Married on 06/22/2019

Foundation For The Carolinas is amazing!

The Foundation is an absolute beautiful place for your wedding! Has a lot of space and the spaces are gorgeous with any type of decorations. The view of uptown Charlotte is amazing! The staff is very friendly and helpful to work with. I would 100% recommend this venue!

Jamie S.

Married on 05/10/2019

No words... it was perfect!

This was the dreamiest location for my wedding reception! Every single room/patio of this venue was unique and stunning. Kayla and her crew took care of every last detail, making it so special for me, my husband, and my family. I wish I could do it all over again, and I wouldn't change a thing!! Thank you so much!

Allison

Married on 07/01/2017

FFTC was such a beautiful wedding venue! We had our ceremony and reception there and the space flows perfectly from one to the other. Our guests couldn't stop raving about how gorgeous the venue was. FFTC also had the most professional and responsive staff that we encountered in our venue search. They were supportive as we tried to choose a venue and they continued to respond to our questions promptly once we booked them. Everything about the venue, from the space to the staff, contributed to the joyous celebration. Thanks to everyone at the FFTC for making our wedding fun and stress-free!

Katie

Married on 02/11/2017

We were so thrilled to have our wedding at Foundation For The Carolinas and could not have asked for a more beautiful venue (we also lucked out and had the most beautiful day in February – and were able to use the outdoor terraces unexpectedly!). The space was gorgeous and it was a huge benefit that most of our vendors had worked there frequently, so we felt confident that everyone would know what they were doing. We experienced a few hiccups at the wedding (confusion about the bar serving liquor, a holding space for the bridal party had been changed without any advance notice) but everything was corrected smoothly and none of our guests knew about the issues. If you go with FFTC, I would recommend hiring a wedding coordinator as well (Libby Sarver from Details Wedding Planning is amazing!) to help with the logistics and to be the go-between for your vendors and the venue. I also feel that, considering everything that is included in the rental cost and that the space is so beautiful it requires very little décor, the rental cost is reasonable and worth it. Overall, I wouldn't have wanted to have my wedding be anywhere else and was so happy with the experience.

Olivia

Married on 08/27/2016

Wow! Such a beautiful venue! I'm so glad my husband and I went with this venue. We chose this venue for these reasons. 1) Pricing - we felt the value of the venue was well priced. Compared to the other venues we were looking at, we looked at their all in pricing and it was much more competitive for the area which included security, chivalric chairs, tables, set up, plannorams, and your wedding is the only one that day depending on what you book. 2) These venue is just gorgeous, its made for weddings. The green wall on the terrace is lush and adds such a nice contrast for amazing backdrop pictures. 3) Staff and service was amazing and so professional. Working with them to help create a layout for my ceremony and reception, this was a nice differentiator for this venue. 4) Logisitcs and their coordination with our event folks was so professional and everything went smoothly that day. THe only dings I have to say is that the alcohol is a bit strict (4 hrs) which I understand because of the liability of the institution and is not that bad looking back. Other than that, if you are looking for elegant, modern, beautiful in Charlotte uptown, this is the venue. Not enough beautiful things to say about this venue!

Lindsey

Married on 07/23/2016

So far I have had no problems at all with Foundation for the Carolinas. They were able to accommodate my fiance and his mother in providing a full tour of the facility and Rebecca has been so helpful in answering every question I had, both through email and those I sent along with my fiance, as I was unable to attend the initial venue walk through. I knew right away after viewing the videos and pictures online that this was the space for us. Rebecca has been very prompt in returning any emails which has been amazing and I look forward to meeting her in person. I had to email some vendors several times and THEN ask a friend to email them just to get a response back, which still always came to her, not me. It seems that some vendors don't understand that if you want to have people use your space, prioritize their business. This was no challenge at FftC and I look forward to our wedding their next summer.

Beth

Married on 10/19/2014

We had both our ceremony and reception at Foundation for the Carolinas, and our guests were raving all night about how incredibly gorgeous the venue was. We knew we wanted a modern looking space, and FFTC was exactly that plus so much more. We loved having the amazing views of Uptown Charlotte as the backdrop to our wedding, the vertical garden added a magical element to the evening, and every last detail at the venue is spectacular. On top of all that, the staff at FFTC are so easy to work with and made everything perfect for our wedding. Rebecca was so professional and friendly, and she never batted an eye when we threw another logistical issue her way in the months leading up to the wedding. She provided us with tons of guidance and assistance throughout the wedding process. I highly recommend Foundation for the Carolinas to anyone looking to have the perfect Uptown Charlotte wedding!

Lisa

Married on 09/27/2014

We had both our ceremony + reception at this venue, and received so many compliments from the guests about the wonderful setting. The interior even without the decorations for the wedding were so pretty with all the amazing artwork on the first floor and the awesome view from the upper floors, and when you added all the wedding decor, the venue turned out to be one-of-a-kind! This venue worked perfectly and the site coordinator was great to work with.

Excellent excellent.. The most beautiful place to hold wedding.

Ashleigh

Married on 02/15/2014

We loved having our perfect wedding at the foundation of the Carolina's. It was a bumpy road for us at first we booked our wedding way in advance and unfortunately did not fall in line with construction timelines. Rebecca went above and beyond to make sure we were happy! We also went through some staff changes with the venue, but was so happy when Rebecca came back. They have a beautiful new addition opening soon and I am jealous of all the brides who will get to have the new remodel but are so happy with how accommodating they were to us and how the wedding of my dreams came true!

Nella

Married on 05/11/2013

I had the perfect wedding, the perfect wedding planner (posh affairs), the perfect cater (delectables by Holly), the perfect photographers (love shutter) at this perfect venue. This place is to die for and I died and came back to life. This place give me so much life. It was the perfect day for our rooftop wedding, with the perfect weather. I could not ask for more. I had the best day at the best location.

Amy M.

Married on 03/09/2019

Amazing Views

We had an amazing wedding at Foundations! The views from the 4th floor are stunning and everything in the venue is top notch! There is a kitchen onsite that caterers can cook right out of and serve hot fresh food, which is a nice thing to have! The venue is a little strict, there is no wiggle room or going outside the lines is the only thing, if you want to live on the edge, this may not fit your needs. Pricing is high as it doesn't include anything other than space rental and tables/chairs - you have to pay alcohol per person which is a little steep, but that's my personal opinion! I will say when I received the final bar bill, it was incorrect for the amount of guests minus the amount of guests over 21 I had and the venue was very quick to correct for me! My guests continue to rave about the beauty of the venue and overall it was a perfect day and I am happy it was the place we got to start our happily ever after!

Lindsey

Married on 06/10/2017

We absolutely loved this venue. We chose it for the amazing views and an indoor/outdoor feel. Parking is a little difficult- but with detailed directions people figured it out. We had Ervin as our coordinator and he was super nice and accommodating. The only negative was it was a bit tough to get a hold of him sometimes. I worked with Marla for site visits/payments and she was super responsive and accommodating. I would highly recommend this venue- it made our wedding amazing!

Brittany

Married on 10/30/2016

Foundation for the Carolinas is an amazing venue. There is no better venue in uptown Charlotte. The staff was easy to work with and responded somewhat quickly. There is conference room space for family to gather and get ready before the ceremony. We loved that we didn't have to provide much decor since the venue speaks for itself. The only thing we didn't love was the alcohol policy. It would have been nice to have some other options or maybe consumption. We had quite a few people not show up or not drink at all, and still had to pay for them.
Are you interested?
Send a message