Penha Longa Hotel & Golf Resort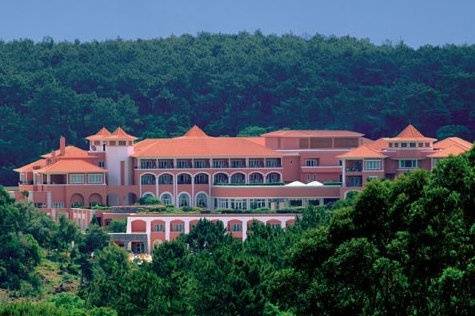 About
An exceptional luxury hotel in Portugal nestled in the Sintra Mountains near Lisbon. Featuring elegant accommodations, exclusive amenities, championship golf and a lavish spa, this luxury hotel in Sintra, Portugal allows guests to enjoy the tranquility of life in the Estoril coastal region.
Recommended by 28% of couples
Quality of service

Rating 1 out of 5

Average response time

Rating 1 out of 5

Professionalism

Rating 1 out of 5

Value

Rating 3 out of 5

Flexibility

Rating 1 out of 5
Abc

Married on 06/09/2019

Don't recommend having a wedding at Penha Longa if you want a personal experience

As luxurious, beautiful and historic as Penha Longa is, I am sad to say that if I knew then what I know now, I would NOT have had our wedding at Penha Longa.
You can count on being made to feel like royalty, that is until you sign the contract. If you want your wedding to be a personal experience, if you want to organise it in a venue where you will feel like you are a part of it, like they CARE, then I would look elsewhere. Penha Longa unfortunately are as impersonal as they come.
A number of factors contributed to me feeling an immediate disconnect from the place where one of the most important steps in my life took place:
a) The strictness to every single detail and inability to 'flex' because well, it's 'Penha Longa':
- We were told I could use a room on the day to get ready. I didn't think this was too much to ask seeing as we were spending quite a lot of money on the event and also on the family suite we got for 2 nights. After they told us I could use a room, we found out that actually this wasn't the case anymore and that I could only have a conference room with no bathroom or running water unless I paid for an additional hotel room (my 'now husband' was staying in the suite to get dressed based on the information we received on the day we viewed the venue) – I had to pay for the conference room anyway.
- The Photographer was told not to take pictures of us in the golf carts as 'we had not paid for them'.
- Having to explain why we would like 'Late Check Out' or 'Early Check In' and being told this could only be confirmed on the day.

B) The 'just another number' treatment:
- On the day of the wedding, the space was being used by another customer up until 2pm (the wedding took place at 4).
- The day after the wedding, someone from the 'wedding team' saw us at reception, said hello and in just enough time for me to retrieve my card from 'check out' she was walking away with another couple about to view the venue for their own event – not even a 'How was it?', I understand there are other customers but if you're getting married at Penha Longa, you will be spending a lot of money so the least that could be said is 'Really glad it went well, I have to show this couple around this morning, are you expecting to leave in the next hour? If not, I would love to hear about how it all went, otherwise I will send you an email to follow up and get some feedback!'.
- The moment the wedding was over, it was well and truly over! Example - When we went to the cake cutting in the courtyard, the guests left their bags at their tables only to find that when they went back into the 'dining area' all the tables were gone and their belongings had all been shoved into one table in the corner.
- I lost my earring and as much as they say they looked for it, unfortunately, I highly doubt this was the case – the attitude when I told them about my earring was almost like it was pointless to even tell them.


C) The treatment of staff:
- I observed a number of things, especially when the senior management teams weren't aware that I was the 'bride'. The day after the wedding, I went down to the church to look for my lost earring and I observed a member of staff being treated like 'trash' by senior management who shouted things like "If I see you get close to breaking some of my furniture again, you're gone!". Not exactly a 'luxurious' treatment of their staff and certainly explains my next point.
- The members of staff that were responsible for catering and actually making the day happen were fantastic. Unfortunately, they appear to be so 'scared' of management and appear to have such inadequate training that they end up being pushed into incredibly uncomfortable positions (e.g. forcing us to cut the cake when we were in the middle of a conversation with someone because they wanted us to leave the dining area to clear up).

Don't get me wrong, the day went well, the wine was flowing, the food was great and everything went as planned but, if you want to feel a personal touch, if you want to feel a connection to the place where you get married, I highly recommend looking for another venue. The way they treated us before and after the event kind of put a downer on how the whole thing went DURING it.

We felt like just another number and more importantly, we were made to feel like the venue was 'too good for us'.

Unfortunately, their attempt at being luxurious comes off as 'arrogant' instead, I just hope none of the guests felt that arrogance too.

Real Weddings
Saloni & Brian

54 photos · 09/17/2017

Saloni & Brian

48 photos · 09/16/2017
Map
Estrada da Lagoa Azul, Linh Sintra