31 Winter Wedding Invitations That Are Modern and Chic
Kick-start your celebration with these stylish winter wedding invitations that embody the spirit of the season.
We have included third party products to help you navigate and enjoy life's biggest moments. Purchases made through links on this page may earn us a commission.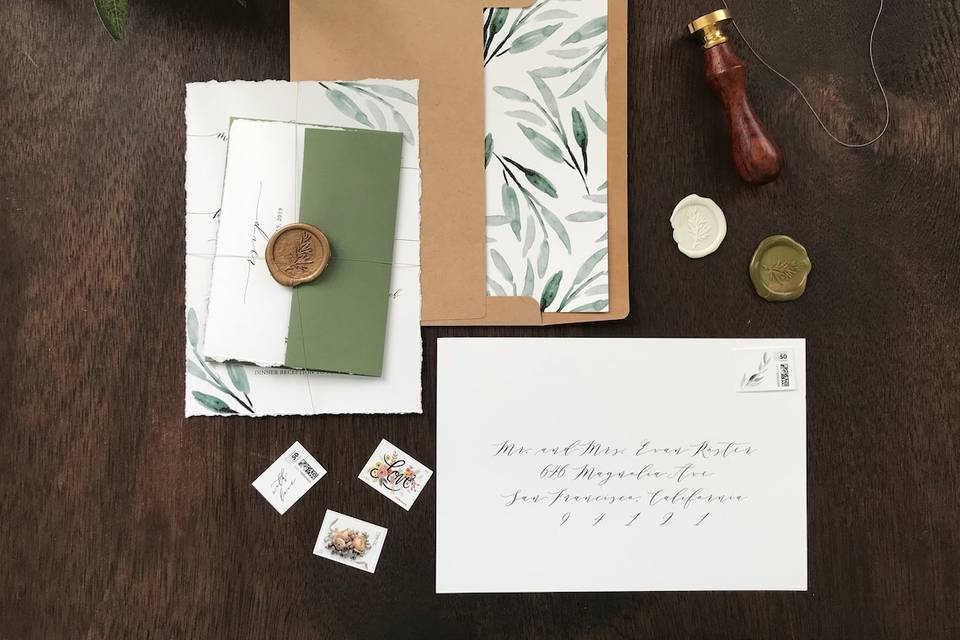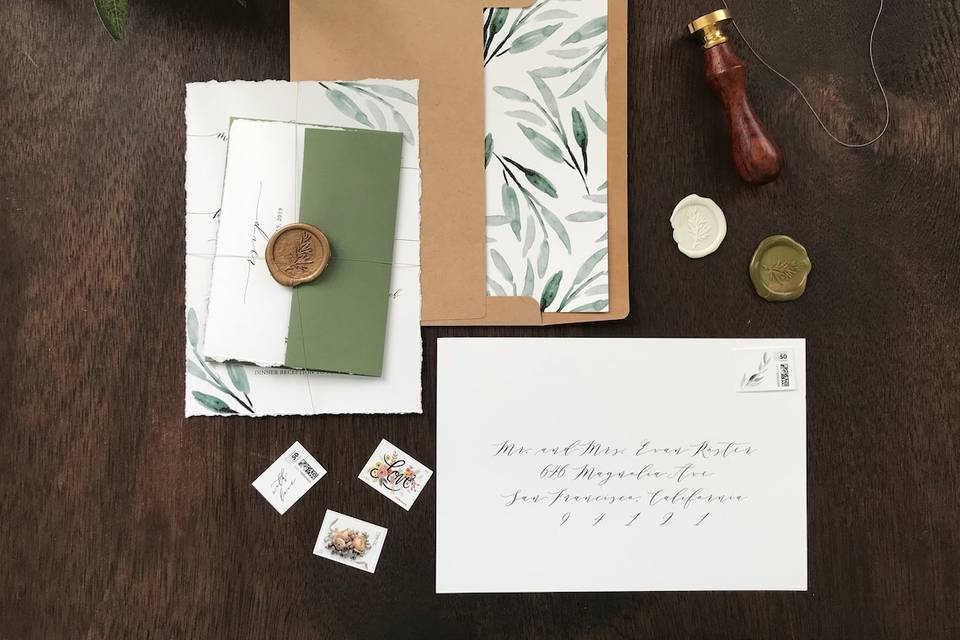 There's no rule that says your wedding invitations must reflect your wedding season, but incorporating seasonal details can be a great place to start when deciding how to decorate your stationery. For winter wedding invitations, Christmas-themed motifs are an obvious choice if you're getting married in December, but they definitely aren't your only option. We're sharing our hand-picked examples of winter-themed wedding invitations to prove just how many different ways you can go—and the best part is that you can buy all of these winter wedding invitations online.
Winter Wedding Invitation Colors
The traditional green and red color palette is popular for December weddings, but if you're getting married in November, January, or February, there are so many other color schemes to choose from. Some of our favorite colors for winter wedding invitations include navy blue, burgundy, emerald green, blush, ice blue, and neutrals (gray, taupe, black). And of course there are the metallic hues—you can add silver, gold, or rose gold to your invitations with foil or shimmery ink.
Winter Wedding Invitation Designs
Nature is a big source of inspiration for many winter wedding invitations. Snowflakes, holly leaves, mountain scenes, evergreens, and pinecones are all popular details for winter-themed wedding invitations if you're going all out with a seasonal theme. For something more subtle, we love abstract watercolors, dark floral designs, plaid prints, and greenery motifs.
When should you send your winter wedding invitations?
The rule of thumb is that your wedding invitations should be mailed between six and eight weeks before your wedding—or longer if you're having a destination wedding or hosting mostly out-of-state guests. This will give your guests plenty of time to finalize their plans and RSVP in a timely manner (we recommend setting the 'reply by' deadline about three weeks before your wedding).
Winter Wedding Invitation Ideas
Ready to start shopping? Check out these seasonal designs (and some of our favorite picks from WeddingWire Invitations) to complete your winter wedding stationery.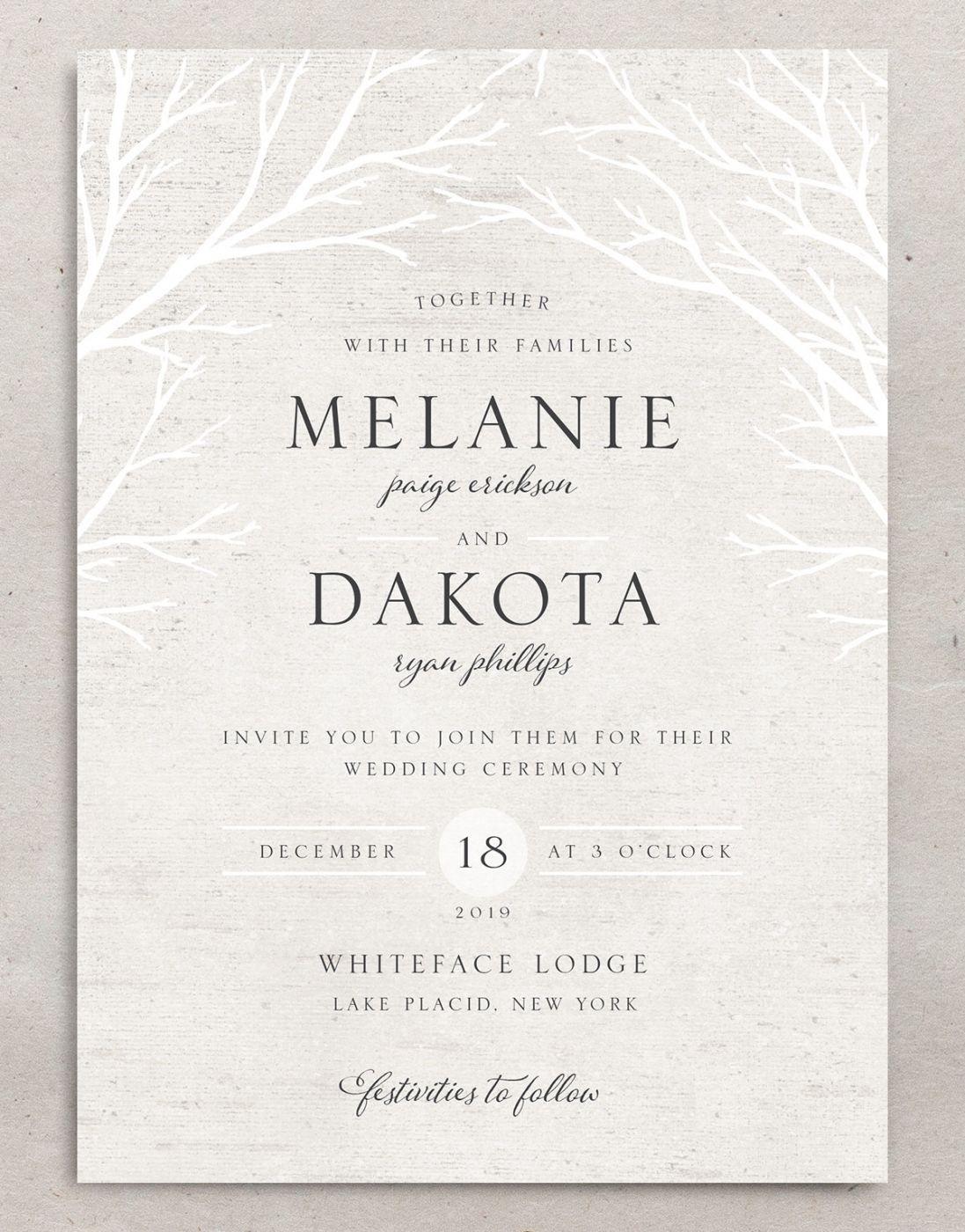 Choose these gray and white invitations if you're having a rustic chic theme. A border of birch tree branches at the top of the card frames your names and wedding details.
WeddingWire Invitations winter rustic wedding invitations, from $1.59 each, WeddingWire Invitations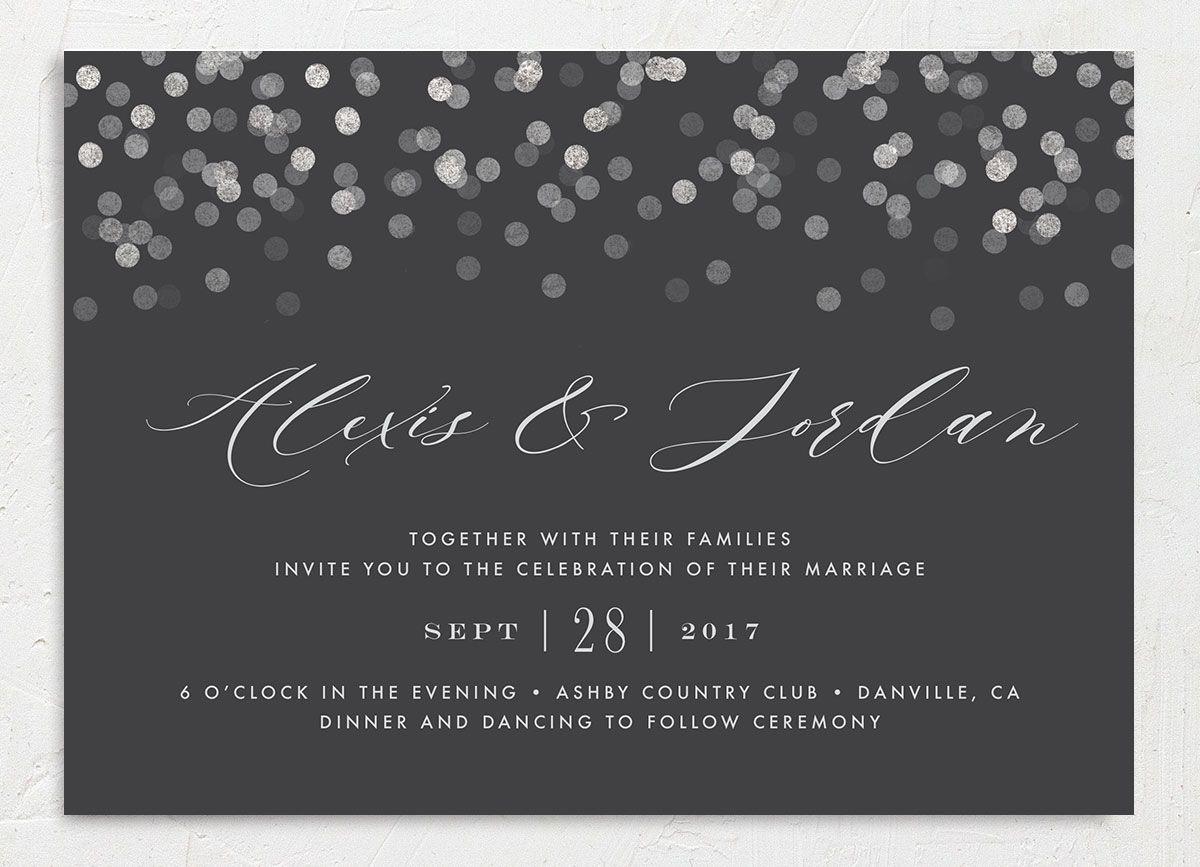 A black and silver color combo reflects the festive atmosphere of the holiday season. These winter wedding invitations also come in purple and blue colorways if that's more your style.
WeddingWire Invitations confetti glamour wedding invitations in silver, from $1.59 each, WeddingWire Invitations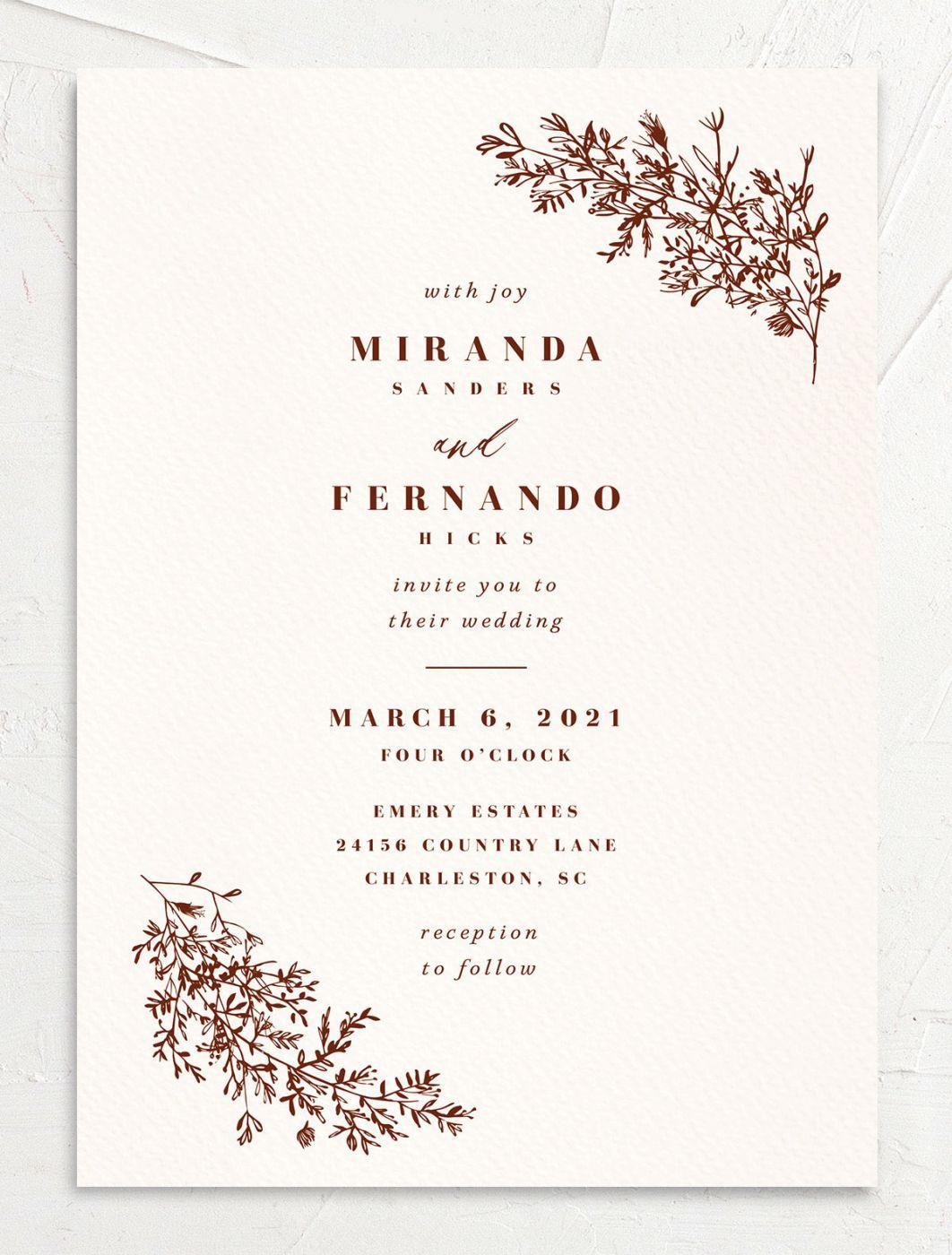 Perfect for a Christmas-themed wedding, these invitations are decorated with floral branches and a stately font in dark red. Matching envelope liners, RSVP cards, and detail cards complete the stationery suite.
WeddingWire Invitations elegant branches wedding invitations in red, from $1.59 each, WeddingWire Invitations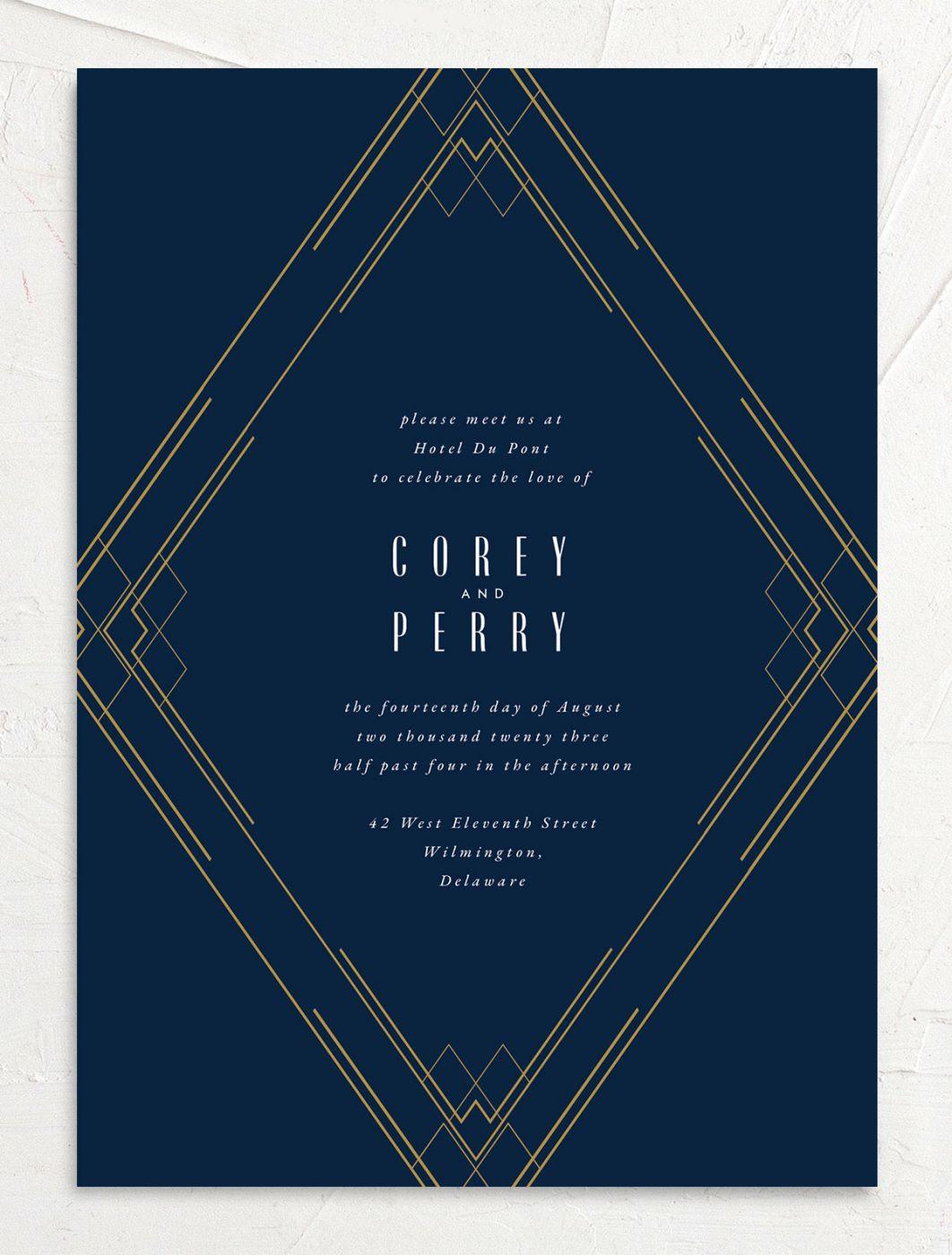 Classic with a twist, these navy blue wedding invitations are accented with a geometric Art Deco-inspired border, which carries onto the back of the invite as well as the envelope liner. We'd pick this design for a Great Gatsby theme wedding.
WeddingWire Invitations statement deco wedding invitations in blue, from $1.59 each, WeddingWire Invitations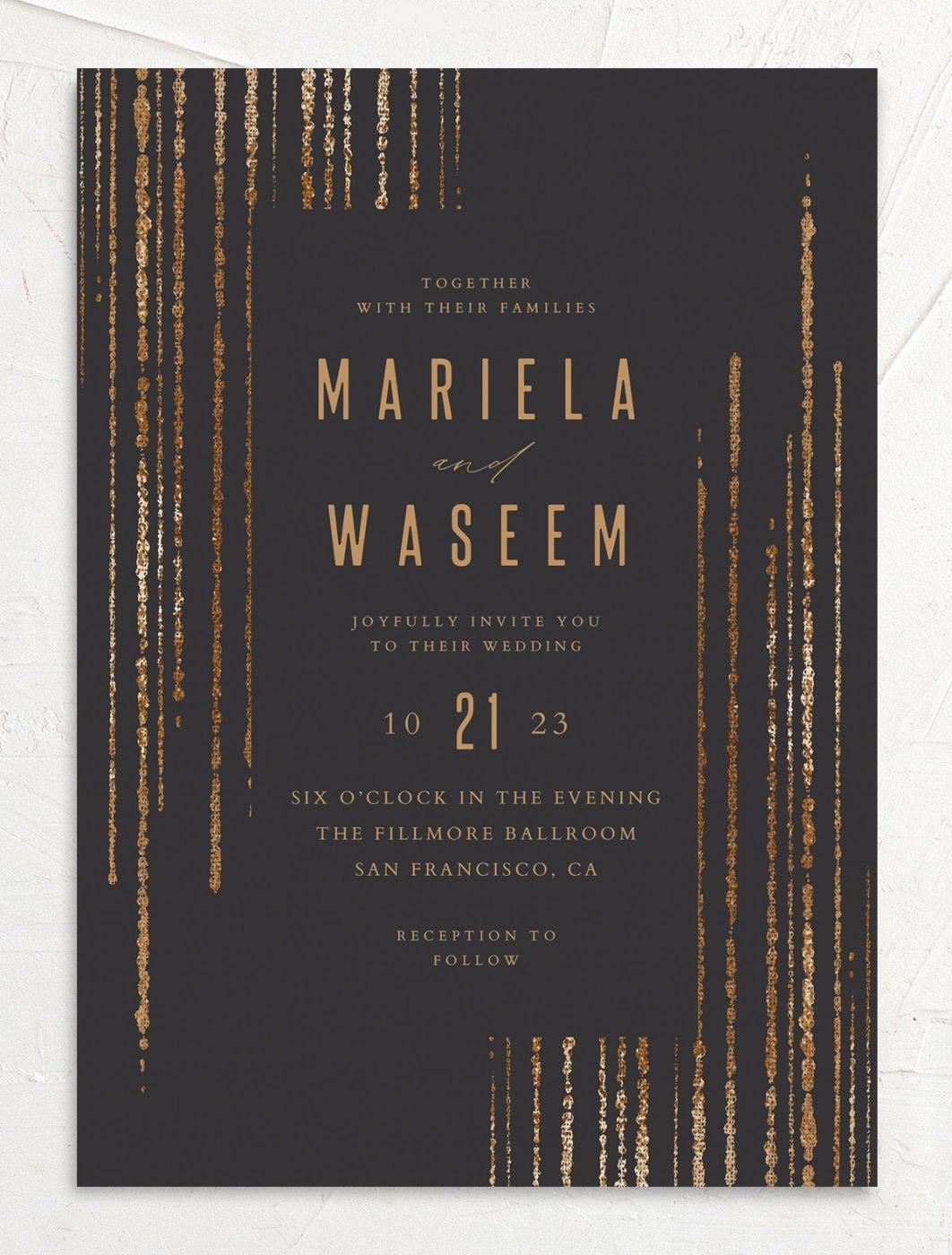 Planning a New Years Eve wedding? You need these glam invitations. Metallic copper stripes add shimmer against the dramatic black background.
WeddingWire Invitations metallic glamour wedding invitations in black, from $1.59 each, WeddingWire Invitations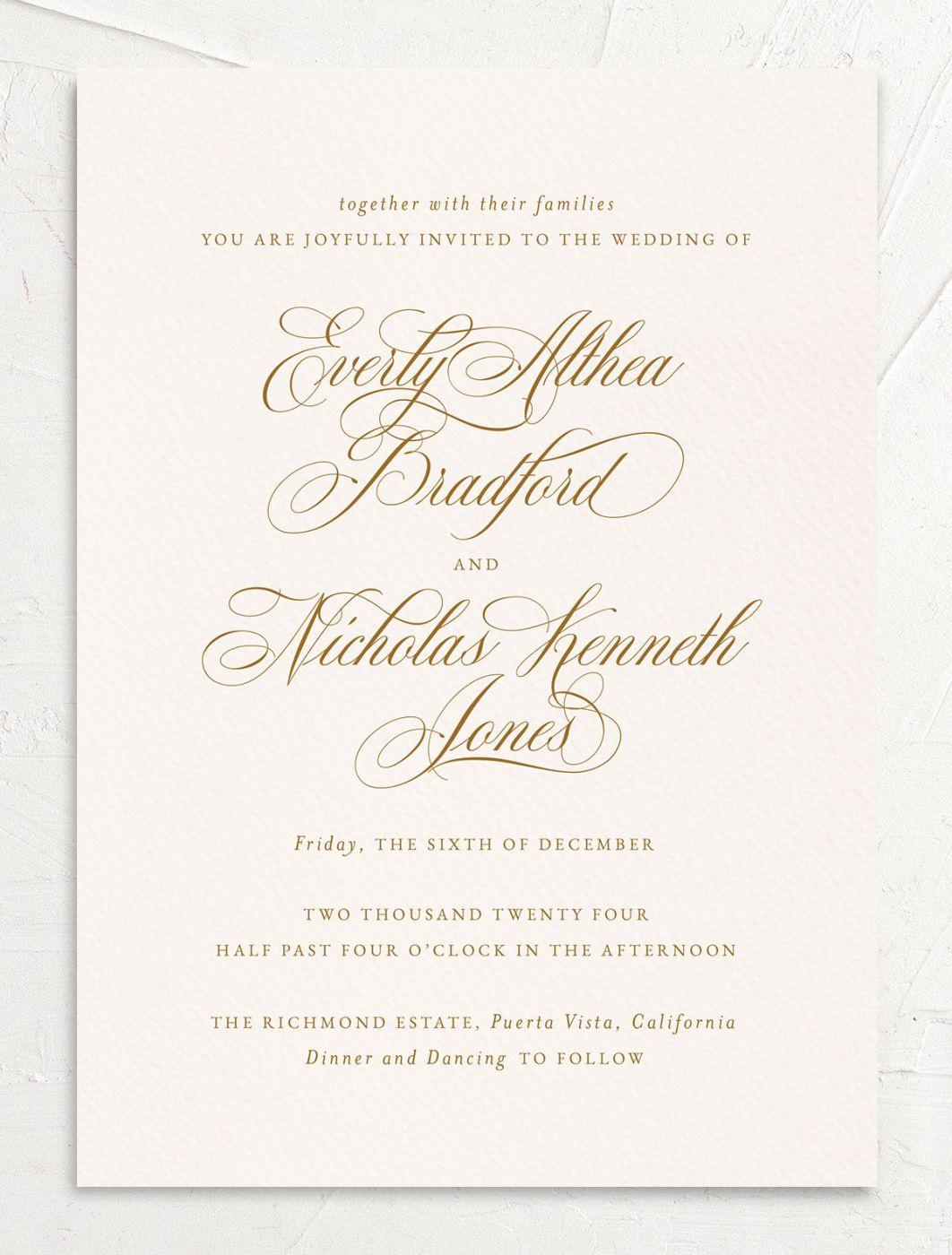 Thanks to the gorgeous calligraphy-style font and neutral color palette, these winter wedding invitations are a stunning choice for a formal, black tie event.
WeddingWire Invitations exquisite regency wedding invitations in cream, from $1.59 each, WeddingWire Invitations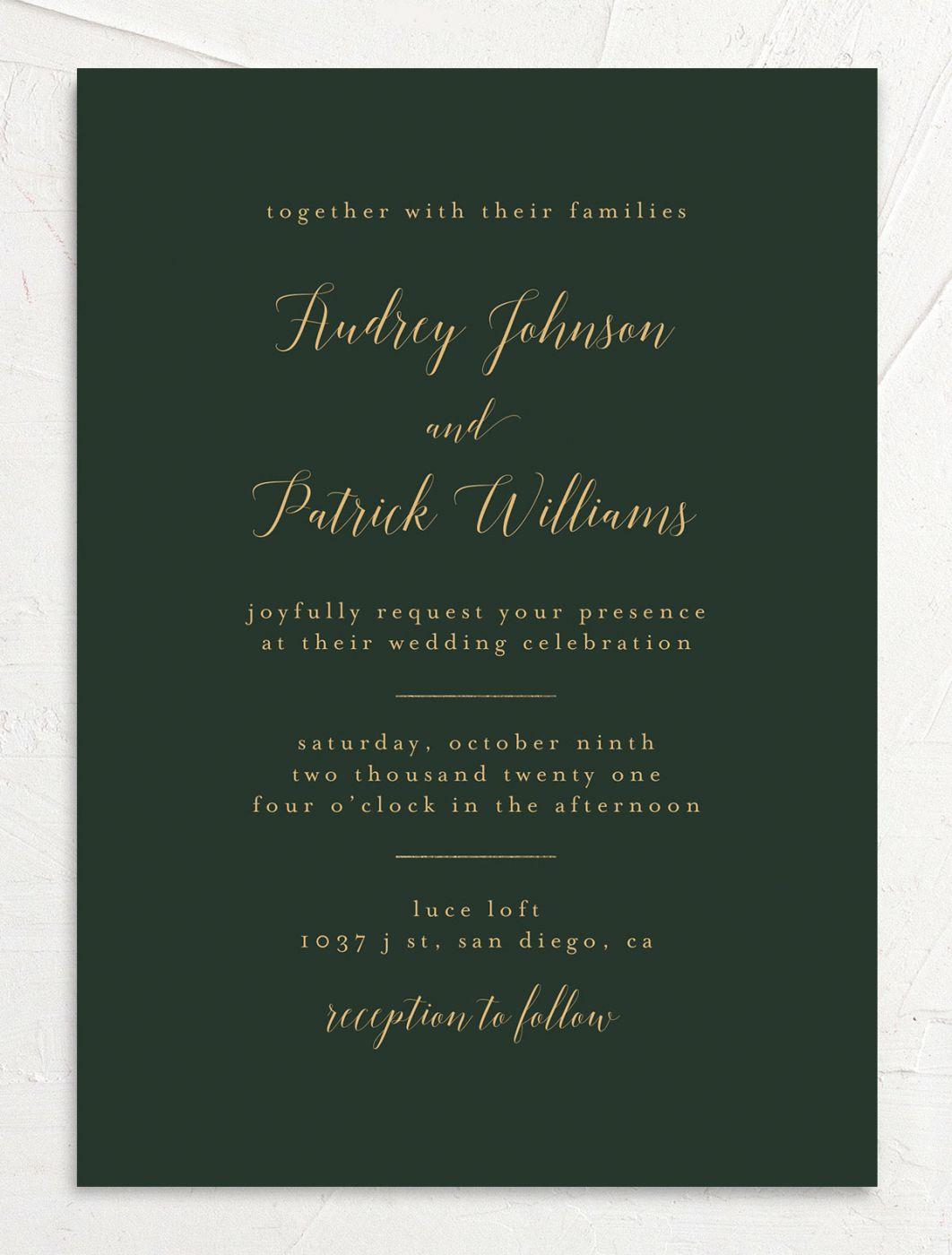 These modern green and gold invitations are decorated with a trending marble pattern on the back of the card.
WeddingWire Invitations marble glamour wedding invitations in green, from $1.59 each, WeddingWire Invitations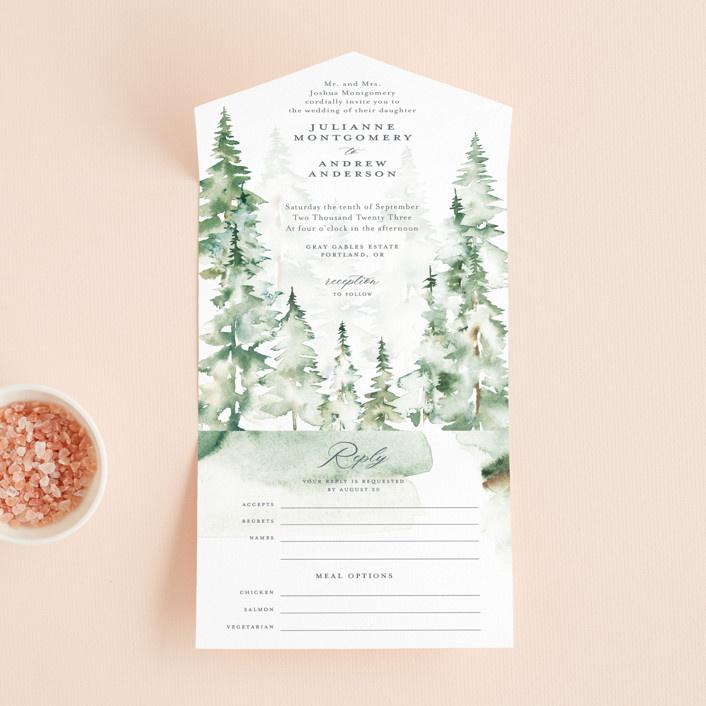 A watercolor forest scene is appropriate for Christmas and winter wonderland-themed weddings.
Petra Kern grand escape all-in-one invitations, from $1.41 each, Minted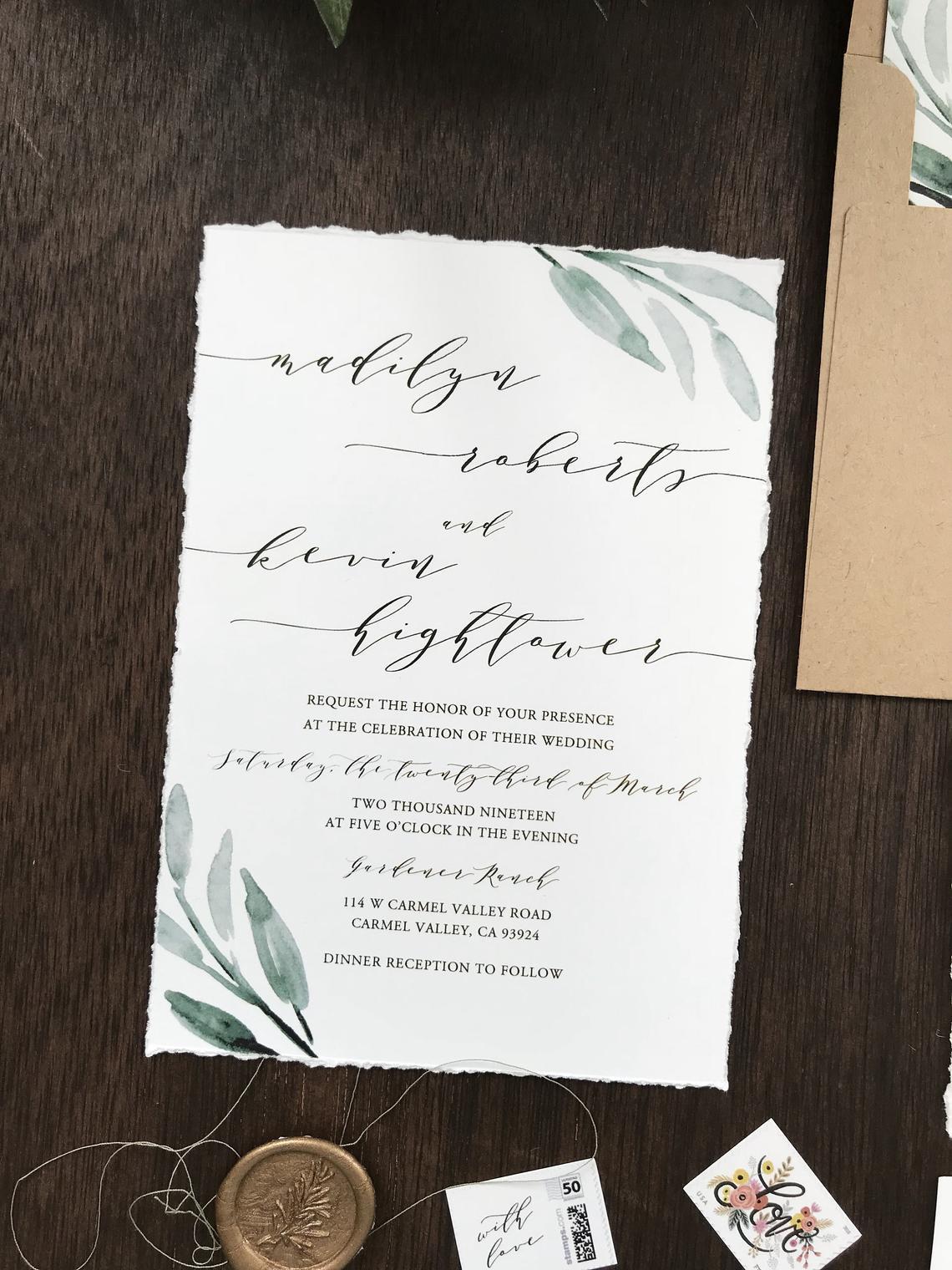 If you're into Old World, romantic style, this deckled edge (the fancy term for 'torn paper') invitation is a sophisticated choice. A gold wax seal completes the upscale wedding stationery suite.
CCPrintsbyTabitha deckled edge wedding invitation with greenery and wax seal, from $2.80 each, Etsy
Get straight to the point with this bold but chic winter wedding invitation featuring metallic gold foil and a no-frills design.
Paper Muserie "Celebrate With Us!" wedding invitation, from $1.28 each, Zazzle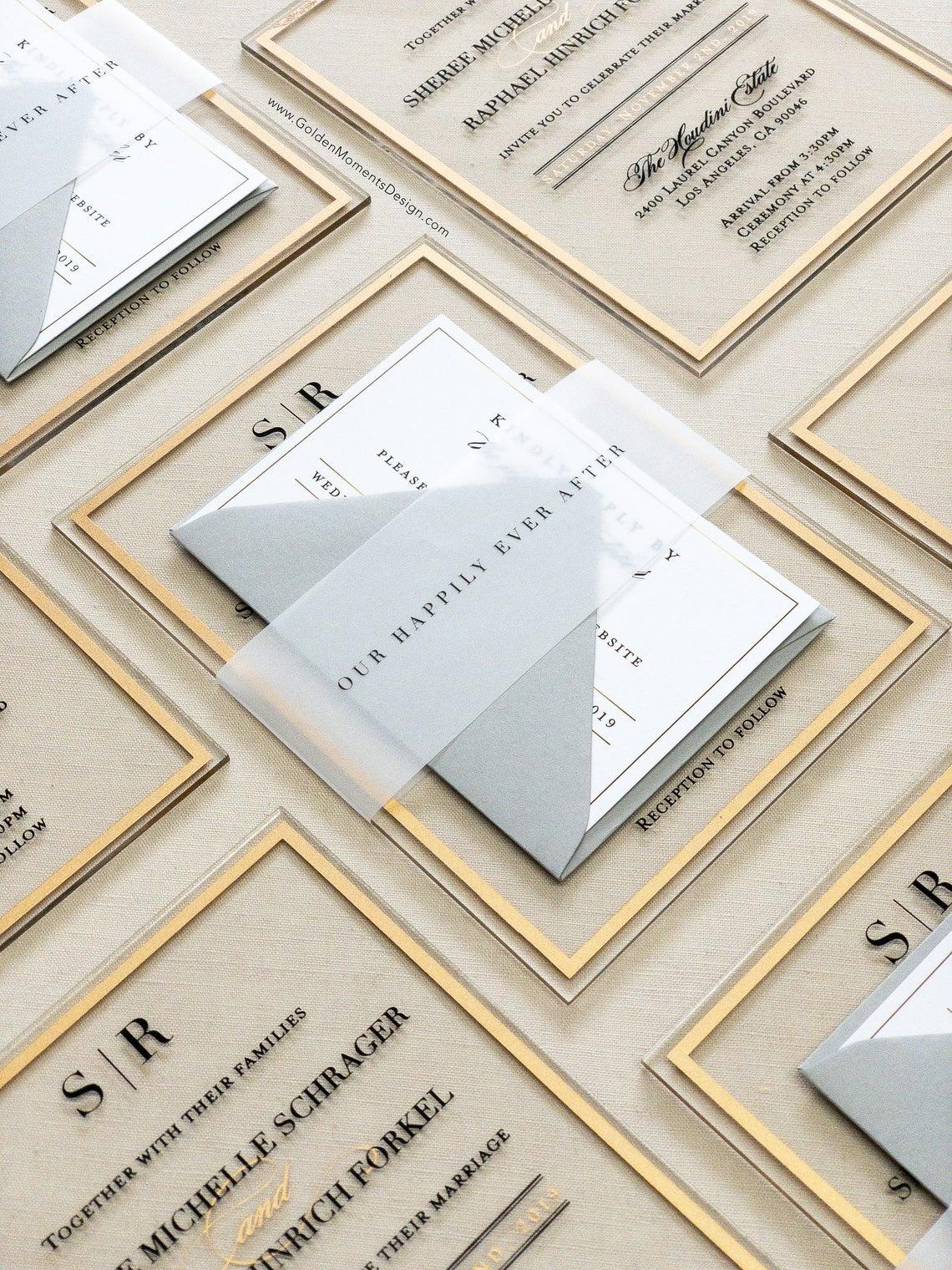 Going for a glam theme on the big day? A luxe acrylic wedding invitation suite will make a statement—we guarantee your guests will feel like royalty upon receiving their wedding invites.
GoldenMomentsLA clear acrylic wedding invitation, from $393.75 for 25, Etsy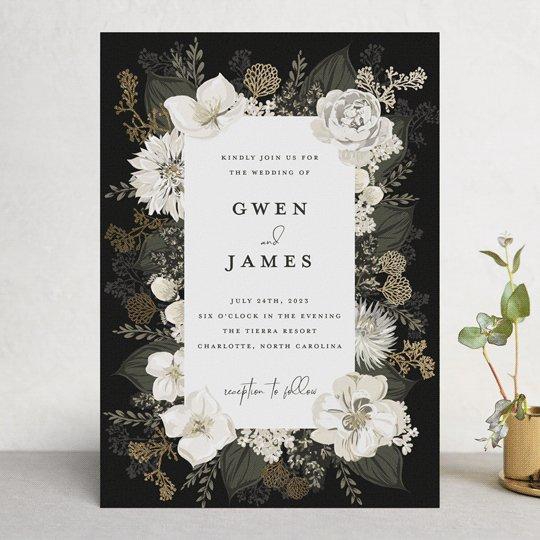 Featuring a floral and greenery print against a dark backdrop, these rustic wedding invitations are perfect for a wintry farmhouse theme.
Susan Moyal foil-pressed wedding invitations in mist, from $2.39 each, Minted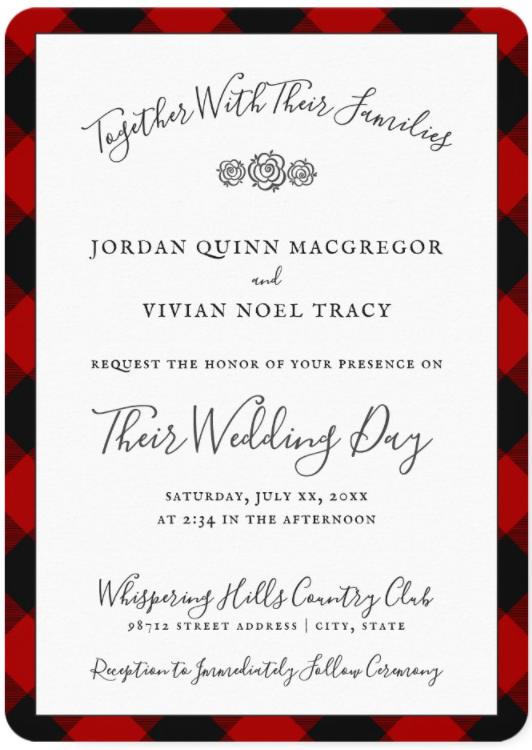 A red and black buffalo check pattern screams winter style, whether you're having a festive Christmas-themed celebration or simply love wearing flannel shirts.
Vestiarium Scoticum MacGregor red tartan wedding invitation, from $1.28 each, Zazzle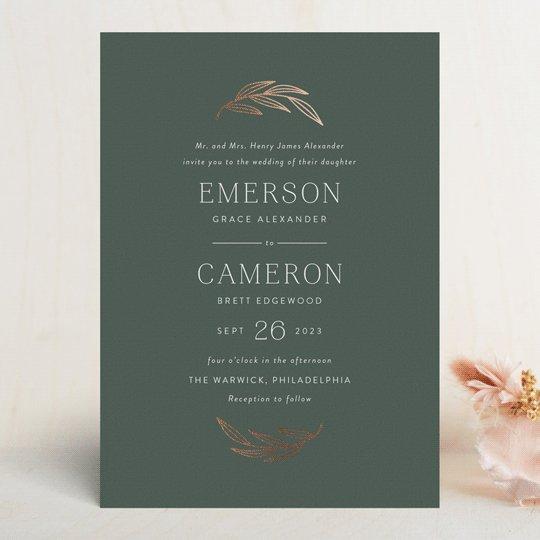 This sage green invitation is our pick for a minimalist theme. It has just the right amount of metallic flair—and if you don't like this color combination, there are seven other options to choose from.
Susan Asbill foil-pressed wedding invitations, from $2.39 each, Minted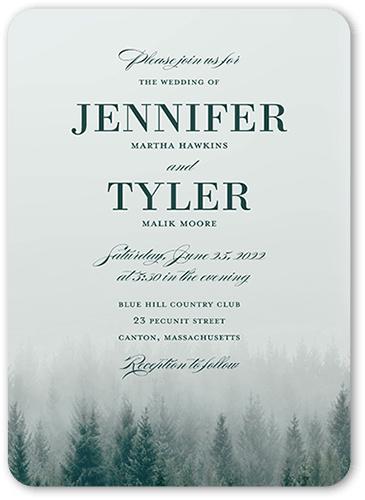 Here's another way to incorporate nature into your winter-themed wedding invitations: by adding a snow-covered forest scene along the bottom border.
Stacy Claire Boyd mountain mist wedding invitations, from $1.79 each, Shutterfly
Instead of traditional bright red, opt for a burgundy and green color palette to give your wedding invitations a festive yet understated look.
RusticWeddings burgundy and silver rose bouquet wedding invitation, from $1.13 each, Zazzle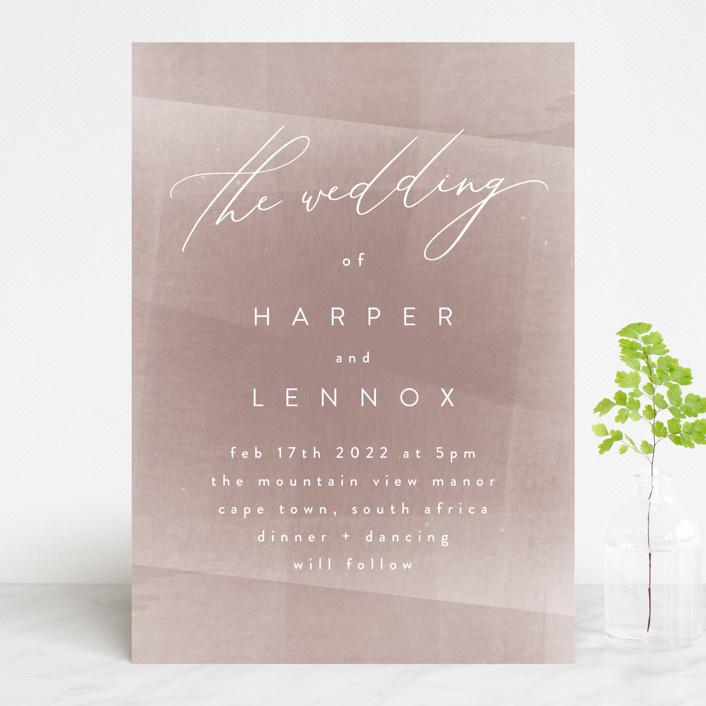 This muted taupe and white invitation would look gorgeous for a modern wedding theme. Love the design but not into the color palette? There are seven other options you can choose from.
Phrosne Ras plain paint wedding invitations in taupe, from $2.15 each, Minted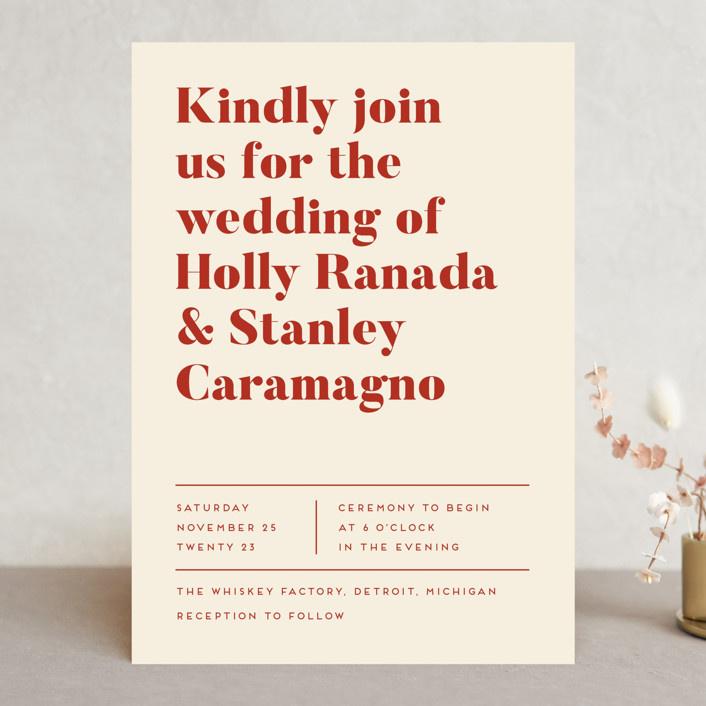 We're obsessed with the attention-grabbing typography on this stylish winter wedding invitation.
Genna Blackburn vogue wedding invitations in scarlet, from $2.15 each, Minted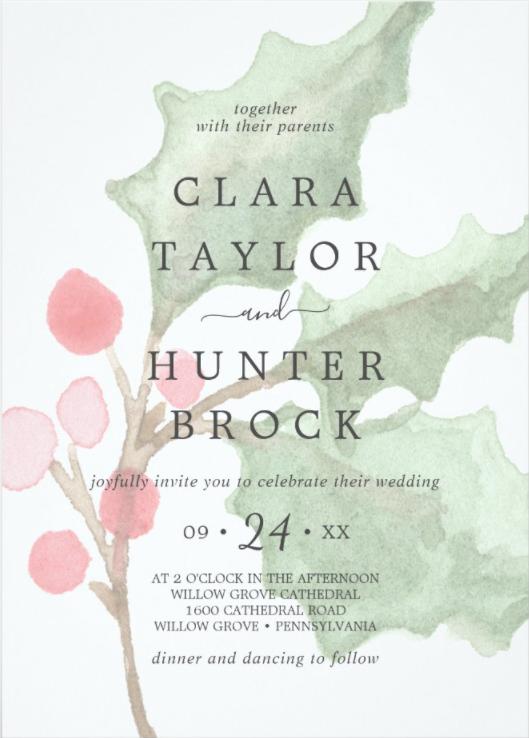 Bring instant festive flair to your invitations by decorating them with oversized holly leaves and berries. The muted watercolor style makes the design feel chic rather than overbearing.
Fresh & Yummy Paperie greenery and berry faded wedding invitation, from $1.26 each, Zazzle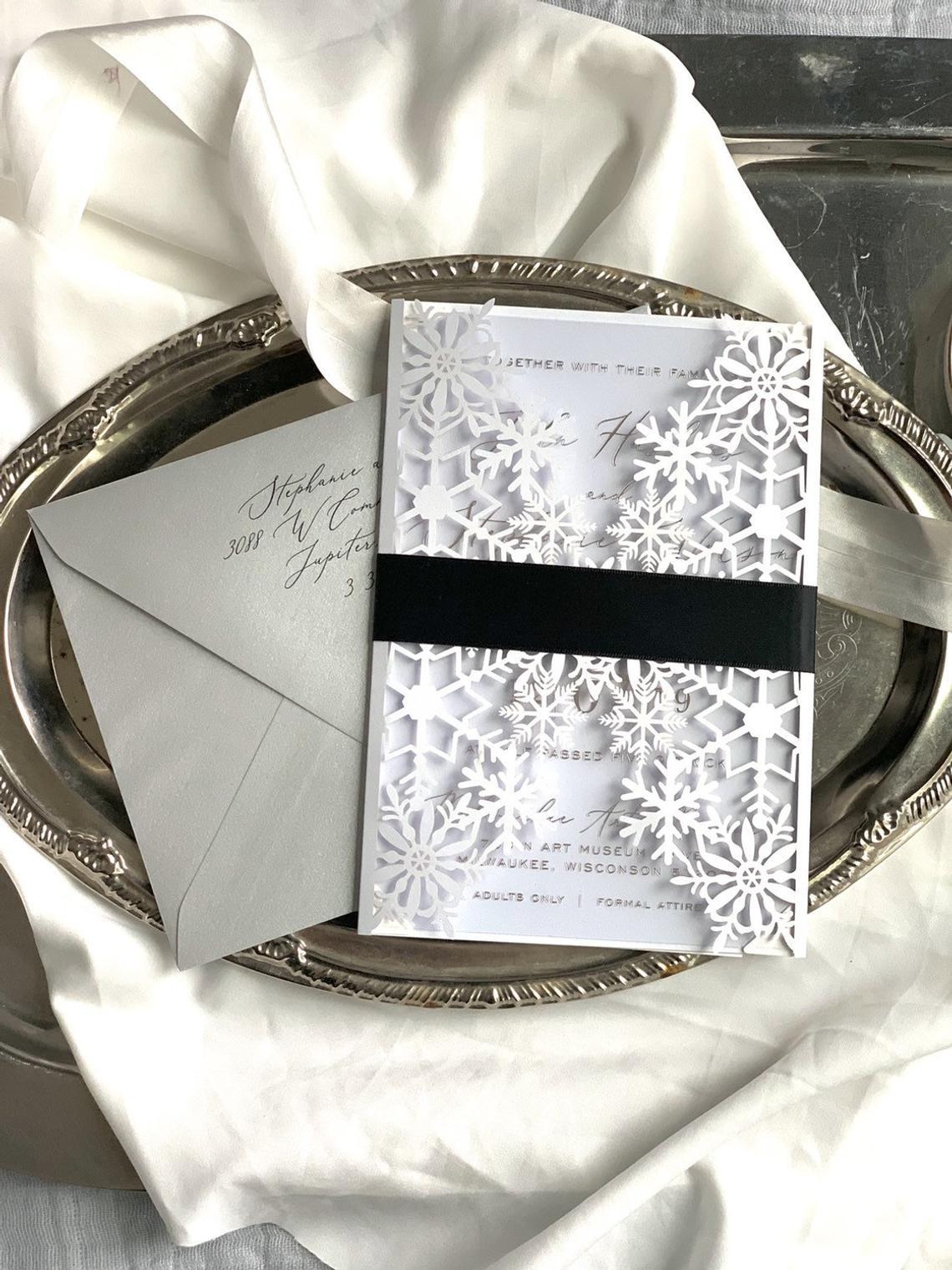 Formal weddings call for formal invitations, which is exactly what this design is. Gatefold invitations are very traditional, but you can give them some seasonal finesse with laser-cut snowflakes. Complete the look with a belly band and calligraphed envelope.
ThePrettiestPixelLLC gatefold snowflake wedding invitation, price upon request, Etsy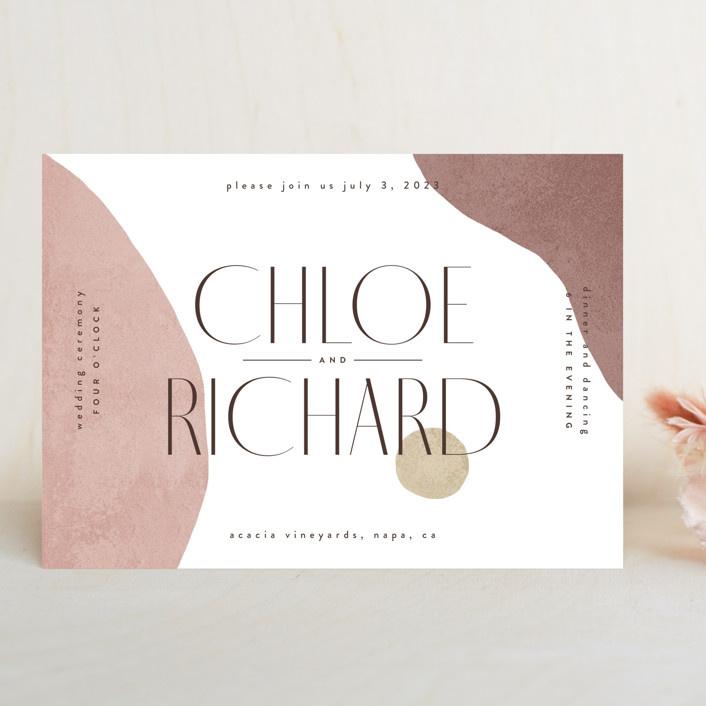 This quirky winter wedding invitation is a great pick if you're looking for something unique and artistic. We like this pretty blush wedding color scheme, but there are several other winter-appropriate options you can choose from, including dark green and navy blue.
Kelly Schmidt abstract wedding invitations in dusk, from $2.15 each, Minted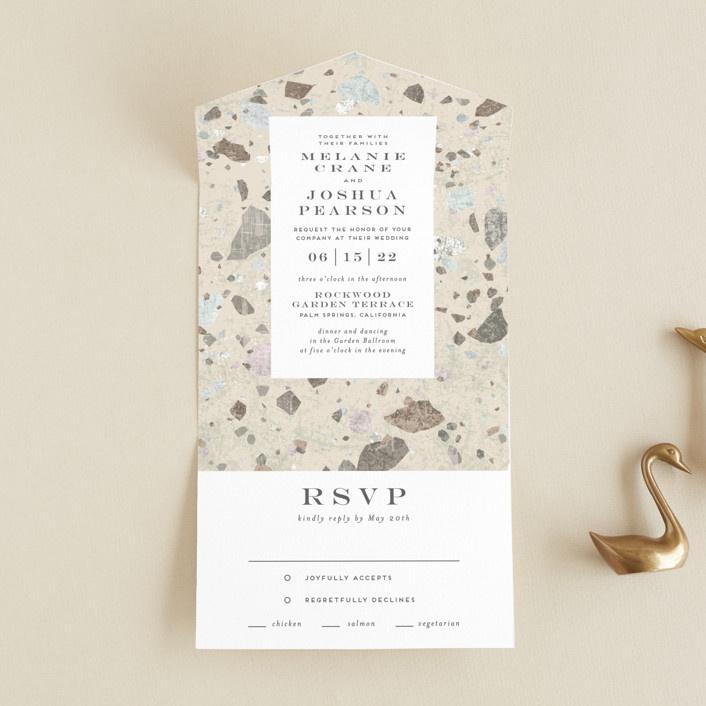 A unique terrazzo print adorns this folded wedding invitation that's complete with a detachable RSVP card (that means no stuffing envelopes on your part!).
Amy Payne terrazzo frame wedding invitations in champagne, from $1.41 each, Minted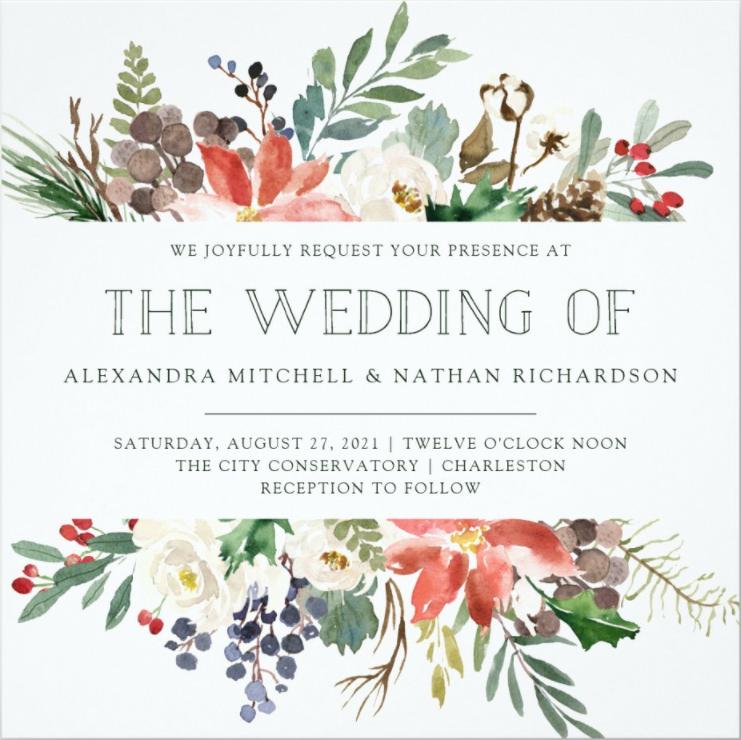 Who says flowers are just for spring weddings? By adding pops of red through holly berries and poinsettias, this botanical watercolor design is totally on-theme for winter.
Customize My Wedding botanical Christmas wedding invitation, from $1.26 each, Zazzle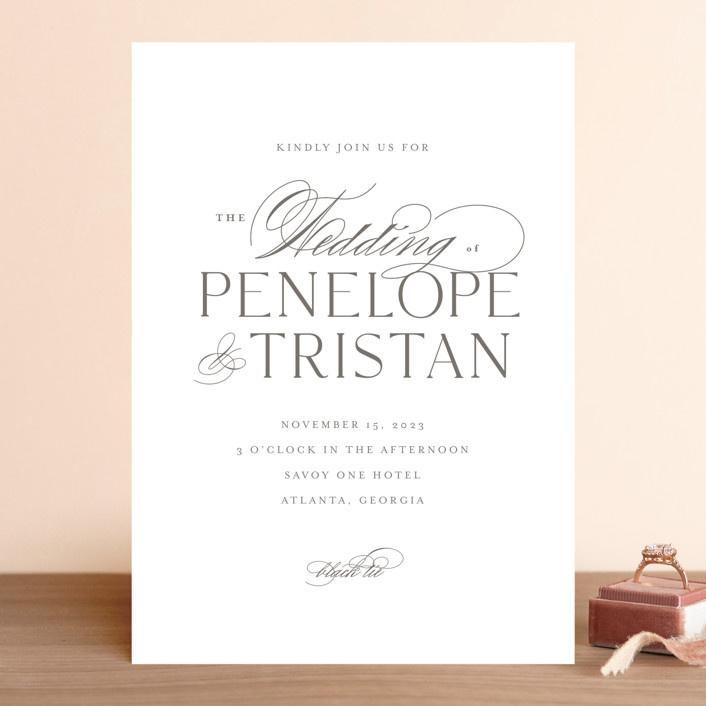 There's nothing wrong with keeping it simple and classic for your stationery. These elegant wedding invitations will never go out of style—you can personalize the look with different text colors and invitation shapes.
Chocomocacino calisson wedding invitations, from $2.15 each, Minted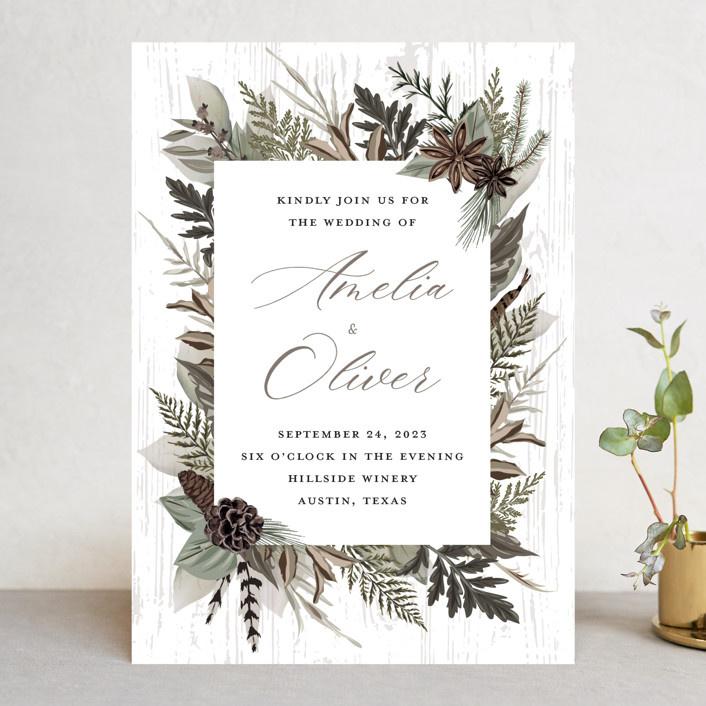 Hosting a rustic winter wedding? Set the tone for the day with this winter wonderland wedding invitation featuring woodland-inspired details, such as pinecones, feathers, and a faux bois pattern.
Susan Moyal woodland garden wedding invitations, from $2.15 each, Minted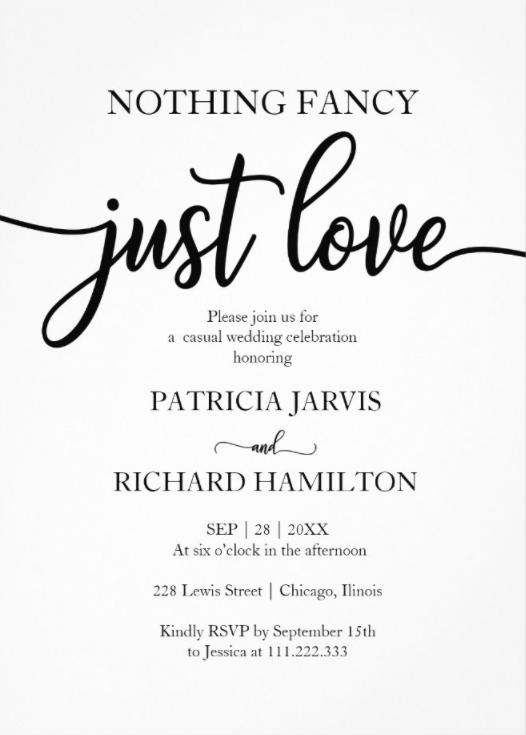 If you're eloping or having a microwedding, consider this straightforward invitation to fill guests in on the most important details.
BlueBird Invites "Nothing Fancy Just Love" wedding invitation, from $1.13 each, Zazzle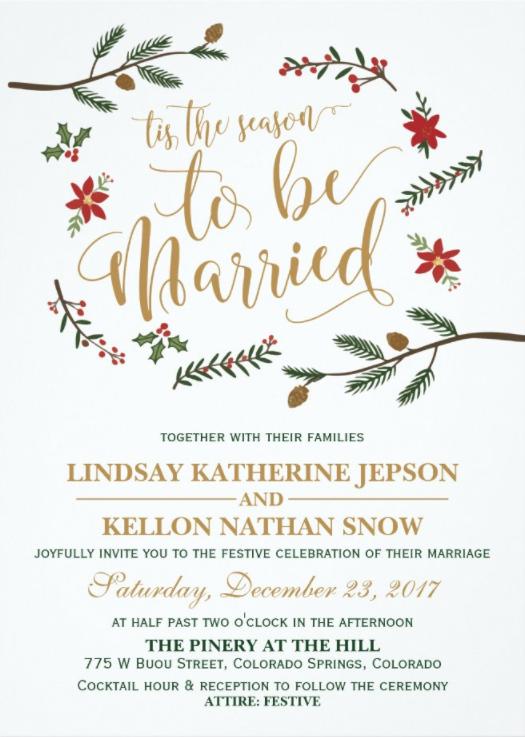 With pinecones, poinsettias, evergreen branches, and holly leaves, we couldn't imagine a more Christmassy wedding invitation.
HadleyDesigns festive Christmas wedding invitation, from $1.20 each, Zazzle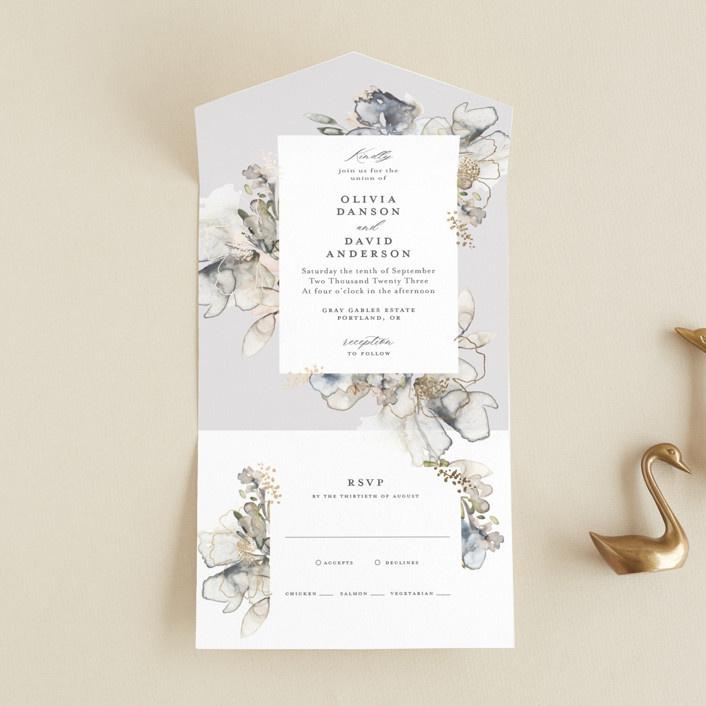 This abstract floral design and pastel color palette would be perfect for a wedding on the cusp of late winter and early spring.
Petra Kern all-in-one foil-pressed wedding invitations, from $3.45 each, Minted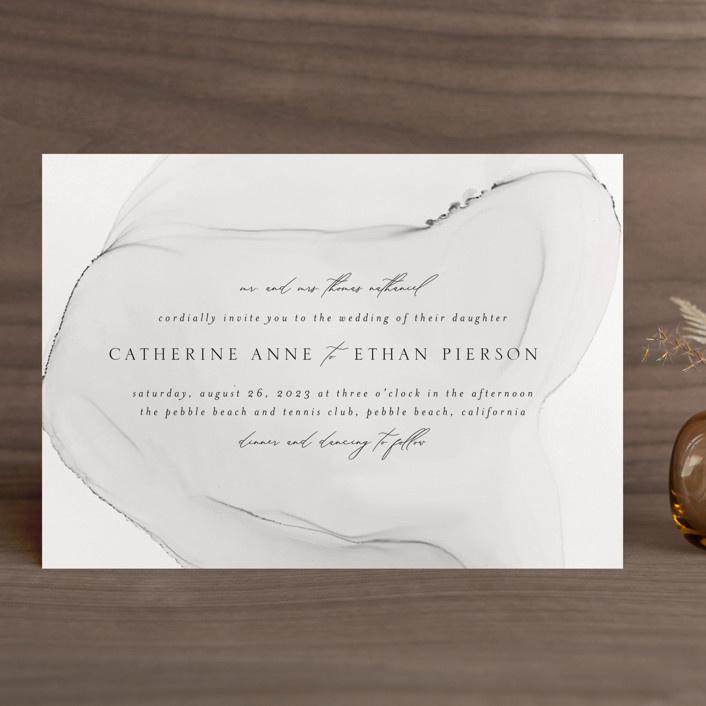 An abstract wash of color is just enough to give this understated winter wedding invitation an ethereal, sophisticated look.
Erin Deegan cultured pearl wedding invitations in pebble, from $2.15 each, Minted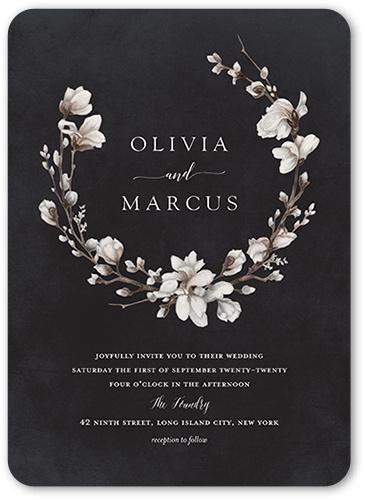 The black background gives this otherwise dainty winter-themed wedding invitation a bit of edge and drama.
Lady Jae for Wedding Paper Divas blossom of love invitation, from $1.79 each, Shutterfly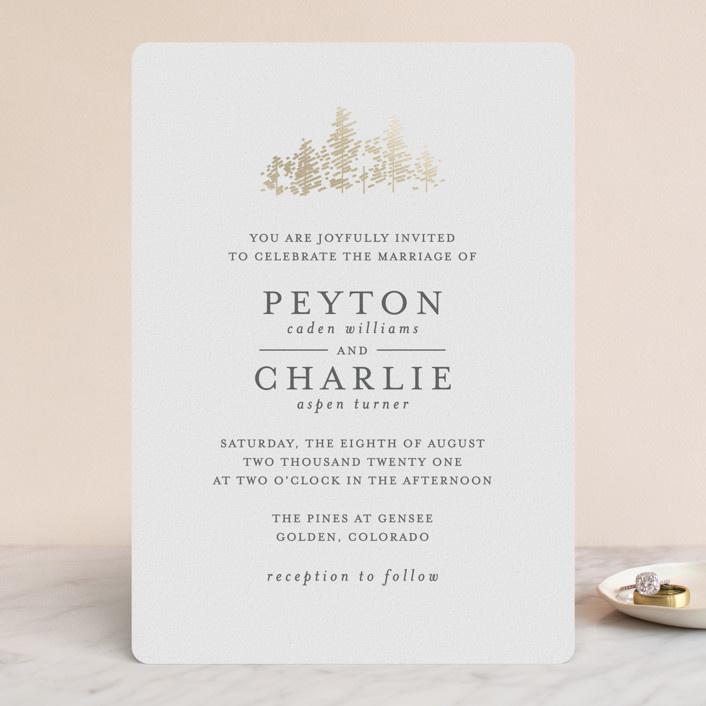 Metallic foil pine trees are our recommendation for when you want just a hint of wintry shimmer. Choose from gold, silver, bronze, ice blue, black, or iridescent foil.
Bethan golden pines foil-pressed wedding invitations, from $1.26 each, Minted