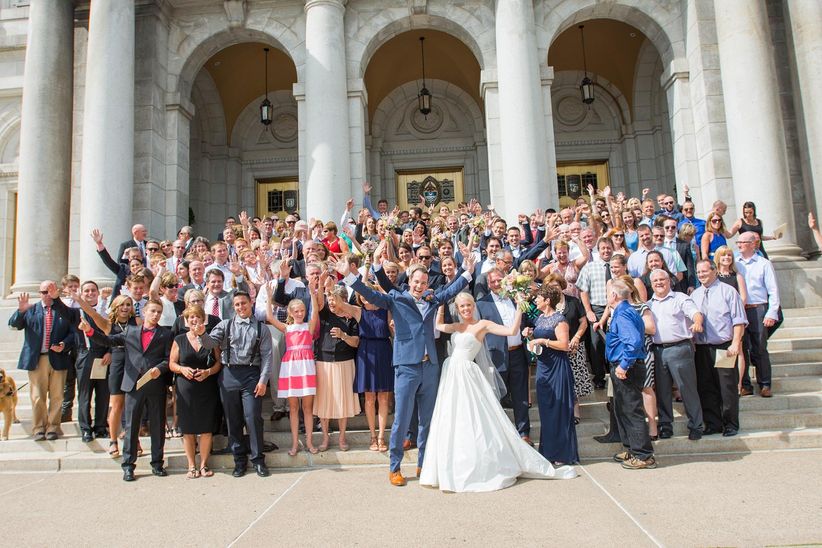 Photo: Coppersmith Photography

Come up with a target guest count
First, decide if you'd like your wedding to be small (under 150 people) or bigger (over 150 guests). Then, start jotting down names of all of the people you think should be invited to your wedding. Write down the names in this order, and then count to come up with a preliminary number.

- Immediate family members (parents, siblings and families, grandparents)
- Closest friends
- Close family members
- Friends
- Friends of your families
- Old friends
- Distant relatives
- Co-workers (both yours and your parents')
- Others

If the number is too high, you can start to cut guests from the bottom category and work your way upward.

Split the list
If your parents are paying for part or all of the wedding, then you'll have to get their input into who you're inviting. Ask each set of parents to write down their "dream guest list" and give them a target number. Be prepared to discuss the list with your parents – especially if they invite more people than you requested.

Make rules – and stick to them!
You don't have to invite children, dates for single guests or co-workers. But once you make a rule, stick with it – and don't make any exceptions or risk offending people.

Don't forget
Remember that about 20 percent of those you invite will be unable to attend your wedding. If you're having a wedding in your and your future spouse's hometown, that percentage will be smaller, but if you're having a destination wedding in a faraway place, it will be higher.