The 27 Cutest Ideas You Have to Include in Your Bridesmaid Boxes
Ready to propose to your bridesmaids? Here's exactly what to put in a bridesmaid box—all you have to do is click add to cart.
We have included third party products to help you navigate and enjoy life's biggest moments. Purchases made through links on this page may earn us a commission.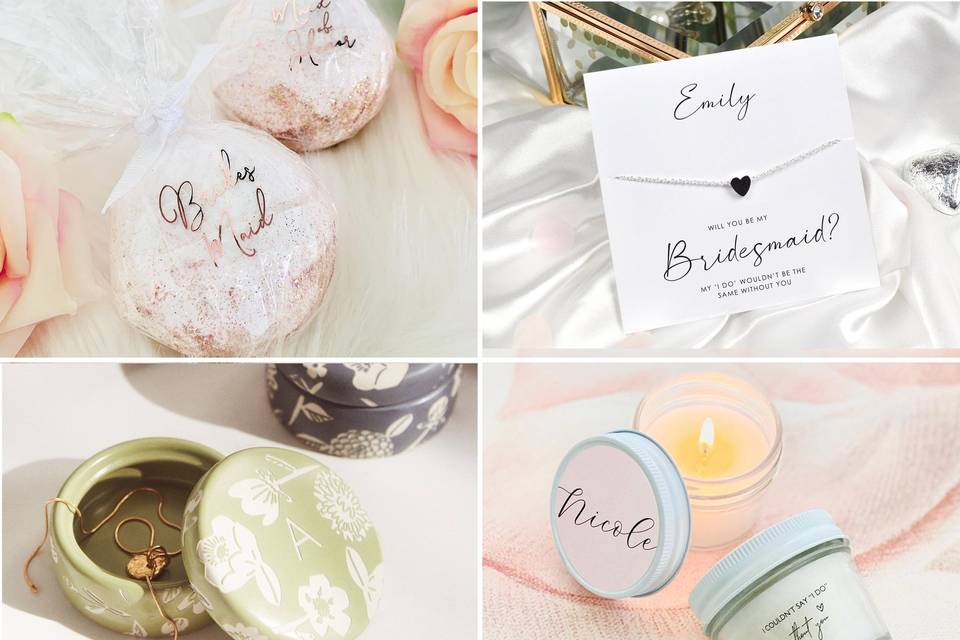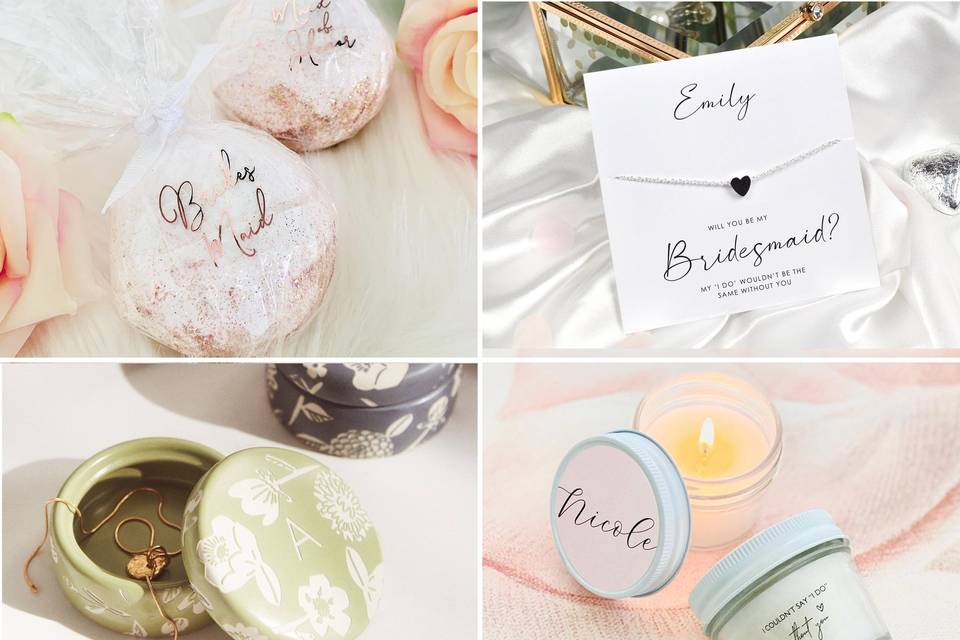 Figuring out what to put in a bridesmaid box is a pretty big decision—after all, these are gifts for the people that you eventually want standing by your side on the wedding day. Lucky for you, we've got lots of bridesmaid box ideas that'll show them just how much they mean to you. The bridesmaid proposal box is a sweet way to ask your closest friends or family members to be in your wedding, but deciding exactly what to include isn't always an obvious answer. To make it as easy as possible, we've listed all our favorite things to put in a bridesmaid box below (and if you're still stuck, check out the WeddingWire Shop for even more inspiration).
What to Put in a Bridesmaid Box
What you put in your bridesmaid proposal box should be true to you, but it should also delight your wedding party. That can mean gifts, pictures of a fun memory, or a card that earns a laugh—whatever feels right to you! There are also lots of different options to suit every budget, so don't feel pressured to break out your rainy day fund just yet. From a logistical side though, you may want to consider how you'll be delivering these boxes, as that might impact what you include as well. If you're going to be meeting your bridesmaids-to-be in person, delicate items like trinket dishes are a safe bet. On the flipside, if you're delivering them by mail you may want to leave out anything fragile. We've got lots of bridesmaid box ideas right here that'll work either way.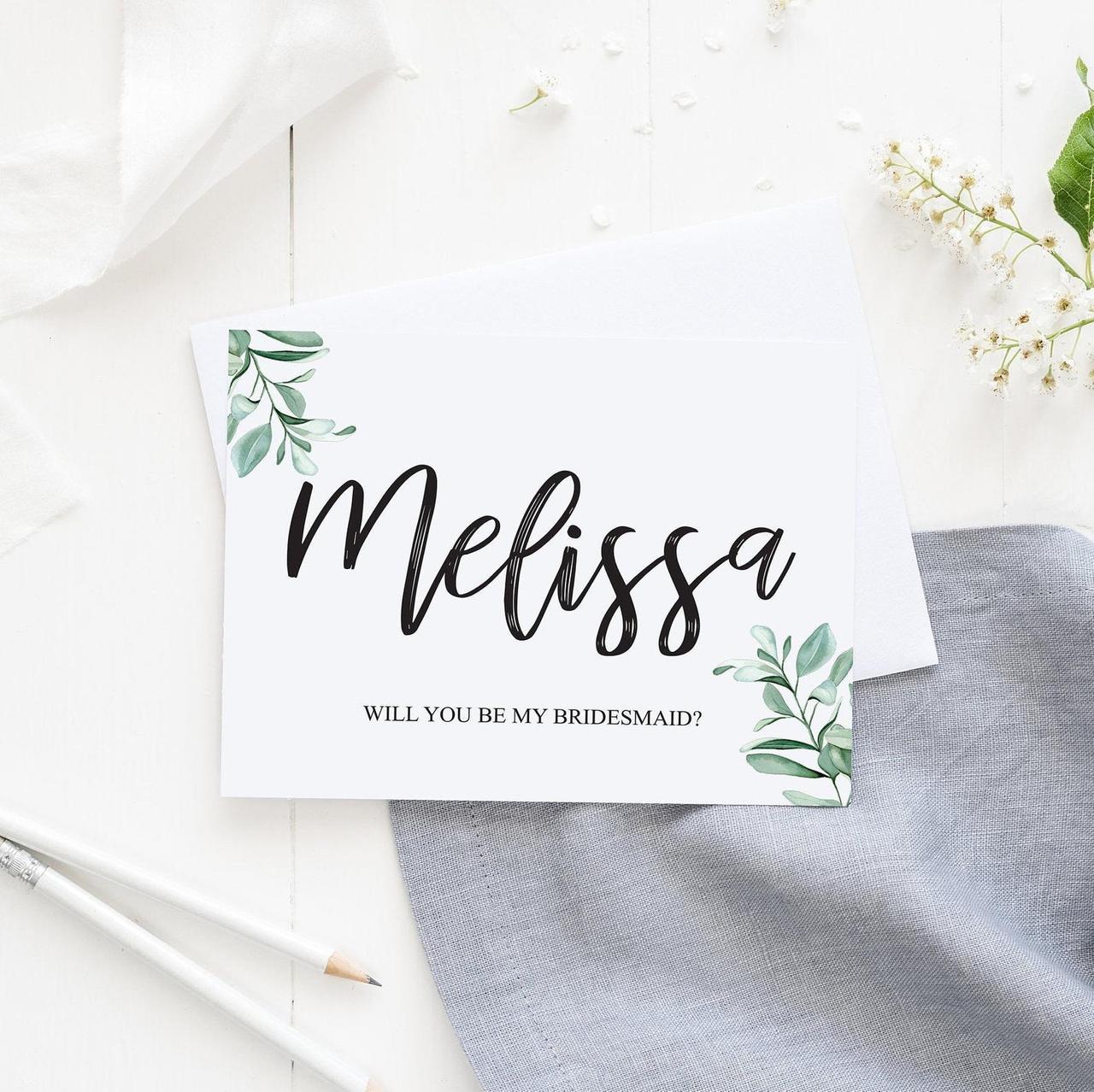 A Personal Note
A box to ask your bridesmaids just isn't complete without a sweet handwritten card. Start by taking the time to write a personal note to each of your bridesmaids letting them know how excited you are to have them (hopefully) join you on the big day.
Poppy Paper Designs custom bridesmaid proposal card, $4, Etsy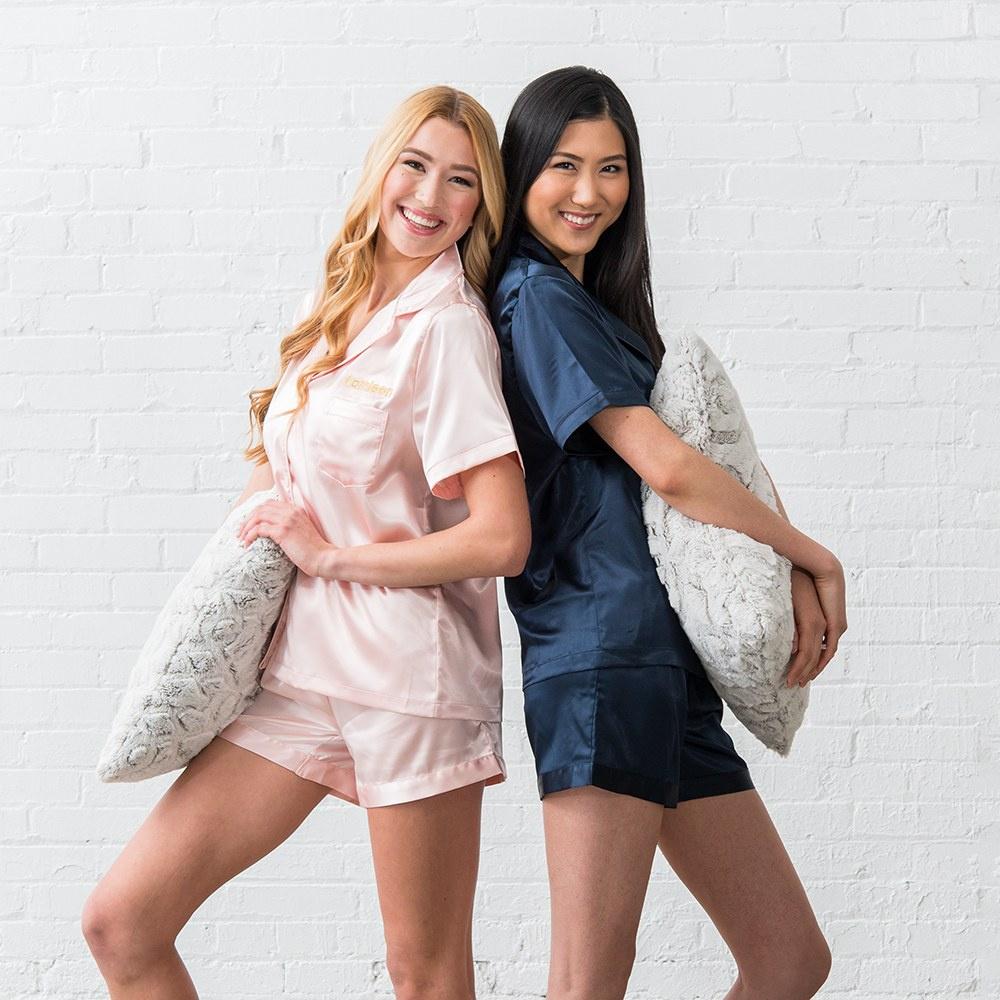 Satin Pajamas
Bulk up your bridesmaid boxes with a pair of cute, personalized PJs for everyone in your crew. They'll be all set for a fun bachelorette weekend (or even just your next girl's night in).
WeddingWire Shop women's personalized satin pajama sleepwear set, $29, WeddingWire Shop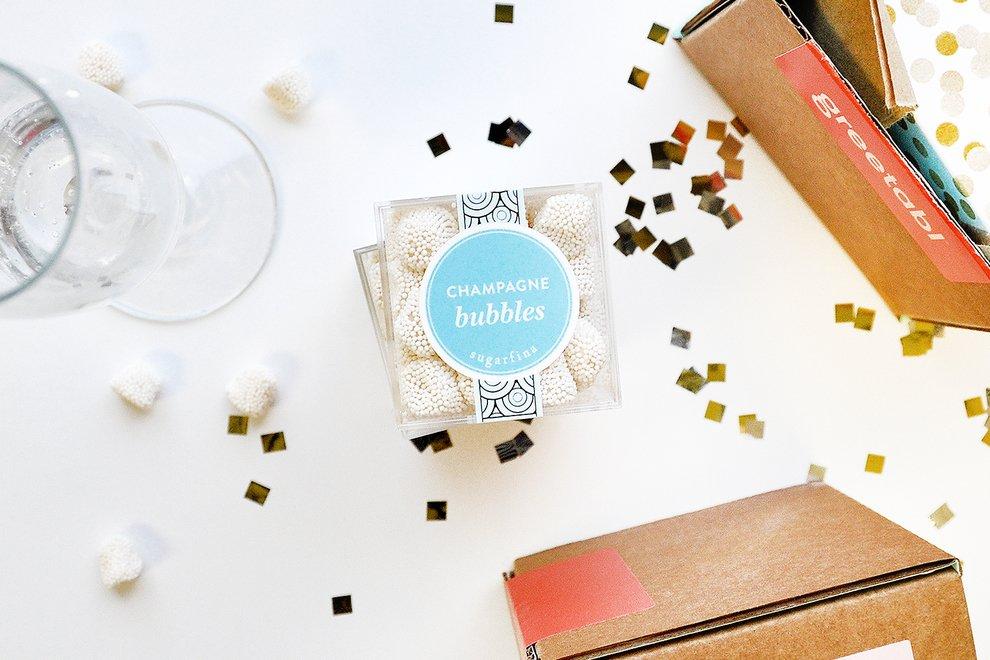 Sweet Treats
Who doesn't love an excuse to indulge their sweet tooth every now and then? Add this box of champagne-flavored gummies to your bridesmaid boxes for a treat they won't be able to resist. The best part? Greetabl lets you create custom fold-out boxes to put them in, complete with a personal message and photos. (Psst, they've even got a bridesmaid proposal box print.)
Sugarfina champagne bubbles, from $19 with a gift box, Greetabl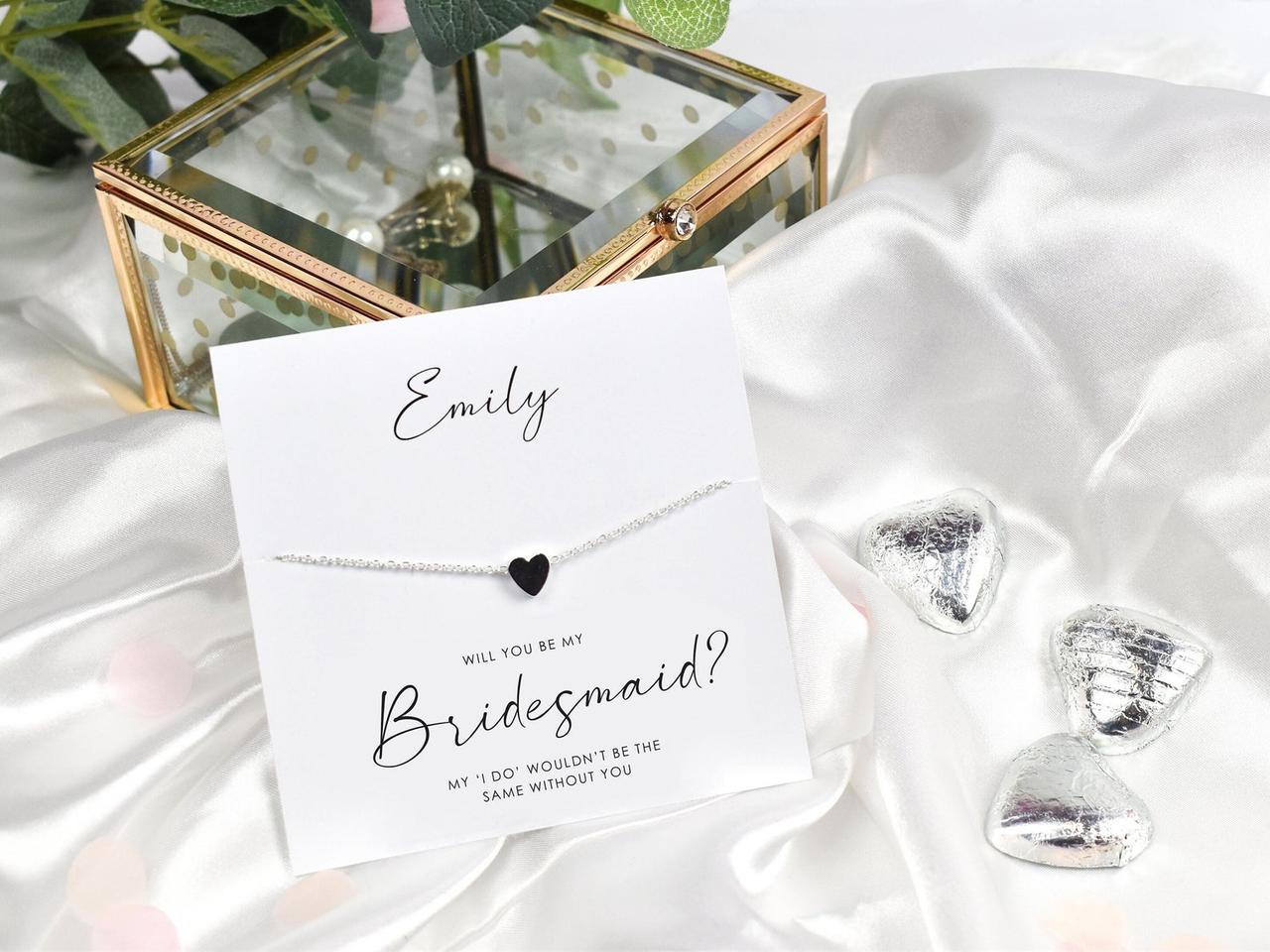 Heartfelt Necklaces
Whether you want your squad to wear matching jewelry on your wedding day, or you simply want to surprise them with something new, we love the idea of adding a bracelet, necklace, or earrings to your bridesmaid gift boxes. This necklace comes with a cute note that reads: "Will you be my bridesmaid? My 'I do' wouldn't be the same without you."
Amy Lucy Designs personalized Will You Be My Bridesmaid necklace & card, $9, Etsy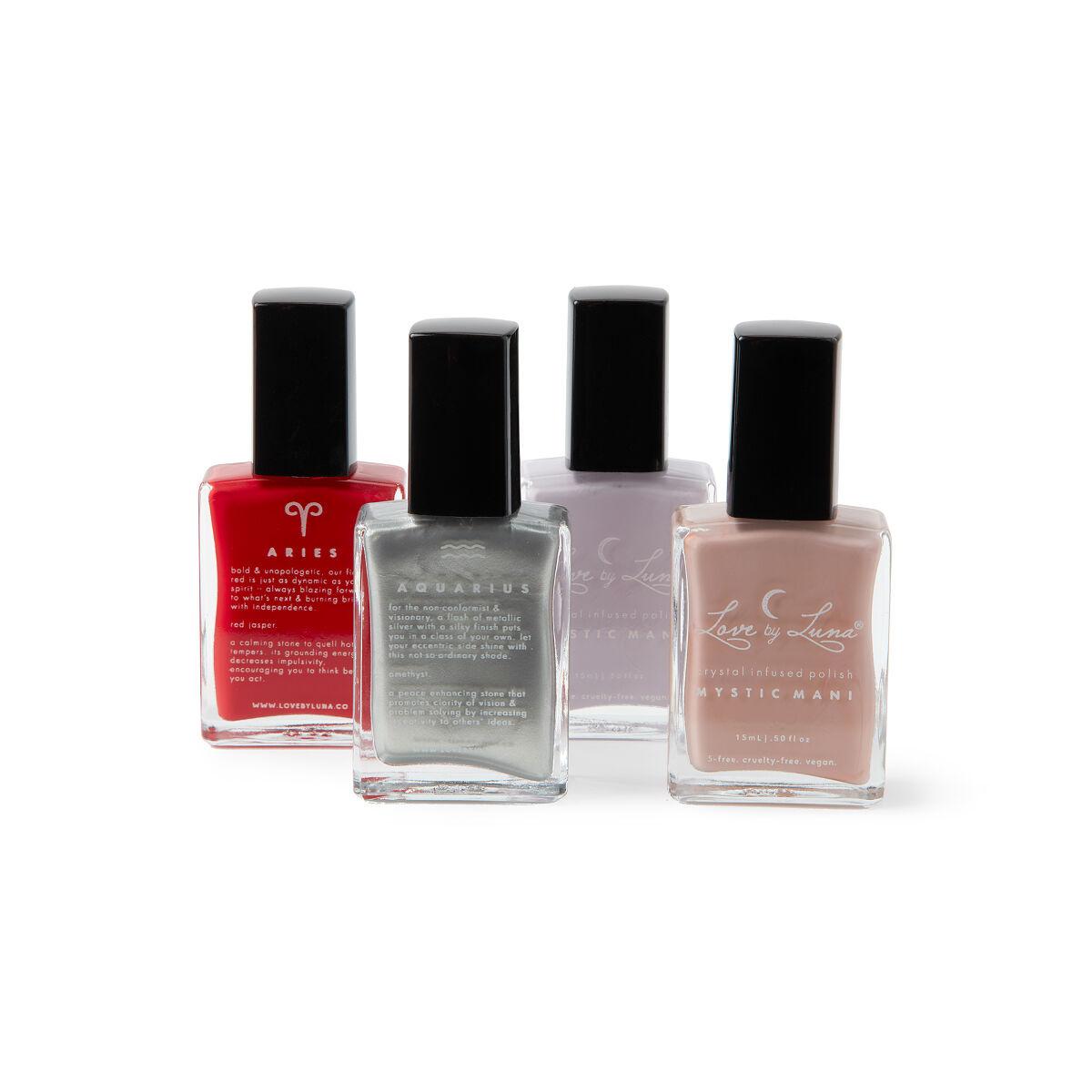 Zodiac Nail Polish
Show your crew you know them well with these crystal-infused zodiac nail polishes. Each star sign has its own unique shade to reflect their one-of-a-kind personalities. Who knew bridesmaid proposal box ideas could be chic and sentimental?
Katie Huang crystal-infused zodiac nail polish, $18, Uncommon Goods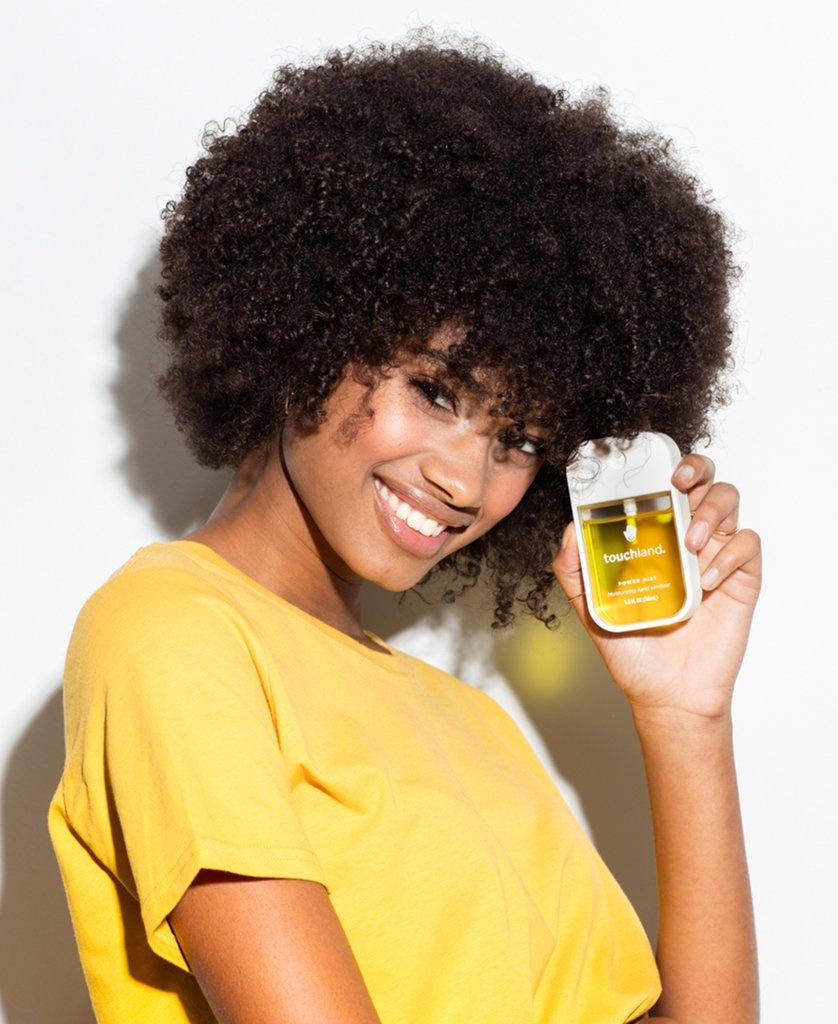 Hydrating Hand Sanitizer
Making DIY bridesmaid proposal boxes means you get to pick things you know your 'maids will use. These practical hand sanitizers are cute and colorful, and since it's a mist, they won't make a mess. They're also chock full of good ingredients like hydrating aloe vera. But that's not even the best part—these awesome sanitizers smell simply divine. We're huge fans of this vanilla and cinnamon combo.
touchland power mist in Vanilla Cinnamon, $12, touchland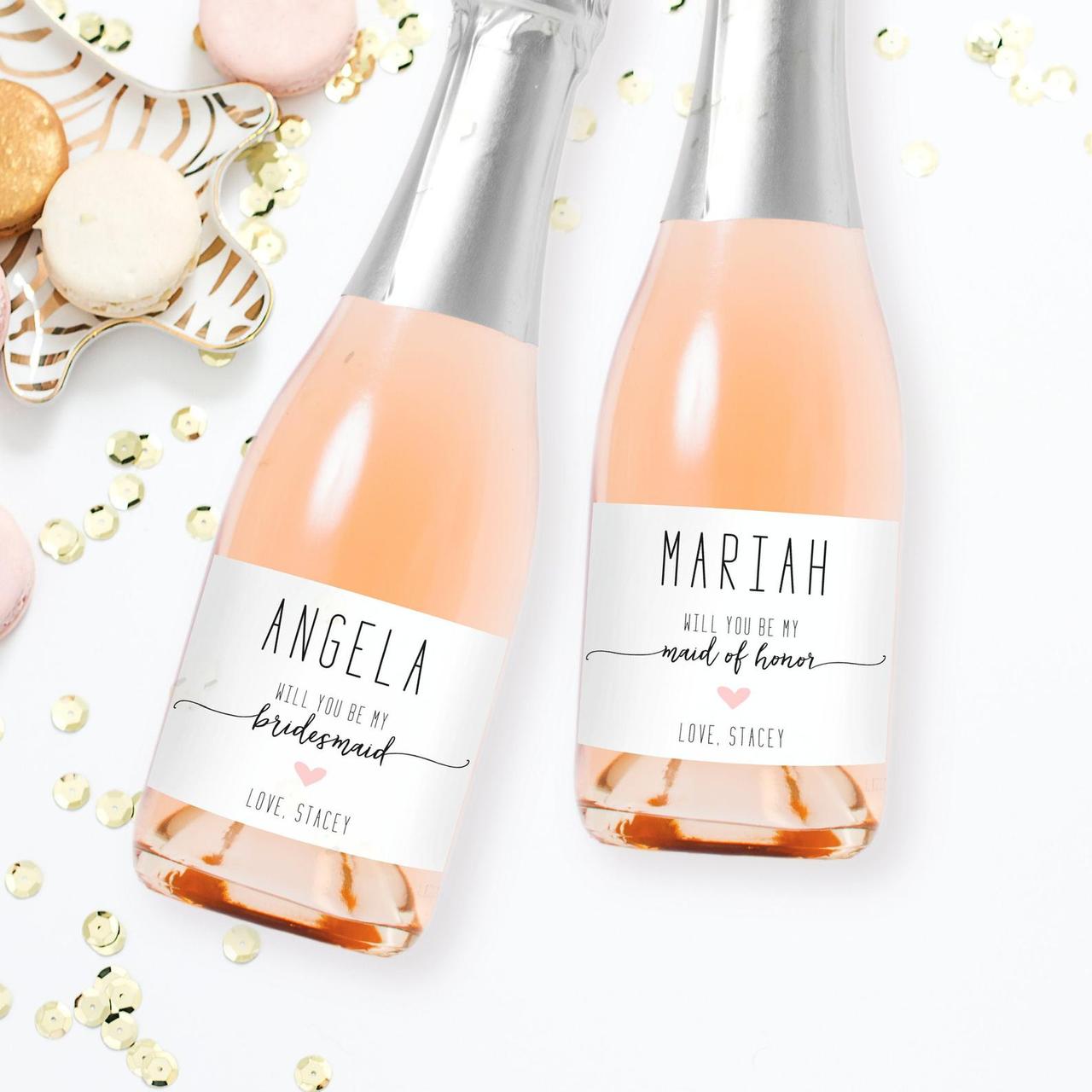 Personalized Wine
Pair these custom wine labels with a few mini bottles of rosé (or prosecco, or whatever their drink of choice is). The result? An adorable (and drinkable) gift for your potential bridesmaids. There's even an option for your maid of honor proposal box.
Label Your Life bridesmaid and maid of honor proposal labels, from $3, Etsy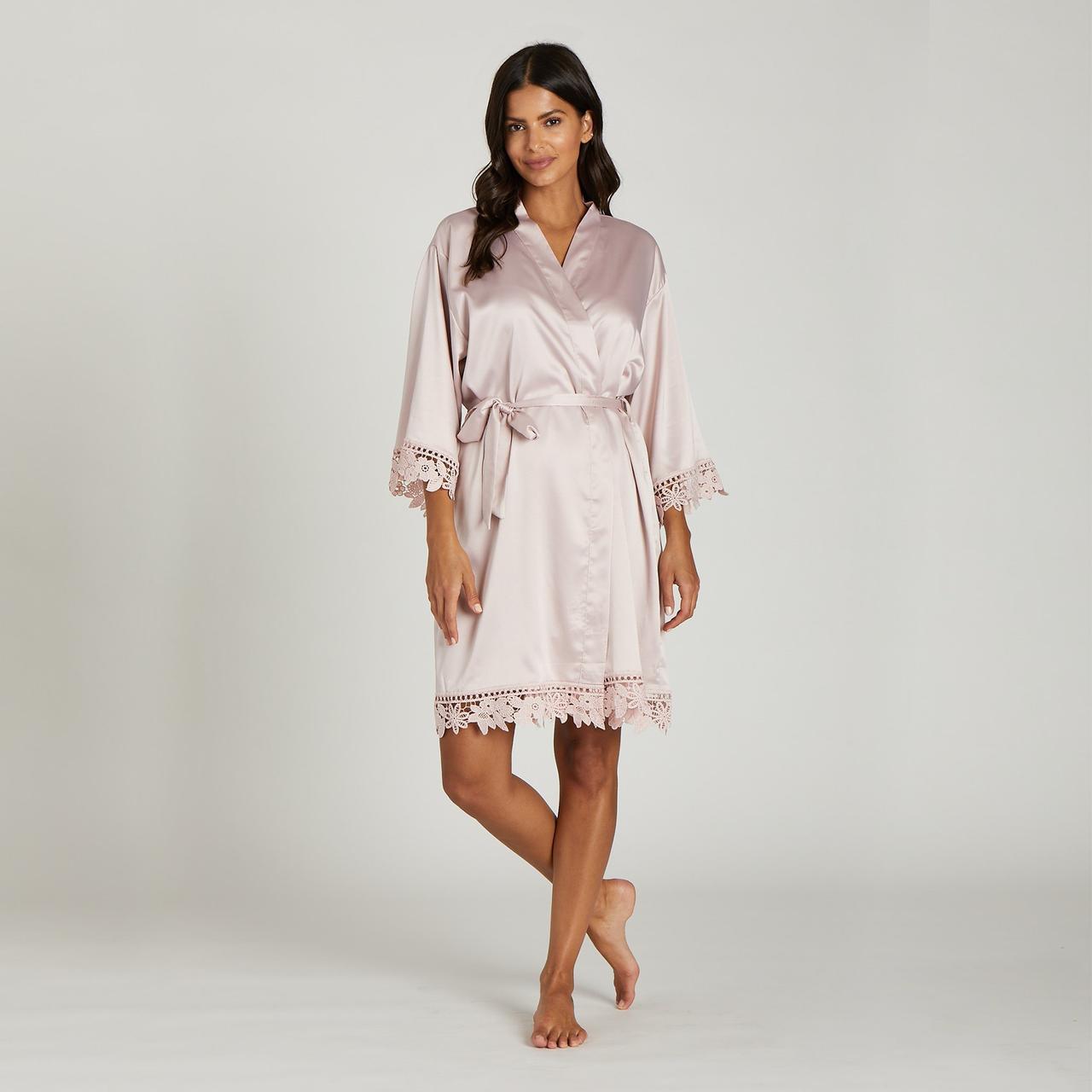 Sleek Robes
Bridesmaid robes are staple when it comes to getting ready on the day of. If creating a pampering bridesmaid proposal box set is your goal, loungewear is a great place to start.
Birdy Grey satin lace robe, $29, Birdy Grey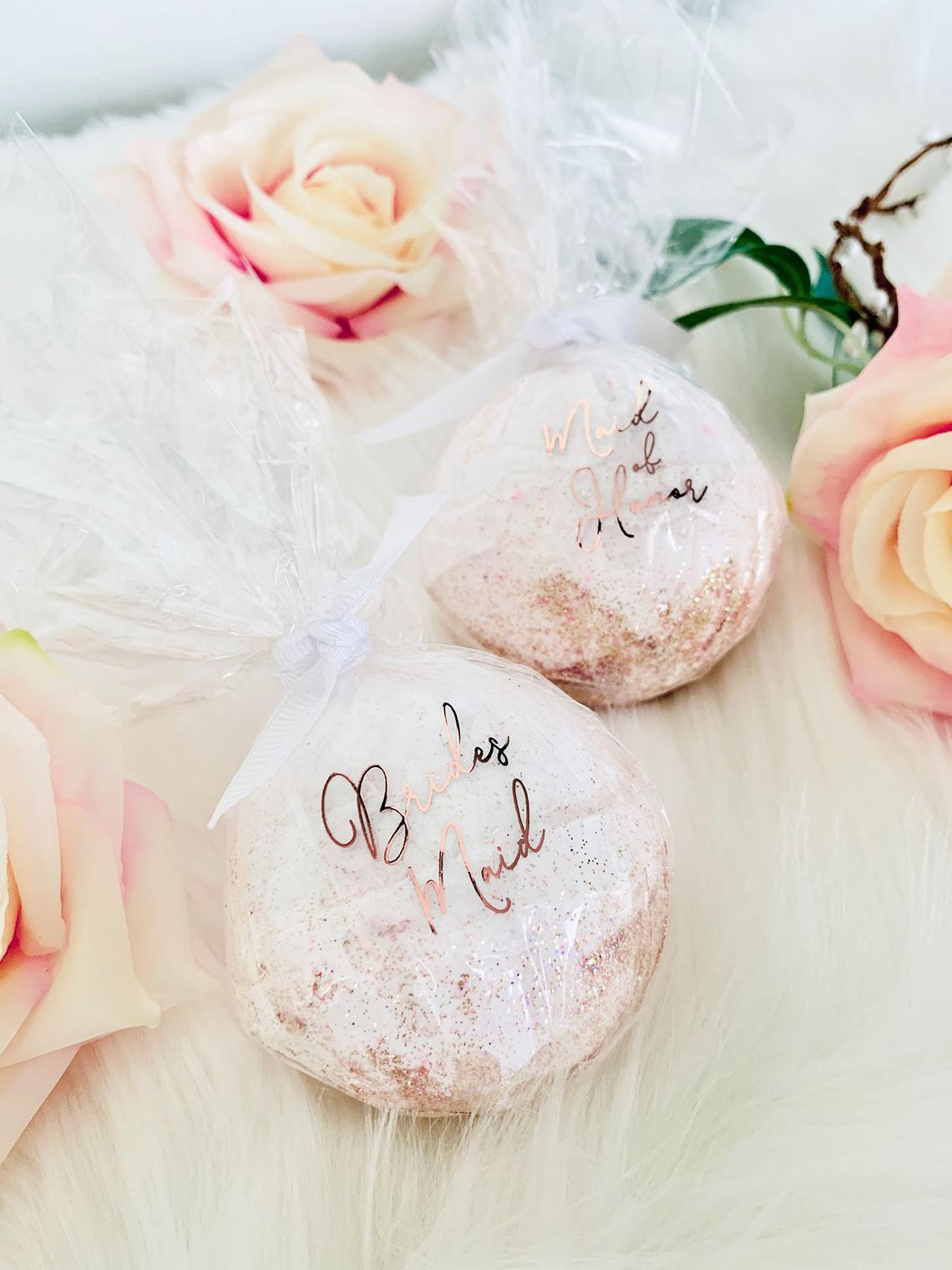 Relaxing Bath Bombs
Here's another pampering pick for your bridesmaid or maid of honor gift box. Affordable and adorably packaged, these bath bombs are excellent bridesmaid proposal box fillers.
Mod Party bridesmaid proposal bath bomb gift, $8, Etsy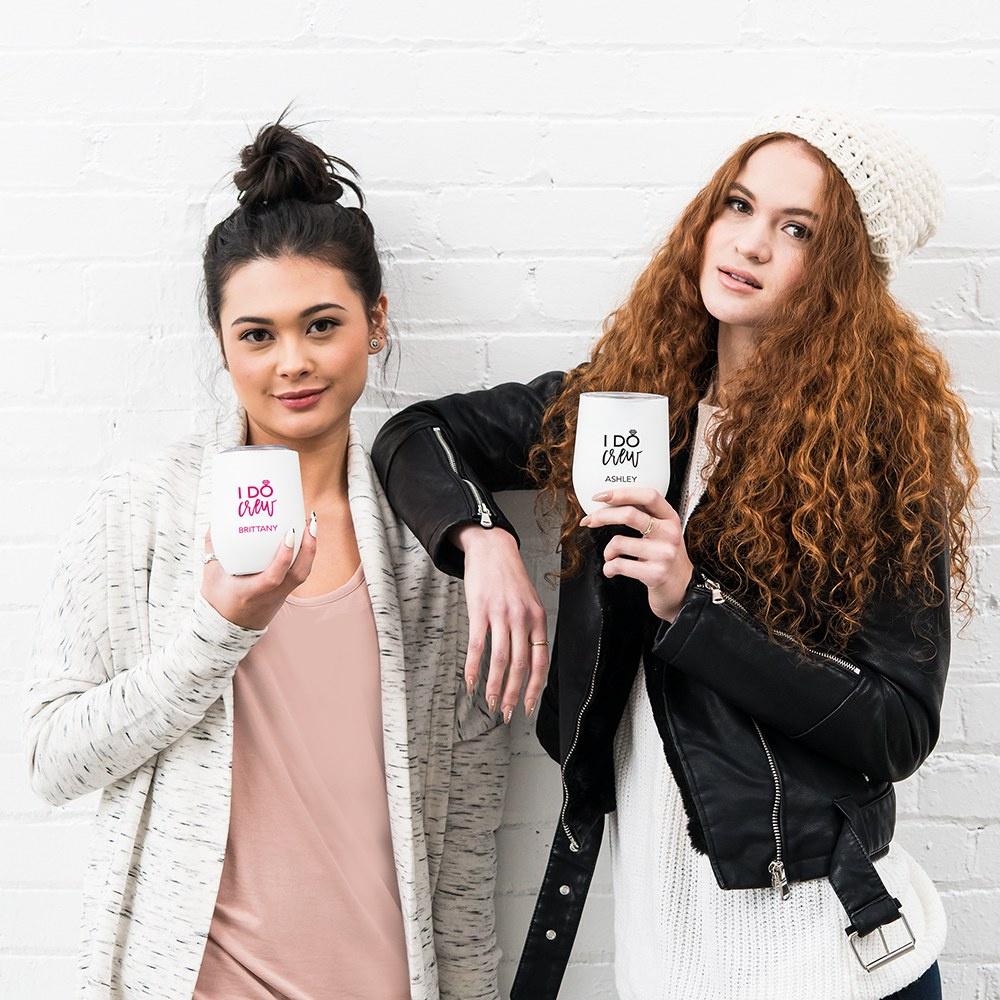 Wine Travel Tumblers
Stock your DIY bridesmaid boxes with these handy travel tumblers, perfect for enjoying vino on the go. Wine-tasting bachelorette, anyone?
WeddingWire Shop personalized stemless travel tumbler in I Do Crew, $15, WeddingWire Shop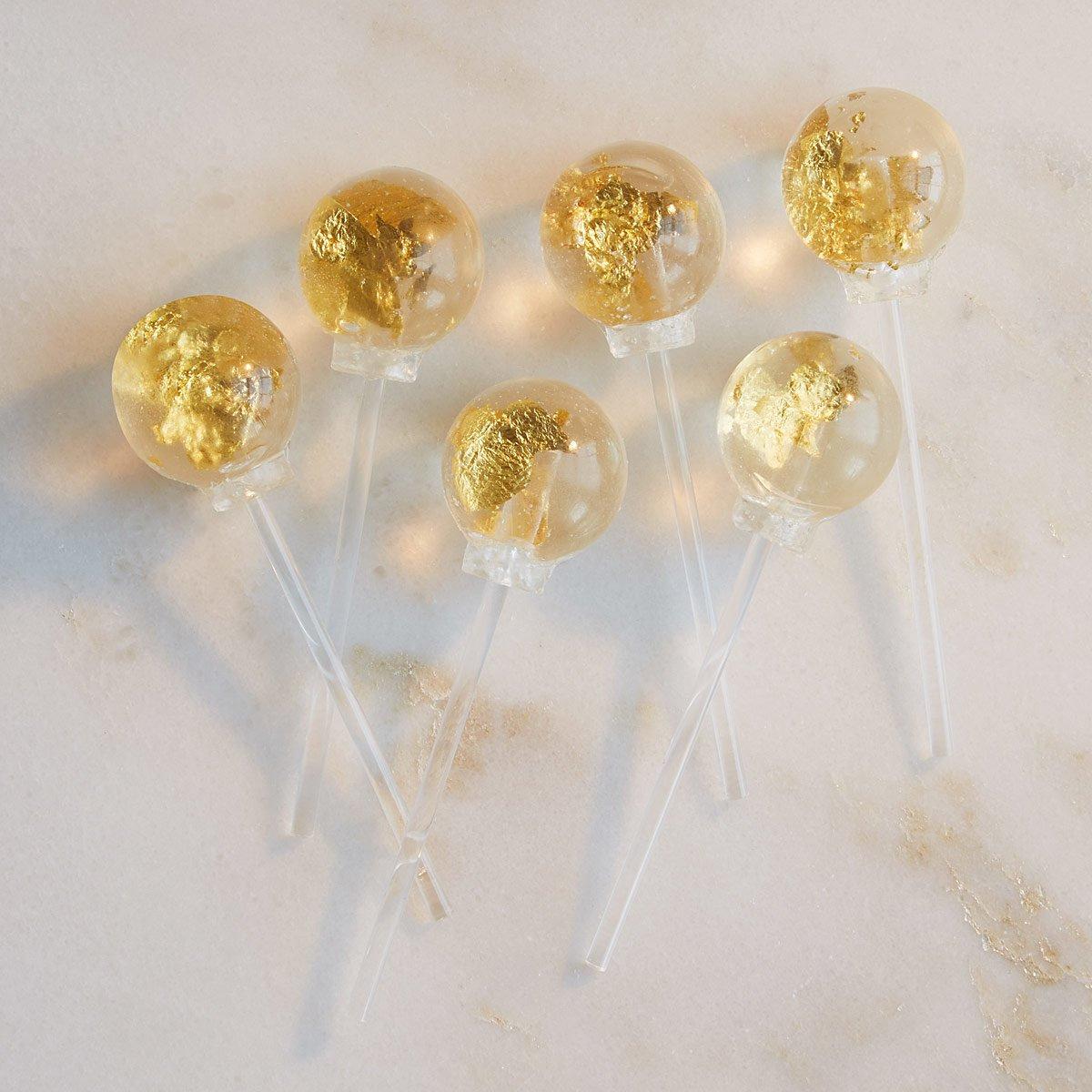 Luxe Lollipops
This grownup candy takes bridesmaid gift box ideas to the next level. Each delicious raspberry-flavored lolly contains a 24k leaf of edible gold.
Uncommon Goods edible gold lollipops, $36 for a set of 6, Uncommon Goods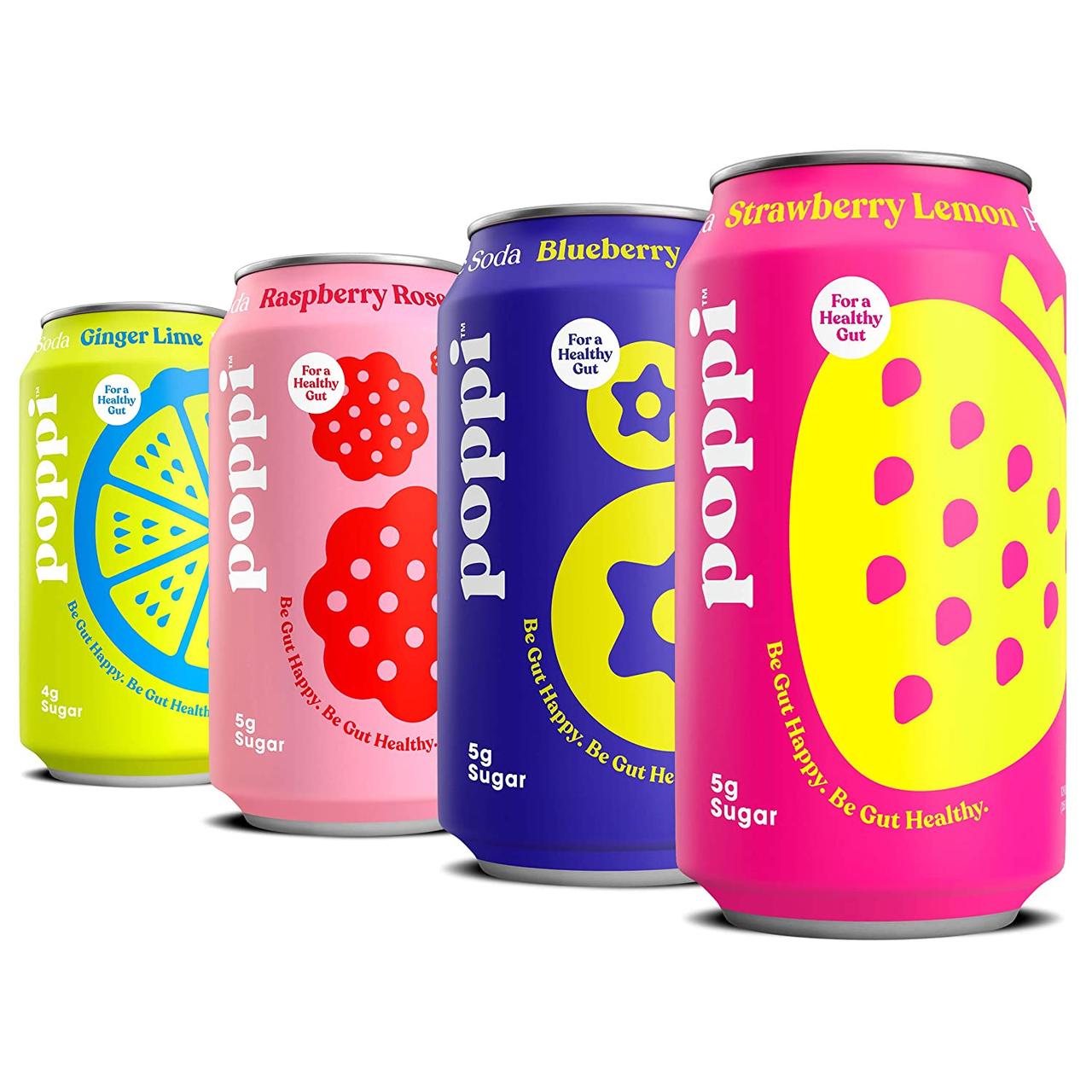 Something Sparkling
Whether you opt for champagne, prosecco, or a non-alcoholic, carbonated beverage, refreshments are another great idea if you're wondering what to put in a bridesmaid box (especially if they're miniature-sized!). These tasty sodas contain healthy prebiotics thanks to their unique, natural ingredients.
Poppi The Short List variety pack, $36 for a pack of 12, Amazon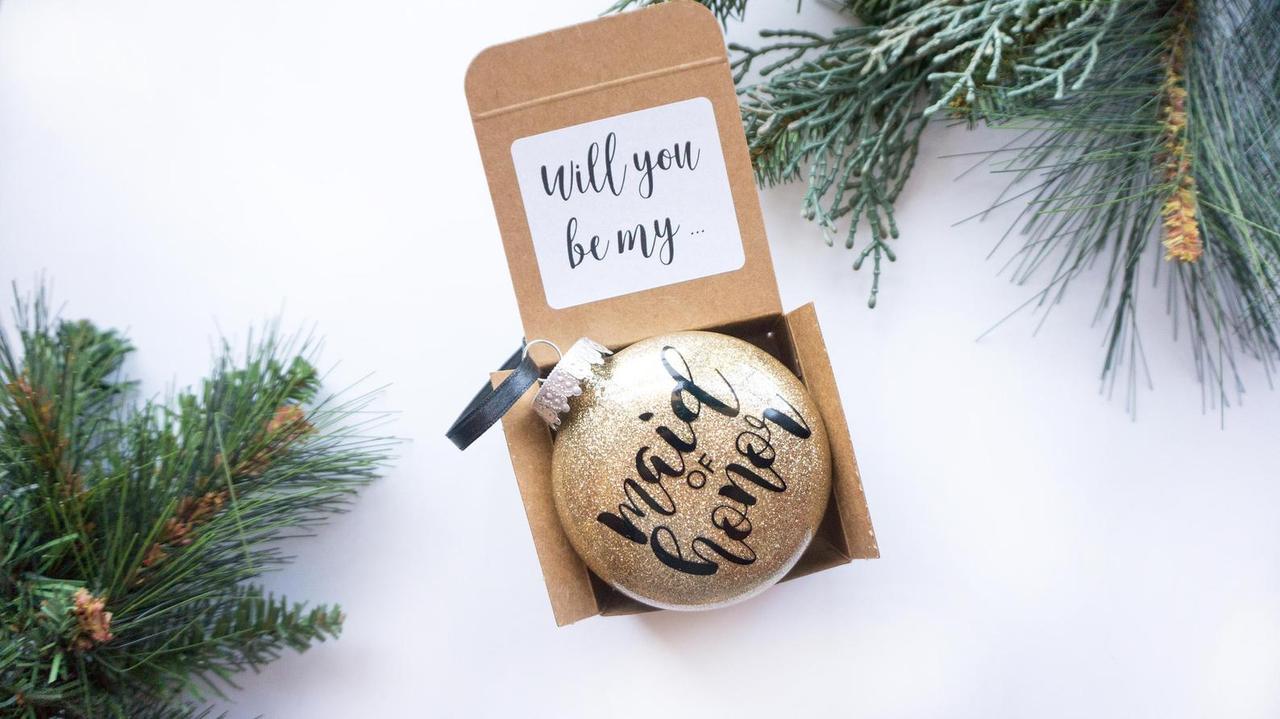 Cute Keepsakes
Make your bridesmaid packages extra special with unique keepsakes they can treasure forever. This glittery ornament comes in a tiny "will you be my..." bridesmaid or maid of honor gift box.
Pretty in Rose bridesmaid/maid of honor proposal ornament, from $13, Etsy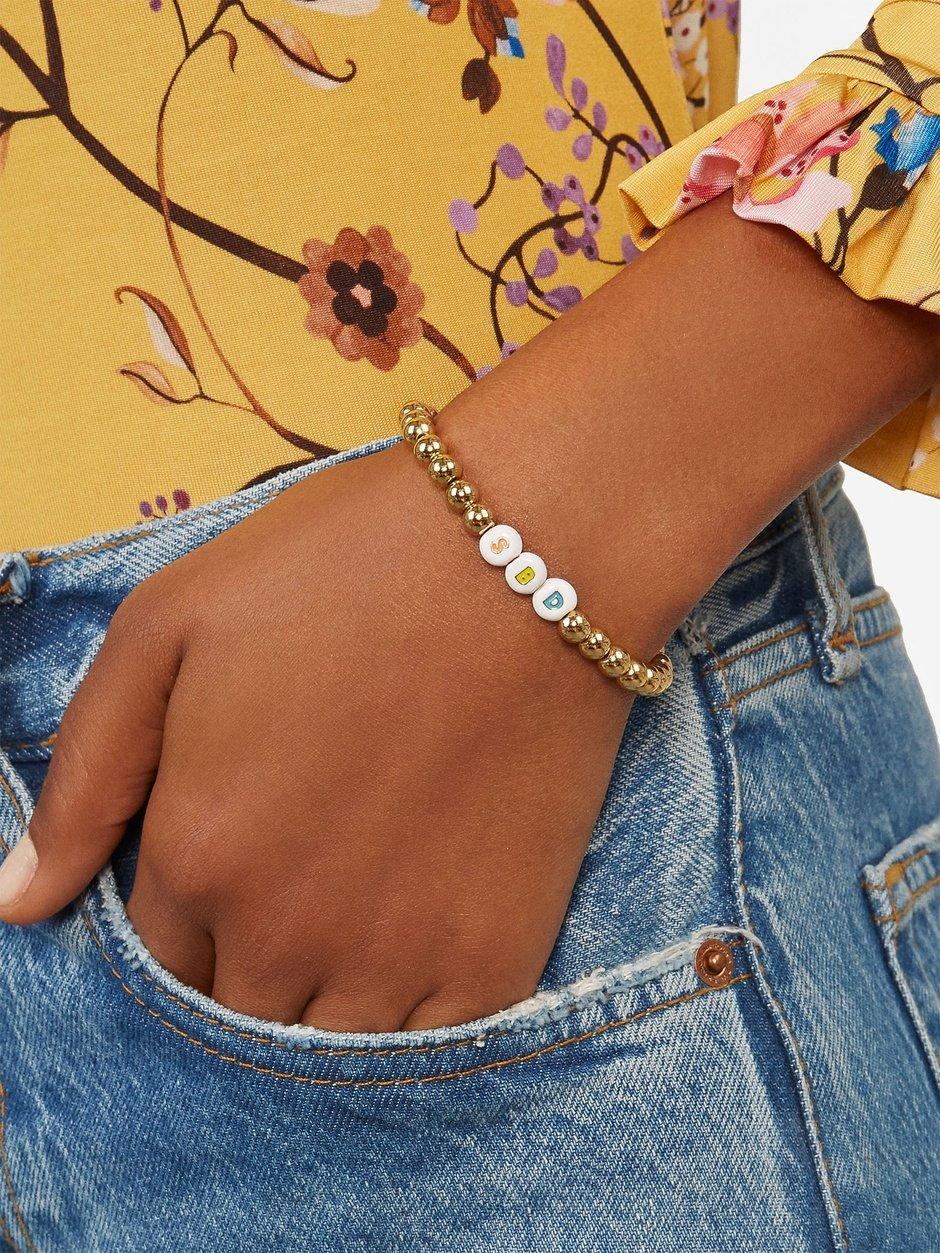 Friendship Bracelets
Asking someone to be your bridesmaid is a truly special moment in your relationship. Celebrate it with this retro beaded bracelet featuring both of your initials. Or, get one for them and one for you and wear each other's initials. Talk about thoughtful bridesmaid box ideas!
BaubleBar custom multi pisa beaded bracelet, $40, BaubleBar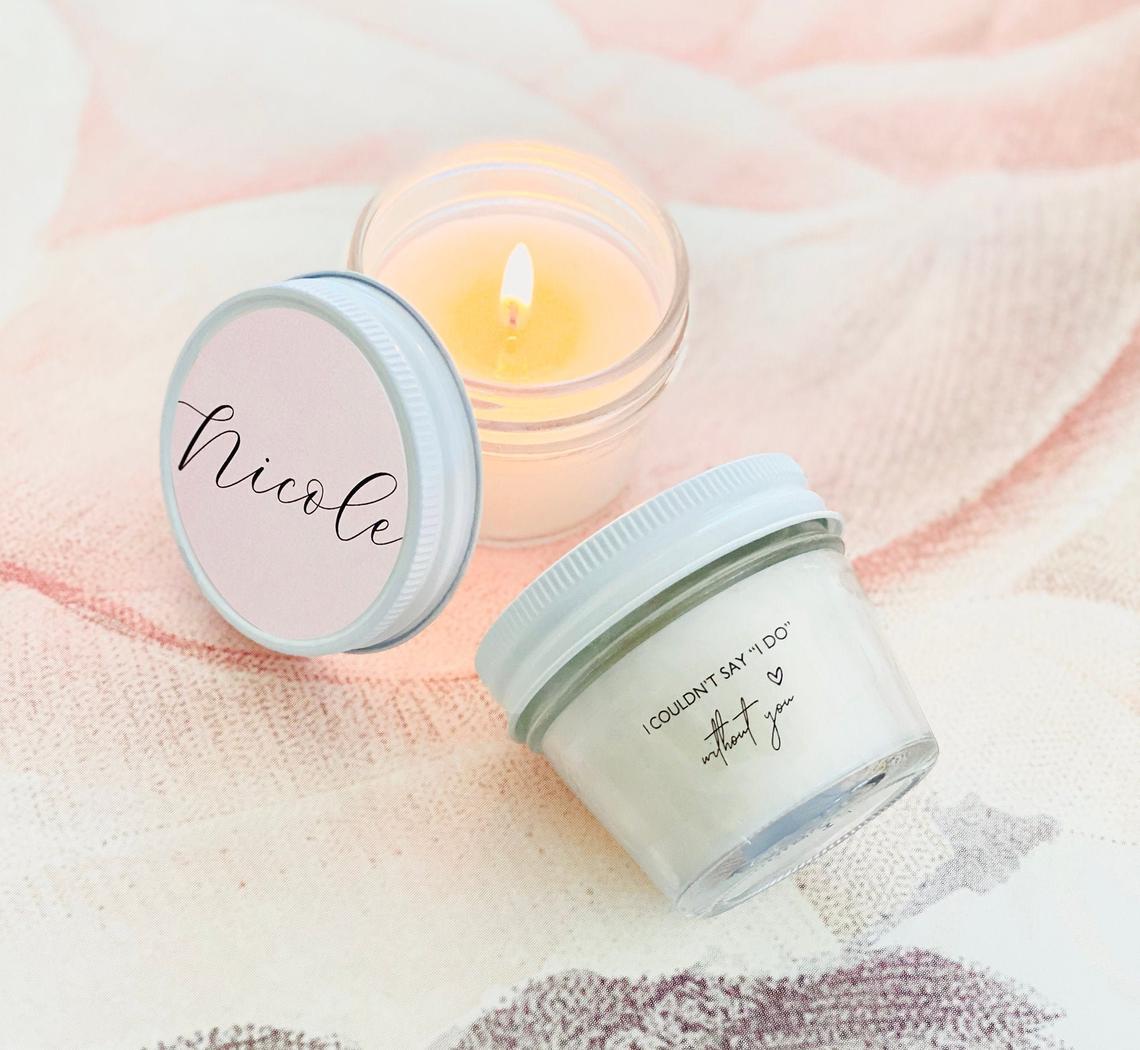 Custom Candles
Help your besties make the most of their downtime by including products like these pretty jar candles in their bridesmaid boxes.
Mod Party bridesmaid proposal candle, $9, Etsy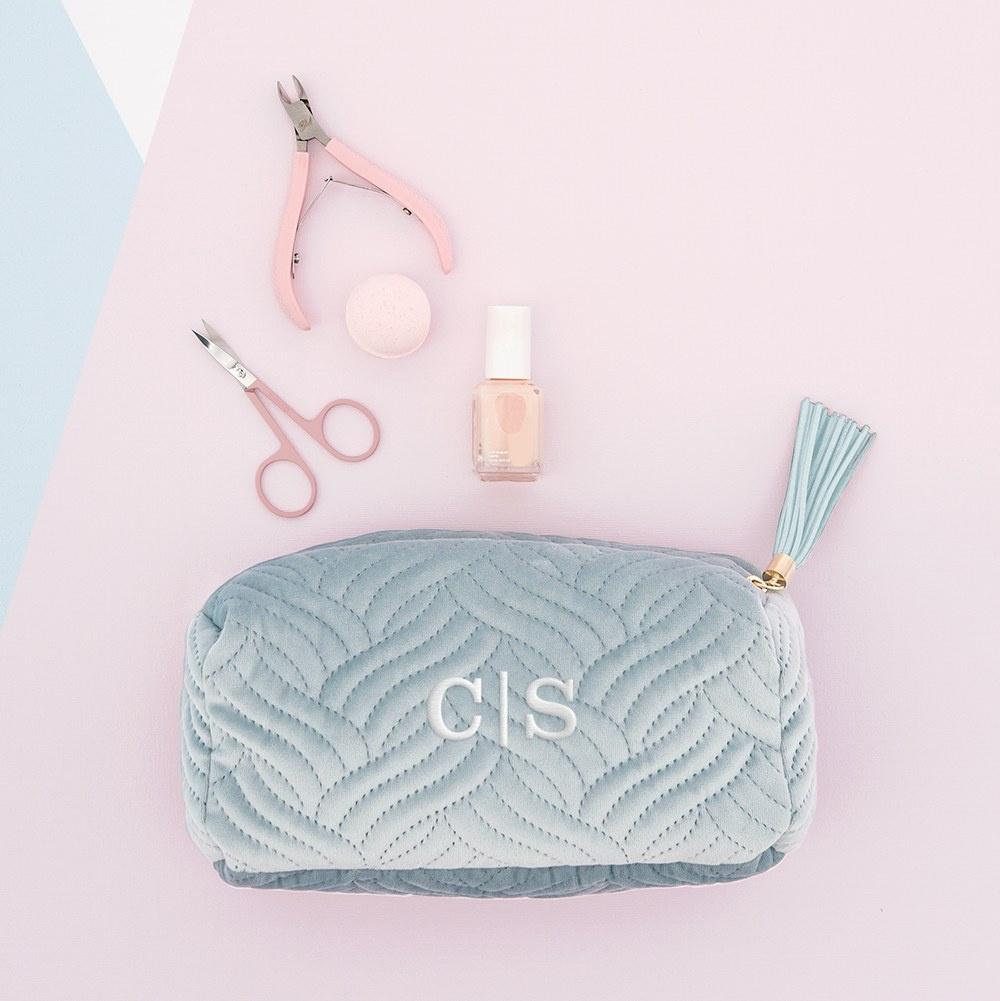 Monogram Makeup Bags
Don't feel like you have to limit yourself to small trinkets and snacks when it comes to what to put in a bridesmaid box. Remember, it's about staying true to you and your crew. If they can't go anywhere without their favorite beauty products, this chic makeup bag will be a welcome addition to their bridesmaid boxes.
WeddingWire Shop small personalized velvet quilted makeup bag, $10, WeddingWire Shop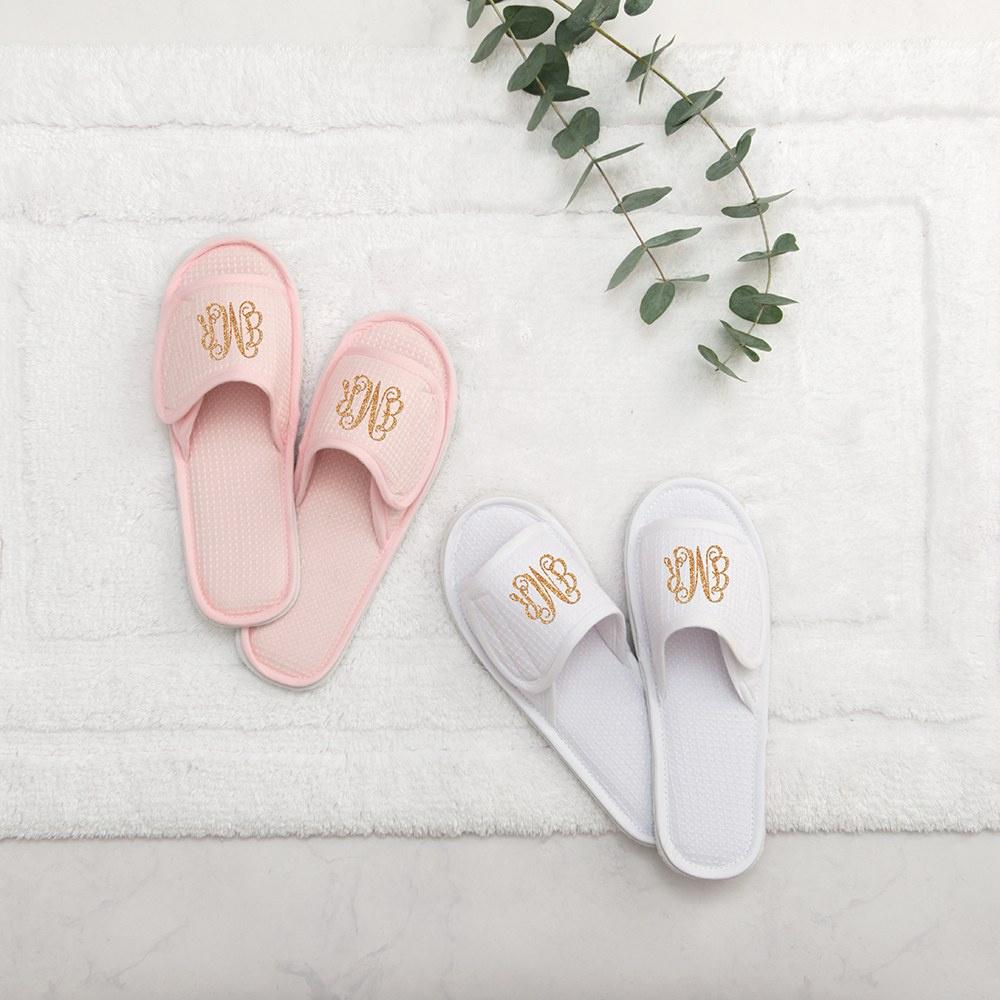 Soft Slippers
If you're looking for a more luxurious option (or something extra-special for a maid or matron of honor), consider creating a spa-themed gift box. White slippers are a must-have when recreating a true spa experience.
WeddingWire Shop script monogram women's personalized cotton waffle spa slippers in White, $10, WeddingWire Shop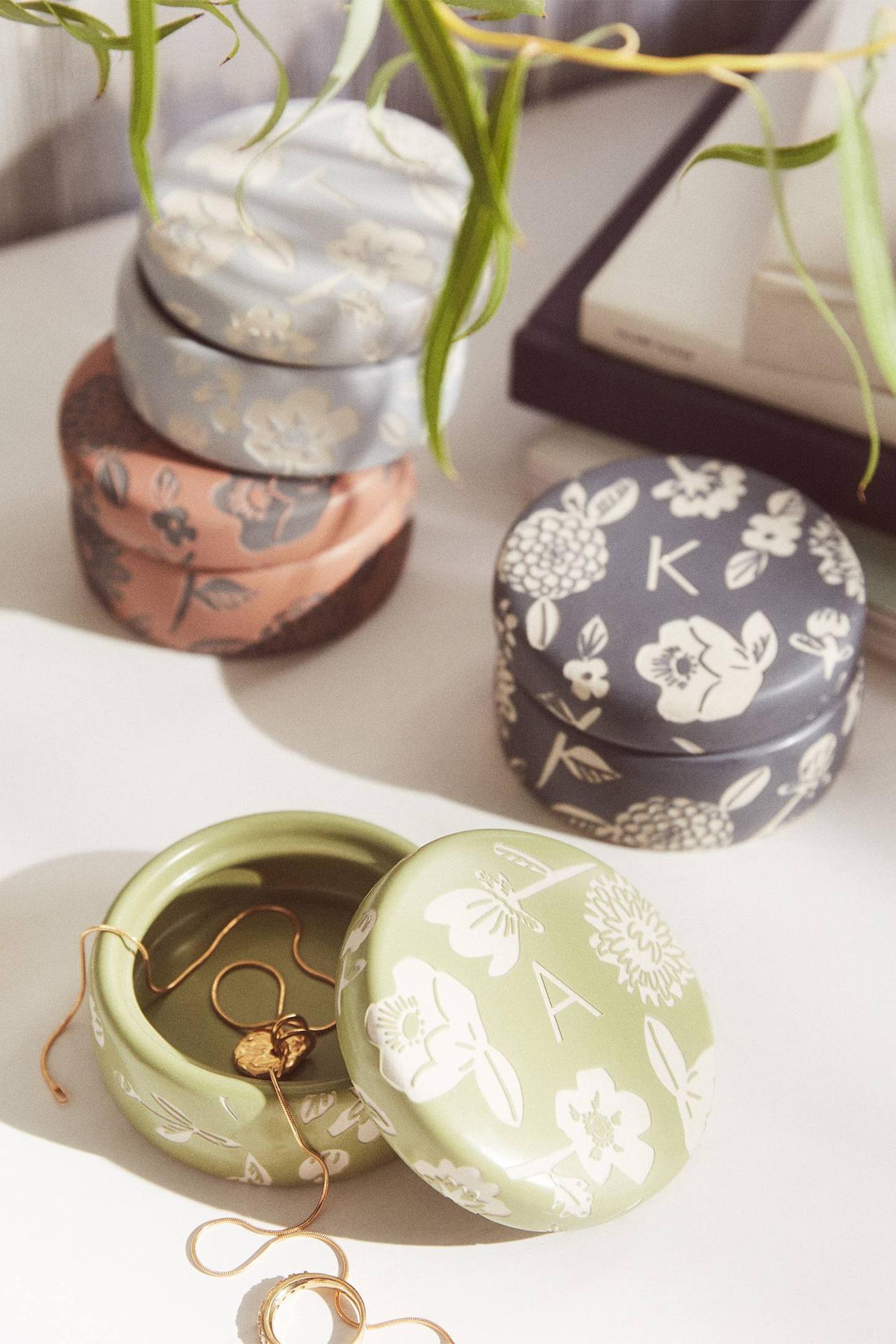 Adorable Trinket Dishes
Whether you're on the hunt for bridesmaid or maid of honor box ideas, anyone would appreciate these gorgeous trinket cases. (Psst, they're the perfect place to hide a heartfelt note asking someone to be in your wedding party).
Anthropologie Masey monogram trinket dish, $16, Anthropologie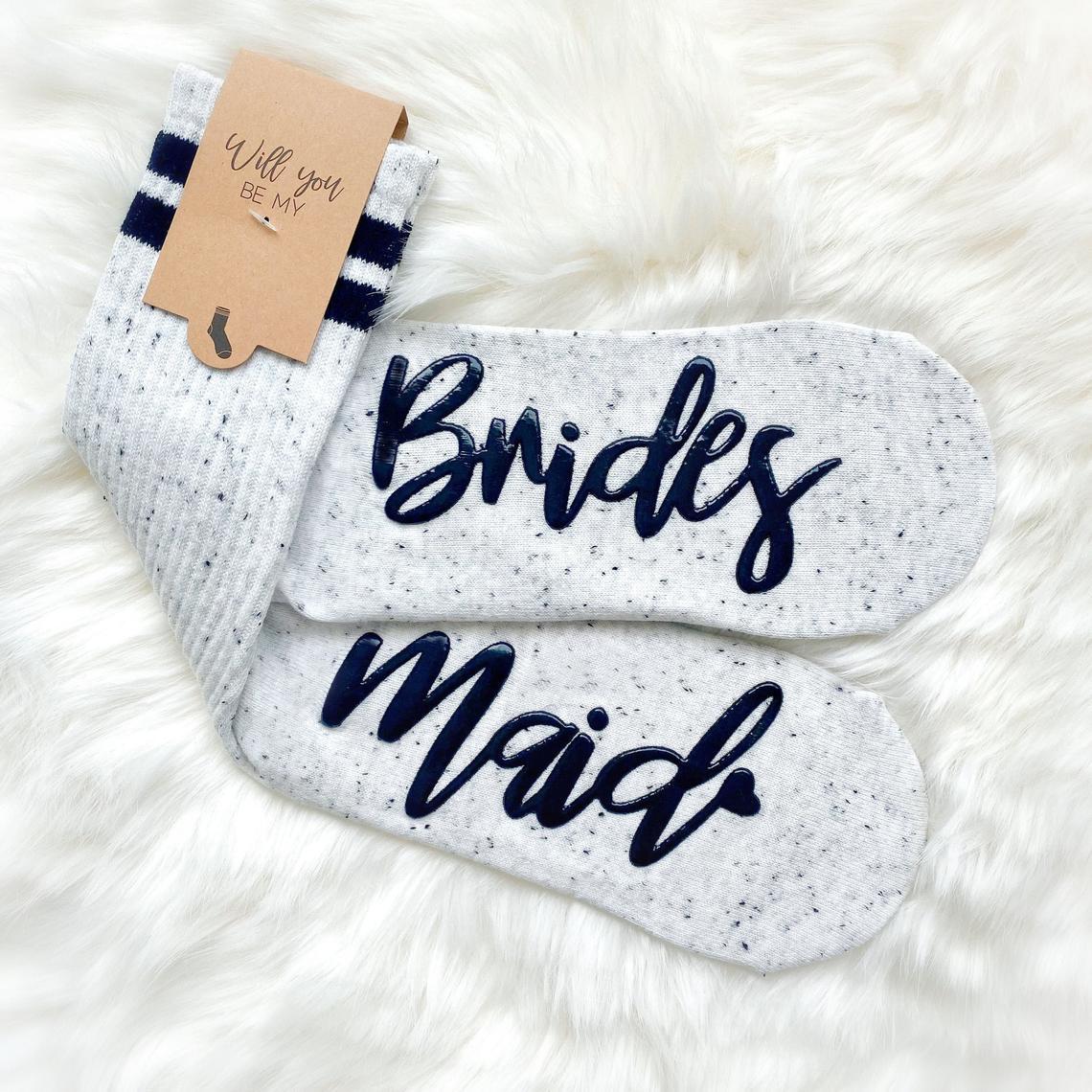 Snug Socks
There are lots of cool gift box ideas that read "will you be my bridesmaid?" Your crew will fully appreciate a cozy pair of socks with their brand new title in your bridal party boxes.
Blissful Socks bridesmaid proposal socks, from $7, Etsy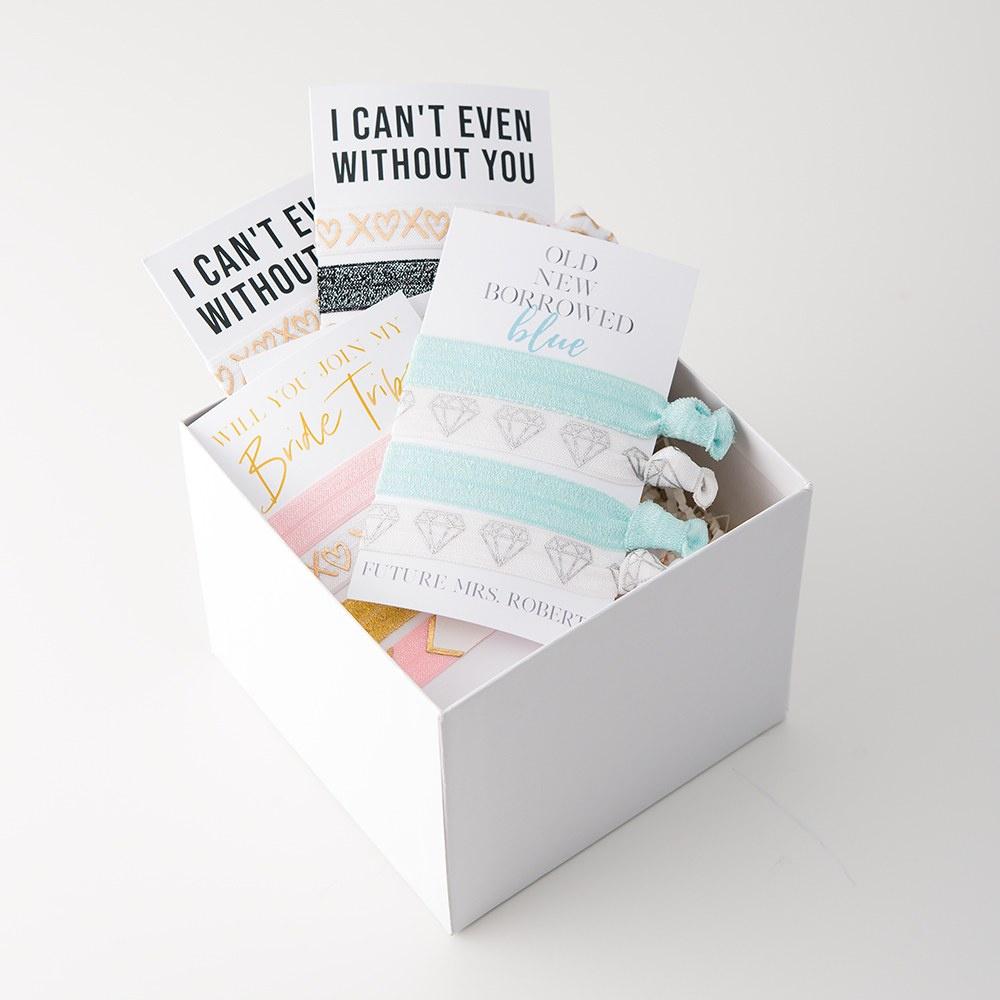 On-Theme Hair Accessories
Searching for what to put in a bridesmaid box when you're on a budget? Hair accessories are a stylish and affordable option.
WeddingWire Shop custom women's pink printed elastic hair ties in Bride Tribe, $6, WeddingWire Shop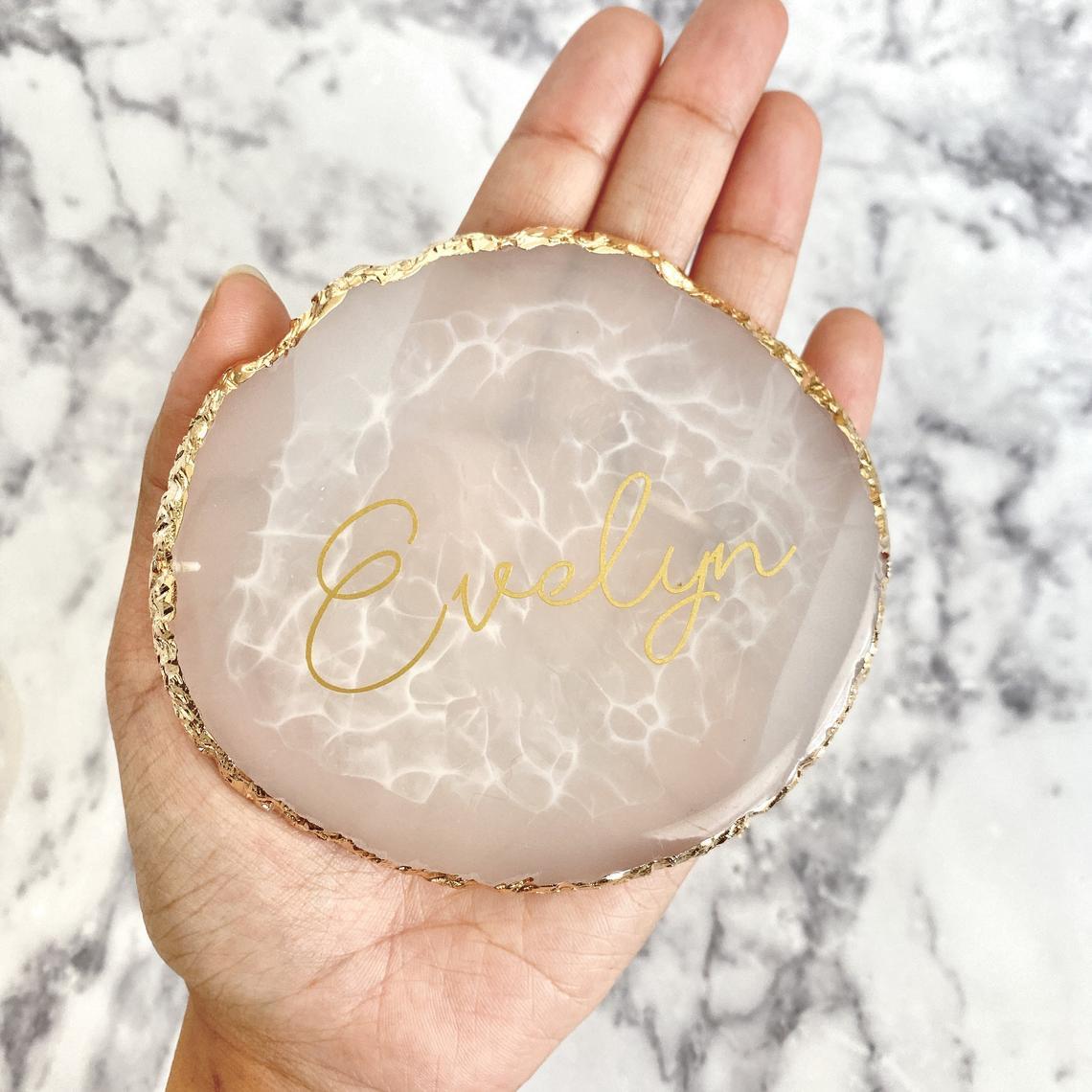 Handmade Resin Coasters
Still looking for cute things to put in a bridesmaid box? Add these elegant marble-effect coasters to your list of potential items.
Moe + Co. Creations white marble handmade personalized resin coasters, from $11, Etsy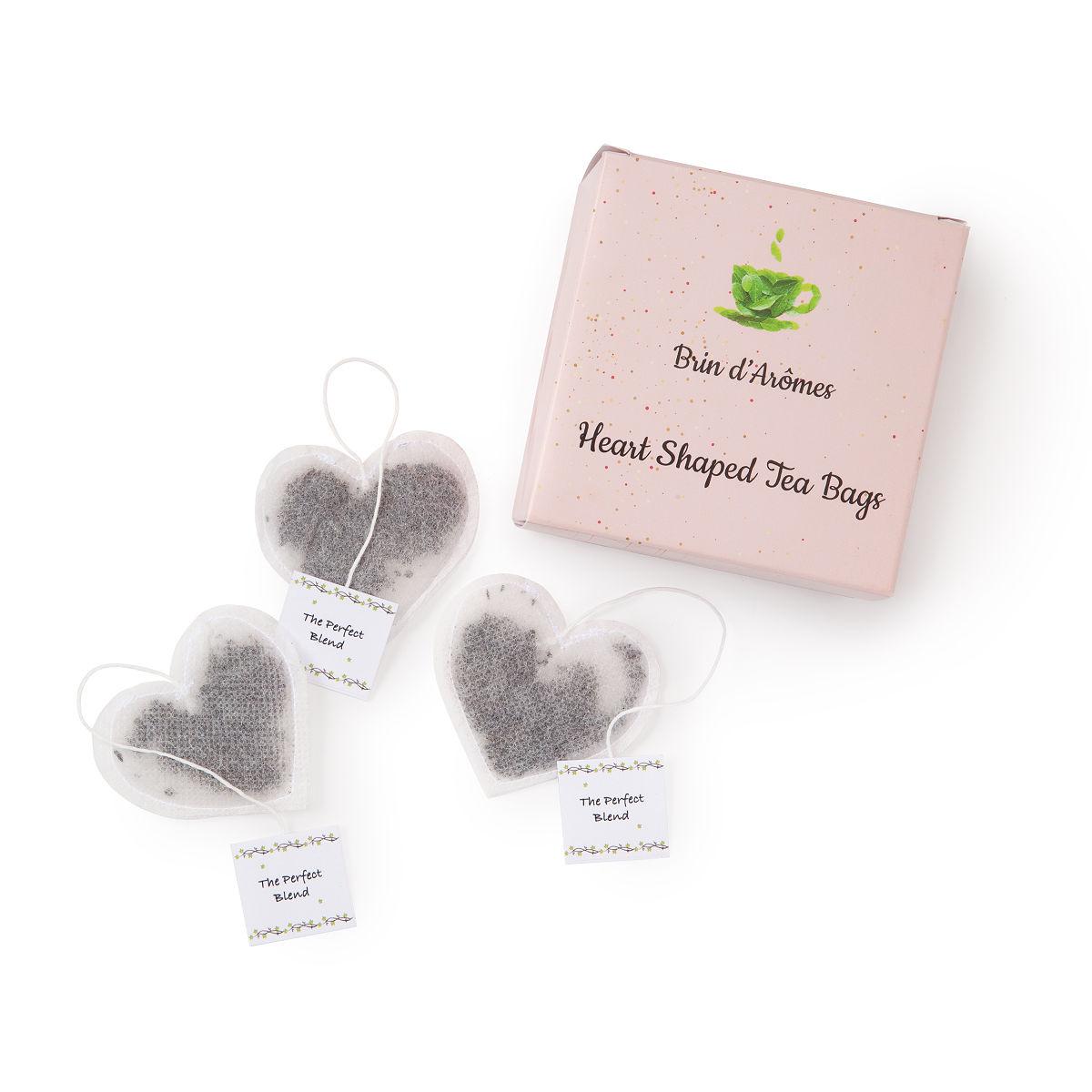 Heart-Shaped Tea Bags
These fun heart-shaped tea bags are one of our favorite ideas to put in a bridesmaid box. Each set comes with a selection of delicious blends for your crew to sample.
Jacqueline Aliotti heart-shaped tea bags, $30 for a box of 15, Uncommon Goods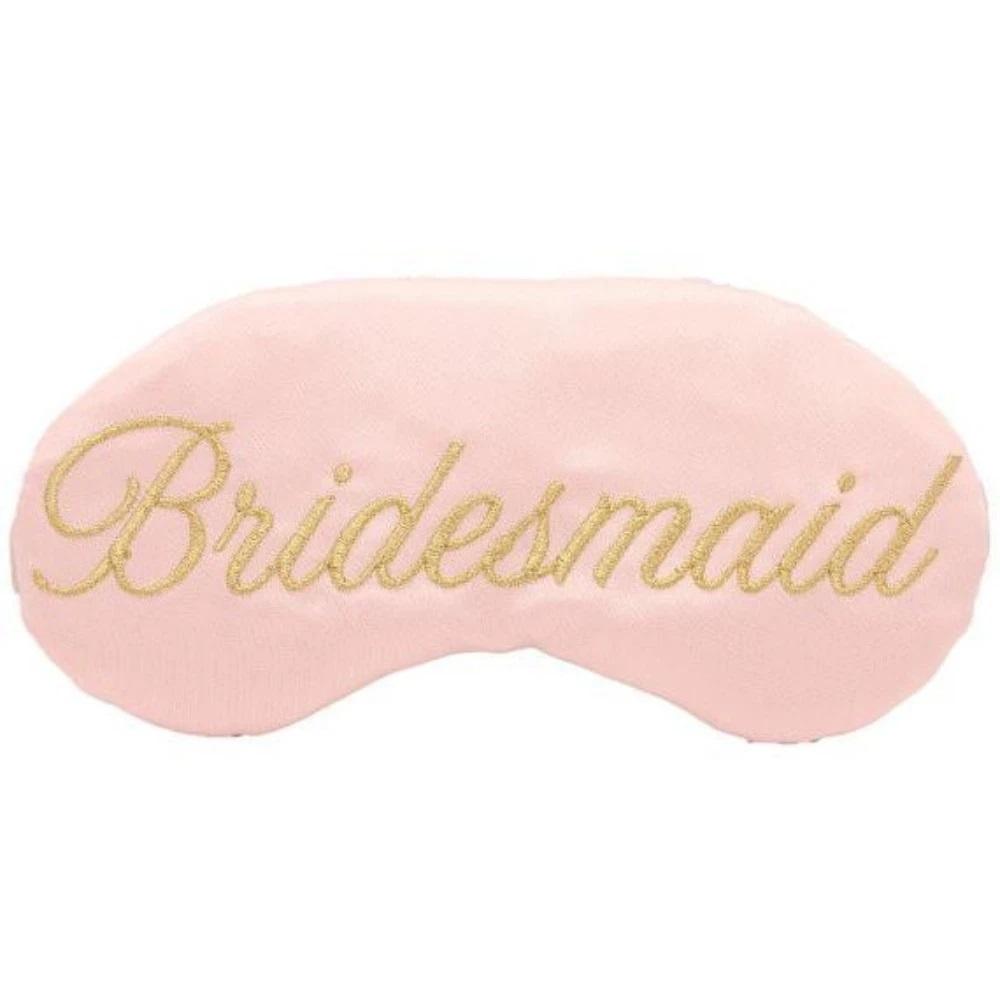 Chic Sleep Masks
There's no definite answer as to what should go in a bridesmaid proposal box. That said, you can't go wrong with something that's equal parts practical and pampering. And what's prettier than blush pink and gold? Don't forget to nab one for your maid of honor proposal box too!
The Sleepy Cottage Bridesmaid sleep mask, $18, Birdy Grey
Personalized Bridesmaid Boxes
Last but not least, don't forget about presentation! Deciding what to put in a bridesmaid box is important, but you should also pay attention to the appearance of the gift itself. This simple wooden box will give a modern boho look to your present, and the name on the lid makes it a keepsake your bridesmaids can save and reuse.
WeddingWire Shop personalized wooden keepsake gift box, $20, WeddingWire Shop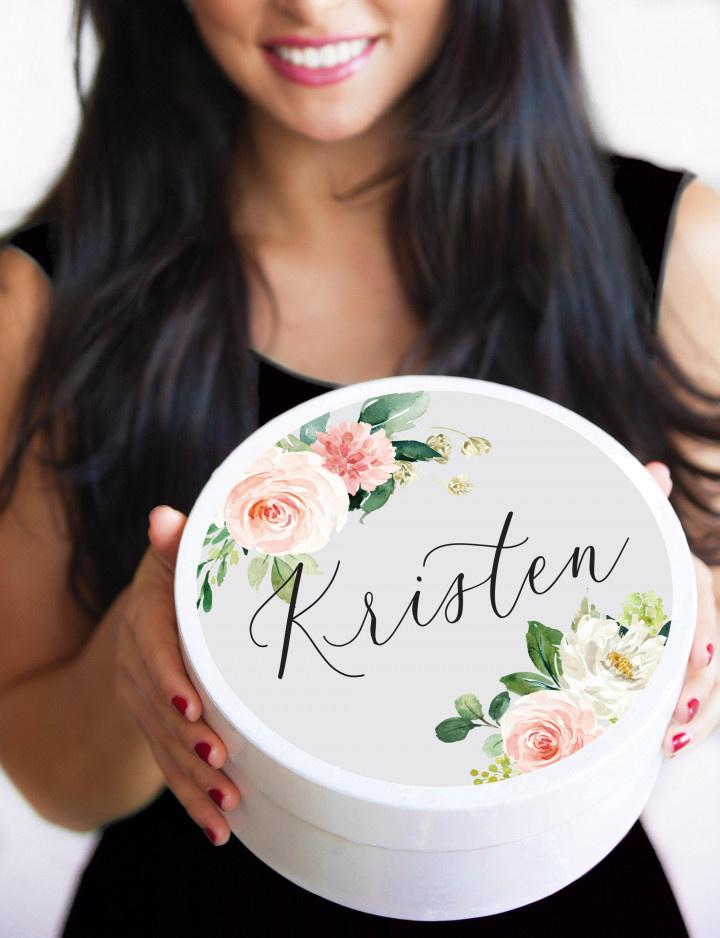 Elegant Floral Boxes
Love garden wedding style? Try these DIY bridesmaid gift boxes decorated with vintage-inspired floral details.
White Confetti Box bridesmaid gift box, from $14, Etsy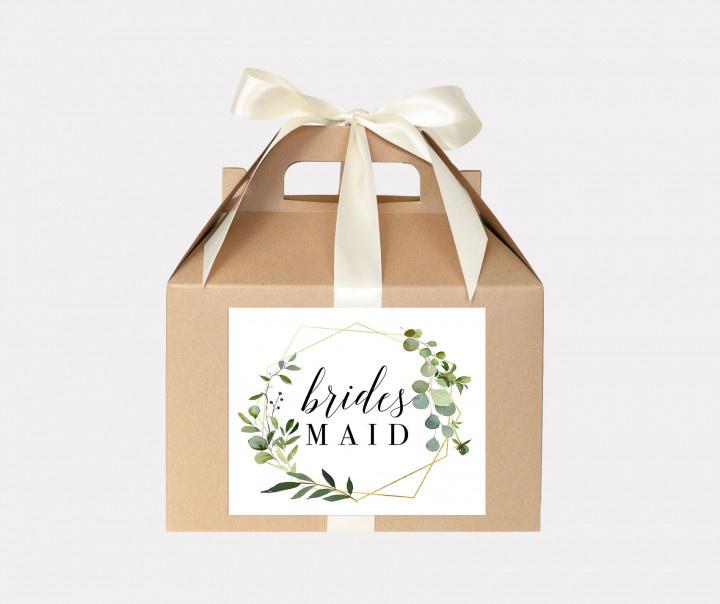 Rustic Bridesmaid Boxes
This brown gable packaging is an excellent option if you're looking for an affordable bridesmaid proposal box.
The Ivory Shoppe watercolor eucalyptus bridesmaid gift box, $6, Etsy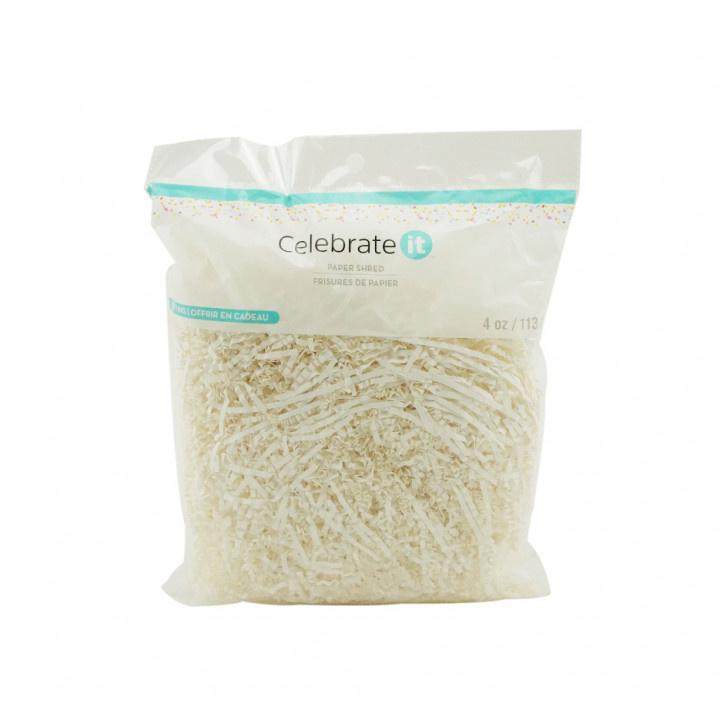 Bridesmaid Box Decor
Finally, one of the best things to put in a bridesmaid proposal box is pretty paper decor. Arrange all of your hand-picked items on a bed of crinkle paper in the box for an artisanal effect.
Celebrate It paper shred, $5, Michaels
Disclosure: This post contains affiliate links, some of which may be sponsored by paying vendors.