23 Wedding Flower Ideas That Are Just Really Pretty
Peruse our favorite wedding flower ideas to see how to you can incorporate these blooming beauties into your own celebration.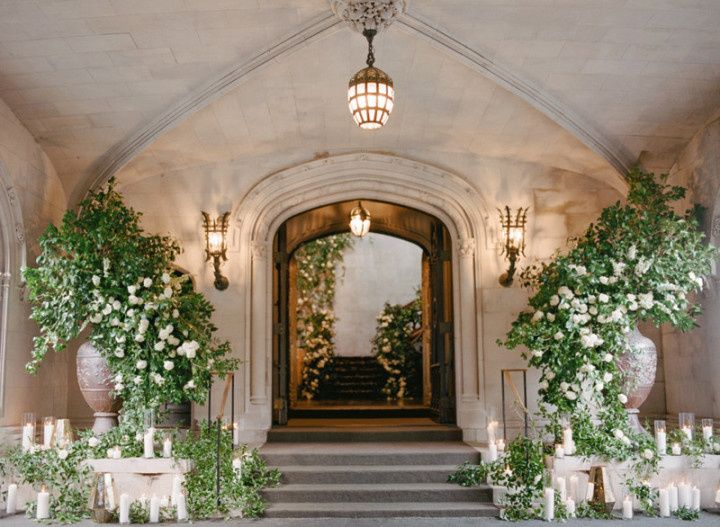 Fresh flowers can bring a magical and undeniably romantic feel to your wedding decor, no matter your style, season or venue. We're sharing our favorite wedding flower ideas for anyone (like us) who is obsessed with all things floral, from bunches of pink peonies to dramatic red roses and everything in between.
Get inspired by these irresistibly pretty wedding flower ideas.
Floral heart
This sweet floral heart is easy to create at home as a gift to surprise your maid of honor, bridesmaid, mom, sister, or anyone else who has helped you with wedding planning. You'll need floral foam, a hot glue gun, heart-shaped tray, and flowers, of course! This arrangement uses peonies, ranunculus, and garden roses with Queen Anne's lace, brunia, and scabiosa as fillers.
Flowers provided by Wild Pollen Design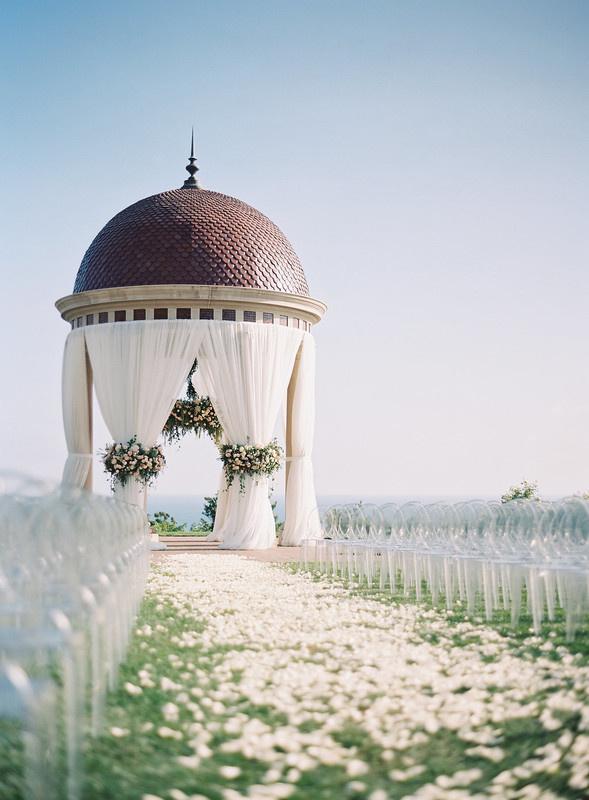 White petals
Sometimes, all it takes is a few (hundred thousand) white flower petals to bring the wow factor to a ceremony aisle. If your venue already has an altar structure in place, personalize it with flowing white fabric and a trio of floral accents at the end of the petal trail.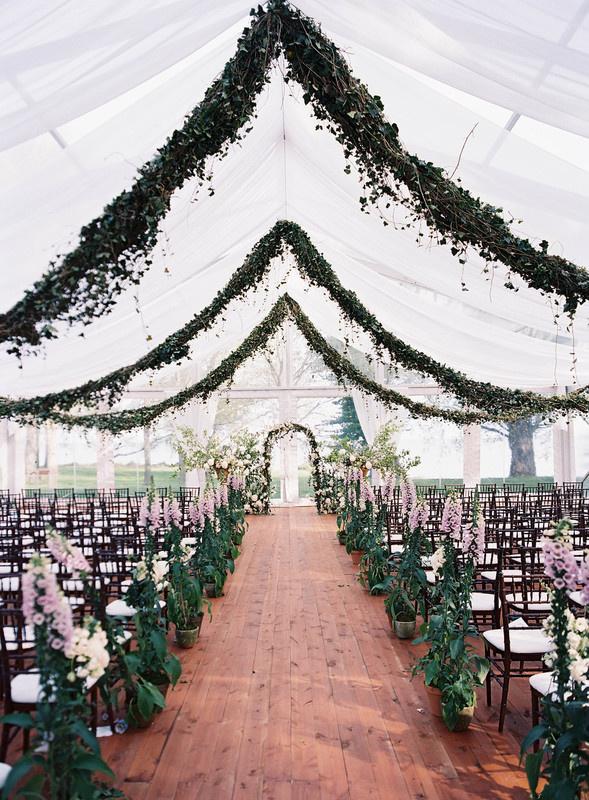 Garden-inspired garlands
If enchanted garden wedding style is more your speed, transform your ceremony venue into a magical space with garlands draped across the ceiling and potted flowers along the aisle.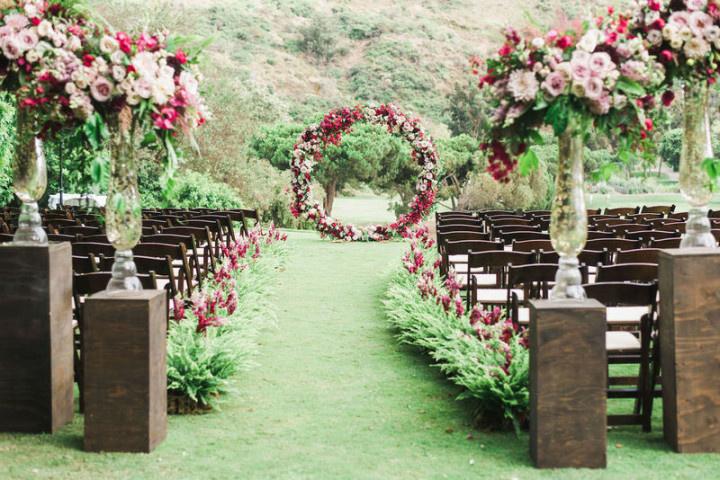 Floral wreath backdrop
Hey, trendsetting couples: A giant floral wreath is one of our must-have wedding flower ideas if you're looking to make a statement. We can't think of a more eye-catching — or 'gram worthy — backdrop for your nuptials. After the ceremony, you can repurpose the wreath at your reception (for example, behind your head table).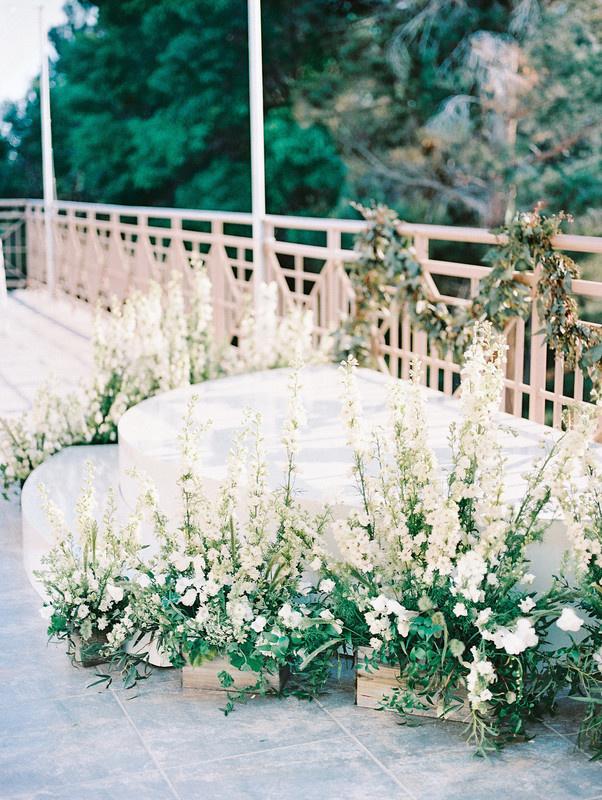 Altar accents
If you're looking for something understated yet still totally breathtaking, surround your altar with low flower arrangements and greenery. This works especially well if you're exchanging your I do's on an elevated surface, like stairs or a platform.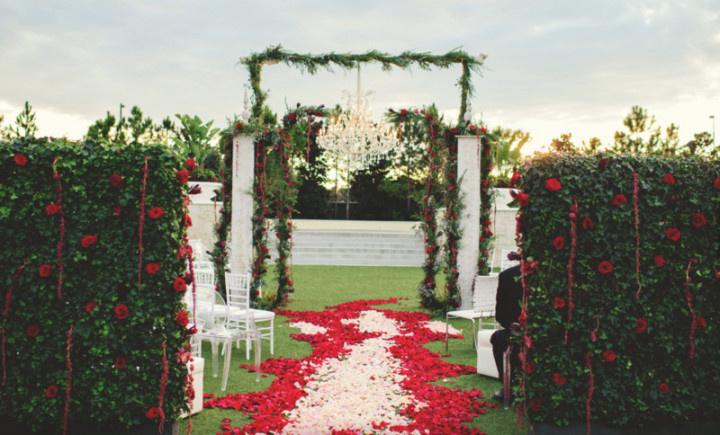 Ombré aisle runner
A floral ombré aisle runner is ultra-romantic, especially if you use bright red rose petals. With the tall hedges, trailing amaranthus and greenery garlands, this dramatic setup reminds us a little bit of the Queen of Hearts garden in Alice In Wonderland, and we're not mad about it.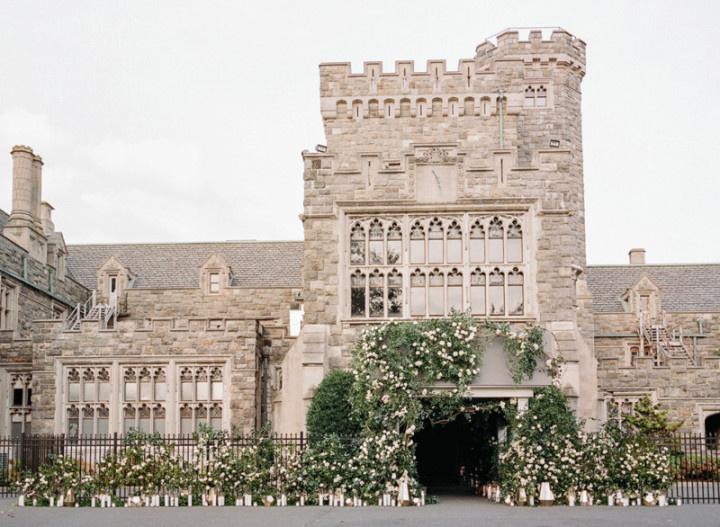 Wild greenery
Raise your hand if you're still not over the Duke and Duchess of Sussex's royal wedding. This breathtaking venue entryway is a perfect example of how you can recreate the look of the floral arch that decorated the front of St. George's Chapel. All that's missing is your newlywed kiss in the doorway as you exit the church!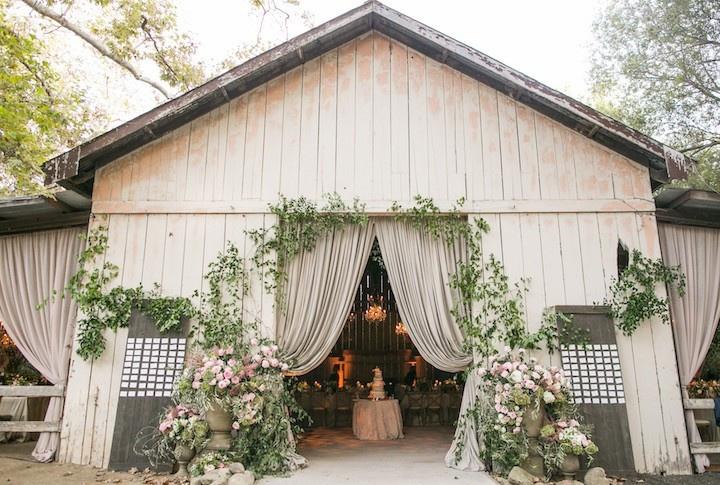 Embellished barn
Dress up a barn venue with loosely placed greenery and floral arrangements on either side of the door. Pastel pinks, browns and greens create a pretty rustic chic vibe!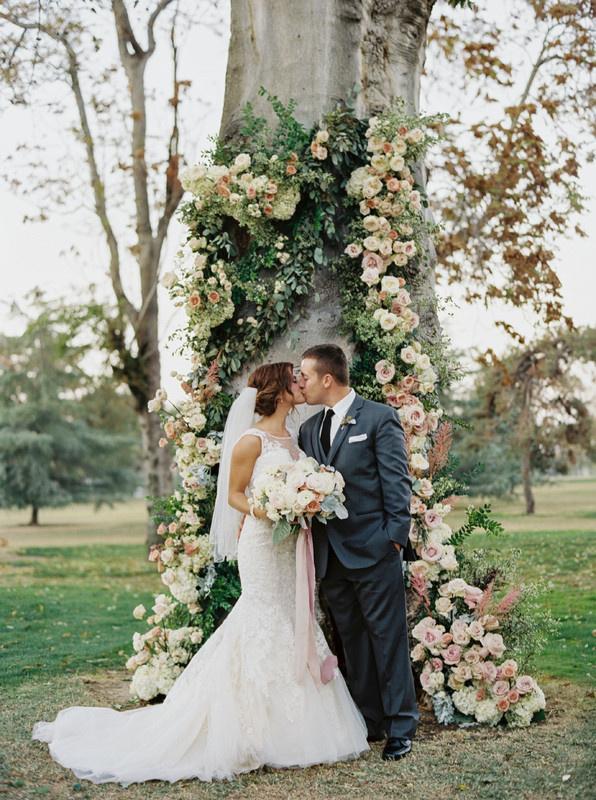 Tree decor
Getting married beneath an old, sprawling tree? Have your wedding florist create a beautiful backdrop by decorating the trunk with flowers that climb upward.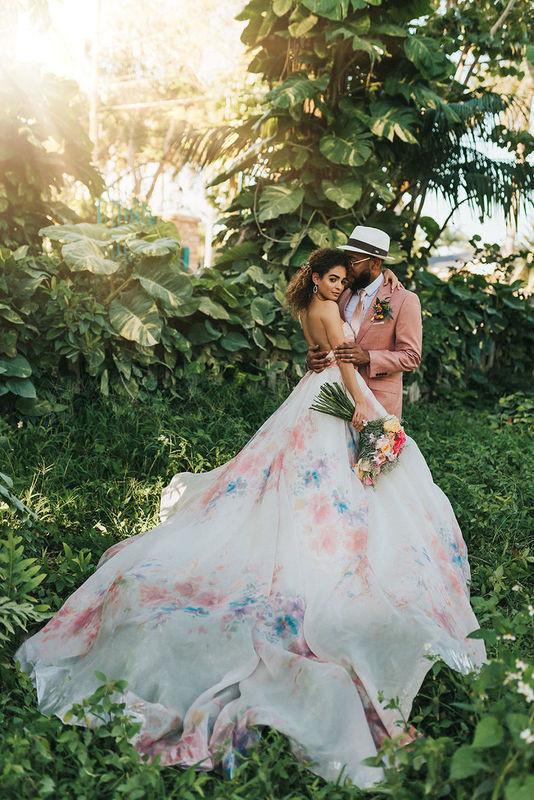 Patterned wedding dress
Fashionista bride + floral obsession = this flower print wedding dress. A long train decorated with a watercolor floral motif is super romantic and feminine while breaking away from tradition and showing off your stylish personality!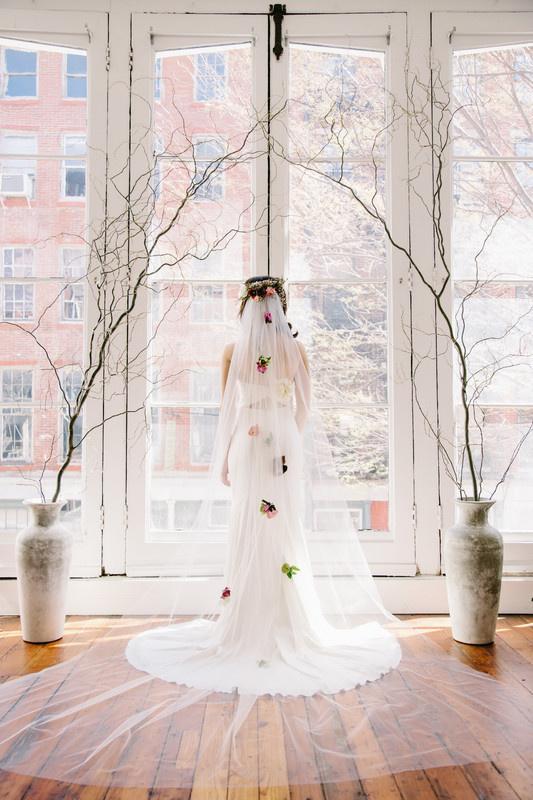 Veil appliqués
Classic brides, fear not. You can rock florals on your big day in a more subtle fashion by accessorizing with a veil featuring flower appliqués.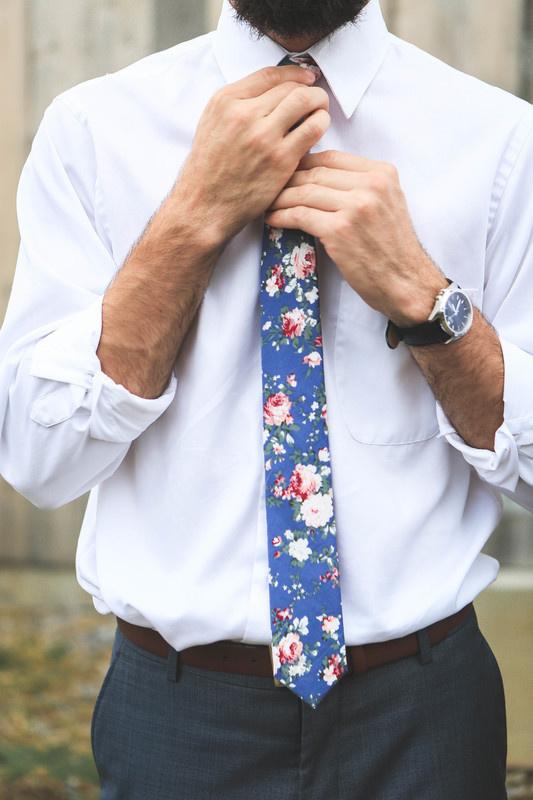 Floral print tie
If you're sporting a tie instead of a dress, a patterned style is an easy way to incorporate flowers into your look.
Pup of honor
A floral collar is the perfect accessory for a pet or furry friend who's making their big debut on your wedding day.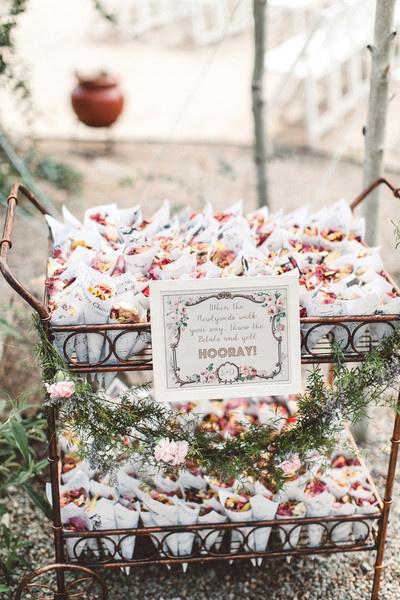 Petal toss
The celebratory petal toss is one of the most timeless wedding flower ideas around. Take your first steps as newlyweds while your loved ones shower you in a flurry of colorful petals! Fill paper cones with fresh or dried petals and display them at your ceremony entrance. Be sure to check with your venue before the big day to ensure that there are no restrictions or rules against having a petal toss.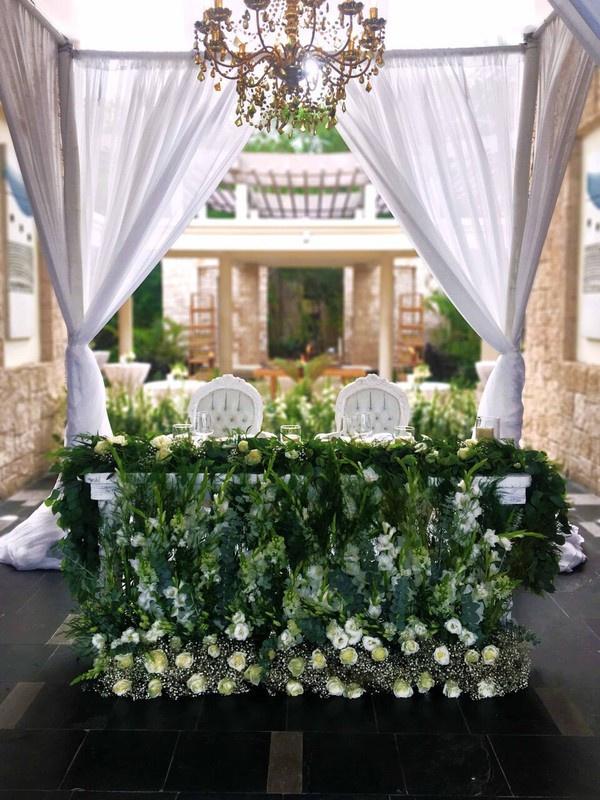 Sweetheart table
Your wedding sweetheart table is an amazing opportunity to showcase your personal style, and we're loving this elaborate floral setup. Accent tall arrangements in front with a greenery runner that drapes down the sides of the table. Add two elegant tufted chairs, a few candles, and you're done!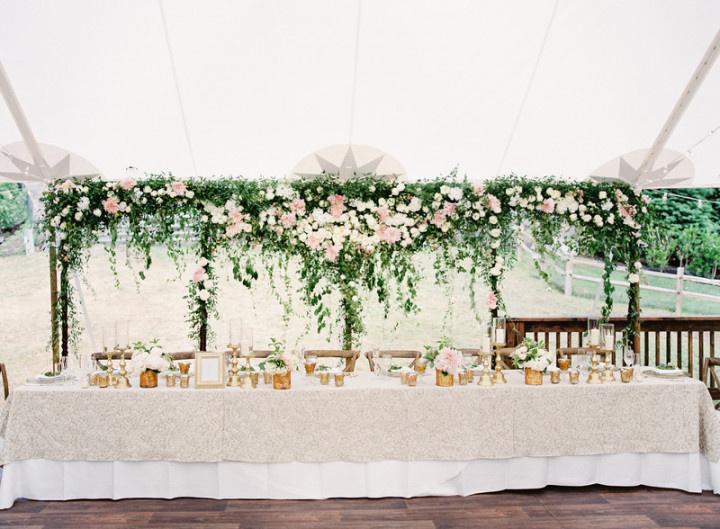 Overhead centerpiece
Take your reception centerpieces to new heights by suspending them above your table(s) instead of setting them on top. Hanging centerpieces, like this stunning blush and greenery installation, are one of our favorite wedding flower ideas that are sure to wow your guests.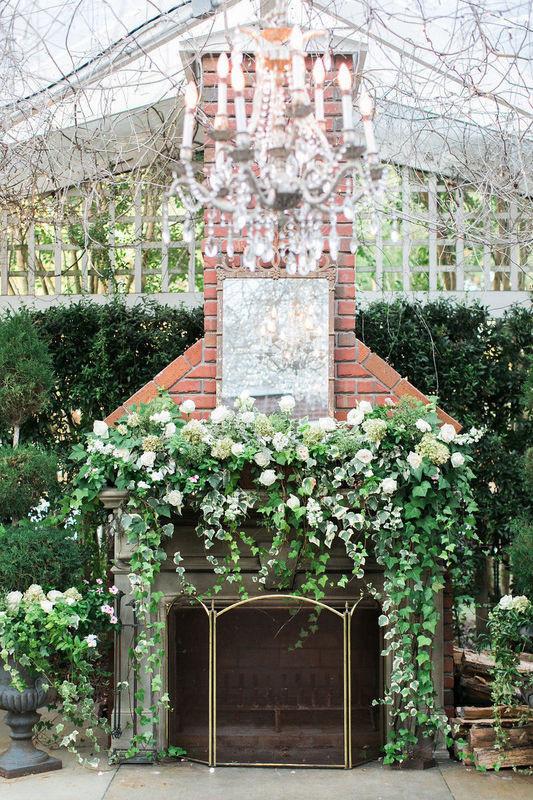 Fireplace trimmings
Decorate a fireplace at your venue by draping trailing ivy vines and flowers across the mantle. This green and ivory color combo creates an English garden feel.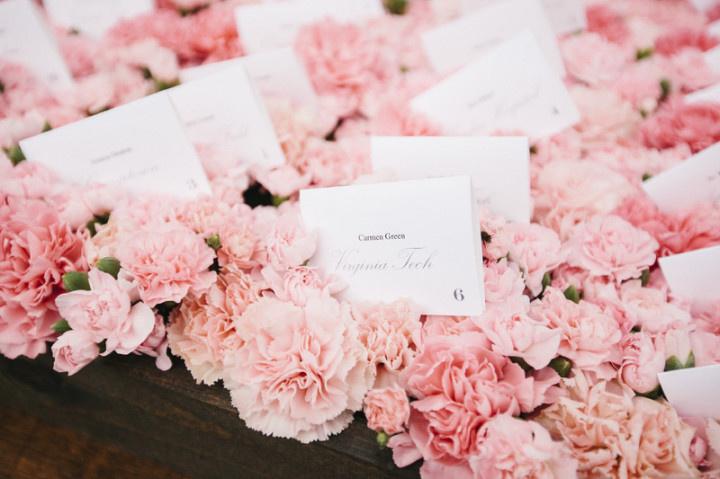 Escort cards
Display your guests' escort cards in a bed of flowers for an oh-so-pretty accent to your reception decor. You can use different types of flowers in the same color for a more classic look, or choose multicolored blooms to create something more whimsical and bohemian.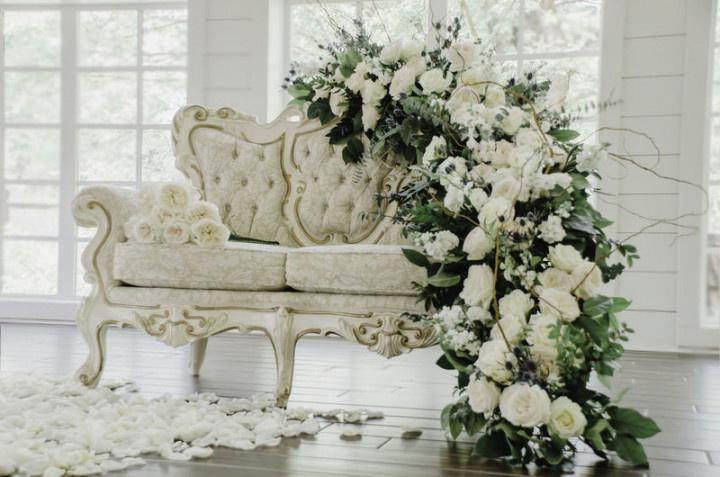 Antique settee
A lavish, antique loveseat becomes even more stunning with the help of an oversized arrangement trailing down one side. This idea would be lovely if you're building a wedding lounge area or sitting down during part of your ceremony.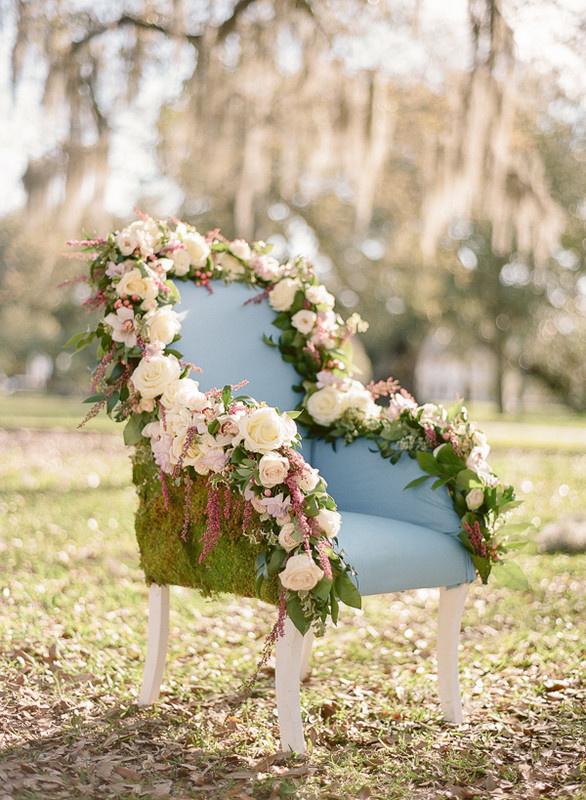 Moss details
This moss-covered chair is one of the more unique wedding flower ideas we've seen, and we're in love! If you're totally obsessed with all things floral, go big or go home with an out-of-the-box element like this.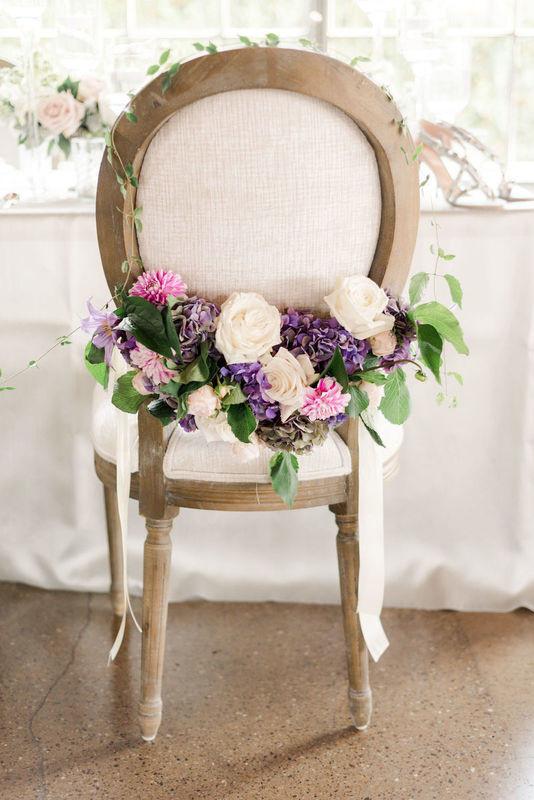 Chair decor
You can also keep things simple by adding small clusters of flowers and ribbons to the backs of your wedding chairs. This is a great way to bring extra oomph to your head table or sweetheart during the reception.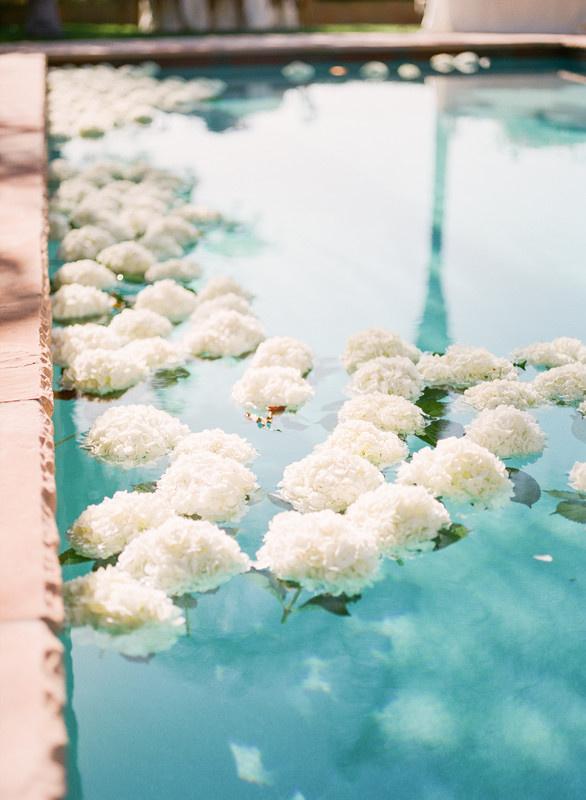 Floating hydrangeas
If your venue has a water feature, such as a pool or fountain, think of it as another excuse to decorate with your favorite flowers! Bunches of hearty blooms, like these white hydrangeas, will float in water and are an excellent finishing touch to an outdoor space.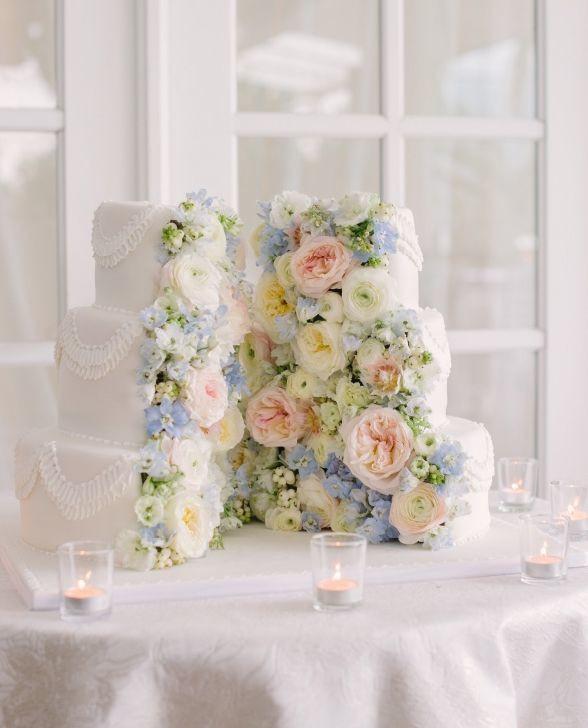 Wedding cake
Fresh flowers look pretty on just about any wedding cake, but this one immediately caught our eye. This "open" confection is adorned with clusters of garden roses, delphiniums and ranunculus covering the inside of the cake. Swooning!