20 Wedding Dress Hangers to Showcase Your Gown
Save those basic plastic hangers for another day! These pretty wedding dress hangers will add the perfect finishing touch to your gown.
We have included third party products to help you navigate and enjoy life's biggest moments. Purchases made through links on this page may earn us a commission.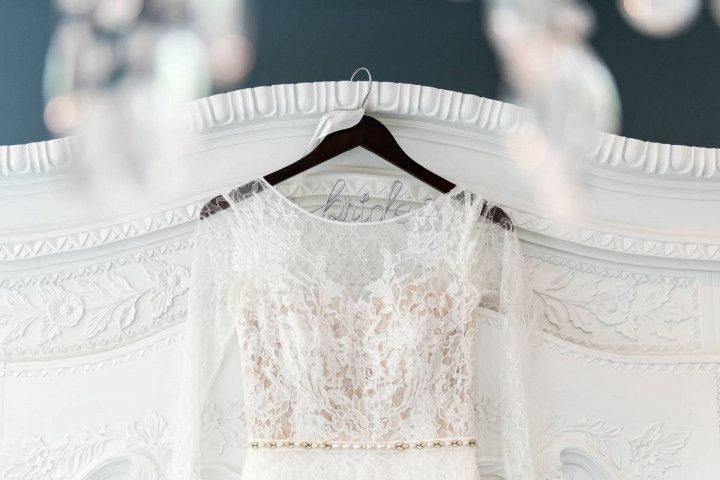 No doubt you've thought a lot about your wedding dress leading up to the big day, but what about your wedding dress hanger? That's right — how you display your gown on the morning of your wedding deserves just as much attention as the dress itself. Not only is a decorative wedding dress hanger a practical item to have on hand (you'll need to hang your dress up to keep it wrinkle and stain-free), but it's a tiny detail that can actually make all the difference when it comes to your wedding photos. Your photographer will definitely want to capture closeups of your wedding dress while you're getting ready, and compared to the hanger provided by your wedding seamstress — or one that you grabbed from your closet at the last minute — a cute wedding dress hanger will look much nicer in photos. Plus, it's a fabulous excuse to treat yourself to more bride swag! We found 20 stylish options to get you started.
Show off your once-in-a-lifetime gown with these wedding dress hangers for every style and budget.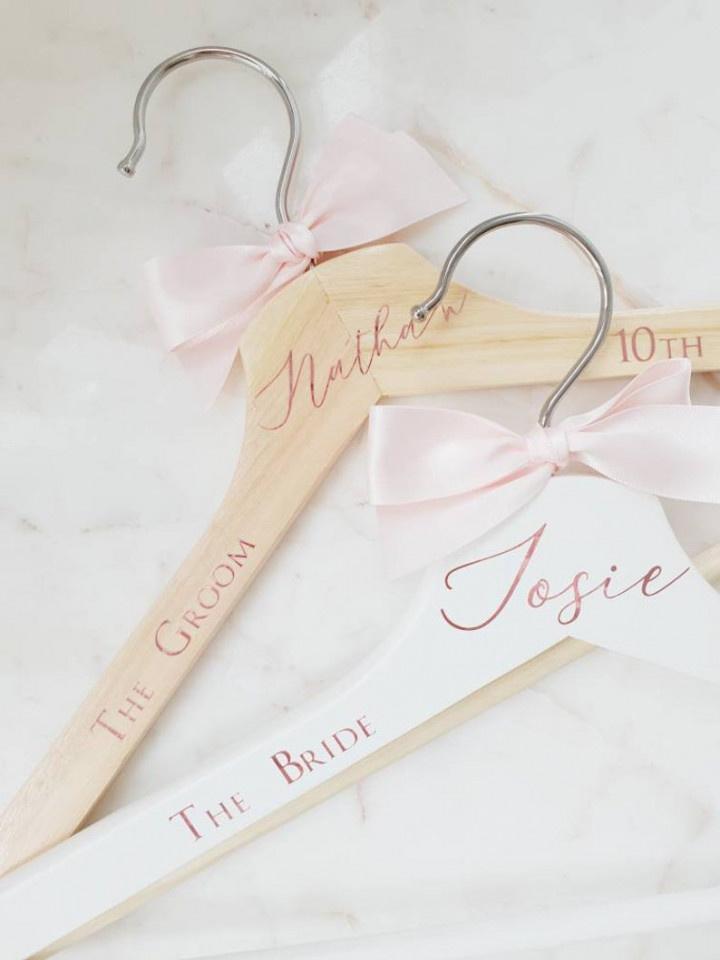 We're big fans of rose gold wedding decor, and these custom wedding dress hangers are only fueling our crush on the rosy hue. It looks equally fabulous against white and natural wood hangers, with a pretty blush bow to match.
DreamBrides pink bow personalized hanger, $6, Etsy
Stick to the basics with polished wood and white calligraphy. After the big day, this personalized twist on a classic hanger is a keepsake that you'll have in your closet for years to come.
MyPartyShopCo personalized wood hanger, $7, Etsy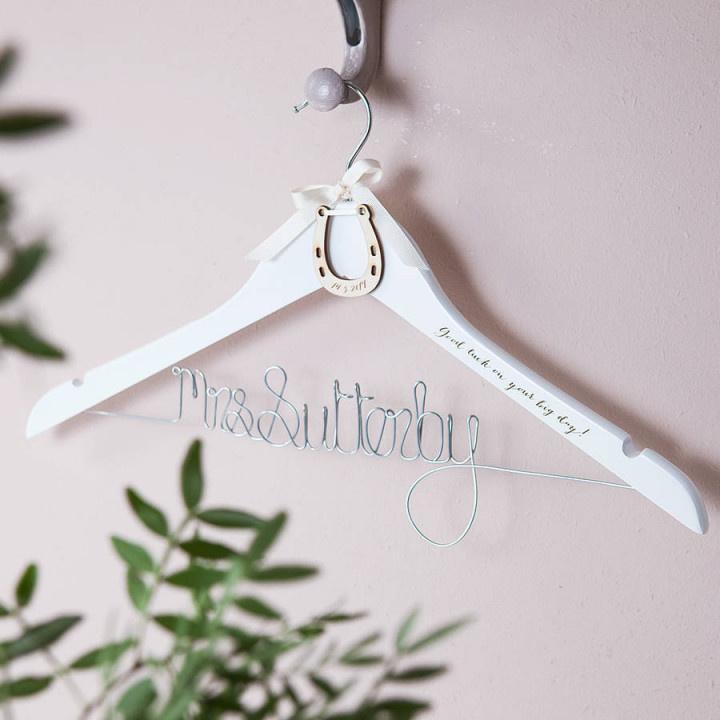 Keep cold feet at bay with a wedding dress hanger featuring a lucky horseshoe charm. The wire can be shaped into your last name for added personalization.
CloudsandCurrents horseshoe hanger, from $37, Etsy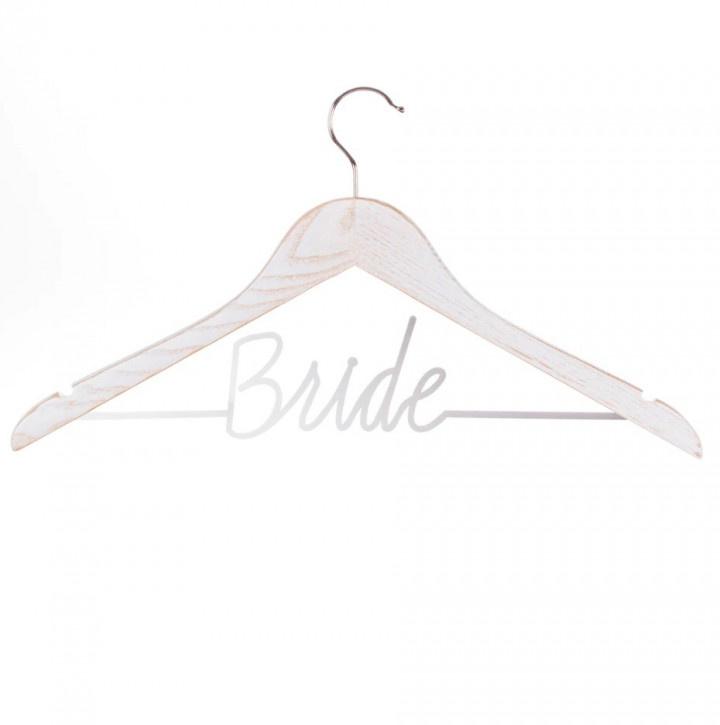 We love the fresh whitewashed finish on this wooden hanger. It screams modern, laid-back bride — great if you're getting married at the beach.
David Tutera bride hanger, $21, Michaels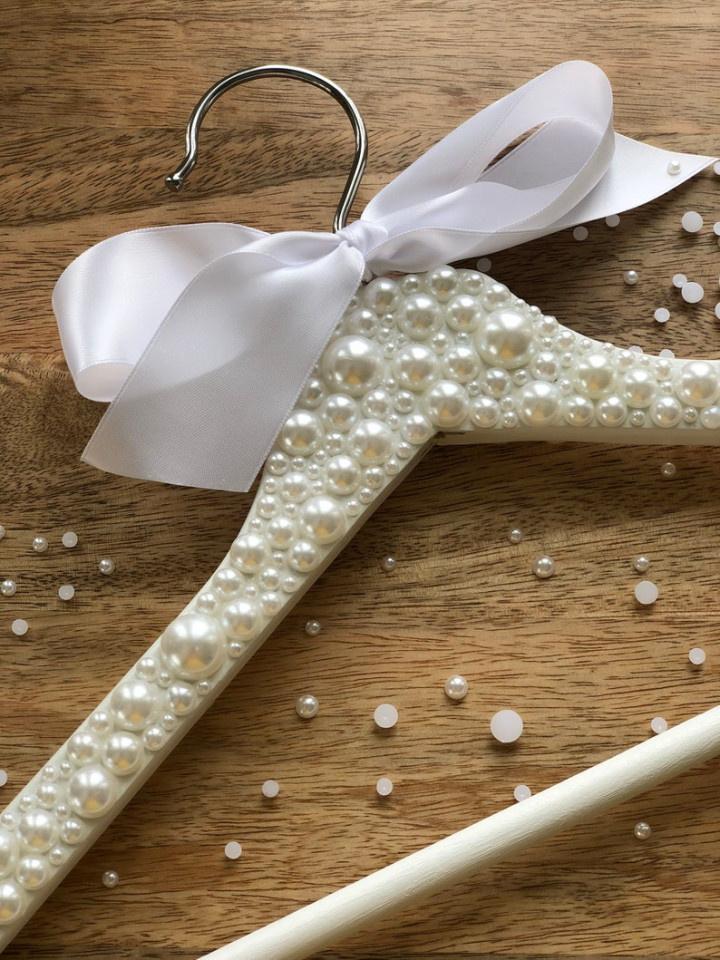 A pearl-adorned wedding dress hanger is a must-have for any classic bride. This chic option would be the perfect complement to a sophisticated minimalistic gown.
TheHandmadeHanger pearl hanger, from $25, Etsy
White calligraphy pops against this mahogany wood hanger, and the matching satin bow completes the look. It's a classy option for weddings of any style.
Weddings by Mae bride decal hanger, $12, Amazon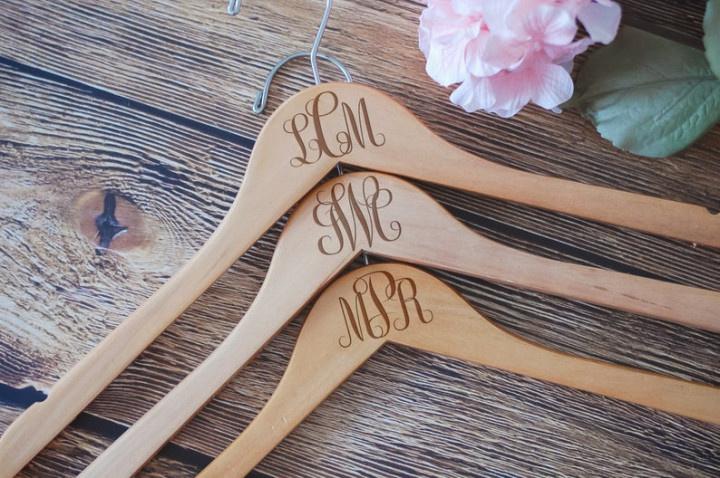 If you're into monogramming things, say hello to this custom wedding dress hanger (and check out other ways to use your wedding monogram here). Order one for yourself and one for each of your bridesmaids as a gift — we're sure they'll love the bespoke touch.
FlowertownWeddings monogram hanger, $12, Etsy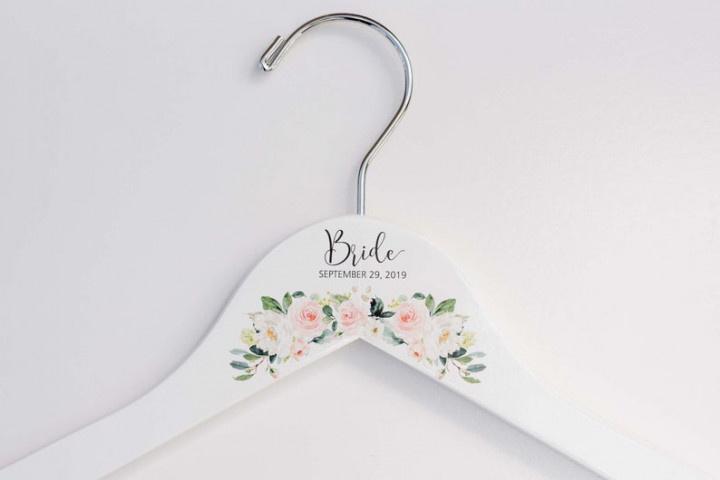 Hand-painted roses are a lovely way to spruce up a white hanger. This delicate pastel option can be personalized with your wedding date and would be great for a vintage wedding theme or garden venue.
ApkBridesmaidGifts personalized bride hanger, $25, Etsy
A wedding dress hanger with black, blush, and rose gold details will truly pop against a white gown. The hearts on either side of "bride" are an extra-sweet detail.
Your Dream Party Shop wire bride hanger, $20, Amazon
A round wooden tag adds subtle rustic chic flair to this white hanger. You can customize the charm with various colors, names, and fonts to match your wedding style.
CloudsandCurrents hanger with charm, from $14, Etsy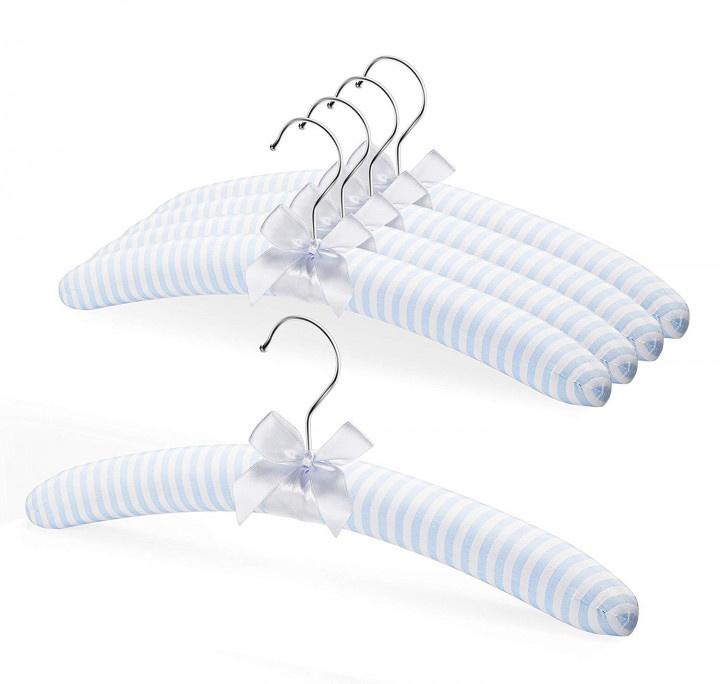 Padded wedding dress hangers are a retro-inspired alternative to wooden or metal styles. We think these blue and white striped hangers would be cute for a summertime wedding by the water, and since they come in a pack of five, you can match your bridesmaids!
GLCON padded hangers (set of 5), $15, Amazon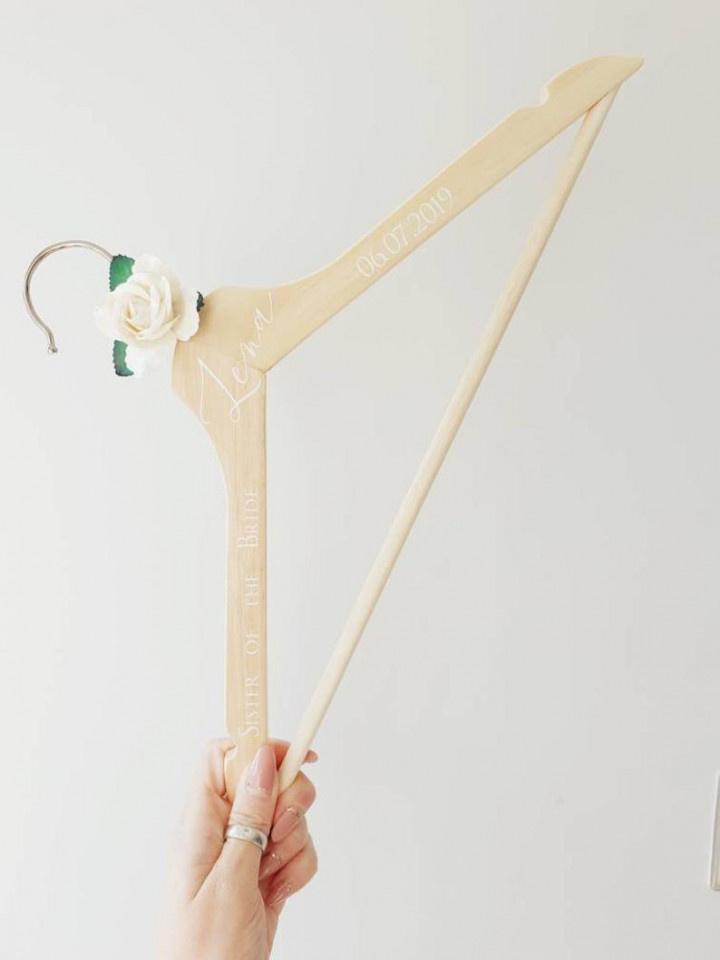 We didn't know it was possible for a hanger to be this pretty. White calligraphy and a fabric rose add dreamy vibes to this light wooden hanger, which can be personalized with a date, name, and wedding party role (ideal if you're giving these as bridesmaid gifts).
DreamBrides white rose personalized hanger, $6, Etsy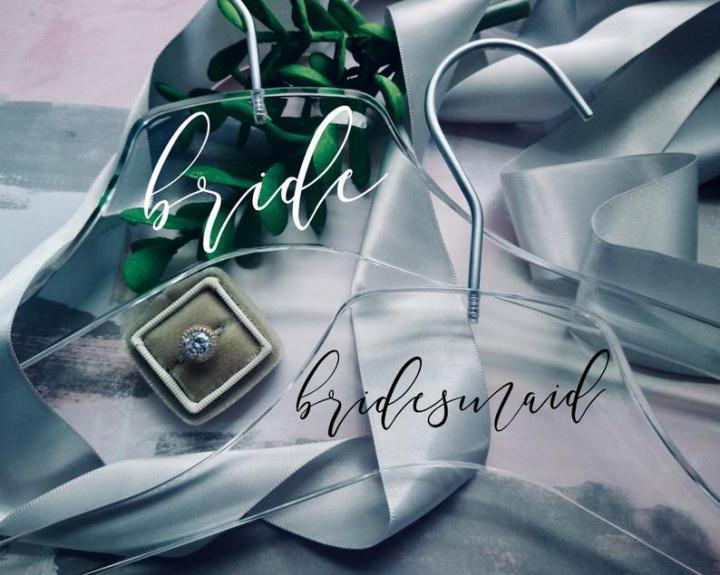 Go sleek and trendy with a clear acrylic hanger. White hand-lettering adds a chic touch, but you can also choose from other ink colors, such as blue, pink, and black.
FeyaLivCo lucite dress hanger, from $17, Etsy
This intricate metal wedding dress hanger looks like something you'd find at a European antique market. It's available in rose gold, yellow gold, and silver finishes to match a variety of gown styles.
Gargsons French market hanger, $30, Anthropologie
Engraved hangers are another option we love. The laser engraving creates an ultra-clean look, and the natural wood grain means that your hanger will be truly one of a kind.
EcoEngrave custom wood hanger, from $10, Etsy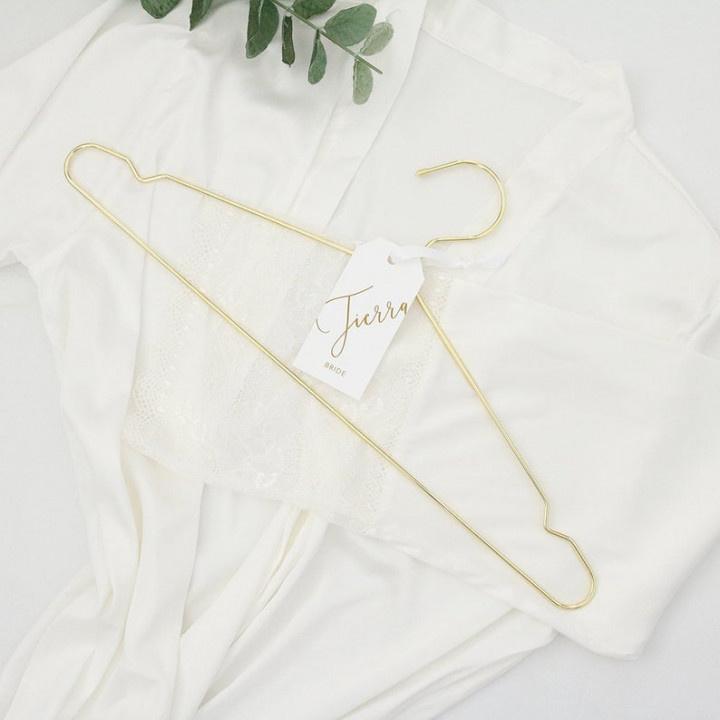 If you're wearing a dress that's lightweight and doesn't have a lot of fabric, a gold wire hanger is a stylish choice. This style comes in a set of three, so you'll have a few extras to give to your bridesmaids or maid of honor.
ThreeTwo1 hangers with personalized tags (set of 3), $15, Etsy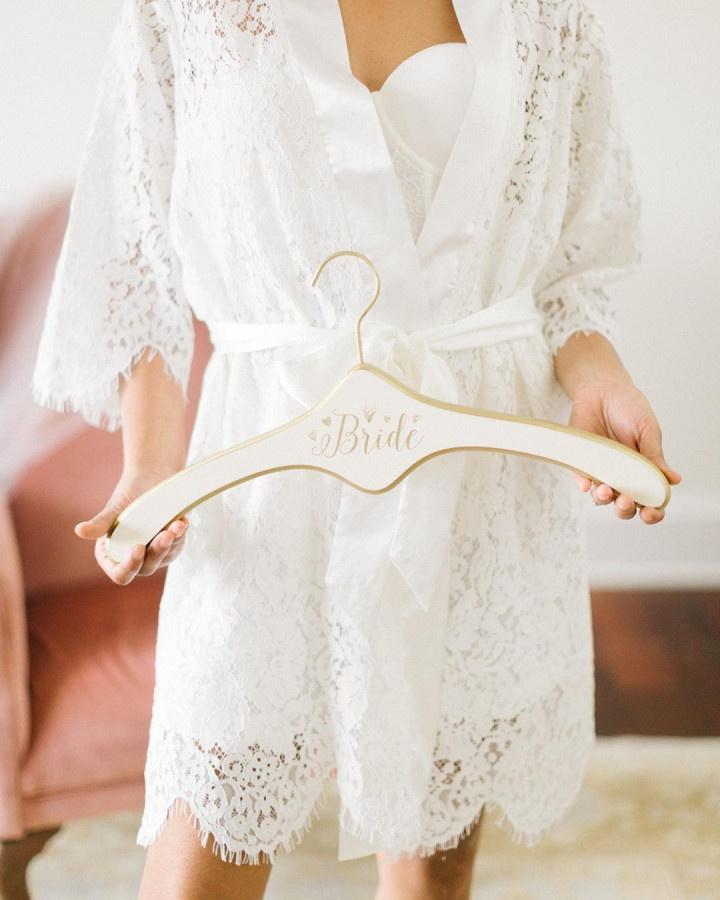 This gorgeous painted wedding dress hanger was made to be a keepsake piece. Consider starting a tradition by sharing it with your friends or relatives — you can each take turns using the hanger when your special day arrives.
David's Bridal painted bride hanger, $17, David's Bridal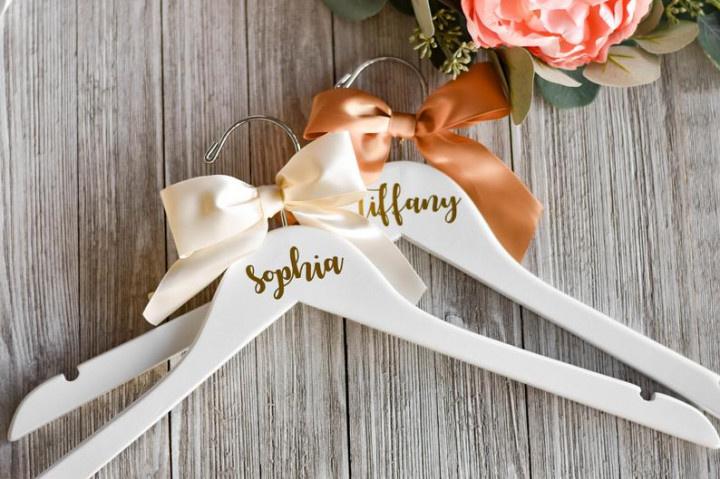 With more than 20 name colors and 16 bow colors to choose from, this wedding dress hanger is one of the best options if you're looking for something totally customizable. The affordable price makes it practical to order one for yourself, each of your bridesmaids, and your flower girl!
Everly Grayce personalized wedding hanger, $5, Etsy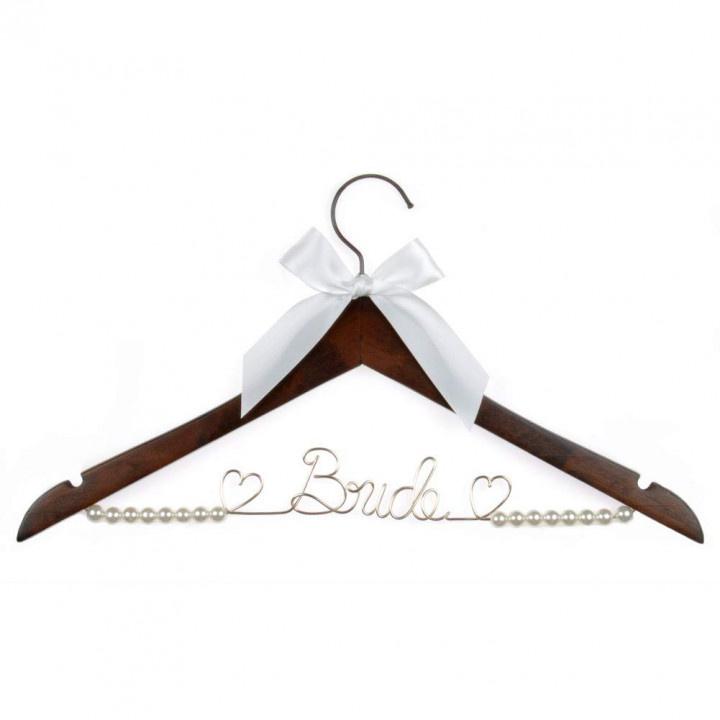 Bows, hearts, pearls...this wedding dress hanger has it all. It's a romantic choice for showcasing a ball gown or other classic wedding dress.
Wedding Bee wedding dress hanger, $24, Amazon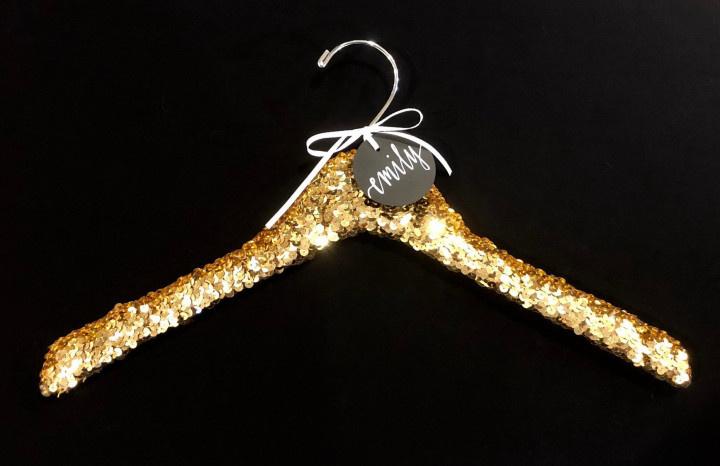 A gold sequin hanger fits right in with a glamorous gown or a glitzy wedding theme (like a Gatsby-inspired or New Year's Eve bash, for example).
PenandLetter gold sequin hanger, from $16, Etsy
Disclosure: This post contains affiliate links, some of which may be sponsored by paying vendors.