Got Milk? The 10 Yummiest Cookie Ideas for Your Wedding
We spoke with bakers across the country to find out how couples are serving up cookies at their wedding receptions.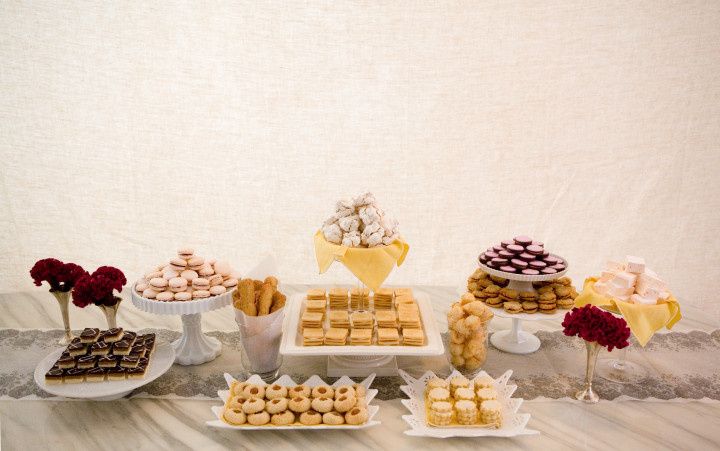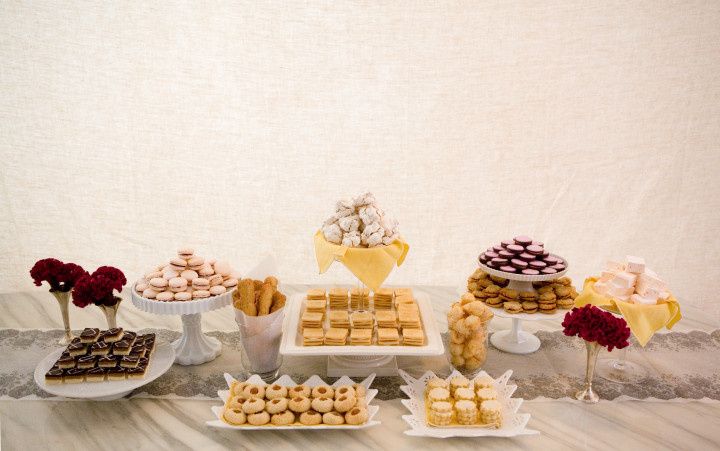 Photo: One Girl Cookies
Enjoying cookies, with or without a tall glass of milk, is a childhood tradition that many people still enjoy as adults. As couples look to personalize their wedding menu with favorite foods, a cookie buffet or cookie favor may be the right option if they still enjoy a chocolate chip (or oatmeal raisin or Oreo) cookie as an afternoon snack.


We spoke with bakers across the country to find out how couples are serving up cookies at their wedding receptions. Here's what they had to say.
The classics never go out of style.
If you're not sure what cookies to serve, either as part of a buffet or as a wedding favor, you can't go wrong with the classics. Ann Vickers of Bella Dolce Cookies in Charleroi, Pennsylvania, suggests couples include any of the following fan favorites: Buckeyes, Thumbprints, Chocolate Chips, Snickerdoodles, Sugar Cookies, Lemon Bars, Peanut Butter Blossoms, Coconut Macaroons, and Pecan Tassies.


All in the family
If you have a favorite family recipe you can ask a local baker to make dozens of them for your wedding, or you can bake them at home in advance of the wedding. "It's a nice nod to family members to honor or remember them with a cookie that they were known for at your wedding," says Dawn Casale of One Girl Cookies in New York. "When we create a dessert table we have descriptions for each cookie, and will name a cookie after the relative who made it a family favorite." If you decide to DIY cookies for favors or a dessert buffet, start baking weeks, if not months, before the wedding and freeze them so you're not up all night the week of your wedding baking. Ask friends and relatives if they'll help you bake enough cookies for everyone to enjoy.


Try some unexpected cookies
While you can't go wrong with the classics, listed above, there are some new favorites that are sweeping the nation. French Macarons are popular because of the dozens of colors and flavors they're available in. Plus, they're delicious and pretty. You can pick flavors that complement dinner or your color palette. (The bakery chain Baked by Melissa makes bite-sized macarons.) Other contemporary cookies include chocolate dipped Oreos, Sumbitch Cookies (as seen on How I Met Your Mother), Apple Pie Bars, Girl Scout Cookies (original or inspired-by), whoppie pies, and gluten-free and vegan varieties.

You can also ask a baker to do a new twist on a classic, such as Salted Mocha Chocolate Chip Cookies, Earl Grey Cookies and Chocolate Stuffed Gingerbread Cookies. "Our most popular cookie is a Toffee Chocolate Chip, which is a twist on a classic with homemade English toffee candy on top of our classic chocolate chip cookie," says Heidi Niel of Heidi's Heavenly Cookies in Alpharetta, Georgia.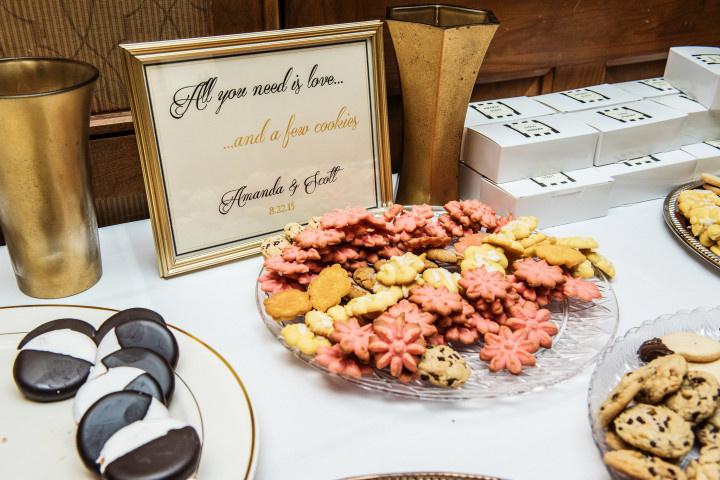 Photo: Kathleen Hertel Photography
Make them personal
Sugar cookies, shaped into anything from engagement rings to pets, are still quite popular, but couples are sticking with the more classic wedding imagery for pre-wedding day celebrations (engagement parties, showers, bachelorettes), and going with more personalized designs for the big day, Dani Boglivi Fiori, owner of Sweet Dani B in New Jersey, tells WeddingWire. "For the wedding, couples are trying to make it as personal as possible," she explains. "For their wedding favor they're picking two cookie designs to represent both of them."


Go local
Whether your wedding is a destination or not, bakers are whipping up batches of cookies that reflect local favorites or made with local ingredients. Heidi, from Heidi's Heavenly Cookies, tells WeddingWire that weddings in the south often order Pecan Pie Bars with locally sourced pecans. Other geo-baked cookies include Pastelitos de boda (Mexican wedding cookies), Key Lime Sables (Florida), mini black and white cookies (New York) and maple cookies (Vermont).


Just add ice cream
The dessert trend of 2017 is ice cream, in the form of DIY sundae bars and over-the-top milkshakes, but as couples look to combine their favorite desserts – cookies and ice cream – gourmet ice cream sandwiches are coming to a reception near you. Couples have the option of deciding which cookies to pair with an ice cream flavor, or they can keep the interactive element alive and let guests mix and match cookie and ice cream flavors from a menu of options.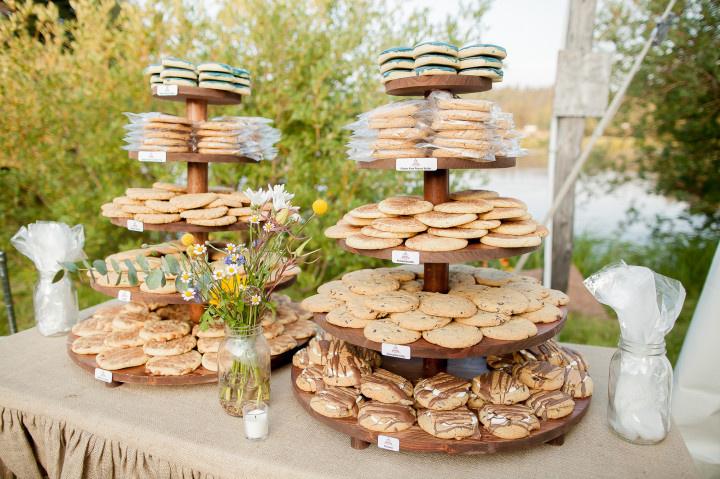 Photo: Alison Rose Photography
Personalize favors
Couples who want to end the night on a sweet note can package cookies in cello bags or a bakery box for guests to take with them on their way out. Several bakers WeddingWire spoke with explained that cookie favors are being personalized in both design and packaging. "Couples are really being creative when it comes to the type of cookie favors they want," explains Lisa Starobinsky, owner of Crispy Edge Cookies in Teaneck, New Jersey. "While we see a lot of monograms and traditional bridal designs, there are couples who come in with unique and fun ideas that perhaps push the boundaries of the traditional wedding cookies." Some creative cookie shapes include, pets, sail boats, emojis and sports team logo or equipment. For favor tags, couples are getting imaginative with wording and going beyond their names and a wedding date. Heidi of Heidi's Heavenly Cookies shared one example of a couple who enjoyed camping, so their favor was a S'mores Bar with a tag that read: Sending S'more Love Your Way.


Include gluten-free, nut-free and vegan varieties.
Just as you would be concerned about dietary restrictions during cocktail hour and the reception meal, couples should consider dietary restrictions and allergies with their cookie selections. "Always include one nut-free and one non-chocolate cookie option, such as oatmeal raisin or sugar," advises Heidi. Many bakeries today offer cookies that accommodate dietary restrictions. If the one you've hired doesn't, order one or two varieties from a second bakery to ensure that everyone can enjoy dessert.


Make 'em minis.
If you think your guests will limit the number of cookies they'll enjoy because the cookies are large in size or they're worried about calories, consider serving miniature versions of either traditional or trendy varieties. "We've always made small cookies because I wanted them to be served tapas style, so people can have lots of different flavors without feeling overwhelmed," explains Dawn of One Girl Cookies. "The miniature size allows guests to sample all the varieties: fruit-filled, chocolate, nut, etc." Her company's classic, chocolate and seasonal cookies (plus whoopie pies!) are about an inch in diameter, which allows guests to try more than just a couple of flavors, and have enough room for seconds too!


Decorate your cake with cookie toppers.
You can kick-off the cookie menu at your wedding by decorating your wedding cake with cookies! Dani of Sweet Dani B tells WeddingWire that she has been creating sugar cookie toppers that are iced to look like the bride and groom, their pet, or a variety of designs to decorate each tier. "Cookie-topped wedding cakes is definitely a specific look," she explains, "a bit homespun but what's nice about it is that you can customize a cake with cookies and tell a story in a way that you can't with store-bought toppers."