Cocktail Attire Defined: What to (And What Not to) Wear
Just received an invite that reads "cocktail attire"? Here's exactly what to (and not) to wear to a cocktail attire wedding.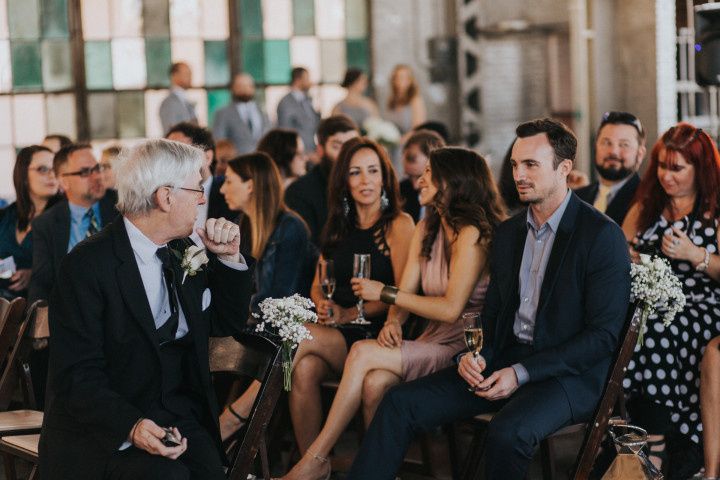 So you just got invited to a wedding and you're trying to figure out what in the world you should wear. Of course, the first thing you should keep in mind is the season. The next thing to consider is what it says on the invitation as far as attire goes—black tie, white tie, semi-formal, casual? What about cocktail attire for a wedding? The later is quite common, especially for less formal, but still dressy weddings or wedding events such as the rehearsal dinner.
What is a cocktail attire wedding exactly? According to Chicago-based personal stylist, Jenny Applegate, wedding cocktail attire falls somewhere in between a girls' night out and a formal occasion. "With many cocktail events, there are step and repeats with lots of cameras and phones taking pics, so even though it's less formal, it shouldn't require any less planning to ensure your outfit is on point."
To help you decide what to wear to a cocktail attire wedding, we asked top stylists to share the dos and don'ts of this type of dress.
Don't: Wear anything that draws unnecessary attention
Experts recommend avoiding any clothing item that exposes too much skin or is too flashy. "When we say dress with the intent to be party ready, we're not talking about going out to the clubs," says Nicole McCann of Exhale Events in Pittsburgh, Pennsylvania. "Ask yourself, 'If this was my big day would I want someone wearing this to my wedding or rehearsal dinner?'" As a general guide, she recommends wearing dresses that fall below your fingers when your arms are to your side and aren't super low cut. "Appropriate necklines and dress lengths help set the classy cocktail tone of any event," she adds.
Do: Elevate your look with the right shoe
Since wedding cocktail attire itself isn't the most formal type of dress, it's important that you don't dress down your shoes—a.k.a. leave the flip-flops for the beach and the sneakers for your errands. "We hear you and agree when you say, 'But high-heels are uncomfortable!' says McCann. "But, we assure you, compromise can be found with a low kitten or block heel."
Do: Seek out a tailor
This is especially important for men, according to McCann. "There is nothing more attractive than a man in a well-fitting suit!" she says. "Once you find that tailor, be sure to give them enough time to tailor your suit the way you want, as these things don't happen overnight." She recommends leaving at least four weeks' time from the moment you walk in the tailor's store to the date of your event to ensure it fits just right.
Don't: Carry a large handbag
"Wearing a large purse to a cocktail party can cause an outfit to then look too casual and even sloppy," says Applegate. "I know many of us are used to carrying a large bag filled with things to work for any type of need, but for cocktail occasions, just stick to a few little essentials." She suggests bringing a small clutch or bag, as this will read as elegant.
Do: Dare to look beyond a dress
It's definitely okay to wear a pantsuit or jumpsuit to a cocktail attire wedding. "The key for this is to make sure that the suiting fabric and style is more formal and not too office-like—jersey, chino or denim fabrics are too casual for this occasion," she says. "Also, make sure that the pants are tailored for your body—fit is everything!"
Don't: Overdo the jewelry.
As you're putting together your outfit for a cocktail attire wedding, Applegate recommends deciding what you want to be the star for that night, as the rest of the items you pair with it will be the supporting cast. "You cannot have more than one star in your outfit or it becomes overwhelming," she says. For example, if you want a large necklace to be the one statement piece, pair it with a dress or jumpsuit with a neckline that will work to enhance its appeal. "Do not then put on a pair of large earrings with the large necklace, though—it's just too much!" adds Applegate.