24 Summer Wedding Ideas to Copy for Your Own Celebration
Check out these steal-worthy summer wedding ideas, themes, and tips before you start planning your warm weather soirée.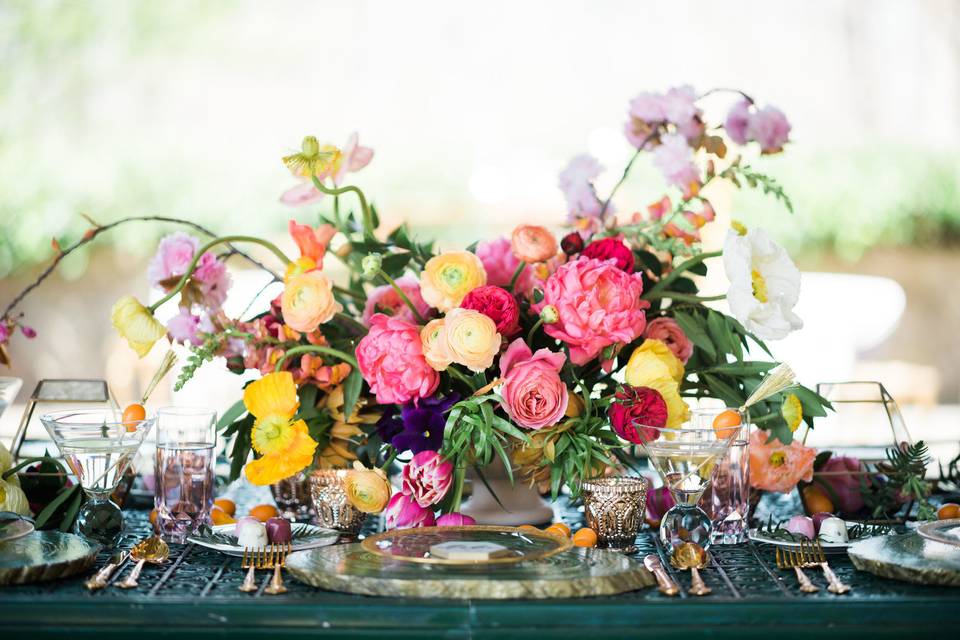 Summer has long been one of the most popular times of the year to get hitched, and since there are so many different summer wedding ideas and themes to choose from, it's also one of the most versatile seasons. Whether you're getting married on the beach or hosting a romantic garden ceremony, this guide will help you choose your color palette, decide on a venue type, and start gathering inspiration to match your summer wedding theme or vision.
If you're planning to marry between June and September, take a peek at these summer wedding ideas and tips.
What's the best month for an outdoor wedding?
Summer weddings can take place from early June to early September. Hot temperatures and humidity will vary depending on where you're getting married, but they tend to be less extreme in the early summer months—June or even late May. If your wedding is taking place on the East Coast, keep in mind that the Atlantic Hurricane season is from June 1 through November 30, though most storms take place from late August through September. For your own peace of mind, do yourself a favor and have a rain plan ready to go, just in case!
What are the best summer wedding venues?
Outdoor venues are a top choice for summer weddings, especially if you want to take advantage of the season's warm temperatures and sunny skies. Among the most popular venues for summer weddings are:
Vineyards: Great wine, gorgeous scenery—what more could you need? Most vineyards also offer catering services (and beverage packages, of course!) or partner with a nearby catering company, which is ideal if you're looking for an all-inclusive wedding venue.
Gardens: Surround yourself with natural beauty by having your summer wedding at a garden venue. From historic estates to botanical greenhouses and state parks, there are so many beautiful garden wedding venues across the country.
Country and yacht clubs: For a classic or black-tie wedding, consider getting married at a country club or yacht club. These types of venues will give your special day an ultra-sophisticated, timeless feel (and they have air conditioning).
Beaches: If you're lucky to live near a beach or other body of water, it can serve as a beautiful backdrop for your nuptials. Even if you have to drive a few hours to reach the water, it can be a great excuse to have a "destination" wedding that's closer to home and doesn't require too much travel.
Barns and farms: Celebrate all night long under the stars by getting married at a barn or farm wedding venue. These rustic, laid-back locations will make your wedding feel like one giant party—all you need to add is good food and music!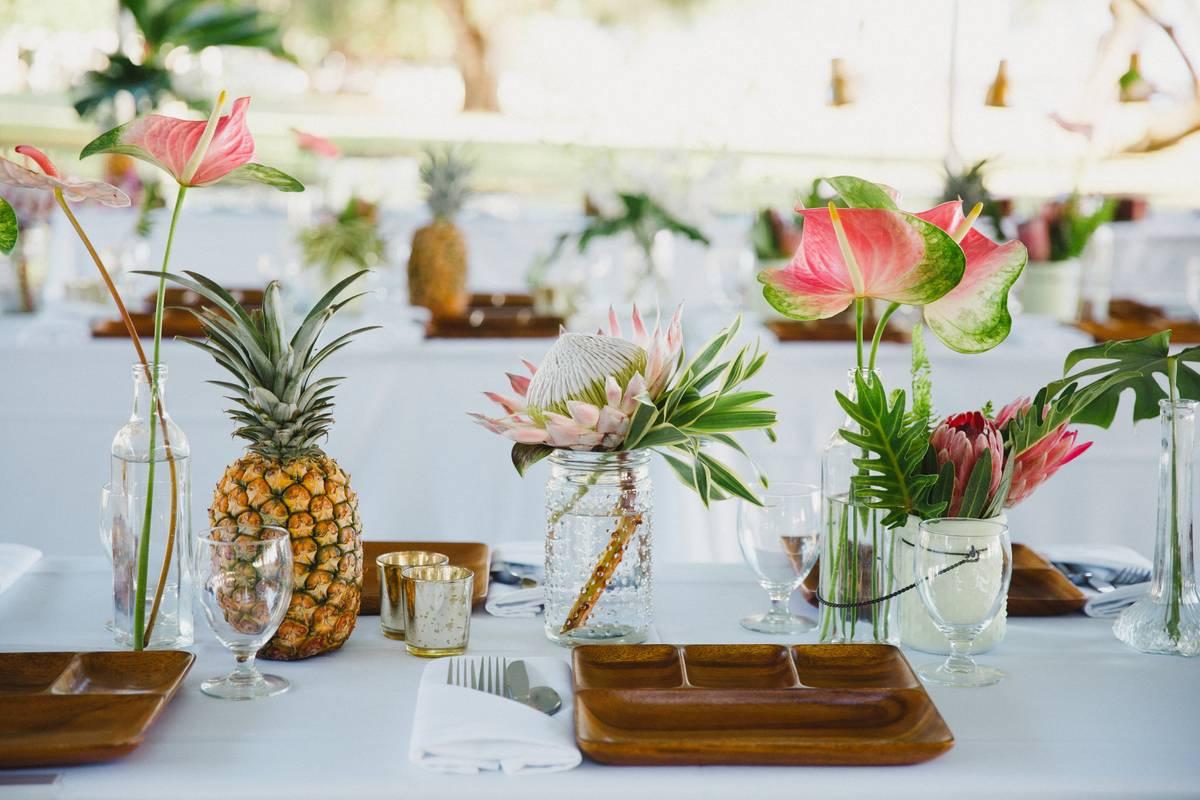 What are the best colors for a summer wedding?
Summer wedding ideas are all about creating a fun, laid-back atmosphere, so take that into consideration when finalizing your color palette. Bright and colorful palettes are a popular choice for summer weddings, especially if you're getting married at the beach or in a tropical location.
If pastel wedding colors or neutrals are more your style, those work great, too! They'll feel light and airy if you're getting married outdoors. When used at a summer wedding, neutrals and pastels feel light and airy, especially if you're getting married outdoors in a scenic location. Need some inspo? We love summer wedding themes with all-white decor.
What are good summer wedding themes?
As you're considering decor and other summer wedding ideas, try to hone in on a specific style or theme. Here are just a few of our favorite options:
Beach or nautical: This is a popular option for anyone getting married at a waterfront venue, but even if you're not, a nautical wedding theme will instantly give your wedding a summery feel. If you want something a little more unique, go for a mermaid-inspired wedding—think seashells, glitter,
Boho chic: Boho wedding style is a great fit for summertime, especially if your venue is outdoors. This free-spirited aesthetic focuses on using nature-inspired details, like feathers, greenery, succulents, and geodes. Other bohemian elements, like hanging centerpieces, macramé details, and mix-and-match furniture will all bring an eclectic vibe to your decor.
Rustic: Getting hitched at a barn or farm venue? Then a rustic wedding theme is an obvious (and lovely) choice.
Tropical: Bold colors, fruity cocktails, and floral patterns are all key elements to this fun summer wedding theme. If you can't get married in the islands, bring them to you instead!
Garden romance: If you're leaning toward a classic look for your nuptials, an elegant garden wedding theme is a great choice. It emphasizes lush flower arrangements (think roses, peonies, and greenery) alongside pastel colors and, most importantly, plenty of rosé.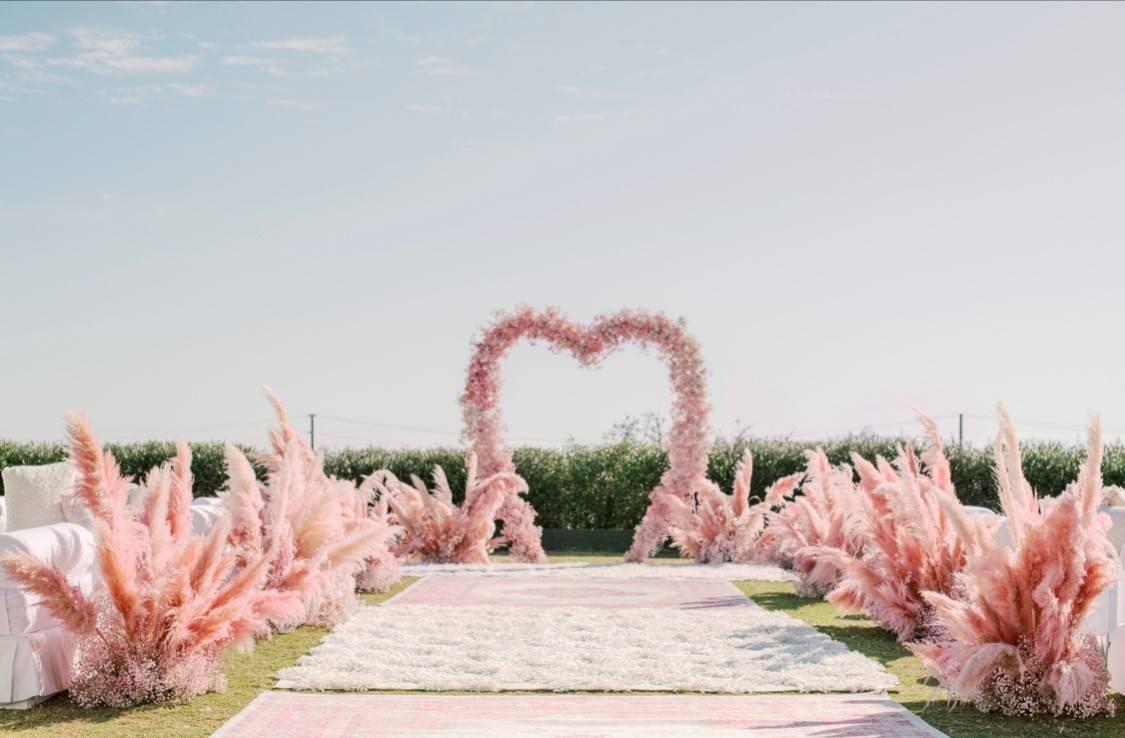 What are the best summer wedding flowers?
If you're planning a summer wedding, you're in luck, because some of the most popular wedding flowers are in-season for June, July, and August. What does this mean for you? Depending on the specific bloom, in-season flowers can sometimes be more affordable, since your wedding florist won't have to go the extra mile to find them. Some of the top summer wedding flowers include:
Peonies
Garden roses
Hydrangeas
Freesias
Poppies
Delphinium
Lavender
Anemones
Dahlias
Looking for summer flowers that pack a punch? Try standout blooms like anthurium, proteas (see 20 stunning protea wedding bouquets here), stargazer lilies, and birds of paradise. If summer temperatures are very hot where you're getting married, you'll want to consider the types of flowers that can withstand high heat. Certain blooms, like hydrangeas and peonies, are considered delicate and quite sensitive to heat. When in doubt, remember that your wedding florist knows best!
Our favorite summer wedding ideas and inspiration

Watercolor wedding invitations
There's something about watercolor paints that feel so summery. Decorate your wedding stationery suite with a wash of abstract colors and defined calligraphy.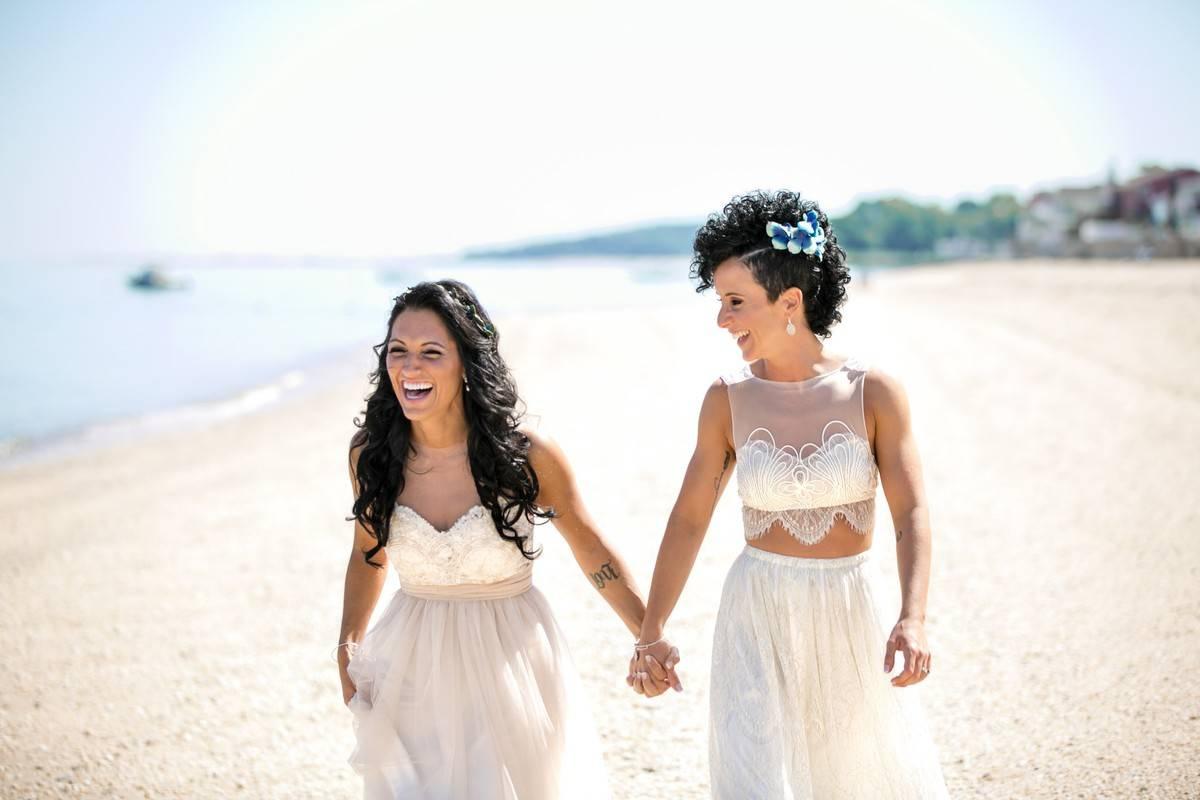 Crop top wedding dress
If there were ever a time to show a little skin with a crop top, it's the summer season. Rock this trendy bridal look if you're getting married on the beach or having a laid-back wedding.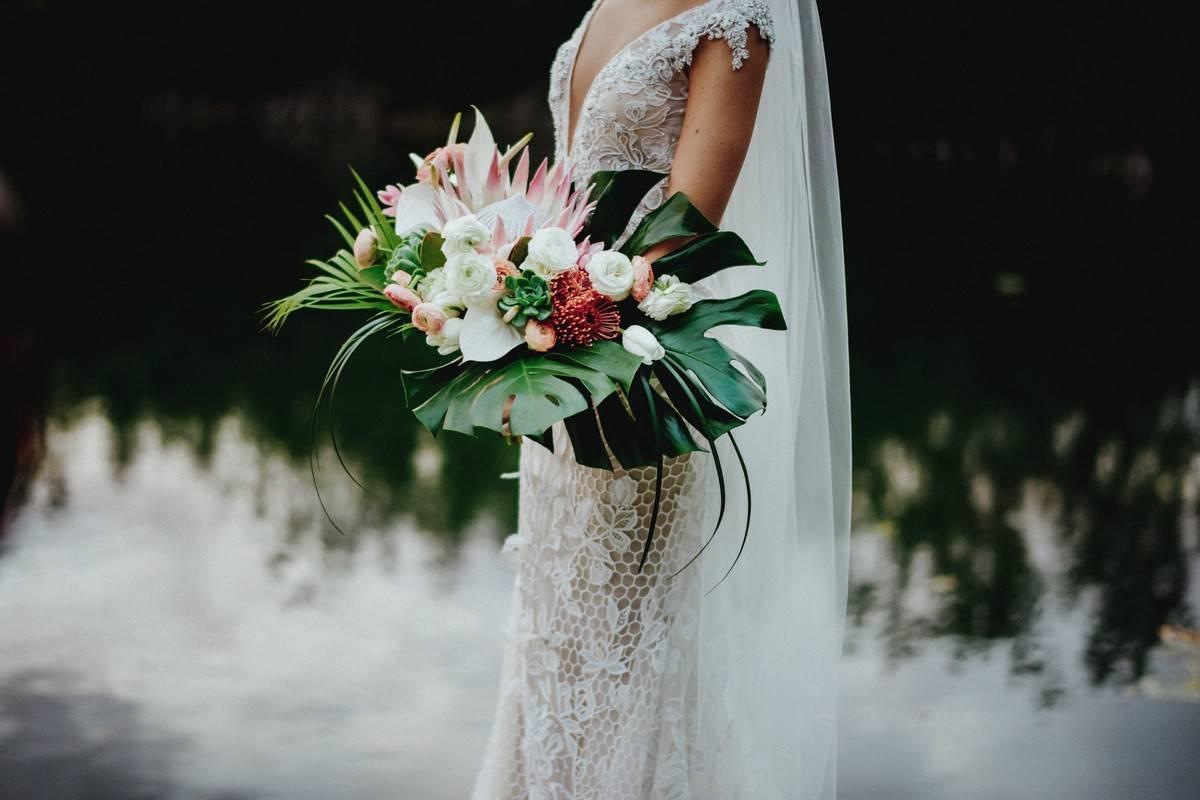 Monstera leaf bouquet
This dramatic greenery is a must-have for any tropical-themed wedding. Adding a monstera leaf to your bridal bouquet or other wedding flower arrangements will instantly give the flowers a beachy vibe, even if they're more traditional.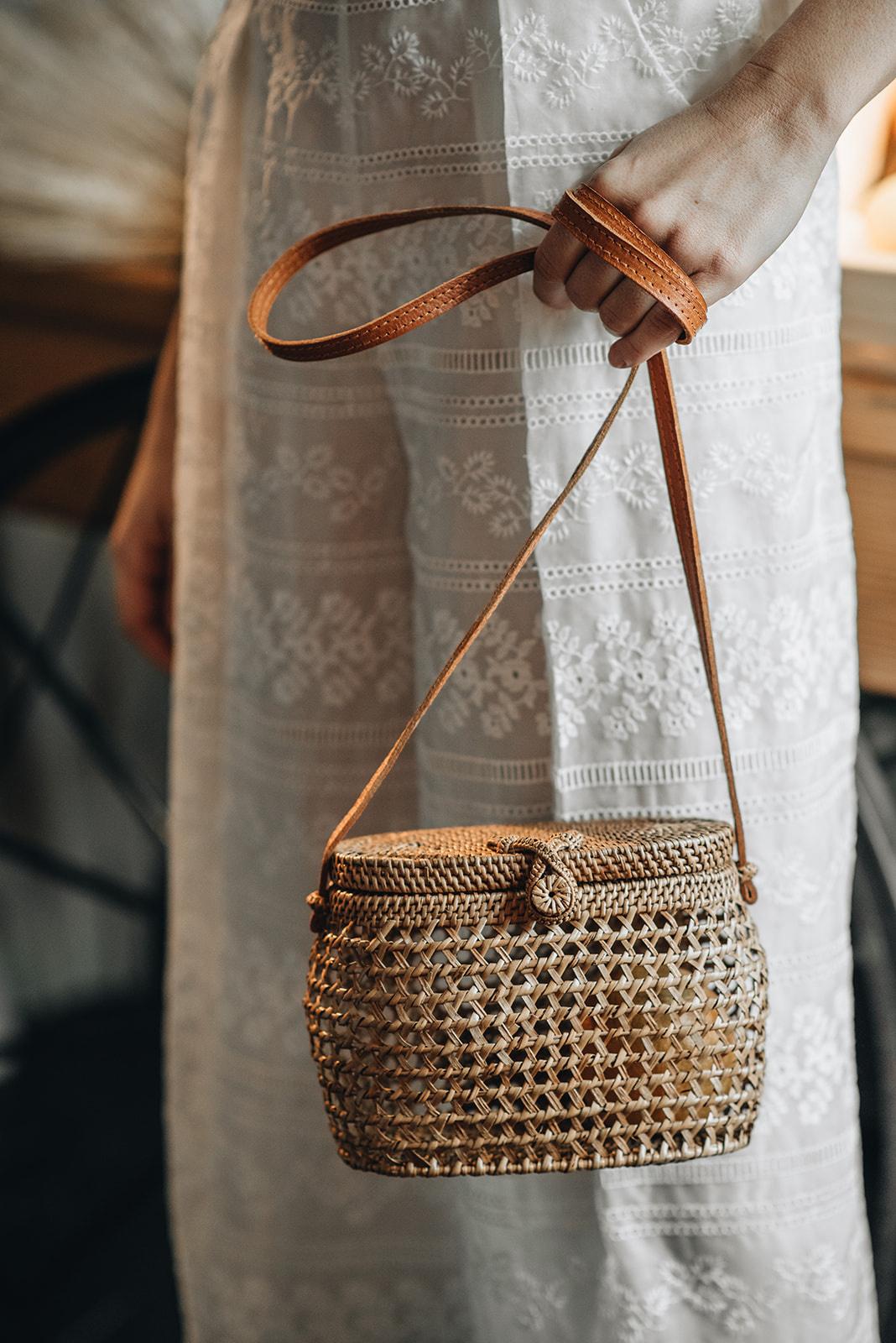 Rattan bridal clutch
Swap that classic satin bridal clutch for something much more whimsical and totally unexpected. Summer weddings are an especially great time to think outside the box when it comes to your accessories (like sunglasses) and a boho-chic rattan bag will add just the right amount of je ne sais quoi.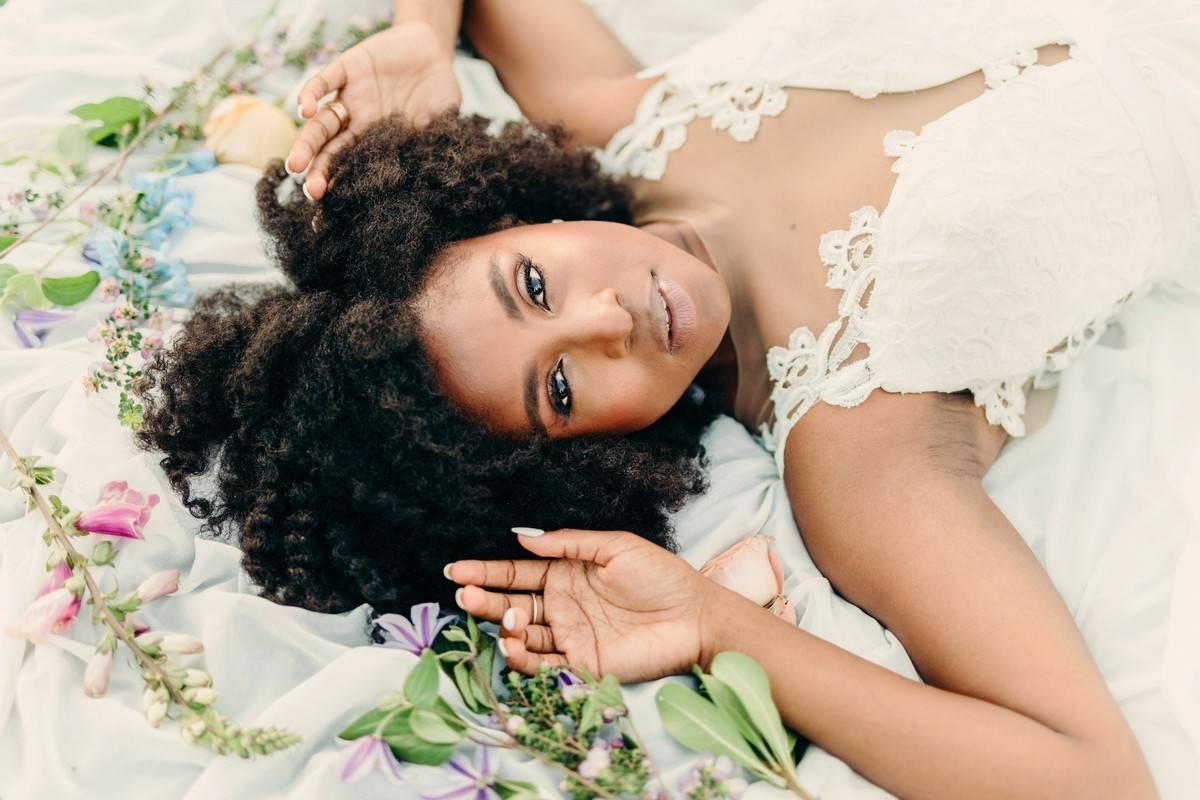 Natural wedding makeup
Trust us—hot summer days are not the time to pile on the heavy foundation and mattifying powder, even if you're getting married. It's entirely possible to achieve full coverage while also keeping your makeup light and subtle, especially when you have the help of airbrush makeup and professional assistance. For an easy, summer-ready bridal look, opt for barely-there lipstick, highlighter, and lengthening mascara.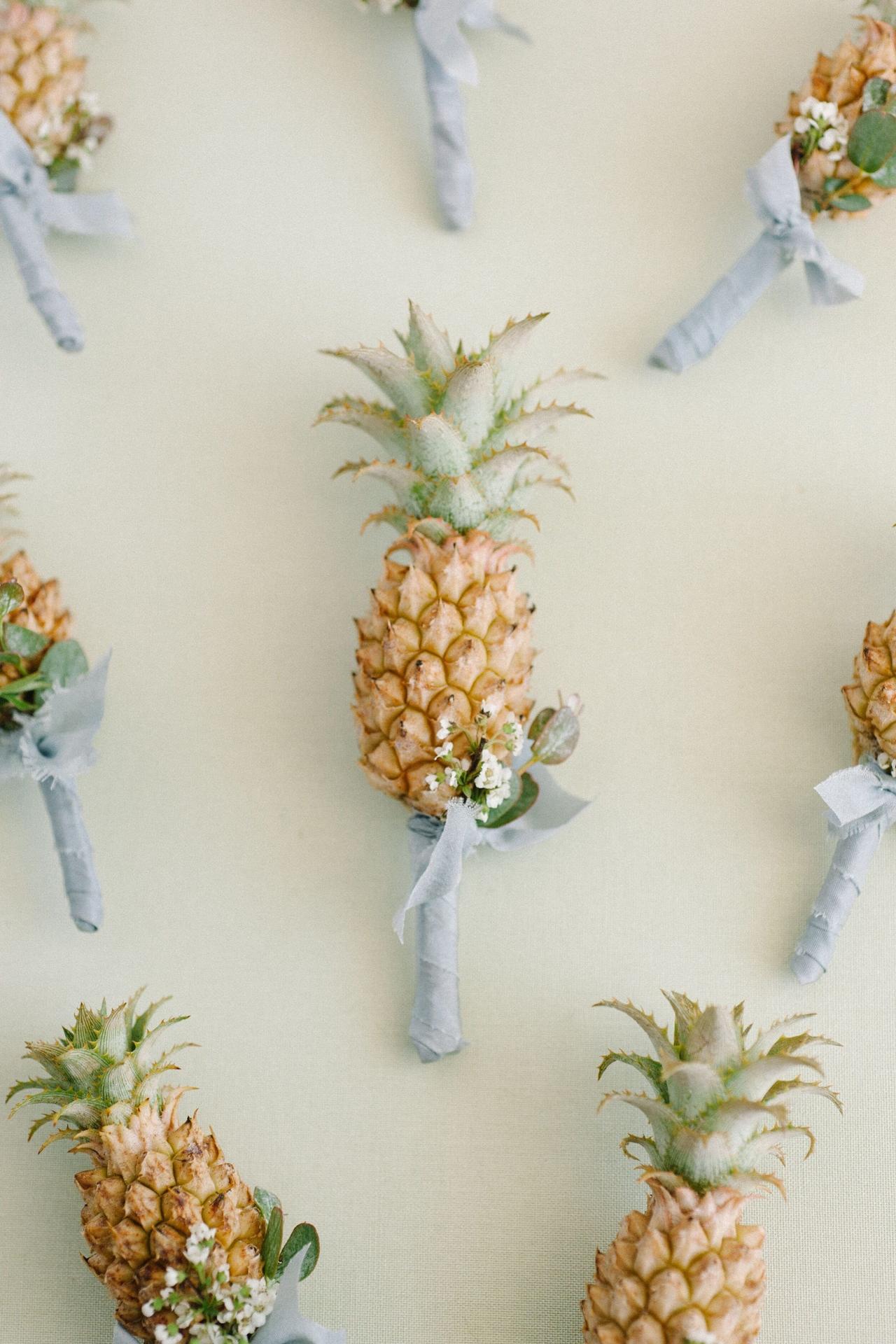 Mini pineapple wedding boutonnieres
Here's a creative summer wedding idea if we ever saw one. Until now, we didn't know how cute mini pineapples could be, but we love the idea of using them for wedding boutonnieres in lieu of flowers.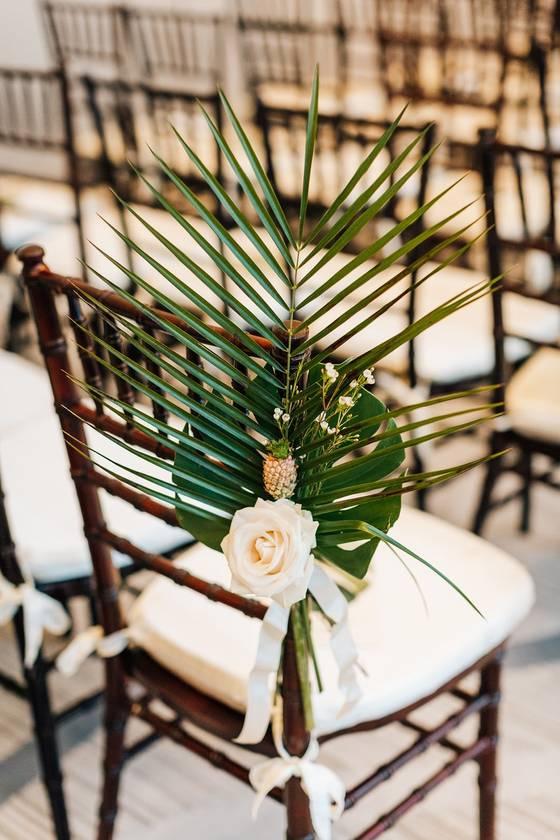 Greenery aisle markers
For a quick, simple way to decorate your ceremony aisle for a summer wedding, tie bunches of tropical palms and greenery to pews or chair backs.
Beach wedding ceremony sign
Exchanging vows or having your wedding reception on the beach? Encourage guests to kick off their shoes and relax with a "shoes optional" sign made from driftwood.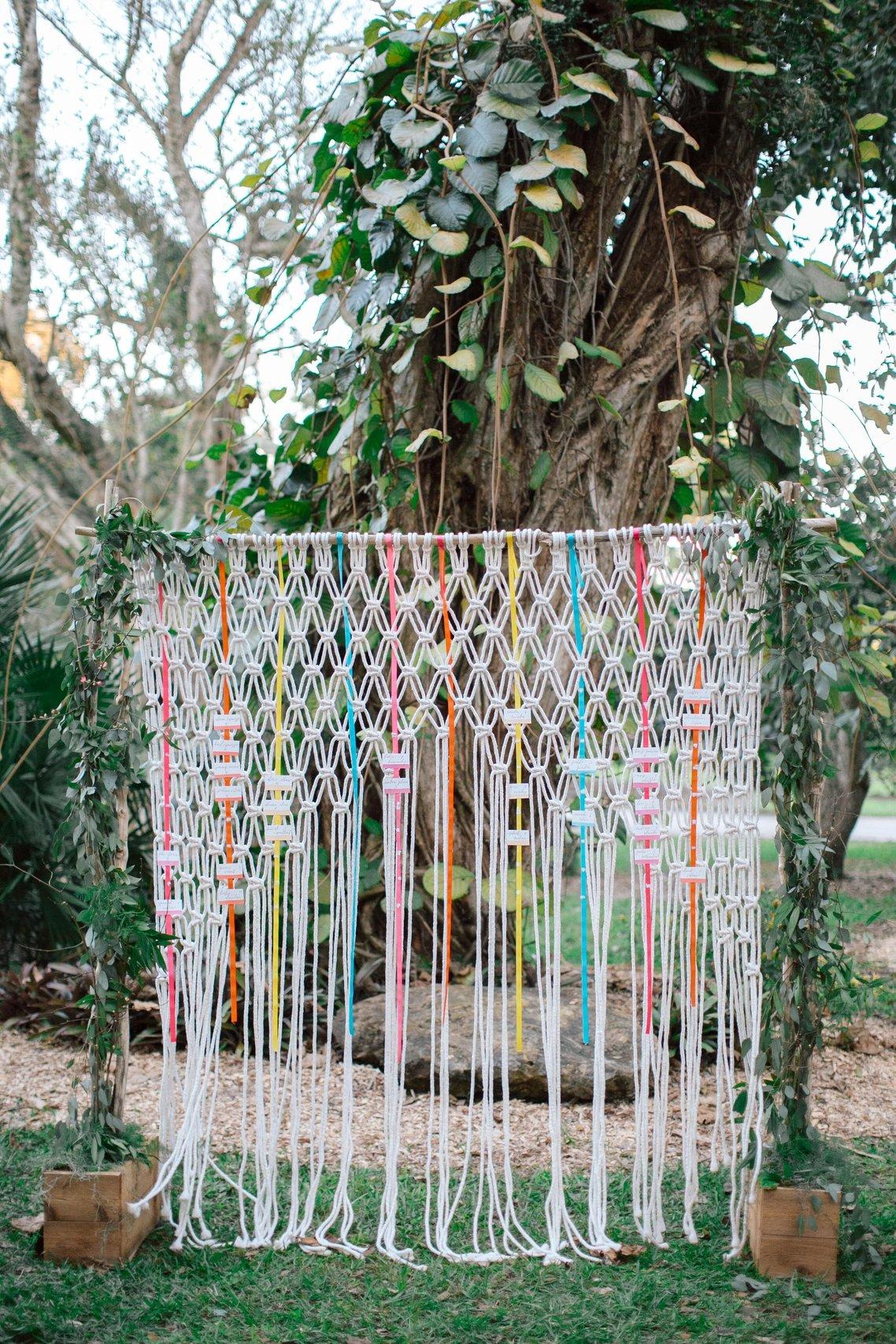 Macramé wedding backdrop
Rent or make a macramé backdrop to jazz up empty or unused space at your wedding venue. This backdrop is being used for an escort card display, but you could use something similar for your ceremony or sweetheart table backdrop.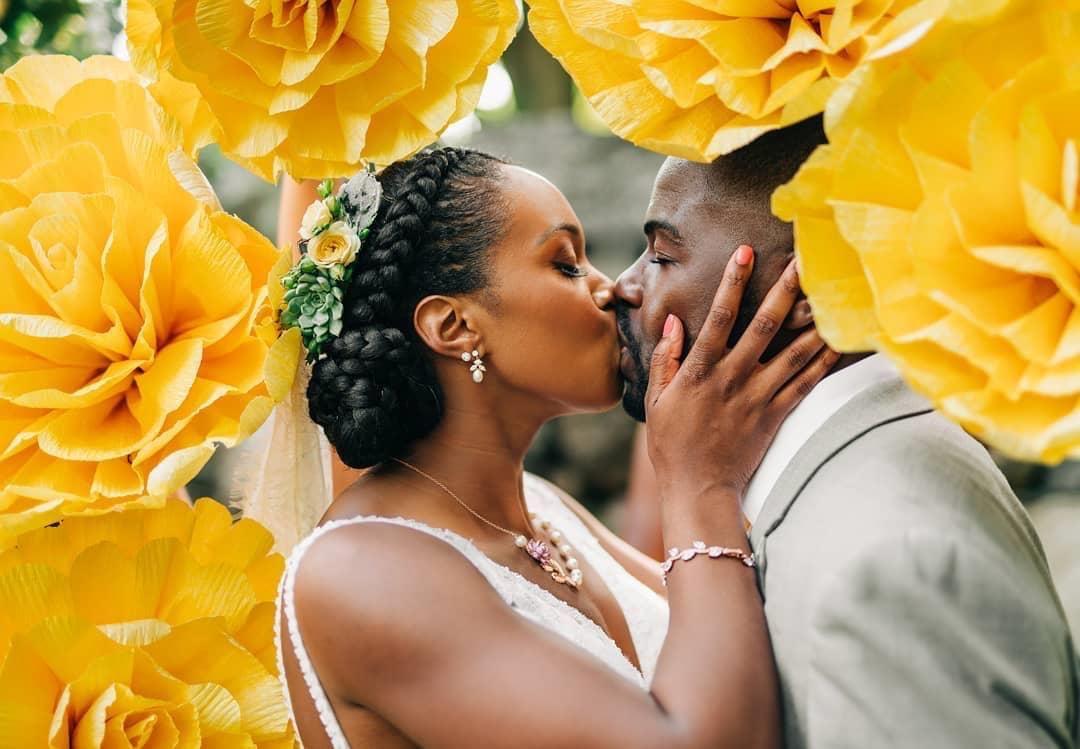 Braided wedding hairstyle
Getting married outdoors in hot weather means keeping your hair off your neck in order to stay comfortable, especially if you're a bride with long hair. We love this bride's gorgeous Dutch braid, which finishes in a low side bun.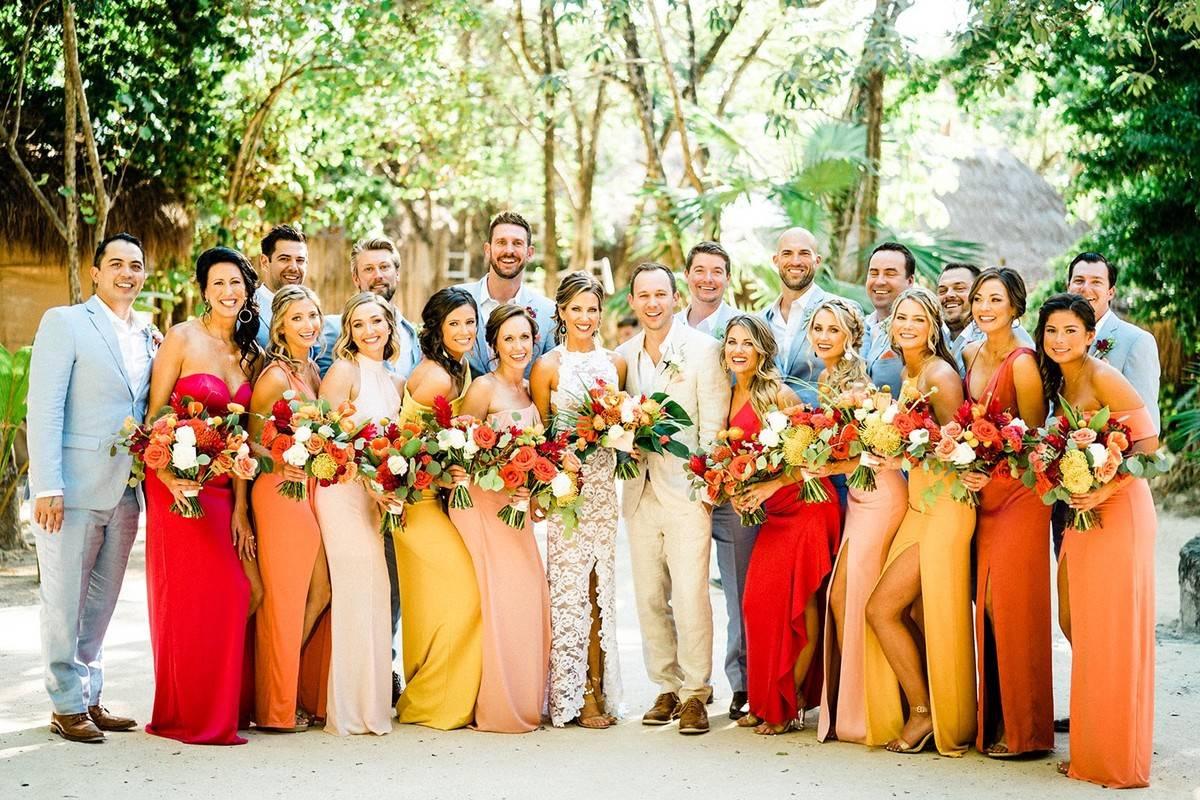 Yellow and orange bridesmaid dresses
This bold color palette makes a major statement for a summer wedding. One trick to pull off the mix-and-match bridesmaid dress trend: Choose three or four colors max and keep the silhouettes relatively the same.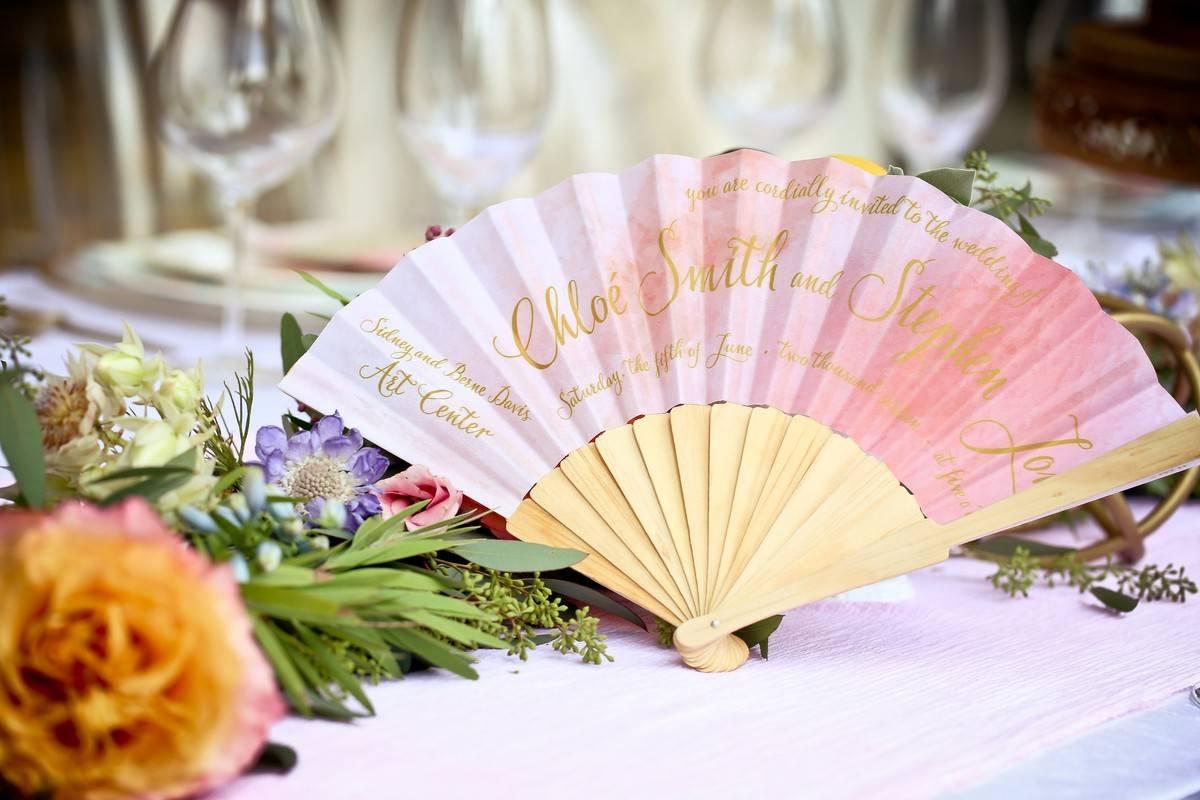 Handheld fans
This is one of the best summer wedding ideas for particularly hot regions or wedding dates. Help your guests beat the heat by supplying handheld fans, like decorative folding paper styles or woven palm fans.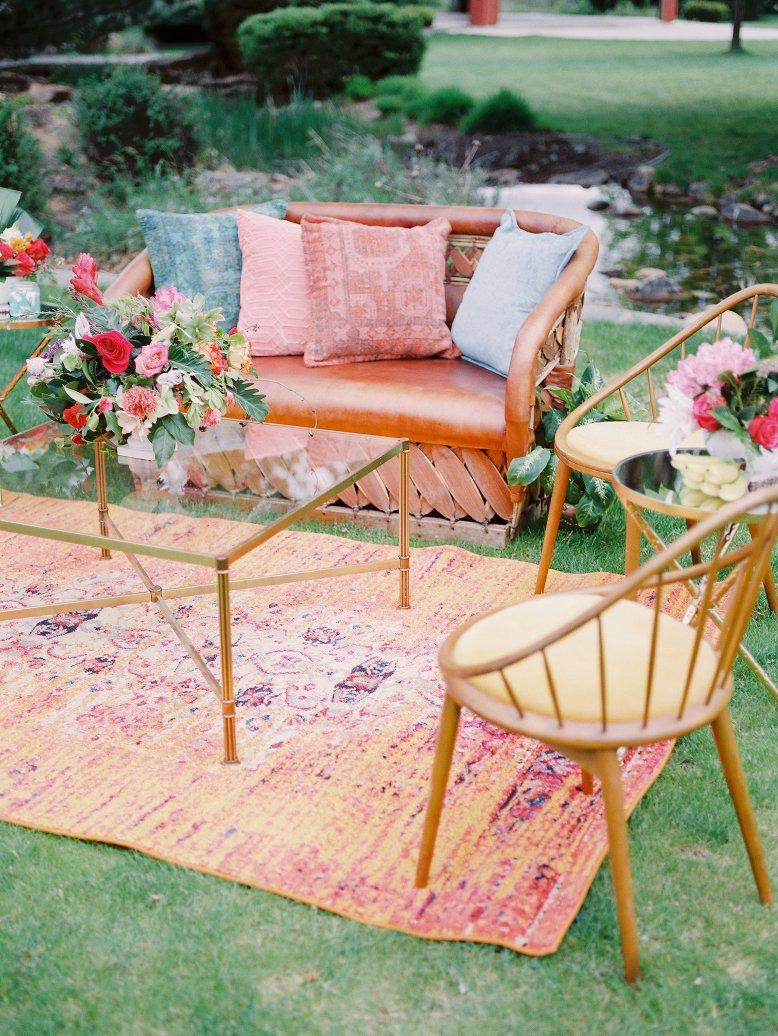 Wedding reception lounge area
If you have a lot of space to fill at your venue, creating a wedding lounge area is a great idea. This gives guests a place to mix and mingle when they're not seated at their tables or on the dance floor. For outdoor venues, add a decorative rug, coffee table, and floral arrangements that match your summer wedding theme.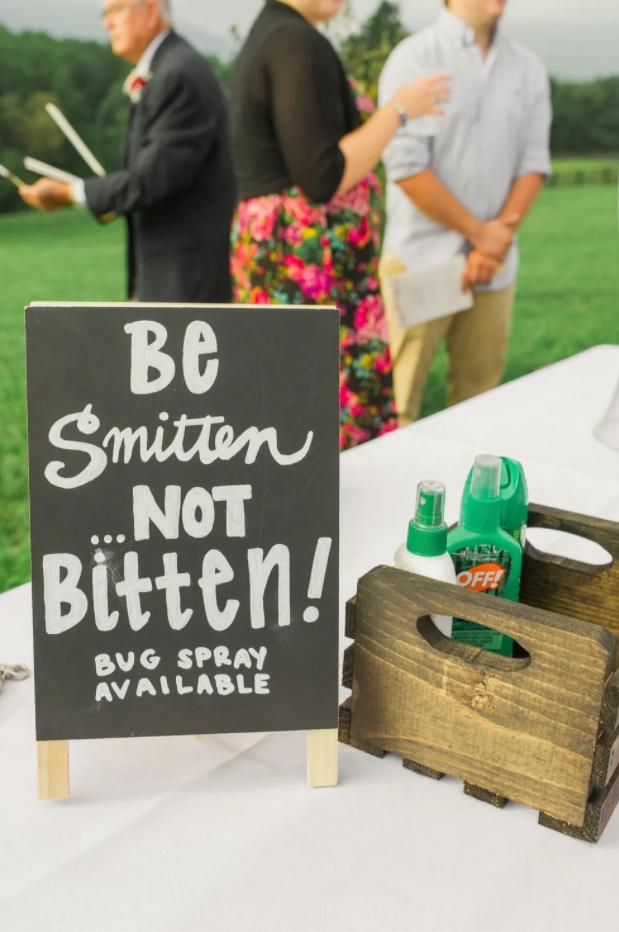 Creative bug spray sign
We hate to say it, but no outdoor summer wedding is completely bug-proof. Keep mosquitos and other pesky insects at a distance by providing bug spray for your guests.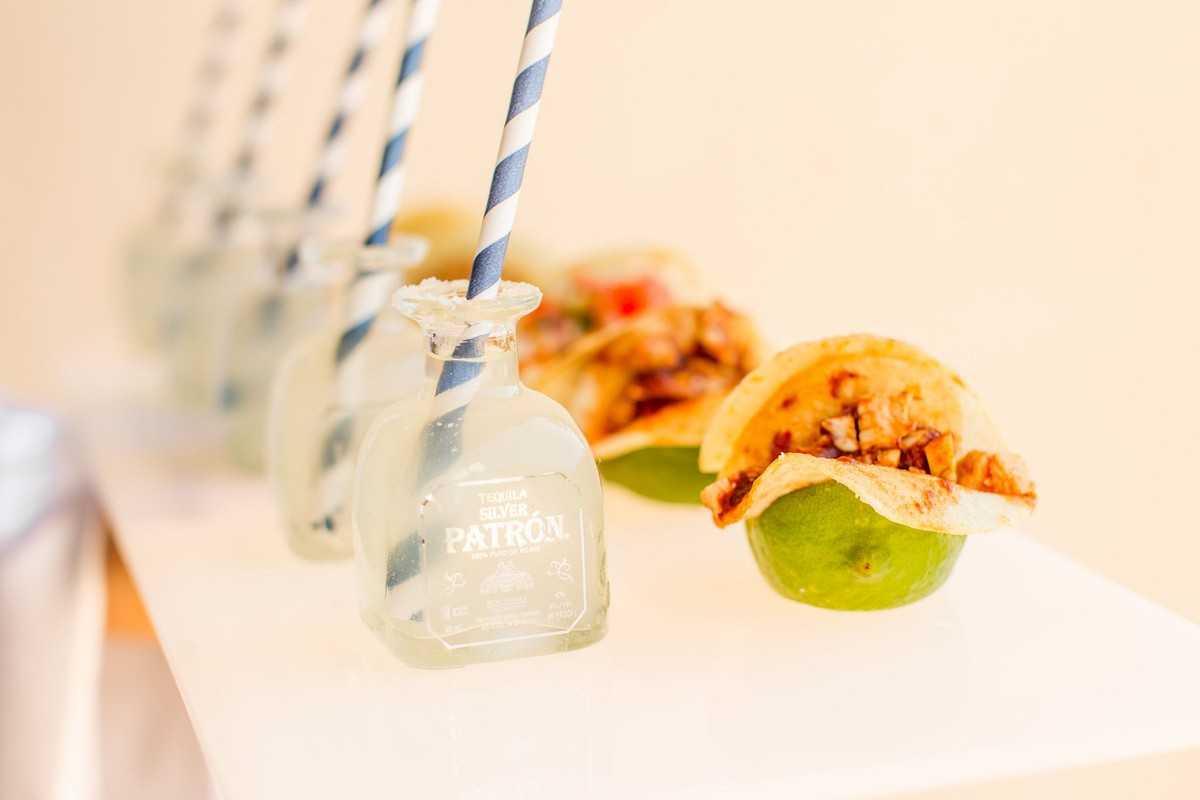 Mini tequila bottles
Guests will get a kick out of this summer wedding appetizer: bite-sized tacos paired with single-serve bottles of tequila (complete with cute striped straws, of course).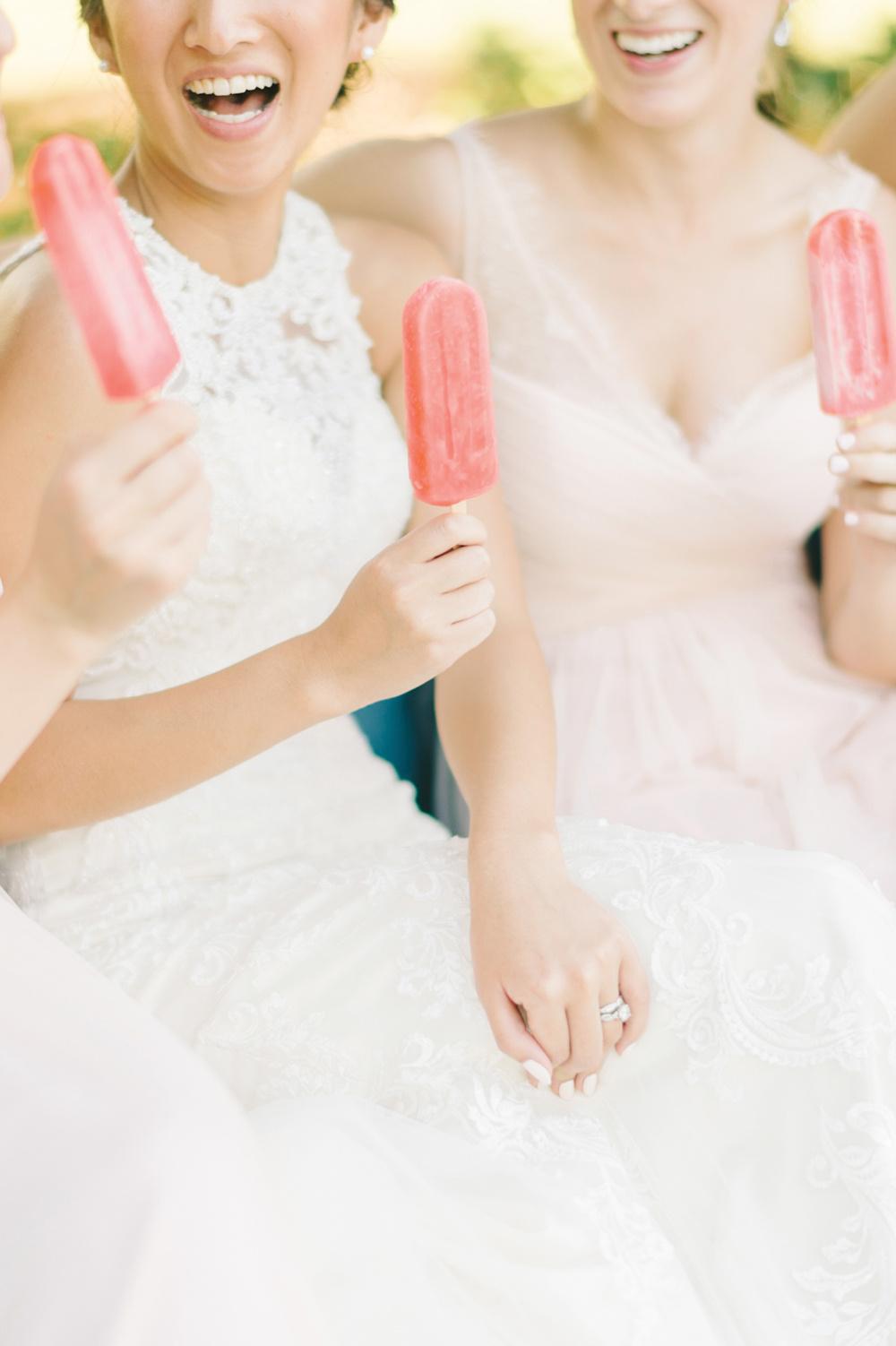 Fruit popsicles
Frozen treats of any kind are always great when it comes to summer wedding ideas, but popsicles are bound to be a hit with guests young and old. Check out catering companies in your area to find gourmet popsicle vendors—many offer unique flavor combinations and boozy options for the 21+ crowd.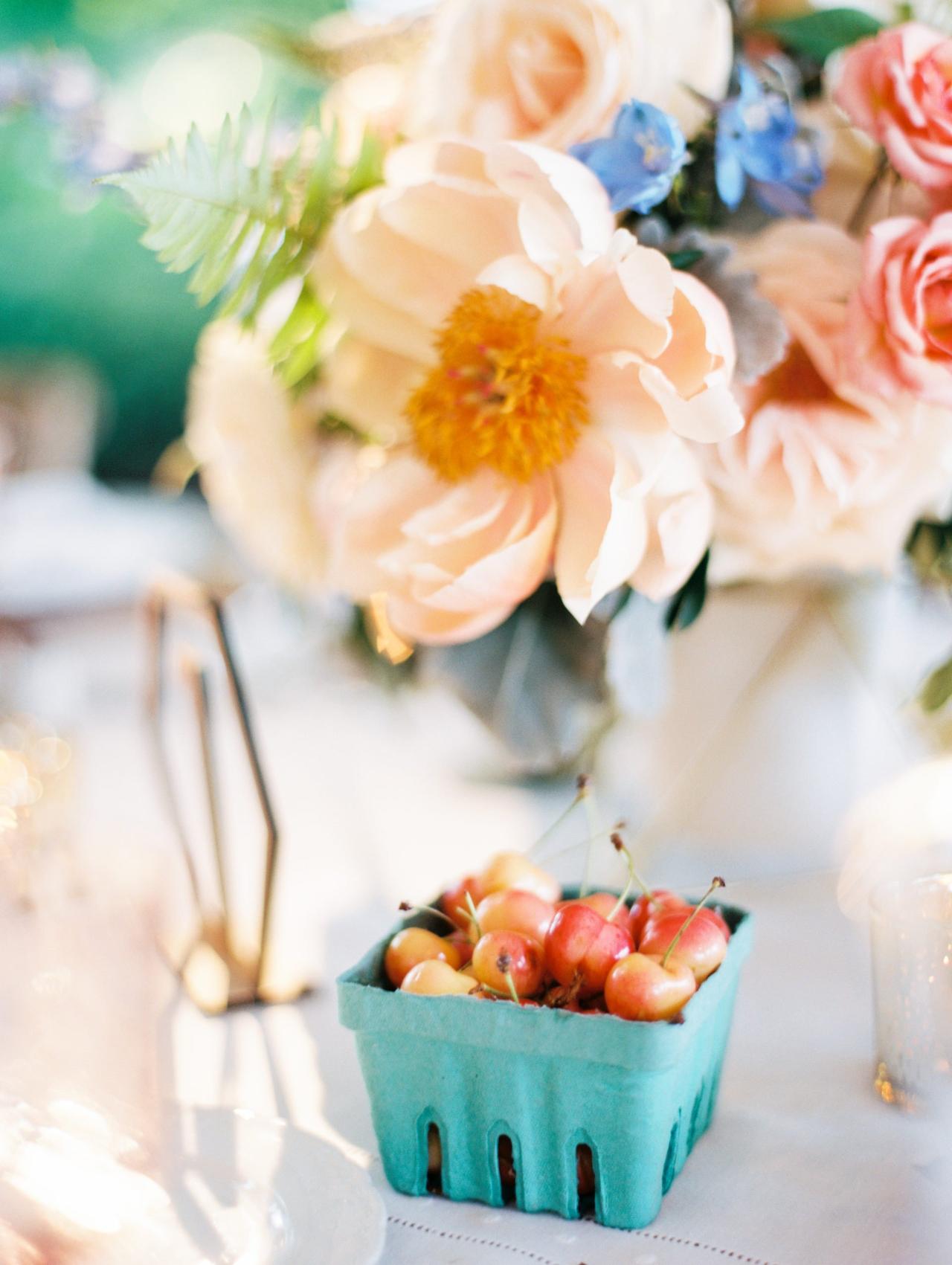 Fresh fruit wedding favors
Unsure of what to give as wedding favors? Consider fresh, hand-picked fruit! It's unique enough to surprise your guests, and they'll appreciate the practicality. This is an especially great idea if you're hosting your wedding at a farm or orchard.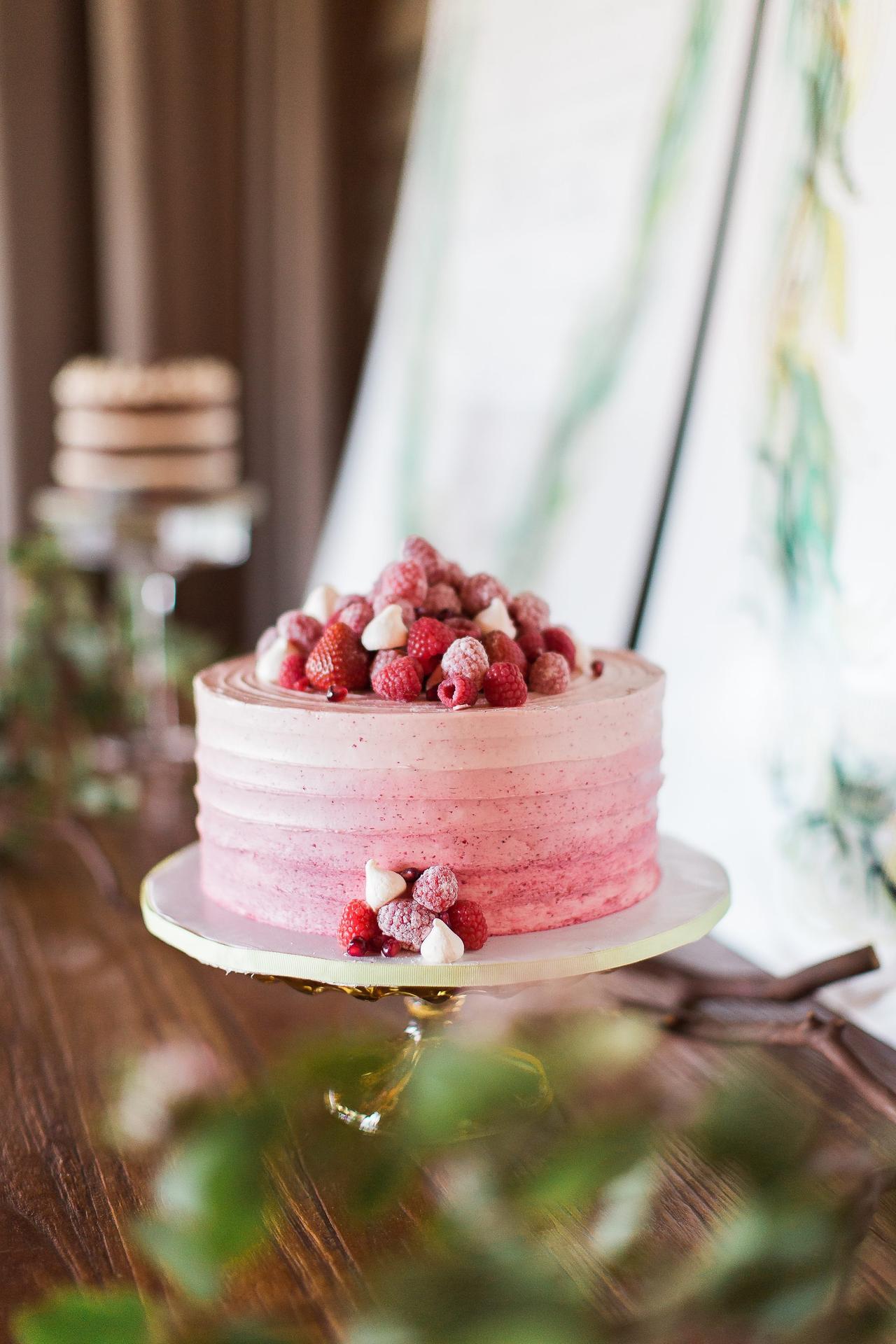 Berry wedding cake
Speaking of fruit, it's a tasty and decorative way to garnish any summer wedding cake. This pink ombré cake topped with raspberries, strawberries, and meringues looks so light and refreshing for summer.
Sailcloth wedding tent
Not only does the name of this tent sound nautical, but the tent itself even looks nautical, thanks to the little flags on the tops of the poles. This type of tent—also called a Sperry tent—will provide shade for guests while remaining sophisticated and chic.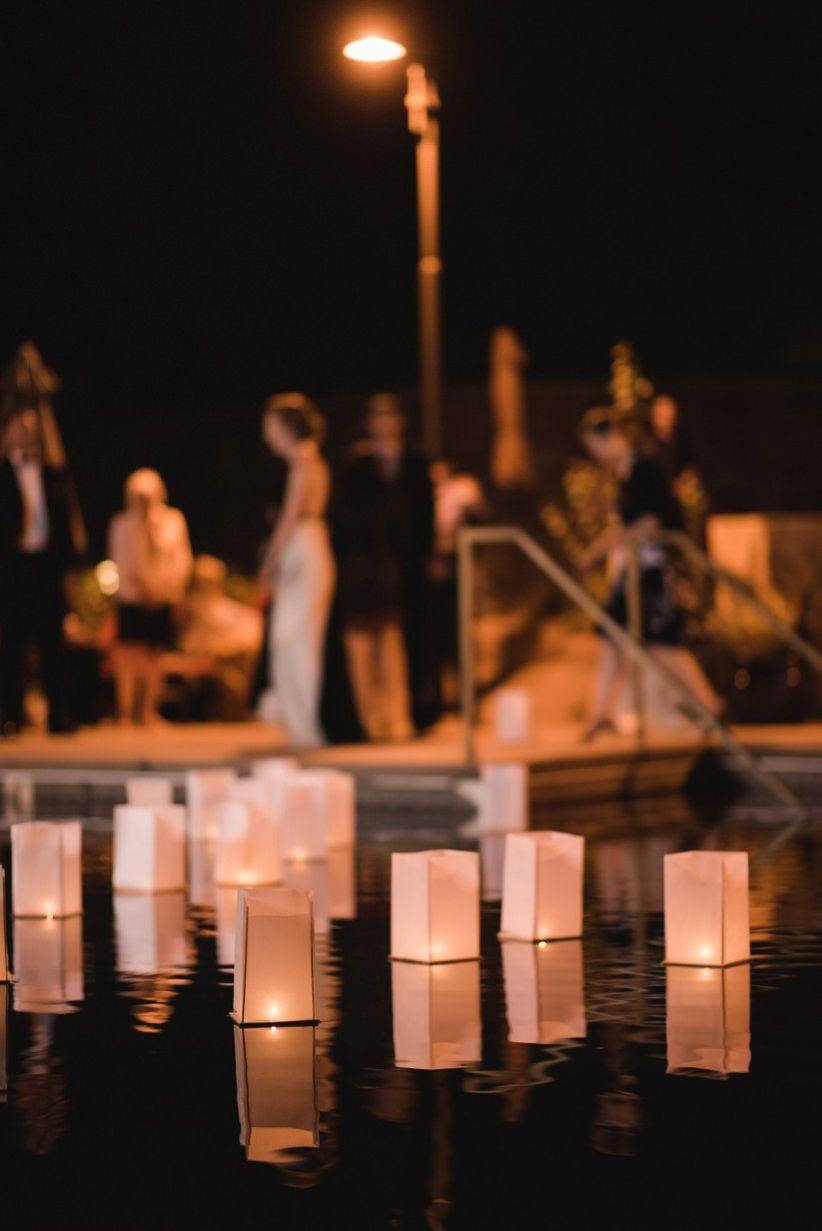 Luminaries
If there's a pool or water feature at your wedding venue, consider it as another opportunity to embrace your summer wedding theme! Floating luminaries will add instant ambience after dark.