18 Purple Wedding Cake Designs for Fall, Winter or Anytime of the Year
Looking to add a pop of color to your wedding dessert table? See all the purple wedding cake designs we're obsessing over right now.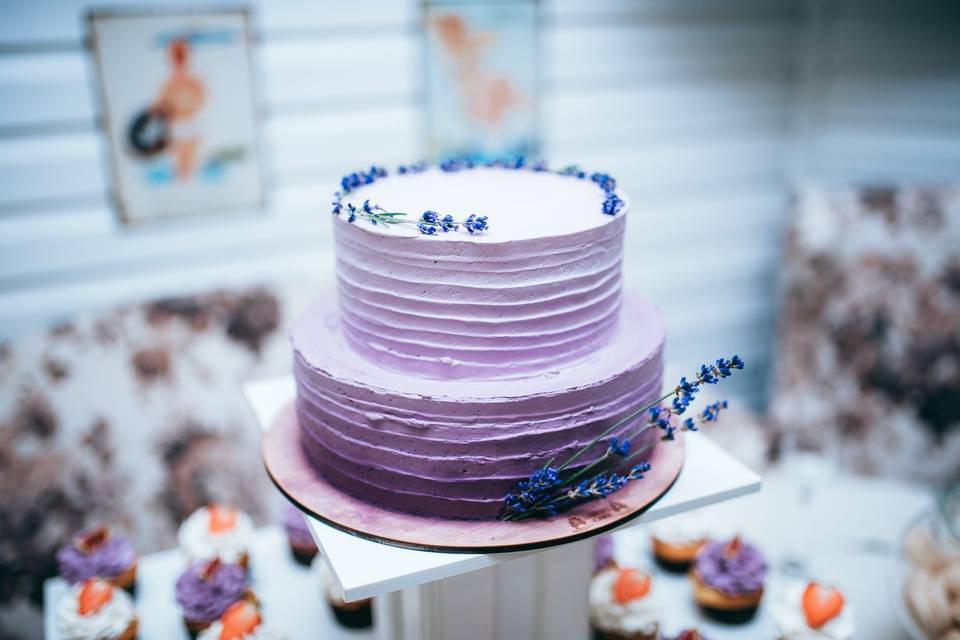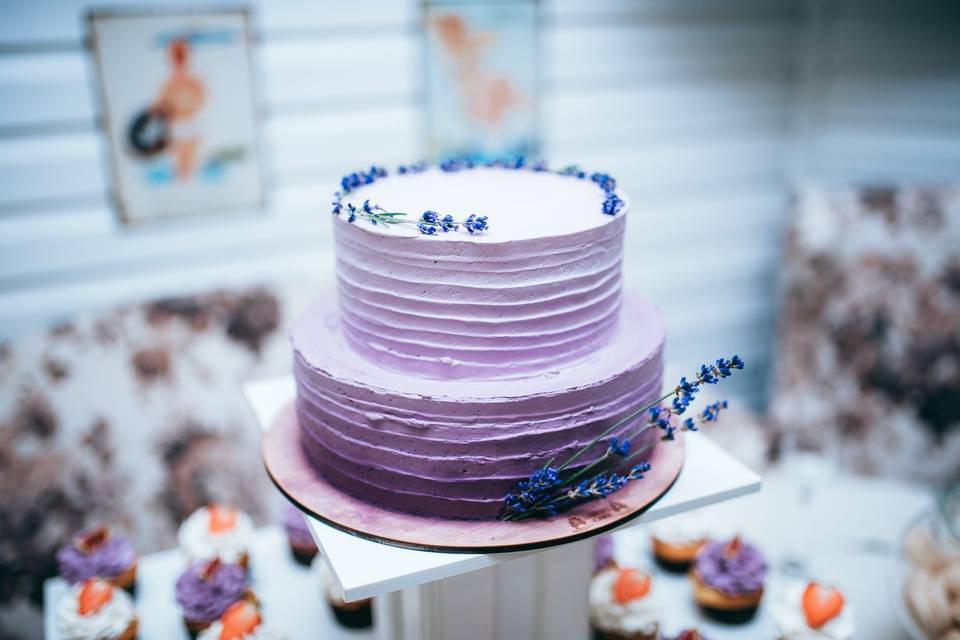 If you've chosen purple as one of your wedding colors, you already know how amazing it looks in flower arrangements, decor, and photos—but it's also an excellent choice for your wedding cake! There are so many ways to decorate purple wedding cakes, from trendy ombré frosting and marbled fondant, to fresh blooms and even bunches of grapes or berries. While purple is one of the most popular colors for fall weddings, the truth is that it's a versatile choice no matter your wedding season. We've compiled some of our favorite purple wedding cake designs you can bookmark and share with your cake baker when prepping for the big day.
Take a look at these gorgeous purple wedding cakes to find one that matches your aesthetic.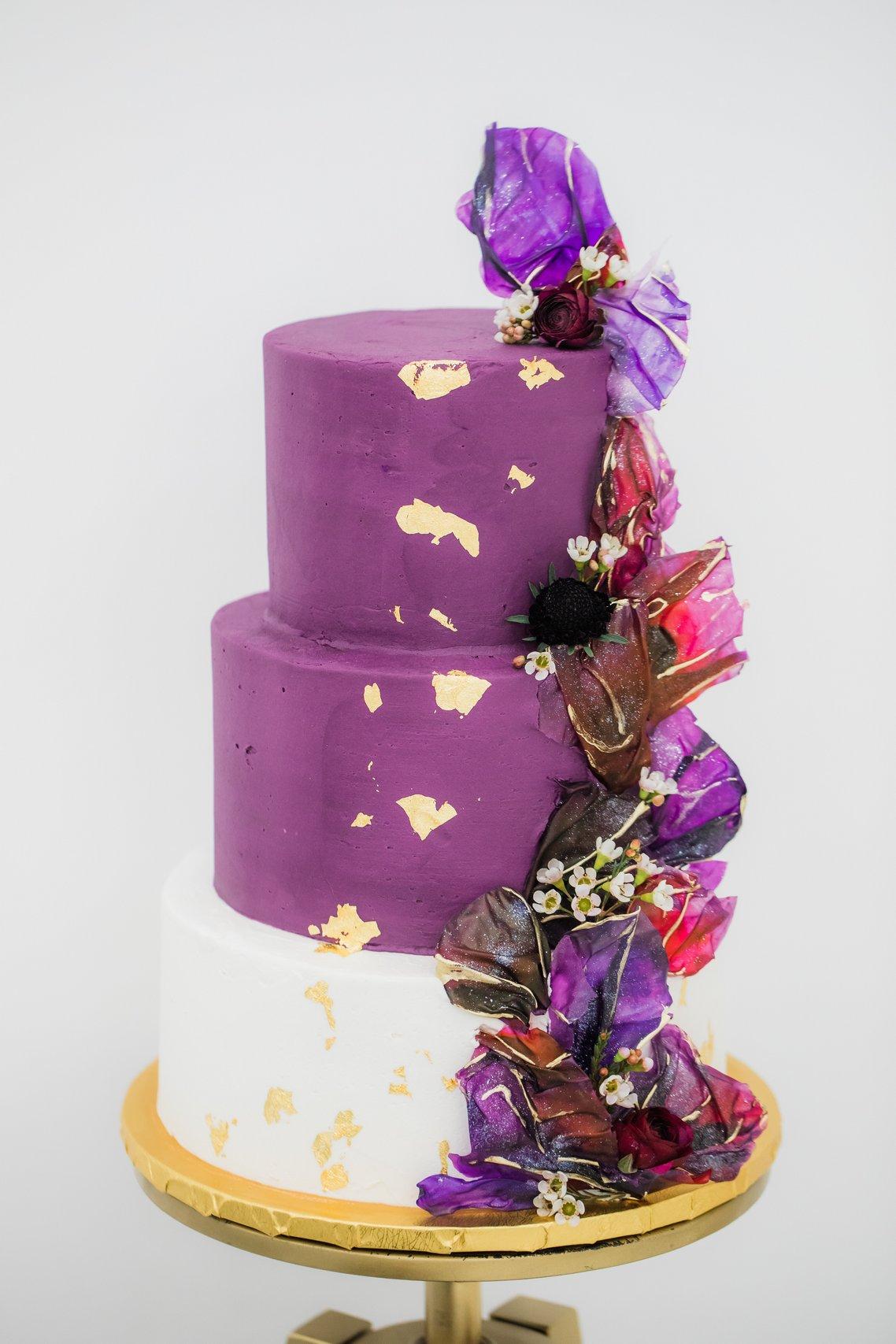 Cake by Sweet Mazie's Baked Goods
3D details
Go for a modern effect by adorning your cake with abstract, colorful accents, like these 3D sugar pieces that cascade down one side of the cake. For even more pizzazz, add edible gold leaf for a touch of bling.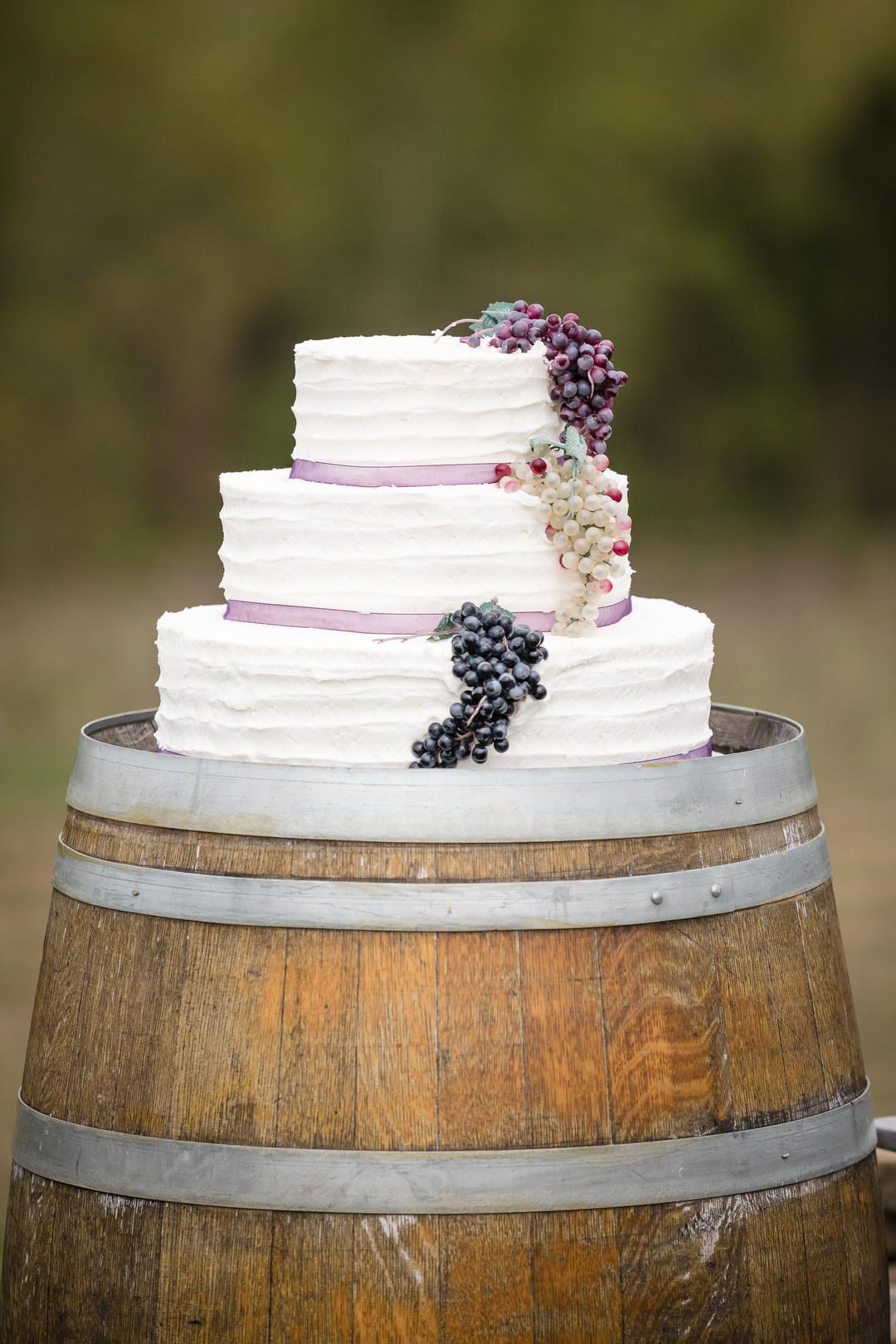 Cake by Petonito's Pastry and Cupcake Shoppe
Grape bunches
Getting married at a vineyard or having a wine-themed wedding? Decorate your cake with bunches of purple grapes for an easy but appetizing dessert. Bonus: it's waste-free, since you can eat the grapes instead of tossing them.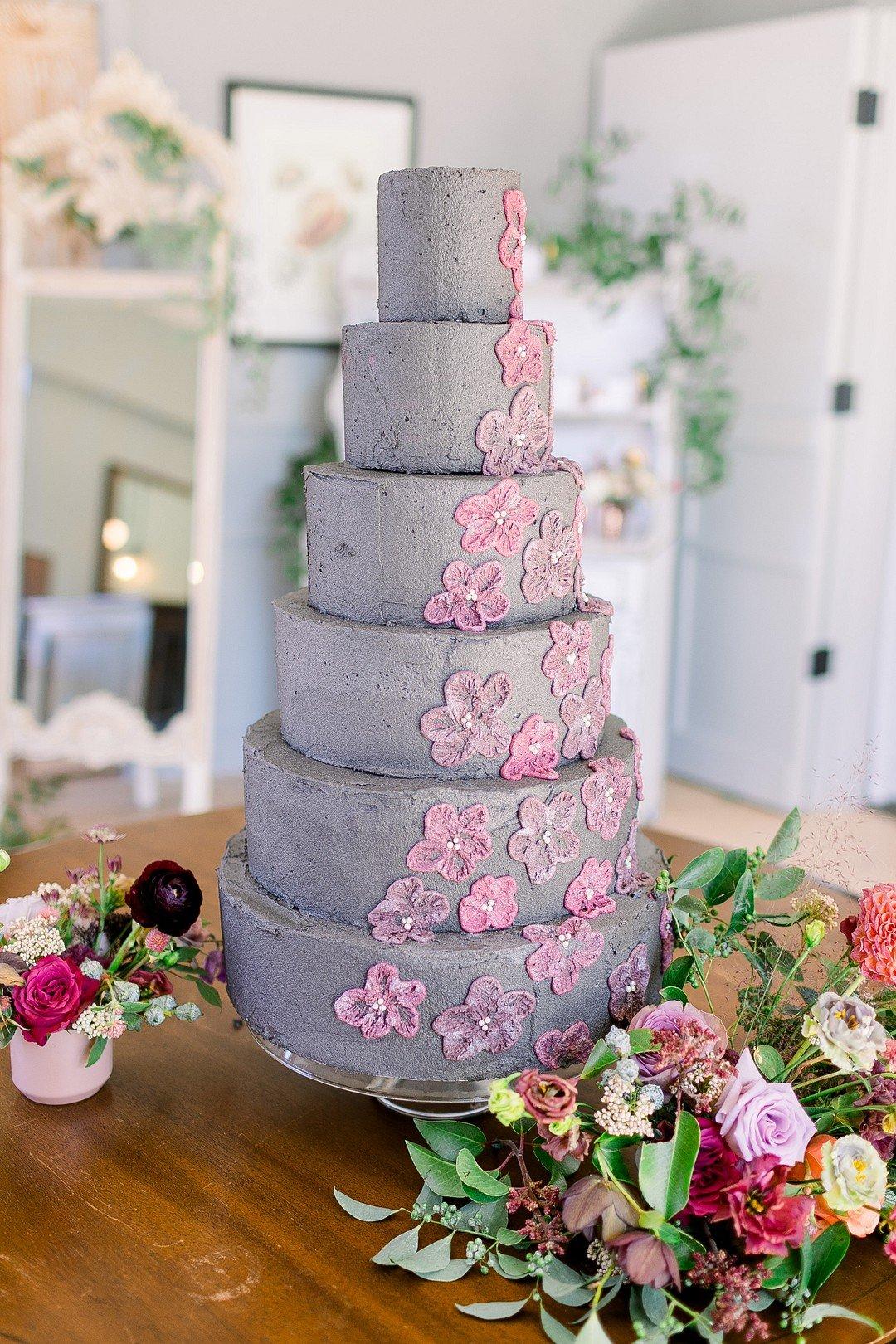 Cake by Sweet Petite Treats
Hand-painted flowers
This colorful confection is whimsical and cheerful, thanks to the pink and lilac flowers that are hand-painted onto the dark purple buttercream. The slightly 3D look of the flowers is perfect for adding impact to an otherwise plain purple wedding cake.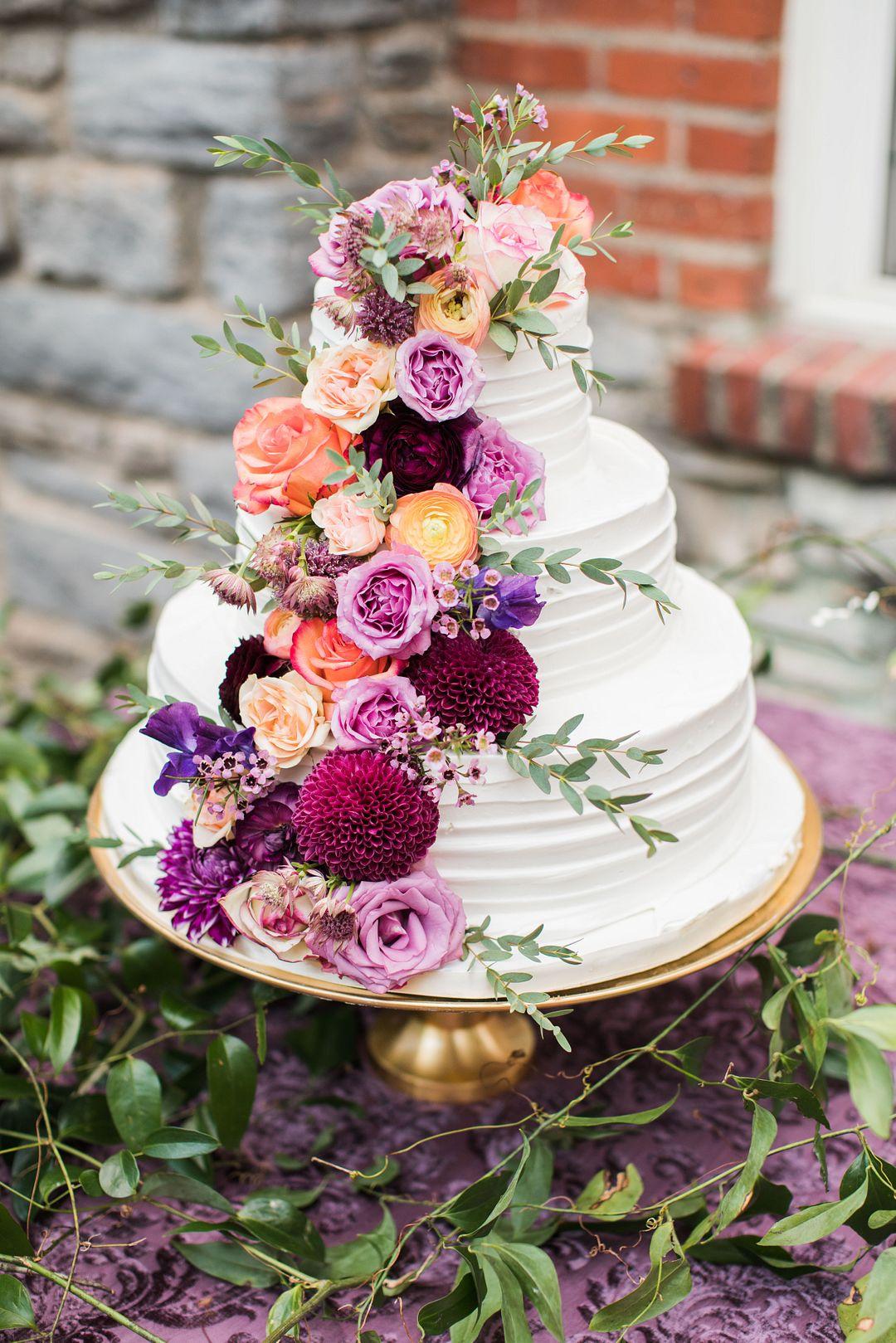 Pops of orange
You may not immediately think of orange as a complimentary color for purple, but when paired together, this bold duo is amazing for a fall wedding. Use flowers in various shades of orange, burgundy, and purple—this arrangement includes roses, ranunculus, dahlias, wax flowers, and astrantia—to jazz up a white buttercream cake.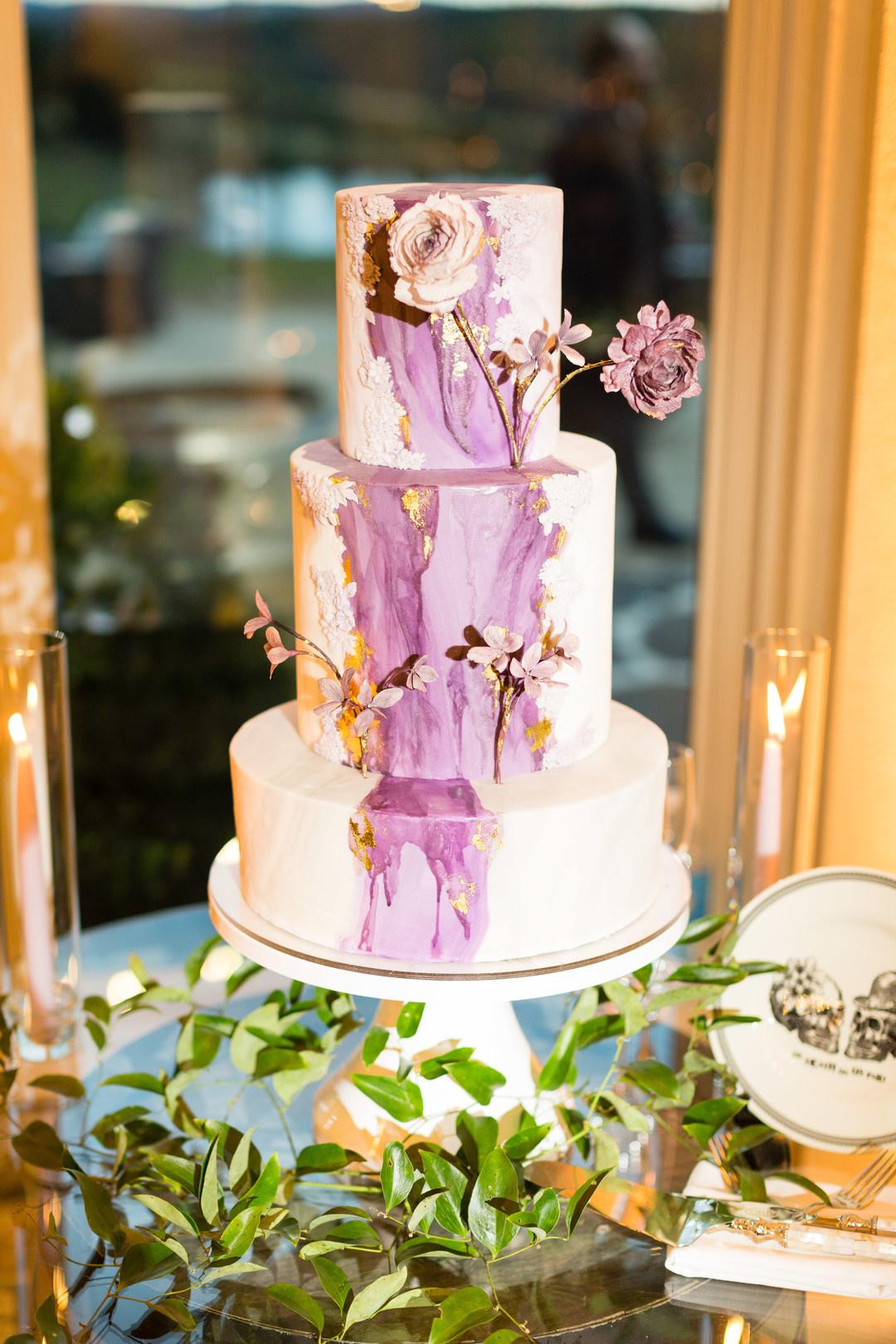 Cake by Fleur and Flour
Bas relief
This opulent cake is basically a work of art that you can eat. Start with a smooth white fondant base, then add abstract purple brushstrokes and finish with delicate floral bas relief accents (a raised motif or appliqué that has sculpture-like qualities). Purple sugar flowers and gold leaf elevate the design of this purple wedding cake even more.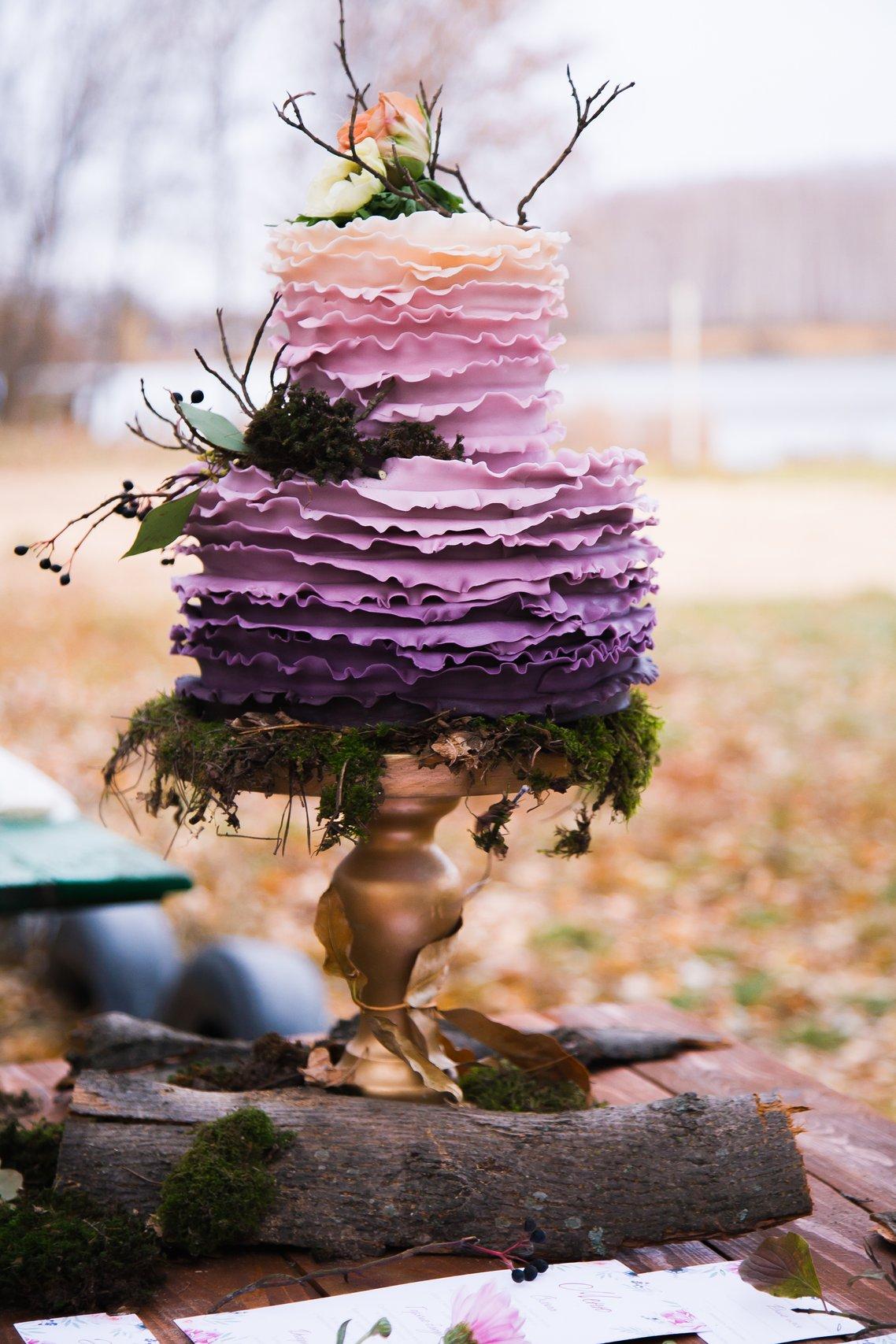 Ruffled layers
As if the purple ombré effect on this wedding cake wasn't cool enough, the ruffled layers add even more visual detail and wow factor.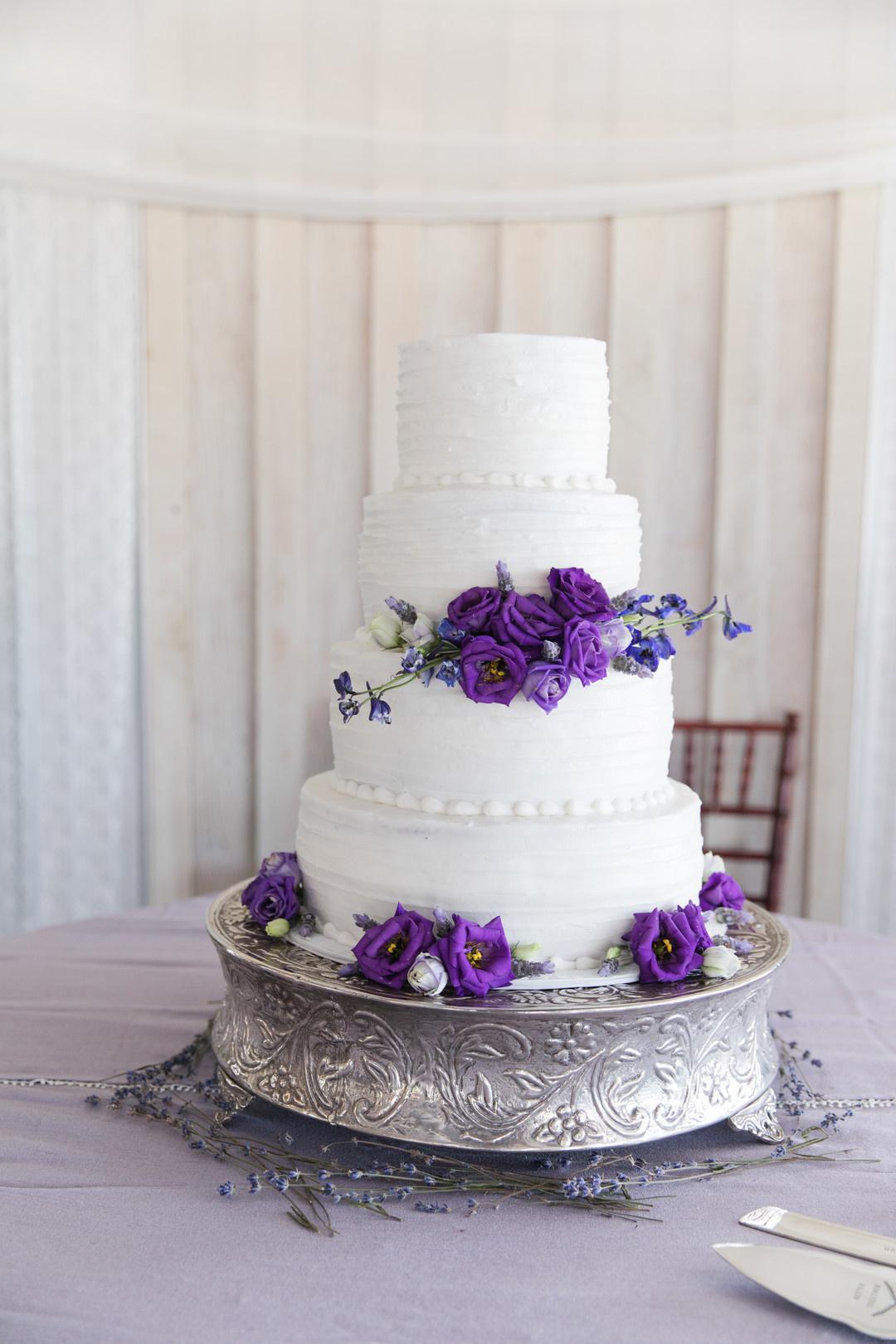 Cake by Billie's Cakes and Catering
Simple blooms
If you're leaning toward a more simplistic purple wedding cake design, a few clusters of lisianthus look lovely against a white buttercream cake. Hand-piped icing and a silver cake stand complete the look to make this an elegant, classic setup.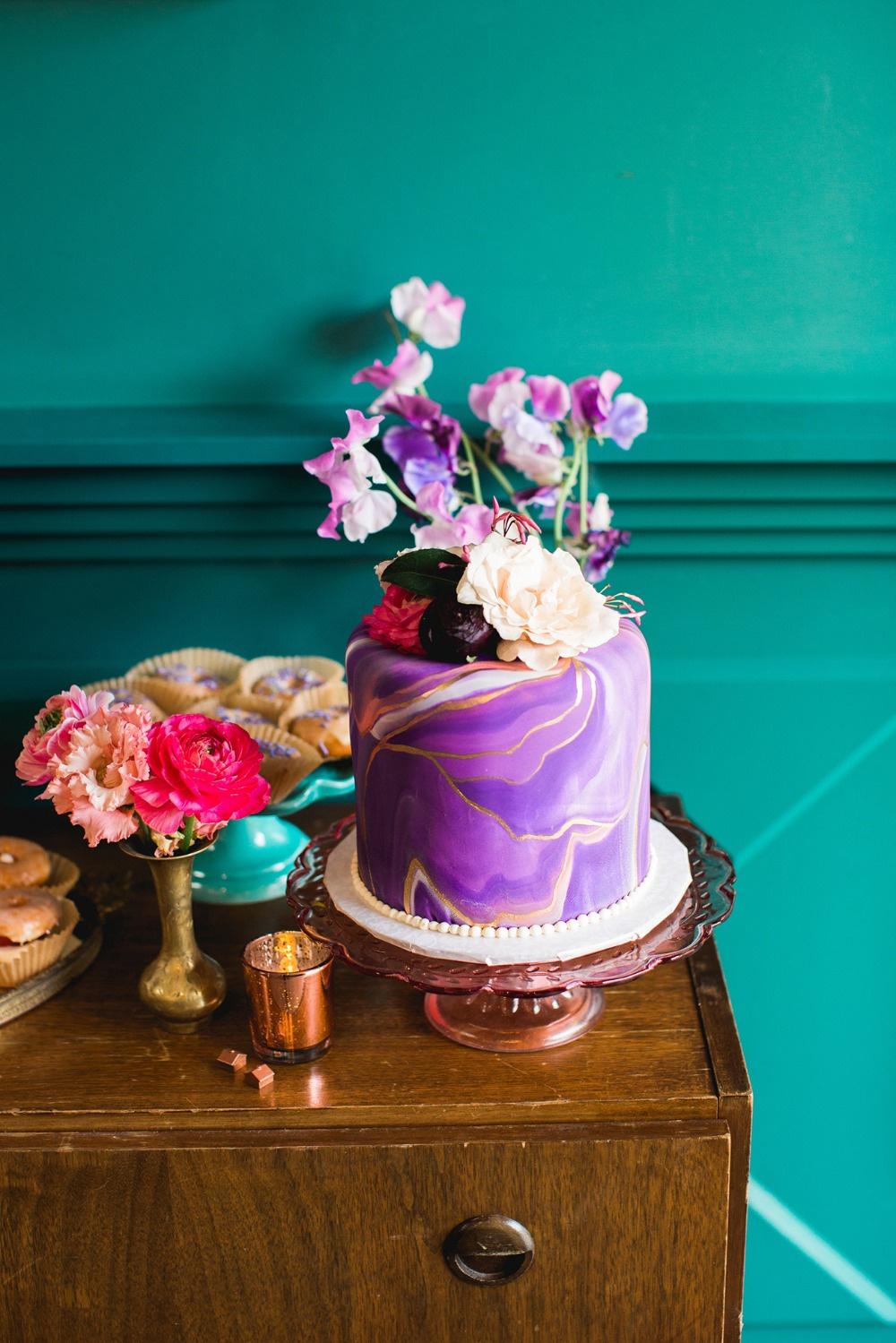 Cake by Top Tier Treats
Marbled fondant
Embrace the current tie-dye craze by decorating your wedding cake with marbled purple fondant. The swirls of light and dark purple are perfect for an upbeat, trend-filled celebration.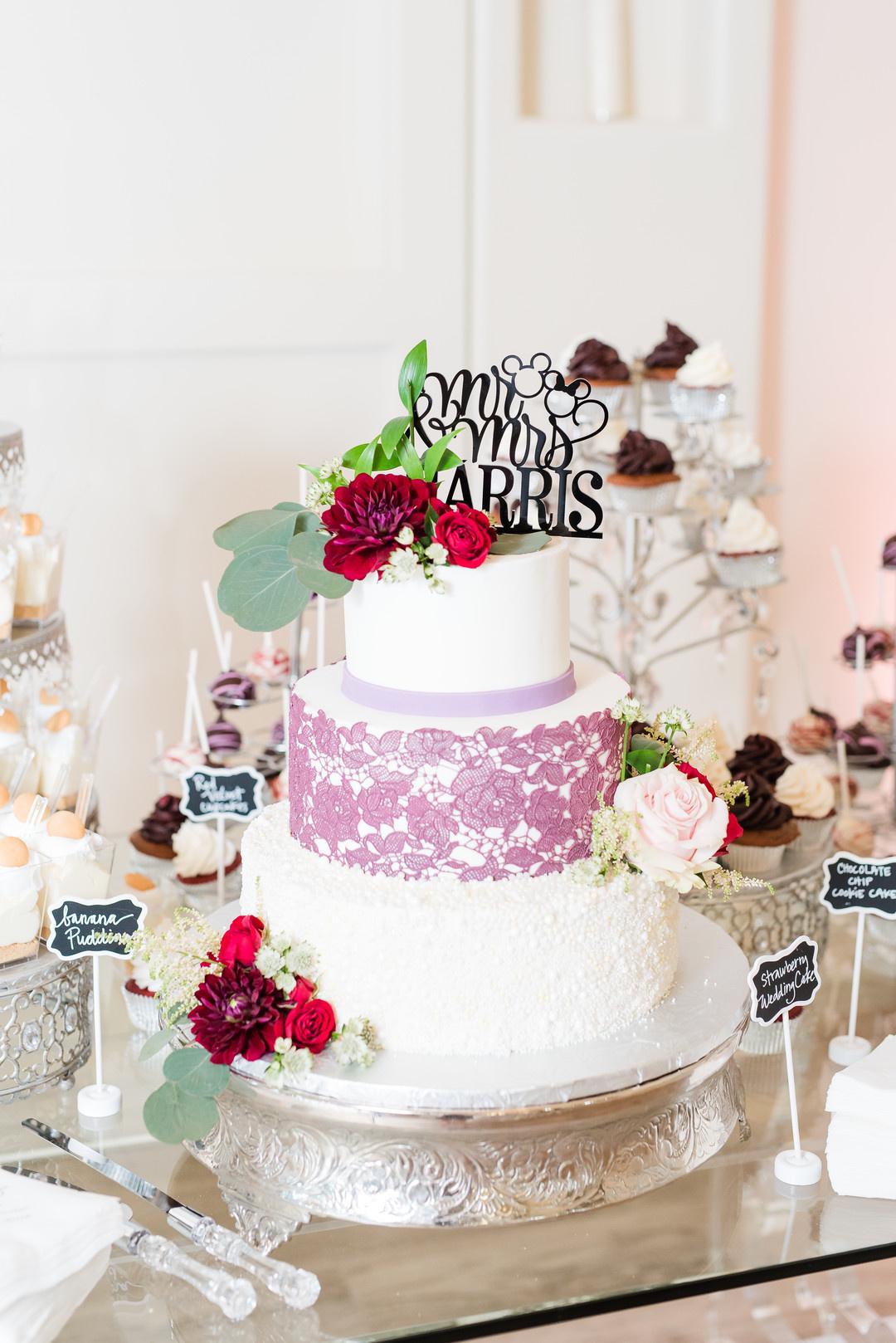 Sugar lace
For a vintage-themed wedding, we can't imagine anything more beautiful than a cake decorated with edible lace (yup, it's a thing!). Your cake baker can use special molds and a thickened sugar mixture to create lace bands that are applied directly to your wedding cake. Purple sugar lace looks especially pretty as a pop of color on a white cake.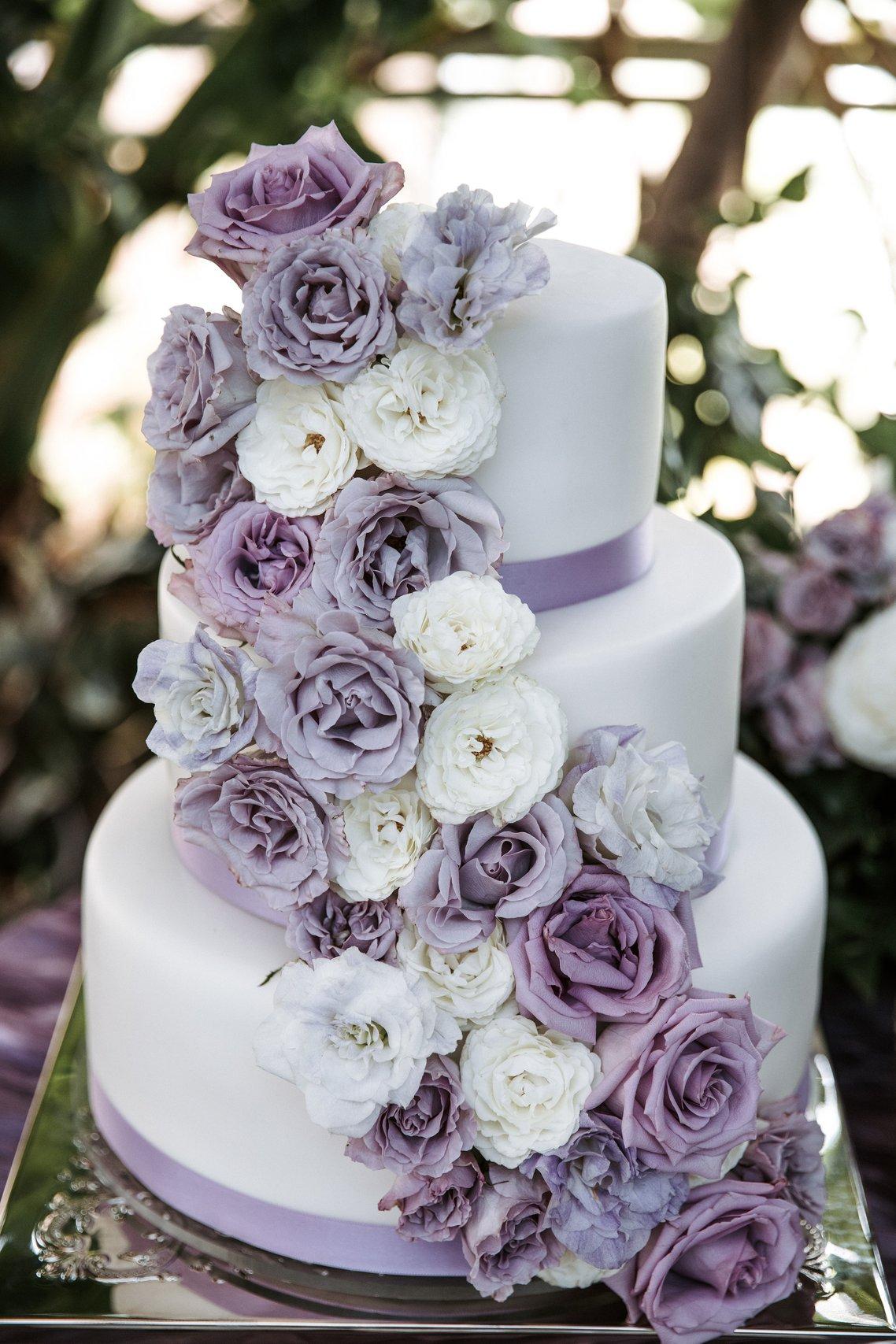 Cake by Carrie's Cakes
Muted palette
Pastel and barely-there versions of purple can look just as amazing as their brighter counterparts. This three-tier fondant cake with lavender-hued roses would be so pretty for a spring or summertime wedding in the countryside.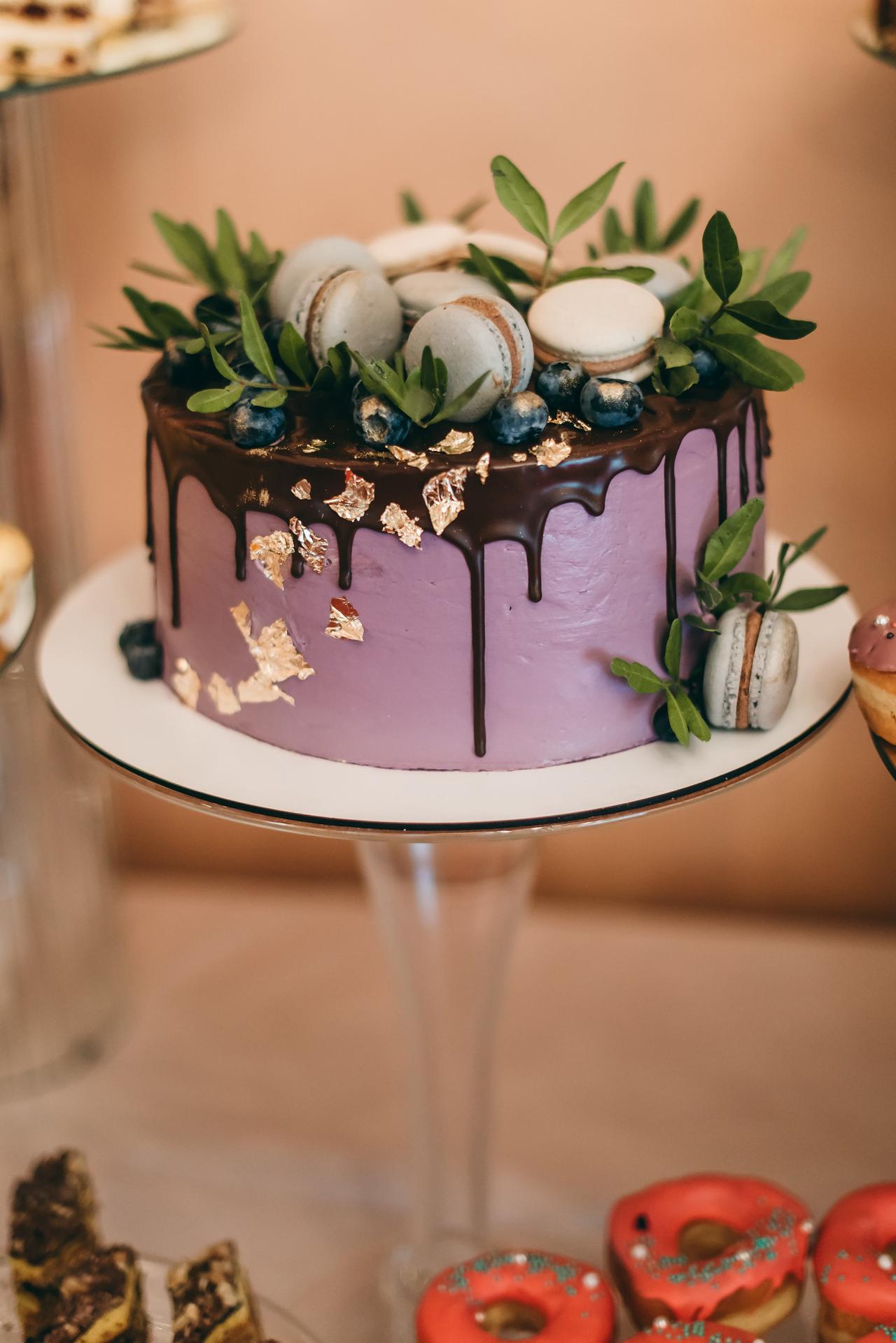 Chocolate drip cake
Chocolate lovers, we've found your ideal purple wedding cake. Transform your cake into a decadent masterpiece by adding rich chocolate drip icing and topping it off with extra sweet treats, like macarons, meringues, fresh berries, or powdered sugar.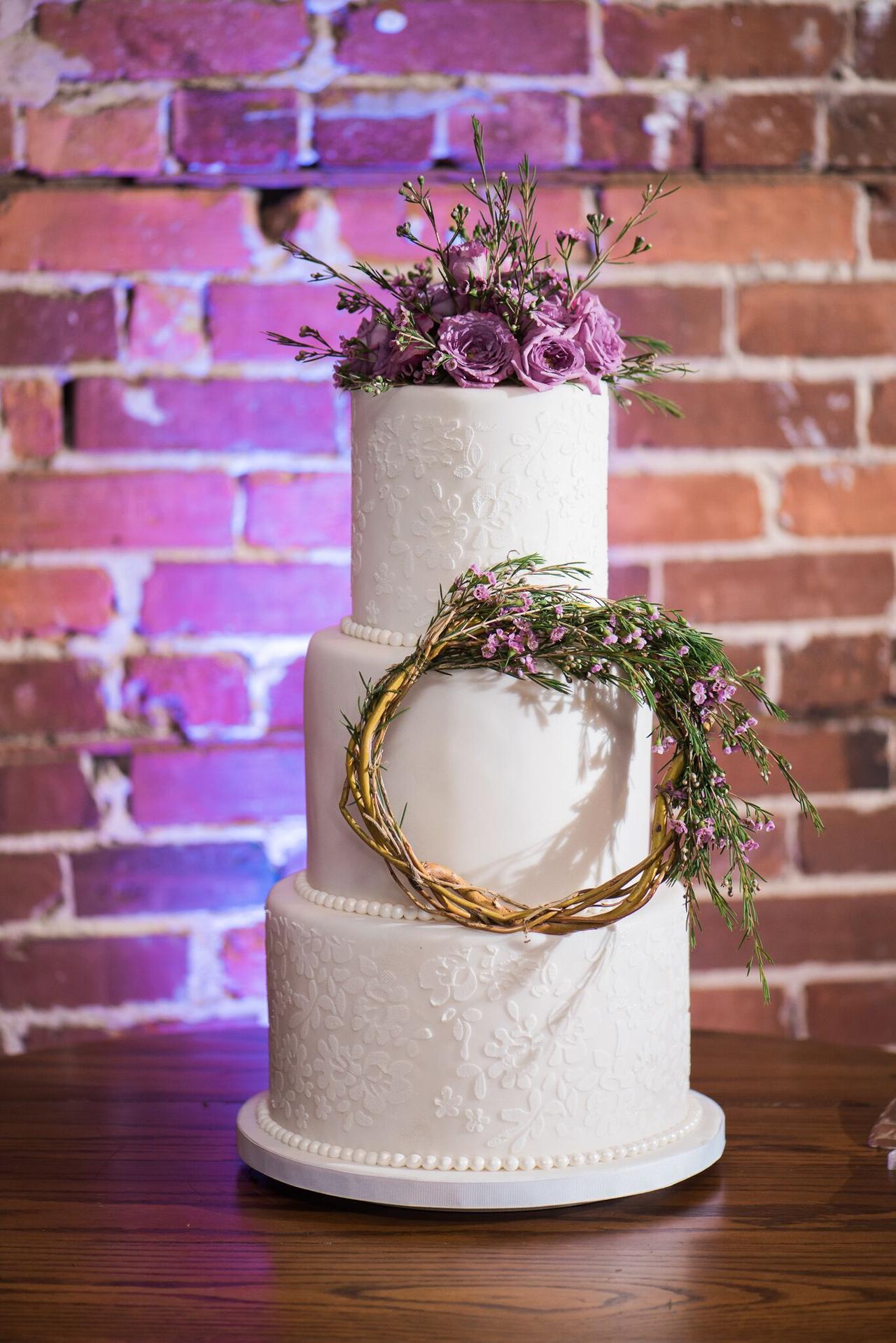 Rustic wreath
Give your wedding cake an outdoorsy vibe by decorating it with a miniature wreath made from monkey vine or grapevine. Incorporate tiny purple flowers, like wax flowers, rosebuds, or lisianthus, to add some color to the design.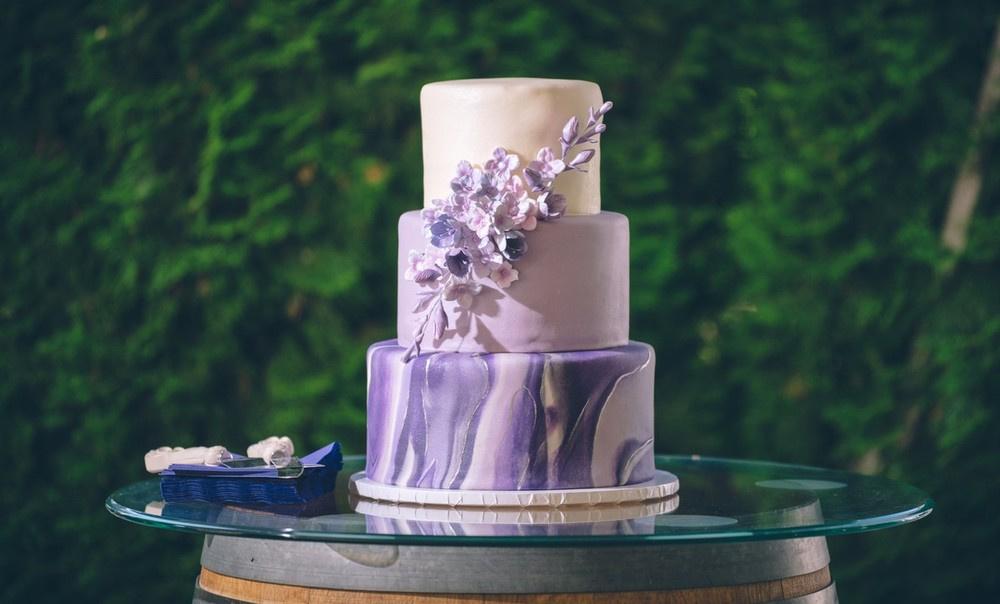 Sugar flowers
If you're not into decorating your cake with real flowers, try intricate sugar flowers instead. They're an easy way to put a decorative spin on your wedding cake—keep the rest of the cake plain for a traditional look, or go modern by adding marbled and colored fondant like the cake above.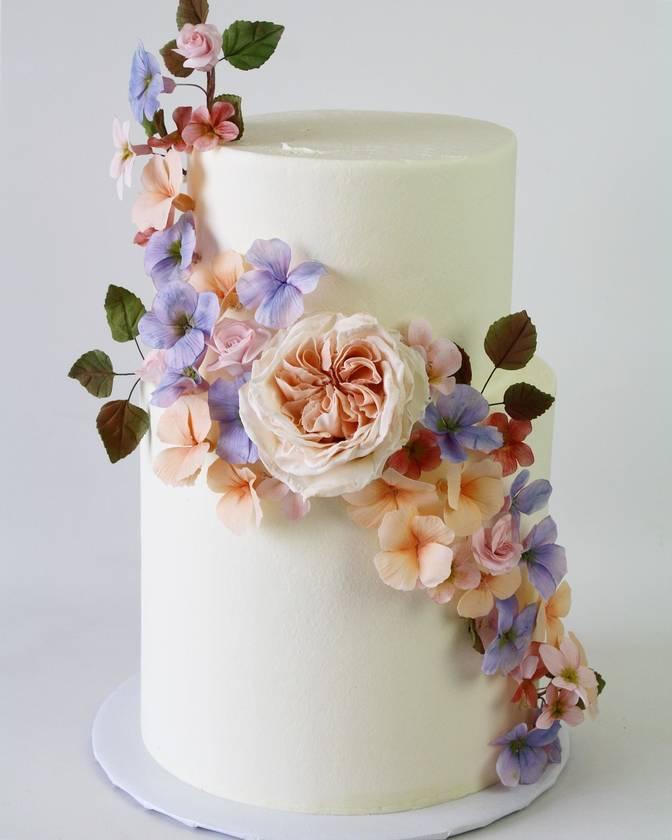 Pastel accents
Mix some pastel hues into your purple wedding cake design for an ethereal, romantic look. Pastel pink, blue, and peach all look wonderful next to a pale purple hue—use flowers, a cake topper, or frosting to incorporate all of the colors together.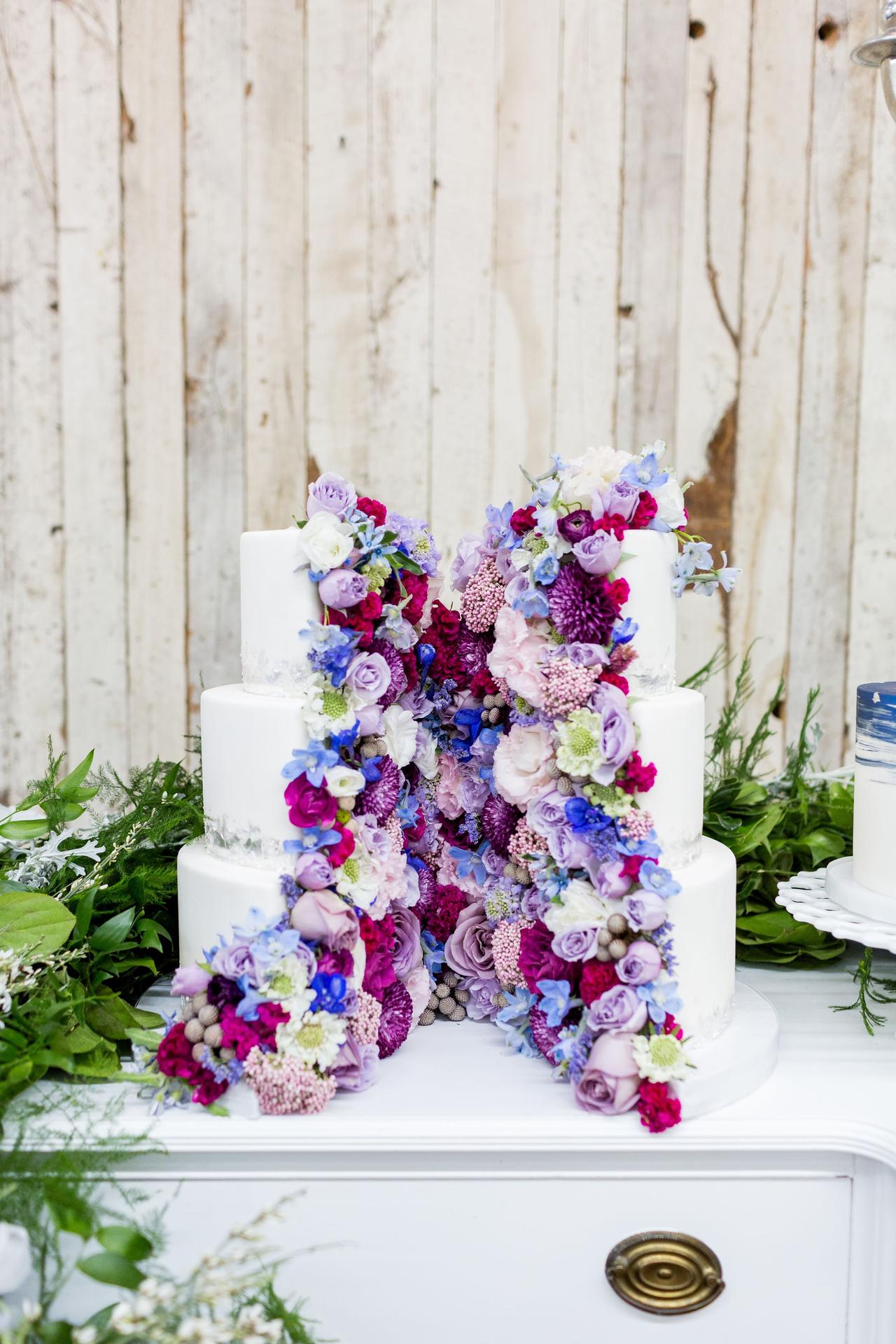 Cake by Fluffy Thoughts Cakes and The Rosy Posy
Flower-filled center
For a truly unique design (and a guaranteed show-stopper), cut your cake into two halves and display it with a flower-filled center. Work with your cake baker and florist to figure out the logistics on this one—you may need to make some adjustments in terms of cake type, structure, and the flowers included, but the work is worth it in the end!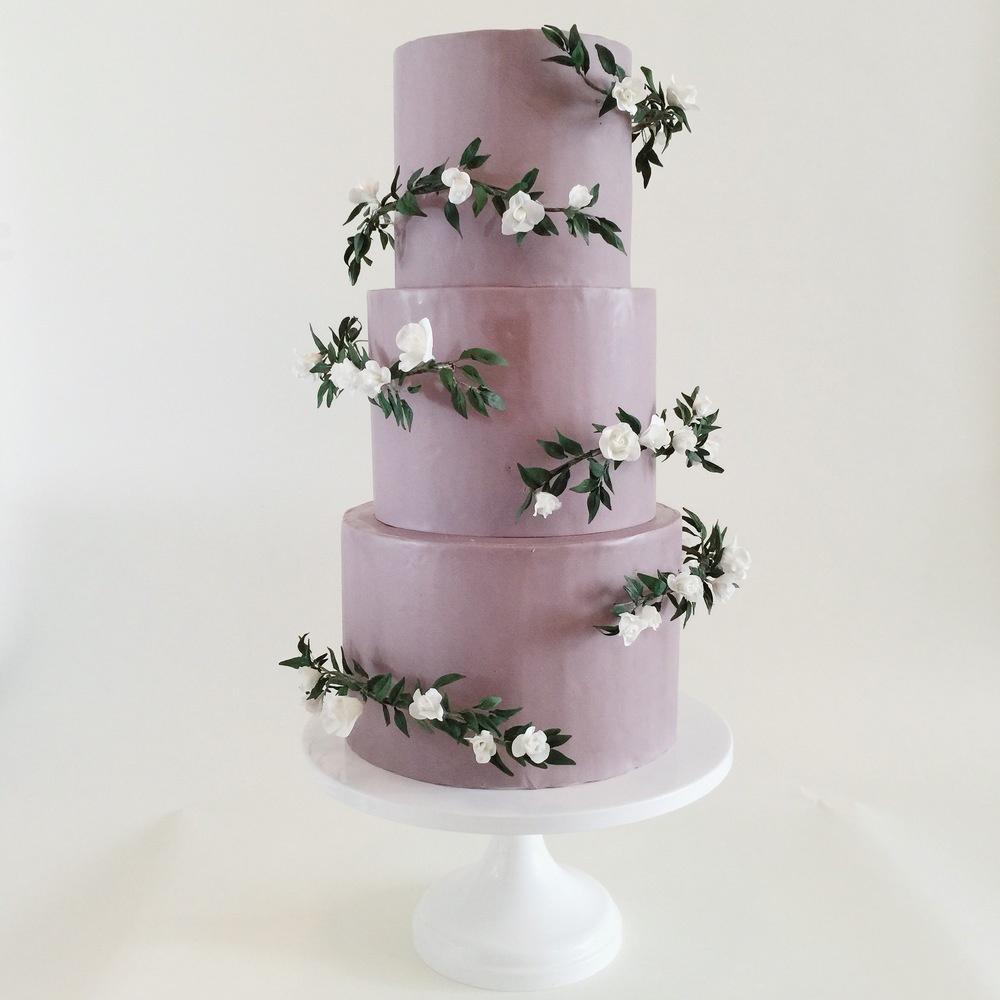 Floating greenery
We're loving the contrast of these 'floating' sugar vines against a mauve-y purple wedding cake. This design would look amazing for a garden wedding theme!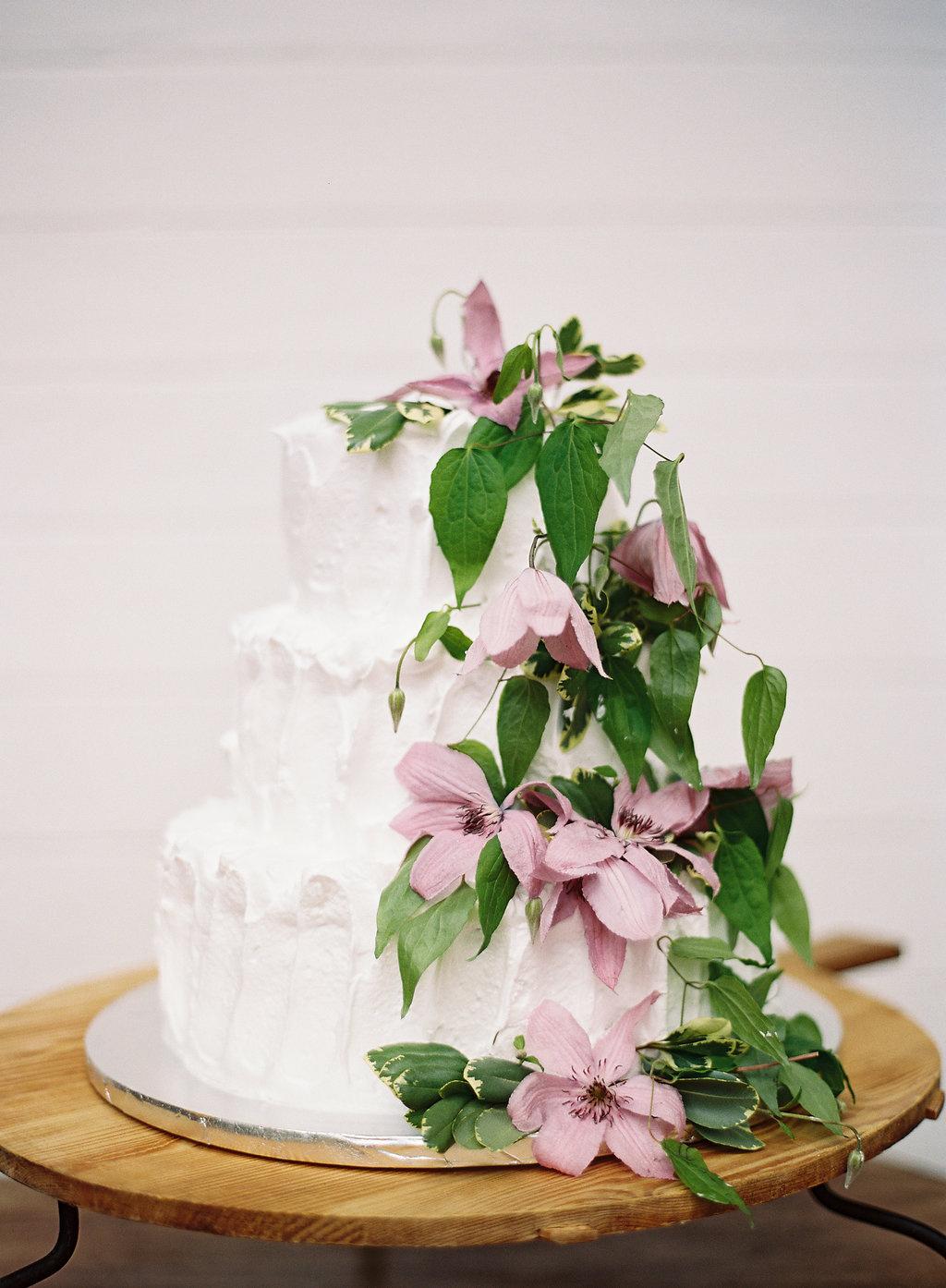 Clematis vines
Purple clematis vines will give your cake a perfectly undone look that works if you're into an earthy, boho vibe. The loose flowers work especially well with the fluffy, airy buttercream frosting.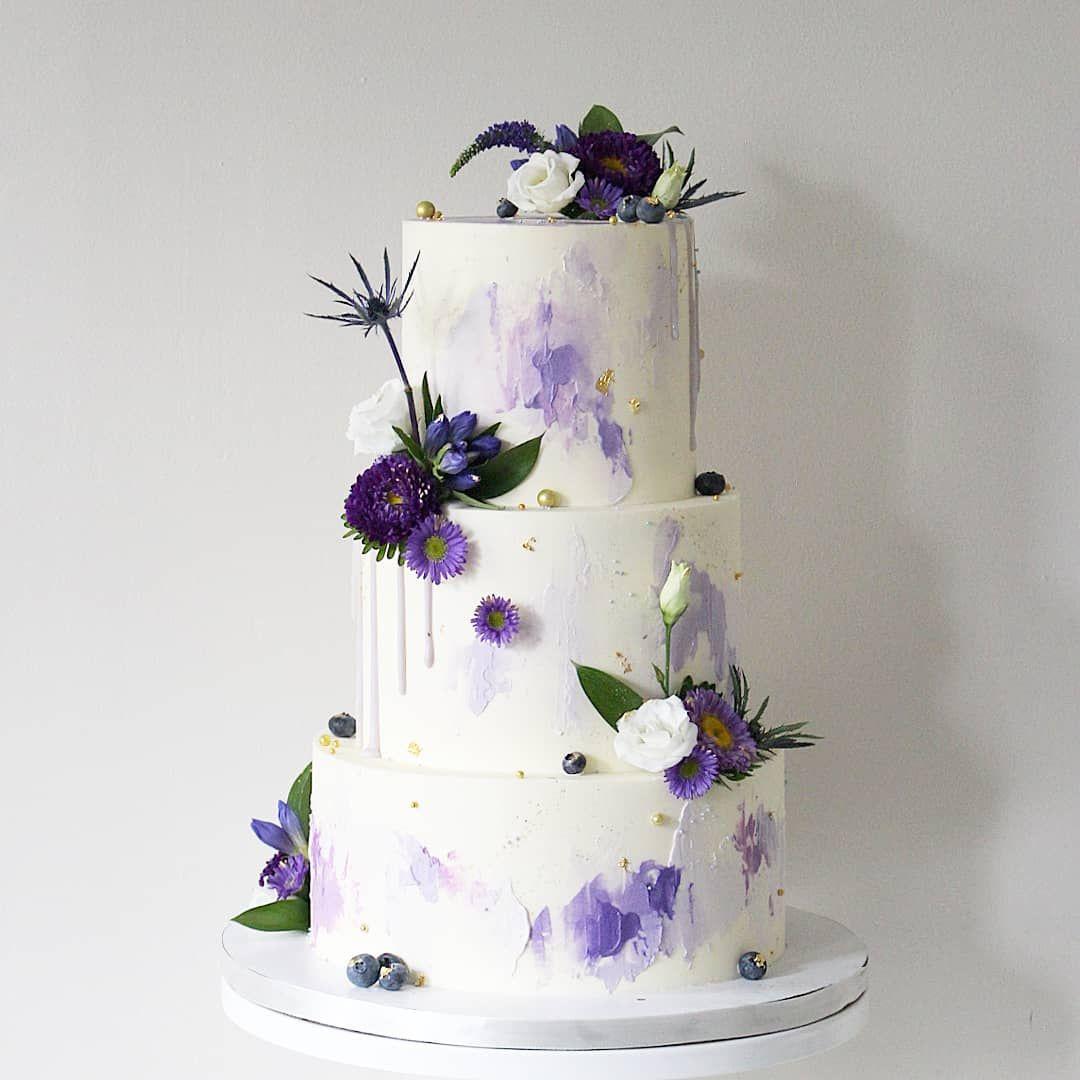 Watercolor-inspired
Whether you're an artist or not, there's no denying that this watercolor-inspired cake is a masterpiece. It's proof that you can combine multiple trends into one cake—fresh flowers, berries, drip icing, abstract brushstrokes, gold leaf—and totally nail the look.