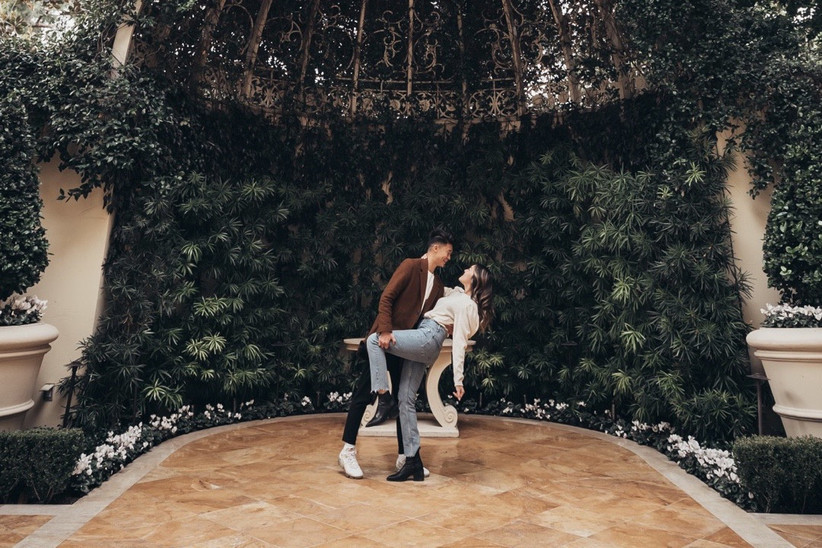 When travel and lifestyle Instagrammer Joycelyn Linh pictured her perfect wedding location, she knew she wanted a big-city vibe. "I guess I've always been a city girl. I knew I wanted something that had a city view," she says. Since she and her fiancé Andy To were also looking for a destination not far from their family and friends in California, Las Vegas seemed like a natural pick. "It's a center for entertainment, for sure," Joycelyn says of their choice. "They also have pretty much everything you could ever want in a wedding, depending on what you're looking for." Follow along on Joycelyn's hunt for the perfect Las Vegas venue to host her 100-guest, "luxury modern," all-white wedding.
Read on for her thoughts on three different Las Vegas venues, with three distinct styles.
Venue Vibe: Modern and glamorous
Capacity: Up to 600
Best Feature: Rooftop space with a view for miles
Recommended For: "Someone who loves the city. It looks so pretty from above, seeing the entire Strip."
Joycelyn was immediately drawn to the trendy décor and killer view from the Palms. "The style is definitely most like my style. It's very modern and glamorous. I think the main appeal to me is the view and the way the layout is structured," she says. The multifunctional, indoor/outdoor ceremony, cocktail and reception space offers lots of options as well. "You can close off the doors to the ceremony or you can make it more open. There's already furniture in the cocktail space or it can be moved and converted into a reception area. I think there's just a lot you can do with it," she says.
Venue Vibe: Luxe and ethereal
Capacity: Ceremony 120; reception 2,500
Best Feature: Outdoor private courtyard
Recommended For: "Someone wanting a secret space hidden away from the hustle and bustle."
While there are many different venue options within the Wynn, Joycelyn loved the look of the outdoor Primrose Courtyard the most. "It has so much greenery, and you don't really see much of the Strip. You're enclosed in this little garden area. It's really nice; it's different," she says. And the location is especially magical at night: "I just love the way the venue transforms for a night ceremony or reception. There's lots of hanging lights and candles with florals and it just makes it look like a fairy tale."
Venue Vibe: Peaceful and scenic
Capacity: Up to 1,200
Best Feature: Waterfront location on the lake
Recommended For: "Someone who wants the feel of a tropical destination, but doesn't want to venture too far."
Since she was originally looking for that big-city feel, Joycelyn didn't expect to love this lakeside location as much as she did. "That one really wowed me the most. The whole drive there was very scenic, surrounded by mountains and rock structures," she says. "I like that I have the option of doing something a little more peaceful for the ceremony and then venturing off into the city if I want to for the after-party."