How to Write the Perfect Father of the Bride Speech, in 7 Easy Steps
Here are some tips for how to floor your daughter (and the wedding guests!) with your father of the bride speech.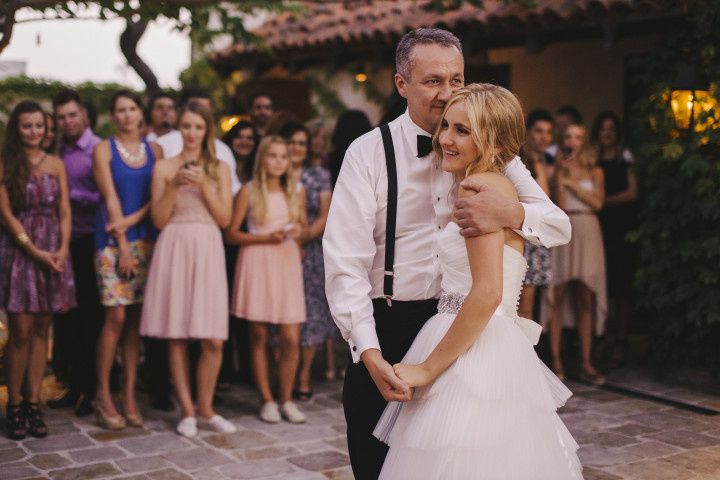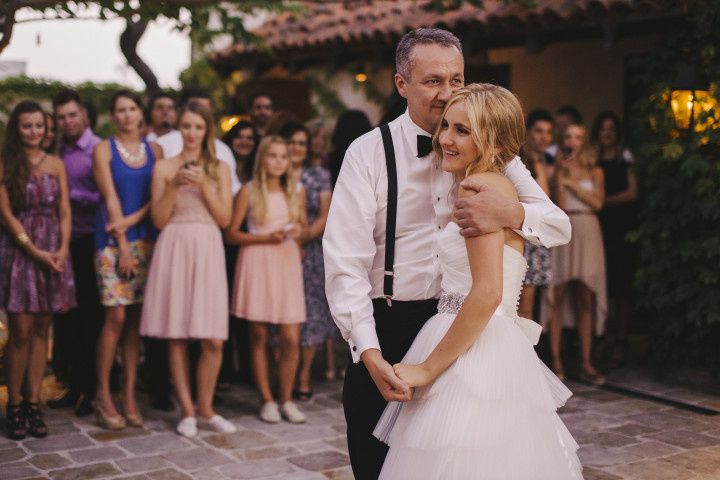 Your daughter is getting married. It's a monumental day for not only her, but also for you, her father. She's asked you to present a father of the bride speech (on of the traditional father of the bride duties), and you're probably honored, but also a bit apprehensive. You want this father of the bride toast to floor her, like she's floored you so many times in her life. Traditionally, father of the bride speeches either starts off or concludes the wedding reception toasts, so you'll have everybody's attention. You, as the father, have a unique perspective on this woman standing in front of everyone. Whether you're bursting with ideas or have a serious case of writer's block, it can be tricky to sit down and figure out how to write a father of the bride speech.
It's time to write the father of the bride speech you've always dreamed of giving. We're here to help.
1. Start your father of the bride speech with a few thank-yous.
As with any wedding toast, it's extra important that you kick off your father of the bride speech by introducing yourself and thanking whoever needs to be thanked in your early sentences. Many father of the bride speeches thank the guests for attending, as well as those who were instrumental in planning the big day (this may include your spouse). Introduce yourself as the father of the bride and feel free to make a joke about yourself. You can make a "dad joke," or a pun, if that's your style.
2. Mention any loved ones who you are remembering.
If it feels right to you, mention any family members who aren't physically present at the wedding in your father of the bride toast. "I keep thinking of your mom, who would have absolutely loved to be here." You can keep this sweet and simple. You don't have to include it at all, but it could be a nice tribute to loved ones.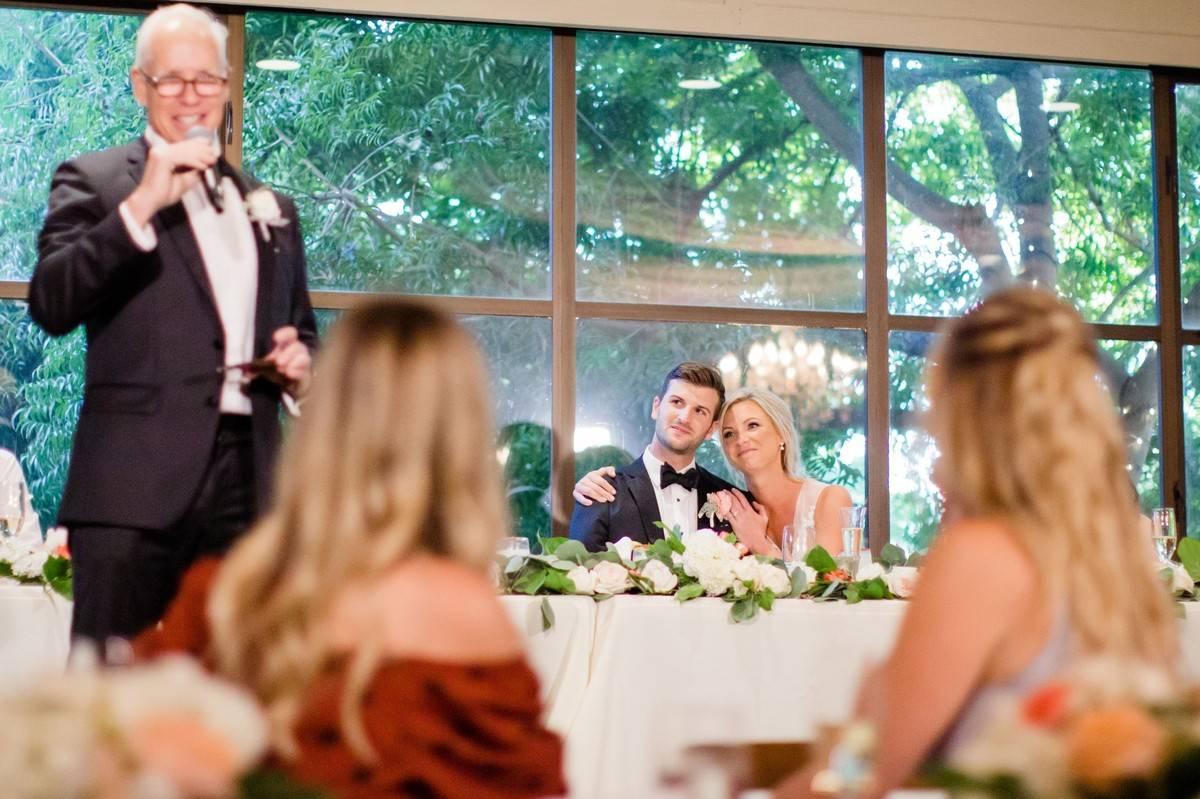 3. Share any special memories of your child.
Unless her older sibling or mother presents a speech, you have a plethora of memories to include in your father of the bride speech from a time in her life that no one else has tucked away. People love hearing stories from childhood, and you should capitalize on that. It can be sentimental or embarrassing – though, not too embarrassing. It is her day, after all.
Recall the day you brought her home from the hospital, and what you were thinking and feeling. Remember the time she brought a wounded bird into your house and demanded, through tears, that you two nursed it back to health? That was one moment out of many that you realized just how caring and generous your daughter has always been. Bring up the time she broke a bone (for the sixth time), because she was always so incredibly adventurous. You've always worried about her, but you know she can take care of herself. Our favorite father of the bride speech examples are ones where the giver uses an anecdote to share something about the bride's personality or his relationship with her.
4. Talk about your new in-law.
Your daughter is the light of your life, but you have a new "child" in your life now. It would be nice to address her partner directly in your father of the bride speech, and thank them for making your daughter so incredibly happy. However you feel appropriate doing this, depending on your relationship with your new in-law, is up to you.
Use your father of the bride speech reminisce about the time when you first met him/her. If you're particularly close with your daughter, maybe she called you after their first date – what were you thinking? Has there been a time you were particularly glad to have them around? This can be sentimental or funny, but it should be genuine – regardless of your true feelings. Maybe, on a family vacation, the car broke down, and her partner's handy skills in a crisis made you really appreciate their presence. This is a funnier story, but can lead into a genuine appreciation. Most importantly, they have made your daughter incredibly happy, so definitely make sure to express gratitude and a warm welcome to the family.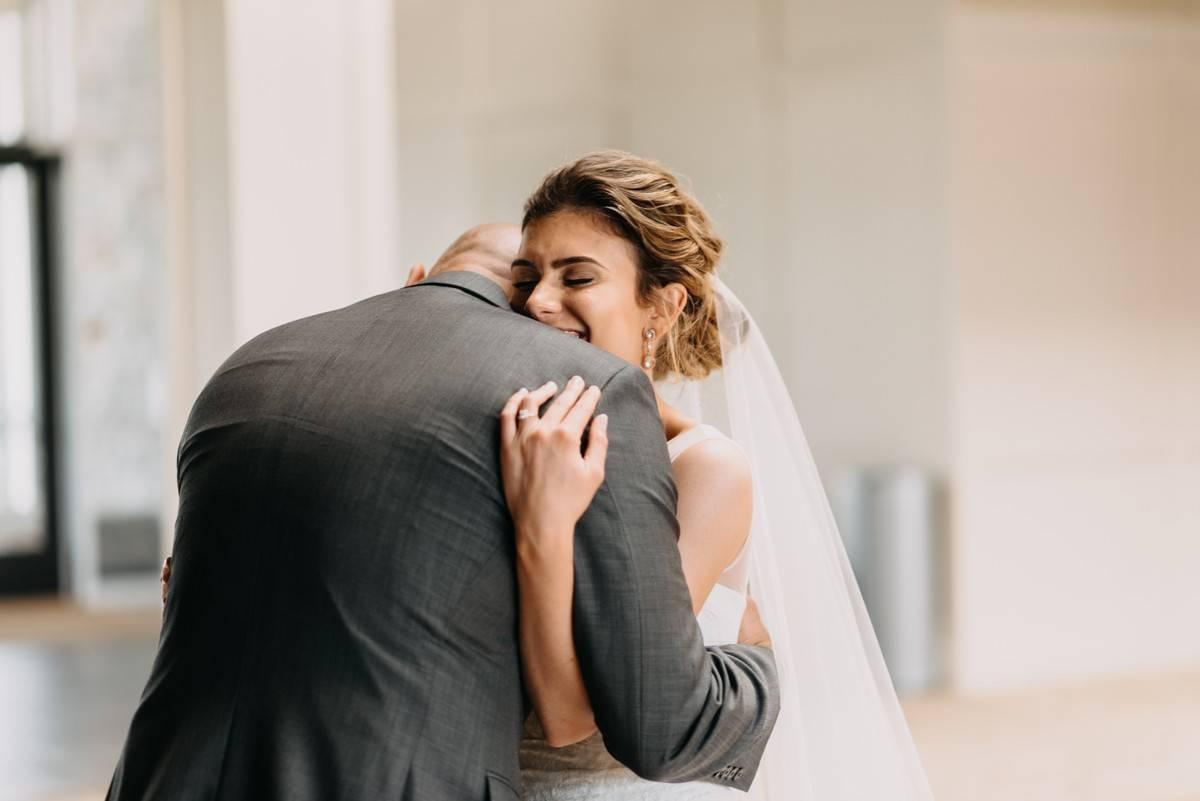 5. Give some advice in your father of the bride speech.
You are older and wiser, so if it makes sense for you, give the new couple a piece of advice toward a happy marriage — or just happiness in general — in your father of the bride speech. Whether you're married, divorced, or happily single doesn't matter. If you don't feel equipped to offer advice, then don't force it. But, considering how many dads love to offer unsolicited advice to their children, this is a great opportunity.
If you are married, offer your secret. It can be real or a joke. But try to avoid sexist tropes, if you can. Jokes like, "Married men always have the same boss," are tired and overused. More importantly than that, it presents an image of marriage to the new couple that isn't ideal. If you do have genuine advice, though, feel free to offer it – even if you aren't married. Don't joke about the divorce rate, though. It will only succeed in ensuing awkwardness for everyone present.
6. Use a quote, but don't force it.
This won't necessarily work for all father of the bride speeches. But, if it feels natural to work a quote that particularly speaks to you in your toast, you shouldn't feel like you have to shy away from it. It can be a sweet way to end your speech. Also, it doesn't have to be some profound quote — and this is what I mean about not forcing it. Don't use a quote just for the sake of using one. But, if there's a quote that speaks to you on a personal level, it can be great. It doesn't have to be serious. If you and your daughter have a special bond over something, like, The Simpsons, a comedic quote can be great provided you deliver it with confidence.
7. End with a toast.
If you're unsure of how to end your father of the bride speech, a toast is a crowd-pleaser. Offer up your congratulations and invite everyone to toast to the happy couple. Remind your daughter that you are proud of her, that you love her, and that you're so happy for her that she found someone who treats her well. Welcome your new in law to the family one last time, take a sip of your drink, and go hug your daughter – who may very well be crying.