How to Pull off Mix and Match Bridesmaid Dresses
Unless you've never scrolled through Pinterest before, you're likely familiar with the increasingly popular wedding trend of mix-and-match bridesmaids dresses.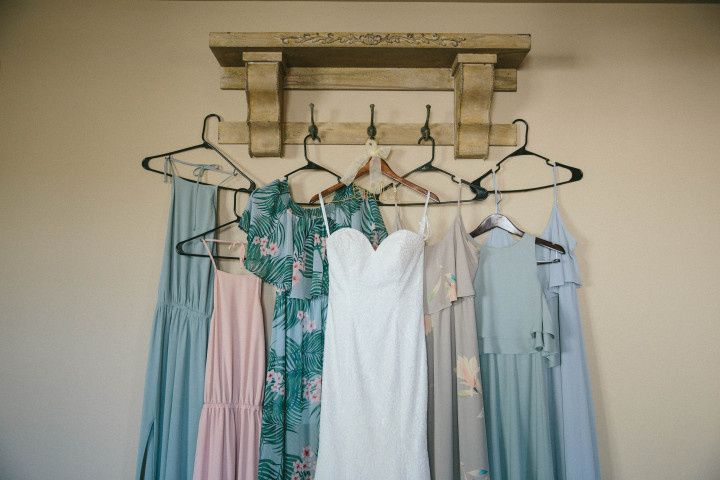 Unless you've never scrolled through Pinterest before, you're likely familiar with the increasingly popular wedding trend of mix-and-match bridesmaids dresses. ICYMI: it involves selecting slightly different—or, in some cases, totally different—dresses for your bridesmaids that tactfully manage to look amazing when all your girls are lined up together for photos. But pulling off this look isn't easy, experts say, as there are a lot of careful decision to be made to ensure it's done right.
To help ensure your bridal party looks Instagram worthy on the big day, check off all these necessary to-dos for selecting your mix and match dresses.
Keep a consistent color foundation
While you should feel free to explore with color patterns, it's wise to stick to three shades max so that they look cohesive when lined up together. A great way to do this is to choose one main color, for example, pink and then select your favorite shades of pink such as blush, rose, and carnation. "Sticking to one main hue will help the rest of your wedding guests differentiate wedding party members," says Malinda Macari, owner of Your Dream Bridal in Sudbury, Massachusetts. This means the groomsmen should also wear the same color (i.e. for their tie, bow tie or socks) and incorporate the same style in their dress.
Select the same flowers and accessories
When the dresses differ in style, color or both, it's important to keep most everything else the same. A great way to do this is to keep their bridesmaids bouquets the same. In other words, one bridesmaids shouldn't be holding a bouquet of pink lilies while the bridesmaid next to her is carrying a bouquet of yellow gerberas. You can make this decision upon meeting with your florist, who will ask you your preference for bridesmaid flowers. Be sure to tell her that the bridesmaids won't be wearing the same dress and that you want the flowers to help unify their ensembles.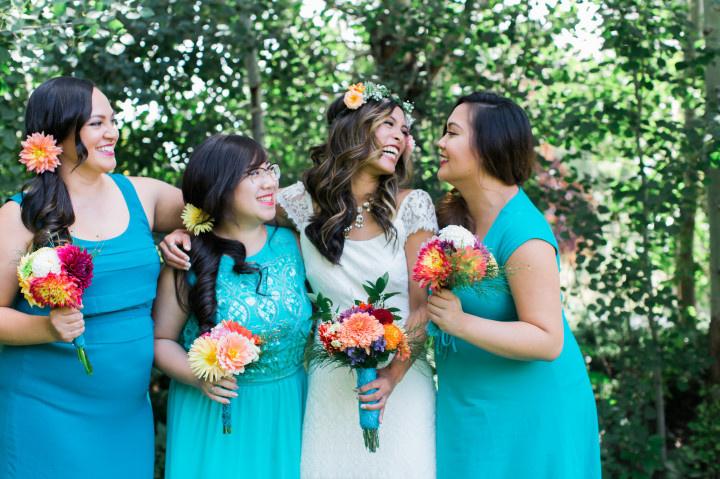 Give your bridesmaids some say
Each of your bridesmaids has a unique shape and size, which can be tricky when going the traditional route of selecting the same bridesmaid's dress for all. But the best part about mix and match bridesmaids dresses is that it gives your bridesmaids a chance to wear something that suits her body best. If your bridesmaids live in close proximity to one another, you can all head to a bridal store together to select dresses you like and even have them try them on so you can see how they match up. "Curate a Pinterest mood board that you can all view together over a few glasses of wine and planning!" suggests Macari.
Stick with the same designer
To maintain a refined and uniform aesthetic amongst the dresses, try to stick with one label. "This means, while you may have variations of style, cut or palettes, your ladies will still look effortlessly coordinated," says Macari. Most bridal salons carry more than one style for each of the designers they sell, so you shouldn't have trouble staying consistent. But if your bridal party is on the larger side, it might be wise to look into online retailers, which may be able to provide more selection.
Select a unifying fabric and thread
Even when you're selecting the same color and designer, the thread or fabric used to make the dresses may be different. It's smart to keep the look the same throughout, as velvet next to chiffon might look a little off putting. The same goes for the style. "Mixing a super glam gown with a boho casual sheath can make for a confusing visual," says Kelsey Doorey of Vow To Be Chic, a bridesmaid dress rental company. "Get creative with texture, but make sure the fabric is consistent—or your 'maids will go from hot to hot mess!"
Keep makeup and hair cohesive
Since you're going in different directions when it comes to the style or color of the bridesmaids dresses, it's wise to stay consistent with hair and makeup. "For example, if you decide on a natural look, having one or two girls rocking a smoky eye will probably throw the whole party off," warns Jessica Janik of The Invisible Bridesmaid in Fort Lauderdale, Florida. If you're paying for your bridesmaids' hair or makeup (a great, easy and super appreciated gift!), request that they select hairstyles and makeup requests that are in line with one another.