15 Funny Wedding Signs That Will Make Your Guests LOL
Here are a few of our favorite funny wedding signs that are sure to get your guests chuckling.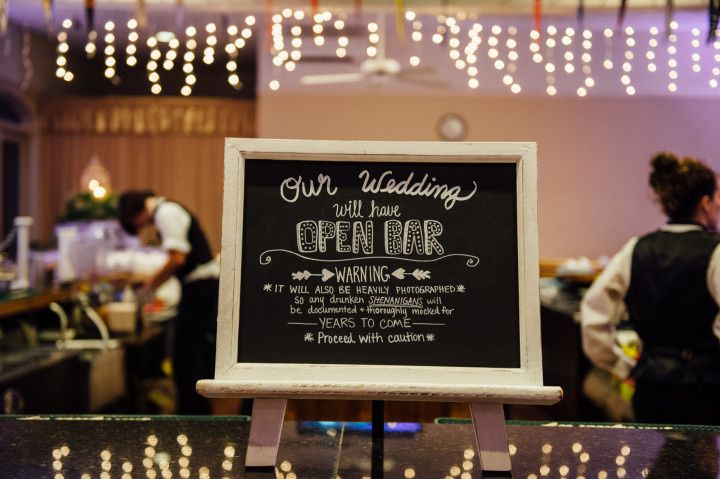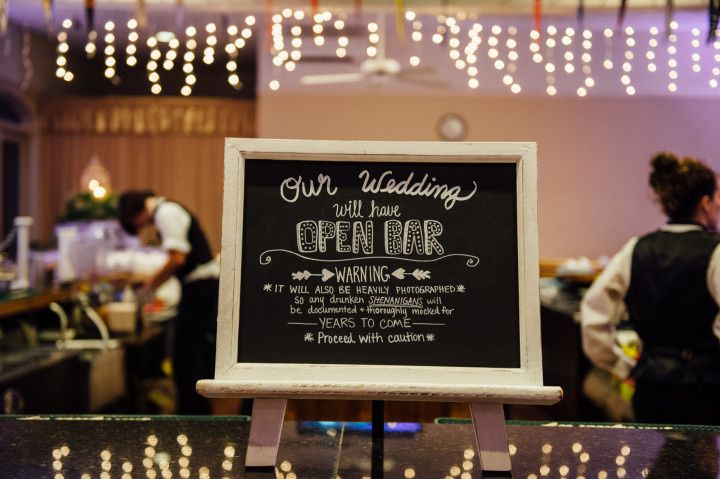 Photo: Bradley Images, Inc.
True, a wedding is an important occasion—and definitely an event to be taken seriously. However, your guests are there to celebrate and have a good time—so don't be afraid to add details with a sense of humor! Wedding signs are a great way to add personality—and laughs—to your wedding. Our recommendation: Don't go too overboard with the signage. A few, well-placed (and hilarious!) signs are all you'll need to give your wedding that unique touch.


Here are a few of our favorite funny wedding signs that are sure to get your guests chuckling.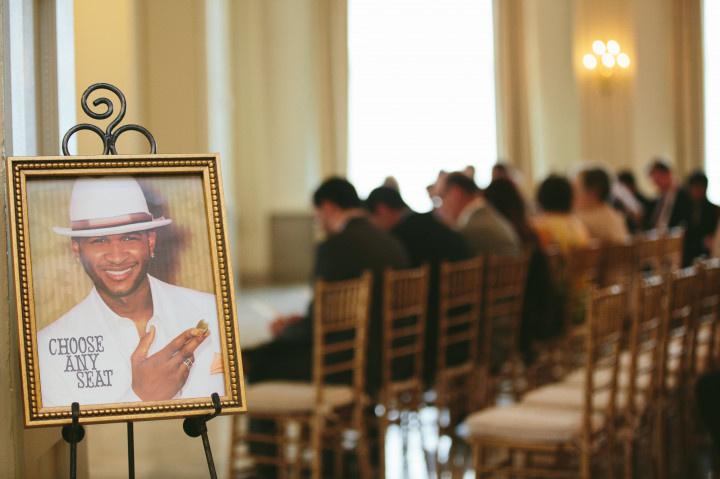 Photo: Greybird Galleries
We've all seen the now-ubiquitous "pick a seat, not a side" signs at wedding ceremonies. Why not take the old seating sign up a notch by giving it a bit of star power? We love how this Ohio couple used Usher (yes, that Usher) to "usher" their guests to their seats.
Photo: Alicia Lucia Photography
To direct guests to their ceremony spot, this couple eschewed the oft-used arrow sign for something a bit cheekier.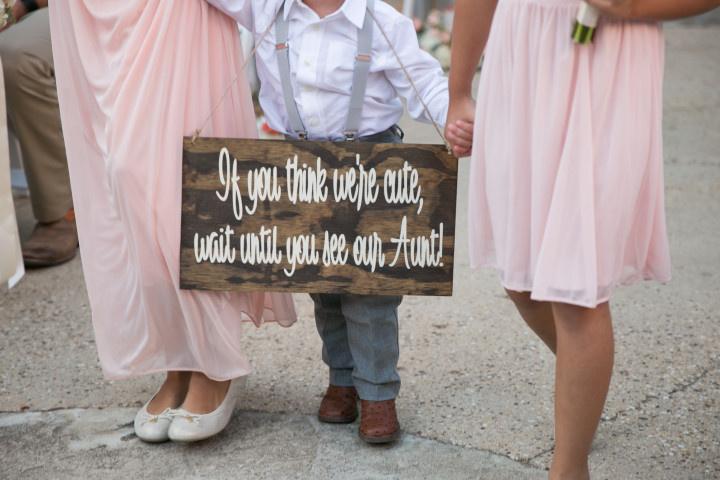 Photo: Tracy Autem & Lightly Photography
If there's one surefire way to elicit laughter from your guests, it's have cute kids hold funny signs while walking down the aisle. This funny sign is great for a few ring bearers and flower girls to carry together.
Photo: Mallori Ma Photography
A wedding processional is usually a pretty serious part of the ceremony—but it doesn't have to be. This sign will add some humor to the moment.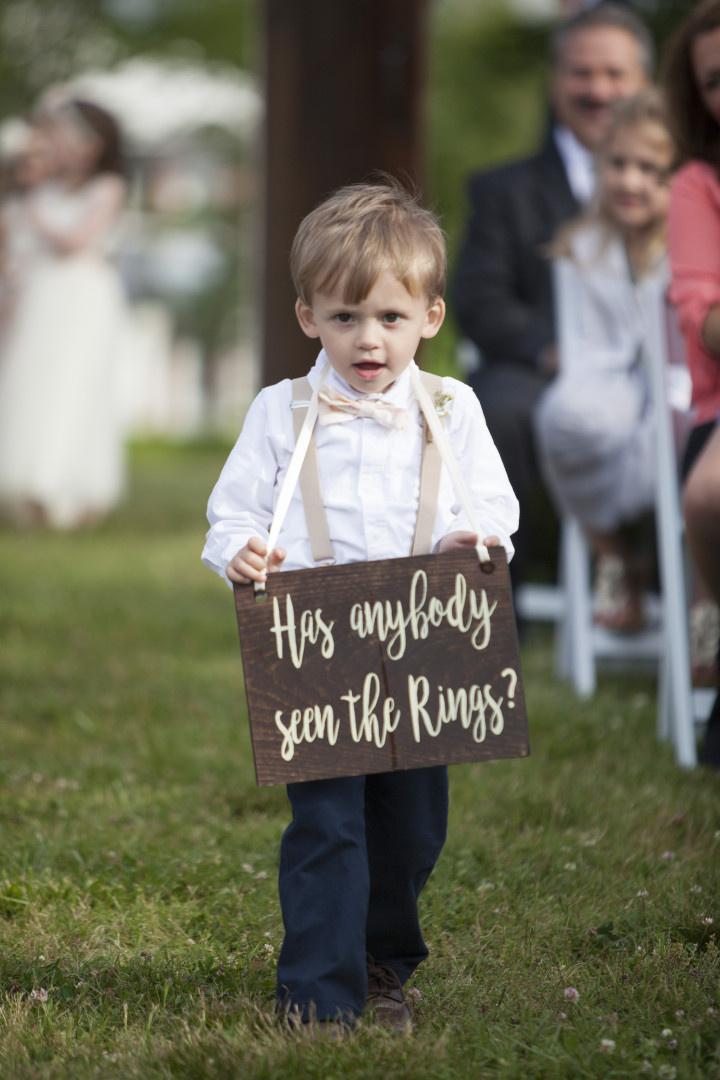 Photo: Mandy Owens Wedding Photography
Hopefully your guests won't panic when they see your ring bearer carrying this sign down the aisle!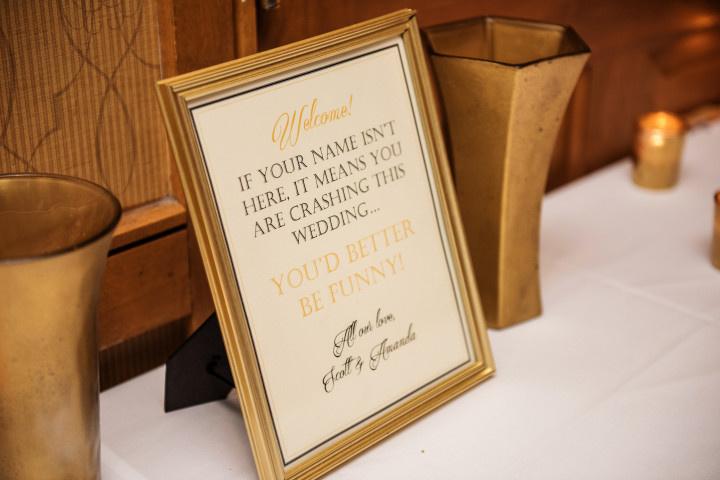 Photo: Kathleen Hertel Photography
Calling all wedding crashers! Adorn your escort card table with this hilarious sign to give your guests a good chuckle (and warn any potential crashers!).
Photo: Alisa Sue Photography
If you're at all concerned about an empty dance floor at your wedding, post this cheeky sign on your escort card table (and have your band or DJ play some of these!).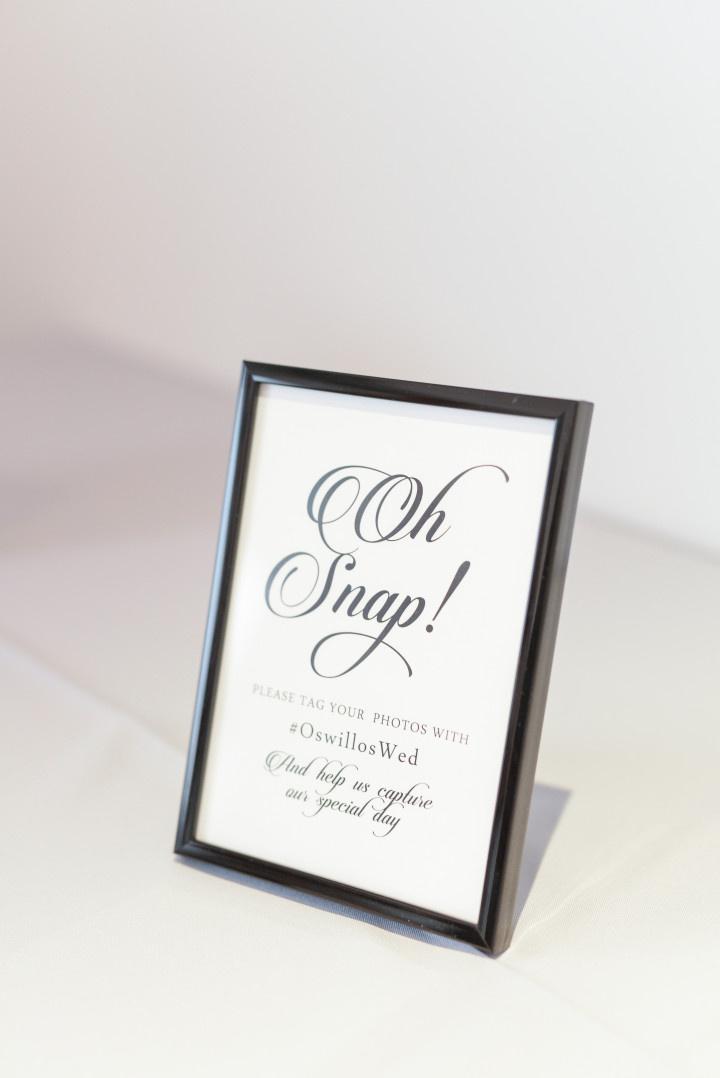 Photo: Monique Hessler Photography
Your guests will likely be snapping lots of photos during your wedding day. Encourage them to post them (and use your wedding hashtag!) with funny wedding signs.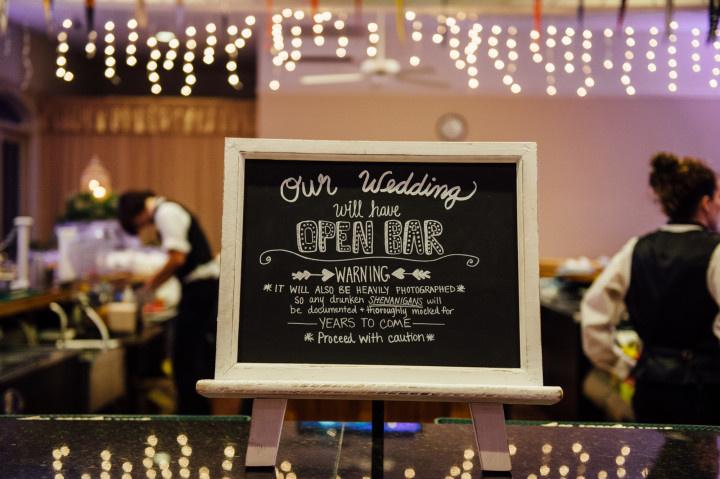 Photo: Bradley Images, Inc.
One of the best opportunities to post funny wedding signs is on the bar. This sign provides a hilarious "warning" to guests as they grab their drinks at the open bar.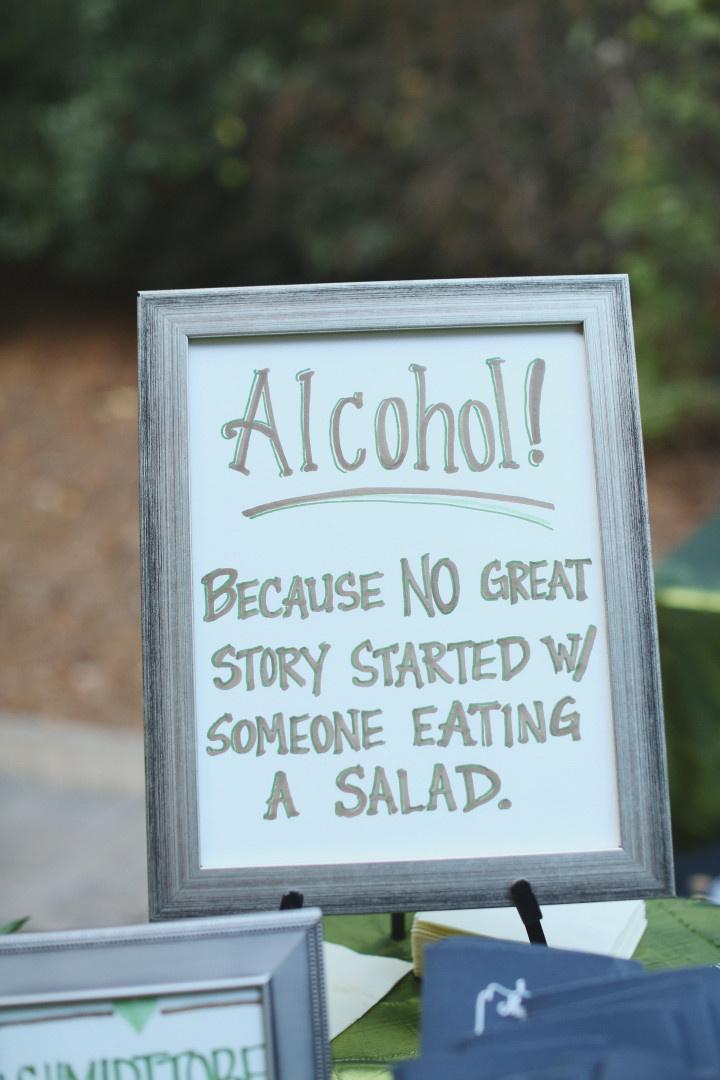 Photo: j.woodbery photography
If this sign doesn't inspire your guests to relax and party all night at your wedding, nothing will!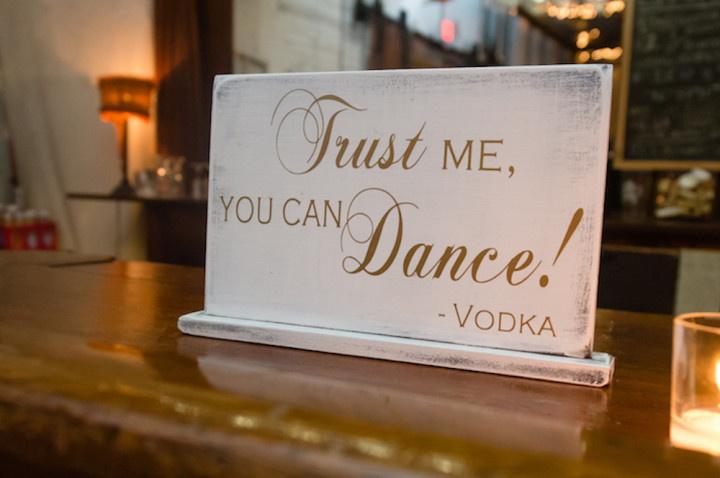 Photo: Kasey Matson Photography
If you're not afraid of things getting a little rowdy at your wedding reception, post this sign near the bar!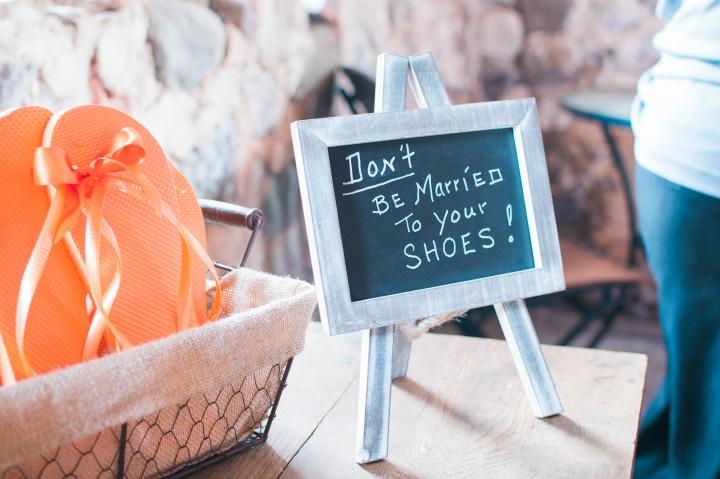 Photo: Eileen K. Photography
If flip-flops are your favor of choice, post this sign to encourage your guests to remove their shoes and don more comfortable footwear. It's a particularly fabulous sign for a beach wedding.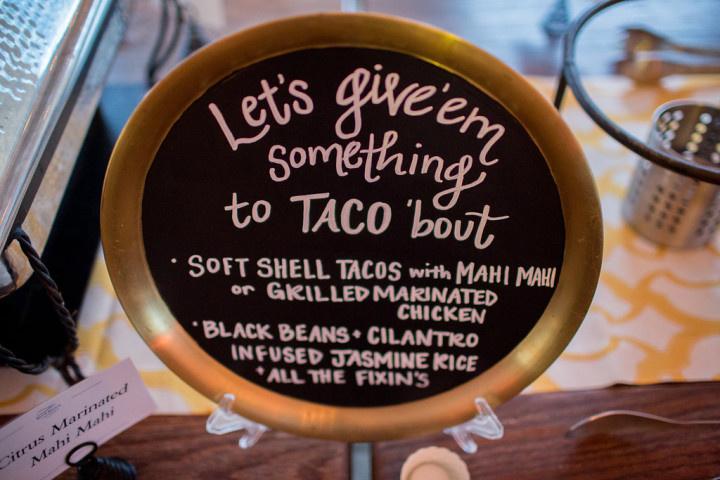 Photo: Sam Stroud Photography
We love when couples serve their wedding meal at a variety of stations—it encourages guests to get out of their seats and mix and mingle. Why not give your food stations a little sense of humor by giving them funny names and posting "punny" signs?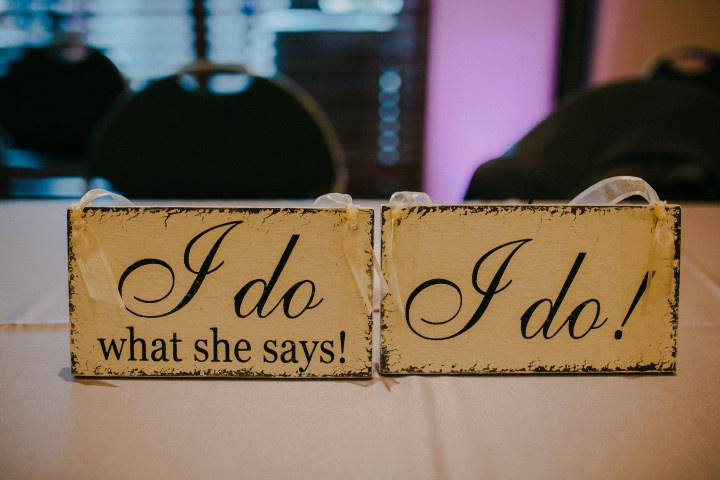 Photo: Cassie Madden Photography
Your sweetheart table doesn't have to be all romantic—a little lighthearted humor in the form of these signs can really show your personalities!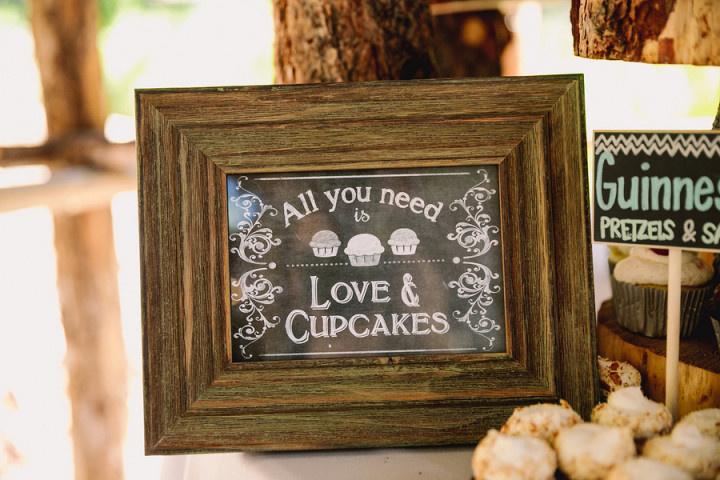 Photo: James Tang Photography
Ain't that the truth?