15 Classic Rock Father Daughter Dance Songs for the Dad Who Wants to Rock
Is your dad a huge rock fan? Check out these classic rock father daughter dance song options, from Queen to the Stones, Led Zeppelin, GNR, and more.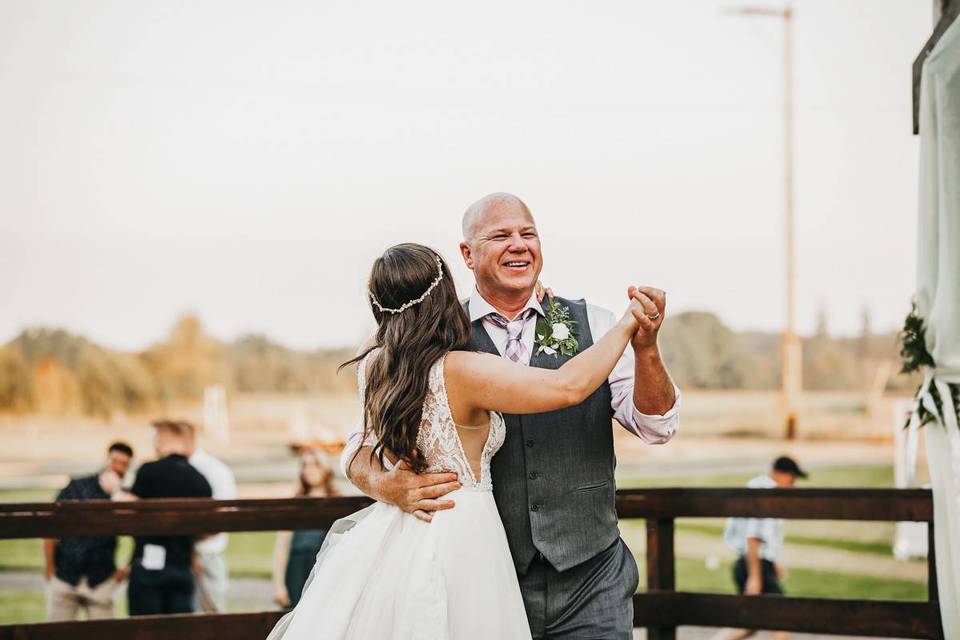 If your dad is a rocker at heart, you're probably searching for the perfect classic rock father daughter dance song to play at your wedding. And lucky for you, there are lots of options to choose from. From The Rolling Stones to Guns N' Roses, many of the rock bands from the 1960s through the '80s have songs that are ideal for a father daughter dance. And what makes a good classic rock father daughter dance song, you may ask? You want to choose a song with meaningful lyrics (listen closely to make sure the words reflect your relationship with Dad and aren't too sappy or inappropriate), a steady beat, and isn't too long. Of course, if there's a song that's special to you and Dad that don't fit these "rules," don't be afraid to go for it!
Check out some of the best classic rock father daughter dance songs out there—perfect for the Dad who loves to rock out.
Sweet Child O'Mine by Guns N' Roses
This may very well be the ultimate classic rock father daughter dance song if you're looking for a more upbeat song. You probably won't be able to get away with a simple sway with this tune, so make sure Dad is prepared to bust a move!
"Teach Your Children" by Crosby Stills Nash & Young
We love the laid-back feel of this classic rock father daughter dance song, and the advice it shares. It's also nice a gender-neutral song, so could work for a joint parents' dance as well.
"Have I Told You Lately" by Van Morrison
Choosing a classic rock father daughter dance song can be difficult, because many classic rock tunes allude to a romance—not ideal for a dance with Dad! This song however has lyrics that could refer to a variety of different relationship, include your dad's love for his child.
"You're My Best Friend" by Queen
If you consider your Dad one of your best friends, this is an ideal pick for your moment in the spotlight. We love the song's joyful feel and sweet, but simple, lyrics.
"In My Life" by the Beatles
Another total classic, this song is perfect for the Beatles fan. The lyrics are totally nostalgic, and may make many of your guests shed some tears.
"She's a Rainbow" by The Rolling Stones
Perhaps your dad played this song for you when you were a little girl—but even if didn't, this is a great nostalgic tune. It might not be the easiest to dance to, but if you love the tune, it can definitely work for your father-daughter moment.
"Wildflowers" by Tom Petty
This lighthearted tune might seem like an unexpected choice for a classic rock father daughter dance, but lyrics like "You belong with your love on your arm/You belong somewhere you feel free" are actually quite perfect for this special dance.
"When You Need Me" by Bruce Springsteen
If your dad has been to more Bruce concerts than you can count, this may be the ideal classic rock father daughter dance song for you two. While it might not be one of Bruce's best known songs, any fan will certainly know (and love!) it.
"Landslide" by Fleetwood Mac
Warning: This song may not be for the emotional types (we can't get through it without weeping!). But, it's certainly a beautiful tune that appeals to guests of all ages.
"Lullabye (Goodnight My Angel)" by Billy Joel
There aren't a ton of rock ballads that are specifically written from a father to his daughter—but this is one of them. Only one small problem: You may not be able to stop crying when you hear these lyrics: "Goodnight my angel, now it's time to dream/And dream how wonderful your life will be/Someday your child may cry, and if you sing this lullaby/Then in your heart there will always be a part of me."
"Here for You" by Neil Young
Did you know Young wrote this song for his college-aged daughter? The lyrics talk about how Dad will always be there for his little girl, no matter how far away she may travel. So sweet!
"When I See You Smile" by Bad English
While this song may be considered "newer" in the classic rock genre, it's still a favorite for a father daughter dances. The simple sentiment of "when you're happy, I'm happy" is totally perfect for this special moment between Dad and daughter.
"Born to be Wild" by Steppenwolf
If you and your dad want to make your guests chuckle, this is a super-fun (and totally unexpected!) classic rock father daughter dance song. It's particularly ideal if you and your dad are considered the "wild ones" of your family. You'll definitely want to choreograph a cute dance to this tune!
"Tupelo Honey" by Van Morrison
If you're not feeling "Brown Eyed Girl", this is another Van Morrison song that's ideal for a classic rock father daughter dance song. The refrain "she's my baby" works particularly well if you're the youngest in your family.
"My Father's Eyes" by Eric Clapton
Many father daughter dance songs feature lyrics that refer to a father's feelings toward his child. This song is actually the reverse—a child talking about his or her Dad. It does refer to a somewhat rocky relationship between father and child, so be sure to closely review the lyrics before choosing this one.