The Most Expensive Celebrity Engagement Rings of All Time
Feeling curious? Check out the price tags of these A-list sparklers. You won't believe how much the most expensive celebrity engagement rings actually cost.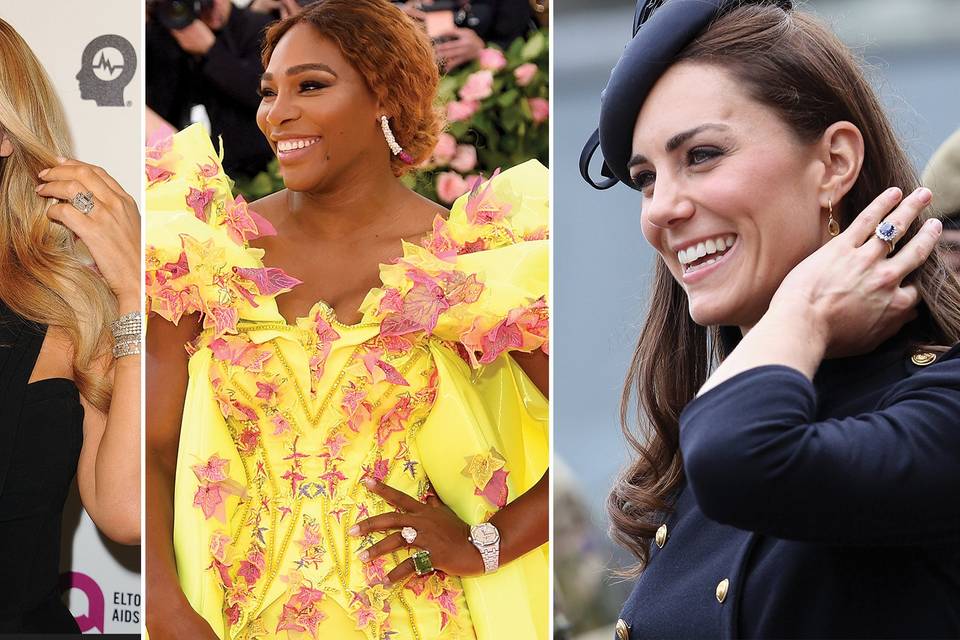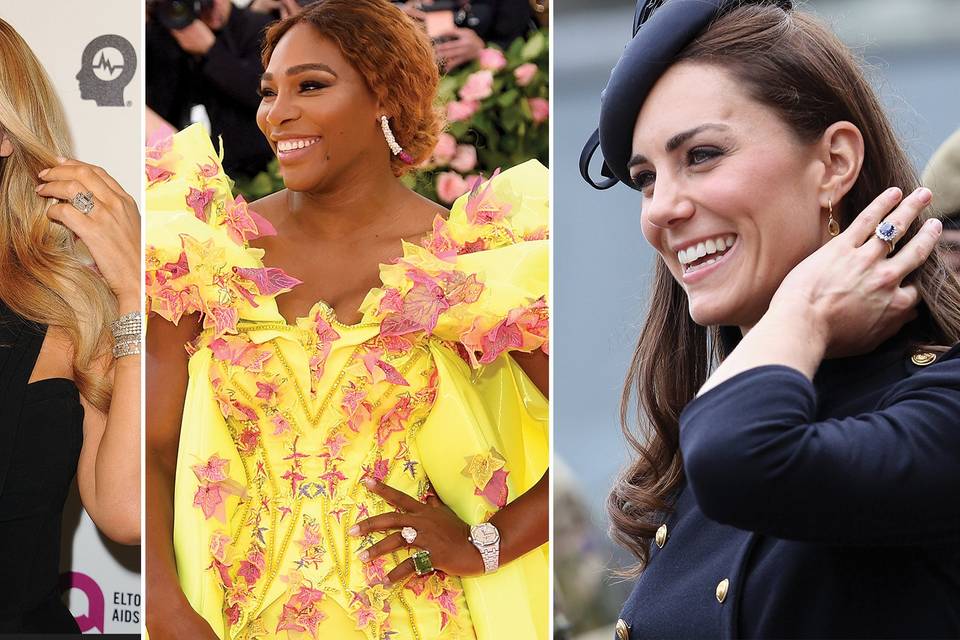 It's no surprise that an engagement ring comes with a hefty price tag. Regardless of features like the style, setting and cut, diamonds and gemstones are always an investment. And while engagement ring prices aren't common topics of conversation, we don't blame you for being curious about the cost of celebrity engagement rings. After all, A-listers commonly show off dazzling rocks that generate lots of buzz. (Who can forget the fanfare surrounding Kate Middleton's hand-me-down sapphire or Paris Hilton's mega pear diamond?) If you can't help but wonder who wears the biggest and most expensive celebrity engagement rings, you're not alone. We've done the digging to find out how much their jewels cost—and the numbers will shock you.
Below, we round up the biggest (and most expensive) celebrity engagement rings of all time.
Jason LaVeris/Getty Images
Mariah Carey
Value: $10 million
Vocal powerhouse Mariah Carey once owned the most expensive celebrity engagement ring of all time. In 2016, the singer received a 35-carat, $10 million dollar engagement ring from then-boyfriend James Packer. (She was previously married to Nick Cannon, with whom she shares two kids.) The colossal emerald-cut diamond was flanked by smaller baguette side stones and set on a platinum band. Packer worked directly with jewelry designer Wilfredo Rosado to create the ring in just two weeks. By October of that year, though, the couple called off their engagement—but Carey kept the ring for two more years. (She was even spotted wearing it after the breakup.) She ultimately sold it to a Los Angeles-based jewelry for just over $2 million in May 2018.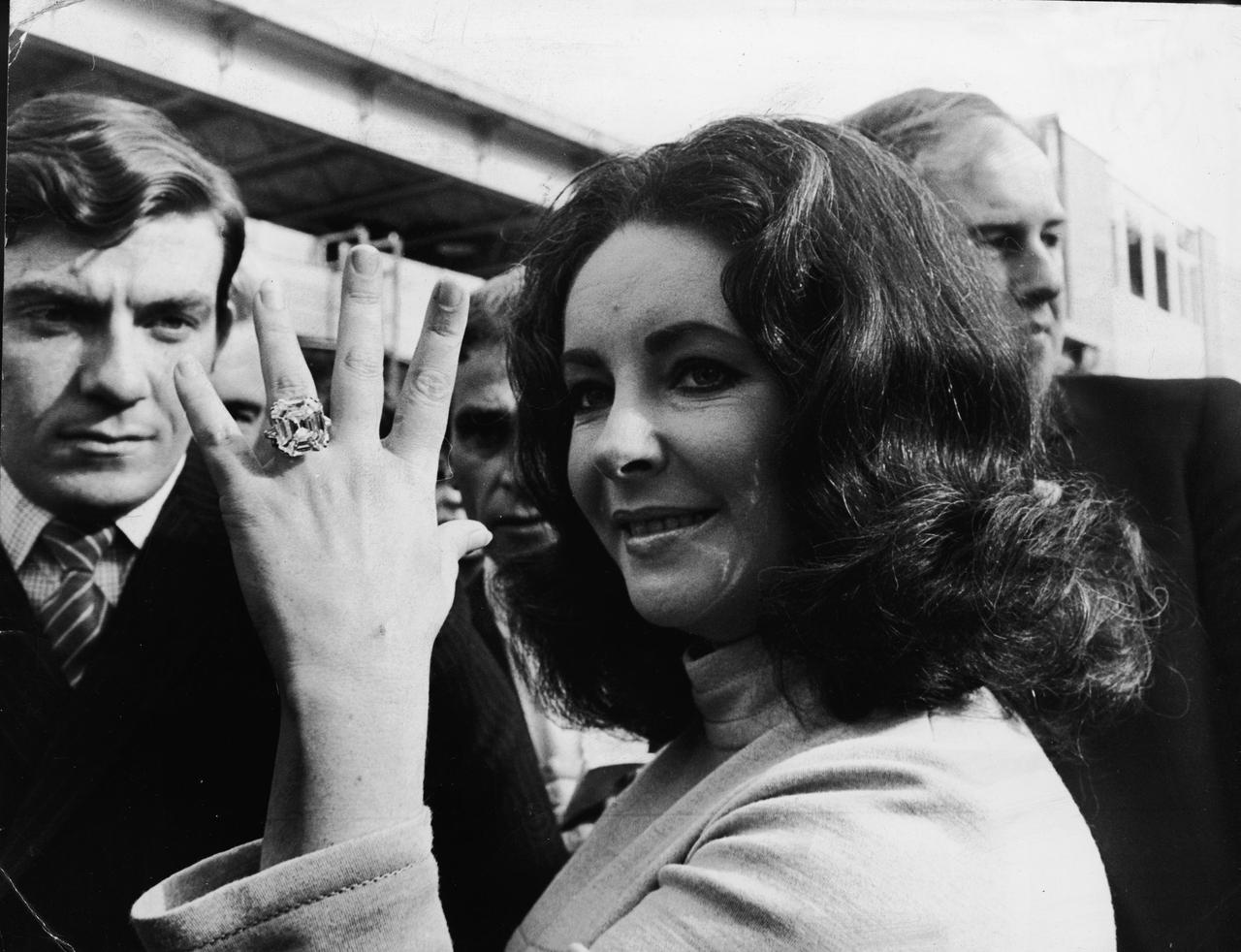 Elizabeth Taylor
Value: $8.8 million
Elizabeth Taylor was more than just a renowned actress—she was also an avid jewelry collector who had an extensive repertoire of pieces throughout her life. She was engaged 10 times, married eight, divorced seven and widowed once. Of the 10 engagement rings she owned, the most famous was her bauble from Richard Burton. Unbeknownst to some, though, the diamond he gave her wasn't actually an engagement ring. Taylor married the Welsh actor twice, and the first proposal was accompanied by an emerald brooch, which she pinned to her wedding dress. During their first marriage in 1968, Burton gifted his wife the Krupp diamond (later renamed the Elizabeth Taylor Diamond). Then valued at $305,000, the 33.19-carat design included an asscher-cut diamond with a large culet facet. Shortly after her death in 2011, her entire jewelry collection was auctioned, including the Elizabeth Taylor Diamond, which sold for $8.8 million.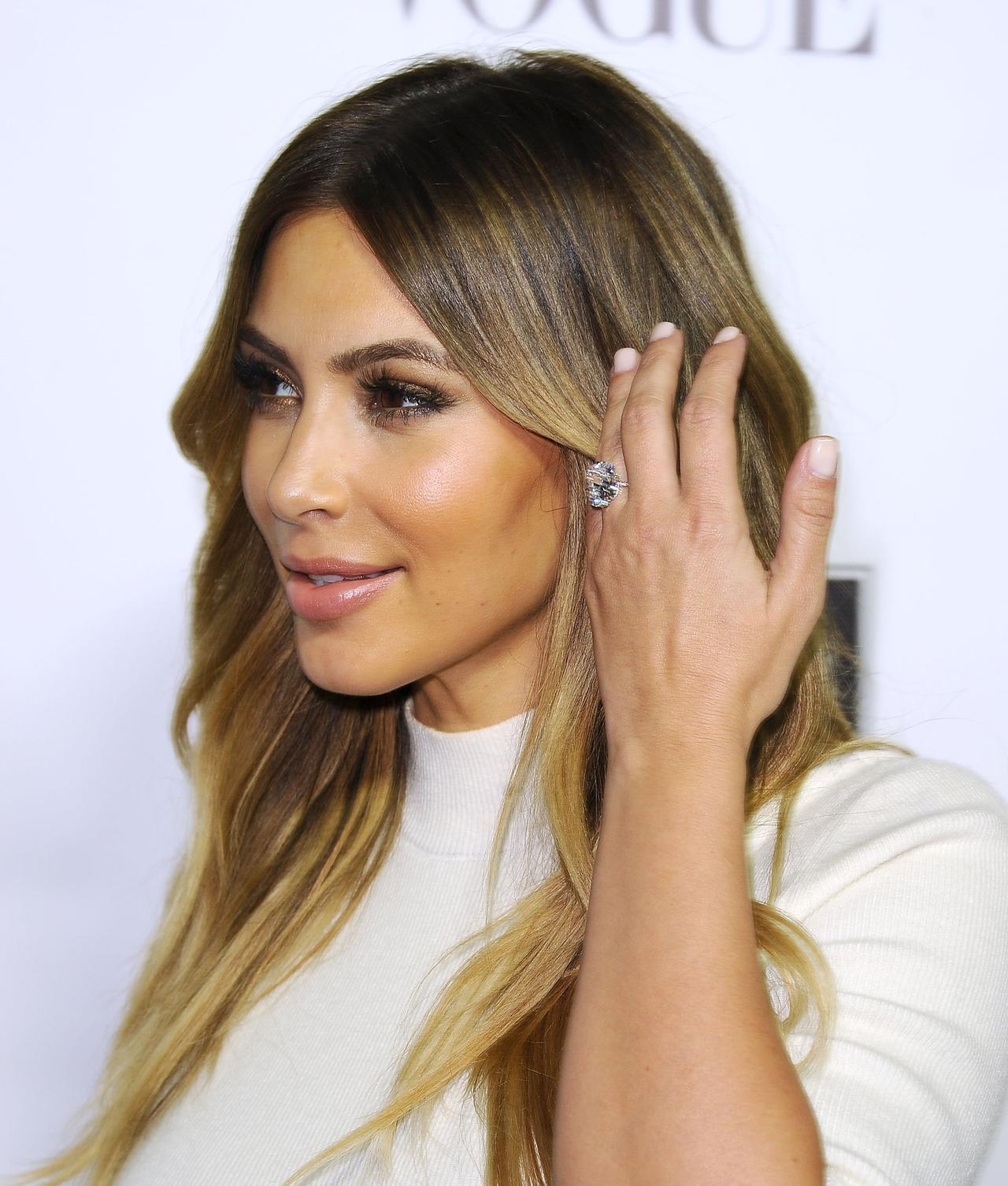 Kim Kardashian
Value: $8 million
Kanye West pulled out all the stops for his 2013 proposal to Kim Kardashian. The rapper rented out AT&T Park in San Francisco and organized an orchestra to play his own music in front of a jumbotron message that read "PLEEEASE MARRY MEEE!!!" Of course, the extravagant engagement was accompanied by a show stopping engagement ring. West proposed with a 15-carat cushion-cut diamond ring set on a pavé band. The sparkler, which was designed by Lorraine Schwartz, is estimated to be worth $8 million.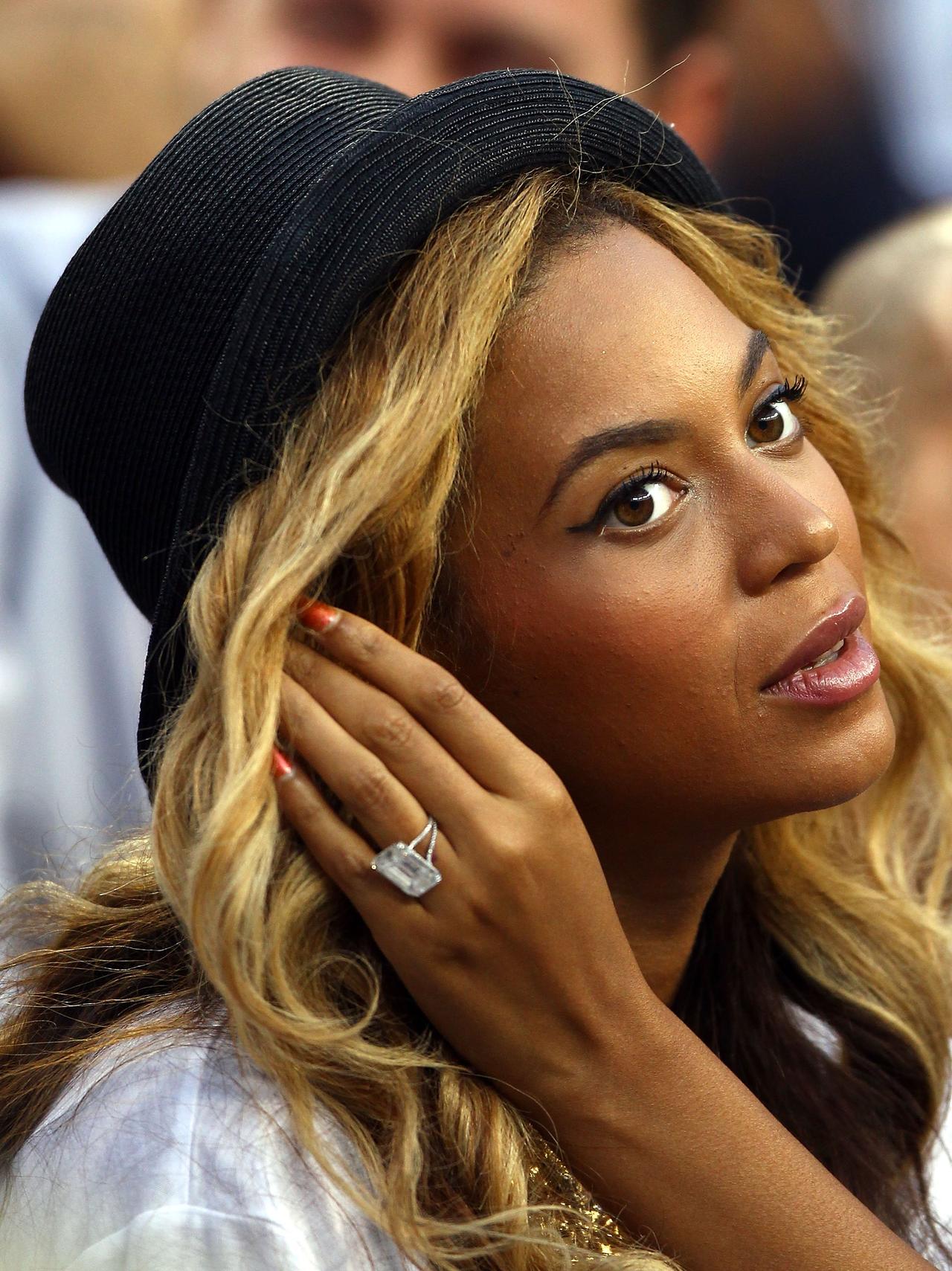 Beyoncé
Value: $5 million
Jay-Z put a ring on it, and he didn't hold back when selecting an extravagant design. Beyoncé's Lorraine Schwartz engagement ring is worth an estimated $5 million, and it's not hard to see why. At 24 carats, the emerald-cut diamond sits on a platinum split-shank band that's encrusted with more diamonds. A split-shank band often makes the center stone look larger, but since that diamond alone is an estimated 18 carats, it's one of the biggest (and most expensive) celebrity engagement rings of all time.
View this post on Instagram
Katy Perry
Value: $5 million
Singer Katy Perry is the owner of one of the most unique celebrity engagement rings. She announced her engagement to actor Orlando Bloom just after Valentine's Day in 2019 with a selfie showing off her rock. While not much is known about the specifics of the design, it appears to be an oval-cut ruby set in a floral diamond halo with yellow-gold accents. While the exact cost of the diamond isn't known, experts estimate it could be worth upwards of $5 million.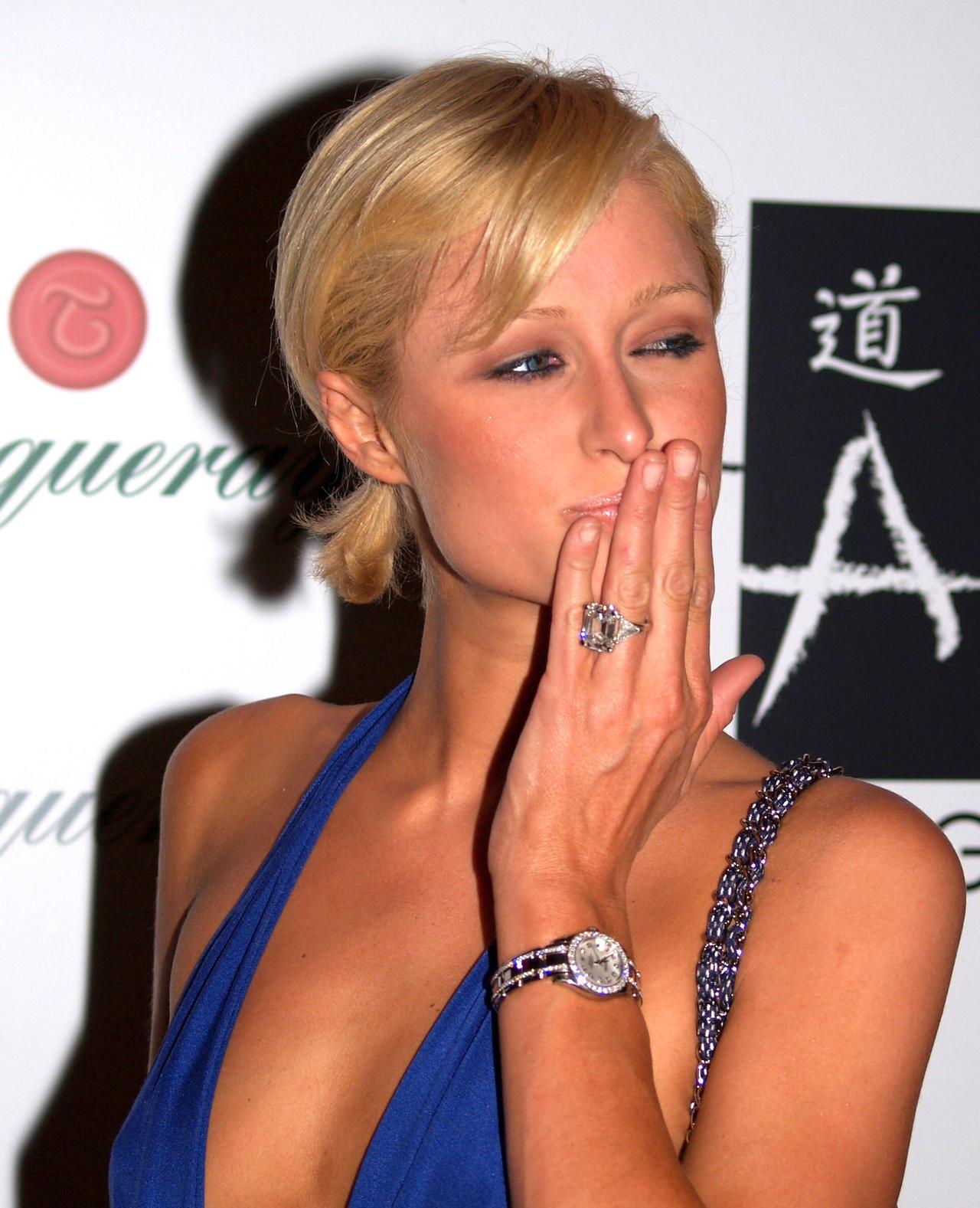 Paris Hilton
Value: $4.7 million
Paris Hilton's $2 million pear-cut engagement ring from Chris Zylka garnered plenty of attention back in 2018. But did you know that wasn't the most expensive engagement ring she owned? The socialite received an even bigger rock from Greek shipping heir Paris Latsis in 2005. The 24-carat ring had an elongated center stone, and it appeared to be flanked by smaller triangular diamonds on both sides. Shortly after getting engaged, the couple called off their wedding. While not much is known about the fate of the ring, Hilton allegedly sold it and donated the profits to help victims of Hurricane Katrina.
View this post on Instagram
Jennifer Lopez
Value: $4.5 million
Given that Jennifer Lopez and Alex Rodriguez are one of Hollywood's biggest power couples, it's no surprise that the former Yankee player presented his love with a jaw-dropping engagement ring. The couple announced their engagement on March 9, 2019 by sharing the first photo of JLo's ring, and it didn't disappoint. The famed entertainer was given a large emerald-cut diamond flanked by baguette side stones. While the exact value isn't known, experts estimate the ring is approximately 20 carats and worth about $4.5 million.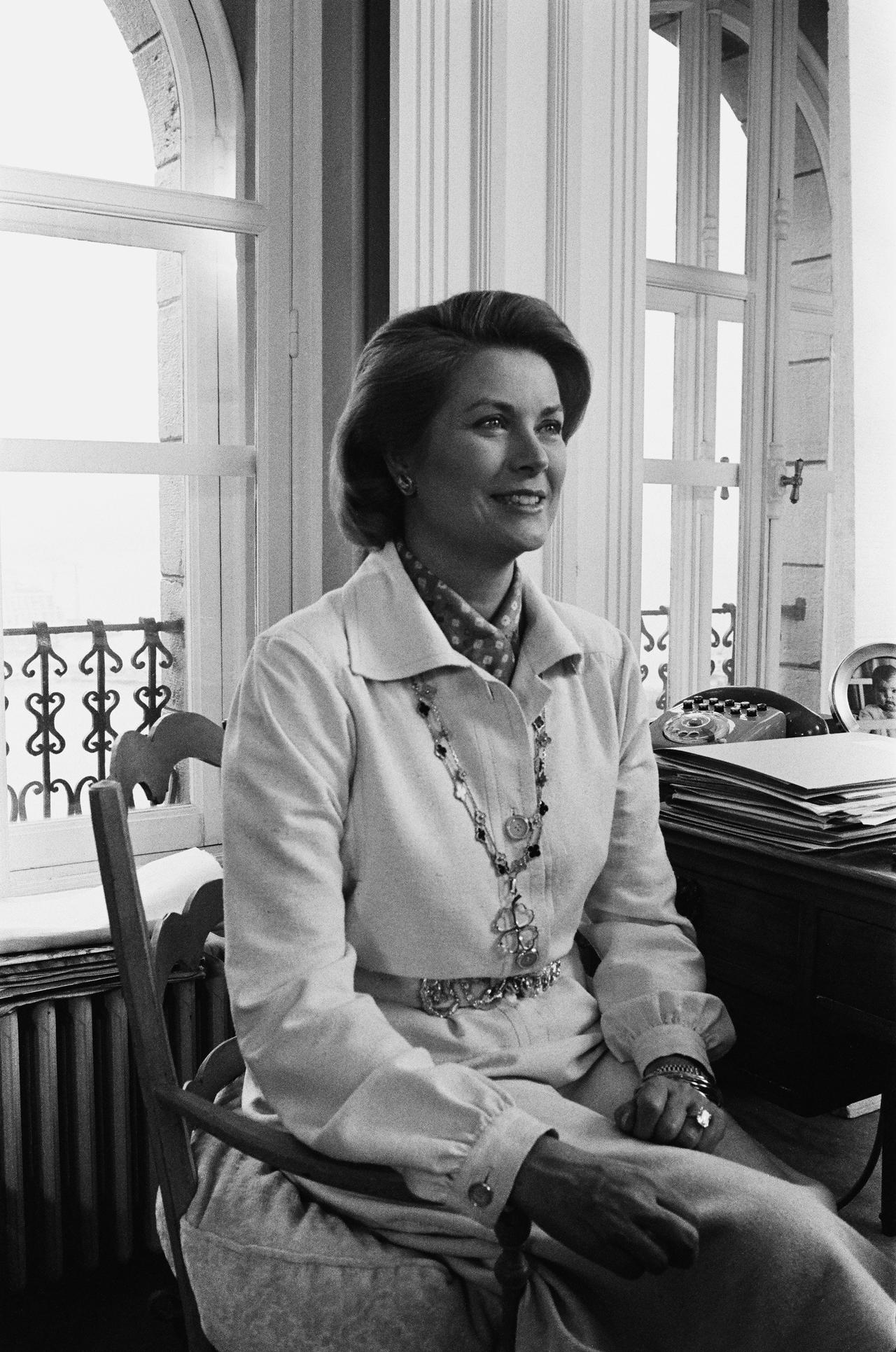 Grace Kelly
Value: $4.06 million
Grace Kelly's path from Hollywood A-lister to royalty is one some people only dream of. The American actress got engaged to Monaco's Prince Rainier in December 1955, and she was given two engagement rings. The first, designed by Cartier, included two intertwining bands of diamonds and rubies. Kelly wore this ring during the press conference that officially announced their engagement in January 1956. But a few weeks later, Kelly returned to California to film the movie High Society and was spotted wearing a different engagement ring. Kelly told a gossip column that she was supposed to wear a prop ring in the film, but Rainier got her a second diamond to wear instead. With her director's approval, she kept the ring and wore it as her own after filming wrapped. Also made by Cartier, the second ring had an emerald-cut center stone and was flanked by a pair of diamond baguettes. At 10.5 carats, it's one of the most expensive royal engagement rings.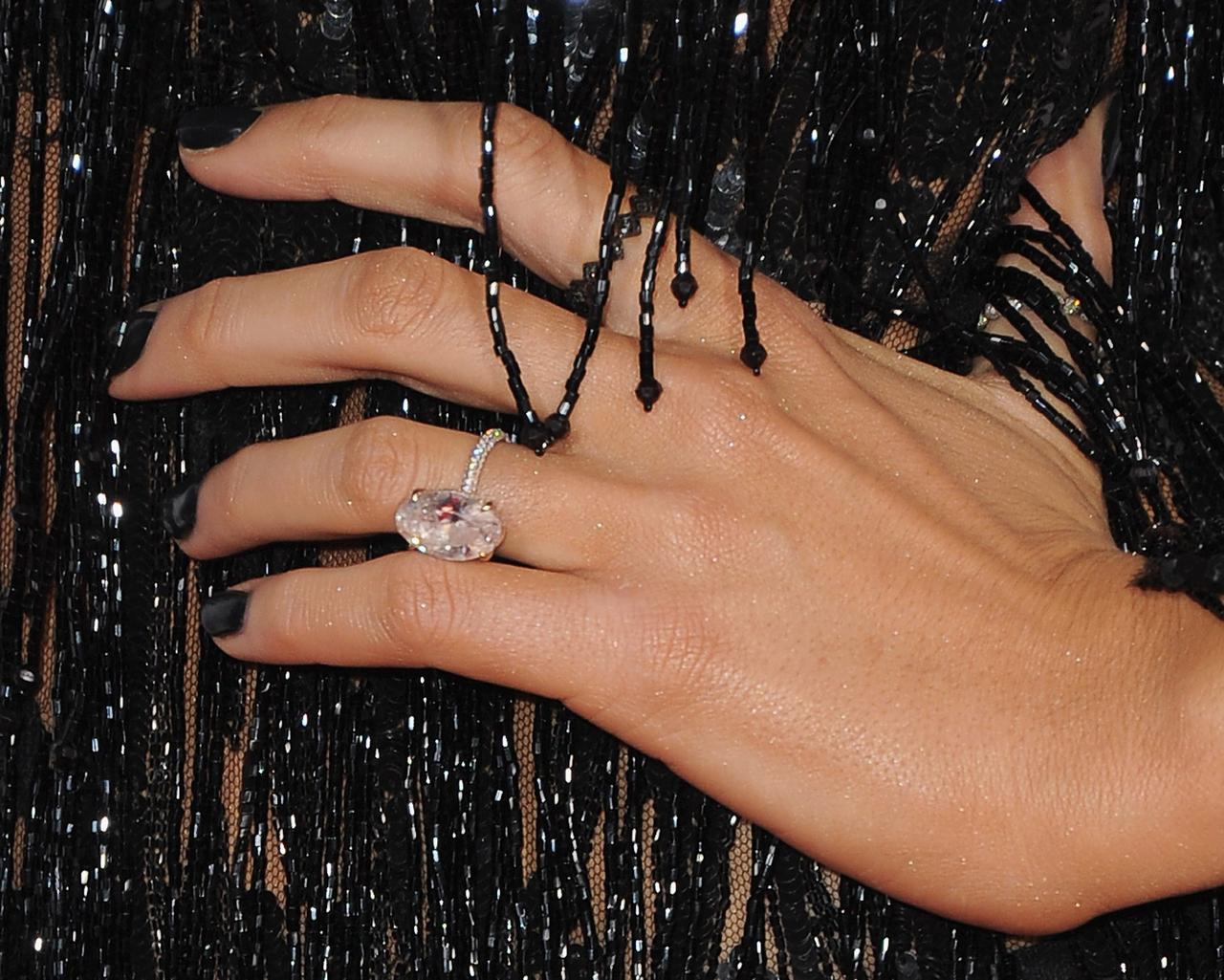 Blake Lively
Value: $2.5 million
Actress Blake Lively is largely credited for the surge in popularity of oval engagement rings. When actor Ryan Reynolds proposed to Lively in 2012, he presented her with a 12-carat oval-cut diamond on a diamond-accented rose gold band. Experts estimate the ring is worth over $2 million, making it one of the most expensive celebrity engagement rings. Reynolds worked directly with designer Lorraine Schwartz to create the trendy bauble.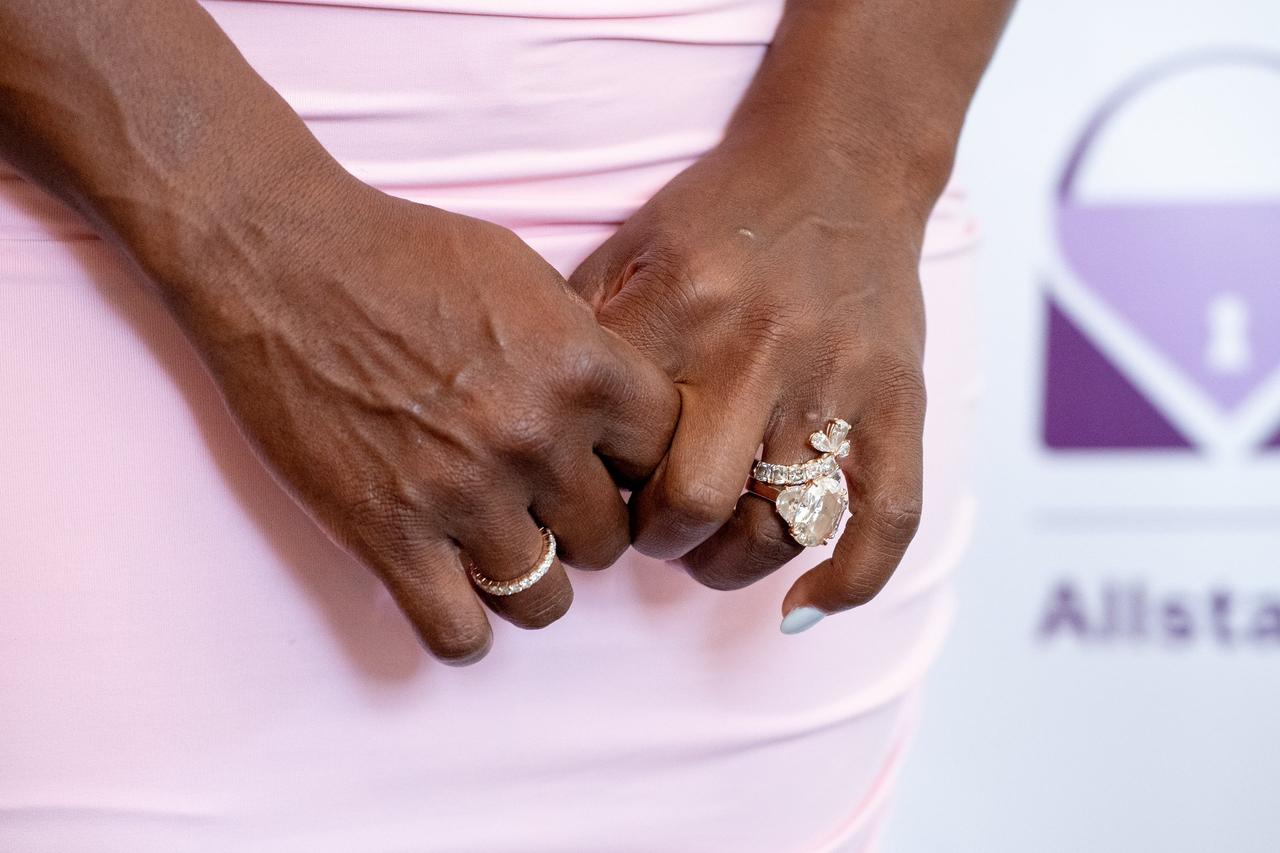 Serena Williams
Value: $2 million
While you certainly haven't seen Serena Williams' engagement ring on the tennis court, the star athlete has shown off her sparkler on plenty of red carpets. Williams got engaged to Reddit co-founder Alexis Ohanian in 2016, though she wasn't seen wearing the ring until after their wedding in 2017 (leading to speculation that the jewel is also her wedding ring). Despite this, it's still one of the flashiest (and biggest) celebrity engagement rings. The three-stone design includes a large emerald-cut diamond in the middle, flanked by two smaller diamond side stones. In total, the 12-carat ring is estimated to be worth around $2 million.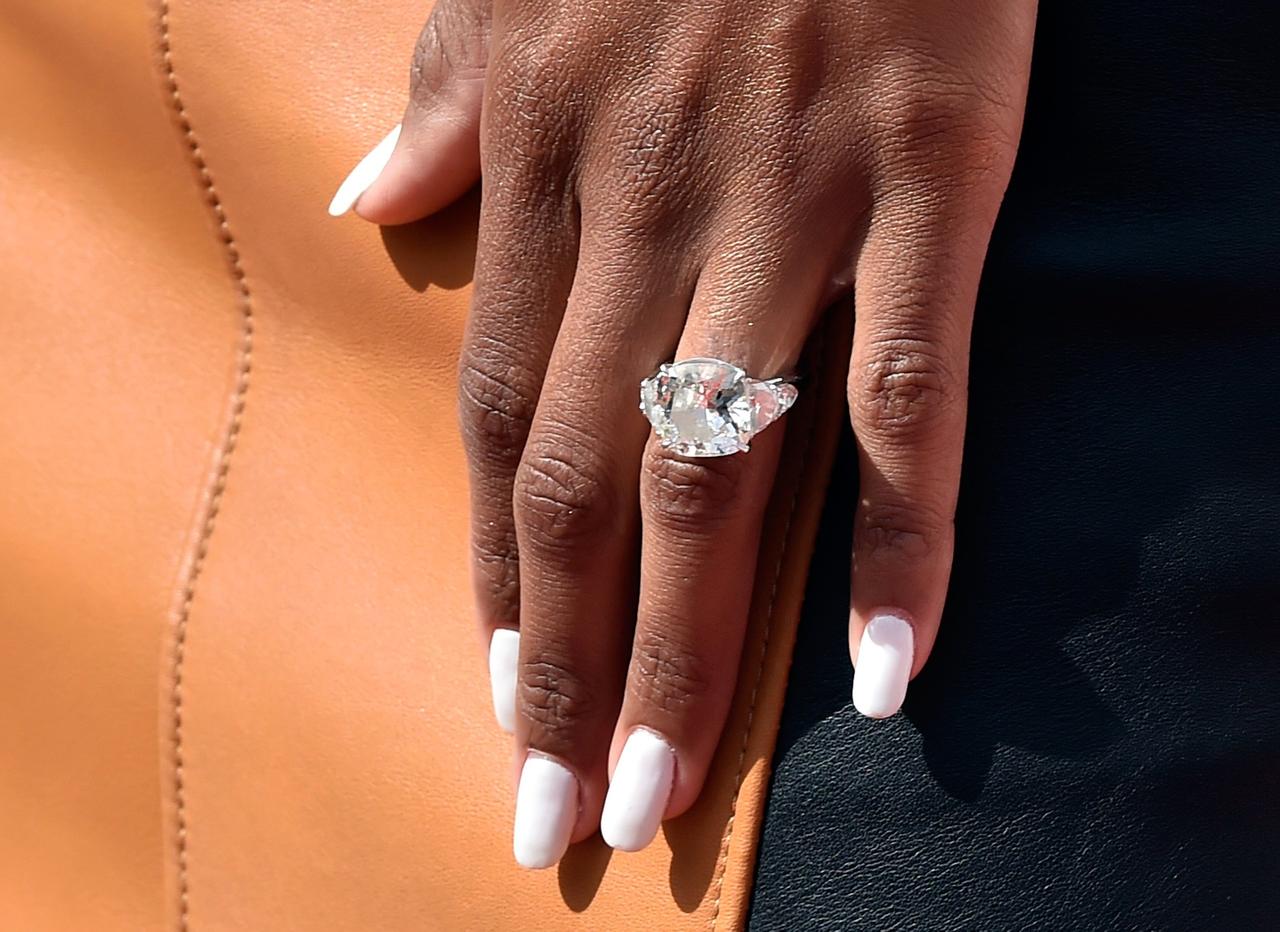 Ciara
Value: $1.5 million
Why settle for one diamond when you could have five? NFL player Russell Wilson pulled out all the stops for Ciara's 16-carat engagement ring. With a brilliant-cut diamond in the center, it's surrounded by a trapezoid- and pear-cut diamonds on both sides. The singer's rock is estimated to be worth between $1.5 and $2 million.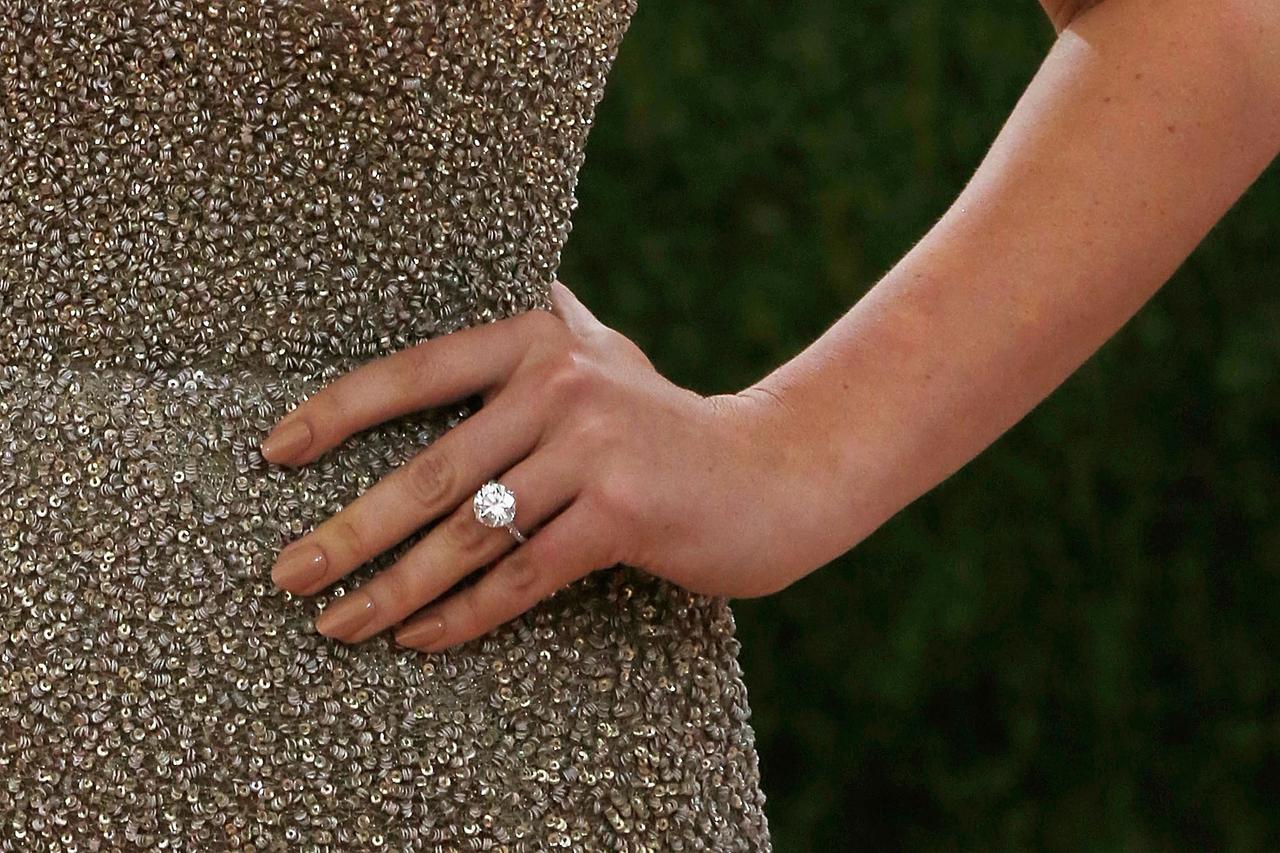 Kate Upton
Value: $1.5 million
Kate Upton announced her engagement to baseball player Justin Verlander on the red carpet of the 2016 Met Gala by showing off her sparkling ring. The MLB player worked with designer Anita Ko to design the one-of-a-kind bauble. With a large diamond center stone in a four prong setting on a diamond band, the supermodel's 8-carat jewel is worth an estimated $1.5 million.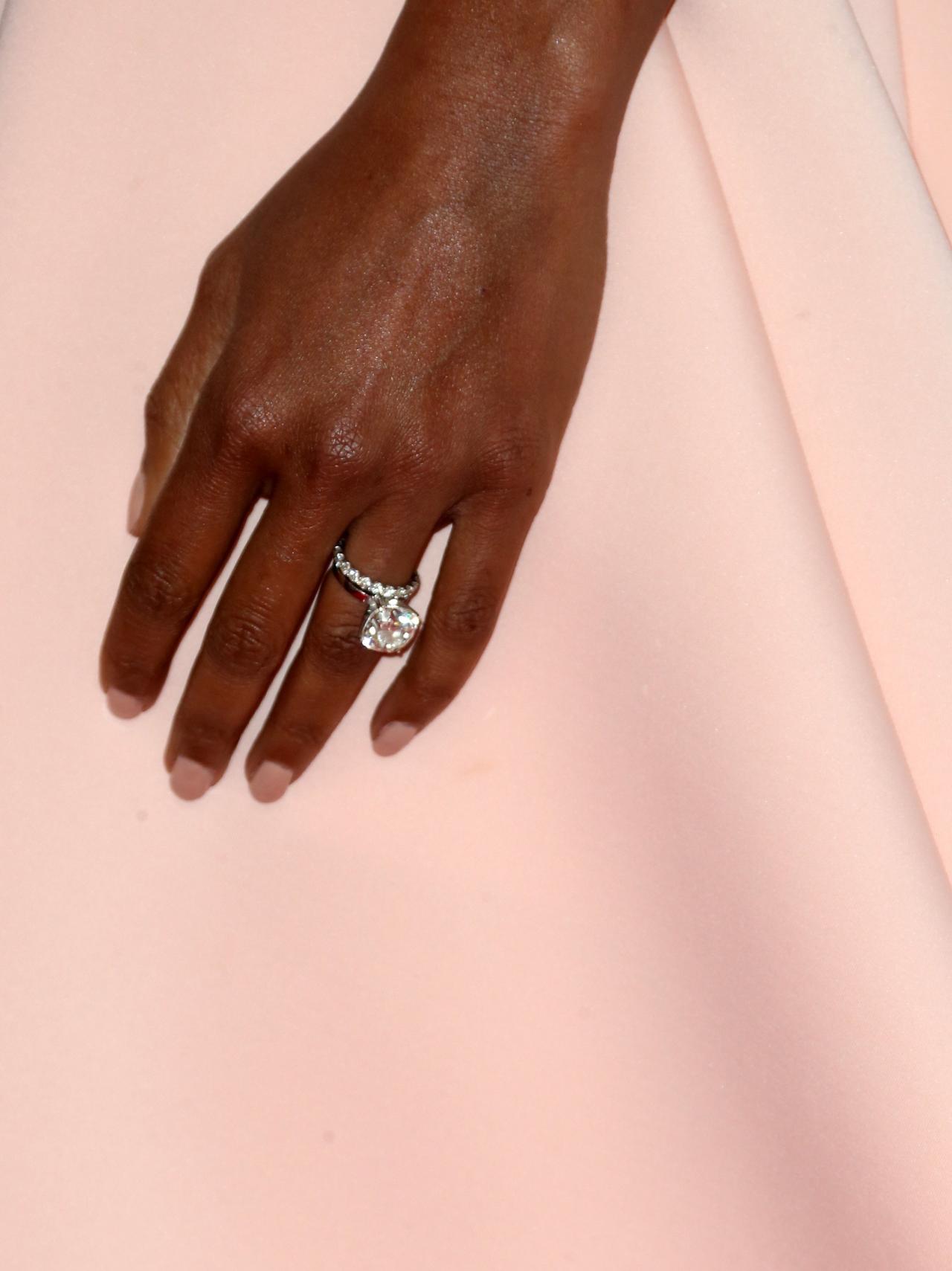 Gabrielle Union
Value: $1 million
NBA star Dwyane Wade put a lot of effort into selecting Gabrielle Union's engagement ring. In fact, he made three trips to Miami with his jeweler to find the perfect stone for his future wife. Ultimately, the search was worth it. When he proposed in December 2013, he presented his longtime love with an 8.5-carat, $1 million cushion-cut diamond.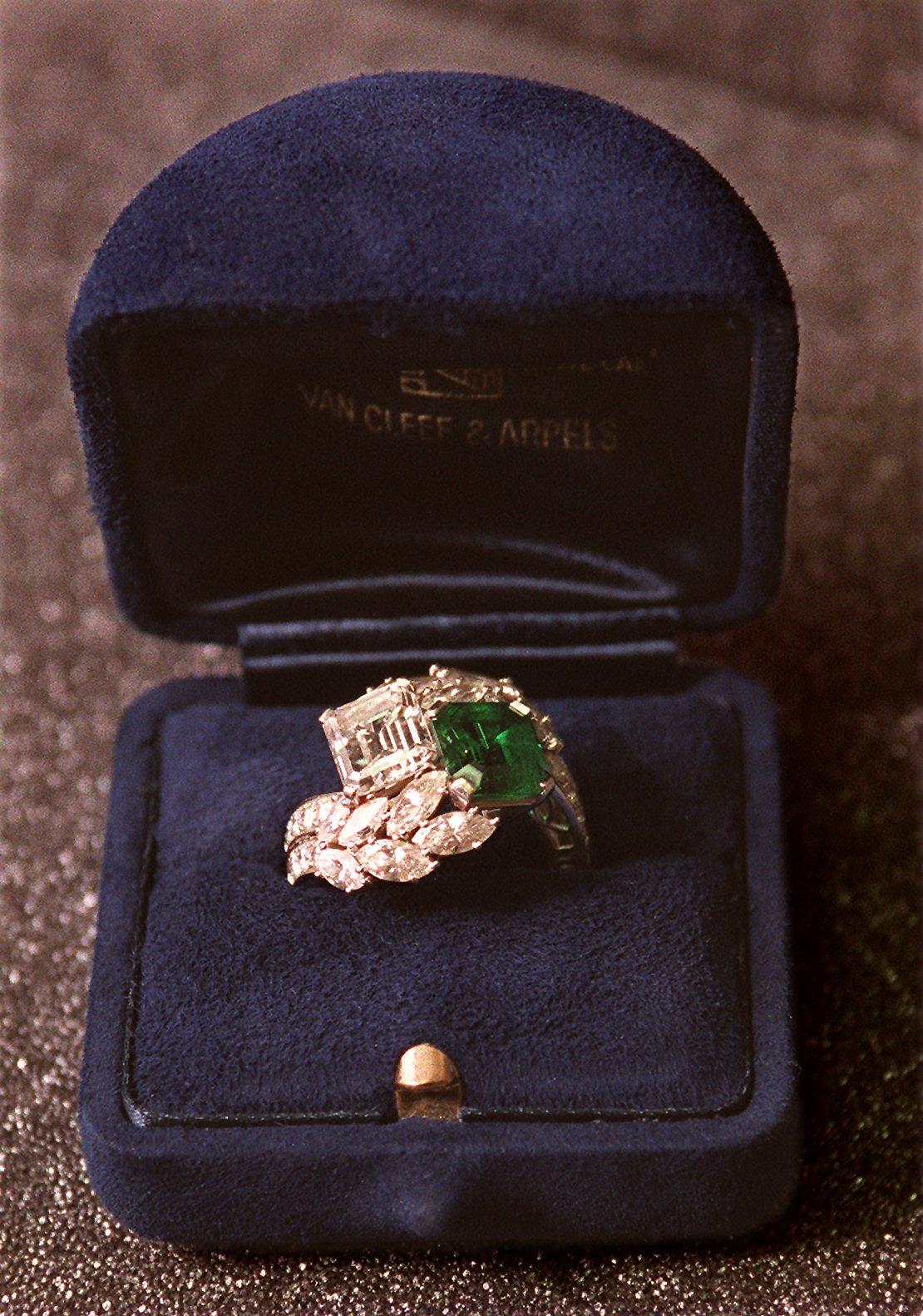 Jackie Kennedy
Value: $1 million
Jackie Kennedy always had an affinity for emeralds, so John F. Kennedy sourced an engagement ring fit to her taste. The future president proposed to his longtime love on June 24, 1953 with an art-deco emerald and diamond engagement ring. Nestled next to each other, the 2.88-carat diamond and 2.86-carat emerald were surrounded by clusters of tapered diamonds. Jackie redesigned the ring a few years later, adding an extra 2.12 carats of round- and marquise-cut diamonds. At the time, it was valued to be worth just over $1 million. After JFK's death, Jackie married Aristotle Onassis in 1968. Her second engagement ring was much bigger, though it was rarely worn. Onassis proposed with a 40.42-carat marquise-cut diamond ring worth $2.6 million. Jackie allegedly only wore the ring twice before locking it in a vault. After her death, the ring was auctioned off and displayed at the Smithsonian Institute in Washington, D.C and the Museum of Natural History in New York before it was cut into 18 smaller gems.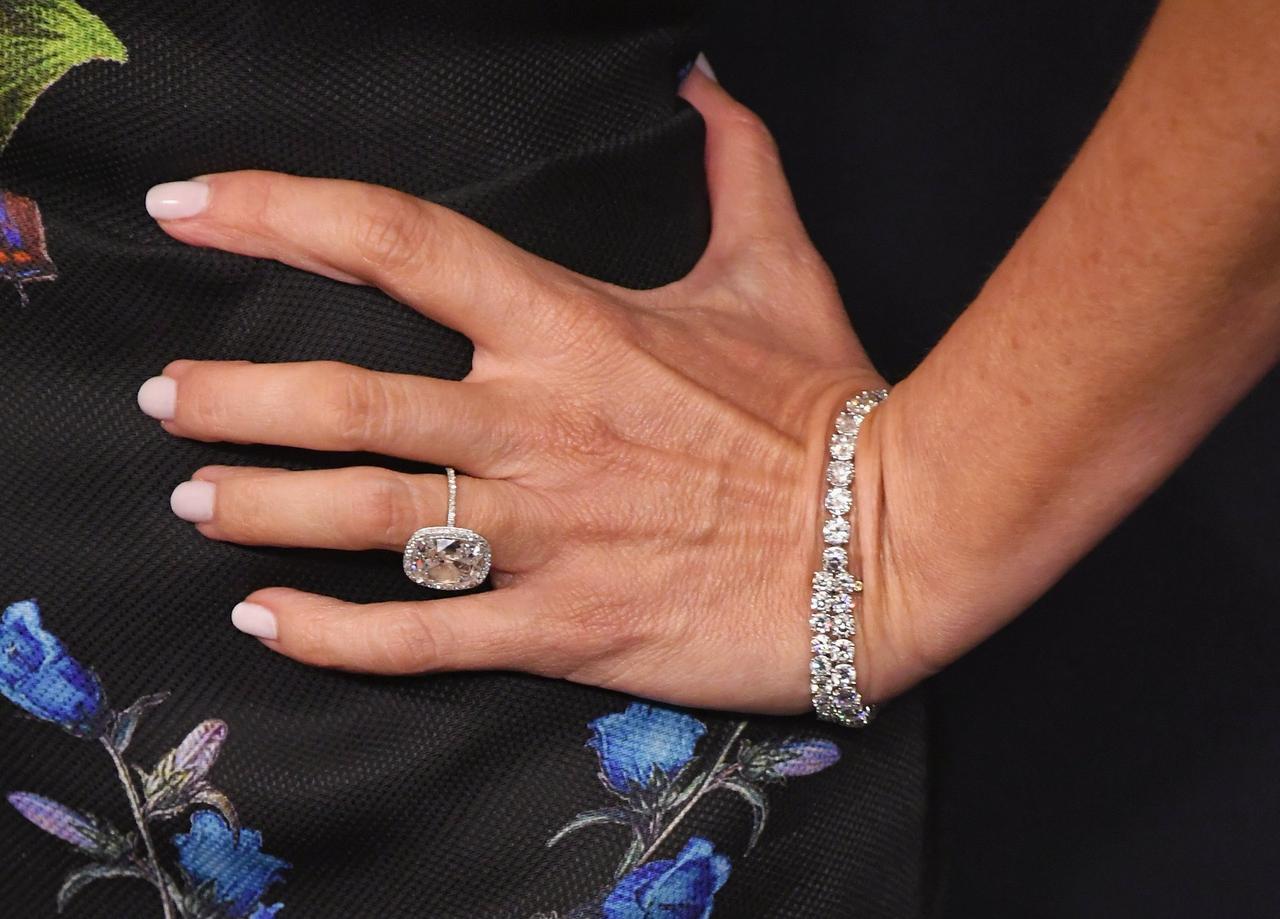 Sofia Vergara
Value: $750,000
Actress Sofia Vergara knew she wanted a large engagement ring, and Joe Manganiello didn't disappoint. In an interview with Access Hollywood, Vergara recalled the proposal, saying, "With me it's all about the bling-bling, so he knew what I needed." The Magic Mike star proposed with a dazzling brilliant cushion-cut ring with diamond pavé halo, set on a platinum diamond-encrusted band. The $750,000 rock is expected to be between five and seven carats—exactly what Vergara needed.

Amal Clooney
Value: $750,000
Emerald-cut diamonds are a celeb favorite. Amal Clooney is yet another A-lister who wears the popular cut, which was given to her by George Clooney. The actor proposed in April 2014 with a timeless ring fit to his future wife's classic style. The ring includes an emerald-cut center stone, flanked by tapered baguette diamonds on both sides. With a price tag of approximately $750,000, the 8-carat ring is simply stunning.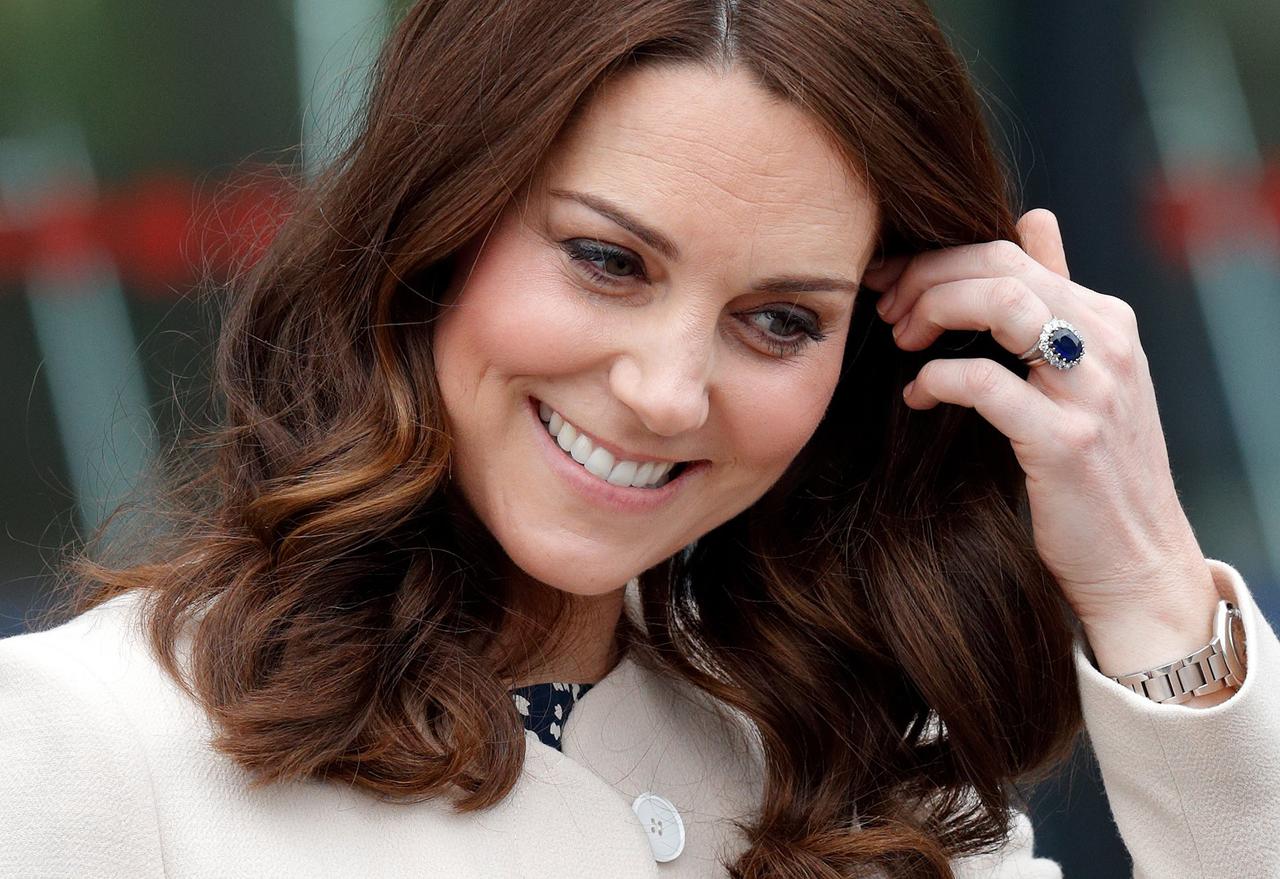 Kate Middleton
Value: $500,000
Yep, even royals wear hand-me-downs. Prince William famously gave Kate Middleton his mother's sapphire-and-diamond engagement ring when he popped the question in Kenya in 2010. The iconic celebrity engagement ring was originally given to Princess Diana from Prince Charles, and it has stood the test of time over the years. The deep blue sapphire center stone is surrounded by 14 diamonds, making it 12 carats overall. While no one knows the exact value of the ring, experts estimate that it would cost about $500,000.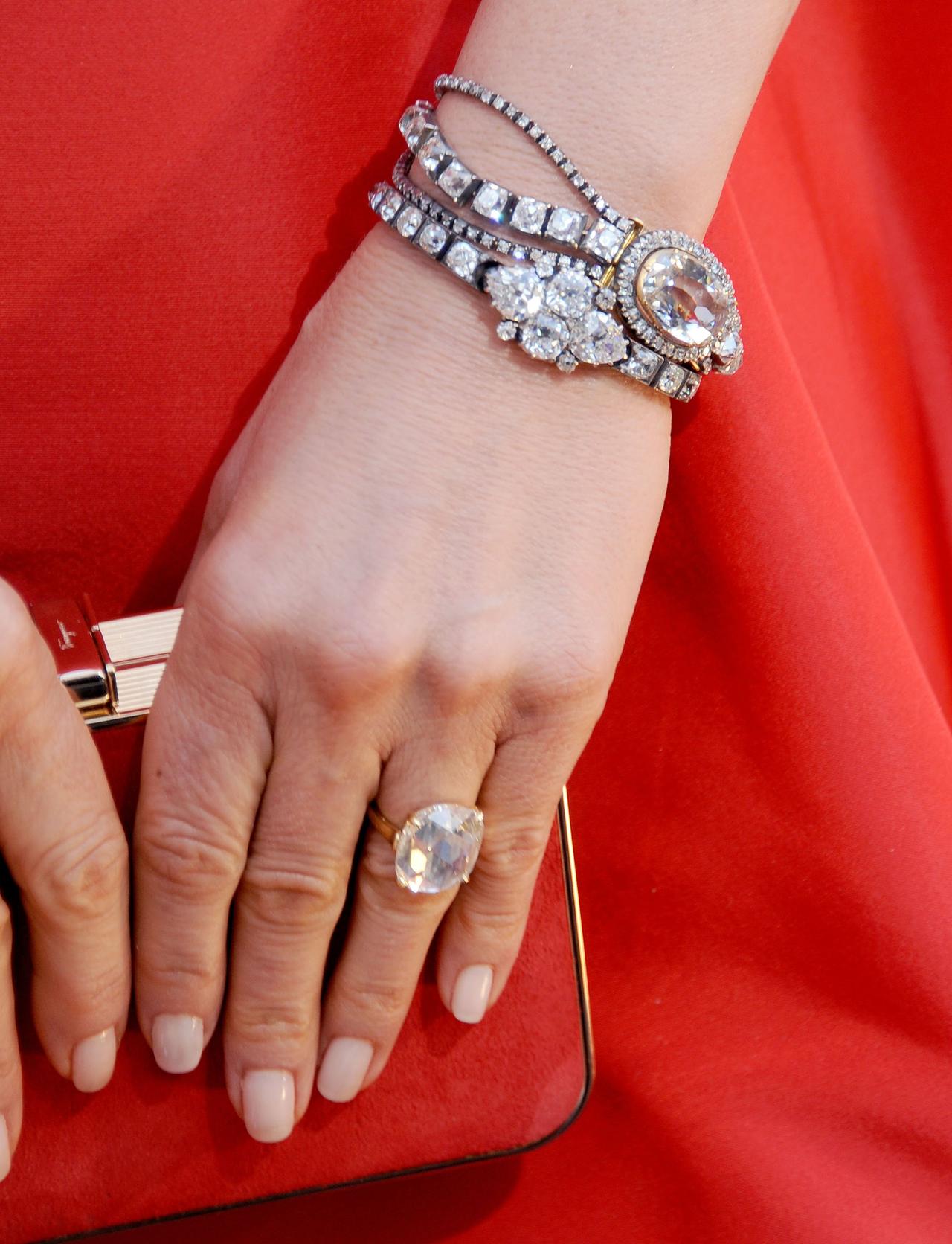 Jennifer Aniston
Value: $500,000
Though she's had plenty of high profile relationships over the years, Jennifer Aniston has only been married twice—and both included extravagant engagement rings. Aniston's first, a unique design with a diamond center stone within a spiral of smaller diamonds, came from Brad Pitt in 1999. He reportedly spent $500,000 on the ring, which was created to represent eternity. Her second engagement ring came years later in 2012. Then-boyfriend Justin Theroux proposed with an 8-carat emerald-cut solitaire stone—which was, coincidentally, also worth $500,000.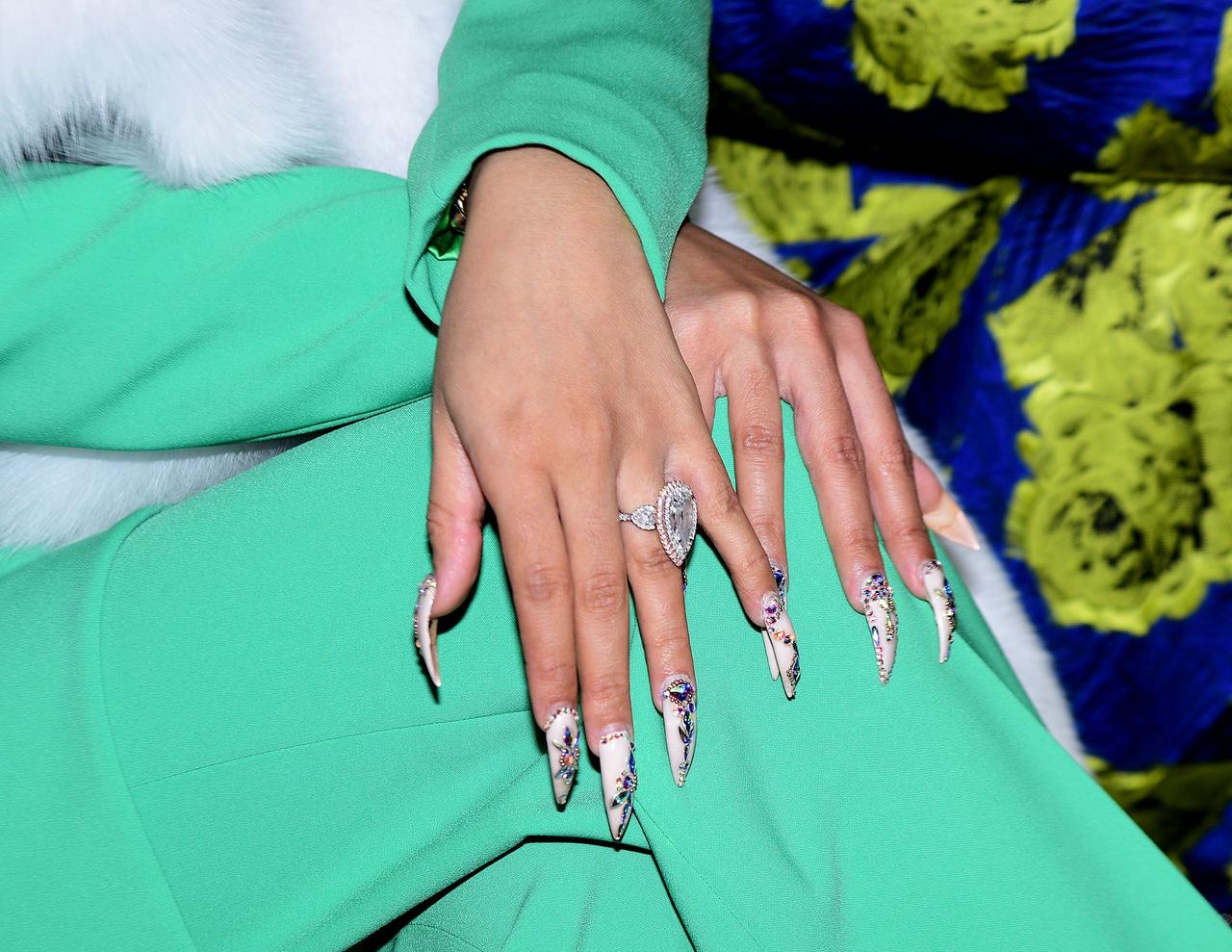 Cardi B
Value: $500,000
Cardi B's engagement ring from rapper Offset was one of the flashiest celebrity engagement rings in recent years. With a massive pear-cut center stone, two diamond halos (one of pink stones) and a diamond-encrusted band, the ring was over 8 carats. In a red carpet interview with E! News, Cardi said her then-beau spent "half a million" on the rock.
View this post on Instagram
Hailey Baldwin
Value: $500,000
Before their massive wedding weekend celebration in September 2019, Hailey Baldwin and Justin Bieber legally married a year earlier. After a whirlwind relationship, Bieber proposed with an oval-cut diamond engagement ring from New York City-based designer Solow & Co. The rock, which is set on a gold band, is expected to be between six and 10 carats and have a price tag of half a million dollars.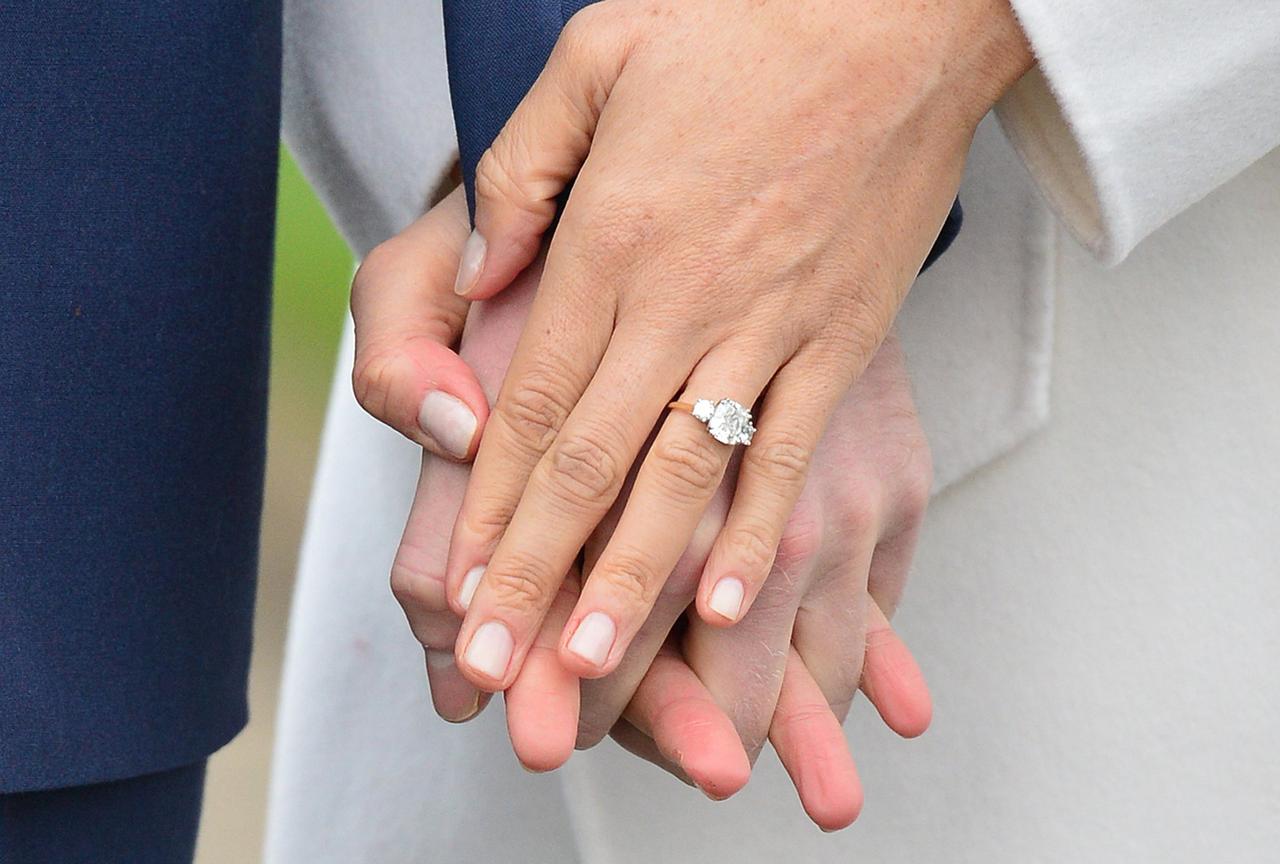 Meghan Markle
Value: $350,000
Rounding out the most expensive celebrity engagement rings is Meghan Markle's three-stone design from Prince Harry. The 6-carat design (which is estimated to be worth $350,000), was thoughtfully designed by the prince. He sourced the center stone from Botswana, where the couple fell in love early in their relationship. And in honor of his late mother, Harry sourced the side stones from Princess Diana's collection. The ring was originally set on a yellow-gold band, but the Duchess of Sussex redesigned it shortly after the birth of their son, Archie. According to photos, Markle appeared to have swapped the gold band for a thinner diamond pavé band. There was also another ring visibly added to her wedding stack, which many assume was a gift from her husband in honor of Archie's birth.