29 Versatile Ways to Use Blue In Your Wedding Decor
This classic color is more adaptable than you think. Check out these blue wedding theme ideas for easy ways to incorporate it into your color scheme, no matter your style.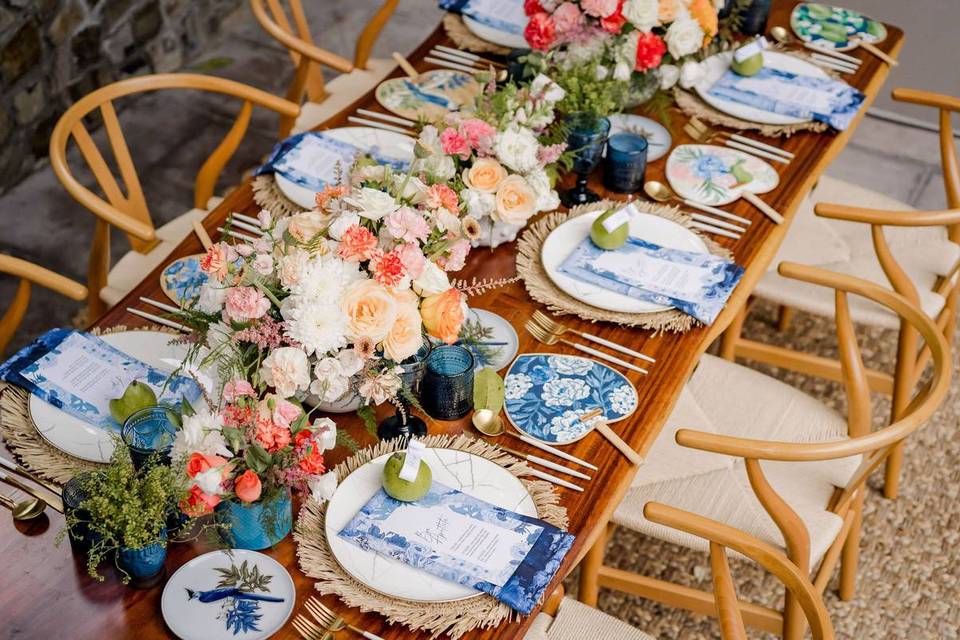 From laid-back beach weddings to glamorous ballroom receptions, blue is one of the most versatile and elegant wedding colors. Last year, it even got a stamp of approval from Pantone, which named "classic blue" as the Color of the Year, solidifying this hue's status as a great pick for your wedding color palette. While dark shades like navy and indigo are typically associated with formal wedding aesthetics, lighter versions, like dusty blue and teal are perfect for whimsical and boho themes. To prove just how pretty this popular wedding color looks in every situation, we're sharing our favorite blue wedding theme ideas that will inspire you to incorporate it into your own wedding color scheme.
What color goes with blue for a wedding?
The great thing about using blue as a wedding color is that it can be as bold or as understated as you want it to be. Dark blue wedding colors, like midnight blue and navy blue, will add a sophisticated look to your overall color palette and act as base tones if you pair them with brighter colors (like red, for example). Pastel shades of blue, like sky blue and French blue, bring an airy, romantic element to your color palette—perfect for a spring wedding, an outdoor venue, or creating a more casual feel. Navy blue and white is one of the most popular color combos for a nautical wedding theme, while a baby blue and blush pink wedding color palette is a favorite for rustic themes. Bright teal is a fun color choice if you want a lively, tropical wedding aesthetic.
Blue Wedding Theme Ideas
Ready to start bookmarking wedding inspiration? Use these blue wedding color ideas to get started for your big day.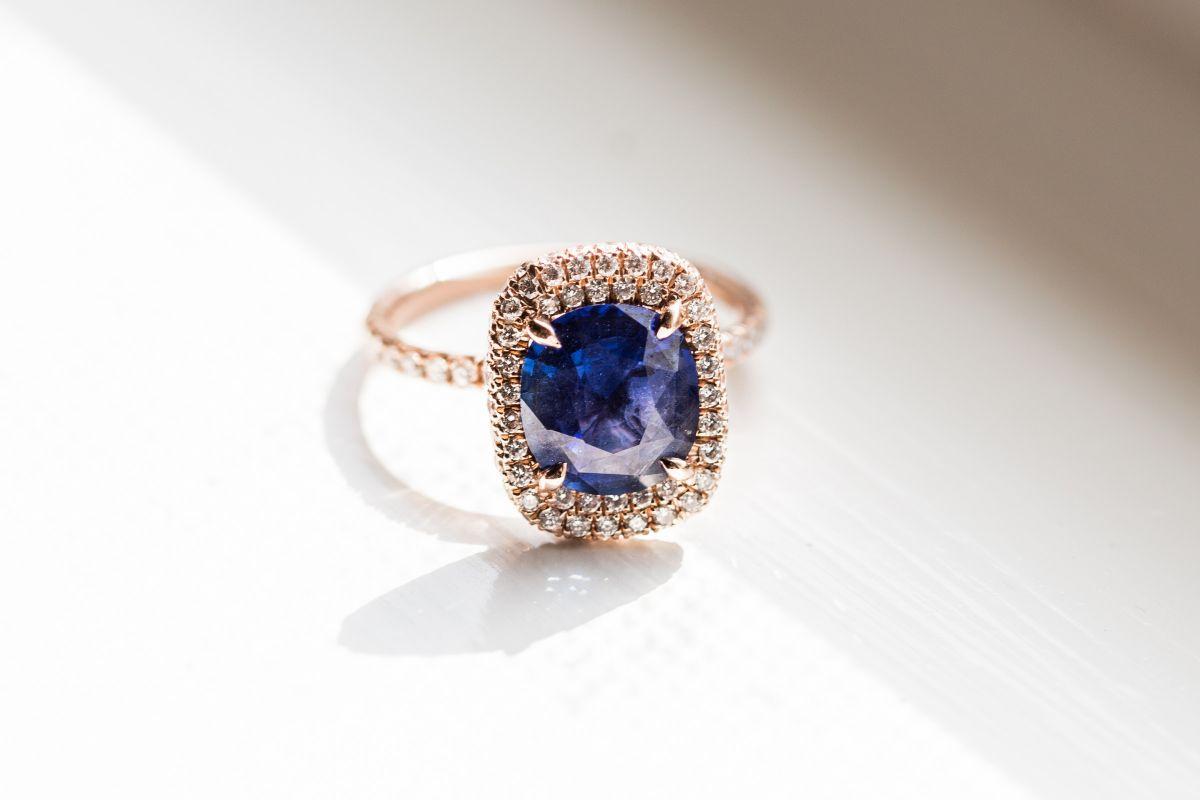 Blue engagement ring
It doesn't matter if you're browsing potential engagement ring ideas or looking for wedding day statement jewelry—a blue gemstone ring is always a show-stopper. Plus, blue rings are princess-approved: The Duchess of Cambridge famously wears Princess Diana's sapphire engagement ring, and The Duchess of Sussex wore an aquamarine cocktail ring for her wedding reception.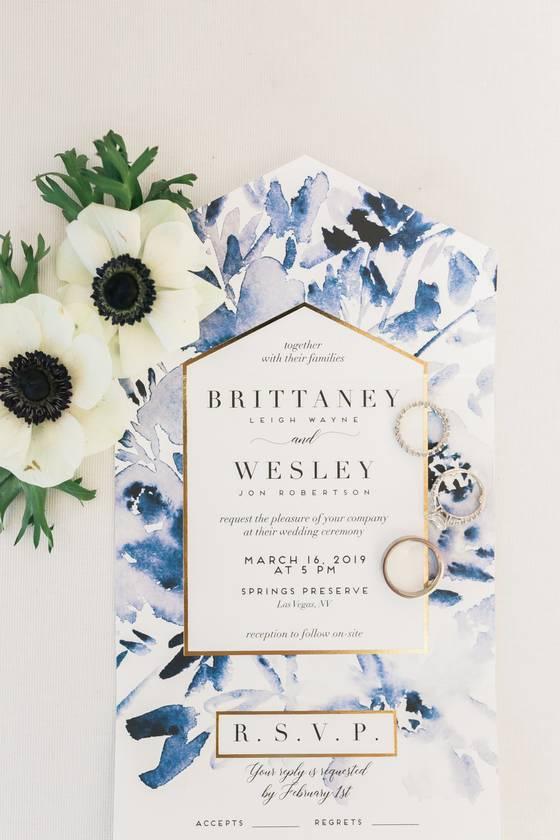 Invitations by Minted
Watercolor wedding invitations
A blue watercolor motif is a classic yet whimsical option for your wedding invitations. If you're going with a blue and gold wedding color combo, add metallic gold foil details to the invites or envelopes.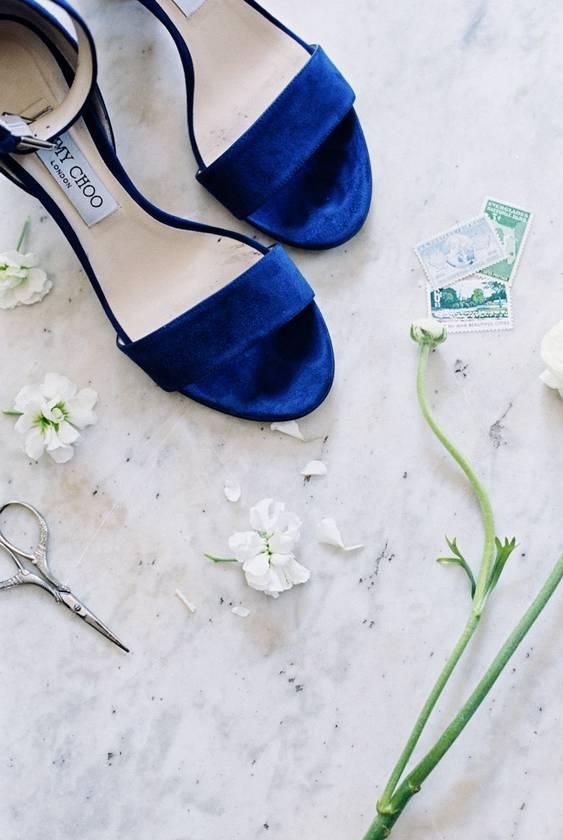 Blue wedding shoes
Your bridal shoes don't have to be a neutral color—in fact, your shoes are one of the simplest ways to add flair and interest to your wedding outfit. Royal blue suede heels are the perfect balance between bold and classic.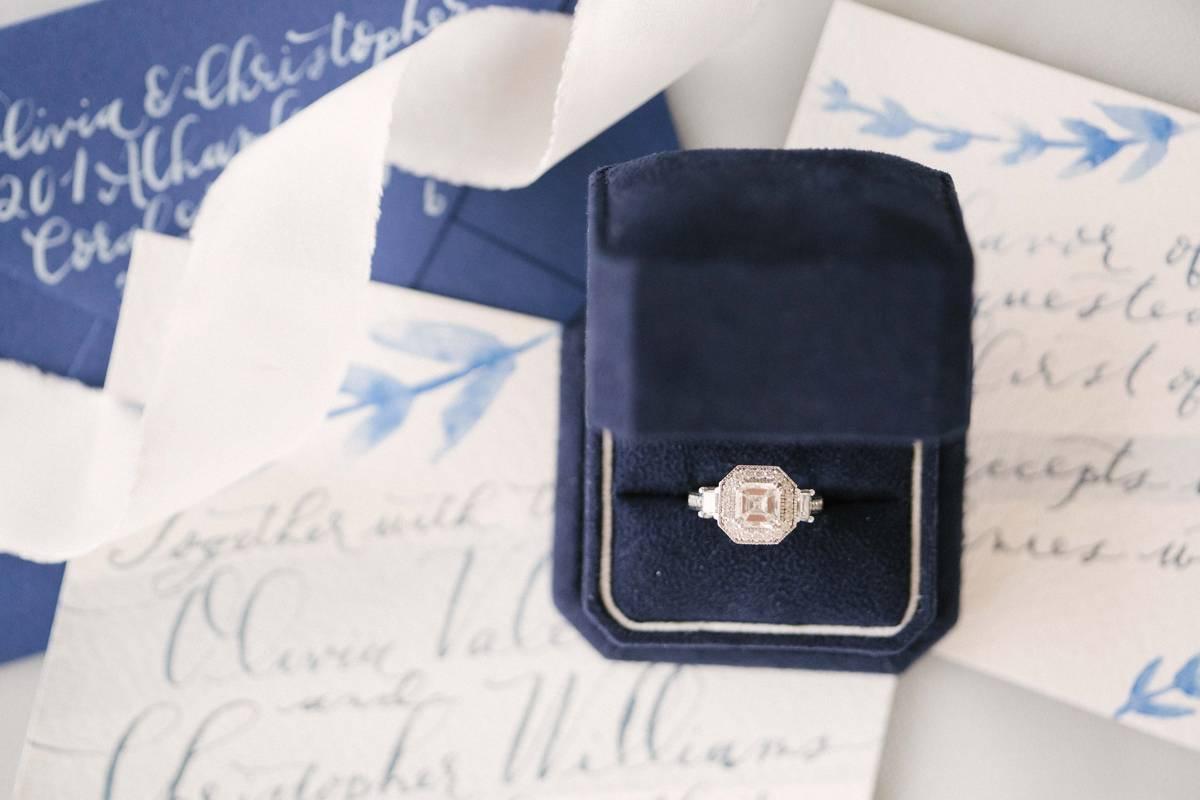 Blue wedding ring box
Invest in a velvet ring box to use on your wedding day and treasure for years to come. Not only will you use the box during your ceremony if you're exchanging rings, but your photographer can add it to their detail shots and wedding flat lays when they're capturing your stationery suite, accessories, flower arrangements, etc.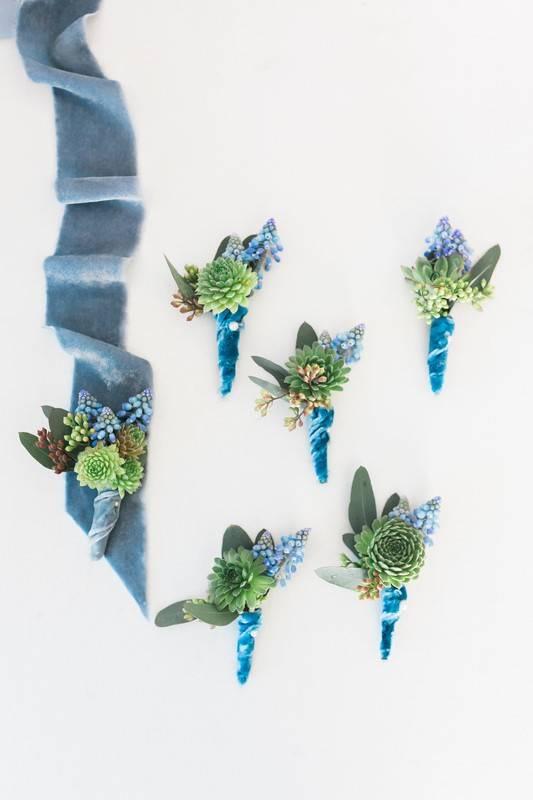 Blue boutonniere ribbons
Ask your florist to wrap wedding boutonnieres in velvet blue ribbons to add a pop of color to any suit or groomsman outfit.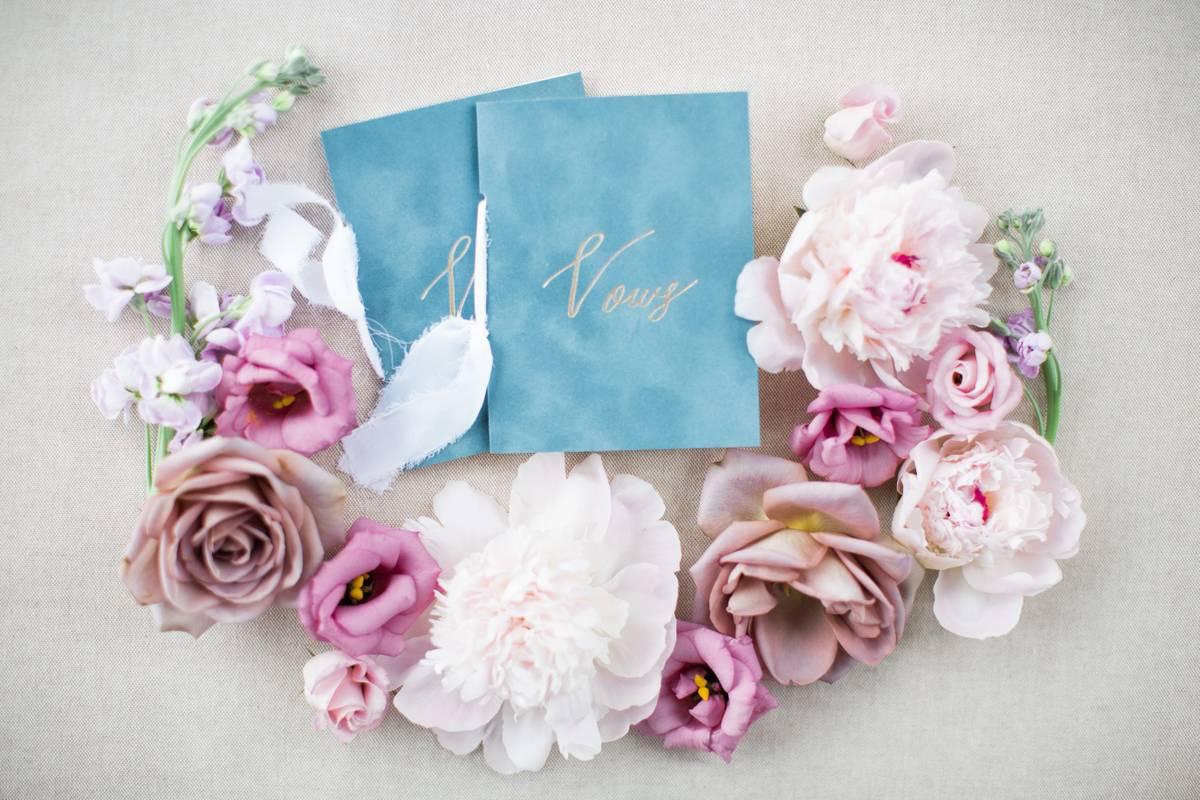 Wedding vow books
Colorful vow books are one of the prettiest and easiest blue wedding ideas to pull off. Why read your heartfelt vows from your phone or a scrap piece of paper when you can write them in a special journal instead?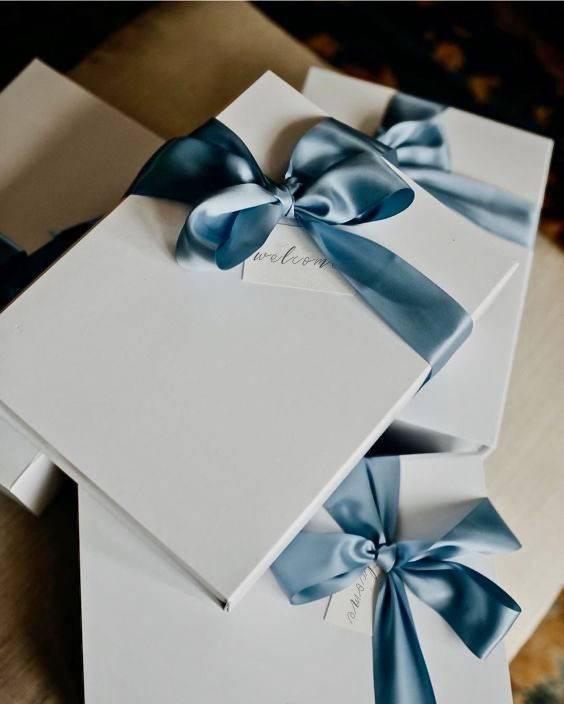 Wedding welcome boxes
If you're surprising your guests with welcome boxes or bags (a nice gesture if people are traveling from out of town), blue satin bows are a chic way to dress up plain white boxes in a flash.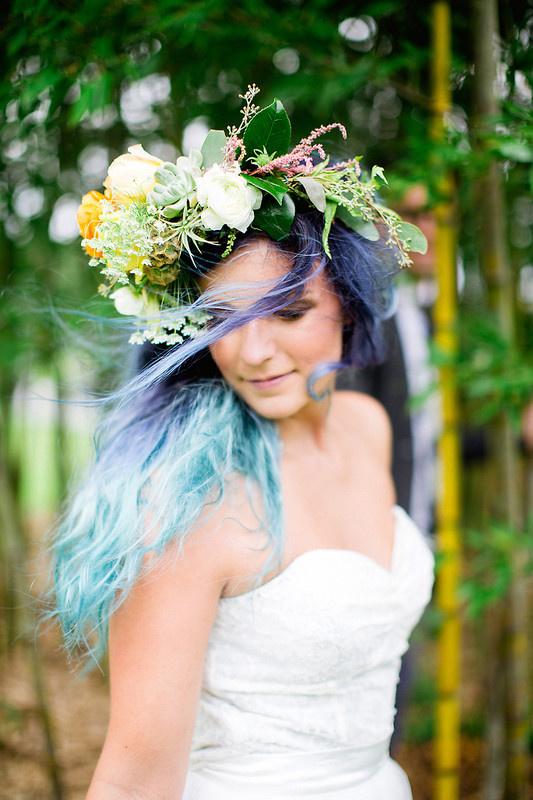 Blue wedding hair
If you normally dye your hair a vibrant color, don't feel like you need to tone it down just for your wedding day. This bride's light blue ombré hairstyle is giving us modern mermaid vibes.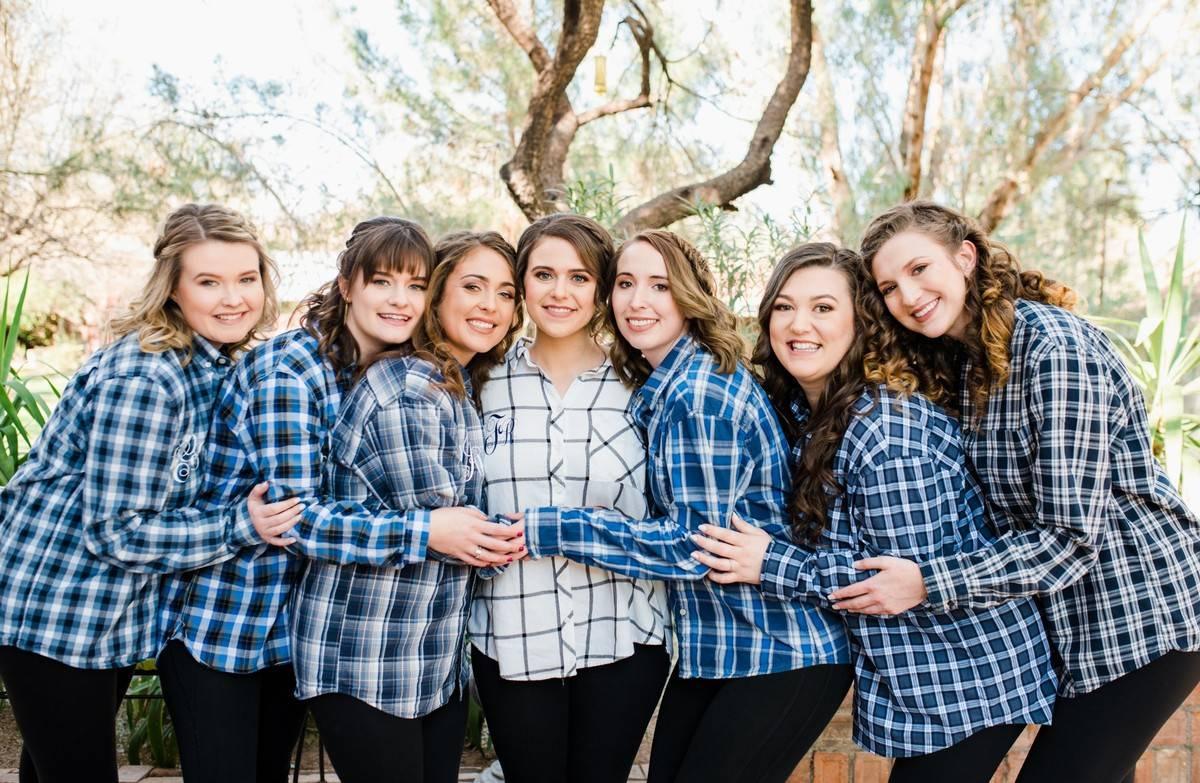 Bridesmaid button-down shirts
Popular for fall weddings and rustic weddings, blue flannel button-down shirts are cute and comfortable if you want your bridesmaids to match for those must-have getting ready photos.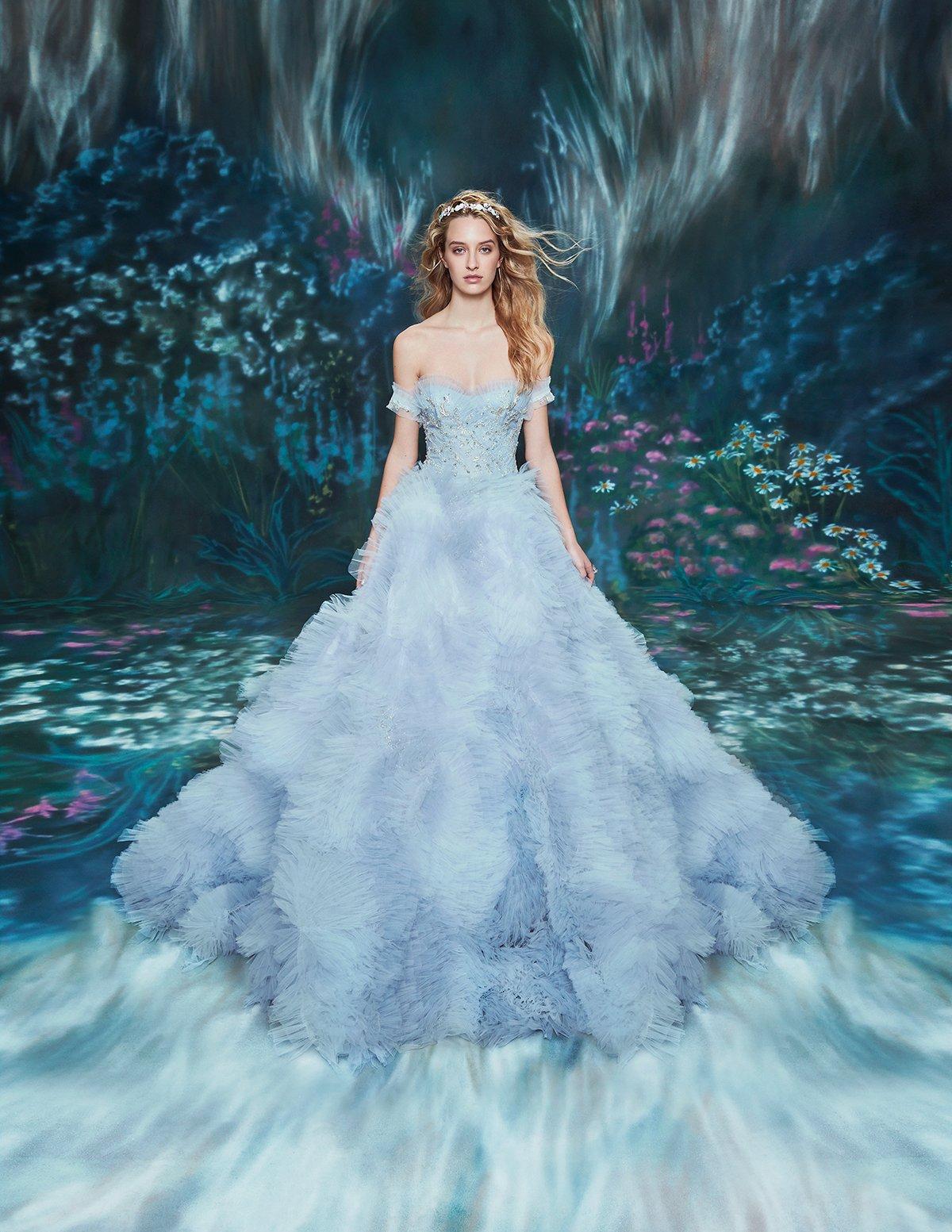 Dress by Ines Di Santo
Blue wedding dress
If you really want to turn heads, wear a blue wedding dress for your special day. A ruffled tulle ball gown like this one will bring your fairytale wedding dreams to life.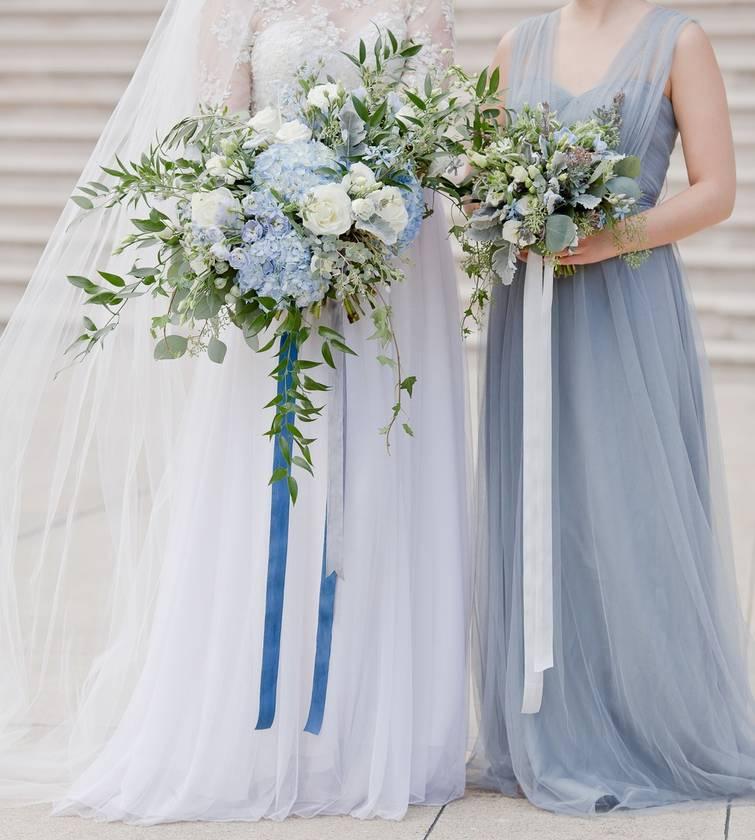 Wedding bouquet ribbons
We love long, trailing ribbons tied to bouquet stems. Ask your florist to add a few ribbons to the main wedding bouquet so that it stands out from the rest in group photos.
Dark blue bridesmaid dresses
Having a black tie wedding? Matching navy blue bridesmaid dresses are a chic alternative to black or neutral-colored gowns.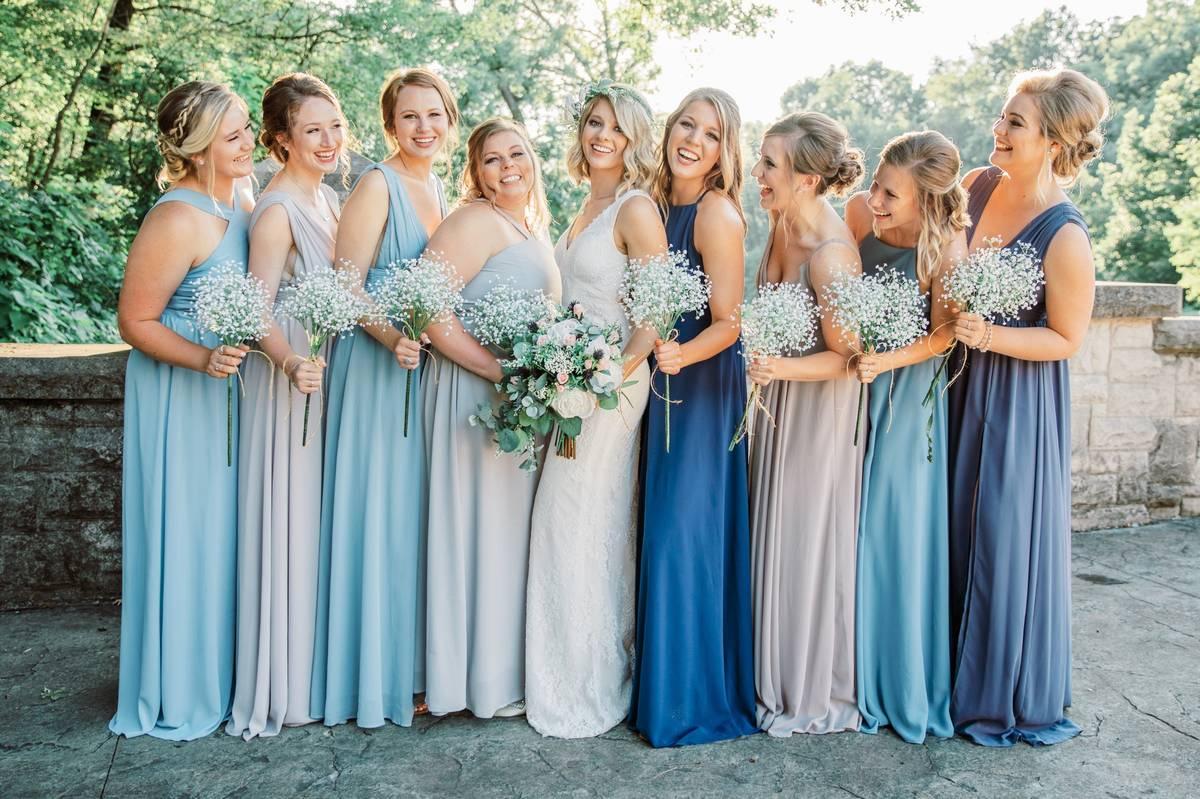 Mix-and-match bridesmaid dresses
If your wedding style is more casual, a mix-and-match palette for your bridesmaid dresses is one of our favorite blue wedding theme ideas. Stick to three or four shades, max.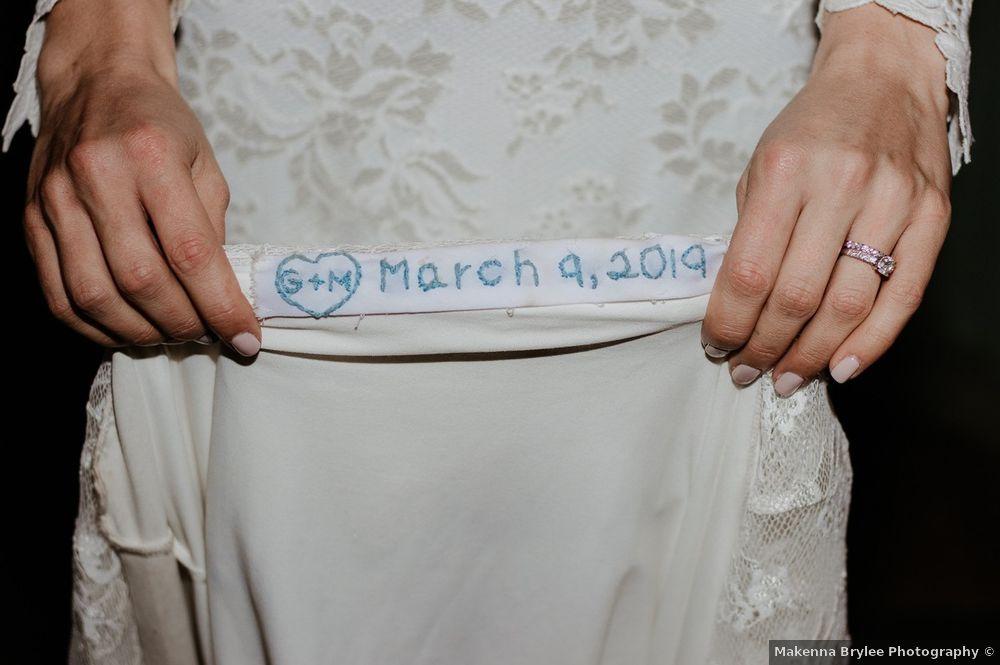 Blue wedding gown embroidery
Your seamstress can give your wedding dress a bit of "something blue" by embroidering your initials and wedding date onto the underside of the hem.

Blue groomsmen suits
Matching blue suits instantly make your wedding party look put-together (case in point: this stylish crew). They're a great option for a casual or semi-formal dress code.

Blue floral bow tie
As the groom, a patterned bow tie is a fun way to let your personality shine through on the wedding day. This blue floral print option screams spring or summer wedding.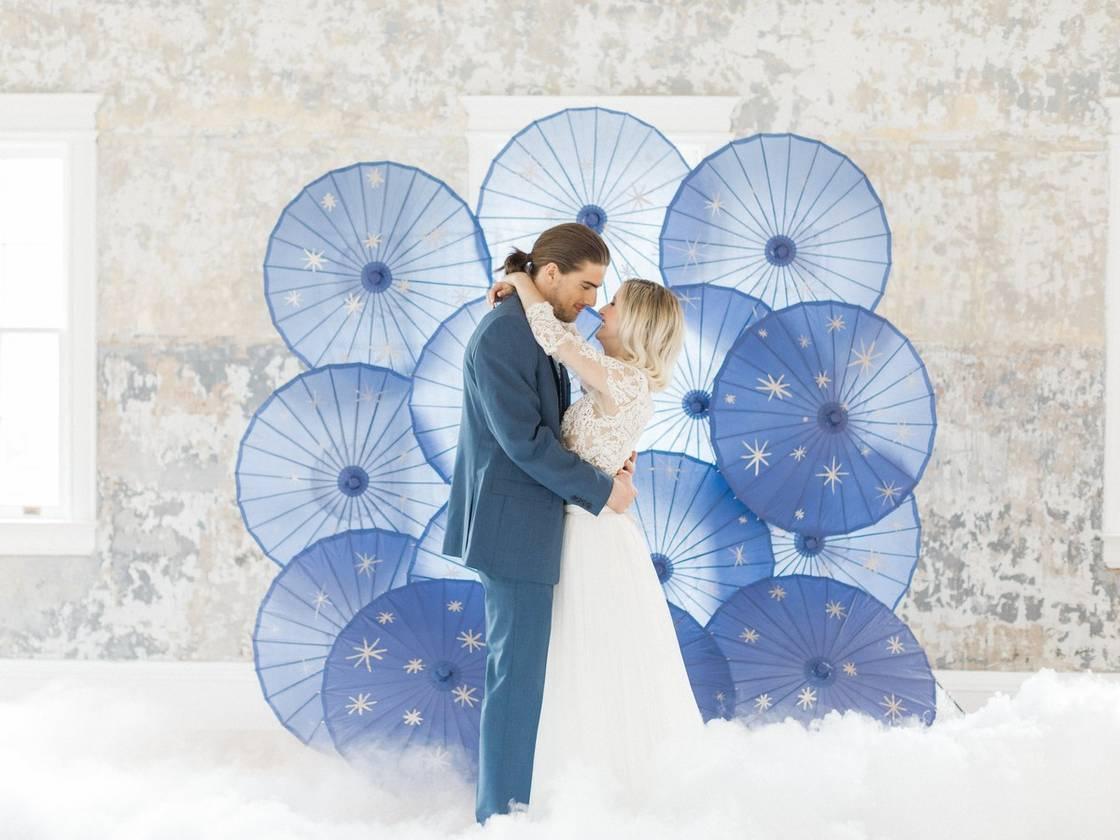 Parasol wedding backdrop
Who knew that simple paper parasols could turn out to be one of the coolest decor ideas for a blue wedding theme? These star-adorned parasols are straight out of our celestial wedding dreams.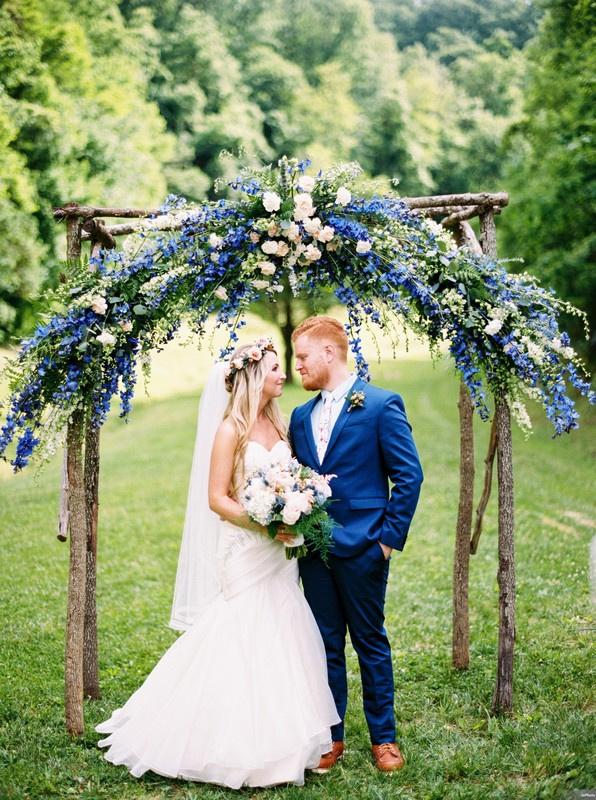 Wedding ceremony arch
Did you know that there are only a handful of naturally blue flowers? Delphinium (seen here) is one of the prettiest options, and it can be used to create a stunning ceremony arch or arranged in tall bunches to line your aisle. Other blue wedding flowers include hydrangeas, irises, thistle, allium, forget-me-nots, and scabiosa.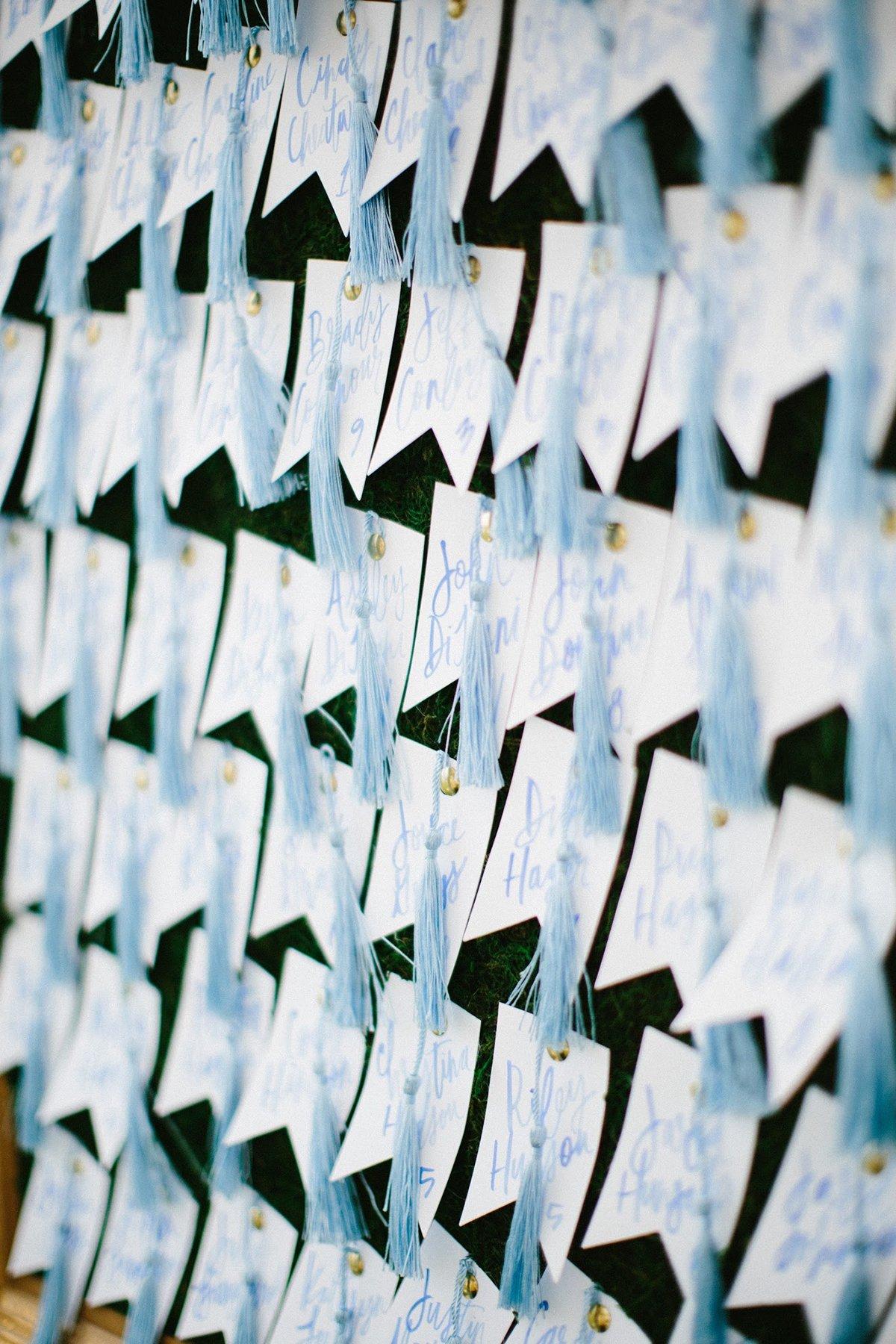 Wedding escort cards
Light blue tassels add a playful, bohemian vibe to handwritten escort cards.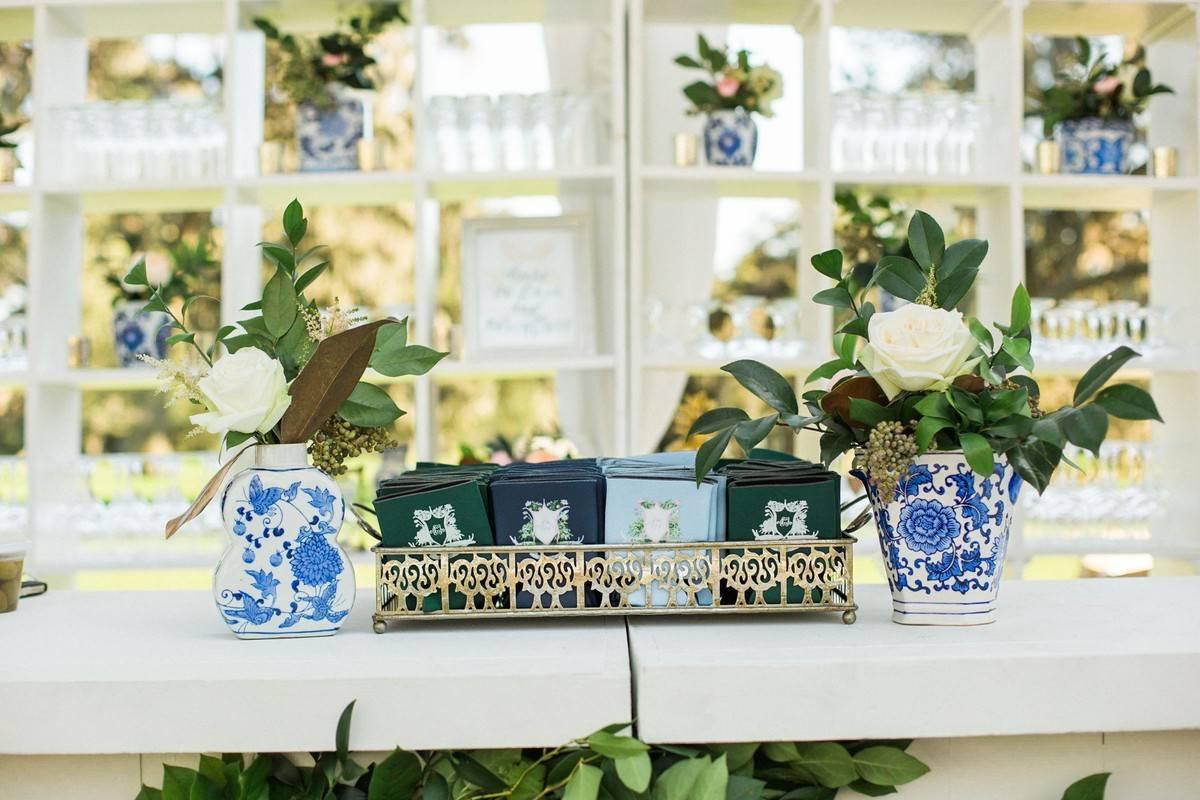 Chinoiserie vase decor
In line with the grandmillennial trend, chinoiserie vases are about to have a huge moment at weddings. These vintage pieces are no-brainers when it comes to blue wedding ideas—you can rent them from most wedding decor companies or source them yourself from thrift stores.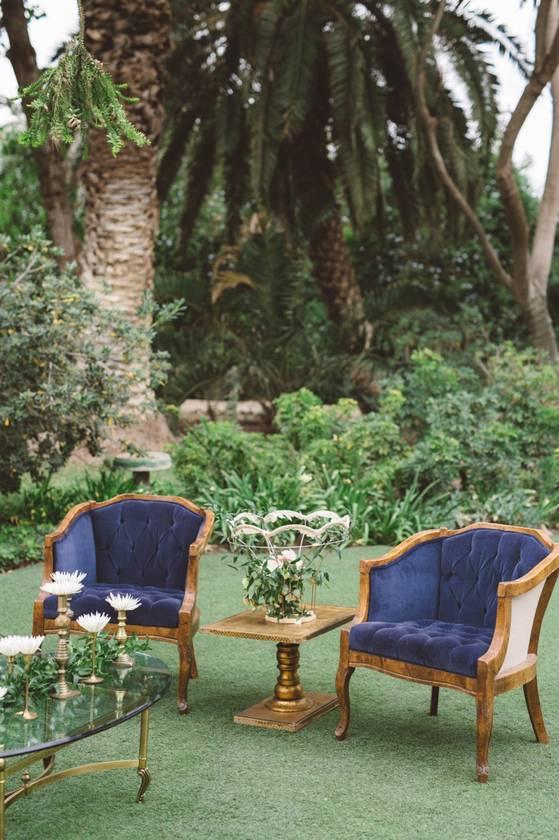 Midnight blue velvet chairs
Furniture rentals are another way to include pops of blue in your wedding decorations. Use a pair of vintage blue velvet arm chairs in a wedding lounge or at your head wedding table.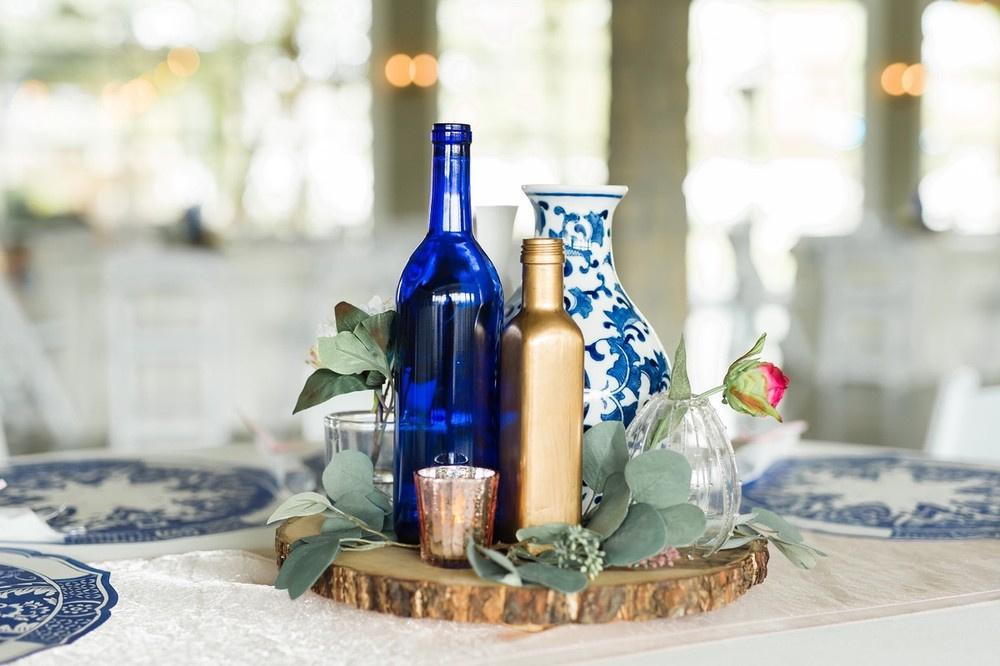 Wedding centerpieces
For an eclectic look that fits right in with a rustic wedding aesthetic, use mismatched blue bottles, vases, and greenery to complete your centerpieces.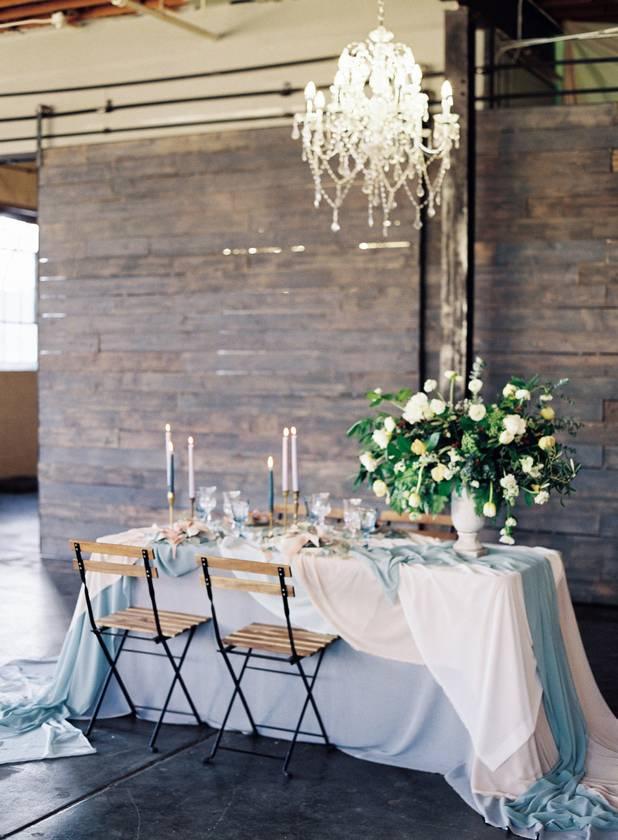 Ethereal wedding tablecloths
While bare reception tables have become a major wedding trend, there's something about the look of lush table linens that we can't resist. Drape your tables in different shades of blue and let the fabric pool on the floor to achieve an ultra-romantic effect like this.

Wedding table numbers
Adding gray-blue paint to the backs of acrylic table numbers will make the calligraphy stand out even more.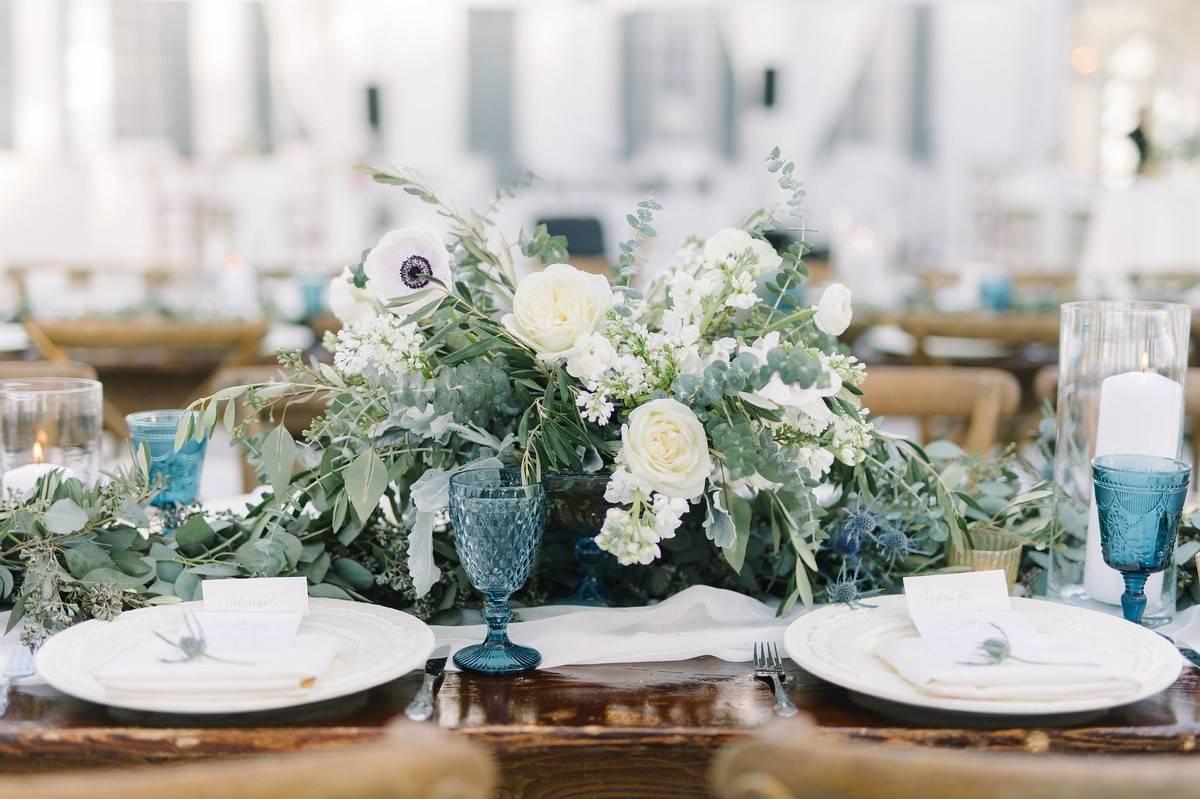 Drink glassware
Even if your overall wedding tablescape is relatively neutral, you can bring in pops of blue by adding colorful glassware to each place setting.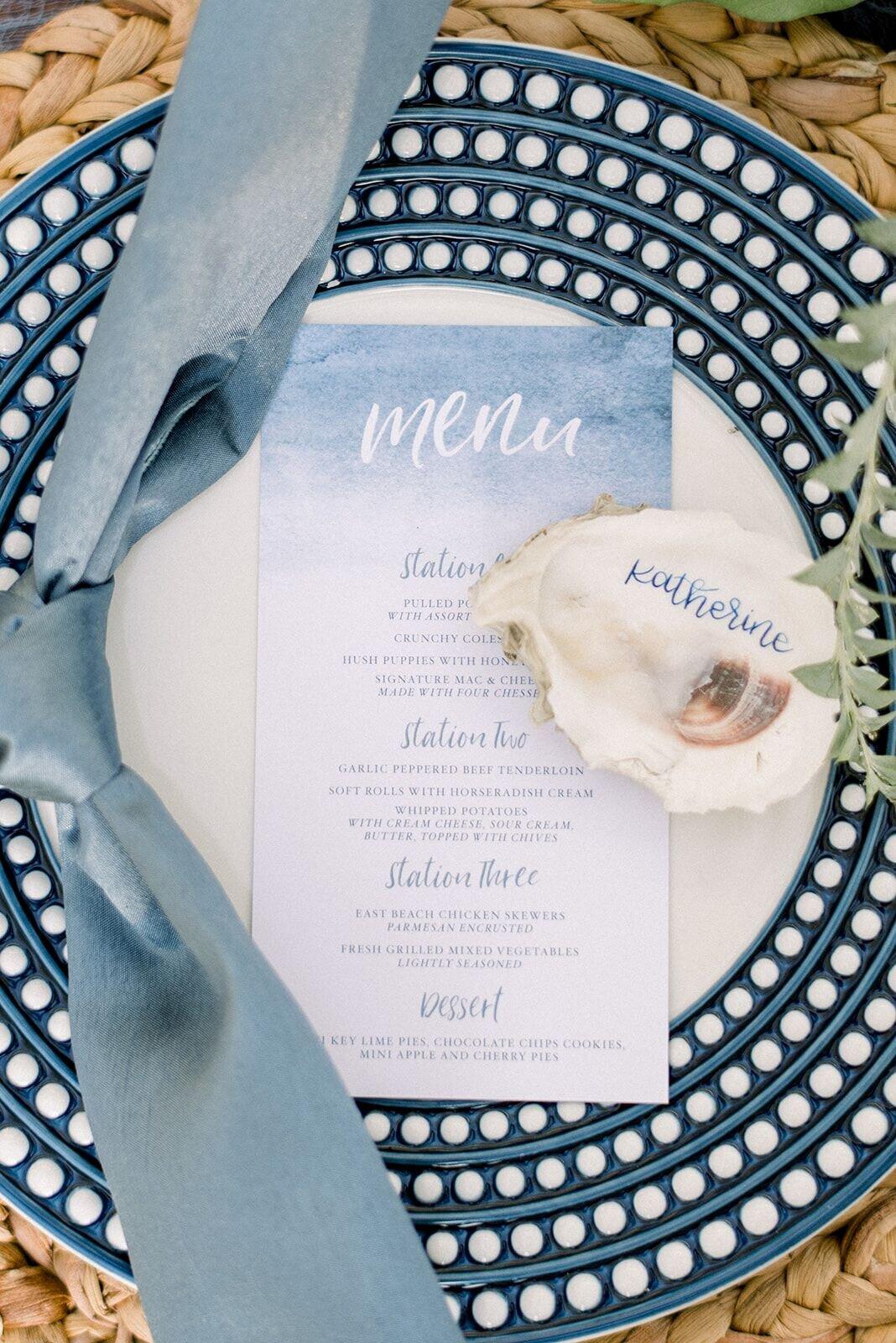 Wedding place settings
Another blue wedding idea we love for your tabletops: Colored and patterned plates. Tie the look together with individual dip-dye menus and blue fabric napkins.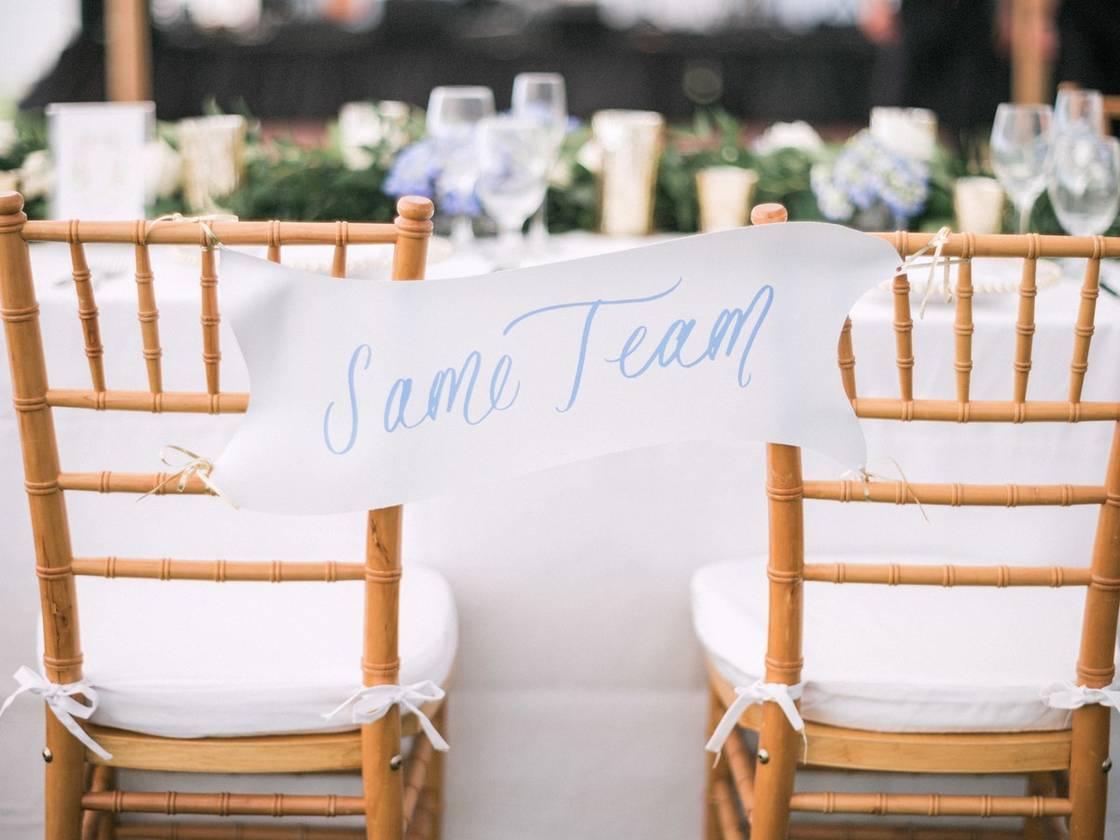 Wedding chair signage
How cute is this sign for your chairs? Writing "same team" in light blue hand-lettering is a sweet, simple, and stylish way to add a personal touch to your reception decor.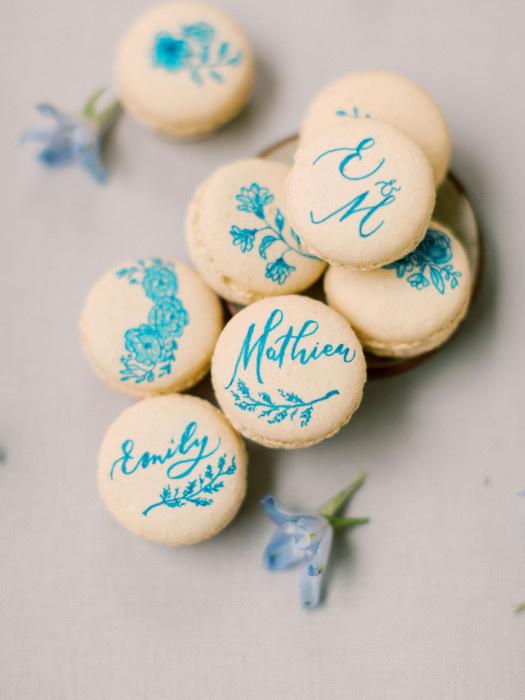 Calligraphy macarons
Whether you're treating your guests to macarons, cookies, or cupcakes with wafer toppers, we'd have to argue that edible ink is one of the best inventions to ever happen to wedding desserts. Macarons decorated with gorgeous blue calligraphy are wedding favors that your guests won't be able to resist.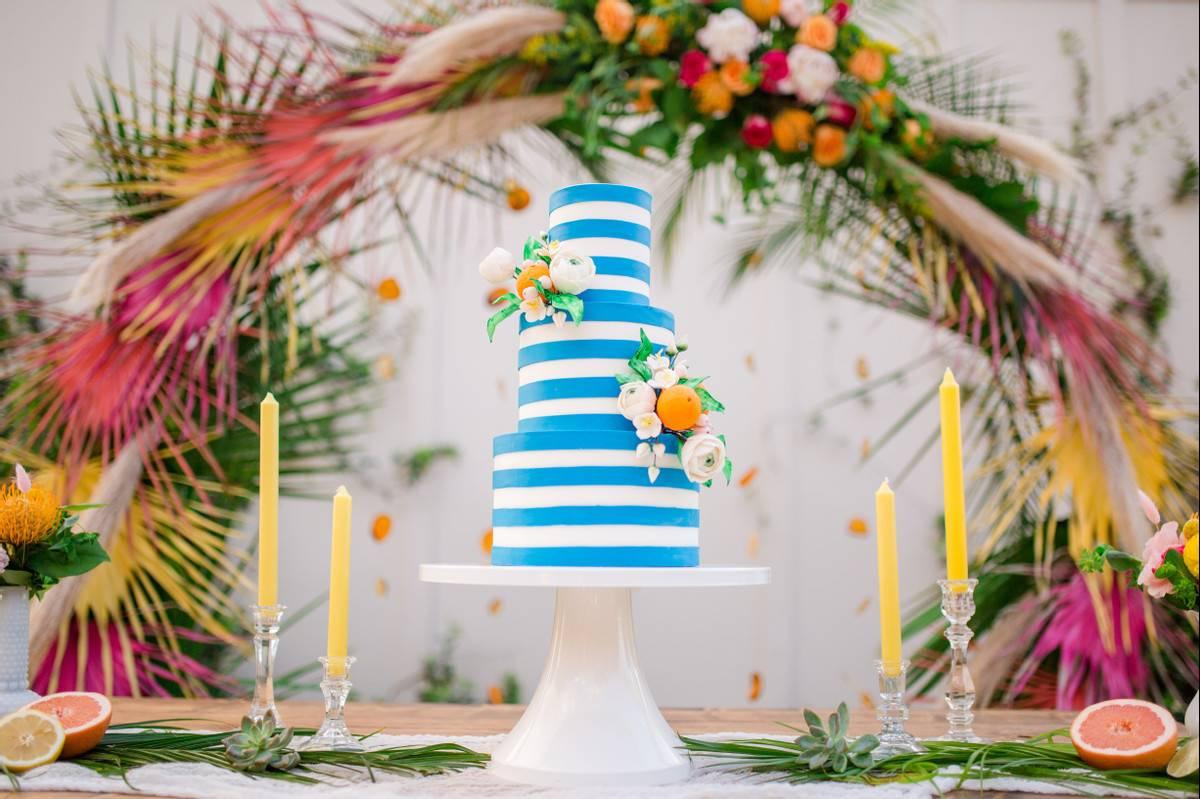 Blue striped wedding cake
Bold wedding cakes are back, and this three-tier creation decorated with teal fondant stripes will definitely make a statement on your dessert table.